Kunstmuseum Basel focuses on the figurative aspect of Jackson Pollock's work
"The Figurative Pollock" examines the different phases in Pollock's early work: his training in his teacher Thomas Hart Benton's Regionalism as well as his study of the monuments of art history—El Greco, Michelangelo, Rembrandt, and the masters of Italian Baroque.
BASEL
.-
"When you're painting out of your unconscious, figures are bound to emerge," Jackson Pollock said in a famous conversation with Seldon Rodman in 1956. Yet the American painter is actually best known for his abstract drip paintings. Far fewer people are familiar with Pollock's extensive earlier figurative oeuvre and the figurative paintings that grew out of the dripping period. Reframing our perspective on the artist's creative output, the grand special exhibition at the
Kunstmuseum Basel
focuses on the figurative aspect of his work in order to pioneer a new perspective on his oeuvre, which spans almost three decades. "The Figurative Pollock" examines the different phases in Pollock's early work: his training in his teacher Thomas Hart Benton's Regionalism as well as his study of the monuments of art history—El Greco, Michelangelo, Rembrandt, and the masters ...
More
The Best Photos of the Day
Tate Exchange launches with Tim Etchells's "The Give and Take"
Flemish landscape paintings on view at Kunsthalle im Lipsiusbau
"Francis Bacon: From Picasso to Velázquez" opens in Bilbao


Tate Exchange launched on 28 September with artist Tim Etchells's project The Give and Take. © Tim Etchells.



LONDON.- Tate launched Tate Exchange, a ground-breaking new programme which invites the public to come together with international artists and over fifty Associates annually to collaborate, test ideas and discover new perspectives on life, through art. This free programme takes place in the dedicated, spectacular spaces of Tate Exchange in the new Switch House at Tate Modern on Level 5 from 28 September 2016, and in the first floor galleries at Tate Liverpool from 26 November 2016. In the coming years, Tate Exchange will roll out at all four Tate galleries and will explore a different theme each year. Tate Exchange is supported by Freelands Foundation, Arts Council England and Paul Hamlyn Foundation. Tate Exchange launched on 28 September with artist Tim Etchells's project, The Give and Take, which looks at the theme of exchange through money, magic, labour, love and friendship and involves the public in a provocative series of presentations, conversations and ... More



With 160 artworks, the Gemäldegalerie Alte Meister (Old Masters Picture Gallery) in Dresden possesses one of the world's most important collections of Flemish landscape paintings.



DRESDEN.- Dizzying vistas of river valleys and mountain peaks, the impenetrable thicket of a forest bustling with countless animals, the idyllic quiet of a lake in the evening light. What we now call landscapes weren't always seen that way – and they certainly weren't depicted that way either. In the special exhibition 'Paradise on Earth: Flemish Landscape Painting from Bruegel to Rubens', which opened on 1 October in the Kunsthalle im Lipsiusbau, nature takes over the surfaces of the paintings on display. Initially appearing as backgrounds and vistas, nature gradually spread over the panels and canvases, eventually taking centre stage in such a convincing manner that, for the first time, nature became a natural part of the artistic canon. Flanders, with its important trading ports in Antwerp and Brussels, is both the centre and the turning point of this dynamic, which began in the sixteenth century. ... More



Francis Bacon, Portrait of Michel Leiris, 1976. Oil on canvas, 34 x 29 cm. Centre Pompidou, Paris – Musée national d'art moderne. Centre de création industrielle, Donation Louise et Michel Leiris, 1984 © The Estate of Francis Bacon. All rights reserved. DACS/VEGAP, Bilbao, 2016. Photo © Centre Pompidou, MNAM-CCI, Dist. RMN-Grand Palais / Bertrand Prévost.



BILBAO.- The Guggenheim Museum Bilbao presents Francis Bacon: From Picasso to Velázquez, an exhibition of almost 80 works including some of the most important and yet least exhibited paintings by this British artist born in Ireland, alongside the works of the classic masters from French and Spanish culture who played a huge role in his career. Transgressive in both is life and his art, Bacon broke down many barriers that were deeply entrenched at the time, placing human beings in front of a mirror in which we could see ourselves in a raw, violent way. Francis Bacon was a fervent Francophile. He was an avid consumer of French literature by authors like Racine, Balzac, Baudelaire and Proust and passionate about the art of Picasso and Van Gogh, both of whom lived in France, ... More
Eli Wilner & Company announces a unique collaboration with Art Authority
Exhibition by American artist Roni Horn opens at Fondation Beyeler
Cindy Sherman and David Salle open Skarstedt's new London gallery


The importance of frames and their relevance to art history has often been overlooked.



NEW YORK, NY.- Eli Wilner & Company will contribute historically ­appropriate picture frames to the latest edition of Art Authority's beautiful and educational digital gallery experience. Art Authority's platform provides users with access to images of a comprehensive collection of works by over 1,000 of the western world's most important artists, from ancient times to today. Detailed captioning is provided for each image, including in­ depth information about each period and artist. While previous versions of the Art Authority app have shown the paintings in frames, as well as a clever option to view "real size" with a silhouetted figure for scale, Art Authority president Alan Oppenheimer consulted renowned frame authority Eli Wilner to see if improvements could be made in how the paintings were digitally framed. Wilner curated a selection of nine exquisite frames that were then paired with the ... More



Installation view of the exhibition "Roni Horn" in the Fondation Beyeler, Basel. Photo: Stefan Altenburger.



BASEL.- The exhibition by American artist Roni Horn (*1955 in New York) features outstanding groups of works and series she has created over the last twenty years. The photographic installations, works on paper, and sculptures made of cast glass displayed in the six rooms devoted to the show can be experienced as a coherent installation. The exhibition "Roni Horn" has been developed in close cooperation with the artist for the space at the Fondation Beyeler. Around half the works on show are new ones that are being exhibited for the first time. Roni Horn's art focuses on the idea of identity and mutability, demonstrating that the essence of things can differ from their visual appearance. In her works, Horn succeeds in subtly exploring fixed attributions, and in conveying ephemerality and diversity. It is therefore no coincidence that she uses materials like glass and motifs like water and the weather, all of which ar ... More



Cindy Sherman, Untitled # 225 (detail), 1990, chromogenic colour print 48 1/8 x 33 1/8 in. (122 x 84 cm.), © Cindy Sherman.



LONDON.- Skarstedt announced the opening of a new London gallery at 8 Bennet Street, St James's. A joint exhibition of Cindy Sherman's History Portraits (1988 – 1990) and David Salle's Tapestry Paintings (1989 – 1991) inaugurated the new space. Designed by Thomas Croft Architects, the new gallery benefits from 5,000 square feet in this historic quarter, enabling Skarstedt to continue its programme of historical exhibitions. Dominant figures in contemporary art, both Cindy Sherman and David Salle were key figures in the influential 'Pictures Generation' art movement of the mid 1970s and 80s in New York. Emerging onto the art scene during this media-dominated era, both Sherman and Salle, like many of their contemporaries, drew upon existing imagery as inspiration for their own richly layered work. First exhibited in London at Waddington Galleries in 1989, with ... More
Pirelli HangarBicocca presents a solo exhibition by Japanese sculptor and installation artist Kishio Suga
Anne Mosseri-Marlio Galerie exhibits works by Danish artist cooperative A Kassen
Exhibition at Municipal Museum of Contemporary Art, Ghent explores works by nine artists


Kishio Suga, Fieldology, 1974/2015 (detail). Rope. Variable dimensions. Courtesy of the artist and Blum & Poe, Los Angeles/New York/Tokyo. Photo: Genevieve Hanson.



MILAN.- Pirelli HangarBicocca presents "Situations" a solo exhibition by Kishio Suga, key figure in Japanese art from the 1960s to the present and pioneer of the Mono-ha movement Pirelli HangarBicocca presents "Situations," the first European retrospective dedicated to Kishio Suga (b. 1944 in Morioka, Japan; based in Ito, Japan), curated by Yuko Hasegawa and Vicente Todolí. For the first time in the career of this pivotal figure in contemporary Japanese art, over twenty of his installations, dating from 1969 to the present, will be shown together in a single exhibition space. The exhibition is part of events celebrating the 150th anniversary of relations between Japan and Italy. Suga was among the prime movers of Mono-ha, a current that enriched the contemporary art scene from the late 1960s on. In 1978, he was ... More



Installation view.



BASEL.- The Danish artist cooperative A Kassen (Christian Bretton-Meyer, Morten Steen Hebsgaard, Søren Petersen, Tommy Petersen) have created conceptual works together since forming A Kassen in 2004 during their studies at Copenhagen's Royal Academy of Fine Arts. Pouring aluminium in water is the natural sucessor to the Aluminium Puddles and Bronze Pours created since 2014, yet the choice of material and shapes brings new opportunities. The Aluminium Pours are both indoor and outdoor sculpture pieces, elongated and amorphous – leaving the viewer to determine what is seen, how it was made, what it could be or might have been. The first presentation of this series of work takes place in Basel in their first exhibit with the gallery. Due to the nature of the project, the shapes are determined by the properties of the elements: water, aluminium and their respective temperatures. Molten aluminium disperses when poured into water. Pouring large amounts of molten ... More



Elizabeth Peyton, Sara, 1995. Private Collection. Courtesy neugerriemschneider, Berlin.



GHENT.- These Strangers… Painting and People presents the human figure in the Western painting of the last forty years. The exhibition is not a survey, but explores the oeuvres of nine artists who so far have had little or no work shown in Belgian museums. Each of these artists, who are of different generations, starts out from the tradition of the portrait and goes in great depth into viewing the model and into the look he or she returns. This results in portraits that are embedded in the personal, societal, political and cultural environment and the period in which the artists live and work. The title of the exhibition is taken from These Strangers in a Foreign World, a poem by Emily Dickinson (1830-86), and accentuates the relationship with the Other: These Strangers, in a Foreign World, Protection asked of me – Befriend them, lest Yourself in Heaven Be found a Refugee – In the course of art history, painting has ... More
Major Sarah Oppenheimer sculptural intervention debuts at Pérez Art Museum Miami
Block Museum presents first major retrospective of artist Tseng Kwong Chi
Snap Galleries exhibits John d Green's photographs from his legendary book "Birds of Britain"


Sarah Oppenheimer, 33-D, 2014. Aluminum, glass, and architecture Dimensions variable. Installation view: Kunsthaus Baselland. Courtesy of the artist and von Bartha. Photo by Serge Hasenböhler.



MIAMI, FLA.- Pérez Art Museum Miami debuted S281913, a major new work by Sarah Oppenheimer on view until April 30, 2017. Bridging art, architecture, and engineering, Oppenheimer's intensive spatial modifications generate astonishing effects that both scramble and clarify our understanding of the buildings we inhabit, providing not only new ways of looking, but a new set of philosophical considerations with which to approach the built environment. For her new project, commissioned by PAMM, Oppenheimer reorients the array of staggered exhibition spaces on the museum's second floor. S-281913 consists of two architectural "switches": rotating glass elements that alternate in transparency and reflectivity in relation to lighting conditions and ... More



Tseng Kwong Chi, Andy Warhol (New York), c. 1986 (detail), from the Portraits of the Artists series. C-print, printed 2015, 30 x 30 in. Courtesy © Muna Tseng Dance Projects, Inc., New York, and Eric Firestone Gallery, East Hampton, New York.



Born in Hong Kong, educated in Vancouver and Paris, and later based in New York City, Tseng Kwong Chi (1950–1990) produced a large body of witty, playful, performance-based photography that both captured the pivotal downtown Manhattan art and club scenes of the 1980s and reflected the increasingly globalized movement of people across nations and continents. Tseng called himself an "inquisitive traveler, a witness of my time and an ambiguous ambassador." His works alternately function as witness to his life and community and as wry social commentary, raising critical questions about identity and culture. Tseng Kwong Chi: Performing for the Camera, on view at Northwestern University Block Museum of Art from September ... More



Viviane Ventura.



LONDON.- John d Green's photographs from his legendary book Birds of Britain, published in 1967 and long out of print, are the subject of a major new exhibition. For the first time anywhere in the world, fifty years after John's original photo-sessions for the book, Snap Galleries are hosting an exhibition of photographs from his Birds of Britain archive at their central London gallery. The gallery exhibition features a selection of images from the original book, alongside a number of previously unpublished photographs. John d Green has never before offered collectors the opportunity to own limited edition photographs from his Birds of Britain archives – until now. John's signed limited editions are available to purchase in a range of physical sizes to suit every wall space, and edition sizes are small. You can see them here, along with some information on The Big Book of Birds of Britain, the new ultra-large-forma ... More
Quote
Art doesn't transform. It just plain forms. Roy Lichtenstein
---
Philippe Parreno – 'It's a Half-Mechanic, Half-Organic Machine' | TateShots
---
Flashback
On a day like today, French painter Pierre Bonnard was born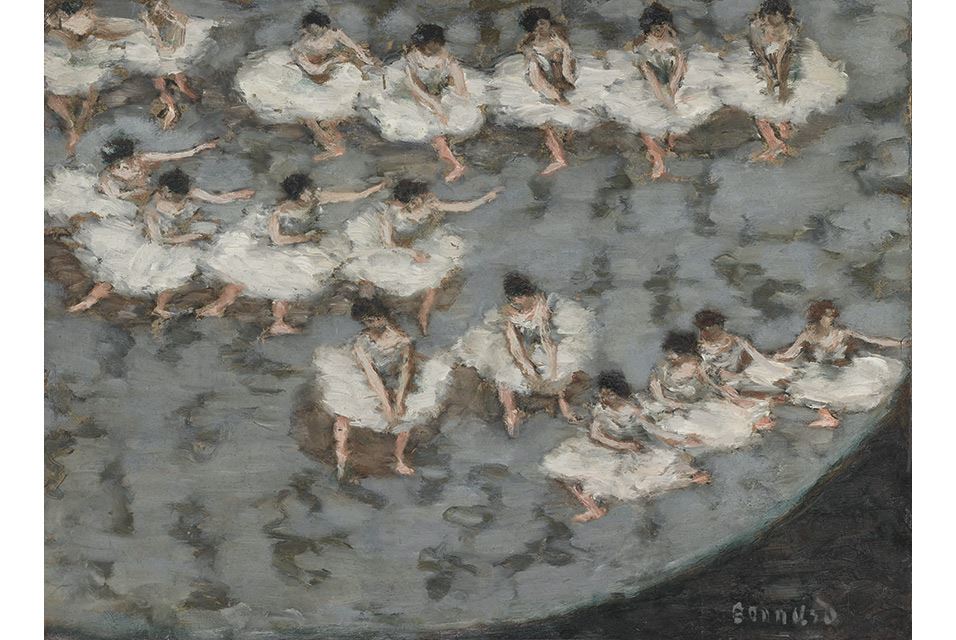 August 03, 1867. Pierre Bonnard (3 October 1867 - 23 January 1947) was a French painter and printmaker, as well as a founding member of the Post-Impressionist group of avant-garde painters Les Nabis. Bonnard preferred to work from memory, using drawings as a reference, and his paintings are often characterized by a dreamlike quality. The intimate domestic scenes, for which he is perhaps best known, often include his wife Marthe de Meligny. In this image: Pierre Bonnard, "Dancers," 1896. Oil on cardboard. 28 x 36 cm. Musée d'Orsay © 2015 Artists Rights Society (ARS), New York / ADAGP, Paris.
---

Museums, Exhibits, Artists, Milestones, Digital Art, Architecture, Photography,
Photographers, Special Photos, Special Reports, Featured Stories, Auctions, Art Fairs,
Anecdotes, Art Quiz, Education, Mythology, 3D Images, Last Week,
.
Royalville Communications, Inc
produces: