Sotheby's New York to offer monumental David Hockney masterpiece
David Hockney, Woldgate Woods, 24, 25 and 26 October, 2006 Estimate $9/12 Million. Photo: Sotheby's.
NEW YORK, NY
.-
On 17 November 2016,
Sotheby's
New York Contemporary Art Evening Auction will include Woldgate Woods, 24, 25 and 26 October, 2006, the first work from David Hockney's famed Woldgate Woods series to appear at auction. Measuring over three and half meters in diameter, the work, captivated audiences as part of Royal Academy's blockbuster 2012 exhibition David Hockney: A Bigger Picture, which featured spectacular large-scale paintings inspired by the East Yorkshire landscape. With an estimate of $9/12 million, Woldgate Woods, 24, 25 and 26 October, 2006 is set to establish a record for the artist at auction. Grégoire Billault, Head of the Contemporary Art Department, noted: "David Hockney stands alongside Francis Bacon and Lucian Freud as one of the pillars of post-war British art. Ten years after we redefined the market for his work with The Splash, Sotheby's is set to once again establish a new record with Wol ...
More
The Best Photos of the Day
Garbos' Garbos: Staley Wise exhibits portraits from Greta Garbo's personal collection
"1937. On Gernika. War and civitas" exhibition opens at the Bilbao Fine Arts Museum
The Met and India's Ministry of Culture renew long-term cooperative relationship


Clarence Sinclair Bull, Susan Lenox, 1931.



NEW YORK, NY.- Greta Garbo was the undisputed queen of Hollywood from the mid-1920's through the 1930's. The combination4 of her extraordinary beauty and brilliant acting ability elevated her to international stardom from the beginning of her career while she was still in her early 20's and newly arrived from Sweden. Her image as an exotic, sophisticated woman of the world was developed by MGM, as was her public persona as a woman of mystery who avoided publicity and protected her privacy. Upon her arrival in Hollywood, she met Ruth Harriet Louise, a young photogrpaher also in her early 20's who had family conenctions to the film industry. Together Garbo and Ruth Harriet Louise created her earliest Hollywood studio portraits, which captured her singular beauty and glamorous allure. Later sessions with Clarence Sinclair Bull, George Hurrell, and other photographers made Garbo's face, the keystone of modern feminine beauty, known throughout the world. The quality of these prints and the iconic subject ... More



Pablo Picasso (Málaga, 1881-Mougins, Francia, 1973), Mano con espada rota (detail). Dibujo preparatorio para "Guernica", 1937. Grafito sobre papel. 23,9 x 45,4 cm. Museo Nacional Centro de Arte Reina Sofía, Madrid.



BILBAO.- The Peace Treaty project, devised by SantiagoEraso and curated by Pedro G. Romero, includes exhibitions, contemporary artistic productions and publications that focus on depictions of peace in art history, culture and law. Starting last year and throughout the course of this year, numerous activities associated with this project have been presented in around twenty venues, from Bilbao to Barcelona, Baiona and Salamanca. In addition to the principal exhibition, entitled 1516-2016. Peace Treaties, divided between the Museo San Telmo and the Koldo Mitxelena Kulturunea in San Sebastián (in which the Bilbao Fine Arts Museum has also taken part with the loan of around twenty works from its collection), there are seven more Study Cases on historical episodes, each with an expert curator; a monographic exhibition on José María Sert; and seven contemporary ... More



Noga Pnueli, left, Rayna White, second from left in one of the galleries at the Metropolitan Museum of Art in New York.



NEW YORK, NY.- Thomas P. Campbell, Director and CEO of The Metropolitan Museum of Art, announced today that The Met and the Ministry of Culture of the Government of India have reaffirmed their long-term cooperative relationship through a Memorandum of Understanding (MOU), which renews for five additional years the two-way partnerships for sharing knowledge and expertise that have been established between the Museum and cultural institutions in India. The MOU was signed in June by Shefali Shah, Joint Secretary of the Ministry of Culture, and Mr. Campbell. Through the agreement, the Ministry of Culture and The Met will continue to cooperate in the areas of conservation, exhibitions, academic research, information-sharing, public education, publications, museum management, and short- and long-term loans. "This agreement is a wide-ranging reaffirmation of The Met's close relationship with India and its rich cultural heritage," said Mr. ... More
Sam Gappmayer named Director of John Michael Kohler Arts Center
Philadelphia Museum of Art's South Asian Galleries reopen
Long-lost Inca altar found beside Peru river


Gappmayer has 27 years of experience heading multidisciplinary arts organizations throughout the United States.



SHEBOYGAN, WI .- This morning, the Board of Directors of the John Michael Kohler Arts Center announced the hiring of Sam Gappmayer as the new Director of the Sheboygan, WI, arts organization. Gappmayer, who currently serves as President and CEO of the Peoria Riverfront Museum, will assume his new position October 17. Gappmayer has 27 years of experience heading multidisciplinary arts organizations throughout the United States. Prior to the Peoria Riverfront Museum, he worked as the top executive at the Colorado Springs Fine Arts Center, and at the Sun Valley Center for the Arts in Ketchum, ID. Gappmayer earned a Master of Arts in art history from the University of Oregon and a Bachelor of Arts in fine arts from Montana State University. "I have admired the work of the John Michael Kohler Arts Center and Ruth DeYoung Kohler, its longtime Director, for most of my career," stated Gappmayer. "Vital and relevant ... More



Tara, Goddess of Compassion 18th - 19th century. Made in Dolon Nor, Duolun County, Chahar Province, Inner Mongolia, China. Gilded bronze. Gift of John T. Morris, 1911.



PHILADELPHIA, PA.- On October 2 the Philadelphia Museum of Art is reopening its galleries of South Asian art following a comprehensive renovation. Dedicated to one of the most significant collections of its kind in this country, these newly reinstalled galleries offer visitors an aesthetic and cultural experience that reveals the richness and diversity of artistic expression across India, Tibet, Nepal, Pakistan, Bangladesh, Thailand, Cambodia, and Indonesia. Among the works displayed are centuries-old sculptures of the Buddhist Lord of Compassion from India and Thailand, an elaborately carved and painted wood Tibetan altarpiece, and a rare 18th century Sufi manuscript, Gulshan-i-Ishq (Rose Garden of Love), juxtaposed with a contemporary site-specific animation by Pakistani-born artist Shahzia Sikander. The centerpiece of the collection—the South Indian Pillared ... More



The citadel of Machu Picchu is seen during its reopening in Cuzco, Peru, Thursday, April 1, 2010.



LIMA (AFP).- Workers doing cleanup along a river in southern Peru stumbled upon part of a pre-Hispanic, Inca-era altar believed to have been long-lost, the Culture Ministry said Wednesday. About 35 percent of the altar -- weighing around 20 tonnes and decorated with detailed carving -- was located on the bank of the Vilcanota River, in the Cusco region. The hefty stone religious piece, dating from sometime between 1200 and 1500 AD, is about 2.5 meters (eight feet) long and one meter (three feet) tall. It was feared to have been lost for good during major road work in the area four years ago. But as the workers cleared stones, sand, earth and brush that had been deposited by the river, they discovered the piece -- a significant part of Peru's cultural patrimony. "Now we have to recover it all, as fully as possible, and relocate it," Oscar Montufar, coordinator of the Ollantaytambo Archaeological Park, told reporters, explaining that the alter had been used in ... More
Exhibition of works by Tony Cragg spans both of Lisson Gallery's London venues
Eskenazi Museum of Art at Indiana University mounts exhibition of important drawings by Italian masters
Blistering barnacles! Exhibition at Grand Palais shows dark side of Tintin creator Hergé


Tony Cragg, Willow III, 2016. Wood, 123 x 110 x 110 cm 48 3/8 x 43 1/4 x 43 1/4 in © Tony Cragg; Courtesy Lisson Gallery.



LONDON.- This exhibition is Tony Cragg's fourteenth with Lisson Gallery since his first solo show in 1979. Spanning both London venues, it features the latest works in Cragg's career-long pursuit of his interest in developing specific groups of sculptural themes and forms. As always, Cragg's radical and experimental approach to making sculpture produces surprising new forms and meanings that add congruently to his already considerable oeuvre. A process of continual enquiry infuses Cragg's practice with a restless energy, manifest in his continuing exploration of a multitude of materials and ways of reshaping the world around us. His axiom is that "There are many more things that do not exist than things that do exist" and with this he points to a deep well of things and forms that are as yet beyond our perception. Sculpture is for Cragg a method to unlock this enormous ... More



Domenico Tiepolo, Jesus in the Garden of Gethsemane: The Second Prayer, ca. 1785. Pen and brown ink wash over black chalk on paper. The Anthony Moravec Collection of Old Master Drawings, Eskenazi Museum of Art.



BLOOMINGTON, IN.- This fall, the Eskenazi Museum of Art at Indiana University showcases a series of Italian master drawings, in an exhibition that highlights one of the most significant gifts of art in the museum's 75-year history. Giambattista and Domenico Tiepolo: Master Drawings from the Anthony J. Moravec Collection presents a collection of works on paper by the Venetian masters Giambattista and Domenico Tiepolo—a father and son who are widely considered two of the most notable Italian draftsmen of their era—along with works by contemporaries Ubaldo Gandolfi and Giuseppe Bernardino Bison, as well as their predecessor Jacopo Palma il Giovane. Giambattista and Domenico Tiepolo marks the first time that the Eskenazi Museum has comprehensively exhibited the ... More



Andy Warhol, Portrait of Hergé, 1977, Screenprint and acrylic on canvas, Musée Hergé © The Andy Warhol Foundation for the Visual Arts, Inc. / ADAGP, Paris 2016 © Jean–Pol Stercq / ADAGP, Paris 2016.



PARIS (AFP).- A huge new exhibition about Tintin creator Herge does not shy away from showing how the cartoonist pined to be taken seriously as an artist nor his shame at his passivity during the Nazi occupation of Belgium. "Herge", which opened Wednesday at the Grand Palais in Paris, aims to lift some of the mystery that surrounds the enigmatic Belgian cartoonist Georges Remi, who lived in the shadow of his boy hero. It shows how the runaway success of the adventures of the young reporter became both a blessing and a curse for Herge, frustrating his hopes of being seen as an abstract painter. Nor does the exhibition, which claims to be the biggest retrospective of the artist ever assembled, try to gloss over his wartime work for a collaborationist Belgian newspaper. Curator Jerome Neutres told AFP that ... More
The FLAG Art Foundation opens a solo exhibition by artists Elmgreen & Dragset
Art Institute of Chicago surveys the influential career of László Moholy-Nagy.
The Guerrilla Girls raise questions about diversity in European museums for their latest campaign


Elmgreen & Dragset, The Experiment, 2012. Polyester Resin, Glass Fibre, Acrylic Paint, Glass Eyes, Human Hair, Wood, Lacquer, Mirror, Metal Parts, Leather Boy: 128 x 40 x 24 cm; Mirror: 189,5 x 79,2 x 63 cm. Courtesy: Gallery Victoria Miro Photo by: Serge Hasenböhler.



NEW YORK, NY.- The FLAG Art Foundation presents Changing Subjects, a solo exhibition by internationally acclaimed artists Elmgreen & Dragset, on view October 1 – December 17, 2016. The exhibition takes place on FLAG's 9th and 10th floor galleries, and includes a site-specific sculpture on its outdoor terrace overlooking the Hudson River. Changing Subjects, designed by the artists, presents new and existing works from the duo's twenty-year-long collaboration that address existential issues linked to identity, sexuality, and mortality, as well as an examination of social value systems and the expectations that surround them. Changing Subjects investigates the multiple meanings of the word "subject" as a noun. In grammatical terms, the ... More



László Moholy-Nagy. LIS, 1922. Kunsthaus Zürich, 1981/6. © 2016 Hattula Moholy-Nagy/VG Bild-Kunst, Bonn/Artists Rights Society (ARS), New York.



CHICAGO, IL.- For the first time in nearly 50 years, a comprehensive retrospective of one of the most internationally recognized visual artist ever to have resided in Chicago will take place at the Art Institute of Chicago. From October 2, 2016, to January 3, 2017, Moholy-Nagy: Future Present will offer 300 multimedia works, including painting, photography, film, and sculpture. The exhibition is co-organized by Carol S. Eliel, Curator of Modern Art, Los Angeles County Museum of Art; Karole P. B. Vail, Curator, Solomon R. Guggenheim Museum; and Matthew S. Witkovsky, Richard and Ellen Sandor Chair and Curator, Department of Photography, Art Institute of Chicago. The Art Institute of Chicago presentation is organized by Witkovsky, with the assistance of Becca Schlossberg, Exhibition Manager, and Yau-mu Huang, Senior Exhibition Designer. A pioneer of abstraction ... More



Whitechapel Gallery Guerrilla Girls Commission Is it even worse in Europe (2016).



LONDON.- For over three decades the Guerrilla Girls have been exposing and challenging sexism and racism in the visual arts, politics and culture at large, and now for the first time the anonymous feminist activist group revisit their 1986 campaign 'It's Even Worse in Europe'. In the summer of 2016, the Guerrilla Girls wrote to 383 European museum directors, inviting them to respond to fourteen questions about diversity. The responses they received, or did not receive, are revealed in their latest campaign 'Is it even worse in Europe?' launched at the Whitechapel Gallery, London, on 1 October 2016. A new banner is installed on the façade of the Gallery for five months. It reveals that only a quarter of museums responded to their questionnaire, and invites visitors to go inside the Gallery to discover more. Copies of every completed questionnaire, some typed and others hand-written, cover a wall in the Archi ... More
Quote
Never judge a work of art by its defects. Washington Allston
---
Isa Genzken - 2019 Nasher Prize Laureate
---
Flashback
On a day like today, American photographer Annie Leibovitz was born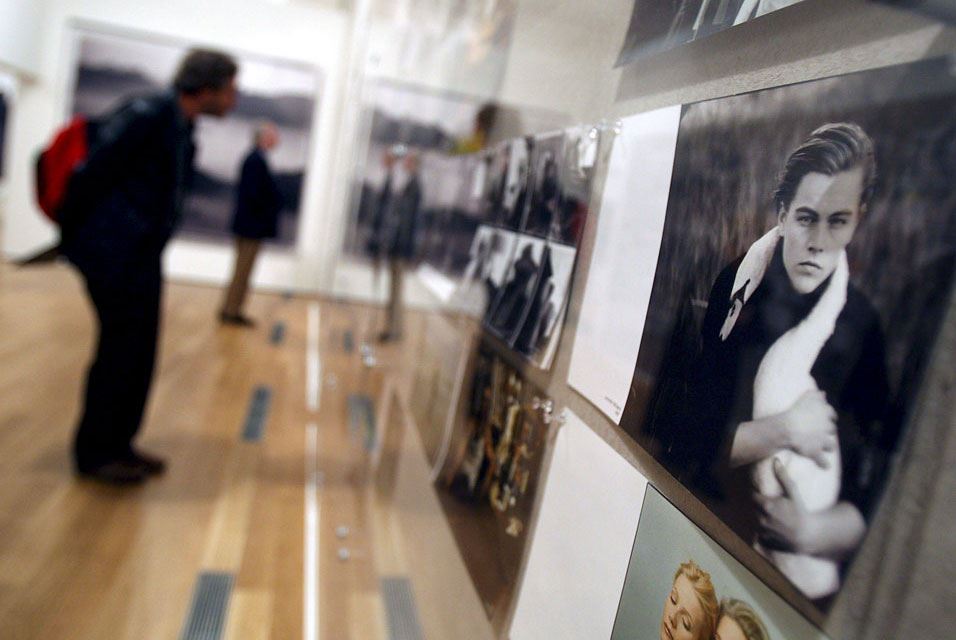 August 02, 1949. Anna-Lou "Annie" Leibovitz (born October 2, 1949) is an American portrait photographer. She photographed John Lennon on the day he was assassinated, and her work has been used on numerous album covers and magazines. She became the first woman to hold an exhibition at Washington's National Portrait Gallery in 1991. The image taken by American photographer Annie Leibovitz of actor Leonardo di Caprio (right) is one of the 150 photographs exhibited at the National Portrait Gallery in London.
---

Museums, Exhibits, Artists, Milestones, Digital Art, Architecture, Photography,
Photographers, Special Photos, Special Reports, Featured Stories, Auctions, Art Fairs,
Anecdotes, Art Quiz, Education, Mythology, 3D Images, Last Week,
.
Royalville Communications, Inc
produces: