Modern & Contemporary Irish art takes centre stage at Sotheby's this September
Sir John Lavery, Mary Borden and her Family at Bisham Abbey 1925 (detail), oil on canvas, 64 by 76cm. Estimate: £150,000-250,000 / €179,000-298,000. Photo: Sotheby's.
LONDON
.-
Modern and contemporary Irish art will take centre stage at
Sotheby's
annual Irish Art sale in London on 13 September 2016 and at the Royal Hibernian Academy in Dublin from 1-4 September, when the contents of the 70-lot auction go on public exhibition, prior to viewing in London. The roll-call of artists for this year's sale includes Sir John Lavery, Jack B. Yeats, Roderic O'Conor, Sir William Orpen, Paul Henry, Gerard Dillon, Mary Swanzy, Colin Middleton, F.E. McWilliam, Rowan Gillespie and Gottfried Helnwein. Mary Borden and her Family at Bisham Abbey is arguably the most evocative of Lavery's 'portrait interiors' representing writers. The painting shows Mary lost in reverie sitting in country house splendour in the grand salon at Bisham Abbey, while her four children quietly converse in the background. The artist and his easel can be seen in reflection in the floor-length mirror on the far wall, which a ...
More
The Best Photos of the Day
San Antonio Museum of Art presents exhibition of works by Carlos Mérida
The Hilton Brothers return to Berlin with an exquisite showcase
Ecclesiastical textiles from the age of Maria Theresia on view in Vienna


Carlos Mérida (Guatemalan, 1891–1984) Puc and the Magic Spell, 1961. Acrylic and oil on gold leafed wood panel, h. 24 in. San Antonio Museum of Art, Bequest of Gilbert M. Denman Jr.



SAN ANTONIO, TX.- The San Antonio Museum of Art is presenting Carlos Mérida: Selections From the Permanent Collection, July 8, 2016 through January 29, 2017 in the Golden Gallery. This small exhibition features 30 works that express Mérida's diversity of themes and media, and show his progression as an artist. This selection is from the Museum's archives. "Mérida is one of the first artists to fuse European modern painting to Latin American themes," said Curator of Latin American Art Marion Oettinger. "It's exciting to share these works from the Museum's archives with the public." Born in Guatemala, Mérida paid homage to his own preColumbian roots through figurative illustrations of the ancient Maya world and the indigenous populations of his youth. He then went on to become one of Mexico's first successful abstract artists. Mérida lived and worked in Mexico for much ... More



Mick Jagger, Montauk, New York, 1975. ©Christopher Makos.



BERLIN.- Renowned New York photographers Christopher Makos and Paul Solberg – The Hilton Brothers - will return to Berlin on August 31st, with an exquisite showcase titled "New York Stories" at the Waldorf Astoria in cooperation with Sleek Magazine. The exhibition will feature portraits of iconic characters New York including such nightlife fixtures as Debbie Harry, Jean-Michel Basquiat and Andy Warhol. Andy Dandy (2007), the key image of the exhibtion is part of a portfolio based on Makos' legendary Altered image (1981) series of Andy Warhol paired with Solberg's flower portraits from Bloom (2005). The Hilton Brothers (2004) a Makos+Solberg collaboration, is inspired by the 1930's Siamese-twins vaudeville stars, the Hilton Sisters. As visual storytellers, they explore the freedom and parameters of collaboration, through a shared language spoken through their pictures and collage. Blurring and fusing two disparate styles, each of their ... More



"Paperl" (parrots) Vestments: cope (detail) donated by Elisabeth Christine (1691–1750), the wife of Emperor Charles VI produced in Vienna c.1712/40 h. 157 cm, w. 304 cm © KHM-Museumsverband.



VIENNA.- The Ecclesiastical Treasury house's important holdings of 18th-century liturgical vestments cannot be on permanent display for conservation reasons. The majority of these precious textiles were donated by Emperor Charles VI (1685-1740), his wife Elisabeth Christine (1691-1750) and their daughter Maria Theresia (1717-1780). At the time it was customary to use costly French or Italian fabrics, lavishly embellished with embroidery, for such vestments. Imperial robes were also occasionally reworked into such robes. The exhibition offers insights into the wealth and exceptional quality of the Imperial Treasury's holdings of precious vestments, which reflect the Pietas Austriaca, the deep piety of the House of Habsburg. The museum has also included a selection of contemporary ecclesiastical garments produced after designs by the artists Christof Cremer and ... More
Paintings from BAMPFA's collection of Hans Hofmann's work on view in new exhibition
Swann Auction Galleries to sell original Heath Robinson artwork for 1909 Kipling book cover
First solo show of the young Chinese artist Huang Yuxing with Galerie Perrotin opens in Hong Kong


Hans Hofmann, The Bald Eagle,1960; oil on canvas; 60 ¼ x 52 ¼ in.; BAMPFA Collection, gift of Hans Hofmann.



BERKELEY, CA.- Hans Hofmann's famous phrase "push and pull" is most often associated with his signature works of the 1950s and 1960s, in which bold color planes emerge from and recede into energetic surfaces of intersecting and overlapping shapes. The ideas and impulses behind this enduring term, however, took shape decades earlier, in his teachings, writings, and in his own paintings. In the late 1930s, in a series of widely attended lectures in Greenwich Village, Hofmann demonstrated how to "push a plane in the surface or to pull it from the surface" to create pictorial space. "We must create pictorial space," he declared to audiences of avid young artists and critics, including Arshile Gorky, Clement Greenberg, and Harold Rosenberg. Hofmann would later refine his definition of push and pull as "expanding and contracting forces . . . . the picture ... More



This rarity will feature in the September 29 Illustration Art sale at Swann Auction Galleries of New York, where it carries an estimate of $1,500-$2,500.



NEW YORK, NY.- "Heath Robinson" – coined during the First World War – is still used today to describe anything mechanical that looks as though it is absurdly homespun and only just held together by a bit of string and sticking tape. Of course the name came from the great illustrator and cartoonist William Heath Robinson, whose drawings of fantasy inventions and extraordinary rackety contraptions remain hugely popular today, more than a century on from when he first started including them in children's books and in satirical cartoons. As an artist, however, he began his career as a book illustrator, adorning editions of Hans Christian Andersen's fairy tales, The Arabian Nights and others. This watercolour, graphite, pen and ink design for A Song of the English, Rudyard Kipling's poetry collection, was used for the cover and spine when the poem and six others were ... More



New Order Hurtling Down the Proletariat, 2015-2016 (detail). Acrylic on canvas, 215 x 518 cm. Courtesy Galerie Perrotin.



HONG KONG.- Galerie Perrotin presents "AND NE FORHTEDON NÁ", the first solo show of the young Chinese artist HUANG Yuxing with the gallery. Showcasing about 12 pieces, the exhibition gives an in-depth view of the artist's recent works. The sentence"And ne forhtedon nᔠcomes from the epitaph of the 20th-century Argentinian writer Jorge Luis Borges. Originating in the Anglo-Saxon poem The Battle of Maldon, it has much obsessed Huang in his recent creative work. Throughout his lifetime, Borges had never ceased to stand up for his dreams. In literature, he strived to free himself from reality by transcending space and time. Politically, he defied the discourse-dominating power s in the meanest language. And even when plagued by illness, he refused to submit to life's hurdles. "And ne forhtedon nᔠis not only the writer's ultimate answer to his own dreams; it is also the ... More
PAD London prepares to celebrate 10 vibrant years in its landmark location of Berkeley Square
Abu Dhabi Art reveals established and innovative galleries participating in 2016
Historic new body of work by Irish artist Willie Doherty to open at Kerlin Gallery


Marc Chagall, Autour des fruits rouges, c. 1970-1975. Oil on canvas, 18 ¼ x 15 in / 46.4 x 38.1 cm. Courtesy of Richard Green.



LONDON.- As the international collecting community descends on London in October, PAD London prepares to celebrate 10 vibrant years in its landmark location of Berkeley Square. Rooted in the tradition of French Decorative Arts and the aesthetic of a Cabinet of Curiosities, PAD launched in 2007 to become the first London fair to bring art and design under one roof. The last decade saw PAD actively promoting cross-collecting and bolstering Mayfair's transformation into a leading destination for both art and design. 66 international galleries are participating in this year's edition, with 14 newcomers and 52 returning exhibitors. Investec joins as first-time Banking Sponsor to PAD's VIP Programme, alongside the fair's Champagne Sponsor Ruinart and PAD Prize supporter Moët Hennessy. PAD's panorama of art and design continues to be an enticing treasure ... More



Buste d'Homme by Pablo Picasso.



ABU DHABI.- Held under the patronage of His Highness Sheikh Mohamed bin Zayed Al Nahyan, Crown Prince of Abu Dhabi and Deputy Supreme Commander of the UAE Armed Forces Abu Dhabi Art 2016 returns with 40 established and innovative galleries from 20 different countries, presenting iconic pieces by internationally renowned artists and unique artworks by emerging artists., Abu Dhabi Art is organised by Abu Dhabi Tourism & Culture Authority (TCA Abu Dhabi) and scheduled to run from November 16-19,. Coming from Europe, Asia, North America and the Middle East, the galleries will exhibit under the fair's four sections: (1) Modern & Contemporary; (2) Bidaya; (3) Beyond; and (4) Gateway. "Abu Dhabi Art 2016 maintains its high calibre of galleries from around the world, with a showcase of distinctive pieces by a diverse range of globally celebrated figures and emerging artists," said Rita Aoun-Abdo, Executive Director, Culture Sector ... More



Willie Doherty, Loose Ends V, 2016 (detail), diptych, pigment prints mounted on Dibond, framed, 107.6 x 161 cm / 42.4 x 63.4 in image size. Images courtesy the artist and Kerlin Gallery.



DUBLIN.- Kerlin Gallery announces Loose Ends, a historic new body of work by the world-renowned Irish artist Willie Doherty (b. 1959, Derry), comprised of a two-screen video installation and accompanying photographic diptychs. The exhibition opens with a reception in the company of the artist on Friday 2 September. Loose Ends turns our attention to the passage of time and its powerful, corrosive effect on our hopes, beliefs and sense of identity. Across two screens, Doherty uses the camera and spoken word to focus on the details and textures of two very different locations. Both associated with the 1916 Easter Rising – a key event in the history of Irish independence, the sites are examined in detail through the use of a slow, almost trance-like, zoom. Doherty's lens absorbs the material evidence of each location today, ... More
ARoS Aarhus Art Museum announces first ARoS Triennial
New book provides a survey of Edward Ardizzone's work
Totally Thames announces a month of river-based culture this September


ARoS Aarhus Art Museum.



AARHUS.- The ARoS Art Museum announced the first ARoS Triennial, a new international contemporary art exhibition that will be presented every three years in Aarhus, Denmark. Taking place from June 3 to July 30, 2017, the launch of the ARoS Triennial will be one of the highlights of Aarhus's year as European Capital of Culture 2017. Led by Erlend G. Høyersten, Director of ARoS Aarhus Art Museum, the first Triennial, entitled THE GARDEN – End of Times; Beginning of Times, will explore how man has depicted and altered nature according to his view of the world. The first ARoS Triennial will be the largest exhibition staged by the museum and within the city of Aarhus to date. Spread over several venues around the city, including the two main gallery spaces at the ARoS Art Museum and along 4km of coastline surrounding the city, the Triennial will feature work by a range ... More



Edward Ardizzone: Artist and Illustrator by Alan Powers.



LONDON.- Edward Ardizzone: Artist and Illustrator by Alan Powers (September 2016) provides the first fully illustrated survey of Ardizzone's work, placing his activity as an artist and illustrator in the context of 20th-century British art, illustration, printing and publishing. Copiously illustrated with many previously unpublished images, it draws for the first time on the family's archives, those of Ardizzone's publishers and conversations with those who knew the artist. The book is published to coincide with Ardizzone: A Retrospective, a major exhibition co-curated by Alan Powers and House of Illustration's Olivia Ahmad, on display 23 September 2016 – 15 January 2017. Edward Ardizzone, RA, CBE (1900–1979) was one of relatively few British artists who defined the field of illustration for their generation. Although his work as an artist and illustrator was wide- ... More



Tall Ship Fireworks, Woolwich.



LONDON.- Thames Festival Trust announced Totally Thames 2016, a season of 150 unmissable events which brings London's river to life throughout the month of September with an exciting programme of arts, cultural, archaeological and river events. Following the success of the first two festivals, Totally Thames 2016 presents a new programme of live and interactive art along the Thames' entire 42-mile stretch through the capital. Floating Dreams is a major London installation by Ik-Joong Kang, one of South Korea's most renowned and celebrated multimedia artists, and will take the form of a compelling, large-scale installation situated in the centre of the Thames by Millennium Bridge. Fluxland, an immersive artwork by French artist Cyril de Commarque, will navigate along the Thames on a series of journeys over the course of the month, welcoming the public on ... More
Quote
Art addresses itself only to an exceptionally small
handful of people. Paul Cézanne
---
Female Nude Reading, Robert Delaunay
---
Flashback
On a day like today, English illustrator and publisher Roger Dean was born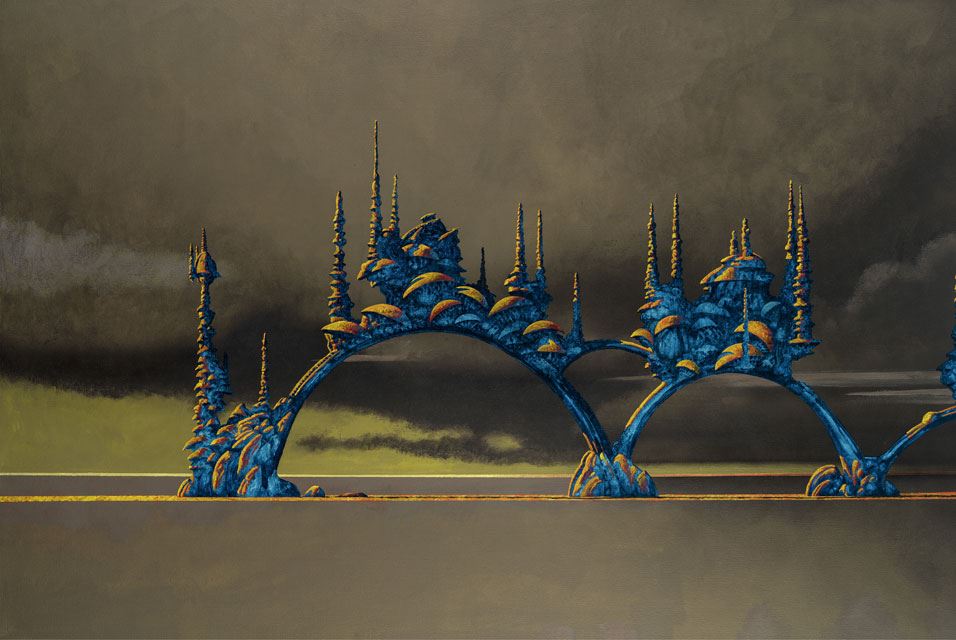 August 31, 1944. William Roger Dean (born 31 August 1944), known as Roger Dean, is an English artist, designer, and publisher. He is best known for his work on posters and album covers for musicians, which he began painting in the late 1960s. The artists for whom he did the most art are English rock bands Yes and Asia. In this image: Roger Dean, Archipelago. © Roger Dean.
---

Museums, Exhibits, Artists, Milestones, Digital Art, Architecture, Photography,
Photographers, Special Photos, Special Reports, Featured Stories, Auctions, Art Fairs,
Anecdotes, Art Quiz, Education, Mythology, 3D Images, Last Week,
.
Royalville Communications, Inc
produces: