Mathematical mystery of famous 3700-year-old Babylonian clay tablet solved
Dr Daniel Mansfield with the Plimpton 322 Babylonian clay tablet in the Rare Book and Manuscript Library at Columbia University in New York. Image: UNSW/Andrew Kelly.
SYDNEY
.-
UNSW Sydney
scientists have discovered the purpose of a famous 3700-year-old Babylonian clay tablet, revealing it is the world's oldest and most accurate trigonometric table, possibly used by ancient mathematical scribes to calculate how to construct palaces and temples and build canals. The new research shows the Babylonians, not the Greeks, were the first to study trigonometry – the study of triangles – and reveals an ancient mathematical sophistication that had been hidden until now. Known as Plimpton 322, the small tablet was discovered in the early 1900s in what is now southern Iraq by archaeologist, academic, diplomat and antiquities dealer Edgar Banks, the person on whom the fictional character Indiana Jones was based. ...
More
The Best Photos of the Day
Groundbreaking partnership entrusts the Parrish with most significant collections of works
Christie's announces Sale of Important American Furniture, Silver, Maritime, Folk and Outsider Art
V&A acquires Queen Victoria's sapphire and diamond coronet - a spectacular love token designed by Prince Albert


James Brooks (American 1906–1992), Chinese Still Life, 1947. Oil on Homasote, 24 x 20 inches. Parrish Art Museum, Water Mill, N.Y., Gift of the James and Charlotte Brooks Foundation.



WATER MILL, NY.- Terrie Sultan, Director of the Parrish Art Museum, and Kathryn Brooks Dodson, President of the James and Charlotte Brooks Foundation, today announced that, through an unprecedented agreement, the Museum has been given the art, archives, and all other resources of the Foundation established by key Abstract Expressionists James Brooks (1906 - 1992) and Charlotte Park (1918 - 2010). This transfer to the Museum of assets and responsibility for stewardship of the legacy of Brooks and Park marks the dissolution of the Foundation. It also furthers the Parrish's mission to illuminate the creative process by collecting the work of artists in depth, and serves its particular focus on artists associated with the East End of Long Island, New York. In addition, the Museum will draw upon the Foundation's assets to establish the James and Charlotte Brooks Fund, an endowment to provide support ... More



A Chippendale Carved Cherrywood Tall-Case Clock. The dial signed by Isaac Brokaw (1746-1826), Elizabeth Town; The case labeled by Matthew Egerton, Jr. (Circa 17691836), New Brunswick, New Jersey, Circa 1792. Estimate: $30,000-50,000. © Christie's Images Limited 2017.



NEW YORK, NY.- Christie's sale of Important American Furniture, Silver, Maritime, Folk and Outsider Art will present more than 180 lots from the 17th through 21st centuries, representing a spectrum of diverse and dynamic artistry and craftsmanship. The sale features various important private collections including Property from the Estate of Richard J. Schwartz, the Collection of the Late Jack Warner, and Property from The Westervelt Company, among others. With many lots in the sale offered without reserve, this sale presents an excellent opportunity for new and established collectors alike. The Estate of Richard J. Schwartz will include 15 lots and continues the successful spring sale of American paintings and sculpture from the collection. A highlight of the exceptional aesthetic movement furniture from ... More



Queen Victoria's sapphire and diamond coronet, designed by Prince Albert, made by Joseph Kitching, London, 1840- 1842. © Victoria and Albert Museum, London.



LONDON.- Today, the Victoria and Albert Museum announced it has acquired one of Queen Victoria's most important jewels. The stunning sapphire and diamond cornet designed by Prince Albert in 1840, the royal couple's wedding year, has been generously gifted to the V&A by William Bollinger. In 2019, the bicentenary year of the birth of both Victoria and Albert, the coronet will go on display as the centre-piece of the Museum's newly-refreshed William and Judith Bollinger Jewellery Gallery. The design of the coronet was based on the Saxon Rautenkranz, or circlet of rue, which is set diagonally across the shield in Prince Albert's coat of arms. It was made by Joseph Kitching, a partner at Kitching and Abud, who were appointed 'Jewellers to the Queen' in 1837. In 1842, the coronet featured in the first and most renowned portrait of the Queen painted by Franz Xaver Winterhalter. The painting depicts Victoria as a figure ... More
Powerful Sorolla portrait to be offered at Bonhams 19th Century Paintings sale in London
Phillips to offer works of contemporary art and design from the collection of Masamichi Katayama
Sotheby's Hong Kong to offer Buddhist art including property from the Nyingjei Lam collection


Joaquin Sorolla y Bastida (Spanish, 1863-1923), Viejo pescador en una barca (Old fisherman in a boat). Estimate: £150,000-200,000. Photo: Bonhams.



LONDON.- Viejo pescador en una barca (Old fisherman in a boat) by Joaquin Sorolla y Bastida is among the leading works at Bonhams 19th Century European, Victorian and British Impressionist Art Sale in London on Wednesday 27 September. It is estimated at £150,000-200,000. The work dates from 1895, when Sorolla (1863-1923) spent the summer in La Albufera in Valencia - the old man depicted also appears in another of the artist's paintings from the same year, La bendición de la barca. Sorolla has portrayed an ancient fisherman resting in his boat, one hand gripping the edge, the other holding a cigarette. The light reflects off his sleeve, touches of green accentuate the shadows on his weathered face and scattered dots of light are visible through the small holes in his straw hat. Bonhams Director of 19th Century Paintings, Charles O'Brien said, "In the mid-1890s, Sorolla experimented with the contrast between light and shadow. He ... More



Mark Grotjahn, Untitled (Black and Creamsicle 700), 2007. Estimate: $150,000-200,000. Image courtesy of Phillips.



NEW YORK, NY.- Phillips will present Life is hard… Let's go shopping , a selection of works from the collection of Masamichi Katayama. Founder of the renowned Japanese interior design firm Wonderwall, Katayama has amassed one of the most significant collections of contemporary art and design in Asia, featuring works by Adrian Ghenie, On Kawara, KAWS, Mark Grotjahn, Jean Prouvé, and Charlotte Periand, among others. Nearly all of the works in the selection being offered at Phillips were included in a dedicated exhibition hosted earlier this year at Tokyo Opera City Art Gallery. 76 works from the collection will be offered in a dedicated auction on 19 September, preceding the New York New Now sale. Adrian Ghenie's The Collector 4 will then be included in London's Evening Sale of 20th Century & Contemporary Art on 6 October. In all, the collection is expected to realize in excess of $3.4 million. Rebekah ... More



A large silver and copper inlaid bronze figure of Shakyamuni Buddha, Central Tibet, 13th-14th century. Height 43.4 cm Est. HK$2,000,000 – 3,000,000/US$260,000 – 380,000. Courtesy Sotheby's.



HONG KONG.- This autumn, Sotheby's Hong Kong Chinese Works of Art Autumn Sales 2017 presents The Heart of Tantra ­– Buddhist Art Including Property from the Nyingjei Lam Collection, a themed sale which will be held on 3 October at Hong Kong Convention and Exhibition Centre. Capturing the rich artistic tradition of bronze craftsmanship of Tibet, Nepal, India, China and Mongolia, this inaugural Hong Kong sale of Himalayan and Chinese Buddhist works of art features 50 lots, ranging in date from the 10th to 18th century, and is led by 21 bronze sculptures from the Nyingjei Lam collection, sold to raise funds for charities in India. The collection has long been acknowledged as a predominant reference for the understanding of Himalayan sculptural art and was formerly on loan to the Ashmolean Museum, Oxford and the Rubin Museum of Art, New York. Other highlights include ... More
19th & 20th century prints & drawings by Dalí, Picasso & Renoir inaugurate fall season at Swann Galleries
New exhibition at San Antonio Museum of Art combines science and art
Van Gogh Museum ranked number one in Europe in museum reputation study by Erasmus University


Pablo Picasso, Françoise sur fond gris, lithograph, 1950. Estimate $70,000 to $100,000.



NEW YORK, NY.- On Tuesday, September 19, Swann Galleries will offer 19th & 20th Century Prints & Drawings. One of seven auctions the house devotes to prints and drawings annually, this sale is notable for its wealth of original artworks in addition to iconic multiples by great masters from the last 200 years. A selection of works by the father of surrealism Salvador Dalí is led by the brilliant watercolor Elephant Spatiaux, 1965, with an estimate of $60,000 to $90,000. René Magritte's Poisson fumé provides comic relief in the form of a flying cigar-fish ($10,000 to $15,000). Additional unique highlights include a pen-and-ink drawing by Paul Klee titled Durch Poseidon, 1940, and Space, 1954, an abstract watercolor by Lyonel Feininger ($25,000 to $35,000 and $20,000 to $30,000, respectively). Portrait of Ralph Stackpole as a Young Man, 1932, is a pencil portrait by Diego Rivera of his friend, likely drawn from an earlier ... More



Portrait of Antinous. Roman, A.D. 130-138. Marble, h. 9 5/16 in. (23.7 cm); w. 7 5/16 in. (18.6 cm); d. 8 1/16 in. (20.5 cm). San Antonio Museum of Art, bequest of Gilbert M. Denman, Jr., 2005.1.84. Photo: Peggy Tenison.



SAN ANTONIO, TX.- On September 1, the San Antonio Museum of Art will present Antinous, the Emperor's Beloved: Investigating a Roman Portrait, the first exhibition of its kind for the Museum, as it focuses on the close examination of a single work in the collection. This exhibition shares both scientific, behind-the-scenes research and the story of Antinous, the young lover of Roman Emperor Hadrian. The exhibition will be on display through November 26, 2017. While traveling with Hadrian in Egypt in AD 130, Antinous drowned in the Nile River. Hadrian went into deep mourning and commemorated Antinous with statues, a city in his name, and ultimately deification. Cities throughout the Empire began to worship Antinous, a practice that continued for more than a hundred years after ... More



The Van Gogh Museum scored highly on all three of these success factors. Photo: Jan-Kees Steenman.



AMSTERDAM.- Erasmus University has today published a large-scale study of the reputation of the eighteen most famous art museums around the world. European respondents placed the Van Gogh Museum first in the reputation ranking, ahead of the Louvre. The Van Gogh Museum came second worldwide. The respondents greatly admired the Van Gogh Museum's collection, as well as the social responsibility fulfilled by the museum and its judicious handling of public resources. The high ranking also reflects the strong reputational score enjoyed by the Netherlands and by the city of Amsterdam compared to the nine other countries included in the study. Axel Rüger, Director of the Van Gogh Museum: 'Our task is to make the life and work of Vincent van Gogh accessible to as many people as possible around the world. It's naturally fantastic for us to hear that this is so highly ... More
Remarkable letter sheds light on nervous young naval cadet prince who was to become King George VI
National Museum of American History collects Hispanic advertising
Exhibition on Swahili arts features objects shown in the U.S. for first time


The letter thanks Fawkes for writing to Prince George to tell him about the interview.



ESSEX.- A remarkable letter shedding light on King George VI's boyhood entry to the Royal Navy as a cadet has come to light among correspondence to be sold at Sworders Fine Art Auctioneers in Essex on September 26. Written by Prince George (later George V) and dated November 6, 1908, the letter is addressed to Admiral Sir Wilmot Hawksworth Fawkes the day after Prince Albert (later George VI) attended the interview committee at Devonport as a 12-year-old. Fawkes was well known to Prince George, having commanded the Royal Yacht Osborne, been aide-de-camp to Queen Victoria and helped organise the fleet review at Spithead in honour of the coronation of King Edward VII in 1902. The letter thanks Fawkes for writing to Prince George to tell him about the interview and starts: 'My dear Fawkes It was very kind of you writing to tell me about my second son having been up before the interview committee yesterday of which you were the Pre ... More



Isabel Norniella, circa late 1960s. Photo: Courtesy of: National Museum of American History, Archives Center.



WASHINGTON, DC.- The Smithsonian's National Museum of American History has added business records, campaign materials, scrapbooks and personal artifacts related to the 50-plus-year career of advertising and media executive Isabel Norniella. She began her advertising career in Havana in 1956 with the agencies Mestre Conil and McCann Erickson doing media market research and motivational research after receiving her degree in advertising management from the University of Puerto Rico. Norneilla's papers add to the national narrative of Hispanic advertising history and join an extensive set of archival materials and campaigns collected earlier through a collaboration with AHAA: The Voice of Hispanic Marketing. The collections are held in the museum's Archives Center. Norniella moved to Puerto Rico where she worked in advertising beginning in 1959 and eventually founded her own agencies: Publitec de Puerto Rico Inc. in 1969 and Public ... More



World on the Horizon: Swahili Arts Across the Indian Ocean, installation at Krannert Art Museum, 2017. Photo by Julia Nucci Kelly. © Board of Trustees of the University of Illinois.



CHAMPAIGN, ILL.- The first major traveling exhibition in the U.S. on the arts of the Swahili coast of Africa will premiere at Krannert Art Museum this fall. "World on the Horizon: Swahili Arts Across the Indian Ocean" looks at the movement of objects and people between the Swahili (East African) coast, the port towns on the western Indian Ocean, and the eastern and central regions of Africa. A key part of the exhibition is considering their cultural and aesthetic influences on one another. It will include objects loaned from the National Museums of Kenya and the Bait Al Zubair Museum in Oman that will be exhibited for the first time in the U.S., as well as artwork loans from 15 additional museums and significant private collections. The exhibition opens with a public reception at 6 p.m. Aug. 31 and remains at the museum through March 24. The exhibition will then travel to the ... More
Quote
Color alone is both form and subject. Robert Delaunay
---
First Look: The Brushwork of a Master
---
Flashback
On a day like today, French painter Henri Rousseau was born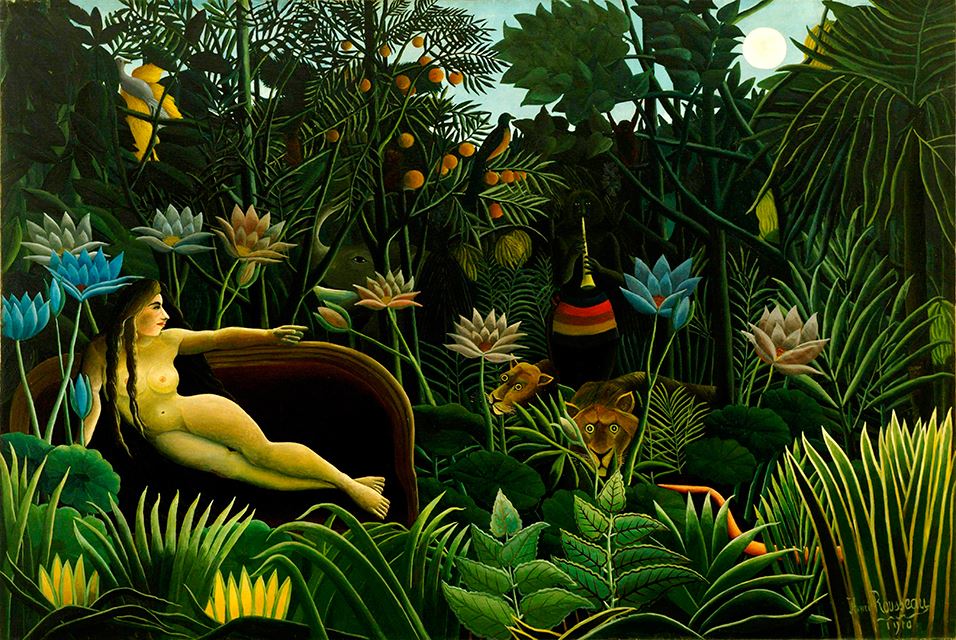 May 21, 1844. Henri Julien Félix Rousseau (May 21, 1844 - September 2, 1910) was a French post-impressionist painter in the Naïve or Primitive manner. He was also known as Le Douanier (the customs officer), a humorous description of his occupation as a toll and tax collector. He started painting seriously in his early forties; by age 49, he retired from his job to work on his art full-time. In this image: Henri Rousseau, known as The Douanier Rousseau (1844 - 1910) Le Rêve [The Dream], 1910, oil on canvas, 204.5 x 298.5 cm New York, The Museum of Modern Art, gift of Nelson A. Rockefeller, 252.1954 © 2016. Digital image, The Museum of Modern Art, New York / Scala, Florence.
---

Museums, Exhibits, Artists, Milestones, Digital Art, Architecture, Photography,
Photographers, Special Photos, Special Reports, Featured Stories, Auctions, Art Fairs,
Anecdotes, Art Quiz, Education, Mythology, 3D Images, Last Week,
.
Royalville Communications, Inc
produces: