Islamic State beheads elderly ex-antiquities chief Khaled al-Assaad in Syria's Palmyra
Syrian antiquities chief Maamoun Abdulkarim looks at a photo on his laptop at his office in Damascus on August 19, 2015, of Khaled al-Assaad, the 82-year-old retired chief archaeologist of Palmyra, after the Islamic State (IS) group beheaded al-Assaad who refused to leave the ancient city when the jihadists captured it, Abdulkarim said. Abdulkarim told AFP he had urged al-Assaad to leave Palmyra, but he had refused. AFP PHOTO / LOUAI BESHARA.

By: Maya Gebeily
BEIRUT
(AFP)
.-
The Islamic State group beheaded the 82-year-old retired chief archaeologist of Palmyra after he refused to leave the ancient city, Syria's antiquities chief said. A UNESCO World Heritage site famed for well-preserved Greco-Roman ruins, Palmyra was seized from government forces in May, fuelling fears the IS jihadists might destroy its priceless heritage as it had done in other parts of Syria and Iraq. Syrian antiquities chief Maamoun Abdulkarim told AFP he had urged Khaled al-Assaad to leave Palmyra, but he had refused. "He told us: 'I am from Palmyra and I will stay here even if they kill me.'" Abdulkarim said Assaad was murdered execution-style on Tuesday afternoon in Palmyra, in central Homs province. ...
More
The Best Photos of the Day
Smithsonian's first shot at crowdfunding raises $720,000 to restore Neil Armstrong spacesuit
Temporary export bar placed on first portrait of Niagara Falls by Thomas Davies
UBS partners with Annie Leibovitz on global exhibition tour of newly commissioned photographs


This spacesuit was worn by astronaut Neil Armstrong, Commander of the Apollo 11 mission, which landed the first man on the moon on July 20, 1969. Image by Mark Avino, National Air and Space Museum, Smithsonian Institution.



WASHINGTON (AFP).- The Smithsonian's first shot at online crowdfunding ended Wednesday after raising a hefty $719,779 to restore the spacesuit that Neil Armstrong wore when he walked on the moon. A total of 9,477 people contributed to the month-long Kickstarter "Reboot the Suit" campaign, which surpassed its $500,000 goal on July 24. The windfall means the Smithsonian will have money to spare to preserve and display a second spacesuit used by Alan Shepard, the first American in space. "It is mind-blowing," Yoonhyung Lee, the Smithsonian's director of digital philanthropy, told AFP in an interview at the Smithsonian National Air and Space Museum in downtown Washington. "We did not really expect to both hit our goal so ... More



An East View of the Great Cataract of Niagara (detail).



LONDON.- The very first eyewitness representation of Niagara Falls, a 1762 topographical watercolour by Thomas Davies, is at risk of being exported from the UK unless a buyer can be found to match the £151,800 asking price. In order to provide a last chance to keep it in the UK, Culture Minister Ed Vaizey has placed a temporary export bar on the watercolour by Captain Thomas Davies, An East View of the Great Cataract of Niagara. The topographical watercolour of Niagara Falls by Captain Thomas Davies provides the very first accurate portrait of this iconic landscape, which has become one of the most recognisable views in the world. It was also the earliest inclusion of Niagara's ever-present rainbow. Captain Thomas Davies was highly regarded as a military artist and collector, and this watercolour and Davies' career was testament to Britain's global role in the eighteenth century. Culture Minister Ed Vaizey said: "This waterco ... More



Annie Leibovitz, New York City, 2004 © Annie Leibovitz.



LONDON.- UBS announced an international tour of newly commissioned photographs by world renowned photographer Annie Leibovitz focusing on portraits of women. Launching in London in January 2016, the exhibition will travel to 10 global cities in 12 months. Host cities will include Tokyo, San Francisco, Hong Kong, Singapore, Mexico City, Istanbul, Frankfurt, New York, and Zurich. Access will be free to the public. The new work is a continuation of a project Leibovitz began over fifteen years ago, when she published a book of portraits made in collaboration with Susan Sontag. That book, Women, was accompanied by an exhibition that opened at the Corcoran Gallery of Art in Washington, D.C. Women is Leibovitz's most enduringly popular series of photographs and she has long wanted to expand her exploration of the subject. The new portraits, in an exhibition also to be called Women, will reflect the changes in the ... More
Neolithic man had taste for extreme violence, says new scientific study published in the US
Exhibition of drawings made over seven decades by Henry Moore on view at Waddesdon Manor
Dutch icons combine their forces: Heineken new sponsor of the Van Gogh Museum


Sites specifically mentioned in the text marked within the approximate distribution of the LBK in Europe. Massacre sites: A, Schöneck-Kilianstädten; B, Talheim; C, Asparn/Schletz. Other sites: D, Herxheim; E, Vaihingen/Enz; F, Schwetzingen; G, Wiederstedt. Sites A, B, and D–G are located in Germany; site C is in Austria.



WASHINGTON (AFP).- A mass grave with at least 26 human skeletons discovered in Germany shows that conflict in Neolithic Europe some 7,000 years ago could be horrifically brutal, with victims tortured and mutilated, reports a new scientific study. The discovery adds fresh evidence to the theory that mass violence played a crucial role at the beginning of the Neolithic era, and might have contributed to the decline of the so-called Linear Pottery culture, said the study, published Monday in the Proceedings of the National Academy of Sciences of the US. The significance of such ancient mass graves -– which remain rare -- has been hotly debated by experts. The ... More



Henry Moore, Sheep Grazing in Long Grass I, 1981. Inv. HMF 81(310). Photo: Brian Coxall, The Henry Moore Foundation archive. Reproduced by permission of The Henry Moore Foundation.



WADDESDON.- The exhibition charts the life and art of Henry Moore (1898 -1986) through a selection of 100 drawings from the collection of The Henry Moore Foundation, and two major pieces of sculpture. Although arguably best known as a sculptor, Moore was a prolific and exceptionally talented draughtsman. Throughout his career drawing represented for Moore both a way to observe and learn about nature and a means to develop sculptural ideas. Starting with figure studies made as a student in Leeds, the exhibition showcases some of Moore's best known two-dimensional works, such as the Shelter Drawings from the early 1940s and the sheep drawings of the 1970s and 80s, as well as rarely exhibited mid-career and late works, like the playful 'shut-eye' drawings, which reveal lesser known and often surprising ... More



So refreshing, all those shades of yellow.



AMSTERDAM.- Axel Rüger, Director of the Van Gogh Museum: 'We are proud to be associated with a brand that, similarly as in the case of the Van Gogh Museum, is rooted in Amsterdam, but which has a huge, worldwide impact.' With this sponsor contract, two Dutch icons combine their forces to make sure that those who appreciate culture or are fans of beer can enjoy the artworks of one of the most famous Dutch artists of all times, as well as enjoying this iconic international premium beer. This commitment goes beyond a mere donation: Heineken N.V. will also deploy its most important Heineken® brand for specific Van Gogh products and activities in the Van Gogh Museum. Jean-François van Boxmeer, Chairman of the Executive Board and CEO of Heineken said: 'As a partner of the Van Gogh Museum we support the unique cultural heritage of Amsterdam, the home of our namesake beer. We are very proud to associate our ... More
Museum of Fine Arts, St. Petersburg appoints Jerry N. Smith as new Chief Curator
Richard Saltoun Gallery opens a solo exhibition of the career of Surrealist artist Pierre Molinier
Tulane's Newcomb Art Museum hires William Morrow as new Curator and Coordinator of Academic Programming


Jerry N. Smith is currently Curator of American and European Art to 1950 and Art of the American West at the Phoenix Art Museum.



ST. PETERSBURG, FLA.- Dr. Jerry N. Smith brings extensive curatorial, scholarly, and administrative background to his new role as the Hazel and William Hough Chief Curator at the Museum of Fine Arts. He will begin his new position on Monday, October 19. He is currently Curator of American and European Art to 1950 and Art of the American West at the Phoenix Art Museum. The MFA conducted a national search for a new chief curator. Dr. Smith's interests complement those of Katherine Pill, the MFA's Assistant Curator of Art after 1950. "Jerry has held leadership positions at the Phoenix Art Museum for more than a decade," said MFA Director Kent Lydecker. "He has been responsible for all aspects of display, interpretation, and acquisition of works by artists ranging from Leonardo da Vinci to Paul Cézanne to Andy Warhol. He has also ... More



Pierre Molinier (1900-1976), Hanel 1, planche 30 du Chaman, 1967. Vintage silver gelatin print, 15.4 x 10 cm.



LONDON.- Richard Saltoun Gallery announces a solo exhibition of the career and unorthodox life of French Surrealist artist Pierre Molinier (b. 1900, Agen - 1976, Bordeaux). Pierre Moliner – the man and the painter, the genius and the pervert, the 'lesbienne' and the guns lover – is not an easy figure to pin down. Existing on the margins of conventional society, he lived a life defined by excess and hedonism. At the age of 50 he raised his 'premature tomb', reading on its cross: 'Here lies Pierre Molinier - born on 13 April 1900 - died around 1950 - He was a man without morals - He didn't give a f*** of glory and honour - Useless to pray for him.' This exhibition presents a selection of more than 50 of his groundbreaking photographs, drawings and paintings, dating from 1952 onwards. It was at this time that Molinier moved towards a more 'magical' style of art, a ... More



Morrow comes to Tulane from the Denver Art Museum where he served as Associate Curator of Contemporary Art.



NEW ORLEANS, LA.- Nationally recognized curator William Morrow has joined the Newcomb Art Museum staff as Curator and Coordinator of Academic Programming. Using a multi-disciplined approach to promote diversity and innovation in art, Morrow has curated more than 70 exhibitions, commissioned projects, lectures, time-based media, dance, theatre, and music programs. Morrow explains he was attracted to the position because of "the museum's commitment to exposing students to challenging exhibitions, civic dialogue, and community transformation, combined with the potential to collaborate with Tulane initiatives and faculty." Morrow comes to Tulane from the Denver Art Museum where he served as Associate Curator of Contemporary Art and organized such acclaimed exhibitions such as Araya Rasdjarmrearnsook: Recent ... More
NGA celebrates Australian art with Tom Roberts exhibition and major changes to its galleries
Herzog & de Meuron win 2015 Royal Institute of British Architects Jencks Award
New permanent galleries at National Museum of Singapore to offer a new experience


Coming south, painted in Melbourne, 1885–86. Oil on canvas 63.8 x 50.5 cm. National Gallery of Victoria, Melbourne, gift of Colonel Aubrey HL Gibson in memory of John and Anne Gibson, settlers (1887), 1967.



CANBERRA.- The NGA is changing, in many fundamental ways. With the rehang of the nation's art collection underway, the NGA will celebrate one of Australia's greatest artists with a spectacular Tom Roberts exhibition opening on Friday 4 December. Tickets are on sale today. Tom Roberts will bring together major works from public and private collections, from the early days studying at London's Royal Academy in 1883 until 1931. Featuring over 130 works of art, the exhibition is remarkable in its ambition and scope, and is set to be unveiled together with a complete rehang of the national collection. We have commenced an ambitious project to transform the experience at the NGA' said Gerard Vaughan, Director. 'Every time you visit the Gallery there will be new discoveries as we constantly revitalise the galleries ... More



Left to right: Senior partners: Ascan Mergenthaler and Stefan Marbach, with Pierre de Meuron. ©Tobias Madorin/Herzog de Meuron.



LONDON.- The Royal Institute of British Architects has announced Herzog & de Meuron as winners of the 2015 RIBA Jencks Award. The award is given to an individual (or practice) that has recently made a major contribution internationally to both the theory and practice of architecture. The award will be presented on Thursday 29 October at the RIBA in London, where the architects will also give a public lecture chaired by Charles Jencks. The judging panel for the 2015 RIBA Jencks Award comprised of landscape designer, architectural theorist and writer Charles Jencks, Stephen Hodder (RIBA President and Chairman of Hodder and Partners), Julia Peyton-Jones (Director of the Serpentine Galleries), Brett Steele (Director of the Architectural Association School of Architecture), and was chaired by David Gloster (RIBA Director of ... More



Modern Colony 1925 - 1935.



SINGAPORE.- Come 19 September, the 128-year-old National Museum of Singapore will re-open its permanent galleries to the public. After a hiatus of almost a year, the revamped galleries will not only present Singapore's history in more immersive and innovative ways, but also showcase artefacts that have never been displayed before. Ms. Angelita Teo, Director of National Museum of Singapore, said: "The revamp of the museum's permanent galleries is timely as we celebrate Singapore's 50th anniversary, but it also marks another phase in the museum's transformation since our major redevelopment in 2006. The last ten years saw an exponential growth of visitors to our local museums, and it is increasingly common to see families and friends spending quality time here. Therefore, at the heart of the revamp is a greater focus on creating personal and emotional connections with our visitors. We hope that by making the museum expe ... More
Quote
I would like not to reproduce but to reinvent the structure of light in a way pertinent to painting rather than to optics. Piero Dorazio
---
A short history of James Cook and his voyages
---
Flashback
On a day like today, French painter Georges Rouault was born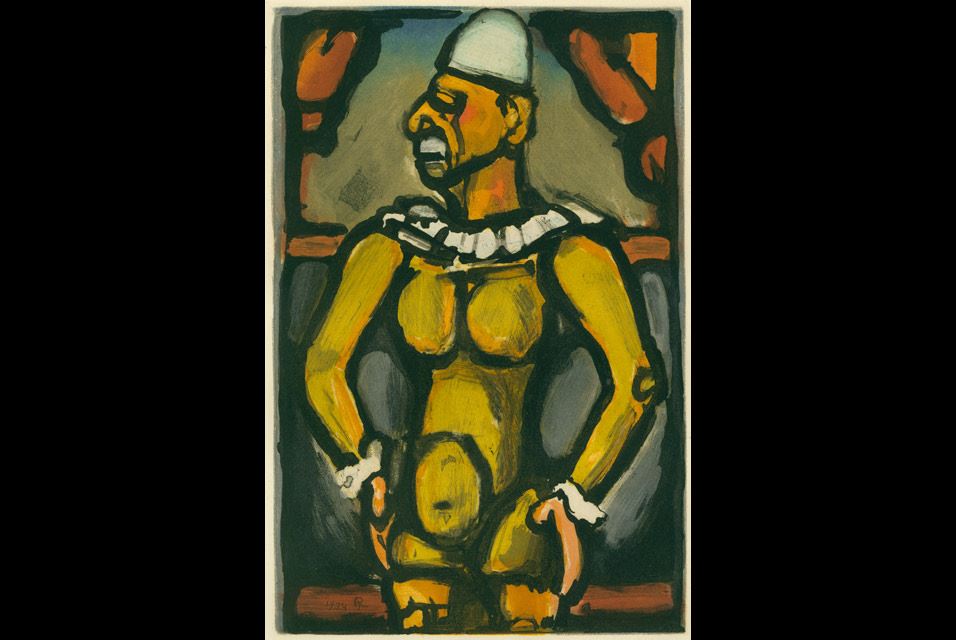 May 27, 1871. Georges Henri Rouault (27 May 1871, Paris - 13 February 1958) was a French painter, draughtsman, and printer, whose work is often associated with Fauvism and Expressionism. In this image: Georges Rouault (French 1871-1958), Tristes Os, 1934. Color etching and aquatint wove paper, 12 1/4" x 7 7/8". SUAC 1975.22.08
---

Museums, Exhibits, Artists, Milestones, Digital Art, Architecture, Photography,
Photographers, Special Photos, Special Reports, Featured Stories, Auctions, Art Fairs,
Anecdotes, Art Quiz, Education, Mythology, 3D Images, Last Week,
.
Royalville Communications, Inc
produces: