Exhibition in Berlin explores Dadaist responses to non-European cultures
Installation view of Dada Africa. Dialogue with the Other at Berlinische Galerie, 2016, © Photo: Ralf Herzig.
BERLIN
.-
Dada is 100 years old. The Dadaists and their artistic articulations were a significant influence on 20th-century art. Marking this centenary, the exhibition "Dada Africa. Dialogue with the Other" is the first to explore Dadaist responses to non-European cultures and their art. It shows how frequently the Dadaists referenced non-Western forms of expression in order to strike out in new directions. The springboard for this centenary project was Dada's very first exhibition at Han Coray's gallery in Zurich. It was called "Dada. Cubistes. Art Nčgre", and back in 1917 it displayed works of avant-garde and African art side by side. In five sections, "Dada Africa" broadens the focus on this dialogue between Dadaist output and African, Asian, American and Oceanic artefacts. The exhibition and catalogue were created in partnership with Museum Rietberg in Zurich. Reacting to the First World War, Dada challenged bourgeois norms and cultural values to the ...
More
The Best Photos of the Day
Carriageworks presents first major exhibition in Australia of acclaimed Italian artist Francesco Clemente
The Contemporary Austin to reopen Jones Center site with exhibitions by Monika Sosnowska and Jim Hodges
Jailed Egypt photographer says he's been 'forgotten'


Francesco Clemente, 'Encampment', Installation view, 2016, Carriageworks, Sydney. Photo: Zan Wimberley.



SYDNEY.- Carriageworks is presenting the first major exhibition in Australia of work by acclaimed Italian contemporary artist Francesco Clemente, as second in the annual Schwartz Carriageworks series of major international visual arts projects. Presented free to the public from 30 July until 9 October 2016, Francesco Clemente: Encampment includes six of Clemente's celebrated large-scale tents, transforming 30,000 square feet of exhibition space within the Redfern-based multi-arts precinct into an opulent tented village. Carriageworks Director Lisa Havilah said: "We are excited to be working with MASS MoCA to bring the work of one of the most important contemporary artists of our time to Australian audiences for the first time and free of charge to Carriageworks visitors. Francesco Clemente: Encampment will capture the imagination and attention of audiences over its two month presentation as it takes over the entire Carriage ... More



Monika Sosnowska, Untitled, 2015. Concrete and painted steel. 119 1/4 x 127 1/2 x 157 1/2 inches. Installation view, Monika Sosnowska: Still Life, Foksal Gallery Foundation, Warsaw. Artwork © Monika Sosnowska. Courtesy the artist; Foksal Gallery Foundation, Warsaw; The Modern Institute, Glasgow; Galerie Gisela Capitain, Cologne; kurimanzutto, Mexico City; and Hauser & Wirth. Photograph by Bartosz Górka.



AUSTIN, TX.- The Contemporary Austin announced Monika Sosnowska: Habitat, the inaugural exhibition in its newly expanded Jones Center location. Designed by Paul Lewis of LTL Architects, who was also the architect of the original building renovation in 2010, the expansion increases gallery space to 7,000 square feet, along with significant enhancements to the museum's infrastructure, allowing The Contemporary to organize larger-scale original shows conceived by the museum's curators, host touring exhibitions of greater size and breadth, and display larger-scale works of art. Habitat, the Polish artist Monika Sosnowska's largest ... More



Egyptian photographer Mahmoud Abdel Shakour, known as Shawkan, gestures from inside a soundproof glass dock. KHALED DESOUKI / AFP.



CAIRO (AFP).- Shouting to make himself heard from the soundproof glass dock during a break in his trial, Egyptian photographer Mahmoud Abdel Shakour said he feels he has been "forgotten" in prison. Three years ago, Abdel Shakour -- known as Shawkan -- had been covering the police dispersal of an Islamist protest camp in Cairo when he was arrested, and he has been in jail ever since. August 14, 2013 was the bloodiest day in Egypt's modern history, and one of the deadliest in the region since the 2011 Arab Spring uprisings. Hundreds of Islamists supporting ousted president Mohamed Morsi, toppled by the military in July that year, were mowed down by police in clashes. About 10 policemen were killed. Three years later, thousands of Islamists remain in prison after a wide-ranging crackdown that has extended to leftists and even journalists like ... More
Gardens of the World: A major special exhibition on view at Museum Rietberg
French artist JR leaves giant imprint on Rio Olympics
Major Australian works on view at Sculpture at Barangaro


Carl Spitzweg (1808–1885), Morgenkonzert, 1848/1850. Öl auf Sperrholz. Kunsthaus Zürich, Sammlung Johanna und Walter L. Wolf, 1984 © 2016 Kunsthaus Zürich.



ZURICH.- Gardens of the World is the first attempt ever to present a comprehensive survey of the gardens of the Orient and the Occident in a single exhibition. Museum Rietberg in Zurich invites visitors to take a stroll through gardens from Japan to England and from Ancient Egypt right up to the present day. Works of art, photos and videos show how people in different cultures and epochs longed for gardens and how they created them. Is it actually possible to stage an exhibition on the subject of gardens? Albert Lutz, director of Museum Rietberg, was convinced that it was, even before he came up with the concept for Gardens of the World. Yet simply to show the historical development of the garden under a number of headings would surely have fallen short of the mark. Gardens need to be experienced; after all, they are ... More



French artist JR's giant print of an athlete swimming is seen at Guanabara Bay in Rio de Janeiro, Brazil on August 6, 2016. TASSO MARCELO / AFP.



RIO DE JANEIRO (AFP).- At first, it looks like smoke billowing from a high-rise. But look again: that surprising splash of gray against the blue Rio de Janeiro sky is a giant image of Sudanese high jumper Mohamed Younes Idriss making a larger-than-life leap over a 20-story building. This Olympic-sized trompe l'oeil is the work of French art photographer JR, who is famous for plastering huge black-and-white photographs onto street scenes around the world. He is in Brazil at the invitation of the International Olympic Committee, paying playful tribute to Rio 2016 with superhero-like images that are visible to everyone, whether they have tickets for the Games or not. "It's like taking the city as a playground... and having sculptures jumping off the buildings," JR told AFP. He has set up three such "sculptures" so far, pasting his photographs onto scaffolding at iconic spots around the city. ... More



Margarita Sampson, The Grove. Photo: M Schofield.



SYDNEY.- The Barangaroo Delivery Authority is presenting a major new sculpture event, Sculpture at Barangaroo, at Sydney's spectacular Harbour foreshore park, Barangaroo Reserve, from 6-21 August 2016. Sculpture at Barangaroo is presented in partnership with Sculpture by the Sea, which has been delighting Sydney with its outdoor exhibitions along the Bondi coastal walk for almost 20 years. Free to the public, the temporary exhibition is the first exhibition of its kind to be held at Barangaroo Reserve and has transformed the six-hectare headland reserve into an open-air sculpture park to capture the imagination of Sydney and its visitors. The exhibition showcases 14 outdoor artworks by a stellar line-up of 15 Australian artists, including senior, established, emerging and Aboriginal artists. The collection includes eight new works and six existing works that were selected specifically for exhibition at Sculpture at Barangaroo. Exhibiting artists ... More
A night behind bars in Slovenian prison-turned-hostel
English phone bidder bests American collectors to set $193,875 world record
'Picture postcard' French vineyards revive horse-drawn ploughs


Hostel manager Tanja Lipovec poses for a photo inside a room of the former prison turned into a hostel Celica in Ljubljana. Jure MAKOVEC / AFP.



LJUBLJANA (AFP).- Fancy spending the night in a former military prison that is now a youth hostel with an artistic twist? In Slovenia you can, and with a clear conscience about your ecological footprint. The technicolour building in Ljubljana was originally a jail built by the occupying Austro-Hungarian army in 1882 and remained in use until Yugoslavia fell apart in the early 1990s. When Slovenia became independent in 1991, a group of artists and squatters prevented the building's demolition, opening the way a metamorphosis into Hostel Celica, which means "cell" in Slovene, in 2003. "The main concept of Celica is: through art and architecture heal a place so to give in a new energy, turning something negative into its complete opposite, into something positive and open," project manager Tanja Lipovec told AFP. And not only that. Each of its 20 cells, complete with bars on the door and windows, has been turned by more than 80 local and ... More



The Famous 1933 George V Penny. A legendary British rarity.



ANAHEIM, CA.- One of seven known George V cent — minted especially for commemorative use — set a world record for a coin of its type sold at auction when it cleared $193,875 during the Platinum Night auction of World and Ancient coins held Aug. 11 by Heritage Auctions. The lot opened at $50,000 and a bidding war broke out on the floor between two American collectors. A U.K phone bidder took control to drive the bid to $193,875, nearly double the previous world record for a coin of this type. coin. The last time a 1933 George V cent sold it brought $100,000. "A coin this wonderful deserves to be a world record holder," said Cristiano Bierrenbach, Executive Vice President at Heritage Auctions. "We are thrilled this piece of British monetary history has found its way back across the Atlantic into an important Collection in Britain. What a journey has it taken!" Offered during Heritage's Platinum Night Auction during the American Numismatic Assoc ... More



French winemaker Dominique Leandre-Chevalier posing in a his unique circular wineyard in Anglade. NICOLAS TUCAT / AFP.



ANGLADE (AFP).- The sight of a large, lumbering horse pulling a plough through a vineyard may seem like a time warp, but hundreds of French winegrowers have returned to the centuries-old practice. "It's a picture postcard image," said oenologist Gilles de Revel, adding that the renaissance took off about 10 years ago with many vineyards looking to burnish their brands. Using draught horses is a "strong new trend along with organic winegrowing", said De Revel, the dean of the oenology faculty at the Institute of Vine and Wine Sciences at the University of Bordeaux. But one Bordeaux vintner, Dominique Leandre-Chevalier, "was really a pioneer" in the revival, De Revel said, noting that he reintroduced horses soon after inheriting his father's vineyard back in 1985. The vineyard and its Chateau Le Queyroux dates to 1895, a time when all winegrowers were still using horses as they had ... More
Exhibition by Peter Blake comprising three print series opens at the De La Warr Pavilion
SMU's National Center for Arts Research launches free, diagnostic dashboard
Vast archive of illustrator Carlos Diniz is now housed at UCSB's Art, Design & Architecture Museum


Peter Blake, Alphabet Letter C, An Alphabet, 2007. Image Courtesy CCA Gallery, London.




BEXHILL ON SEA.- The De La Warr Pavilion announces Alphabets Letters & Numbers, an exhibition by Peter Blake comprising three print series, Alphabet (1991), An Alphabet (2007) and Appropriated Alphabets (2013), and a personally chosen selection of related original artworks. It forms part of the De La Warr Pavilion's concurrent programme of exhibitions exploring language, typography and design - Willem Sandberg: from type to image (until 3 September) - and a new show by Fiona Banner from 24 September. Throughout his career Blake has created several series of works based around the alphabet related to his enduring interest in childhood innocence and nostalgia, and Victorian and Edwardian graphic illustration. Using vintage cards, magazines, books and other found ephemera, he assembles collages that are at ... More



The Dashboard uses data from the last five years for nearly 8,000 arts and cultural organizations around the country.



DALLAS, TX.- SMU's National Center for Arts Research launched the KIPI Dashboard, a free online diagnostic tool that allows arts organizations to see their individual performance in nine finance and operations categories, compared to similar organizations nationally. Organizations can access confidential and individual scores on how they rank relative to their peers on multiple factors in the categories of contributed revenue, earned revenue, expenses, marketing impact, bottom line, balance sheet, community engagement, program activity and staffing. The scores can help organizations assess their health and sustainability and inform strategic decisions. The Dashboard uses data from the last five years for nearly 8,000 arts and cultural organizations around the country, across industry types and sizes. Each ... More



Described as the "last great architectural illustrator to work in the techniques and materials of the hand-drawn perspective," Diniz touched thousands of projects around the world.



SANTA BARBARA, CA.- Walt Disney Concert Hall in Los Angeles. Boston's Fanuiel Hall. Union Station in Washington D.C. The World Trade Center. These landmark, iconic developments have something in common: Long before they were constructed, they came to life through art by famed architectural illustrator Carlos Diniz. Described as the "last great architectural illustrator to work in the techniques and materials of the hand-drawn perspective," Diniz touched thousands of projects around the world, for some of the world's best architects, across his four-decade career. Thanks to a gift from his family, the vast archive of work by Diniz, who died in 2001, is now part of the permanent collection of UC Santa Barbara's Art, Design & Architecture Museum. "Diniz called his work ... More
Quote
Indifferent pictures, like dull people, must absolutely be moral. William Hazlitt
---
Holding a Mirror up to the Art World - The Power of Artforum
---
Flashback
On a day like today, Belgian painter René Magritte died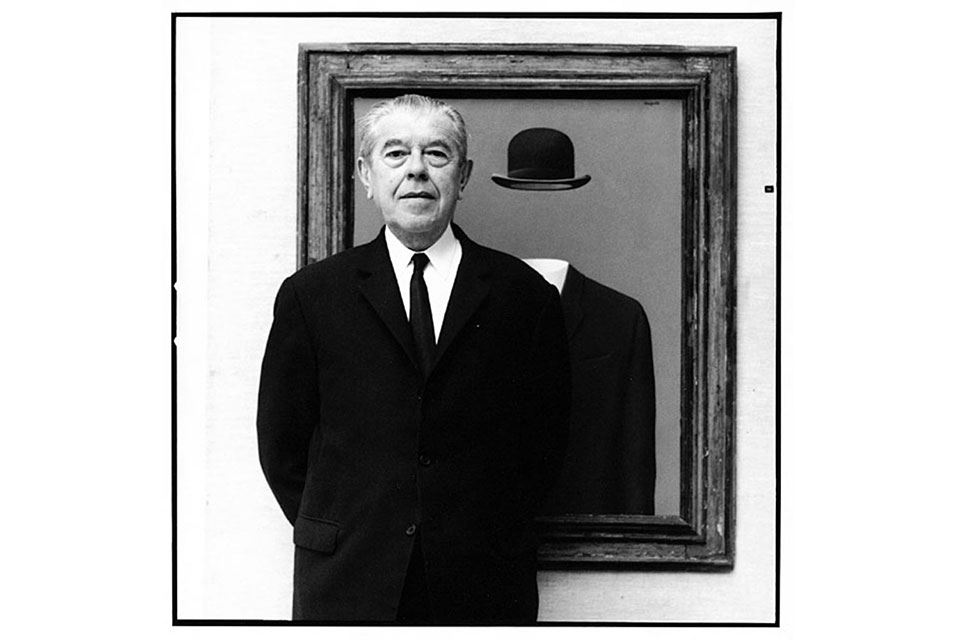 August 15, 1967. René François Ghislain Magritte (21 November 1898 - 15 August 1967) was a Belgian surrealist artist. He became well known for a number of witty and thought-provoking images that fell under the umbrella of surrealism. His work challenges observers' preconditioned perceptions of reality. In this image: Photograph of Rene Magritte, in front of his painting The Pilgrim, as taken by Lothar Wolleh.
---

Museums, Exhibits, Artists, Milestones, Digital Art, Architecture, Photography,
Photographers, Special Photos, Special Reports, Featured Stories, Auctions, Art Fairs,
Anecdotes, Art Quiz, Education, Mythology, 3D Images, Last Week,
.
Royalville Communications, Inc
produces: