The organic impulse in sculpture, art and design at Jeff Lincoln Art + Design
The design component of the show seeks to inform the viewer on the dynamic relationships between art and design as explored through an organic sensibility as expressed in historical and contemporary design.
SOUTHAMPTON, NY
.-
Jeff Lincoln Art + Design
debuted "The Organic Impulse in Contemporary Sculpture, Art and Design" Memorial Day weekend at the gallery's Old Power Station location in Southampton and will run through July. "This wide-ranging show examines the powerful influence nature and organic structures have on artists and designers and how it is revealed in their work. Cutting across mediums and disciplines, the impulse of the organic sensibility informs the work of various artists included in the show, notably among them Yayoi Kusama, Carl Andre, Al Held, Per Kirkeby, and seminal abstract expressionist sculptor Raoul Hague," says gallery owner Jeff Lincoln. The design component of the show seeks to inform the viewer on the dynamic relationships between art and design as explored through an organic sensibility as ...
More
The Best Photos of the Day
Dia Art Foundation adds works by Lee Ufan and Kishio Suga to its collection
Christie's to offer the collection of Alberto Pinto
International shortlist revealed for architects to design landmark Centre for Music in London


Kishio Suga, Diagonal Phase, 1969/2012, 541 West 22nd Street, New York City. © Kishio Suga. Photo: Bill Jacobson Studio, New York. Courtesy Dia Art Foundation, New York.



NEW YORK, NY.- Dia Art Foundation announced today that it has expanded its collection of art from the 1960s and 1970s by adding works by two new artists from Asia—Lee Ufan and Kishio Suga. Both of these artists are considered to be key members and vocal proponents of the Mono-ha movement that emerged in Japan in the 1960s. These acquisitions will introduce the materials and techniques of Mono-ha into Dia's permanent collection. Mono-ha's emphasis on natural and man-made materials aligns with the interests of Arte Povera, Land art, and Minimalist art, which are movements that form the foundation of Dia's collection. The addition of works by Lee and Suga incorporates intellectually and historically connected practices that emerged in conversation with, but distinct from, ... More



A remarkable pair of Anglo-Indian engraved ivory bureau-cabinets dated circa 1786. Estimate: €60.000-100.000. ©Christie's Images Ltd, 2017



PARIS.- Christie's France announces the sale of the collection of Alberto Pinto (1943–2012), unique elements from his Parisian apartment, which will take place in Paris on 12, 13 and 14 September during the Biennale des Antiquaires. After having studied at the École du Louvre in Paris, Alberto Pinto set off for New York City where he created a photo agency specialising in architecture and decoration. Over several years Alberto developed his taste for interior design, notably when he had the chance to do photo shoots for Condé Nast. At the end of the 1960's, Alberto Pinto personally designed the interior of his own New York apartment. A rush of requests to do others follows, leding him to create his interior design firm in Paris in 1968, where, according to him, you can find the most skillful and talented artisans and craftsmen. As a master ... More



Lord Foster, Foster + Partners © Vogue, Manolo Yllera.



LONDON.- The Centre for Music project has today announced the architects shortlisted to compete to develop a concept design for a new Centre for Music in the City of London. In May, the Barbican, London Symphony Orchestra and Guildhall School of Music & Drama, who are leading on the development of a detailed business case for the new Centre backed by £2.5million in funding from the City of London Corporation, launched an open selection process to shortlist companies for this role, seeking applications from internationally-recognised experts to develop plans for a state-of-the-art building of acoustic and visual excellence. The project received applications from companies from across the globe and, following assessment of applications against the published criteria, the architects receiving an Invitation to Tender (ITT) for the contract will be: • AL_A (UK) and Diamond Schmitt Architects (Canada) • Diller ... More
Lévy Gorvy celebrates Modern Italian art with solo exhibition of Vincenzo Agnetti
Jean-Paul Engelen promoted to Deputy Chairman, Americas
The Ateneum acquires Heikki W. Virolainen's Ilman Impi for its collection


Oltre il linguaggio, Semiosi, 1970. Photographic enlargement on emulsioned canvas mounted on chipboard, 35 7/16 x 25 9/16 inches (90 x 65 cm) Framed: 36 5/16 x 26 7/16 inches (92.3 x 67.2 cm). Courtesy Lévy Gorvy Photo: Stephen White.



NEW YORK, NY.- Vincenzo Agnetti was an innovative participant in the Italian avant-garde from the 1950s through the '70s, and a prominent member of the artist-run gallery and journal Azimut(h) along with Enrico Castellani and Piero Manzoni. Agnetti's work traverses a wide formal range with an analytic rigor matched only by his poetic vision. In examining the depth and progression of the artist's output, Vincenzo Agnetti: Territories, on view at Lévy Gorvy New York, begins to map the development of his artistic and philosophical consciousness. The first solo exhibition of Agnetti in New York in over twenty-five years, Territories, which was presented in London earlier this spring, celebrates Lévy Gorvy's new collaboration with the Archivio Vincenzo Agnetti Milan. The exhibition will be on view through August 18th. In parallel with Territories , the gallery also presents After the ... More



Mr. Engelen, with more than two decades of market experience in the auction and private sectors, joined Phillips in August of 2015.



NEW YORK, NY.- Phillips announced that Worldwide Co-Head of 20th Century & Contemporary Art, Jean-Paul Engelen, has been elevated to Deputy Chairman, Americas, in addition to his current role as Worldwide Co-Head of 20th Century & Contemporary Art. The promotion reflects the extraordinary growth of the department and its central role in the company's global growth strategy. Under the leadership of Mr. Engelen, in partnership with his Worldwide Co-Head Robert Manley, the department has experienced extraordinary growth in recent years. Phillips' London auction last month of 20th Century & Contemporary Art was up 105% from a year earlier, and its May 2017 sale in New York advanced 136% from the year-ago period. Both Mr. Engelen and Mr. Manley will continue to lead the department as Phillips strengthens its team of international specialists and expands its range of art and expertise available to collectors. "Jean-Paul has built an extraordinary team i ... More



Heikki W. Virolainen: Virgin Daughter of the Ether, 1970 (on the left) / Marjatta, 1965 (on the right). Finnish National Gallery / Ateneum Art Museum. Photo: Finnish National Gallery / Hannu Aaltonen.



HELSINKI.- The Ateneum Art Museum has acquired eight new sculptures for its collection during spring 2017. Of the works acquired, the sculptor Heikki W. Virolainen's (1936–2004) three-metre wooden sculpture Ilman impi (Virgin Daughter of the Ether) (1970) will, from now on, be on permanent display as part of the Stories of Finnish Art exhibition in the Kalevala hall. The sculptures by Helena Pylkkänen (born 1945) and Marjo Lahtinen (born 1944), an important addition to the museum's collection, will be on show in future exhibitions. "We have acquired impressive works from powerful sculptors. Sculpture is an amazing form of art, which deserves a more important place in our collection", says the museum director Susanna Pettersson. The recently acquired works demonstrate the diversity of sculpture. Between 1964 and 1970, Heikki W. Virolainen created a series of wooden sculptures, themed around the Kalevala epic, painted with ... More
Erskine, Hall & Coe opens off-site exhibition of works by Claudi Casanovas at Fitzrovia Chapel
Julien's Auctions names Tim Luke Executive Director, Contemporary and Street Art
Museum Frieder Burda opens exhibition of works by Rodney Graham


Claudi Casanovas, Nimfa (Nymph), 2017. 85 x 90 x 50 cm.




LONDON.- Claudi Casanovas's third solo exhibition with Erskine, Hall & Coe opens today. This is the first occasion that the gallery holds an off-site exhibition, and it takes place within the historic Fitzrovia Chapel. This exhibition presents the final instalment, Quart Minvant, of a body of work that began with Lluna Nova in 2013 and included Quart Creixent in 2014. "Quart Minvant (Waning Crescent) explores the notion of emptiness. The pieces refer to a metaphorical journey, a moment in balance, which ultimately alludes to life: life in its final evanescence and its promise of completeness." --Claudi Casanovas. Claudi Casanovas was born in Catalonia in 1956. He studied theatre in Barcelona and subsequently trained as a ceramicist in the Catalan city of Olot. He was a member of the Coure Potters' Cooperative from 1978 until 1987, and in 1992 he won first prize at the III ... More



Luke's impressive career in the auction world has spanned over two decades, most recently as President of TreasureQuest Group, Inc.



LOS ANGELES, CA.- Julien's Auctions, the world-record breaking auction house to the stars, has named industry veteran and auctioneer Tim Luke as Executive Director, Contemporary and Street Art. He will be managing and maintaining the international auction house's successful development of the contemporary and street art global auction markets. He will also manage Julien's highly successful partnership with Artsy, the digital leader and top resource for buying, collecting and fine arts education. Luke's impressive career in the auction world has spanned over two decades, most recently as President of TreasureQuest Group, Inc. As President, he was responsible for evaluating fine art collections, and preparing USPAP compliant estate, donation and insurance appraisals. Tim is frequently called on as an expert witness in the areas of auction, personal ... More



Rodney Graham, Canadian Humorist, 2012. Leuchtkasten, 232,79 x 181,9 x 17,8 cm. Courtesy the artist and Esther Schipper, Berlin © Rodney Graham, 2017.



BADEN-BADEN.- The decision to place one's biography at the service of art is always a decision in favor of a certain role. The dandy or the Bohemian, the accomplice of the downtrodden or the courier of the privileged – as with all professions, being an artist is accompanied by its own clichés. The Canadian artist Rodney Graham is a virtuoso when it comes to staging these role images – and at the same time, he investigates how individual identities can form from socially ascribed roles. Profession as an obsession. And always in the lead role: himself. His medium: the classic advertising light box. Thus, the meticulously staged antique dealer or the modern cowboy becomes his own advertising medium. But behind the smooth, shiny surface of illuminated photography, behind the perfectionist scenography, there always lurks ... More
100 years after WWI: Propaganda dominates Swann Galleries' Vintage Posters Sale
'Drawing: The Beginning of Everything' opens at the Albright-Knox
Prem Sahib's first solo exhibition in Germany on view at the Kunstverein in Hamburg


James Montgomery Flagg, I Want You For U.S. Army, 1917. Estimate $7,000 to $10,000.



NEW YORK, NY.- On August 2, Swann Galleries will close their spring-summer season with an extravaganza of Vintage Posters that span the last 150 years. Marking the centennial anniversary of the U.S.'s entry into World War I, the sale will feature the largest number of posters from the conflict the house has ever offered. James Montgomery Flagg's iconic I Want You for U.S. Army, 1917, estimated at $7,000 to $10,000, leads a group of galvanizing images from both sides of the Atlantic. Flagg is well represented in the sale, with several of his famous works promoting Wake Up America Day, as well as various factions of the military. Also available are patriotic works by Howard Chandler Christy, Joseph C. Leyendecker, William Dodge Stevens and Lucy Kemp-Welch. A prodigious selection World War II propaganda brings the total number of war posters in the sale to nearly 250. Leading the way is the iconic Keep Calm & Carry On, published in 19 ... More



Nancy Rubins (American, born 1952). Drawing, 2007. Graphite on paper, sheet: 139 x 121 inches (353.06 x 307.34 cm). Collection Albright-Knox Art Gallery, Buffalo, New York; Gift of the artist and George B. and Jenny R. Mathews Fund, by exchange, 2011 (2011:50). © 2007 Nancy Rubins. Photo: Tom Loonan.



BUFFALO, NY.- The Albright-Knox Art Gallery opened a new exhibition entitled Drawing: The Beginning of Everything, exploring the evolution of this wide-ranging medium. The exhibition is located in the South Galleries of the museum's 1905 Building, and will remain on view until Sunday, October 22, 2017. "The Albright-Knox has a rich and varied collection of contemporary drawing, and the artists selected for this exhibition push the boundaries of the medium to create imagery that is simultaneously subtle and detailed," said Godin-Spaulding Curator & Curator for the Collection Holly E. Hughes. "I think now, more than ever, museum visitors are looking for a place of contemplation and reassurance. It is my hope that the inviting nature of these works will result in extended observation, ... More



Best & Boldest #3: Prem Sahib – Balconies, exhibition view, Kunstverein in Hamburg, 1.7. – 3.9.2017. Courtesy: The artist and Southard Reid. © Fred Dott.



HAMBURG.- The Kunstverein in Hamburg is presenting the first solo exhibition in Germany, of the British artist Prem Sahib (b.1982, London, UK, lives and works in London). Sahib predominantly works with sculpture and draws on the aesthetics of public and personal spaces. Industrial materials and simplified geometrical shapes are reminiscent of Minimal Art. However in contrast to Minimalism, Sahib is not only focused on objectivity, and logic; his sculptures are also charged with personal experiences, symbolism, emotions, and subjectivity. Their clearly contoured, schematic, exterior forms stand in contrast to the very personal content. His work frequently references the human body and human touch as well their absence. For Balconies a new series of works maneuver the fragile intermediate area between the public and private sphere. The exhibition Balconies activates various spatial registers ... More
Quote
True artists are almost the only men who do their work for pleasure. Auguste Rodin
More News
---
Claude Debussy's rediscovered score for Hymnis
---
Flashback
On a day like today, Italian painter Giuseppe Arcimboldo died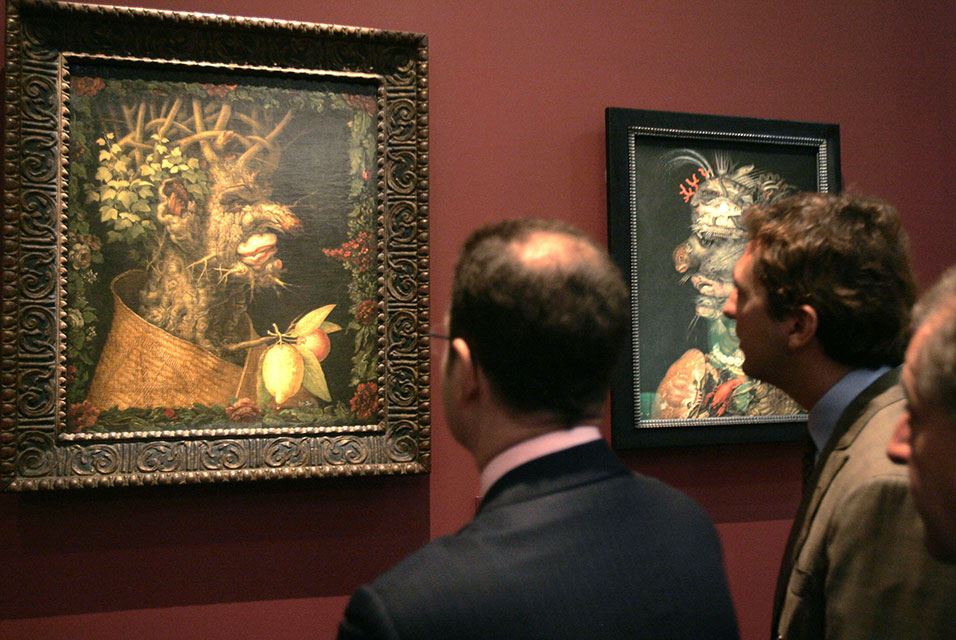 May 11, 1593. Giuseppe Arcimboldo (1527 - July 11, 1593) was an Italian painter best known for creating imaginative portrait heads made entirely of such objects as fruits, vegetables, flowers, fish, and books – that is, he painted representations of these objects on the canvas arranged in such a way that the whole collection of objects formed a recognizable likeness of the portrait subject. In this image: Visitors look at paintings called Winter 1573, left, and Water 1566, right, at the exhibition of Italian painter Giuseppe Arcimboldo, 1527 - 1593, in Paris Thursday, Sept. 13, 2007. The exhibition of Guiseppe Arcimboldo was on view at the museum of the Jardin de Luxembourg from September 15, 2007 until January 13, 2008.
---

Museums, Exhibits, Artists, Milestones, Digital Art, Architecture, Photography,
Photographers, Special Photos, Special Reports, Featured Stories, Auctions, Art Fairs,
Anecdotes, Art Quiz, Education, Mythology, 3D Images, Last Week,
.
Royalville Communications, Inc
produces:







Tell a Friend
Dear User, please complete the form below in order to recommend the Artdaily newsletter to someone you know.
Please complete all fields marked *.
Sending Mail

Sending Successful