Oil painting bought at a Spanish antique shop for $200 certified as early work by Dali
(L-R) Spanish artist Tomeu Lamo, Spanish art expert Carmen Sandalinas Linares, French expert of Salvador Dali's work Nicolas Descharnes and Spanish art expert Jose Pedro Venzal Placido pose next to a copy of an unreleased work by Spanish artist Salvador Dali titled "The Intrautirine Birth of Salvador Dali" during its presentation in Madrid. An oil painting sold at a Spanish antique shop over two decades ago for around 150 euros (200 USD) has been certified as Salvador Dali's first Surrealist work which he painted as a teenager, art experts said today. Tomeu L'Amo, a painter and art historian, found the canvas at a store in Girona in northeastern Spain in 1988 and suspecting it was a work by Dali he paid 25,000 pesetas, Spain's currency at the time, for it. AFP PHOTO / GERARD JULIEN.

By: Daniel Silva
MADRID
(AFP)
.-
An oil painting sold at a Spanish antique shop over two decades ago for around 150 euros ($200) has been certified as Salvador Dali's first Surrealist work which he painted as a teenager, art experts said Thursday. Tomeu L'Amo, a painter and art historian, found the canvas at a store in Girona in northeastern Spain in 1988 and suspecting it was a work by Dali he paid 25,000 pesetas, Spain's currency at the time, for it. "I was very happy. I felt like a kid in a candy store," he told a news conference in Madrid to discuss the conclusions of art experts who have studied the work. "When I saw its colours I suspected it was a Dali. That was my opinion but I did not have proof. I investigated and little by little I realised it was a Dali." "The Intrautirine Birth of Salvador Dali", which depicts angels floating in the sky over a volcano, bears the Spanish artist's signature below a short dedication. ...
More
The Best Photos of the Day
Oil painting by John Constable featured in BBC documentary to sell at Bonhams
Pioneering photograph from 1845 gets first ever public outing at Museum of London Docklands
Exhibition of masterpieces from the Museo del Prado on view at the National Gallery of Victoria


Detail of A Sea Beach - Brighton estimated at £400,000 - 600,000. Photo: Bonhams.



LONDON.- An oil painting by John Constable entitled A Sea Beach – Brighton which was the subject of a BBC Television programme is to be sold at Bonhams Old Master Paintings sale in New Bond Street on 9 July. Constable and his family were frequent visitors to Brighton for the sake of his wife, Maria's, health. They stayed in the town for extended periods from 1824 until Maria's death from consumption in 1828. Although the painter disliked Brighton, describing is as 'nothing less than Piccadilly "by the seaside"', he was captivated by the changing moods of the sea and sky and these became the inspiration for countless sketches. The exact date of this painting is unknown but its composition owes a clear debt to a small oil sketch now housed in the Detroit Institute of Fine Art which would almost certainly have been executed in the open air in Brighton. The much larger A Sea Beach – Brighton, ... More



Called 'Old Hungerford Bridge', this delicate salt print photograph depicts engineering great, Isambard Kingdom Brunel's original Hungerford Bridge in the year it opened – 1845.



LONDON.- For the first time ever, visitors to the Museum of London Docklands will get the chance to see a rare and game-changing photograph dating from the mid-1840s – a time when photography was in its infancy. The image, taken by photography pioneer, William Henry Fox Talbot (1800 - 1877), in 1845 is the oldest photograph in the museum's collection. It will be on public display for one month only, as part of the new art exhibition, Bridge, opening at the Museum of London Docklands on Friday 27 June. Fox Talbot invented the precursor to the modern photographic process that dominated the 19th and 20th centuries – right up until digital photography replaced the act of taking a negative and turning it into a positive. Fox Talbot began developing his 'calotype' photographic process in the 1830s ... More



Raphael (Italian 1483–1520), Holy Family with Saint John or Madonna of the Rose (Sacra Famiglia con san Giovannino o Madonna della Rosa) c.1517. Ol on canvas, 103.0 x 84.0 cm. Museo Nacional del Prado, Madrid (P00302). Spanish Royal Collection.



MELBOURNE.- The finest collection of Italian masterpieces ever to come to Australia were unveiled at the National Gallery of Victoria on 16 May. Featuring important works by masters such as Raphael, Titian and Tiepolo, the exhibition represents an unprecedented opportunity in Australia to see extraordinary Italian works of art produced during the sixteenth to eighteenth centuries. This Melbourne exclusive exhibition has been drawn from one of the world's most celebrated collections, the Museo del Prado, Madrid, and showcases over 100 works comprising 70 paintings, some measuring over 3 metres, alongside more than 30 superb drawings – the largest number of Italian works the Museo del Prado has ever loaned to one ... More
Pace opens final exhibition at its California pop-up with works by Tara Donovan
National Portrait Gallery in Washington adds pop star Katy Perry portrait to collection
Mafalda creator "Quino" awarded Prince of Asturias Award for Communication and Humanities


Tara Donovan, detail of Untitled, 2008. Polyester film installation dimensions variable© Tara Donovan, courtesy Pace Gallery. Photo courtesy Pace Gallery.



MENLO PARK, CA.- Pace Gallery presents the final exhibition at its California pop-up: Tara Donovan: Untitled on view from May 22 to June 30, 2014. The exhibition surveys work by Tara Donovan from 2000 to present and features large-scale installations recently included in museum exhibitions in the U.S. and abroad. In addition to Untitled, Pace Menlo Park, located in the former Tesla Headquarters, exhibits a wide variety of work by contemporary masters. A screening room featuring artists' films and a 1,000 volume art library is also available for use by visitors to the gallery. For the last 20 years, Donovan has used simple, mass-produced materials and objects to explore the transformative effect of their accumulation and aggregation. The result has been a body of work that creates through perceptual phenomenon otherworldly environments, invented topographies and seemingly organic structures from inorganic materials. Donovan has previously said abo ... More



A 2010 painting of pop singer Katy Perry entitled "Cupcake Katy" by Will Cotton. The portrait will be on display at the gallery starting on June 18, 2014 and it is a promised gift of the James Dicke Family. AFP PHOTO/Smithsonian National Portrait Gallery.



WASHINGTON (AFP).- Thanks to the generosity of a US forklift truck dynasty, pop star Katy Perry will soon take pride of place in the dignified National Portrait Gallery in Washington. "Cupcake Katy," an oil-on-linen portrait by New York artist Will Cotton, will go up on June 18 as part of a rotating display of recent acquisitions, the museum said Wednesday. The painting, completed in 2010, is being gifted to the National Portrait Gallery -- part of the Smithsonian network -- by the James Dicke family, whose wealth and large art collection derive from a global forklift truck business based in the state of Ohio. In a statement, National Portrait Gallery director Kim Sajet said the tongue-in-cheek work "brings to mind a traditional European portrait of a bewitching 18th century bell -- Madame de Pompadour, perhaps?" Sajet added: "Sweet but no mere piece of 'candy,' the woman is ... More



A file picture taken on August 30, 2009 shows Argentinian cartoonist Joaquin Salvador Lavado Tejon (R), also known as "Quino", creator of comic strip character "Mafalda", posing next her sculpture made by Argentine sculptor Pablo Irrgang in Buenos Aires. "Quino" won the 2014 Prince of Asturias Award for Communication and Humanities on May 21, 2014. AFP PHOTO / ALEJANDRO PAGNI.



MADRID.- The cartoonist Joaquín Salvador Lavado Tejón, known worldwide by his pen name Quino, has been bestowed with the 2014 Prince of Asturias Award for Communication and Humanities, as made public today in Oviedo by the Jury responsible for conferring said Award. The Jury for the Award –convened by the Prince of Asturias Foundation– was chaired by Víctor García de la Concha and made up of Inés Alberdi Alonso, José Antonio Álvarez Gundín, Alberto Anaut González, Luis María Anson Oliart, Juan Barja de Quiroga Losada, Adela Cortina Orts, Albert Espinosa i Puig, Soledad Fox Maura, Javier Garciadiego Dantán, Javier González Ferrari, Jordi Gutiérrez Roldán, Miguel Ángel Liso Tejada, José Narro Robles, Benigno Pendás ... More
New exhibition by Los Angeles-based artist Mark Bradford opens at White Cube Hong Kong
Joan Mitchell's The Black Drawings and Related Works 1964-1967 on view at Lennon, Weinberg, Inc.
MIA Fair is back: 180 exhibitors present established artists and emerging photographers


Circus, 2014 (detail). Mixed media on canvas© Mark Bradford. Photo: Josh White. Courtesy White Cube.



HONG KONG.- White Cube Hong Kong is presenting a new exhibition by Los Angeles-based artist Mark Bradford. Known for his multi-layered collaged paintings incorporating materials found in the urban environment, Bradford has created a series of new works about Hong Kong that explore structures of power and politics through the lens of urban planning, in the world's most densely populated city. Using architectural floor plans for public housing in Hong Kong as a starting point, Bradford abstracts the formal compositions of the blueprints. Numerous layers of paper – remnants of billboard posters found in his neighbourhood, along with digitally-printed colour sheets and newsprint – are overlaid and then partially sanded, enabling the preliminary delineated forms to re-emerge. In works such as No More Pencils (2014) and Plan View 74 (2014), gestural passages of colour sweeping across the surface give way to an ... More



Joan Mitchell, Untitled, c.1964, 10-1/2 x 8-1/4", charcoal and watercolor on paper. Photo: Courtesy of Lennon, Weinberg, Inc. © The Estate of Joan Mitchell.



NEW YORK, NY.- In the spring of 1965, Joan Mitchell had her seventh and final exhibition at the historic Stable Gallery in New York where her career as a painter had been launched more than a decade earlier. Included in the exhibition were the first in a series of paintings that she described at the time as her "new black paintings, although there's no black in any of them." It would not have been known at the time, but these paintings had companion drawings, and those works on paper, never before exhibited, are at the heart of our presentation nearly a half century after they were made. There is a series of small, bold works made on sketchbook sheets with a haze of charcoal covered with watercolor or oil. These are the closest in appearance to the "black" paintings, and like them, have no black to speak of. Larger and compositionally kindred is a series of charcoal drawings with ... More



Tazio Secchiaroli, Sophia Loren fotografata da Richard Avedon, 1966, New print ai sali d'argento su carta baritata, cm 40x50, 1/5, courtesy Wave Gallery Corsini.



MILAN.- It's already time for MIA - Milan Image Art Fair, the international photography art fair conceived in Italy is now also ready to make its debut in Asia in 2014, aiming to become an all-important reference point for photography and art enthusiasts and collectors. After the event in Milan (Superstudio Più, Via Tortona 27) from 23rd to 25th May 2014, MIA Fair will be a double bill on the international exhibition art scenario with the opening - from 24th to 26th October 2014 - of MIA FAIR SINGAPORE. Now in its fourth edition, directed by Fabio Castelli, MIA Fair hosts the best of the world of photography under a format unique on the Italian art-fair scene, proposing one booth for each artist – each artist with his/her own catalogue which, as from this year, will be in an innovative format, switching from the traditional hard copy to the e-book format. The event, with the patronage of Regione Lombardia, ... More
The Wonder of Birds: Norwich Castle Museum & Art Gallery explores the cultural impact of birds upon mankind
Focusing on architecture and design, Christopher W. Mount Gallery opens in Los Angeles and New York
Renowned British sculptor David Nash focus of major exhibition at Meijer Gardens


Melchi or de Hondecoeter (c. 1636-1695), Fowl, 1668-70. Oil on canvas, 83 x 64 cm, © Nottingham City Museums and Galleries.



NORWICH.- The Wonder of Birds will explore the cultural impact of birds upon mankind. Eliciting a wide range of emotions from awe to fear, and from pleasure to cruelty, birds have intrigued humanity since the earliest of times. With loans from local and national collections, this innovative exhibition will span the centuries and include some 220 works by major artists and illustrators, historical and contemporary, natural history, archaeology, fashion and social history. The exhibition comprises six sections, each highlighting a different aspect of birds, their meanings and our relationships with them. Every section will integrate art with taxidermy so the visitor is surrounded by birds wherever they look. The show begins by introducing the visitor to the breadth of this fascinating subject: what is a bird; what do they mean to us; how have we studied, portrayed, preserved, endangered and used them? This section will feature Hans Holbein's stunning Lady with a ... More



Balthazar Korab (1926-2013), Eero Saarinen, TWA Flight Center New York, NY (Interior view from mezzanine level at night), 1964. Silver gelatin, 14 x 11 inches. Estate of Balthazar Korab.



NEW YORK, NY.- Specializing exclusively in architecture and design material, the newly established Christopher W. Mount Gallery, with locations in Los Angeles and New York, opens to the public on May 23, 2014. Uniquely positioned among traditional American galleries, Mount Gallery presents drawings, sketches, models, photographs, prints, and art experiments by prominent figures engaged in the design arts. The Gallery offers the public the opportunity to view and acquire work collected by eminent institutions like The Museum of Modern Art (MoMA), San Francisco Museum of Modern Art, Centre Georges Pompidou, Stedelijk Museum Amsterdam, and the Smithsonian's Cooper-Hewitt National Design Museum, in New York. As recent auction results attest, this is a burgeoning field for collectors. The vibrant intersection between the fine arts and architecture and design will be ... More



David Nash. Pyramid, Sphere, Cube, Incised, 2010. Partly charred cypress and charcoal on canvas. Photo courtesy Galerie Scheffel.



GRAND RAPIDS, MI.- Frederik Meijer Gardens & Sculpture Park features the work of British artist, David Nash, in the large-scale summer exhibition, "David Nash: From Kew Gardens to Meijer Gardens," which opens to the public May 23, 2014. Organized by the Royal Botanic Gardens at Kew and the artist in conjunction with Meijer Gardens, this broad and comprehensive presentation will feature sculptures, installations and drawings and will remain on display until August 17, 2014. In 2012, Nash was selected as the first artist-in-residence at the majestic Kew Gardens outside central London. For a year he worked onsite and installed work across the campus of the world's most distinguished botanical garden. Such efforts are the foundation of "David Nash: From Kew Gardens to Meijer Gardens." This presentation, exclusive to Meijer Gardens, will host more than 25 works by this British icon in the sculpture galleries, conservatories a ... More
Quote
All these painters steal from one another. Marie Bashkirtseff
---
Jack B. Yeats' "Donnelly's Hollow"
---
Flashback
On a day like today, Flemish Baroque painter Bertholet Flemalle was born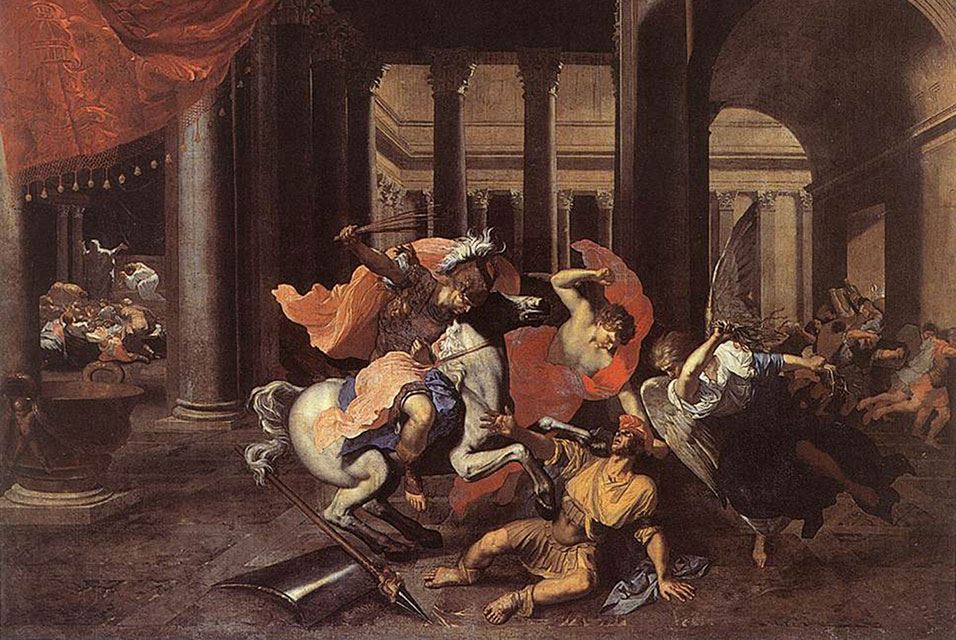 May 23, 1614. Bertholet Flemalle, Flemal, or Flamael (1614 - 1675) was a Liège Baroque painter. His The Glorification of the Holy Cross is in St Bartholomew's Church, Liège. In this image: Heliodorus driven from the temple, 1658 - 62.
---

Museums, Exhibits, Artists, Milestones, Digital Art, Architecture, Photography,
Photographers, Special Photos, Special Reports, Featured Stories, Auctions, Art Fairs,
Anecdotes, Art Quiz, Education, Mythology, 3D Images, Last Week,
.
Royalville Communications, Inc
produces: