Artemis Gallery's April 26 Antiquities Auction shines spotlight on two major collections
Etruscan polychrome antefix of a horned anthropomorphic creature representing the river deity Achelous, early 5th century CE. Est. $13,000-$19,500
BOULDER, COLO
.-
More than 300 lots of expertly curated antiquities from Egypt, Greece, Rome and the Near East will take the spotlight in
Artemis Gallery
's Thursday, April 26 online auction. The start time is 10 a.m. Eastern. A truly spectacular offering, the blended contents showcase the very best holdings from two advanced collections. One of those collections has been kept in climate-controlled storage for more than 20 years. Remarkably, most of the items entered in the sale have never before appeared at auction. "This sale is tailor-made for any collector who appreciates the classics," said Artemis Gallery Executive Director Teresa Dodge. "There's a look of exceptional quality from the first lot to the last and many pieces are extremely rare and of a type seldom seen in the marketplace." As is the case with every Artemis Gallery auction, all items convey with an unconditional guarantee that they have been lega ...
More
The Best Photos of the Day
Iraq to rebuild iconic Mosul mosque destroyed in IS fight
Penn Museum opens new Middle East Galleries
Spain starts work to exhume bodies from Franco-era monument


A view of the destroyed leaning minaret (C), dubbed "the hunchback", or Al-Habda, at the al-Nuri mosque is seen in the old city of Mosul in northern Iraq. Zaid al-Obeidi / AFP.



BAGHDAD (AFP).- The United Arab Emirates and Iraq on Monday launched a joint effort to reconstruct Mosul's Great Mosque of al-Nuri and its iconic leaning minaret, ravaged last year during battles to retake the city from jihadists. During the ceremony at Baghdad's National Museum, UAE Culture Minister Noura al-Kaabi said her country would put forward $50.4 million (41.2 million euros) for the task. "The five-year project is not just about rebuilding the mosque, the minaret and the infrastructure, but also about giving hope to young Iraqis," she said. "The millenia-old civilisation must be preserved." The deal was signed by Kaabi and her Iraqi counterpart, Faryad Rawanduzi, in the presence of UNESCO's Iraq representative Louise Haxthausen. "This is an ambitious, highly symbolic project for the resurrection of Mosul and Iraq," said Haxthausen. "The ... More



Bull Lyre constructed with gold, silver, lapis lazuli, shell, bitumen and wood, ca 2450 BCE at Ur (in modern-day Iraq). Image courtesy of the Penn Museum and Doring Kindersley, Image #250852))



PHILADELPHIA, PA.- Founded in 1887, the Penn Museum sent the first United States archaeological expedition to the Middle East—to the ancient Mesopotamian site of Nippur in what was then the Ottoman Empire. More than 130 years and hundreds of international expeditions later, the Museum remains a world leader in Near Eastern archaeology, with a collection of more than 100,000 artifacts; a leading collection of cuneiform tablets bearing early literary, historical, and economic texts; strong Islamic period ethnographic and literary collections; and a rich archive of historic documents, field notes, and photographs—as well as ongoing research projects in the region. On April 21, 2018, the Penn Museum tapped into that collection and research expertise to open the new Middle East Galleries—a suite of galleries that invites the visitor to travel on a remarkable 10,000-year human ... More



This file photo shows the basilica of the Valle de los Caidos (The Valley of the Fallen), a monument to the Francoist combatants who died during the Spanish civil war. Philippe DESMAZES / AFP.



MADRID (AFP).- Experts on Monday began inspections of a vast mausoleum where dictator Francisco Franco is buried along with thousands of victims of Spain's civil war, in preparation for the first exhumations of some of the bodies. In March 2016, a court authorised the exhumations from the Valley of the Fallen, more than 40 years after Franco's death. And technical experts have now arrived at the site to determine whether the exhumations can go ahead, given the state of the monument, as well as of the bones, which have been poorly preserved and not properly separated. "It's a historic event. The technicians have entered. It seems that something is going to be done," Maria Purificacion Lapena, the granddaughter of a man executed by Franco's forces, told AFP. In March 2016, a Spanish court granted Lapena's request for the exhumation of the body of her grandfather, Manuel ... More
Madonna loses bid to stop auction of intimate items
LACMA announces 10 new acquisitions during 32nd Annual Collectors Committee
Victoria & Albert Museum opens major fashion exhibition


In this file photo taken on December 9, 2016 Madonna attends the Billboard Women in Music 2016 event. ANGELA WEISS / AFP.



NEW YORK (AFP).- Madonna lost Monday a nearly year-long bid to stop an auction of intimate items, including a breakup letter from rap legend Tupac Shakur. A judge ruled that the Material Girl had directed her legal action against the wrong target in going after Darlene Lutz, a New York art dealer who helped Madonna build a collection before falling out with her. Lutz had been the main source for 22 items, including love letters, cassettes and a hairbrush, that were up for sale by auction house Gotta Have Rock and Roll until a judge issued an injunction in July. New York Judge Gerald Lebovits, in a ruling based on narrow legal grounds rather than on Madonna's claims of violations of privacy, agreed with Lutz, who said that her disputes with Madonna were settled by a 2004 legal agreement between the former friends. Lebovits, in a decision dated last week but made public Monday, also questioned why Madonna was ... More



Forest Spirit Figure, Nigeria, Ijo culture, Niger Delta, early 19th century, wood, charcoal, chalk, 87 x 19 x 19 in., Los Angeles County Museum of Art, gift of the Silver Family and the 2018 Collectors Committee, photo courtesy of Sotheby's, Inc. © 2017.



LOS ANGELES, CA.- The Los Angeles County Museum of Art announces the addition of 10 new acquisitions during the museum's 32nd annual Collectors Committee fundraiser. The annual Collectors Committee Weekend—led by LACMA trustee, Collectors Committee Chair, and Acquisitions Committee Chair Ann Colgin—was a two-day affair, which included curator-led art presentations, private dinners at the homes of major LACMA supporters, and a gala dinner where members voted on artworks to add to the museum's permanent collection. This year, the 96 voting members raised more than $3.1 million. The 2018 event was generously sponsored by Cartier. "Each year, Collectors Committee presents a full and exciting weekend designed to support the museum's permanent collection through new acquisitions," said Ann Colgin. "I ... More



Fashioned from Nature traces the complex relationship between fashion and the natural world since 1600.



LONDON.- A pineapple fibre clutch-bag, Emma Watson's Calvin Klein dress made from recycled plastic bottles and a cape of cockerel feathers are amongst the 300 beautiful, intriguing and unsettling objects from the V&A's most recent major fashion exhibition. Fashioned from Nature traces the complex relationship between fashion and the natural world since 1600. It shows how fashionable dress recurringly draws on the beauty and power of nature for inspiration, with exquisite garments and accessories from Christian Dior, Dries van Noten and Philip Treacy. It explores how fashion's processes and constant demand for raw materials damage the environment, featuring campaigners and protest groups that have effectively highlighted this issue such as Fashion Revolution and Vivienne Westwood. It looks at the role of design in creating a better, more sustainable fashion industry. The exhibition showcases contemporary ... More
Exhibition of new paintings by Elliott Puckette on view at Paul Kasmin Gallery
New book explores the Chester Beatty Library's 16th-century Ruzbihan Qur'an
Pair of paintings by Mary Elizabeth Price achieve a record $306,250 at Doyle


Elliott Puckette. Photo by Diego Flores.



NEW YORK, NY.- Paul Kasmin Gallery opened an exhibition of new paintings by Elliott Puckette, her eighth solo exhibition at the gallery. With this body of work, the artist challenges herself to push her use of line by first translating it into three dimensions, making ephemeral sculptures out of wire. The wire forms are the springboards for the paintings. Made quickly, and deliberately without excessive control, their unpredictable form nods to the automatism of late Abstract Expressionism. Puckette documents the silhouettes of the layered, criss-crossing maquettes by etching into a picture plane prepared with gesso and kaolin and washed with ink. This labor-intensive process is a method by which to slow the line: to subtract it from the painting rather than introduce it as an addition, and the translation of the wire sculpture into painting foregrounds the line's dynamic potential. The arabesques billow outward, threatening to ski ... More



One of the two facing shamsas that mark the beginning of the manuscript, 16.9 cm diameter (max.) without rays and 22.2 cm (max.) with rays. (CB Is 1558, f.2a, detail).



LONDON.- The Islamic Collections of the Chester Beatty Library are amongst the finest in existence, and are internationally renowned for their high quality. The Library's 16th-century Ruzbihan Qur'an—produced in the city of Shiraz in southwest Iran—is one of the most splendid Islamic manuscripts known. In both material and workmanship it is exquisite: lapis lazuli and gold, the two most expensive pigments available, are used on every page, while the rendering of the decoration is exceptionally fine. This book is the most detailed and comprehensive study of any Islamic manuscript—and it is well worthy of such scrutiny. Praised in a 16th-century account as one of the finest calligraphers of his time, Ruzbihan Muhammad al-Tab'i al-Shirazi would have produced numerous Qur'ans during the course of his career, ... More



Highlighting the sale were a pair of floral paintings by Mary Elizabeth Price that achieved $306,250 -- A World Auction Record for the Artist.



NEW YORK, NY.- On April 18, 2018, Doyle held a successful auction of American Paintings, Furniture & Decorative Arts. This auction category is Doyle's premier venue for 19th and early 20th century American paintings, including Hudson River School landscapes, Western and Regional art, still lifes, portraits, nautical scenes and Folk paintings. Highlighting the sale were a pair of floral paintings by Mary Elizabeth Price that achieved $306,250 -- A World Auction Record for the Artist. The works were purchased by the James A. Michener Art Museum in Doylestown, Pennsylvania. Stated Gregory Church, the President of the Board of Trustees of the Michener Art Museum, "Elizabeth Price is one of the region's most revered artists, and we are ecstatic to add Flower Border I and Flower Border II to the permanent collection of the Michener Art Museum. The ... More
Nine mesmerizing oil and wax paintings by Djamel Tatah on view at Ben Brown Fine Arts
The long haul to restore Soviet model for collective living
Heritage Auctions' American Art Auction to offer 10 works by Norman Rockwell


Djamel Tatah (b. 1959), Untitled, 2018. Oil and wax on canvas, 220 x 140 cm. (86 5/8 x 55 1/8 in.). © the Artist. Courtesy Ben Brown Fine Arts, London.



LONDON.- French-Algerian painter Djamel Tatah makes a significant return to Ben Brown Fine Arts in London on 24 April with his second solo show, unveiling nine mesmerizing oil and wax paintings, produced over the last two years. This exhibition runs concurrently with the artist's major exhibition at the Lambert Collection in Avignon, which explores the sensitive dialogue between Tatah's works and those of the minimalist and classical artists of the Lambert Collection. In these refined paintings, composed mainly of human figures and coloured spaces, Tatah represents a state of the world in the present. In these works, the artist explores the desertion of the exiles, the destruction of Palmyra, and echoes of the historical moment in which we live, though their aesthetics transcend time and geography. The subject omnipresent in Tatah's works is the silent figure - the mirror of all humankind, pain, solitude, melancholy, war and peace - ... More



A picture taken on April 7, 2018 shows architect Alexey Ginzburg posing near Narkomfin apartment block which is under reconstruction in Moscow. MAXIM ZMEYEV / AFP.



MOSCOW (AFP).- Neglected and abused, Moscow's Narkomfin apartment block, a Soviet masterpiece admired around the world, is finally being restored to its original, pioneering state. Architect Alexey Ginzburg is leading the project and for the first time since the 1940s, he says it looks like how his grandfather Moisei Ginzburg intended. Standing on rows of elegant black pillars, the 1930 long, low-slung block was built at a time when Soviet architects influenced global trends with their radical, yet functional style, known as constructivism. Narkomfin was designed to look light and almost float above a surrounding garden. But decades ago, the city authorities bricked up the space under the building and used it for offices. For Ginzburg, clearing those walls away to put the building back on its pillars was one of the "historic days" in a family project 30 years in the making. For lovers of Moscow's trove of iconic ... More



Norman Rockwell (American, 1894-1978), Ben Franklin's Sesquicentennial, The Saturday Evening Post cover, May 29, 1926. Oil on canvas, 36 x 27 inches. Estimate: $800,000 - $1,200,000.



DALLAS, TX.- A painting by one of the most popular American artists of all time, and formerly owned by a famous Hollywood actress is expected to be the top lot at Heritage Auctions' American Art Auction May 4 in Dallas, Texas. Once in the private collection of late actress Debbie Reynolds, Norman Rockwell Ben Franklin's Sesquicentennial, The Saturday Evening Post cover, May 29, 1926 (est. $800,000-1,200,000) was commissioned in celebration of the 150th anniversary of the signing of the Declaration of Independence and is Rockwell's only cover illustration featuring a Founding Father. "Norman Rockwell is one of the most beloved American artists who ever lived," said Aviva Lehmann, Director of American Art. "Collectors of American art are drawn in great number to his works, as they immediately increase the strength and impact of any collection. The offerings ... More
Quote
I could not understand it. All my statues ended up one centimeter high. One touch more and hop! the statue vanishes. Giacometti
---
Princess Cecilie of Prussia's Fabulous Fabergé Tiara
---
Flashback
On a day like today, Dutch-American painter Willem de Kooning was born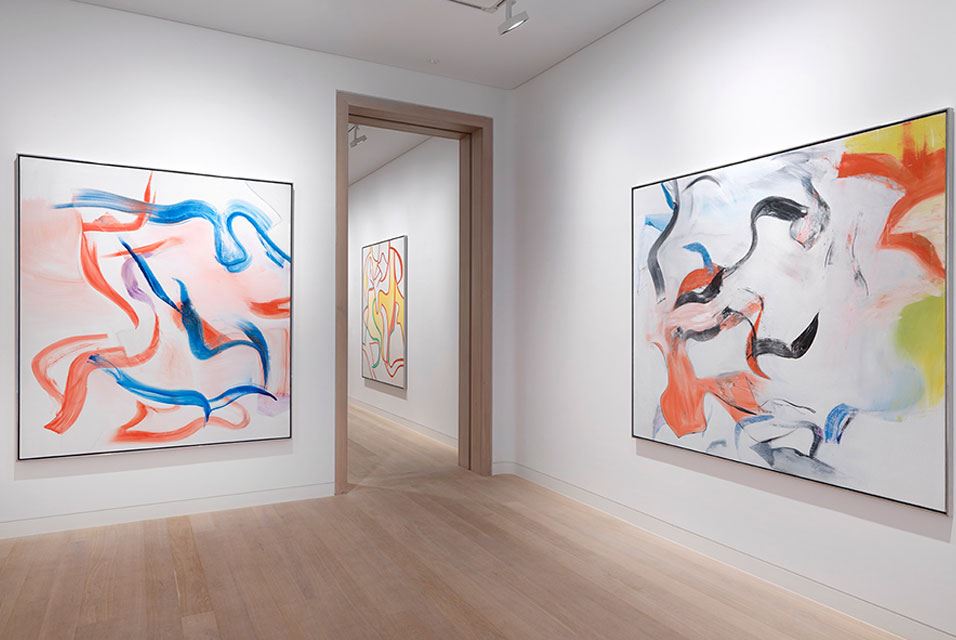 August 24, 1904. Willem de Kooning (April 24, 1904 - March 19, 1997) was a Dutch abstract expressionist artist. He was born in Rotterdam, in the Netherlands. He moved to the United States in 1926, and became an American citizen in 1962. On December 9, 1943, he married painter Elaine Fried. In this image: Installation view.of exhibition of Willem de Kooning's late paintings at Skarstedt. © The Willem de Kooning Foundation Artists Rights Society (ARS), New York and DACS, London 2017.
---

Museums, Exhibits, Artists, Milestones, Digital Art, Architecture, Photography,
Photographers, Special Photos, Special Reports, Featured Stories, Auctions, Art Fairs,
Anecdotes, Art Quiz, Education, Mythology, 3D Images, Last Week,
.
Royalville Communications, Inc
produces: