A winery and a Roman bathhouse found in Jerusalem's Schneller compound
A worker with the Israeli Antiquities Authority works at the site where a large roman winery was found in Jerusalem's Schneller Compound, in the heart of construction site for new residential houses, on March 2 2016. The finds of more than 1,600 years old includes as well a roman bathhouse. The Schneller Orphanage operated in Jerusalem from 1860 until the Second World War. During the British Mandate, its German inhabitants were expelled and a military base was established there. MENAHEM KAHANA / AFP.
JERUSALEM
.-
Unexpected finds more than 1,600 years old were uncovered during archaeological excavations financed by the Merom Yerushalayim Company, which the
Israel Antiquities Authority
is carrying out in Schneller Compound prior to the construction of residential buildings for Jerusalem's ultra-orthodox population. Schneller Orphanage operated in Jerusalem from 1860 until the Second World War. During the British Mandate, its German inhabitants were expelled and a military base was established there. After the British withdrawal in 1948 the compound was turned over to the Hagana and later served as an army base used by the Israel Defense Force until 2008. Interesting and assorted finds from Jerusalem's past were discovered in the archaeological excavation, most notably a large and impressive winery dating to the Roman or Byzantine period, some 1,600 ...
More
The Best Photos of the Day
Artemis Gallery to auction 325+ lots of exceptional antiquities, ancient and ethnographic art in no-reserve sale
BADA, Curator's Eye partnership heralds changes for art organizations and their member dealers
ADAA member galleries present ambitious solo exhibitions, group shows, and new works


Etruscan bucchero amphora, Nikosthenic style, ex-Charles Ede, est. $12,000-$18,000.



BOULDER, COLO.- Artemis Gallery, whose expert team is known for its uncompromising attention to authenticity and quality, will auction 325+ lots of classical antiquities plus ancient and ethnographic art on Tuesday, March 8th. No reserves will apply in this auction of unusual buying opportunities. Each piece will sell to the highest bidder regardless of price. Nearly all pieces are from long-established private collections; others have institutional or auction-house provenance. Each item in the sale is unconditionally guaranteed to be legal to buy/sell under the U.S. statute covering cultural patrimony and comes with a certificate of authenticity from Artemis Gallery. The sale is a virtual panorama of the world's greatest cultures, including Egyptian, Greek, Roman, Etruscan, Near Eastern, Asian, Pre-Columbian and Spanish Colonial. Additionally, there will be a sections devoted to African and tribal art, as well as fossils and minerals. M ... More



TCE's strong history of innovation coupled with BADA's tradition of excellence will empower dealers to reach collectors globally through live online auctions.



BOSTON, MASS.- The Curator's Eye (TCE), a digital marketing firm for art dealers, galleries and trade organizations, recently announced a partnership with BADA (The British Antique Dealers' Association) to launch their entry into online auctions using proprietary software and a digital platform. TCE's strong history of innovation coupled with BADA's tradition of excellence will empower dealers to reach collectors globally through live online auctions. The new platform eliminates buyer's premiums, cataloguing and buy-in fees, whilst delivering cost savings to buyers and sellers. It was a chance meeting between Sarah Valelly and Rick Patzman, Co-Founders of TCE and Michael Cohen, Chairman of BADA, which spurred the partnership. Their joint visions of the future of the art market paralleled one another, and together they sought to enact transformational change and ... More



Henri Matisse, Femme à l'ombrelle, 1919, Oil on canvas board, Courtesy Acquavella Galleries, New York.



NEW YORK, NY.- The Art Dealers Association of America (ADAA) opened the 2016 edition of The Art Show. The nation's most respected and longest-running art fair, takes place on March 2-6, 2016 at the Park Avenue Armory in New York. Organized by the ADAA, a nonprofit membership organization of art dealers from around the country, The Art Show offers collectors, arts professionals, and the public the opportunity to engage with artworks of the highest quality through intimately scaled and thoughtfully curated exhibitions that encourage close looking and active conversation with gallerists. As part of the ADAA's philanthropic partnerships, admission from The Art Show and proceeds from the Gala Preview benefit the Henry Street Settlement, one of New York's leading social service, arts and health care organizations. "Thoughtfully curated, high quality ... More
Vast unknown Bob Dylan archive knocks on University of Tulsa in Oklahoma's door
artnet Auctions offers an Edward Hopper watercolor "Trees, East Gloucester" from 1926
Dickinson to offer a museum-quality Renoir, Au Bord de l'Eau, at TEFAF 2016


This file photo taken on January 11, 2012 shows musician Bob Dylan. KEVIN WINTER / GETTY IMAGES NORTH AMERICA / AFP.



NEW YORK (AFP).- A trove of thousands of Bob Dylan notebooks and other artifacts -- mostly unknown except to the rock icon himself -- will head to a US university to be preserved for posterity. The University of Tulsa in Oklahoma announced Wednesday that it had acquired more than 6,000 items from the singer's six-decade career and would create the Bob Dylan Archive. The archive will eventually go on permanent display in Tulsa near a recently built museum to Woody Guthrie, the folk legend and Dylan influence who was born in Oklahoma, a Great Plains state that was once Indian territory. "I'm glad that my archives, which have been collected all these years, have finally found a home and are to be included with the works of Woody ... More



Edward Hopper (American, 1882–1967), Trees, East Gloucester, 1926. Watercolor on paper. Overall Size: 14 x 20 in. Estimate: 150,000—200,000 USD.



NEW YORK, NY.- Edward Hopper first painted Gloucester during a summer spent in the Massachusetts fishing town and artist's haven in 1912. He returned to the area in the summer of 1924 and again in 1926 and 1928, before he began summering in Truro, on Cape Cod, in 1930. During his time spent in Gloucester and other parts of New England, Hopper was inspired by the towns, landscapes, and coast lines that surrounded him and portrayed these everyday scenes in his realist style with subtle, psycho-social undertones. Watercolor became an important media for Hopper beginning in 1923, and the translucent quality of the paint allowed him to better capture the effect of sunlight in his works. While many of his watercolors are ... More



Pierre-Auguste Renoir, Au Bord de l'Eau, 1885 (detail).



LONDON.- Dickinson gallery of London and New York will offer Pierre-Auguste Renoir's 1885 Impressionist masterpiece Au Bord de l'Eau at TEFAF 2016. A museum-quality work of prestigious provenance, depicting one of the most popular Impressionist motifs, that has not been on the market for almost a century. Conceived en plein air along the banks of the Seine near Renoir's residence at La Roche-Guyon, Au Bord de l'Eau demonstrates the rich, sensuous style and vibrant palette of Renoir's most celebrated boating scenes of the 1880s. It betrays the lessons learned during his 1881 travels to Italy, his 1884 visit – together with Monet – to Cézanne's home in L'Estaque; and of his admiration of the rococo fantasies of Watteau and Fragonard. Yet Renoir's ultimate source of inspiration was the landscape itself; in his unpublished treatise entitled ... More
Last of the Mitford sisters' treasures soar to £1.8 million total; 3x pre-sale estimate
Exhibition of photographs by Ellsworth Kelly on view at Matthew Marks in New York
Exhibition of Swedish painter Hilma af Klint's work opens at the Serpentine Gallery


Duncan Grant, Portrait of the Duchess of Devonshire, seated in an interior, £2,000-3,000. Photo: Sotheby's.



LONDON (AFP).- Hundreds of personal items from the estate of an eccentric British duchess, the youngest of six sisters who scandalised 1930s British high society, were auctioned in London on Wednesday. A collection of insect brooches, 36 model hens and a phone topped with a foot-high figure of Elvis Presley that dances and sings when the phone rings were among the items belonging to Deborah, the late duchess of Devonshire and one of the Mitford sisters. "Together, the objects tell this amazing story about her taste, the choices she made about what to keep, the things from her childhood, the jewels from her husband, the things that made her smile," David MacDonald, a specialist overseeing the Sotheby's sale, told AFP. Raised in decaying aristocratic splendour in the English countryside, the Mitford sisters were close to the Kennedy US political dynasty and then British prime minister Winston Churchill, but courted tabloid infamy with their unorthodox lives and political views. ... More



Roof, Ghent, 1972. Gelatin silver print, 12 7/8 x 8 5/8 inches; 33 x 22 cm. © Ellsworth Kelly, Courtesy Matthew Marks Gallery.



NEW YORK, NY.- Matthew Marks is presenting Ellsworth Kelly Photographs, on view in his gallery at 523 West 24th Street. Featuring over thirty gelatin silver prints of photos taken between 1950 and 1982, this exhibition is the first ever devoted to Kelly's photography. Kelly finished preparing the prints and planning the exhibition shortly before his death, on December 27, at the age of ninety-two. Ellsworth Kelly is credited with inventing a new kind of painting, one inspired by nature and chance compositions encountered in the world. This artistic breakthrough took place in the late 1940s, while he was living in France: "Everywhere I looked, everything I saw became something to be made, and it had to be made exactly as it was, with nothing added. It was a new freedom; there was no longer the need to compose." Kelly's fascination with already-made compositions is clear in his ... More



Group X, No. 3. Altarpiece, 1915; Oil and metal leaf on canvas, 237.5 x 178.5 cm; Courtesy of Stiftelsen Hilma af Klints Verk; Photo: Moderna Museet / Stockholm.



LONDON.- Serpentine Galleries presents an exhibition of Swedish painter Hilma af Klint (1862–1944), who is now regarded as a pioneer of abstract art. While her paintings were not seen publicly until 1986, her work from the early 20th century pre-dates the first purely abstract paintings by Wassily Kandinsky, Piet Mondrian and Kazimir Malevich. This Serpentine exhibition focuses primarily on her body of work, The Paintings for the Temple, which dates from 1906–15. The sequential nature of af Klint's work is highlighted by the inclusion in the exhibition of numerous paintings from key series, some neverbefore exhibited in the UK. After graduating from the Royal Academy of Fine Arts in Stockholm in 1887, af Klint took a studio in the city where she produced and exhibited traditional landscapes, botanical drawings and portraits. However, by 1886 she had abandoned the conventions she learned at the ... More
The Armory Show 2016 opens in New York with 205 galleries from 36 countries
Waddington Custot Galleries opens survey of works from the 1960s, 70s and 80s by Barry Flanagan
Throckmorton Fine Art presents early Chinese Buddhist sculpture from the Northern Dynasties


The fair is open to the public from Thursday, March 3 to Sunday, March 6, from 12-7pm daily. Image courtesy of Roberto Chamorro for The Armory Show.



NEW YORK, NY.- The Armory Show VIP Preview began Wednesday, March 2 for invited guests. The fair is open to the public from Thursday, March 3 to Sunday, March 6, from 12-7pm daily. The 2016 edition of the fair will welcome 205 exhibiting galleries from 36 countries worldwide, making this edition the most international in the fair's history. In addition to a strong exhibitor list that welcomes important Latin American galleries such as Galeria Fortes Vilaça (Sao Paulo), Galeria Luisa Strina (Sao Paulo) and OMR (Mexico City) for the first time in several years, the fair will also welcome it's first-ever Cuban gallery, Habana (Havana). Highlights of the galleries participating in the fair for the first time include: On Pier 94: Hezi Cohen Gallery (Tel Aviv), Vera Cortês Art Agency (Lisbon), Habana (Havana), Kadel Willborn (Dusseldorf), Meessen De Clercq (Brussels), Francesca Minini ... More



Barry Flanagan, Collage II 1968, 1968, red, yellow and blue paper on paper, 10 1/4 x 7 7/8 in / 26 x 20 cm. © The Estate of Barry Flanagan, 2015.



LONDON.- Waddington Custot Galleries presents Animal, Vegetable, Mineral, an exhibition curated by Dr Jo Melvin, focusing on the early career of the renowned late British sculptor. A survey of works from the 1960s, 70s and 80s, the exhibition includes a selection of Flanagan's key early explorations in material and form instrumental in shaping his later career, some having not been exhibited for over 30 years. The artist's use of unconventional materials and his central position in early British Conceptual Art is further informed by displays of contemporary material from the Estate archive, including examples of the artist's concrete poetry, working drawings, logbooks and photographs. The exhibition marks the 50th anniversary of Flanagan's first solo show, held at Rowan Gallery, London, in 1966; Animal, Vegetable, Mineral was the title American writer ... More



Head of Buddha, ca 500-534 CE Northern Wei 386-534. Limestone 16 inches.



NEW YORK, NY.- Sculpture from China's Northern Dynasties dating from 386 to 577 A.D. will be the subject of the Asian art show at Throckmorton Fine Art from March 3 to April 23 at its New York gallery at 145 East 57th Street. According to gallery founder Spencer Throckmorton, "The focus of our 2016 Asian exhibition will be on sculpture from China's Northern Dynasties including Northern Wei, Eastern Wei and Northern Qi examples, with an emphasis on artworks dating to the sixth century A.D. A detailed catalog will accompany the exhibition. "The nearly two hundred year period surrounding the sixth century was a particularly rich period of artistic production of Buddhist sculpture as Buddhism was adopted at the highest levels of Chinese society, and richly patronized by the Imperial courts of the successive dynasties. The quality and beauty of these examples can serve to illustrate the high artistic level of the sculpture o ... More
Quote
Colors are the deeds of light, its deeds and sufferings. Goethe
---
Judy Watson - 'Artists are Strange Creatures' | TateShots
---
Flashback
On a day like today, Danish painter and sculptor Asger Jorn was born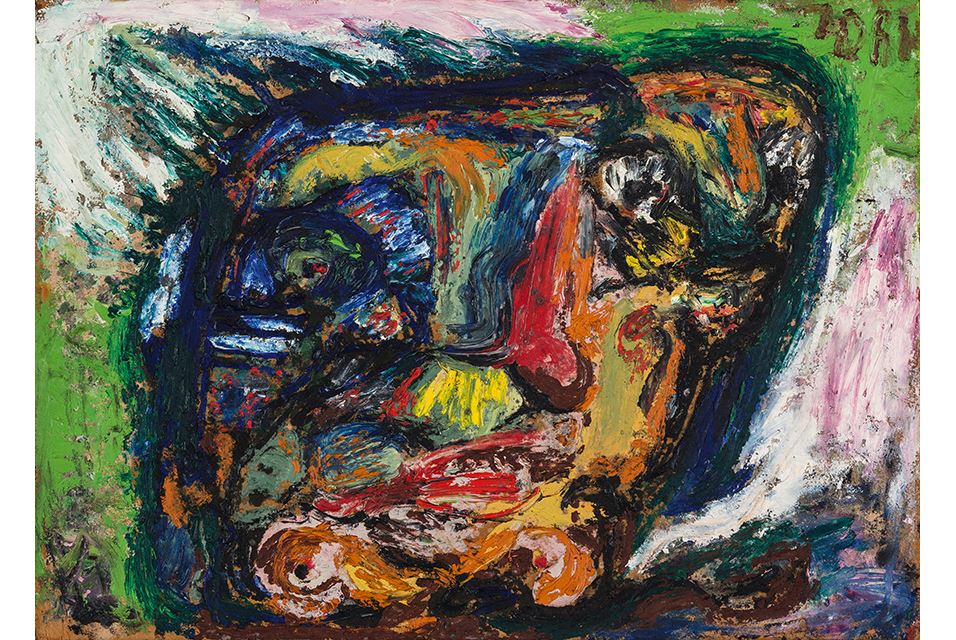 August 03, 1914. Asger Oluf Jorn (3 March 1914 - 1 May 1973) was a Danish painter, sculptor, ceramic artist, and author. He was a founding member of the avant-garde movement COBRA and the Situationist International. He was born in Vejrum, in the northwest corner of Jutland, Denmark, and baptized Asger Oluf Jørgensen. In this image: Untitled (Figures in a head), ca. 1960/1963. Oil on fiberboard, 19.69 x 27.56 inches 50 x 70 cm.
---

Museums, Exhibits, Artists, Milestones, Digital Art, Architecture, Photography,
Photographers, Special Photos, Special Reports, Featured Stories, Auctions, Art Fairs,
Anecdotes, Art Quiz, Education, Mythology, 3D Images, Last Week,
.
Royalville Communications, Inc
produces: