Austria's Leopold museum exhibits damaged artworks to raise funds for their restoration
A visitor looks at artworks at the opening of the exhibition "Hidden treasures of the collection" in Leopold Museum in Vienna on January 28, 2016. The Leopold Museum looks for patrons for the works in its collection that are in need of restoration but which have not yet been restored due to a lack of time or funds.

By: Philippe Schwab
VIENNA
(AFP)
.-
Would you pay to see art that's broken, mouldy or eaten by worms? Vienna's famous Leopold Museum sure hopes so. The prestigious home of Gustav Klimt and Egon Schiele is displaying damaged artworks to raise funds for their restoration. Around 185 pieces by Austrian artists, ranging from turn-of-the-century paintings to Art Deco chairs and lamps, are part of the unconventional Hidden Treasures exhibition. Some, like Robert Russ's 1885 "Mill with Evening Sky", reveal damaging tears in the canvas or heavily flaking paint. Other forlorn pieces of artwork include a delicate porcelain figurine with its head missing, and the panel of an oil painting by Cecil van Haanen fallen victim to hungry woodworms. "Usually you go to the museum to admire works in perfect condition. Here, we are showing the dark side of our collection," the Leopold's new director, ...
More
The Best Photos of the Day
Slow food: Study by the Tel Aviv university says prehistoric people feasted on turtles
Laura Poitras's first solo museum exhibition opens at the Whitney Museum of American Art
Window to the World: Bucerius Kunst Forum exhibits the window motif in Picasso's work


This file photograph taken on January 28, 2016 shows baby turtles being released into the sea. AFP PHOTO / Chaideer MAHYUDDIN.



JERUSALEM (AFP).- Discoveries in an Israeli cave dating back 200,000 years show that early humans ate turtles alongside plants and large game animals, the Tel Aviv university said on Tuesday. Turtle specimens found around the Qesem cave, some 12 kilometres (seven miles) east of Tel Aviv, also indicated the methods used to prepare them. "Until now, it was believed that Palaeolithic humans hunted and ate mostly large game and vegetal material," Ran Barkai, one of the authors of the study, said in a statement. "Our discovery adds a really rich human dimension –- a culinary and therefore cultural depth to what we already know about these people." According to Avi Gopher, another author of the study, it was likely that large game animals such as horses, cattle and deer were hunted by adults, while children and the elderly caught the slow-moving turtles. Barkai said that judging by marks on the shells, most of the turtles were roasted ... More



Laura Poitras (b. 1964), ANARCHIST: Data Feed with Doppler Tracks from a Satellite (Intercepted May 27, 2009), 2016 (detail). Pigmented inkjet print mounted on aluminum, 45 x 64 3/4 in. (114.3 x 164.5 cm). Courtesy the artist.



NEW YORK, NY.- This winter, the Whitney Museum of American Art debuted Laura Poitras: Astro Noise, the first solo museum exhibition by artist, filmmaker, and journalist Laura Poitras. On view from February 5 through May 1, 2016, this immersive installation of new work builds on topics important to Poitras, including mass surveillance, the war on terror, the U.S. drone program, Guantánamo Bay Prison, occupation, and torture. Some of these issues have been investigated in her films, including CITIZENFOUR, which won the 2015 Academy Award for Best Documentary, and in her reporting, which was awarded a 2014 Pulitzer Prize. The exhibition is organized by Whitney curator and curator of performance Jay Sanders. "Over the course of her career, Laura Poitras has fearlessly created work of national and global importance, and ... More



Pablo Picasso (1881-1973), Das Atelier, 1955, Tate, London © Succession Picasso / VG Bild-Kunst, Bonn 2016.



HAMBURG.- The window motif can be found throughout Picasso's entire body of work. For Picasso, a window was much more than an everyday object. The exhibition Picasso. Window to the World demonstrates for the first time that Picasso considered the window to symbolize painting itself. It symbolizes artistic self-reflection by addressing the issue of seeing and communication between the internal and the external – an element in Picasso's work that runs through all his creative phases and one which has never before been identified. This exhibition, curated by Ortrud Westheider, illuminates the window subject as a painted theory of images. From February 6 to May 16, 2016 the Bucerius Kunst Forum is bringing together around 40 loans from international collections such as Museu Picasso, Barcelona; Museo Picasso, Malaga; Musée Picasso, Paris; the Tate, London; Centre Pompidou, Paris; and the MoMA, New York. During periods ... More
View rarely seen gems of the McMichael permanent collection in the exhibition, On Paper
J. Paul Getty Museum publishes new book of highlights from the Wagstaff Collection of Photographs
Susan Philipsz explores disappearance, obscurity and absence in new exhibition at Kunsthau Bregenz


Clarence Gagnon (1881-1942), The Betrothal, 1928-1933 (detail). Gouache over colour monotype on paper. Sheet: 24.1 x 26.5 cm; image: 21.5 x 22.6 cm. Gift of Colonel R.S. McLaughlin. McMichael Canadian Art Collection 1969.4.54.



KLEINBURG, ON.- Most great works of art begin with a drawing—ideas come out on paper first. To explore the ways in which the story of Canada has been shaped by works of art on paper, the McMichael Canadian Art Collection presents the exhibition On Paper, from February 6 to May 1, 2016. Visitors will be given a rare glimpse of the finest works of art on paper from the McMichael permanent collection. These works are on view for a limited time only, since light exposure can be a conservation concern. On Paper is being displayed over two gallery spaces and features Emily Carr's 1903 diary/sketchbook, Clarence Gagnon's original artworks for Maria Chapdelaine, the best watercolours by A.J. Casson and David Milne, including Milne's watercolour Morning Paper—a recent ... More



Arnold Genthe (American, 1869 - 1942) Edna St. Vincent Millay, about 1917, Toned gelatin silver print, American, The J. Paul Getty Museum, Los Angeles.



LOS ANGELES, CA.- With more than twenty-six thousand works, the Samuel J. Wagstaff Jr. collection of photographs is the largest single group of artworks in any medium at the Getty Museum. Samuel J. Wagstaff Jr. (1921-1987), an American curator, collector, and the artistic mentor and benefactor of the artist Robert Mapplethorpe, amassed an extraordinary collection of 26,000 photographs between 1973 and 1984, recognizing that photography was an undervalued art form on which he might have a profound impact as a collector. He was mainly attracted to photographs that stimulated his imagination, and his taste ran toward the idiosyncratic -- images that surprised him chiefly because he had never seen them before. In choosing the 147 works reproduced in The Thrill of the Chase: The Wagstaff Collection of Photographs at the J. Paul Getty Museum (March ... More



Susan Philipsz, Kunsthaus Bregenz, 2015. Photo: Rudolf Sagmeister © Kunsthaus Bregenz.



BREGENZ.- Scottish born Susan Philipsz is one of today's leading arists. Her work revolves around a melancholic existentialism and explorations of the human voice. She became well-known through a capella renditions of songs. For the Glasgow International Festival she developed Lowlands , after a ballad from the 16th century, which was later recreated at Tate Britain in London, where it won her the prestigious Turner Prize (2010). The subject matter of memory, trauma, and mourning are ones she has increasingly confronted recently, such as at the Solomon R. Guggenheim Museum in New York, and in Kassel for dOCUMENTA (13). For her new series of works War Damaged Musical Instruments , 2015, she has been employing instruments damaged by war. The point of departure for her current project for Kunsthaus Bregenz is Peter Zumthor's architecture, an illuminated structure, together with the lake and ... More
American Impressionist painting brings $245,000 at Keno Auctions Pop-Up Winter Sale
The Autry announces the death of founding President and Life Trustee Joanne D. Hale
Rare 1955 Porsche 550 Spyder steals the show at RM Sotheby's Paris sale


Richard Edward Miller (American, 1875-1943), Woman at her Vanity with Earring, 1910-1914, oil on canvas, 36 ¼ x 28 ½ inches, sold for $245,000.



NEW YORK, NY.- Despite a week long postponement due to winter weather, Keno Auctions' Pop-Up auction boasted an 87% sell-through rate on Sunday, January 31st. After a brief introduction by Keno Auctions President, Leigh Keno, New York-based auctioneer Charles Antin led the auction, encouraging lively bidding on lots from excited bidders on the phone and internet. A fresh to market American Impressionist painting from a Rhode Island Estate brought nearly a quarter of a million dollars. Richard Edward Miller's Woman at her Vanity with Earring was in untouched condition and had been in the same family for more than a half of a century. "The painting is fresh and vibrant, as it displays the subject matter, light and color play that Richard Edward Miller was experimenting with successfully in Giverny, France from 1910 to 1915," said Leigh Keno. "This is one ... More



Together with Jackie and Gene Autry, Joanne Hale and her husband Monte (1919–2009) were instrumental in the creation, planning, construction, and continued growth of the Autry Museum.



LOS ANGELES, CA.- Autry Founding President and Life Trustee Joanne D. Hale died Tuesday, February 2, 2016, in Burbank, California. Hale is survived by her daughters Susannah Urlik, Brandy Burnett, and Andrea Haverback; son Harlan Haverback and daughter-in-law Ming Zhao; and grandchildren Kyle Haverback and Christopher Burnett. She was 87 years old. "Joanne was more than a friend. I considered her my cherished sister. She was also the heart and soul of the Autry. As much as I feel a tremendous sense of loss, I take comfort in the fact that her vision and passion for the American West will forever illuminate the museum she co-founded," said Jackie Autry, Founding Chair of the Autry's board of trustees. Together with Jackie and Gene Autry, Joanne Hale and her husband Monte (1919–2009) were instrumental ... More



1955 Porsche 550 Spyder. Courtesy RM Sotheby's/Rémi Dargegen.



PARIS.- RM Sotheby's, the world's largest collector car auction house for investment-quality automobiles, returned to Place Vauban for its third annual Paris sale. A highlight of the world-famous Rétromobile week, the auction achieved €19,035,550* ($20,843,927 US) before a standing-room-only crowd. With active bidding from global collectors representing 24 countries, the result was a successful sell-through of 79 percent. Highlighting the evening sale was the 1955 Porsche 550 Spyder, which realized a strong €2.744.000 to lead a group of seven automobiles that achieved individual million-euro-plus results. The top-selling Porsche 550 Spyder was undoubtedly the star of the auction preview, with enthusiasts flocking to Place Vauban to glimpse the rare competition sports racing car. The featured example was significant for being the 1955 Frankfurt Motor Show car and one of just 75 factory-built 'customer' 550 Spy ... More
Rarely seen drawings, prints, watercolors, and photographs on view at the Portland Museum of Art
Everson Museum of Art opens winter exhibitions including "Helen Levitt: In the Street"
Zurich Asia to hold Hong Kong auction in February offering rare stamps, banknotes & coins


John Storrs, Study for Abstract Sculpture. Crayon on paper, 14 11/16 x 11 1/2 in. Museum purchase with a gift from William D. Hamill.



PORTLAND, ME.- Masterworks on Paper: Highlights from the Portland Museum of Art presents exquisite artworks from the PMA collection. This exhibition of rarely seen drawings, prints, watercolors, and photographs showcases the myriad ways artists work on paper, highlighting the integral relationship between eye, hand, and mind that is the basis for all art-making. As a result, Masterworks fulfills the promise of art: drawing you in to expand your world. Showcasing the breadth of the PMA collection, each of the approximately 100 works in the exhibition realizes art's potential to inspire and excite while collectively demonstrating shifts in cultural and aesthetic trends over the last 175 years. Works by renowned artists such as Chuck Close, Helen Frankenthaler, Edward Hopper, Yvonne Jacquette, Roy Lichtenstein, Glenn Ligon, and Édouard Manet are at once intimate and astounding, sharing gallery space with lesser-known but equally stunning w ... More



Helen Levitt, New York (Children with Broken Mirror), c. 1940, gelatin silver print on paper, 11 1/16 x 7 ½ inches. Telfair Museum of Art, Savannah, Georgia. Gift of Mrs. Robert O. Levitt. © Film Documents LLC.



SYRACUSE, NY.- The exhibition Helen Levitt: In the Street opened to the public at the Everson Museum of Art on February 6, 2016. In the Street presents five decades of Levitt's work, featuring scenes shot in New York City, New Hampshire and Mexico. For more than seventy years, Levitt used her camera to capture fresh and unstudied views of everyday life. Levitt's photographs, in both black and white and in color, document neighborhood matriarchs on their front stoops, pedestrians negotiating New York's busy sidewalks and boisterous children at play. In her work, Levitt successfully captured people of every age, race and class, without attempting to impose social commentary. "We are thrilled to work with Telfair Museums in Savannah, Georgia to bring this exhibition to Syracuse and provide Everson visitors with the opportunity to experience Levitt's photographs," said Elizabeth Dunbar, Everson Director and CEO. In addition ... More



An extremely rare block of four 1897 Dowager small figures surcharged 10 cents on 6 candarins brown stamps with horizontal imperforate between variety. It is one of the two recorded blocks of four such stamps. Est: US$35,897-41,026.



NEW YORK, NY.- Zurich Asia will hold its forthcoming Hong Kong auction on 27 & 28 February 2016 at Harbour Plaza Hotel North Point. Over 3,200 offerings will be presented including treasures from the collection of Dr Chiu Chi Shing, a well-known Hong Kong philatelist. Of particular note, this marks the first time that Zurich Asia dedicates an individual section to banknotes and coins with a separate catalogue. Public viewing will be held from 25-26 February between 10am and 6pm. Leading the sale is an exceedingly rare 1873 surcharged in red 1 candarin on 8 cents grey blue Shanghai Small Dragon stamp in mint condition (Est.: HK$700,000-800,000/ US$89,744-102,564, Lot 31). Once an important item in the prestigious Beckeman Collection, this magnificent offering is one of the only four recorded copies. This exceptional stamp comes with a 2007 Experts & ... More
Quote
I don't work after nature, but before nature and with her. Pablo Picasso
---
Laurie Anderson Interview: We are In Constant Panic Mode
---
Flashback
On a day like today, English painter Margaret Fownes - Luttrell was born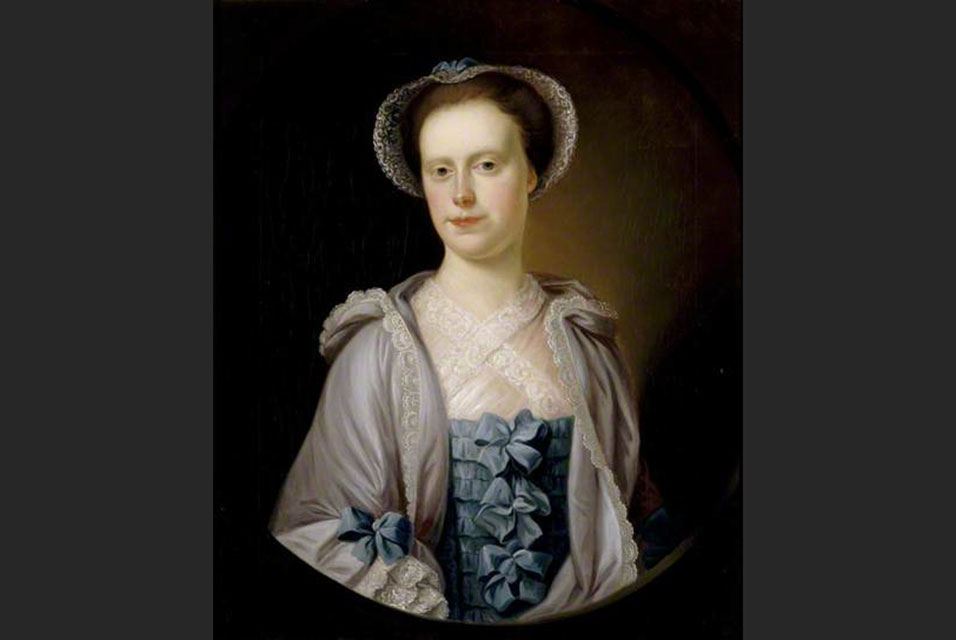 August 07, 1726. Margaret Fownes-Luttrell[a] (7 February 1726 - 13 August 1766) was an English artist and wife of Henry Fownes Luttrell. Two of her paintings are part of the Dunster Castle collection, now property of the National Trust. She was the heiress of Dunster Castle, under the stipulation in her father's will that her husband should take the additional surname of Luttrell. Four portraits of her exist in Dunster castle and a fifth at Bathealton Court. In this image: Margaret Luttrell (1726 - 1766), Mrs Henry Fownes Luttrell
---

Museums, Exhibits, Artists, Milestones, Digital Art, Architecture, Photography,
Photographers, Special Photos, Special Reports, Featured Stories, Auctions, Art Fairs,
Anecdotes, Art Quiz, Education, Mythology, 3D Images, Last Week,
.
Royalville Communications, Inc
produces: