Prestigious collection of works by Paul Signac on view at the Fondation de l'Hermitage
Paul Signac, Soleil couchant sur la ville (étude), 1892. Huile sur bois, 15,5 x 25 cm. Collection privée © photo Maurice Aeschimann.
LAUSANNE
.-
The Fondation de l'Hermitage
is showing a prestigious collection of works by Paul Signac (1863-1935) from 29 January to 22 May. Almost 140 oil paintings, watercolours and drawings illustrate the prolific career of this neo-Impressionist master. This unique collection was assembled by a family with a passion for Signac's art and constitutes one of the largest set of his works to be held in private hands. It offers a complete panorama of Signac's artistic development, from his early Impressionist paintings through the heroic years of neo-Impressionism, the dazzle of Saint Tropez and flamboyant portrayals of Venice, Rotterdam and Constantinople to the late watercolours of the Ports of France series. The collection is also exceptional for the diversity of techniques on display, juxtaposing the Impressionist ardour of the studies from nature with the limpid polychromy ...
More
The Best Photos of the Day
Exhibition provides a rare insight into the development of Alberto Giacometti's practice
Gagosian Gallery New York exhibits one of the late artist Chris Burden's last works
Smithsonian's Sackler Gallery presents a new interactive installation of the Cosmic Buddha


Alberto Giacometti (1901-1966), Composition, 1927-8. Bronze, 31.3 x 18.1 x 11.6 cm.



LONDON.- Luxembourg & Dayan presents Alberto Giacometti: In His Own Words (Sculptures 1925-1934). Focused on a series of sculptures from this crucial decade in Giacometti's life, the exhibition provides a rare insight into the development of the artist's practice, which led to the crystallization of the more familiar style that characterizes Giacometti's later work. This exhibition will include over 18 sculptures from this period, many of which will be exhibited in the UK for the first time. The exhibition takes its cue from a letter that Alberto Giacometti wrote to his New York dealer and friend Pierre Matisse (1947) that accompanied a group of sculptures planned for an exhibition at Matisse's New York gallery. "Here is the list of sculptures that I promised you" Giacometti wrote, "but I could not send it without explaining a certain succession of facts […] without which ... More



Chris Burden, Buddha's Fingers, 2014–15. Cast iron, glass, electrical wiring, 142 x 108 x 108 inches, 360.7 x 274.3 x 274.3 cm ©Chris Burden. Photography by Robert McKeever. Courtesy of the Chris Burden Estate and Gagosian Gallery.



NEW YORK, NY.- Gagosian New York is presenting Buddha's Fingers (2014–15), one of the late Chris Burden's last works. Beginning with a series of startling actions in the early 1970s, Chris Burden challenged his own mental and physical limitations, as well as the boundaries of art and performance. Shut inside a locker for five days (Five Day Locker, 1971); shot in the arm (Shoot, 1971); and nailed through the palms of his hands to the roof of a car (Trans-fixed, 1974), he sought to reflect the violence that defined American politics, society, and media at the time. Burden soon channeled the daring spirit of these early performances into imposing technical feats that similarly explored challenges both individual and social. He used toys (figurines, train sets, ... More



3D scan of Cosmic Buddha highlighting hot spots and zones. Image courtesy Smithsonian's Digitalization Program Office.



WASHINGTON, DC.- Through cutting-edge digital technology, previously hidden meanings of a masterpiece of ancient Chinese sculpture may now be accessed by museum visitors, students and scholars. A new interactive installation presents the original sixth-century work alongside the evolving methods used to study it—from rubbings and photographs to the technological possibilities of today. "Body of Devotion: The Cosmic Buddha in 3D" is on view in the Smithsonian's Arthur M. Sackler Gallery January 30–December 2016. "The Cosmic Buddha," an icon of the Smithsonian's Freer Gallery of Art collection, has been 3-D imaged by the Smithsonian's Digitization Program Office, which uses a variety of tools to record and share unique Smithsonian treasures. The exhibition includes the ancient sculpture itself, ink rubbings, a digital flat map of the ... More
Two Temple Place reopens with exhibition of the ancient Egyptians at their most spectacular
Paul Kasmin's first solo exhibition of work by photographer Peter Hujar on view in New York
Exhibition at Museum of Fine Arts, St. Petersburg spotlights compelling portraits


Wooden face with inlaid eyes, originally part of a coffin, Third Intermediate Period, Dynasty 22 (945 - 715 BC). Possibly from excavations atAbydos. Courtesy Two Temple Place and Baghshaw Museum (Kirklees Council).



LONDON.- Two Temple Place reopened to the public with its fifth annual Winter Exhibition, Beyond Beauty: Transforming the Body in Ancient Egypt on 30th January 2016. This major new exhibition allows us to experience the ancient Egyptians at their most spectacular and at their most intimate, uncovering a civilisation fascinated by appearance and identity both in life and death. Rare surviving imagery on exquisite painted coffins, decorated funerary masks, delicate figurines and beautifully carved reliefs emphasise the importance of body image. Meanwhile jewellery, mirrors, hairpins, scent bottles and makeup provide an insight into some surprisingly familiar daily routines and the ever changing styles of the time. Through artefacts spanning over four millennia, from 3,500 B.C. to 400 A.D., the viewer is invited to ask why ... More



Peter Hujar, Andy Warhol (III), 1975. Vintage gelatin silver print, 20 x 16 inches; 50.8 x 40.6 cm © The Peter Hujar Archive LLC.



NEW YORK, NY.- Paul Kasmin Gallery is presenting Lost Downtown, the gallery's first solo exhibition by acclaimed photographer Peter Hujar which is on view at 297 Tenth Avenue from January 28 to February 27, 2016. The exhibition, presented in collaboration with Pace/MacGill, features over twenty photographs of the late photographer's portraits which offer a fascinating glimpse of New York City's downtown scene during the 1970s-80s. Peter Hujar (1934-87) worked in photography's classic genres: the nude and the portrait. His portraits evoke the same spirit and starkness as August Sander and Diane Arbus before him: clear, austere, and penetrating. He worked predominantly in black and white and with a medium format camera, and for most of his portraits he preferred the controlled environment of his studio or other indoor spaces, quietly working one-on-one with his sitter. Hujar was driven to capture ... More



Vanni Rossi (Italian, 1894-1973), Self-Portrait Smoking (1920). Oil on canvas. Collection of Robert Flynn Johnson.



ST. PETERSBURG, FLA.- Contemplating Character: Portrait Drawings & Oil Sketches from Jacques-Louis David to Lucian Freud is the most expansive exhibition of portraits ever presented at the Museum of Fine Arts. It opens on Saturday, February 13, and continues through Sunday, May 29. This fascinating exhibition features 152 rare portrait drawings and oil sketches from the late eighteenth into the twenty-first century, with most from the nineteenth. Artists from 15 countries are represented, with a large number from France and England. Lucian Freud, one of our time's most provocative portrait painters and the grandson of the pioneering psychoanalyst Sigmund Freud, once noted: "I've always wanted to create drama in my pictures, which is why I paint people. It's people who have brought drama to pictures from the beginning. The simplest human gestures tell stories." The works are drawn from the remarkable ... More
First retrospective exhibition of the work of Judit Reigl opens at the Allen Memorial Art Museum
Exhibition at the Albertina explores post-war photography magazine Provoke
A selection of recent paintings by Matthew Kolodziej on view at Carl Solway Gallery


Staff members at the Allen Memorial Art Museum, on the campus of Oberlin College, view works by contemporary European artist Judit Reigl. The exhibition, Judit Reigl: Body of Music, is the first retrospective of the artist's work by a United States museum. Image: Selina Bartlett.



OBERLIN, OH.- The Allen Memorial Art Museum presents the first retrospective exhibition by a United States museum of the work of Judit Reigl, one of the foremost figures of European painting to emerge in the second half of the 20th century. From February 2 through May 29, 2016, Judit Reigl: Body of Music features paintings and works on paper from major public and private collections, including the Metropolitan Museum of Art, the Albright-Knox Art Gallery, and the Centre Pompidou in Paris. Born in Hungary in 1923, Reigl escaped from behind the Iron Curtain in 1950 and arrived in Paris, where she first exhibited her work in 1954. She has maintained a home and studio outside the city since 1963 and, now in her nineties, continues ... More



Daidō Moriyama, Untitled, from the series Akushidento (Accident), 1969 (detail) ©Daido Moriyama/Shadai Gallery, Tokyo Polytechnic University.



VIENNA.- The Japanese photo magazine Provoke, which ran for three issues in 1968 and 1969, is regarded as a highlight of post-war photography. The Albertina, in the world's first-ever exhibition on this topic, is taking a close look at this publication's creators and its long genesis. The presentation encompasses a representative cross-section of Japanese photographic trends during the 1960s and 1970s. With around 200 objects, the exhibition Provoke unites works by Japan's most influential photographers - including Daidō Moriyama, Yutaka Takanashi, Shōmei Tōmatsu, and Nobuyoshi Araki. Before the backdrop of the massive protest activities in Japan during this period, they created their images out of an awareness of being at a historical turning point between societal collapse and the search for a new Japanese identity. These works thus represent ... More



Matthew Kolodziej, Blaze, 2015. Acrylic on canvas, 38 x 31 inches.



CINCINNATI, OH.- Carl Solway Gallery presents a selection of recent paintings by Matthew Kolodziej. At first glance, his paintings appear to be dazzling, complex abstractions. Upon more careful observation, multi-layered fragments of architectural details emerge creating a sense of places in a state of change. The locations seem to be simultaneously under construction and demolition. The artist has titled the exhibition Patch Work. To quote Kolodziej, " A patchwork is something made up of an incongruous variety of pieces. Patching connotes use, repair and replacement. … Architectural sites in flux provide the foundations for these paintings." Kolodziej photographs industrial sites, and through a sophisticated process of computer manipulation, projection, tracing and paint application creates commanding images and surfaces that demand to be seen firsthand. To quote an essay by the painter and ... More
Modern Art Museum of Fort Worth opens exhibition of works by Glenn Kaino
Exhibition at Rodolphe Janssen highlights a part of the young Belgian art scene
Victoria Miro announces UK premiere of a new multi-screen film installation by Stan Douglas


L'ènetènafionale, 2015. Wood, aluminum, brass, Xbox Kinect, electronics, starch, and French moon accent, 40 × 40 × 80 inches. Private Collection, Miami. Photograph by Tim Johnson, courtesy of the artist and Kavi Gupta, Chicago.



FORT WORTH.- Glenn Kaino's work carefully balances formal and conceptual concerns as the artist combines an often unexpected hybrid of materials in order to best communicate an idea, history, or system that might be less effective with traditional art media. His installation Tank, 2014, for example, is composed of seven aquariums containing clusters of coral species thriving on clear resin replicas of military tanks that are submerged in the water. Tank signals life after violence, rebuilding, and the organic triumphing over the inanimate. Kaino's project also mirrors the United States' practice of discarding used military weapons in ocean beds for an ironically positive outcome in the aquatic ecosystem: the artillery actually encourages reefs to flourish in areas of the ocean where the coral ... More



Etienne Courtois Still Life With Plastic Bag, 2013 Chromogenic Print 86.6 x 106.6 cm (framed)34 1/8 x 42 in Ed #5



BRUSSELS.- Rodolphe Janssen gallery announce their new exhibition entitled Balls & Glory. Following visits of fifty-some artists studios in Belgium, the gallery presents works by nine very diverse and emerging artists. The title of the exhibition not only refers to the eponymous restaurant in Ghent where the idea was born during a lunch meeting in between studio visits. It also underlines the ambition of these nine artists as well as the purpose of the show, to put a spotlight on talented artists who haven't yet had many opportunities to showcase their works. The aim of the exhibition is not to give an overview of the Belgian art scene; it is rather the result of 'fieldwork' in the art scene and a reflection of those things that caught the gallery's attention. One artist told them about another, and curators, journalists and collectors, at their turn, introduced them to new artists. Visiting artist studios is ... More



Stan Douglas, The Secret Agent, 2015. Six-channel video projection with sound. Courtesy the Artist, David Zwirner, New York / London and Victoria Miro, London © Stan Douglas.



LONDON.- Victoria Miro announces The Secret Agent, a solo exhibition by the celebrated Canadian artist Stan Douglas, featuring the UK premiere of a new multi-screen film installation along with a series of large-scale photographs. Saturated with information, and yet rejecting easily consumable messages, these works place the viewer within the charged atmospheres and ambiguous political and social intricacies of 1970s Portugal and postwar Vancouver, respectively. Filmed on location in Lisbon with a cast of local actors, the feature-length The Secret Agent, 2015, restages the plot of Joseph Conrad's novella – a story of espionage, double-crossing and murky political entanglement – within the aftermath of Portugal's 'carnation revolution,' which overthrew Europe's oldest dictatorship, ... More
Quote
The art world can no more be corrupted than Don Juan could be seduced. Philip Toynbee
---
#MetKids -- Can a Painting Tell More Than One Story?
---
Flashback
On a day like today, Japanese painter and sculptor Takashi Murakami was born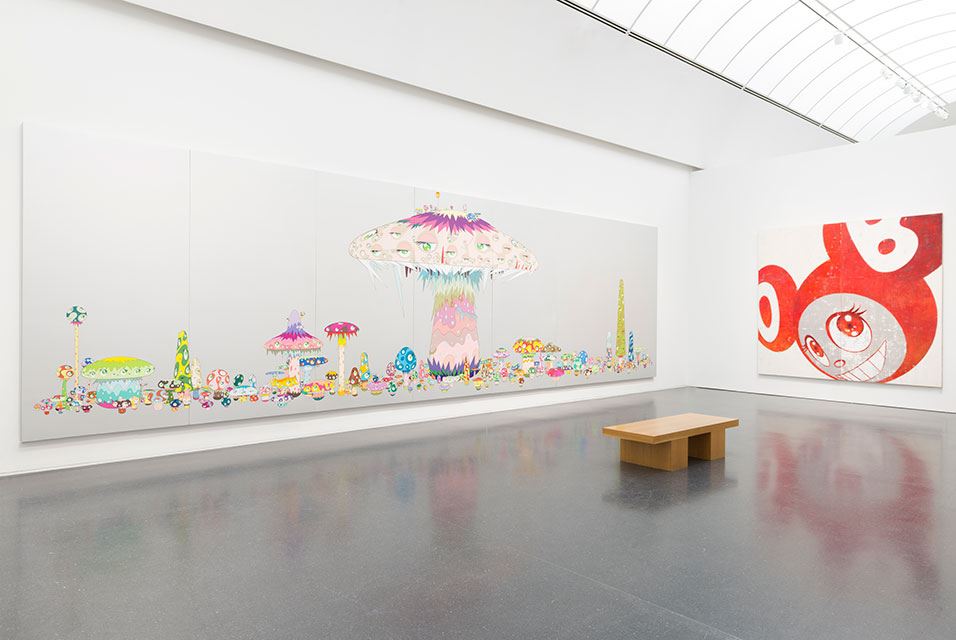 August 01, 1962. Takashi Murakami (born February 1, 1962) is a Japanese contemporary artist. He works in fine arts media (such as painting and sculpture) as well as commercial media (such as fashion, merchandise, and animation) and is known for blurring the line between high and low arts. In this image: Installation view, Takashi Murakami: The Octopus Eats its Own Leg, MCA Chicago, June 6 - September 24, 2017. Photo: Nathan Keay, © MCA
---

Museums, Exhibits, Artists, Milestones, Digital Art, Architecture, Photography,
Photographers, Special Photos, Special Reports, Featured Stories, Auctions, Art Fairs,
Anecdotes, Art Quiz, Education, Mythology, 3D Images, Last Week,
.
Royalville Communications, Inc
produces: