Annual display of exquisite Turner watercolours returns to the Scottish National Gallery
J. M. W. Turner, (1775-1851), East View of Fonthill Abbey, Noon, 1800. Watercolour on paper, 68.5 x 103.5 cm. Collection: National Galleries of Scotland. Accepted by the Inland Revenue in lieu of inheritance tax, on loan to the National Trust for Scotland at Brodick Castle 1988.
EDINBURGH
.-
In keeping with a long-standing tradition now stretching over a century, New Year's Day at the
Scottish National Gallery
will be marked by the opening of Turner in January: The Vaughan Bequest, an annual display of works by the artist Joseph Mallord William Turner (1775–1851). An outstanding collection by one of the great masters of British painting was bequeathed to the Gallery in 1900 by Henry Vaughan, a London art collector with a passion for Turner and a connoisseur's eye for quality. Vaughan stipulated that the 38 exquisite works – which encapsulates the artist's entire career – could not be subjected to permanent display, since continual exposure to light would result in their fading. Instead, these precious works were to be exhibited to the public "all at one time, free of charge, during the month of January", when daylight in Edinburgh is at its lowest ...
More
The Best Photos of the Day
Statues defaced in anti-China attack at new National Palace Museum branch in Taiwan
British Museum to launch first major exhibition of underwater archaeology in May 2016
Emil Nolde's close ties to Hamburg are being explored in a comprehensive display at Hamburger Kunsthalle


Taiwan President Ma Ying-jeou (C-with sunglasses) and Hong Kong film star Jackie Chan (R) take part in the opening ceremonies for the National Palace Museum branch. AFP PHOTO / Sam Yeh.



TAIPEI (AFP).- Two statues donated by actor Jackie Chan to a newly opened museum in Taiwan were splashed with paint and daubed with anti-China slogans, reflecting growing tensions over Beijing's influence on the island. The bronze dragon and horse heads sit in the garden of the new branch of Taipei's famous National Palace Museum in the southern city of Chiayi and were defaced Wednesday night, the museum said. They are replicas of high-profile ancient relics from the Qing Dynasty, seen on the mainland as emblematic of China's past suffering under foreign invaders. The animal heads were streaked with red paint and their bases daubed with the words "cultural united front" by two unidentified attackers, the museum said. The slogan is a critical phrase used in Taiwan to refer to China's attempts to bring the island back into its fold through cultural influence. Taiwan is self-ruling after a split with China in 1949 after a civil ... More



A diver brings to light an Osiris-Canopus found at the site of Canopus Aboukir Bay, Egypt (SCA 205). ©Franck Goddio / Hilti Foundation - Photo: Christoph Gerigk.



LONDON.- The British Museum is to stage a major exhibition on two lost Egyptian cities and their recent rediscovery by archaeologists beneath the Mediterranean seabed. Opening in May 2016 for an extended run of six months, The BP exhibition Sunken cities: Egypt's lost worlds will be the Museum's first large-scale exhibition of underwater discoveries. It will show how the exploration of Thonis-Heracleion and Canopus – submerged at the mouth of the River Nile for over a thousand years – is transforming our understanding of the relationship between ancient Egypt and the Greek world and the great importance of these ancient cities. 300 outstanding objects will be brought together for the exhibition including more than 200 spectacular finds excavated off the coast of Egypt near Alexandria between 1996 and 2012. Important loans from Egyptian museums rarely seen before outside Egypt (and the first such loans since the ... More



Emil Nolde (1867–1956), In der Loge, 1911. Öl auf Leinwand, 79,5 x 69,5 cm. Nolde Stiftung Seebüll © Nolde Stiftung Seebüll. Photo: Elke Walford und Dirk Dunkelberg.



HAMBURG.- The city of Hamburg held great significance for the Expressionist artist Emil Nolde (1867–1956). Not only did he find inspiration for numerous artworks here, he also gained considerable recognition at an early stage of his career. Now, for the first time, Nolde's close ties to the city are being explored in a comprehensive display of around 200 of his works, which include vibrantly coloured paintings and watercolours, atmospheric etchings and woodcuts as well as dynamic brush-and-ink drawings. Nolde visited Hamburg regularly on his travels around Germany. He was fascinated by the bustling activity of the harbour and was also impressed by the wind and weather in the Hanseatic city, which for him represented the primal forces of life and nature. In 1910 he spent several weeks here, staying at the harbour in the St. Pauli district. Nolde captured his immediate impressions of his surroundings in over a hundred ... More
Comprehensive exhibition of Ben Vautier's work on view in Switzerland for the first time
Jeu de Paume releases official app of the exhibition "Philippe Halsman: Astonish Me!"
Visitors to the tenth anniversary edition of Master Drawings New York will enjoy 29 exhibitions


Ben Vautier, Magasin, 1958-1973. Installation, Assemblage, diverse Materialien, 402 x 446 x 596 cm. Centre Georges Pompidou, Paris, Musée national d'art Moderne / Centre de création industrielle.



BASEL.- Ben Vautier (*1935) has been on the scene since the late 1950s as an artist, performer, organizer, linguistic inventor, and re-thinker of art. He is one of the pioneers of the Fluxus movement in Europe and, as a comrade-in-arms of the École de Nice, a close friend of artists such as Arman, Yves Klein and Martial Raysse. He is known for his text images, which, using brief, pithy phrases, equally question and challenge life and art. Museum Tinguely dedicates Ben Vautier's first comprehensive retrospective in Switzerland. Alongside an overview of the first 20 years of his creativity, Ben sets up in Basel more than 30 rooms as he comments on various social, artistic, and political topics and takes a stance. In total, the show exhibits from 21 October 2015 through 22 January 2016 far in excess of 500 works by the artist, who is still very ... More



American photographer Philippe Halsman (1906–1979) is famous for his portraits of celebrities.



PARIS.- Jeu de Paume announced the release of the official app of the exhibition "Philippe Halsman. Astonish Me!", presented at the museum until 24 January 2016. American photographer Philippe Halsman (1906–1979), famous for his portraits of celebrities, his 101 LIFE magazine covers and his long collaboration with Salvador Dalí, is remarkable for the very breadth of his work: portraits, fashion, reportage, advertising… Beginning in Paris in the 1930s and continuing in New York from the 1940s onward, he carved out a career that was to be a model for others and that lasted for more than 40 years. The exhibition showcases the photographer's entire career for the first time. Discover the life and career of the photographer through an examination of twenty-six iconic works and an illustrated biography. Videos, including a video portrait of the artist by the exhibition curators, and a personal view of a selection of ... More



Richard Diebenkorn, Untitled. Gouache and graphite on paper. Photo: Van Doren Waxter Gallery.



NEW YORK, NY.- The Tenth Annual Master Drawings New York week will take place January 23 through January 30 at 30 leading art galleries on the Upper East Side's "Gold Coast' in New York. Timed to coincide with New York's major January art-buying events, including the Old Master auctions and The Winter Antiques Show, over the past decade Master Drawings New York has given top dealers from the US as well as the UK, France, Germany, Spain and Italy an opportunity to show their newest acquisitions to the largest assembly of drawings scholars and patrons to gather in New York each year. Originally conceived as an annual walk-through, Master Drawings New York has grown into a 'must see' event, receiving strong support as its range and influence has grown each year. Each exhibition is hosted by an expert specialist and many works on offer are newly discovered or have not been seen on the market ... More
"Work and Leisure in American Art: Selected Works from the Collection" on view at the Montclair Art Museum
NGA Contemporary transformed with a major installation by artists Ken and Julia Yonetani
National Endowment for the Arts awards $35,000 to the McNay Art Museum


Alfred Kappes (1850–1894), In the Kitchen, 1884 (detail), watercolor on paper. Montclair Art Museum: Museum purchase, Acquisition Fund.



MONTCLAIR, NJ.- This collection-based exhibition comprises over 60 paintings, sculptures, photographs, and works on paper that explore the universal themes of labor and leisure in America from the 18th century to the present day. The works on view range chronologically from Benjamin West's exposure of political corruption in the painting Oliver Cromwell Dissolving the Long Parliament (1782) to the photograph The Stone Breakers (After Gustave Courbet), 2013 by Vik Muniz. This recent acquisition by a leading contemporary artist who lives and works in Brooklyn and Rio de Janeiro is a recreation of the French 19th-century Realist Gustave Courbet's radical celebration of the common laborer at work. A photograph of a collage using images torn from magazines, The Stone Breakers (After Gustave Courbet) is complemented by scenes of industrial and urban labor in the 20th century by Thomas Hart Benton, Stuyvesant Van Veen, and ... More



Ken + Julia Yonetani, Crystal Palace: The Great Exhibition of the Works of Industry of all Nuclear Nations (France), 2013. Uranium glass, metal, UV lighting. Photo courtesy of the artists.



CANBERRA.- Chandeliers made from uranium glass representing nuclear-powered nations and a nine-metre banquet table made entirely of salt feature in the first large survey show of internationally acclaimed Japanese and Australian artist collaborators Ken + Julia Yonetani at NGA Contemporary. Ken + Julia Yonetani's NGA installation is a provocative response to the Fukushima Daiichi nuclear power plant accident. In an installation of chandeliers reconfigured to emanate UV light, and decorated with specially sourced Uranium glass, each chandelier represents a country that operates nuclear power stations and is of a scale relative to that country's nuclear output. It is work that is aesthetically astounding, accessible and engaging. Uranium glass contains very small traces of Uranium within the glass, is legal and poses no health risks. 'You can't see, smell or perceive radiation with your senses, but it becomes visible in ... More



Abby Sees Hugh in the Front Hall, © 2013 (detail), Jessica Todd Harper, courtesy Rick Wester Fine Art, New York



SAN ANTONIO, TX.- In its first 50 years, the National Endowment for the Arts awarded more than $5 billion in grants to recipients in every state and U.S. jurisdiction, the only arts funder in the nation to do so. The NEA announced awards totaling more than $27.6 million in its first funding round of fiscal year 2016, including an Art Works award of $35,000 to the McNay Art Museum to engage, connect and collaborate with the community through contemporary photography. The Art Works category supports the creation of work and presentation of both new and existing work, lifelong learning in the arts, and public engagement with the arts through 13 arts disciplines or fields. NEA Chairman Jane Chu said, "The arts are part of our everyday lives – no matter who you are or where you live – they have the power to transform individuals, spark economic vibrancy in communities, and transcend the boundaries across diverse sectors of society. Supporti ... More
Austrian artist Ulrike Müller's first solo show in a museum on view at mumok in Vienna
Embroidered Modernism: Kunstmuseum Liechtenstein marks the 150th birthday of Ferdinand Nigg
William Kentridge donates his complete works in time-based media to George Eastman Museum


Ulrike Müller, Others, 2015. Vitreous enamel on steel, 39,4 x 30,5 cm. Courtesy of the artist and Callicoon Fine Arts, NY.



VIENNA.- In her artistic work, Ulrike Müller (born 1971 in Brixlegg, Tirol, lives in New York) explores the relationships between abstraction and bodies and a concept of painting that is not restricted to brush and canvas. The geometrical figures and color surfaces in her compositions are never "purely" abstract. They carry erotic and sexual associations; they tease, touch, and penetrate each other without collapsing into pairs of opposites. Müller uses abstraction as an idiom that can be figuratively appropriated, emotionally charged and / or politically connoted—depending on the context and the viewer. "My paintings are part of the desire to imagine and to practice alternatives to traditional gender roles and lifestyles," Müller says. mumok is presenting Ulrike Müller's first solo show in a museum, and also a special selection from our own collection that has been chosen by Müller together with mumok ... More



Ferdinand Nigg, The king from the legend of St George, undated, private owner, photo: Heinz Preute.



VADUZ.- To mark the 150th birthday of Ferdinand Nigg, Kunstmuseum Liechtenstein is staging a major synoptic exhibition devoted to Liechtenstein's most important modernist artist. Ferdinand Nigg is one of the artists who discovered embroidery as an artistic medium at the beginning of the 20th century, harnessing this technique to realise modern design principles. The fascination of his work lies in his reduced, abstract vocabula ry of form, with which Nigg also portrayed expressive gestures and facial expressions. Ferdinand Nigg, born in Vaduz in 1865, was a painter, graphic artist, textile designer, book designer and typographer. Following his training in Zurich and a period of working as a freelance artist in Berlin, he was appointed professor of book craft and textiles at the progressive school of applied arts and craft professions in Magdeburg in 1903. It was here, at the pinnacle of his public work, that Nigg worked ... More



William Kentridge (South African, b. 1955). Other Faces, 2011 (detail). From the series Drawings for Projection. Digital scan from the master Digital Betacam videotape. George Eastman Museum, gift of the artist.



ROCHESTER, NY.- The George Eastman Museum announced recently that William Kentridge has donated the complete set of his films, videos, and digital-born works to the museum. The gift comprises both original negatives and positive prints covering Kentridge's entire career as a filmmaker, as well as all of the master elements of the renowned artist's works in electronic and digital media. As the home of the definitive collection and archive of Kentridge's time-based works, the Eastman Museum is now the leading resource for the appreciation and study of this extraordinary body of work. "The George Eastman Museum, well known for its leadership in historic collections and preservation, is equally dedicated to collecting contemporary works," said Bruce Barnes, Ron ... More
Quote
I think perhaps there would be more anxiety in my work if I lived in New York. Edward Ruscha
---
Collecting Stories: Perry A. Margouleff
---
Flashback
On a day like today, Chinese painter Qi Baishi was born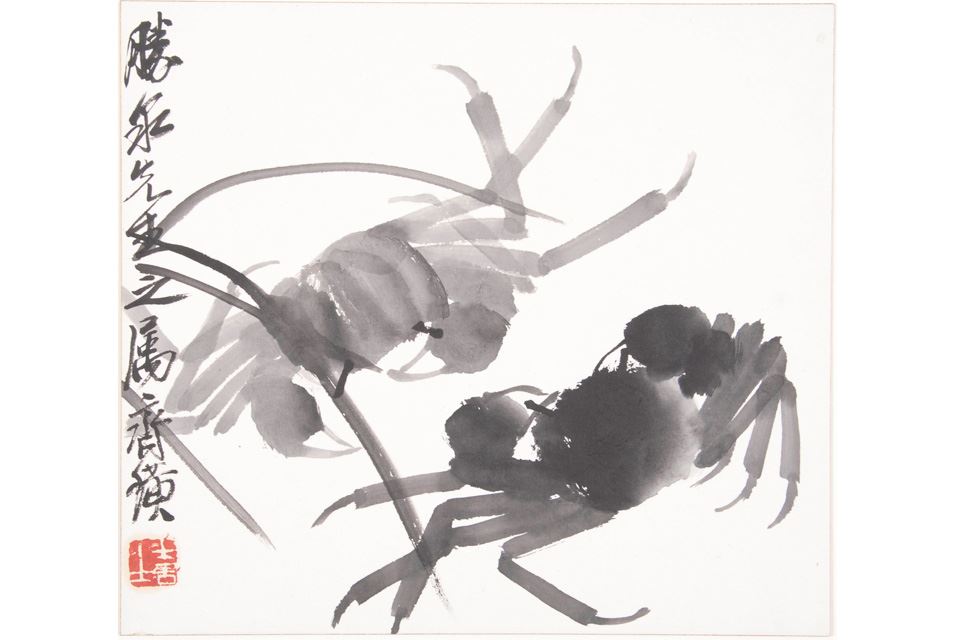 August 01, 1864. Qi Baishi (1 January 1864 - 16 September 1957) was a Chinese painter, noted for the whimsical, often playful style of his watercolor works. Born to a peasant family from Xiangtan, Hunan, Qi became a carpenter at 14, and learned to paint by himself. After he turned 40, he traveled, visiting various scenic spots in China. After 1917 he settled in Beijing. In this image: Qi Baishi, Crabs, circa 1930. Album leaf, ink on paper. University of Michigan Museum of Art. Gift of Sotokichi Katsuizumi, 1949/1.199.
---

Museums, Exhibits, Artists, Milestones, Digital Art, Architecture, Photography,
Photographers, Special Photos, Special Reports, Featured Stories, Auctions, Art Fairs,
Anecdotes, Art Quiz, Education, Mythology, 3D Images, Last Week,
.
Royalville Communications, Inc
produces: