His 'soft white cube' is conquering TriBeCa
Markus Dochantschi of studioMDA looks through blueprints at what will be the Nino Mier Gallery in TriBeCa in New York, March 10, 2023. With more than a dozen projects, Dochantschi is reshaping the state of the art gallery, one historic building at a time. (Elizabeth Bick/The New York Times)
NEW YORK, NY
.-
Construction crews were roaming TriBeCa. All around, one could hear the omnipresent drills echoing from within historic cast-iron buildings. Inside 384 Broadway, standing before a junk heap quadruple his size, architect Markus Dochantschi was explaining how a gallery might find its own identity when virtually everyone has the same white walls and concrete floors. God is in the details — and in the lighting fixtures and in the floorboards. "The architecture must speak," Dochantschi said above the noise of sledgehammers and buzzsaws, which are transforming the derelict space into a flexible showroom for the multicultural artists of Alexander Gray Associates. The architect insisted on keeping ornamental details like the Corinthian columns and tin ceilings from the early 1900s. "If it was just another completely neutral space, then why come to this gallery?" Designs for contemporary art galleries have stayed relatively unchanged for the past century, with most deal ...
More
The Best Photos of the Day
New and rarely seen earlier works by Carsten Höller on view at Gagosian
Early Gandharan Buddhist art exhibition at Bonhams Hong Kong
Middle Finger, Ai Weiwei's new interactive online work surpasses 10,000 global submissions in first week


For a long time, I've been curious about applying the methodology of art as one way—which I think is equal to science and other powerful explanatory concepts—for us to understand what is surrounding us and what we are. —Carsten Höller



PARIS.- Gagosian announces Clocks, an exhibition of new and rarely seen earlier works by Carsten Höller. Occupying the gallery at rue de Castiglione and the exterior-facing vitrine at rue de Ponthieu, the exhibition focuses on how the measurement of time impacts human ways of being. Höller applies scientific procedures to his work as an artist with playful and sometimes dark humor. Many of the projects that comprise his "Laboratory of Doubt"—from twisting slides to vision-flipping goggles—incorporate disorienting experiences to be conducted on oneself. "I wanted to make the most complicated clock on earth," says Höller of Half Clock (2021). In this neon sculpture, three encapsulated spheres of curved lighting tubes represent seconds, minutes, and hours. Time is indicated by the division of the surface of each sphere into spatial units, which are themselves divided into consecutively ... More



A Silver Inlaid Bronze Figure of The Infant Buddha, Ancient Region of Gandhara, 5th – 6th century CE. Photo: Bonhams.



HONG KONG.- The ancient region of Gandhara, which spanned modern-day northwest Pakistan and southern Afghanistan, was home to a vibrant, cosmopolitan civilization situated at the crossroads of Asia. Early Buddhism thrived in Gandhara under the stability and patronage of several ancient kingdoms and empires, drawn there by the region's lucrative geographic position within global trade and commerce. This resulted in a Buddhist material culture rich in artistic influences and subjects from Europe, Northern Africa, and Asia, epitomised at Bonhams' forthcoming exhibition in Hong Kong: Cultural Exchange at the Crossroads of Asia: Early Buddhist Art in Context. Open to the public from 31 March through 20 April 2023 at Bonhams Hong Kong saleroom, the exhibition showcases twenty-two objects from one of the finest collections of Gandharan art in private hands, providing a rare opportunity for the public to view artifacts evincing Asia's anc ... More



Ai Weiwei at his studio in Montemor-o-Novo, Portugal. Photographed by Morgan Sinclair for Avant Arte.



LONDON.- Avant Arte, the curated marketplace that makes discovering and owning art radically more accessible, announces that Middle Finger, a new interactive online artwork created by Ai Weiwei which invites people around the world to offer their own perspective on power, has surpassed 10,000 global submissions in its first week. Since launching on Thursday 16 March, participants have chosen to 'flip the bird' at locations around the globe including Trump's residence at Mar-a-Lago, St Basil's Cathedral in Moscow, the British Houses of Parliament, a Prada store and a RyanAir flight. The submissions vary greatly from the personal to the political and range from places of worship, businesses, airports and financial districts to political and royal buildings, residential spaces alongside submissions that push the limits of what can be sourced on Google Maps. Middle Finger, is part of a collaboration between Ai Weiwei and Avant Arte in support o ... More
mumok opens Adam Pendleton's first comprehensive solo exhibition in Europe
The Gropius Bau opens the most comprehensive show in Europe to date of Daniel Boyd's work
Exhibition brings together a dozen site-specific desert installations by Olafur Eliasson


Adam Pendleton, Black Dada (A/D), 2022–23. Silkscreen ink on canvas, two joined panels, 243.8 x 193 cm © Adam Pendleton, courtesy of the artist.



VIENNA.- Adam Pendleton grew up in Richmond, Virginia, and moved to New York in 2002, staging his first solo show there in 2005. His art, developed across dozens of exhibitions, is a reflection of "how we increasingly move through and experience the world on a sensorial level" — a form of abstraction that, in its painterly, psychic, and verbal expression, announces a new mode of visual composition for the twenty-first century. With Blackness, White, and Light, mumok presents Pendleton's first comprehensive solo exhibition in Europe, and his largest presentation of new work anywhere. These works, almost all made specifically for the exhibition, offer a visual chorus of collective difference. Since 2008 Pendleton has articulated much of his work through the idea of Black Dada, an ever-evolving inquiry into the relationship between Blackness, abstraction, and the avant-garde. The paintings, drawings, ... More



Daniel Boyd, RAINBOW SERPENT (VERSION), installation view, Gropius Bau (2023), photo: Luca Girardini



BERLIN.- The Gropius Bau is presenting Daniel Boyd's RAINBOW SERPENT (VERSION), the most comprehensive show in Europe to date of the renowned artist, who lives and works on Gadigal and Wangal Country, Sydney. For two decades, Boyd has made an important contribution to unsettling the received Eurocentric history of Australia, while tracing the afterlives of iconographies as they travel through space and time. Conceived in close dialogue with Boyd, the exhibition stages 44 of the artist's paintings with two new large-scale installations that engage directly with the Gropius Bau's historical architecture. Unfolding across the Gropius Bau's first floor and atrium, RAINBOW SERPENT (VERSION) emphasises non-linear connections between subject matter and ideas of temporality and space. Daniel Boyd's work is characterised by a unique visual technique that references history painting while challenging ... More



Eye see you, 2006. Stainless steel, aluminium, colour-effect filter glass, monofrequency bulb, 230 x 120 x 110 cm. Installation view: Olafur Eliasson: The curious desert, National Museum of Qatar, Doha, 2023. Photo: Anders Sune Berg. Courtesy of the artist; neugerriemschneider, Berlin; Tanya Bonakdar Gallery, New York / Los Angeles.



DOHA.- Qatar Museums presents The curious desert, a new exhibition conceived by Olafur Eliasson for a site in the desert outside of Al Thakhira Mangrove Reserve and for the galleries of the National Museum of Qatar in Doha, from 19 March through 15 August 2023. Located inside and outside the museum, the exhibition includes new site-specific works that continue to explore the Icelandic-Danish artist's abiding interests in light and colour, geometric studies, ecological awareness and more-than-human relationships. The exhibition is presented as part of Qatar Creates, the year-round national cultural movement that curates, promotes, and celebrates the diversity of cultural activities in Qatar. Her Excellency Sheikha Al Mayassa bint Hamad ... More
IMMA opens Scene of the Myth, a major solo exhibition by artist Sarah Pierce
Tunji Adeniyi-Jones featured in first solo exhibition in Hong Kong at White Cube
National Gallery of Art acquires four drawings by Robert Longo


Sarah Pierce, Lost Illusions / Illusion perdues, 2014, video still.



DUBLIN.- IMMA (Irish Museum of Modern Art) is presenting Scene of the Myth, a major solo exhibition by artist Sarah Pierce that opened on Friday 24 March 2023. Guest curated by Rike Frank and the European Kunsthalle, this expansive exhibition consists of performances, videos, large-scale installations, and archives. Sarah Pierce, who lives and works in Dublin, relocated to Ireland from the US in 2000. Rike Frank has brought together 12 works, spanning 20 years, to highlight patterns of making and thinking that define Pierce's art practice. Borne out of relationships between narratives we reproduce and those we wish to leave behind, Scene of the Myth, asks what it means to gather, reflect and act in community. The title of the exhibition stems from one of Pierce's essays in which the artist describes social infrastructures, such as academies and museums, as moments through which the narratives and conventions ... More



Installation view of 'Deep Dive' by artist Tunji Adeniyi-Jones.



HONG KONG.- White Cube Hong Kong opened on March 22nd 'Deep Dive', a solo exhibition by Tunji Adeniyi-Jones and the artist's first in the region. For this show, which will end on May 20th, 2023, the artist has created a new suite of paintings and delicate lithographs that address historical subjects – such as mythology, religion and the spectacle of ceremony – through the lens of the contemporary diaspora. As a British Nigerian living and working in Brooklyn, New York, Adeniyi-Jones's influences are wide ranging, and comprise African, American and European references. Grounded though the works are in the myth and culture of his own Yoruba heritage, he also looks to the Black-American culture of his immediate surroundings, embracing both the similarities and differences between this lineage and his own. Executed in oil on canvas or in acrylic on board, the paintings feature near life- ... More



Robert Longo, The Rock (The Supreme Court of the United States—Split), 2018. Charcoal on two sheets of paper mounted to aluminum, overall: 307.66 x 371.79 cm (121 1/8 x 146 3/8 in.) left panel: 307.66 x 180.82 cm (121 1/8 x 71 3/16 in.) right panel: 307.66 x 180.82 cm (121 1/8 x 71 3/16 in.) National Gallery of Art, Washington. Gift of Clifford Ross, 2023.6.3 Photograph courtesy the artist.



WASHINGTON, DC.- Robert Longo (b. 1953) is perhaps best known as a leading artist of the "Pictures Generation"—a group of artists who were influenced by the self-reflective, critical principles of Conceptual and Pop Art during the 1970s and 1980s. These artists were the first generation to experience the cumulative impact of television, video, film, and computer technologies, alongside print media and radio, and were intrigued by how this shapes our perception of the world. The National Gallery of Art has acquired four recent drawings by Longo that affirm his role as an essential chronicler of our times. Often focusing on concerns regarding justice ... More
Sarah Faux's debut show with Hales New York 'Sweetbitter' is on view
Charmion von Wiegand at Kunstmuseum Basel
Art Basel concludes a resonant 2023 edition in Hong Kong


Sarah Faux, Green screen, 2022. Oil on canvas, 168 x 142.9 x 3.8 cm, 66 1/8 x 56 1/4 x 1 1/2 in. Courtesy the artist and Hales, London and New York. Photo by JSP Art Photography.



NEW YORK, NY.- This March 24th Hales opened 'Sweetbitter', Sarah Faux's debut exhibition with the gallery. The exhibition features large-scale gestural paintings that embrace uninhibited sensuality and bodily autonomy. In Faux's new work, overlapping volumes of colour glow through layers of drips and scrapes in shallow depth. The title of the show, which will end on Apjril 29th, 'Sweetbitter', conjures coexistent tastes on the tongue as well as conflicting sensations in the body. In her tightly cropped compositions, Faux delves into the interior, uncovering how much of our emotional and sensory lives occur beneath the skin. Faux's paintings call forth the real and imagined, navigating shifts in narrative perspective. In disorientating ... More



Charmion von Wiegand (1896-1983), To The Adi Buddha, c.1960-70. Oil on canvas, 50 x 27 inches. Signed.



BASEL.- Michael Rosenfeld Gallery this past March 25th opened Charmion von Wiegand at the Kunstmuseum Basel, the first major museum exhibition devoted to the artist in Europe. Originally scheduled to open in September 2020, this long-awaited exhibition brings together works from public and private collections across the United States to introduce European audiences to von Wiegand's thoroughly transcultural oeuvre, which played a key role in the development of American abstract art in the postwar decades. Charmion von Wiegand presents paintings and collages from each period of the artist's fifty-year career, demonstrating the thoroughly open-minded, intellectual nature of her practice. The exhibition will end on August 13th, 2023. ... More



ROH Projects, Agus Suwage, Courtesy Art Basel.



HONG KONG.- Art Basel concluded the 2023 edition of its Hong Kong show, which was marked by brisk sales throughout the week and across all levels of the market, and a celebration of its ten- year anniversary in the city and its ever-flourishing arts scene. Staged across two floors of the HKCEC for the first time since 2019, the show brought together 177 galleries from across the world – a significant increase from 130 galleries in 2022 – and saw the return of all special sectors, including Encounters, Film, Kabinett, and Conversations. 42 galleries rejoined the fair following a hiatus during the pandemic, while 22 galleries made their debut at the fair. For the first time, Encounters extended beyond the show floor, showcasing a large-scale inflatable sculpture of King Tut by Awol Erizku in Hong Kong's Pacific Place. The work was presented by Ben ... More
Quote
The true work of art is but a shadow of the divine perfection. Michelangelo
---
The National Gallery's After Impressionism exhibition | A walkthrough with Curator MaryAnne Stevens
---

Flashback
On a day like today, French illustrator and painter Honoré Daumier was born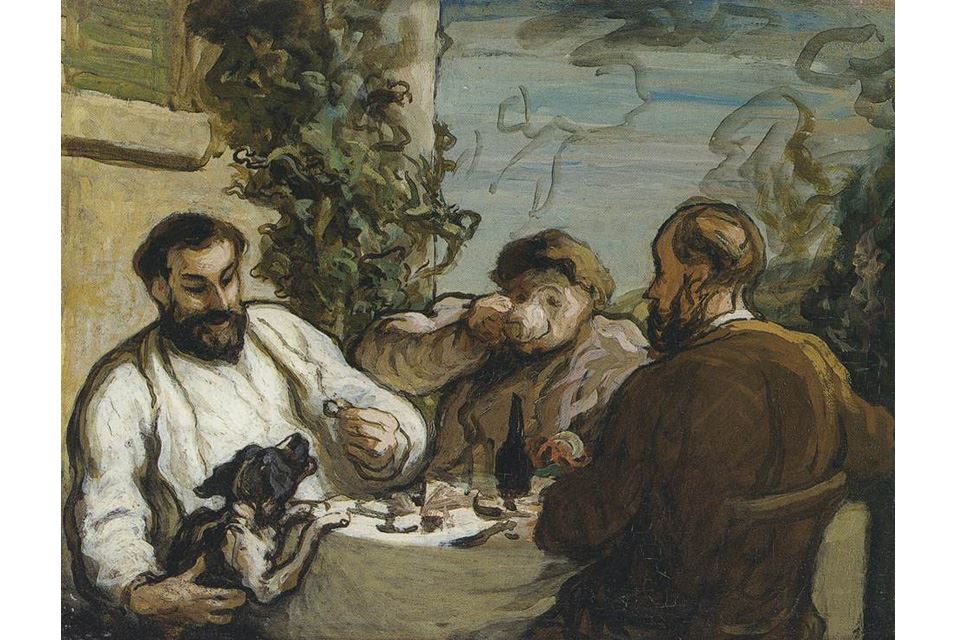 March 26, 1808. Honoré-Victorin Daumier (February 26, 1808 - February 10, 1879) was a French printmaker, caricaturist, painter, and sculptor, whose many works offer commentary on social and political life in France in the 19th century. In this image: Honore Daumier, Lunch in the Country, c. 1867-1868. Oil on panel, 26 x 34 cm. National Museum of Wales, Cardiff. Photo © National Museum of Wales.
---

Museums, Exhibits, Artists, Milestones, Digital Art, Architecture, Photography,
Photographers, Special Photos, Special Reports, Featured Stories, Auctions, Art Fairs,
Anecdotes, Art Quiz, Education, Mythology, 3D Images, Last Week,

.
Royalville Communications, Inc
produces: