An iPad studio tour finds Bruce Nauman pushing limits
Nature Morte, 2020. Three 4K video projections and three servers controlled by three iPad Pro 11", 3D scans of studio, dimensions variable. Photo: Robert Vinas, Jr./Courtesy Sperone Westwater.

by Jason Farago
NEW YORK
(NYT NEWS SERVICE)
.-
This has been a good year to try new things indoors. Especially for Bruce Nauman. The controlled terrain of this artist's studio has always been more than a work space; it's an arena in which everything, from his body to his words to just the fact of his breathing, can gain the status of art. As early as 1967, first on 16 mm film and then with one of the first consumer video cameras, Nauman documented himself bouncing balls up and down, or stamping his feet on the floor, or walking and playing the same notes repeatedly on the violin. Alone inside he zeroed in on himself with a precision, a menace and a dark humor that would characterize his whole career, and averred that the studio walls were all he needed to approach the biggest questions of creation and mortality. Nauman is now 78. He would have every right to take it easy at his home in New Mexico or just tend his horses after a lifetime of innovation that was summed up in a mighty retrospective two years ago at the Museum ...
More
The Best Photos of the Day
Museums are back, but different: A visitor's guide
Dutch museum unveils unseen pics by master lensman
These winged dinosaurs hurtled through the trees like haywire hang gliders


Visitors enter the Museum of Modern Art in New York, Oct. 14, 2020. Many museums have reopened or are in the process of doing so, and it's clear that things will look a little different to visitors. Amr Alfiky/The New York Times.

by Ted Loos



NEW YORK (NYT NEWS SERVICE).- It has been a singular year for art museums. In most parts of the country, they were closed for several months beginning in March; some are still shuttered. Rarely in living memory has so much art been out of view for so long. But signs of resilience are everywhere. Many museums have reopened or are in the process of doing so, and it's clear that things will look a little different to visitors. On the most visible level of pandemic precautions, some combination of mask mandates, temperature checks, reduced capacity and timed entry is now standard and will be at least until there's a coronavirus vaccine. Some of the changes have even been fun: For a few weeks, the Metropolitan Museum of Art in New York had a bike valet for visitors who wanted to cycle over instead of taking the subway. But it's also the art on ... More



Cover design for the photo book feest: Cheering audience at the concert by Louis Armstrong and His All Stars in the auction halls in Blokker (NH) 10 May 1959 © Ed van der Elsken.



AMSTERDAM (AFP).- Amsterdam's famous Rijksmuseum unveiled a set of long-lost pictures Friday taken around the 1950s by Dutch master lensman Ed van der Elsken, considered one of the most influential photographers of the last century. Famous for his raw street-style photography of daily life in Amsterdam, the newly found picture book contains some 134 never-before-seen images ranging from ordinary people to famous poets and royals. The unfinished work was discovered after Van der Elsken's widow Anneke Hilhorst transferred his estate to the Rijksmuseum and the Rotterdam-based Nederlands Photo Museum last year. Van der Elsken died in 1990, aged 65. "For the curators, this marked the beginning of their research into the Van der Elsken working archive, comprising 11,000 objects," the Rijksmuseum said in a statement. "One of many surprises was the mock-up design of a photo book that Van der Elsk ... More



An image provided by Gabriel Ugueto of the spastic, mostly flight-challenged Ambopteryx, a Jurassic-era dinosaur with mostly-useless bat-like wings. Gabriel Ugueto via The New York Times.

by Sabrina Imbler



NEW YORK (NYT NEWS SERVICE).- During a blip in time in the late Jurassic, a dinosaur that weighed no more than a chinchilla flung itself from tree to tree, spread its wings and tried to soar. In theory, it sounds beautiful — an early attempt at flight before birds figured out the blueprint. In practice, it was chaotic. The dinosaur, Yi qi, only barely managed to glide, stretching out and shimmying its skin-flap, downy-feathered wings in a valiant attempt at flying. "It was rocketing from tree to tree, desperately trying not to slam into something," said Alex Dececchi, a paleontologist at Mount Marty University in South Dakota. "It wouldn't be something pleasant." Unsurprisingly, Yi qi is not an ancestor of modern birds. It went extinct after just a few million years, presumably doomed by its sheer lack of competency in the air. In a study published Thursday in the ... More
Tate St Ives opens the UK's largest exhibition to date by celebrated South Korean artist Haegue Yang
Casting a critical eye, from the slaughterhouse to the White House
Eiffel Tower sees dizzying drop in visitor numbers


Haegue Yang, Sonic Intermediate – Parameters and Unknowns After Hepworth (part of Sonic Intermediates – Three Differential Equations, 2020). Powder-coated steel frame, powder-coated mesh, powder-coated handles, casters, copper plated bells, metal rings, plastic twine, 216 x 125 x 125 cm. Courtesy of Galerie Barbara Wien, Berlin. Photo: Nick Ash.



ST IVES.- This autumn Tate St Ives is staging Strange Attractors, the UK's largest exhibition to date by celebrated South Korean artist Haegue Yang. Yang is renowned for creating immersive environments from a diverse range of materials. Her sculptures and installations often use industrially made objects, interwoven with labour-intensive and craft-based processes. These processes reflect pagan cultures and their deep connection with various seasonal rituals in relation to natural phenomena. The exhibition's title – Strange Attractors – is a concept taken from mathematics and relates to complex patterns of behaviour in chaotic natural systems. Taking this theory as a starting point, Yang's exhibition creates an environment in which ... More



The artist Sue Coe in New York, Sept. 11, 2020. Coe proudly labels her own work propaganda, whether she's taking on factory farming or current events. Rahim Fortune/The New York Times.

by Hilarie M. Sheets



NEW YORK (NYT NEWS SERVICE).- Months before the 2016 presidential election, Sue Coe used her printmaking tools to create "It Can Happen Here," a linocut caricature of Donald Trump as a howling tornado tearing the U.S. Constitution in two. "I watched Brexit," said the 69-year-old artist, who was born in Britain and who has been based in New York for almost 50 years. "I knew he was going to get elected." Coe has been prescient about a lot of things in her searing social-political art. Her work can feel like a punch in the face or a call to action — or both. "Sue Coe: It Can Happen Here," a four-decade retrospective on view at Galerie St. Etienne in New York through Dec. 30, chronicles this country from the Reagan era to the time of Trump, all through the artist's Marxist worldview. The show includes ... More



France on October 22, 2020 extended the anti-Covid curfew in place in nine cities to large parts of the country, taking to 46 million the number of people forced to stay indoors at night. Valery HACHE / AFP.



PARIS (AFP).- The Eiffel Tower is experiencing a collapse in visitor numbers as foreign tourists stay away and tight coronavirus measures, including a curfew, take their toll, the Paris landmark's operator said Friday. Ticket sales have fallen by 80 percent compared to 2019, according to the operator, SETE, and revenue by 70 percent. "We have 2,500 visitors per day for a monument than can accomodate up to 25,000," SETE president Jean-Francois Martins told RTL radio. "Since the end of the summer, we're down to between 10 and 20 percent of our usual attendance," he said. Social distancing rules allow lifts going up the tower to carry only half the usual number of people. The Eiffel Tower has also cancelled its night opening hours as curfew rules in Paris are banning people from being out after 9:00 pm. But the almost complete absence of foreign tourists, who usually acco ... More
Christie's results: 20th Century London to Paris Day Sales results
James Cohan opens an exhibition of new work by Jordan Nassar
Placing women on a different sort of pedestal


Marc Chagall's Violoniste dans le clair de lune orange à Vitebsk sold for €584,000. © Christie's Images Ltd 2020.



PARIS.- Post-War and Contemporary Art Day Sale Achieves a total of £9,408,318 / $12,287,263 / €10,386,783 The sale was led by Gűnter Főrg's Untitled which sold for £450,000. A further highlight was Harland Miller's International Lonely Guy which sold for more than four times its low estimate, realising £206,500. Christie's partnered with Migrate Art to sell a group of work created from a paint that the art charity made from ash collected from fields in Iraq that had been destroyed by insurgents. The group achieved a combined total of £328,375, led by Loie Hollowell's Red Earth (£106,250). World Auction Records were set for Piers Secunda and Yahon Chang. STIK'S Holding Hands (Maquette) realised a world auction record price for the artist of £287,500. The work was sold to benefit The London Borough of Hackney's New Socially Inclusive Programme of Public Sculpture Art Moderne Sale Achieves a total ... More



Jordan Nassar, In The Heart Of The Rose, 2020. Hand-embroidered cotton on cotton, 38 1/2 x 30 in. 97.8 x 76.2 cm. Framed 39 x 30 1/2 in.



NEW YORK, NY.- James Cohan is presenting I Cut The Sky In Two, an exhibition of new work by Jordan Nassar, on view from October 23 through November 21 at 291 Grand Street. This is the artist's first solo exhibition with James Cohan. The gallery will host an afternoon limited-capacity opening reception with the artist on Saturday, October 31 from 1-4PM that adheres to state COVID-19 safety guidelines. Jordan Nassar's hand-embroidered works address intersecting fields of craft, ethnicity and the embedded notions of heritage and homeland. Nassar uses geometric patterns characteristic of Palestinian tatreez—most often found on pillows, clothing, and other domestic textiles. The artist grew up in a home decorated with such objects. As he notes, "Growing up in the diaspora, much of Palestinian culture was experienced materially." This exhibition expands Nassar's ongoing exploration of object, memory, and ... More



A detail of the Women's Rights Pioneers Monument in Central Park, sculpted by Meredith Bergmann, in New York, Sept. 30, 2020. Public monuments, and the artists who create them, are beginning to represent women and their achievements. Yael Malka/The New York Times.

by Shannon Eblen



NEW YORK (NYT NEWS SERVICE).- When Eleanor Jordan first visited the Kentucky Capitol as an 11-year-old, she didn't see herself, a Black girl, represented in the grand halls. "I saw only paintings, statues, busts of white men," said the former state legislator. "That sent a profound message to me as a little girl that 'You have no place here. No one of your gender or race has done anything significant enough for people to remember.'" A year from now, the view will be a little different for students touring the Capitol, once a statue of Nettie Depp, a teacher and administrator who was elected as a county school superintendent seven years before women got the vote, is unveiled in August. ... More
Montpellier Contemporain exhibits a selection of important works from the Cranford Collection
Reduct and Stuart Duffin exhibitions open this weekend at the Royal Scottish Academy
Kettle's Yard opens an exhibition of paintings and drawings by self-taught British artist and mariner Alfred Wallis


Wolfgang Tillmans, Einzelganger III, 2003 © Wolfgang Tillmans, courtesy Maureen Paley.



MONTPELLIER .- MO.CO. presents, for the first time in France, a selection of important works from the Cranford Collection. Established by Muriel and Freddy Salem in 1999, it is one of the most important private art collections in Europe, comprising over 700 works from the 1960s to the present. The exhibition 00s. Cranford Collection: The 2000s brings together over 80 works by 44 international artists, and focuses on this still largely unexplored decade, which remains to be fully defined. The exhibited paintings, drawings, photographs, sculptures and videos are presented chronologically and are complemented by an historical timeline charting the key events of this period. The beginning of this new millennium, brought its own share of radical changes and heralded the dawn of an era of hyper-globalisation oversaturated by communication: the 9/11 attacks, the notion of a "clash of civilisations" (Afghanistan, Iraq), the first majo ... More



Jim Lambie, Sunspots, digital print hand-finished with spray paint. Courtesy of the artist.



EDINBURGH.- This autumn the Royal Scottish Academy will present Reduct: Abstraction and Geometry in Scottish Art. With works by 30 artists on view, the exhibition will examine the ways in which non-objective expression remains a compelling approach one hundred years after it was first taken up by the avant-garde, focusing specifically on the interest in geometry in the recent history of Scottish art. The title of the exhibition, Reduct, relates to the centrality of reduction and distillation to abstraction. Framed in a historical context of internationally significant Scottish artists including Alan Davie HRSA, Wilhelmina Barns-Graham RSA and Sir Eduardo Paolozzi HRSA, the exhibition will highlight the pursuit of non-objective form, through the prism of geometry, to be an important movement in Scottish painting, printmaking and sculpture. Works by important contemporary artists including Toby Paterson, Arthur ... More



'Discovered' in 1928 by artists Ben Nicholson and Christopher Wood, Wallis occupies a pre-eminent position in the history of British art as an untrained artist.



CAMBRIDGE.- Kettle's Yard announces 'Alfred Wallis Rediscovered', an exhibition of paintings and drawings by self-taught British artist and mariner Alfred Wallis (1855–1942). The exhibition will include over 60 rarely shown paintings and drawings from the Kettle's Yard Reserve Collection and three important sketchbooks which were made in the last year of the artist's life and have not been exhibited for over 50 years. The exhibition celebrates Wallis' practice as an artist from around 1925, when he is thought to have started painting, to his death in the Madron Institute in 1942. Despite the challenge of few of the works being dated, Wallis' letters, the sketchbooks, and the evidence of the paintings themselves, suggest an artist increasingly reflecting on his own artistic development. As well as the gallery exhibition, visitors will also be ... More
Quote
The reason for my painting large canvases is that I want to be intimate and human. Mark Rothko
---
The Incredible Visual Language of Jean-Michel Basquiat
---

Flashback
On a day like today, Italian artist Andrea della Robbia was born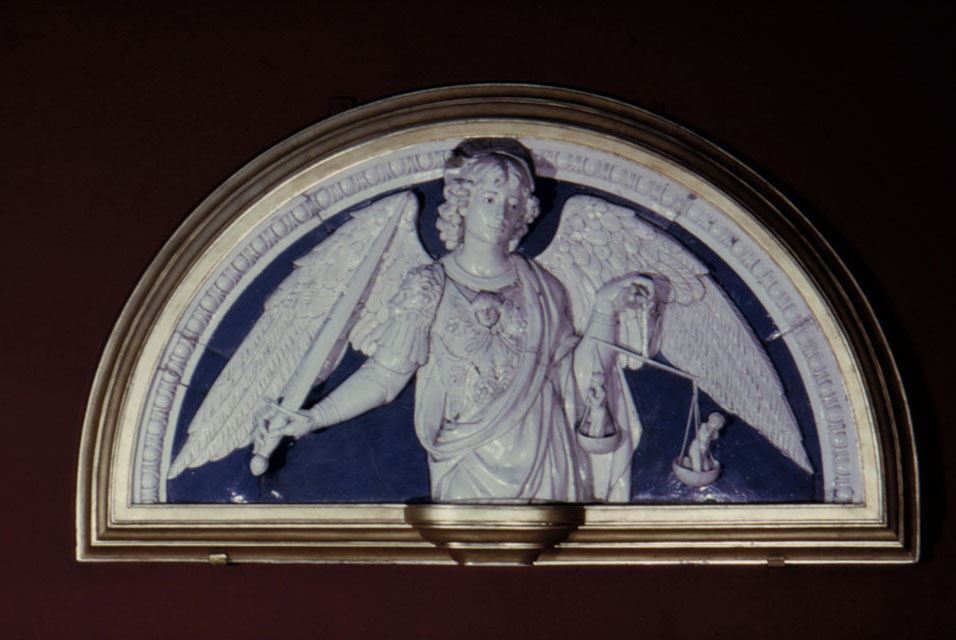 October 24, 1435. Andrea della Robbia (October 24, 1435 - August 4, 1525) was an Italian Renaissance sculptor, especially in ceramics. Born in Florence, Robbia was the son of Marco della Robbia, whose brother, Luca della Robbia, popularized the use of glazed terra-cotta for sculpture. Andrea became Luca's pupil, and was the most important artist of ceramic glaze of the times. In this image: Andrea della Robbia, 1435-1525, Saint Michael the Archangel Italian (Florence) 15th century (ca. 1475) 1470 – 1480. Glazed terracotta; Frame, wood 31-1/8 x 61-7/8 in. (79.1 x 157.2 cm) Harris Brisbane Dick Fund, 1960 60.127.2
---

Museums, Exhibits, Artists, Milestones, Digital Art, Architecture, Photography,
Photographers, Special Photos, Special Reports, Featured Stories, Auctions, Art Fairs,
Anecdotes, Art Quiz, Education, Mythology, 3D Images, Last Week,

.
Royalville Communications, Inc
produces: