Her 'Chagall' is headed for the trash. How's that for caveat emptor?
Stephanie Clegg, an art collector who purchased a purported Marc Chagall painting at Sotheby's in 1994 that has now been declared a fake, in Beach Haven, N.J., July 1, 2022. An expert panel in France now wants to destroy it as a fake. "I trusted them through all those years," Clegg said of Sotheby's. "They were supposed to be reputable experts and I relied on their expertise." Aaron Richter/The New York Times.

by Colin Moynihan
NEW YORK, NY
.-
The question of whether a valuable artwork is genuine can be surprisingly fluid, changing over time based on evolving and sometime competing evaluations. In 1973, for example, the Metropolitan Museum of Art reattributed roughly 300 paintings in its collection, including works long thought to have been created by masters such as Rembrandt, Goya, Vermeer and Velázquez. "I believe that attributions are like medicine or any field in which knowledge is constantly changing or advancing," offered Everett Fahy, the Met's curator of European paintings at that time. Some 37 years later, the museum decided it had actually been right the first time around, and flipped back the attribution for one of those works, a portrait of Phillip IV by Velázquez. But this sort of history is of little solace to Stephanie Clegg, who paid $90,000 for a painting attributed to Marc Chagall at auction at Sotheby's in 1994, just nine years after the artist's death. ...
More
The Best Photos of the Day
U.K. museums face a sticky problem from climate protests
Cortesi Gallery presents four generative artists whose artistic research focuses on the creative process and movement
dan guz man opens "The Rise of the Observed" at Armario916: Interview part III


Activists are gluing themselves to the frames of iconic paintings. They say it does not matter whether their actions are popular — only whether they are noticed. © National Gallery, London.



LONDON.- Room 34 of the National Gallery in London was jammed on Monday afternoon with tourists studying the masterpieces of British art on its walls, including J.M.W. Turner's "The Fighting Temeraire," which depicts a warship being towed to a breaker's yard, and George Stubbs' "Whistlejacket," a huge painting of a horse rearing skyward. Then, suddenly, two visitors broke the reverential mood. At 2:15 p.m., Eben Lazarus, 22, a music student, pulled three posters from a tube. Then, with the help of Hannah Hunt, 23, a psychology student, he stuck them over John Constable's "The Hay Wain," a famed 19th-century painting, transforming its bucolic landscape into one with airplanes, fire-ravaged trees and a rusty car. The couple then removed their jackets to reveal T-shirts bearing the slogan "Just Stop Oil," glued themselves to the painting's frame and shouted about the need ... More



Four international artists with similar yet different and unique backgrounds, united by their ability to write their own codes that give rise to generative artworks with strongly characterizing features.



MILAN.- With the 20th century and the advent of the historical avant-gardes, the artist's role underwent considerable analysis and was revised for the aesthetic result. Even as figurative art was abandoned, the artist took on a different and new role compared to tradition. With the progress and development of technology, accompanied by the related and consequential increasing involvement of the viewer, the focus was no longer exclusively on the artistic result but more on the overall creation process. Proof of this new trend lies in the emergence of art movements focused on the active role of the viewer, including kinetic art, where the viewer individually determines the result, and generative art, where the artwork is the product of an autonomous system capable of determining the characteristics of the work. As anticipated, especially since the last century, ... More



The physical effort that my paintings demand of me sometimes makes me paint on the floor or sometimes paint upside down. All in order to finish the work and show the public new works, painted between 2021 and 2022.



MONTERREY.- Located in 'Barrio Antiguo', which is the heart of the artistic district in Monterrey, Nuevo Leon, Mexico, and just a few blocks from the Museo de Arte Contemporario and Museo del Noreste, the art gallery Armario 916 possesses within itself an exquisite personalization of it's own architecture and interior with its unique blend of Mexico's old 'barrio' and new industrial architecture styles under just one roof. The artwork within the current exhibition,"The Rise of the Observed", hanging on their walls reflects artist dan guz man's very personal view of his paintings. Considered to be of international renowned ever since guz man (manguzdan) was recognized by the Chinese 2019 Modern Art World Exhibition, he now represents Mexico's talent as a Modern artist. Below is the third part of a conversation ArtDaily ... More
MSU Broad Art Museum announces Interim Director Steven L. Bridges
San Antonio Museum of Art announces new acquisition
With rising book bans, librarians have come under attack


Bridges is a curator, art historian, and writer based in Lansing, Michigan.



EAST LANSING, MI.- The Eli and Edythe Broad Art Museum at Michigan State University announced that Steven L. Bridges has been appointed to the role of Interim Director, effective July 7, 2022. "I care deeply for this museum and university, along with the many communities we serve—all have enriched me personally and professionally over the years," says Bridges. "As such, it is an immense honor to assume the role of Interim Director in further service of MSU's commitment to the arts. During this important anniversary year marking 10 years of the MSU Broad Art Museum, there is much to be excited about, not only in celebration of the achievements of the past but also our current and future direction. I look forward to working with the incredible staff of the museum and the communities to which we belong to usher in the next decade of growth and cultural advancement." Throughout his time at the MSU Broad Art Museum, Bridges has hel ... More



Julian Onderdonk, American, 1882 - 1922, Evening - Fort Sam Houston, San Antonio, Texas, 1911 (detail). Oil on canvas, 27 1/4 × 37 1/4 in. (69.2 × 94.6 cm). Purchased with funds provided by the Kelso Endowment for Texas Art.



SAN ANTONIO, TX.- The San Antonio Museum of Art announced today the addition of several works to its collections, furthering the Museum's ongoing commitment to expanding its holdings of contemporary art and works that reflect the artistic communities of Texas. Among the acquisitions is Amnía (Echo) (2021), an important multi-media work by acclaimed artist Wendy Red Star. SAMA recently presented Wendy Red Star: A Scratch on the Earth, a major traveling exhibition of Red Star's work. With the purchase of Amnía (Echo), SAMA continues its focus on expanding the range of voices and narratives represented within its contemporary collection. The new acquisitions also include four photographs from the Family Portrait Series by Judy Gelles, paintings by Texas-based artists Julian Onderdonk and Rodolfo (Rudolph) Guzzardi, ... More



Martha Hickson, a librarian at North Hunterdon Regional High School, in the school's library in Annandale, N.J., on June 14, 2022. Bryan Anselm/The New York Times.

by Elizabeth A. Harris and Alexandra Alter



NEW YORK, NY.- Martha Hickson, a high school librarian in Annandale, New Jersey, heard last fall that some parents were going to call for her library to ban certain books. So at 7 p.m., when she and her husband would usually watch "Jeopardy!" she got comfortable in her recliner and turned on a livestream of the local school board meeting. A parent stood up and denounced two books, "Lawn Boy" and "Gender Queer," calling them pornographic. Both books, award winners with LGBTQ characters and frank depictions of sex, have been challenged around the country and were available at the North Hunterdon High School library. Then the woman called out Hickson, who is the librarian there, by name, for allowing her 16-year-old son to check out the books. "This amounts to an effort ... More
Fridman Gallery and Voloshyn Gallery present 'Women at War'
Academy Museum appoints Jacqueline Stewart as Director and President
Newly discovered Stubbs dog portrait sells at Bonhams Old Master Paintings sale


Zhanna Kadyrova, Palianytsia, 2022, mixed media installation ©Zhanna Kadyrova. Courtesy of the artist and Galeria Continua.



NEW YORK, NY.- Fridman Gallery and Voloshyn Gallery (Kyiv, Ukraine) are presenting Women at War, curated by Monika Fabijanska. Women at War features works by a selection of the leading contemporary women artists working in Ukraine, and provides a context for the current war, as represented in art across media. Several works in the exhibition were made after February 24, 2022, when Russia began full-scale invasion; others date from the eight years of war following the annexation of Crimea and the creation of separatist "republics" in Donbas in 2014. War is central to history. History has been written (and painted) by men. This exhibition provides a platform for female narrators of history and examines the perception of war as gendered. Women are generally absent from the historical accounts of war, but violating a woman is seen as a violation of land and nation. Media images reinforce the perception of gender divide. But is war ind ... More



She succeeds Bill Kramer, who was appointed CEO of the Academy of Motion Picture Arts and Sciences last week.



LOS ANGELES, CA.- The Board of Trustees of the Academy Museum of Motion Pictures today announced the appointment of Jacqueline Stewart as the institution's Director and President. One of the world's leading scholars, curators, and public educators on cinema, she was appointed in 2020 as Chief Artistic and Programming Officer of the museum. She assumes her duties as Director and President on July 18 and will guide the vision of the Academy Museum and oversee all aspects of its operations. She succeeds Bill Kramer, who was appointed CEO of the Academy of Motion Picture Arts and Sciences last week. Ted Sarandos, Chair of the Academy Museum's Board of Trustees and Co-CEO of Netflix, said, "The Board warmly and unanimously agrees that Jacqueline Stewart is the ideal choice to lead the Academy Museum into the future. A strong and inspiring partner to Bill Kramer throughout the period leading up to our opening, she gave indispensab ... More



Detail of A Black and White Spaniel Pointing by George Stubbs. Sold for £252,300. Photo: Bonhams.



LONDON.- A Black and White Spaniel Pointing by George Stubbs that had been considered lost sold for £252,300 at Bonhams Old Master Paintings sale in London on 6 July. It had been estimated at £200,000-300,000. The 71-lot sale made a total of £1,589,000. Lisa Greaves, Bonhams Head of Old Master Paintings, said: "Although Stubbs made his name as a painter of horses for the grandees of racing and horse breeding, he developed an equally lucrative career as a painter of dogs – often as commissions from the aristocratic owners of the horses. This was a wonderful example of his dog painting and a great rediscovery." Other highlights of the sale included: Adam and Eve in the Garden of Eden by the Master of the Embroidered Foliage (active in Brussels and Bruges 1480-1510). The unusual name of the artist was coined in the 1920s. Subsequent research has shown that the Master's works were created by a variety of artists from different wo ... More
Online exhibition at Janet Rady Fine Art considers the beauty of nature
Philbrook hosts major Frida Kahlo exhibition
Design Exhibition Scotland reveals new park bench designs at Mount Stuart


Adam Lowenbein, Pool, 2021 Acrylic on canvas, 152.4 x 121.9cm Janet Rady Fine Art.



LONDON.- Janet Rady Fine Art is presenting "Bubble In The Grass", an online group show of international artists running from 6th July to August 3rd 2022. Inspired by a line in Laurie Lee's poem "Apples", this online show considers the beauty of nature, and the joy and optimism of life through still-life and landscape paintings by Shadi Abousada, Daniel Freaker, William Lim and Adam Lowenbein. Daniel Freaker's work explores the painterly qualities of print, video, film and photography through the medium of painting. The filmic reminiscence of film-scenes suggest fragments of a broader narrative which the viewer can interpret. Sitting between abstraction and figuration, Freaker's paintings play as much emphasis on the materiality of paint as they do the form of the image itself. Where some aspects of the painting are defined and detailed, others are more suggestive and evocative. ... More



Frida Kahlo (Mexican, 1907–1954). Diego on My Mind (Self-Portrait as Tehuana), 1943. Oil on Masonite, 29 7/8 x 24". The Jacques and Natasha Gelman Collection of 20th Century Mexican Art and The Vegel Foundation. ©️ 2022 Banco de México Diego Rivera Frida Kahlo Museums Trust, Mexico, D.F. / Artists Rights Society (ARS), New York.



TULSA, OKLA.- It's time to experience Frida at Philbrook. In what's sure to be one of the region's premier cultural attractions of Summer 2022, Philbrook Museum of Art presents the special exhibition, Frida Kahlo, Diego Rivera, and Mexican Modernism. Experience work by one of the art world's most famous power couples though original paintings, drawings, prints, clothing, and over 100 photographs. "One of the things I love most about museums is their capacity to bring communities together," said Philbrook President and CEO Scott Stulen. "This special exhibition gives us the potential to do just that and take a it to a new level." Drawn from the collection Jacques ... More



Designer C.A. Walac in the Gardens of Glasgow Sculpture Studios with her new bench design.



ISLE OF BUTE.- Sitting Pretty is a new project by Design Exhibition Scotland to showcase ambitious new park bench designs as part of a temporary exhibition at Mount Stuart on the Isle of Bute. Running from 9 July until 15 October, five new benches have been created by Scotland-based design talent. This project complements Mount Stuart's long tradition of commissioning site-specific installations. Through an open call that received over 60 submissions, Design Exhibition Scotland prompted Scottish designers to produce original benches for Mount Stuart reflecting on the potential of these objects to connect people to nature, offering the luxury of calmness and stillness in an ever-changing and fast-paced world. Park benches are used to explore alternative lifestyles focused on wellbeing and community values as the design structures ground ... More
Quote
It was the Baroque inheritance I took over. Oskar Kokoschka
---
What we celebrate in Stradivari is his boldness of expression. That begins with the Hellier.
---

Flashback
On a day like today, Belarusian-French painter Marc Chagall was born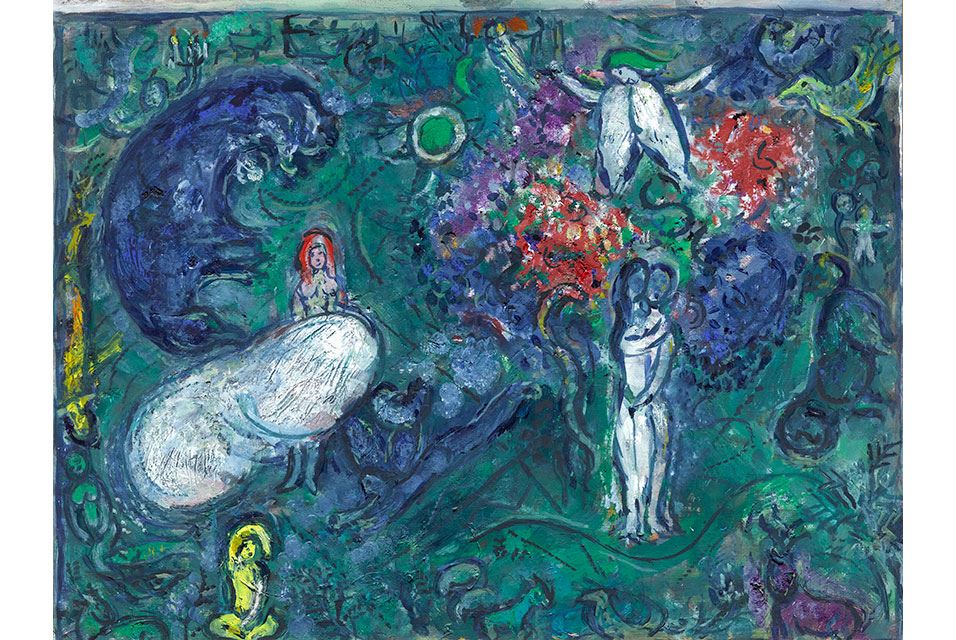 July 06, 1887. Marc Zakharovich Chagall (6 July [O.S. 24 June] 1887 - 28 March 1985) was a Russian-French artist of Belarusian Jewish origin. An early modernist, he was associated with several major artistic styles and created works in virtually every artistic format, including painting, book illustrations, stained glass, stage sets, ceramic, tapestries and fine art prints. In this image: Marc Chagall, Paradise, 1961. Oil on hardboard. H: 43.5 cm, W: 58 cm. Musée National Marc Chagall, Nice © RMN-Grand Palais (Musée national Marc Chagall) / Gérard Blot / ADAGP, Paris - SACK, Seoul, 2018.
---

Museums, Exhibits, Artists, Milestones, Digital Art, Architecture, Photography,
Photographers, Special Photos, Special Reports, Featured Stories, Auctions, Art Fairs,
Anecdotes, Art Quiz, Education, Mythology, 3D Images, Last Week,

.
Royalville Communications, Inc
produces: