Fossils reveal the epoch when mammals filled dinosaurs' void
In an undated photo from HHMI Tangled Bank Studios, fossilized mammal skulls retrieved from a paleontological site in Corral Bluffs, Colo. The unusually rich trove found in Colorado reveals the world in which our mammalian forebears evolved into larger creatures. HHMI Tangled Bank Studios via The New York Times.

by Nicholas St. Fleur
NEW YORK, NY
(NYT NEWS SERVICE)
.-
Some 66 million years ago, mammals caught their lucky break. An asteroid crashed into what is now Chicxulub, Mexico, and set off a catastrophic chain of events that led to the annihilation of nonavian dinosaurs. That day began their furry ascension to the top of a brave new world, the one from which our species would one day emerge. But little is known about the time period directly after the Cretaceous-Paleogene extinction, or K-Pg event, because the fossil record is lacking. Now, a team of paleontologists has uncovered a trove of thousands of fossils in Colorado that provides an in-depth look at the first 1 million years following the K-Pg mass extinction event. The finding provides insight into the interactions between animals, plants and climate that occurred in the earliest days of the age of mammals, and that allowed them to grow from the size of large rodents into diverse wildlife we might begin to recognize today. "We provide the most vivid picture of recovery of an ecosys ...
More
The Best Photos of the Day
Lalanne-mania in Paris: Sotheby's Lalanne Auction breaks records
Male specimens preferred by animal collectors, study suggests
Denver premieres landmark Monet exhibition


François-Xavier Lalanne, Grand Mouflon de Pauline Bar Cabinet, 2008. Gilt patinated bronze, maillechort, painted interior. Monogrammed FXL, stamped LALANNE, dated 2008 and numbered 7/8 on a leg, 130 x 120 x 53,5 cm; 51 ⅛ x 47 ¼ x 21 in. Lot sold: €2,412,500. Courtesy Sotheby's.



PARIS.- The two-day auction of the personal collection of the late artist duo Claude and François-Xavier Lalanne drew to a close at Sotheby's Paris tonight, with an outstanding €91,293,713 ($101,470,223) – four times the pre-sale estimates (est. €15.9 – 23m / $17.6 – 25.7m) and the highest total for a private art collection sold in France in the last 10 years. 100% of the lots offered over the course of the two-day sale sold and 96% of them achieved prices above high estimate. Florent Jeanniard, Head of 20th Century Design at Sotheby's Europe, said: "The Lalannes' oeuvre has a universal appeal which was reflected by the enormous excitement the sale generated around globe. The auction which gathered over 4,100 collectors from 43 countries is a huge tribute to the whimsical genius of the couple." Mario Tavella, Président-directeur général of Sotheby's France and Chairman ... More



Sheep skull. Photo: Trustees of the Natural History Museum.



PARIS (AFP).- Museum collections of birds and mammals may be disproportionately skewed to favour males, even if female members of the species outnumber males in the wild, according to research published Wednesday. Natalie Cooper, a researcher in the department of life sciences at the Natural History Museum in London, and her colleagues analysed the sex of almost 2.5 million specimens from five international collections, some dating back over a century. Although as many as half of the bird specimens were not labelled by sex, of the ones that were, only 40 percent were female. Female mammals represented 48 percent of the collections identified by sex. "We suspected that some bias towards males would be found because science is done by people, and people have inherent biases towards males," Cooper told AFP. What surprised the researcher, though, was that there was no change in the ratios from collections dating back 130 years to more recent collections. "In museums, collectors in the 19th century were ... More



Claude Monet, Boulevard des Capucines , 1873-1874. Oil on canvas; 31-5/8 x 233/4 in. (80.3 x 60.3 cm). The Nelson-Atkins Museum of Art, Kansas City, Missouri. Purchase: the Kenneth A. and Helen F. Spencer Foundation Acquisition Fund, F72-35. Photo courtesy Nelson-Atkins Media Services / Jamison Miller.



DENVER, CO.- The Denver Art Museum is presenting the most comprehensive U.S. exhibition of Monet paintings in more than two decades. The exhibition features more than 100 paintings spanning Monet's entire career and focuses on the celebrated French impressionist artist's enduring relationship with nature and his response to the varied and distinct places in which he worked. Co-organized by the DAM and the Museum Barberini in Potsdam, Germany, Denver is the sole U.S. venue for this presentation from Oct. 20, 2019 through Feb. 2, 2020. The exhibition will travel to the Museum Barberini in the spring of 2020. Monet traveled more extensively than any other impressionist artist in search of new motifs. His journeys to varied places including the rugged Normandy coast, the sunny Mediterranean, London, the Netherlands and Norway inspired artworks that ... More
Replicas of Assyrian statues smashed by IS unveiled in Iraq's Mosul
Hildegard Bachert, 98, dies; Championed Klimt, Schiele and Grandma Moses
The Marian Sulzberger Heiskell and Andrew Heiskell Collection at Doyle


Adam Lowe, founder of the Factum Arte foundation, prepares a replica of a "lamassu", an Assyrian protective deity depicted with a human head, the body of a lion, and bird wings, ahead of its unveiling at the University of Mosul in the northern Iraqi city on October 23, 2019. Zaid AL-OBEIDI / AFP.



MOSUL (AFP).- Two high-tech replicas of iconic Assyrian statues destroyed by the Islamic State group in northern Iraq were unveiled on Thursday at the University of Mosul. The real "lamassu" -- massive statues of winged bulls with human faces -- had adorned a royal throne room in the ancient city of Nimrud for centuries, and one was later exhibited in the Mosul Museum. But jihadists destroyed the originals after they swept across northern Iraq in 2014, blowing up Nimrud and filming themselves taking hammers to pre-Islamic artefacts they deemed heretical. Iraqi troops recaptured Mosul in mid-2017, but the museum has remained shuttered and the lamassu in ruins. Using 3D recordings of lamassu fragments, the Spanish Factum Foundation created copies, erected this week outside the student library at the University of Mosul. "This gift is a message of ... More



An undated photograph provided by Otto Kallir shows Hildegard Bachert with Grandma Moses in 1954. Bachert, who fled the Nazis as a teenager and joined a New York art gallery where, over a 78-year career, she helped introduce and popularize the works of German and Austrian Expressionists and the folk art of Grandma Moses, died on Oct. 17, 2019, in Brattleboro, Vt. She was 98. Otto Kallir via The New York Times.



NEW YORK, NY (NYT NEWS SERVICE).- Hildegard Bachert, who fled the Nazis as a teenager and joined a New York art gallery where, over a 78-year career, she helped introduce and popularize the works of German and Austrian expressionists and the folk art of Grandma Moses, died Oct. 17 in Brattleboro, Vermont. She was 98. Her death was confirmed by Jane Kallir, director of the Galerie St. Etienne in Manhattan, which Kallir's grandfather, Otto Kallir, founded in 1940. Bachert first worked at the gallery as a secretary. She became co-director with Jane Kallir after Otto Kallir's death in 1978 and remained in that position until last year, when she moved (she avoided saying "retired") full time to her second home, in Vermont. "I could have retired 20 years ago, but ... More



Marian Sulzberger Heiskell and Andrew Heiskell photographed by Bill Cunningham for The New York Times.



NEW YORK, NY.- Doyle will auction The Marian Sulzberger Heiskell and Andrew Heiskell Collection in select auctions this Fall. Highlights include works by Helen Frankenthaler, Carl Frederick Frieseke, Pierre Eugene Montezin, Arnoldo Pomodoro, Auguste Rodin and Georges Braque. Marian Effie Sulzberger was born in 1918 in Manhattan, the daughter of Arthur Hays Sulzberger and the former Iphigene Ochs, whose father, Adolph S. Ochs, purchased The New York Times in 1896. For 34 years, Marian worked as a Director of The Times, where her grandfather, father, husband, brother, nephew and grand-nephew served as successive publishers. Her work at the newspaper focused on educational projects. A civic leader and philanthropist, Marian championed outdoor community spaces across the city. In 1970, Marian joined forces with New York City Mayor, John Lindsay, to establish the Council on the Environment, which created community-run parks, playgrounds and gardens, organ ... More
Hindman announces Geoffrey Beene Archive auction
Movie fans flock to 'Joker' steps in New York
Rarely exhibited drawings and watercolours by Maria Lassnig on view at Hauser & Wirth Zurich


Geoffrey Beene Embroidered Dress with Bolero, c.1988. The Geoffrey Beene Archive. Estimate: $1,200.00 - $1,600.00.



CHICAGO, IL.- Hindman today unveiled details for the upcoming auction, Property From The Geoffrey Beene Archive: Clothes That Care©, featuring significant designs from iconic fashion designer Geoffrey Beene's personal collection that have been carefully preserved for the past 15 years. The auction, which includes lots dating from the 1950's to the early 2000's, will be held November 20, at Hindman Chicago. All net proceeds from the sale of the Geoffrey Beene Archive will benefit the Geoffrey Beene Cancer Research Center at Memorial Sloan Kettering. "At Hindman, we love any opportunity to celebrate exemplary designs, and this sale is replete with highlights of modern American fashion design," said Timothy Long, Hindman's director and senior specialist of luxury accessories and couture. "We are proud that the proceeds of the Property From The Geoffrey Beene Archive: Clothes That Care© sale will benefit ... More



A woman does a Joker dance on the staircase in the Bronx, made famous by the movie "Joker," October 23, 2019 in New York. Don Emmert / AFP.



NEW YORK, NY (AFP).- Tourists are flocking to a flight of stairs in the Bronx area of New York that Joaquin Phoenix dances down in an iconic but controversial scene from hit movie "Joker." Film buffs have even had to queue before being able to snap photos of themselves recreating the character's pose that appears on the poster of the Todd Phillips-directed blockbuster. "It looks even better than in the movie," Tasula Ceballos, a young Russian living in Miami, told AFP, slightly disappointed that the crowds meant her photos didn't come out quite as she had hoped. "I love when directors shoot in real places. Usually they film in studios like Warner Brothers but this is a real place. We can come and we can touch the floor," she added. Before "Joker" hit theaters in early October, the 132 steps between Shakespeare Avenue and Anderson Avenue were about as far away from the tourist trail in New York as you could get. Now visitors are ... More



Maria Lassnig, Ohne Titel (Untitled), ca. 1964-1968. Watercolour on paper, 56.6 x 38.9 cm / 22 1/4 x 15 3/8 in © Maria Lassnig Foundation. Courtesy the Foundation and Hauser & Wirth. Photo: Roland Krauss.



ZURICH.- Hauser & Wirth is presenting a solo exhibition by the renowned Austrian artist Maria Lassnig of important works on paper. Curated by Peter Pakesch, Director of the Maria Lassnig Foundation, the presentation celebrates the centenary of Maria Lassnig's birth this year. Displaying rarely exhibited drawings and watercolours from the 1950s up until the 1990s, some of which have never been exhibited outside of the foundation's archive, the presentation showcases over twenty works which reveal Lassnig's investigations into the borders of abstraction. The exhibition coincides with the retrospective 'Maria Lassnig – Ways of Being', at the Albertina Museum in Vienna, which has travelled from the Stedelijk Museum in Amsterdam. Maria Lassnig's singular creative vision has been demonstrated ... More
Exhibition presents four female New York-based artists that represent three distinct generations
Artist Ed Bereal brings edgy to Bellingham
Galerie Templon announces representation of Iván Navarro in Europe and North America


Emily Mae Smith, Tuftaffeta, 2019. Oil on linen, 61 x 45.7 cm, 24 x 18 inches.



LONDON.- Pippy Houldsworth Gallery presents Dark Laughter, an exhibition curated by Barry Schwabsky running from 25 October to 23 November 2019. Four New York-based artists, Genesis Belanger, Ellen Berkenblit, June Leaf and Emily Mae Smith each use imagery that might at first seem to have a reassuring familiarity, but they view it with skeptical eyes and from off-center viewpoints, endowing it with an exorbitant representational energy to assert a rueful, sometimes sardonic attitude toward the strange world in which we seem to be stranded. Their work arouses dark laughter thanks to their acerbic view of the world we share, and against which they quietly rebel. The four artists represent three distinct generations. June Leaf (b. 1929)—part of the original Chicago "Monster Roster" along with Leon Golub, Nancy Spero, H.C. Westermann, and others—is one of the unheralded visionaries of contemporary painting and sculpture ... More



A detail of "Exxon: The Five Horsmen of the Apocalypse" by the artist Ed Bereal at the Whatcom Museum in Bellingham, Wash., on Oct. 9, 2019. Over the decades, Bereal has only become more confrontational, exploring such themes as gun violence, racism, police brutality and corporate greed. Jenny Riffle/The New York Times.



BELLINGHAM (NYT NEWS SERVICE).- The year is 2019, the place is the United States, and a black man walks into a foundry wanting to cast some bronze grenades. This is how the American artist Ed Bereal, 82, recaps preparing for his first retrospective at the Whatcom Museum here. Creating new work for his politically charged exhibition "WANTED: Ed Bereal for Disturbing the Peace" raised some eyebrows in this predominantly white coastal city 20 miles from Canada. There was the foundry, Bereal said, where the staff was hesitant to serve him until a friend who happened to come in vouched for Bereal's artistic intentions. And that was before Bereal had explained that the grenades would stand in as testicles in an installation about ... More



Iván Navarro, Fortune 5, 2019. Neon, 152 x 152 cm; 59 7/8 x 59 7/8 in.



PARIS.- Galerie Templon announces the representation of Chilean artist Iván Navarro for Europe and North America. A native of Santiago, Chile, Navarro has been living in the United States since 1997. His politically engaged work draws on art history, design and architecture while reflecting on his personal experience of American society and the Pinochet dictatorship of his childhood. Using light as his raw material, Navarro turns objects into electric sculptures that transform their environment by means of visual associations and illusions. While dazzling on the surface, his work points to a darker undercurrent, eliciting questions of power, control and imprisonment, and becoming a conduit for a penetrating political and social critique. Galerie Templon has been representing Iván Navarro in Europe since 2005 and will be presenting his new work at FIAC 2019, Shanghai West Bund 2019, and at the gallery in January 2021. Upcoming shows include & ... More
Quote
Abstract painting is abstract. It confronts you. Jackson Pollock
---
Brice Marden and Clyfford Still Spell Out the Story of American Abstraction
---

Flashback
On a day like today, Spanish painter Pablo Picasso was born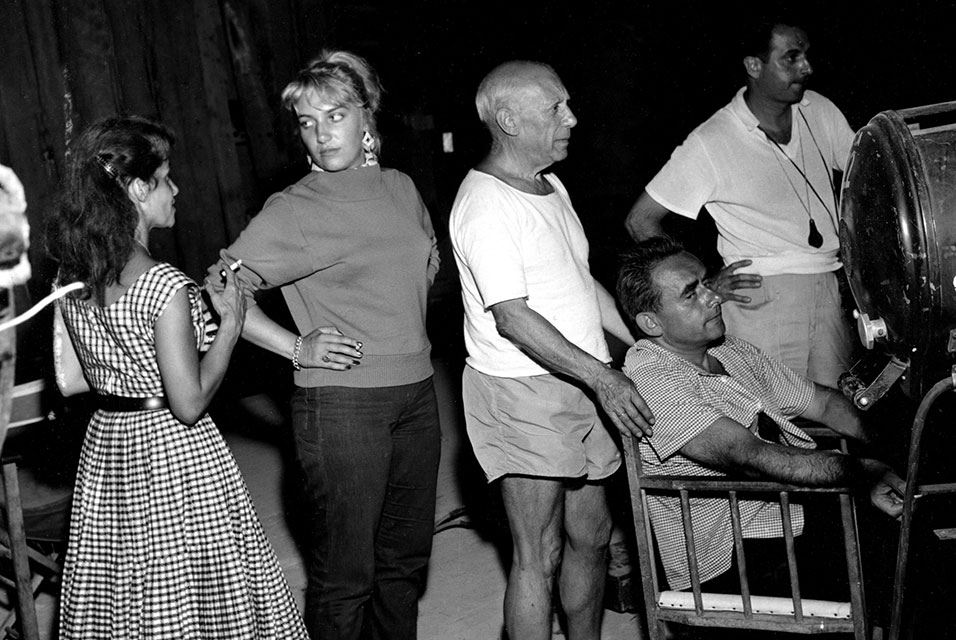 June 25, 1881. Pablo Picasso (25 October 1881 - 8 April 1973), was a Spanish painter, sculptor, printmaker, ceramicist, and stage designer who spent most of his adult life in France. As one of the greatest and most influential artists of the 20th century, he is widely known for co-founding the Cubist movement, the invention of constructed sculpture, the co-invention of collage, and for the wide variety of styles that he helped develop and explore. Among his most famous works are the proto-Cubist Les Demoiselles d'Avignon (1907), and Guernica (1937), a portrayal of the German bombing of Guernica during the Spanish Civil War. In this image: Pablo Picasso watches the filming of his life story in Nice, France, on July 26, 1955. Henri Georges Clouzot, seated, is producing the picture. Picasso's daughter Maya is at left.
---

Museums, Exhibits, Artists, Milestones, Digital Art, Architecture, Photography,
Photographers, Special Photos, Special Reports, Featured Stories, Auctions, Art Fairs,
Anecdotes, Art Quiz, Education, Mythology, 3D Images, Last Week,

.
Royalville Communications, Inc
produces: