What do you do with a stolen van Gogh? This thief knows
Octave Durham, who stole two van Goghs in 2002, near the Van Gogh Museum in Amsterdam, May 15, 2020. "I didn't have a buyer before I did it," he said. "I just thought I can either sell them, or if I have a problem I can negotiate with the paintings." Ilvy Njiokiktjien/The New York Times.

by Nina Siegal
AMSTERDAM
(NYT NEWS SERVICE)
.-
The televised security footage clearly showed the man smashing glass doors at the Singer Laren Museum, then walking out moments later with a painting by Vincent van Gogh under his arm. "Look at that," Octave Durham said as he watched. "His gear is not even professional. If you're a professional you're fully in black. He's got jeans and Nike sneakers on." Durham's exasperation is not that of some couch potato who has seen one too many crime shows. He's a thief who 18 years ago stole not one but two van Gogh paintings from Amsterdam's famous Van Gogh Museum. One of two burglars convicted of the crime in 2004, he served just over 25 months in prison. In 2016, Italian police found the two paintings he stole in the kitchen wall of a house in the town of Castellammare di Stabia, near Naples, belonging to Raffaele Imperiale, a member of an Italian drug trafficking gang. They were returned to the museum. ...
More
The Best Photos of the Day
Exhibition at Hauser & Wirth explores a concept that Maria Lassnig coined as 'body awareness'
Sotheby's to offer the first work of classical African art in any Contemporary Art Evening Sale this June
Paul Cadmus and His Circle: Property from the Estate of Jon F. Anderson achieves $1,163,055


Maria Lassnig, Hellgrünes Selbst / Bedrücktes Selbst /Malflussselbstportrait (Light-Green Self / Sad Self /Self - Portrait in Paint Flow), 1996. Oil on canvas, 100.3 x 83 x 2 cm / 39 1/2 x 32 5/8 x 3/4 in. © Maria Lassnig Foundation. Courtesy the Foundation and Hauser & Wirth.



LONDON.- The work of Maria Lassnig, one of the most significant painters of the contemporary era, is marked by its unrelenting probing into themes of the body and its meaning. The online exhibition, 'Maria Lassnig. Me, Encircled by a Fly', is a special selection of the artist's works on paper and canvases between 1987 and 2005. It explores this preoccupation with the physical presence of the body – a concept the artist coined as 'body awareness'. 'I searched for reality that was more fully in my possession than the exterior world', Lassnig remarked. 'I found it waiting for me in the body house in which I dwell, realest and clearest reality…' Taking its title from an eponymous self-portrait painted in the 1990s, the presentation considers myriad ... More



The Clyman Fang Head. Fang-Betsi Reliquary Statue, Gabon. Estimate $2.5/4 million. Courtesy Sotheby's.



NEW YORK, NY.- Sotheby's announced that they will offer The Clyman Fang Head – one of the most important works of African Art ever to appear at auction – in their Contemporary Art Evening Auction to be held in New York the week of 29 June. On offer from the The Collection of Sidney and Bernice Clyman with an estimate of $2.5/4 million, the reliquary statue will be the first work of classical African Art to be presented in any contemporary art evening sale. During the marquee sale week this June, Sotheby's will also present African Art from the Collection of Sidney and Bernice Clyman in a dedicated auction and a selection of fine art from the collection will be offered across the Contemporary, Impressionist & Modern and American art sales. Clients and visitors can expect extra precautions to ensure the safety of employees and visitors, as well as creative opportunities for those wishing to preview the exhibitions and participate ... More



Workers at Harbor, by Margaret Hoening French, Egg tempera on board.



NEW YORK, NY.- With a 98% sell-through of 402 lots, Paul Cadmus and His Circle: Property from the Estate of Jon F. Anderson –presented by Lark Mason Associates– achieved $1,163,055 including buyer's premium. Spirited bidding amongst international museum curators, art dealers, interior designers and private collectors necessitated extending the sale to May 21st, two days beyond its original closing date. Says Charlene Wang, fine art specialist at Lark Mason Associates: "We were honored to work with the estate of Jon F. Anderson and are pleased that we fulfilled our goal– which was to represent his legacy. "Traditionally the sale would have been divided into three parts, but we made the bold decision to proceed with a single sale. With record prices, often skyrocketing above high estimates, it turned out to be the right choice." The collection consisted of three artists' estates—Paul Cadmus, Jared ... More
Legendary Los Angeles artist Peter Alexander dies at age 81
Online auction spans Pablo Picasso's entire oeuvre
Rijksmuseum given unique painting to remember virus victims


Peter Alexander in his studio, 1960s.



LOS ANGELES, CA.- Parrasch Heijnen Gallery (Los Angeles) and Franklin Parrasch Gallery (New York) announced the passing of legendary Los Angeles artist Peter Alexander on the morning of May 26, 2020. He was 81 years old. Born in Los Angeles, CA in 1939, Alexander's six-decade career was an active exploration of environments through color, transparency, and translucency using innovative media. He was an integral part of the intrinsically Californian Cool School and Finish Fetish movements. Whether through resin sculpture or velvet painting, Alexander actively sought to capture light through environmental sensation. Initially intent on becoming an architect, Alexander attended the University of Pennsylvania from 1957-1960, studying there under Louis Kahn. In 1957, Alexander began working with California modernist architect Richard Neutra during summers where he executed drawings for numerous projects. Alexander moved to ... More



Pablo Picasso, Le Poussin (Baer 214), 1907, woodcut printed by hand in dark blue and bright blue gouache (est. £30,000 – 50,000). Courtesy Sotheby's.



LONDON.- Pablo Picasso was an individual who shaped art history like no other. Turning his hand to virtually every medium, Picasso suffused every element of culture with his signature – instantly recognisable, yet constantly evolving – style. This online auction will celebrate the enduring legacy of the artist with works from across Picasso's entire oeuvre in both date and scope, including paintings, drawings, unique ceramics, editions, photographs, and even paint palettes. Over sixty works in the sale come from the personal collection of the artist's granddaughter, Marina Picasso, and with estimates starting from £400, going up to £400,000, this is the perfect opportunity to dive into the life and work of this exceptional artist. The works will be exhibited to the public, with appropriate safety restrictions in place, from 15 to 18 June, and viewing is available by appointment on request ... More



Bartholomeus Spranger (Antwerp, 21 March 1546 – Prague, before 27 September 1611) The Body of Christ Supported by Angels, (Angel Pietà), ca. 1587 Oil on copper, 33.7 x 26.6 cm Gift of B.P. Haboldt, in memory of the victims of COVID-19.



THE HAGUE (AFP).- Amsterdam's Rijksmuseum will display a famous 16th-century painting donated to commemorate victims of the coronavirus when it re-opens next week, almost three months after closing its doors, the museum said Wednesday. The 1587 painting by Flemish master Bartholomeus Spranger called "The Body of Christ Supported by Angels" was given to the museum by Dutch art collector and dealer Bob Haboldt. "In the first place, it is a gift to everyone to commemorate the victims of COVID-19," Haboldt said in a statement, released by the Rijksmuseum. "It also serves as an example, encouraging everyone to do good for museums." Haboldt said the donation was to make a contribution "and on how we could best memorialise this period." "Coronavirus has affected ... More
A rare Chinese Red Revenue Stamp Collection hammers $170,195 on iGavelauctions.com
Xavier Hufkens opens an exhibition of drawings by Pierre Guyotat
Will Cotton offers a new take on the myth of the cowboy in new exhibition at Galerie Templon


1897 Red Revenue Figure Surcharge.



NEW YORK, NY.- For International stamp lovers, rare postage stamps are always their target, and Chinese stamps are among some of the most famous, valuable and sought-after items in the world. Thus, it comes as no surprise that the recent sale of a Chinese Red Revenue Stamp Collection–the first presented by the Dallas Auction Gallery on iGavelauctions.com, was a resounding success. With a 97% sell-through of 269 lots, the sale achieved $170,195 including buyer's premium. The top lots achieved strong prices with an 1897 Red Revenue small figure surcharge selling for more than $12,000; 1967-68 People's Republic of China, Poems of Mao Ze Dong sold $10,945, and a 1962 People's Republic of China Mei Lan-fang hammered $10,000, more than 3 times its estimate. Says Lark Mason III, vice-president of iGavel, "The results of this sale illustrate what can happen when discerning and eager bidders are brought to the table no mat ... More



This is the largest presentation of his works to date.



BRUSSELS.- Xavier Hufkens is presenting an exhibition of drawings by Pierre Guyotat (1940-2020). The exhibition was conceived with the author and artist who passed away on 7 February 2020. This is the largest presentation of his works to date, encompassing close to sixty drawings from 2016, when he returned to drawing after a near 40 year hiatus, to his last works in 2019. Guyotat is primarily known as a radical and subversive author. For over fifty years, since the original French publication of Tomb for 500,000 Soldiers (1967), and Eden, Eden, Eden 1(1970, which was immediately censored upon its release), he brought revolution into poetry, altering the very structures of language and culture. His visions of war and sexual exploitation, as well as his account of the cosmological nature of existence, have given many artists new ways to express themselves. His heroic stature as an uncompromising artist and poet makes him a model for creat ... More



Will Cotton, Roping (Study), 2018. Oil on paper, 76,2 x 53,34 cm ; 30 x 21 in. Courtesy Templon, Paris – Brussels and the artist © Adagp, Paris, 2020.



BRUSSELS.- Ten years after his last exhibition at Galerie Templon, the New York painter Will Cotton, famous for his depictions of all kinds of sweets, is unveiling a provocative and quirky exhibition at the gallery's Brussels space: The Taming of the Cowboy. In a nod to his country's political schizophrenia in the midst of the electoral campaign, Will Cotton offers a new take on the myth of the cowboy, symbolizing the conquest of the West. His large, ostensibly classical oil paintings portray a surprising encounter between triumphant cowboys and their fantastical steeds: pink unicorns. The figure of the cowboy evokes a strong sense of American masculinity, associated with freedom, manifest destiny and a culture of violence. In contrast, the unicorn -- particularly when pink -- reminds us of a more contemporary mythology that has in recent years taken possession of the ... More
Sperone Westwater showcases a group of recent paintings and photographs by Rochelle Feinstein
'Shelter in Place' organized by Ryan Muller on view at Metro Pictures
France names first indigenous director of top museum


Rochelle Feinstein. Photo: Jay Patel. Courtesy the artist and Sperone Westwater, New York.



NEW YORK, NY.- Sperone Westwater is showcasing a group of recent paintings and photographs by Rochelle Feinstein. Feinstein is constantly on the lookout for what she calls "a good problem to work with," and her work embodies this sense of alertness. Possibilities present themselves in the course of everyday life, with motifs and headlines drawn from daily newspapers, truisms and enigmatic phrases drawn from conversations and advertisements. Like snags in the fabric of the everyday, these minor details and incidents come to register issues much larger in scale and scope. Since her most recent New York gallery exhibition in April 2017, Feinstein has completed a prestigious fellowship at the American Academy in Rome (2017-18) and mounted institutional exhibitions at Kunsthaus Baselland (2018) and the Bronx Museum of the Arts (2018-19). This online presentation includes work from these exhibitions and focuses on a ... More



B. Wurtz, Untitled (relic), 1975. Pen on wood, 7 1/2 x 3 1/2 x 3 1/2 inches, 19.1 x 8.9 x 8.9 cm.



NEW YORK, NY.- Offices are closed, schools have been reduced to a screen, and museums are perused online. Restaurants are using only the back kitchen and front window if anything at all. Interior walls have become our entire world. We are learning to use every inch, pushing domestic spaces to capacity, while the mammoth buildings that defined business as usual sit vacant. It is profound to see the infrastructure of our society laid so bare. For many the only evidence of the tragedy surrounding us is the strange quiet that has enveloped our cities. With people removed, examples of efficiency suddenly look absurd. The most banal structures once easily ignored amidst the buzz of commerce now stand out, like looming architectural follies. Open office plans and packed elevators that once seemed like visions of a highly functional future now appear as allegories of our demise. How will the vessels that contain our society ... More



Emmanuel Kasarherou, curator of the exhibition "Kanak, l'art est une parole" (Kanak, art is word), poses at the Quai Branly museum. Martin BUREAU / AFP.



PARIS (AFP).- Emmanuel Kasarherou will make history Wednesday as the first indigenous person ever to head a major French national museum when he is named director of the Quai Branly-Jacques Chirac museum in Paris. A Kanak from New Caledonia in the Pacific, the expert in Oceanic cultures -- whose treasures form a major part of the museum's collection of indigenous art from Africa, Asia and the Americas -- is a former head of the breathtaking Renzo Piano-designed Jean-Marie Tjibaou Cultural Centre in the New Caledonian capital Noumea. Kasarherou, 60 -- who has co-curated two major exhibitions at Quai Branly including "Kanak: Art is a Word" -- has been the museum's deputy head of collections since 2014. He was the founding director of the much-praised museum which ... More
Quote
In England, pop art and fine art stand resolutely back to back. Colin MacInnes
---
Friendships from The School of Paris
---

Flashback
On a day like today, German painter Jörg Immendorff died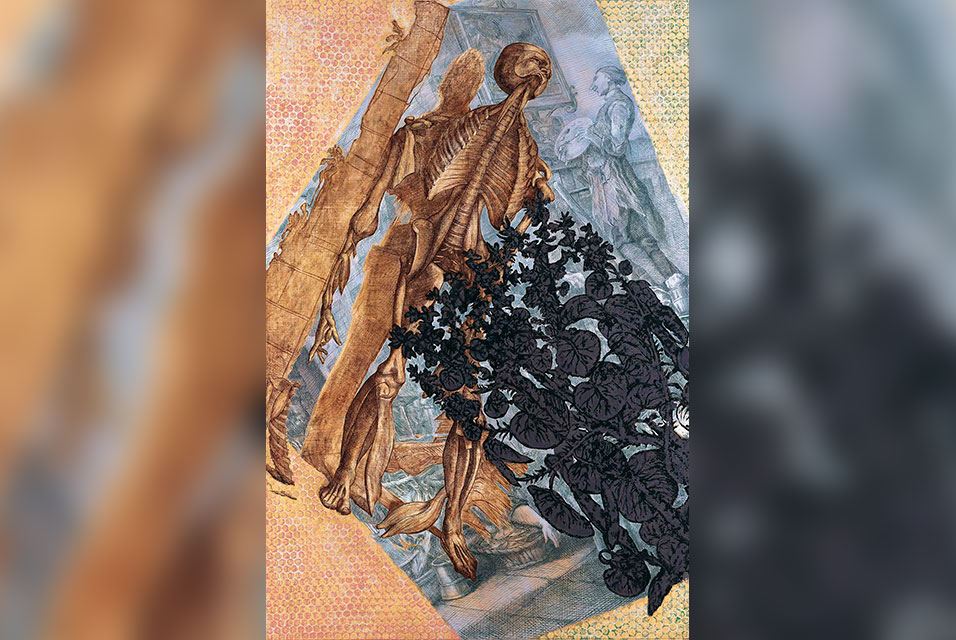 June 28, 2007. Jörg Immendorff (June 14, 1945 - May 28, 2007) was a contemporary German painter, sculptor, stage designer and art professor. He was a member of the art movement Neue Wilde. In this image: Jörg Immendorff, Untitled, 2007.
---

Museums, Exhibits, Artists, Milestones, Digital Art, Architecture, Photography,
Photographers, Special Photos, Special Reports, Featured Stories, Auctions, Art Fairs,
Anecdotes, Art Quiz, Education, Mythology, 3D Images, Last Week,

.
Royalville Communications, Inc
produces: