Lark Mason Associates presents a Summer Sale of Fine and Decorative Arts
Cambridge Valley, by Anna Mary Robertson 'Grandma" Moses (Estimate: $80,000-120,000).
NEW YORK, NY
.-
With over 400 lots of paintings, sculpture, furniture, silver, jewelry, rugs, Asian works of art and lighting–some of which belonged to a prominent Connecticut collector–
Lark Mason Associates
is presenting an eclectic online auction of fine and decorative arts which is now open for bidding on
igavelauctions.com
now through July 7th. "From a contemporary hand-blown glass vessel by Lino Tagliapietra (Estimate: $7,000-10,000) to Cambridge Valley, by Anna Mary Robertson 'Grandma" Moses (Estimate: $80,000-120,000), or an 18th century Tibetan gilt bronze seated Bodhisattva (Estimate: $4,000-8,000), we are delighted to offer a wide swathe of fine and decorative works of art for collectors ...
More
The Best Photos of the Day
Karl Wirsum, dynamic and eclectic Chicago artist, dies at 81
Christie's to offer the collection of Rita Espírito Santo and three private European collections
The Shakers are movers, too


Karl Wirsum, Thumb Thwack, 1986. Acrylic on canvas (with painted wooden frame), 50.5 x 38.25 inches.

by Roberta Smith



NEW YORK (NYT NEWS SERVICE).- Karl Wirsum, whose avid, sometimes robotic figures in both two and three dimensions exemplified the group of disruptive artists known in the late 1960s as the Hairy Who, died on May 6 in Chicago. He was 81. His death was announced by Derek Eller, his New York gallery. His family said the cause was cardiac arrest. With titles like "Lana Turner With Her Own Eyebrows Before Schrafft's" and "Some Underwear Over the Rainbow," Wirsum's art was suffused with a great deal of humor. But the man himself was quiet and reserved, with tastes on the Spartan side. Very health conscious, he had followed a macrobiotic diet since the 1970s and went running nearly every day until he was 75. His self-containment may have stemmed from the deaths of his parents when he was 9, in a car accident from which he escaped without injury. He developed an early sense ... More



Jacques de Lajoȕe (Paris 1686-1761) The Rest after the Hunt, (estimate £70,000-100,000). © Christie's Images Ltd 2021.



LONDON.- Christie's announces the sale of The Collection of Rita Espírito Santo and Three Private European Collections taking place online from 21 June – 12 July, as part of the marquee series of sales comprising Classic Week running from 18 June – 15 July. The Collection of Rita Espírito Santo and Three Private European Collections comprises 160 lots including European furniture, clocks and objets d'art, Old Master Paintings, Chinese and European Porcelain and silver. Complementing The Collection of Rita Espírito Santo is a selection of lots from the Roman Palazzo of the late Robert de Balkany. as well as property from a Maison Jansen interior on London's prestigious Eaton Square in London, and a further group belonging to a descendant of a Russian princely family from an apartment on Wilton Crescent in Belgravia, central London. The collection of Rita Espírito Santo (1927-2020) was largely inherited ... More



Lacy Schutz, left, the Shaker Museum's executive director, and Annabelle Selldorf, architect of the new Shaker Museum, in New York, June 15, 2021. Vincent Tullo/The New York Times.

by Patricia Leigh Brown



CHATHAM (NYT NEWS SERVICE).- In an earlier life, the moribund red brick Victorian building at the foot of Main Street in this thriving Columbia County village had been a sanitarium, a hotel and tavern, a furniture store and an auto dealership. These were the warmup acts for its latest incarnation: a permanent new home for the Shaker Museum, widely considered the country's most significant collection of Shaker furniture, objects and archival material. The museum, set to open in 2023 and to include a new addition, is being designed by architect Annabelle Selldorf, whose current projects include the expansion of The Frick Collection, in New York City, and an addition for the Museum of Contemporary Art San Diego La Jolla. "Modern architects tend to like the clarity and simplicity of ... More
memymom presents 'Home Game', a major retrospective exhibition at Botanique in Brussels
Beatles, Bob Dylan, Prince, Kurt Cobain, and Lady Gaga featured in Marvels of Modern Music Auction
Vito Schnabel Gallery opens its first exhibition dedicated to Spencer Lewis


Follow the Yellow Brick Road, 2019 © memymom.



BRUSSELS.- Botanique in Brussels is presenting the major retrospective exhibition Home Game by the Belgian artist duo memymom. memymom is the mother-daughter duo of Lisa De Boeck and Marilène Coolens, who first became known for their intimate family archive of analogue photos in which role-playing and staged mother-daughter scenes are central. Over the years, these staged dream portraits have developed not only into a mature conversation about metamorphosis, personal identity and the mother-daughter relationship, but also into a plea for sensual analysis and tragic romance. This is the first time that the duo's home city of Brussels has been the location for a major retrospective of their work. Home Game not only shows an overview of earlier pieces, but also presents a lot of new and never-before-seen images. With more than 220 works dating from 1990 to the present, it is a broader and completely reimagined elaboration of the ... More



Dylan's revolutionary hit single, 'Like a Rolling Stone'.



BOSTON, MASS.- "Summertime, and the bidding is easy"—with over 400 items spanning the history of popular music, RR Auction's summer installment of our Marvels of Modern Music series is sure to be a hit. From the Beatles and Bob Dylan to Prince, Kurt Cobain, and Lady Gaga, icons of the past and present are represented in this sale. Among the many chart-topping items is a fully signed Meet the Beatles promo album. The album is signed and inscribed on the back cover to George Harrison's older sister Louise. Beatle's albums inscribed to one of their family members are virtually nonexistent and hugely desirable. Prince's stage-worn lace shirt from the Purple Rain Tour. The long-sleeve shirt from the blockbuster 1984-85 Purple Rain Tour, gorgeously constructed entirely of sheer lace with a vine-and-leaf pattern, featuring a high-neck collar, three layers of ruffles on the chest, pearloid buttons down the front placket, and ruffled faux-French cuff ... More



Spencer Lewis, Untitled, 2020-2021. Oil, enamel and acrylic on jute, 101 3/4 x 74 1/4 inches (258.4 x 188.6 cm) © Spencer Lewis; Photo by Ruben Diaz; Courtesy the artist and Vito Schnabel Gallery.



NEW YORK, NY.- Vito Schnabel Gallery is presenting Spencer Lewis: Susan Mary, the gallery's first exhibition dedicated to the Los Angeles-based artist. On view in St. Moritz will be new large-scale paintings on raw jute canvases – loose, vibrant, intuitive abstractions that choreograph pictorial space and manifest the accumulation of Lewis' process-driven gesture. With its title a dedication to the artist's late mother, this solo exhibition will be Lewis' first in Switzerland. On view from July 7 through September 26, 2021, Susan Mary will be complemented by Four New Paintings, a special summer presentation of new works by the artist in the intimate setting of the Vito Schnabel Gallery's Clarkson Street space in New York, beginning June 22. Born in Hartford, CT in 1979, Spencer Lewis is recognized for his works on cardboard and jute, ... More
MASSIMODECARLO opens Dennis Kardon's first solo exhibition in London
Chadwick masterpiece from his family at Bonhams Modern British and Irish Art sale
Sotheby's to accept cryptocurrency for rare 100+ carat diamond


Dennis Kardon, New Day, 2020. Oil on linen, 102 × 81.5 cm / 40 × 32 inches.



LONDON.- MASSIMODECARLO is presenting Strange Waters, Dennis Kardon's debut solo exhibition with the gallery and the New York based artist's first in London. Dennis Kardon (b. 1950, Des Moines, Iowa) challenges painting's potential by creating representational scenes that materialize from loose abstract brushstrokes. The artist treats the surface of his canvases as a field to which he assigns various properties like reflection and distortion, creating scenes in which a feeling of unexpected intimacy pervade. Strange Waters comprises a selection of artworks made during the last four years which are instilled with the artist's nuanced response to current events and personal memories. The artist wanted the title of the exhibition to reflect surviving the upheaval of the past four years and Kardon was attracted to a quote by Frank Herbert, the author of the 1965 science-fiction novel Dune, who considers survival to be & ... More



Lynn Chadwick. Maquette Jubilee II. Estimate: £300,000-500,000. Photo: Bonhams.



LONDON.- Of all the great British sculptors of the 20th century Lynn Chadwick (1914-2003) was perhaps the one whose work most clearly tells a story. His figures inhabit a world where something is happening, has just happened, or is about to happen. Precisely what is never made clear. The secrets his couples share in their private spaces – their bodies and heads so precisely and perfectly aligned – are left for the viewer to puzzle out. A fine collection of Chadwick's work at Bonhams Modern British and Irish Art sale in London on Wednesday 30 June perfectly illustrates the point. Consigned direct from the family, the six pieces – of different sizes, dates and values – have impeccable provenance and are led by Maquette Jubilee II estimated at £300,000-500,000. Bonhams Director of Modern British and Irish Art Penny Day said: "These remarkable pieces, which are being offered for the first time ... More



101.38 carat D Colour Flawless Diamond. Courtesy Sotheby's.



NEW YORK, NY.- Over the last few months, cryptocurrency has started to make its mark in the world of physical art and objects. Today, it takes its biggest stride yet, as Sotheby's announces that cryptocurrency will be accepted as payment for one of the earth's rarest and greatest treasures - an exceptional 101.38-carat pear-shaped D Flawless diamond. Diamonds of this importance are exceptionally rare, with fewer than ten 100 carat+ examples ever having come to auction, only two of them pear-shaped - making the appearance of this flawless gem a landmark event in itself. The fact that cryptocurrency is to be accepted as payment also marks a significant moment in the evolution of the market: no other physical object with an estimate even approaching the US$10-15 million (HK$78-118 million) estimate this diamond carries, has ever been publicly offered for purchase with cryptocurrency. Exceedingly rare, 100-carat ... More
Bonhams appoints Malcolm Barber as CEO for Asia
Neuer Berliner Kunstverein opens the first European solo exhibition of work by Laura Poitras
Georgia museum welcomes Never 'Spoken Again' exhibition


Malcolm's tenure with Bonhams stretches back more than 20 years. Photo: Bonhams.



HONG KONG.- The international auction house Bonhams has appointed Co-Chairman Malcolm Barber as CEO for Asia, effective immediately. Malcolm is currently based in Hong Kong, and his new title is Co-Chairman and CEO Asia, responsible for growing Bonhams' business in the region as part of the company's worldwide strategy. In a career spanning over 40 years, Malcolm Barber has worked in all aspects of the auction business and has conducted some of the most important auctions of fine art and classic motor cars, including the first ever classic car sale in Monaco in 1986, the 2017 world record sale of the famous 1914 Peugeot L45 grand prix racer from the renowned Bothwell Collection in Los Angeles, and the 2012 Hong Kong white-glove sale of Voyages of Discovery – Fifteen works by Chu Teh-Chun and Zao Wou-Ki from a private Portuguese Collection. Malcolm's tenure with Bonhams stretches back more ... More



Laura Poitras. Photo © Jan Stürmann.



BERLIN.- Neuer Berliner Kunstverein (n.b.k.) presents Circles – the first European solo exhibition by artist and filmmaker Laura Poitras. Her works expose state power by focusing on specific individuals confronting it. Circles includes six prints from the ANARCHIST series (2016) – describing a chain of interception in which drone and satellite footage has been hacked by the GCHQ (British Government Communications Headquarters, the UK's signals intelligence service) which was in turn hacked by the NSA (US National Security Agency, responsible for evaluating and decrypting electronic communications), including images from Israeli armed attack drones, the existence of which Israel has denied. This story that Poitras was instrumental in exposing, represents a signal ecosystem of nationstate hacking, surveillance and violence. The exhibition premieres two new video installations. Terror Contagion (2021–ongoing) an investigation by ... More



Michael Rakowitz; The invisible enemy should not exist – Seated Nude Male Figure, Wearing Belt Around Waist (IM77823) (Recovered, Missing, Stolen Series), 2018; middle Eastern packaging and newspapers, glue, cardboard; 96 x 73 x 73 cm; courtesy of the artist and Barbara Wien Gallery.



SAVANNAH, GA.- Telfair Museums in Savannah, Georgia welcomed the traveling exhibition Never Spoken Again: Rogue Stories of Science and Collections. Curated by David Ayala-Alfonso, Never Spoken Again—on view at Telfair's Jepson Center from June 18 through Sept. 12, 2021—reflects on the birth of modern collections, the art institutions that sustain them, and their origin stories to reveal a universe of erasures, violence, and fortuity. Considering how institutional collections organize our lives, Never Spoken Again brings together artists whose works open up a critique of material culture, iconography, and political ecologies. The works on view make use of the language of the museum display and the ethnographical video to uncover ... More
Quote
The spectacle of the sky overwhelms me. Joan Miró
---
A Meeting of Two Titans | Lucian Freud's Portrait of David Hockney
---

Flashback
On a day like today, Polish-American painter Ed Paschke was born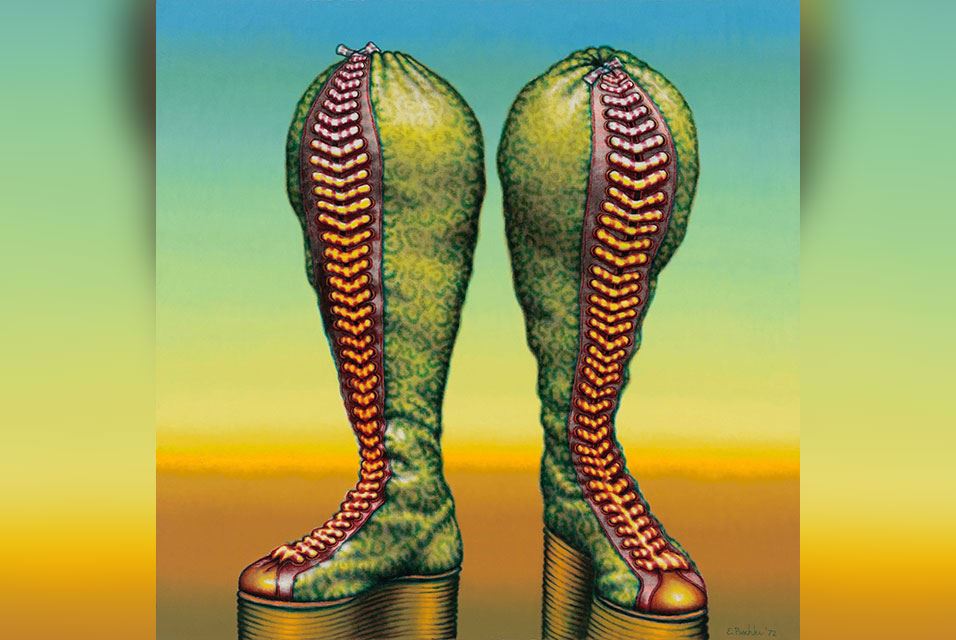 June 22, 1939. Edward Francis Paschke (June 22, 1939 - November 25, 2004) was an American painter of Polish descent. His childhood interest in animation and cartoons, as well as his father's creativity in wood carving and construction, led him toward a career in art. In this image: Ed Paschke (1939 - 2004), Bag Boots, 1972. Oil on canvas, 132 x 132 cm. Hall Collection, courtesy of Hall Art Foundation © Ed Paschke.
---

Museums, Exhibits, Artists, Milestones, Digital Art, Architecture, Photography,
Photographers, Special Photos, Special Reports, Featured Stories, Auctions, Art Fairs,
Anecdotes, Art Quiz, Education, Mythology, 3D Images, Last Week,

.
Royalville Communications, Inc
produces: