A watermark, and 'spidey sense,' unmask a forged Galileo treasure
A photo provided by the University of Michigan Library shows a manuscript once believed written by Galileo Galilei in 1610. The manuscript shows the draft of a letter at the top, and sketches plotting the positions of the moons Galileo discovered around Jupiter — which the university had believed were "the first observational data that showed objects orbiting a body other than the earth." University of Michigan Library via The New York Times.

by Michael Blanding
NEW YORK, NY
.-
Galileo Galilei was peering through a new telescope in 1610 when he noticed something strange: several bright objects flickering around the planet Jupiter that seemed to change positions nightly. His discovery, of moons orbiting Jupiter, was a major crack in the notion, widely held since antiquity, that everything in the universe revolved around the Earth. The finding, which was condemned by the Catholic Church, helped prove the theory of a sun-centered solar system. For decades, the University of Michigan Library has prized a manuscript related to the discovery, describing it as "one of the great treasures" in its collection. At the top is the draft of a letter signed by Galileo describing the new telescope, and on the bottom are sketches plotting the positions of the moons around Jupiter — "the first observational data that showed objects orbiting a body other than the Earth," the library described it. At least it would be if it were authentic. After Nick Wil ...
More
The Best Photos of the Day
Joseph Beuys: Four Books in a Box to have U.S. release October, 2022
Artists Rights Society embraces Web3 with new digital platform launching Frank Stella's first NFTs
Prosecutors struggle to catch up to a tidal wave of pandemic fraud


Beuys in America / Periphery Workshop / Honey is flowing in all directions / The Principle of Economic Value. Edited by Klaus Staeck and Gerhard Steidl



NEW YORK, NY.- Four Books in a Box offers an insider's view of some of Joseph Beuys' most original works and celebrates the extraordinary 18-year collaboration between Beuys, Klaus Staeck and Gerhard Steidl. German political graphic artist Staeck started working with Beuys as early as 1968, publishing the artist's postcards, posters, screen-prints and multiples. In 1972 Steidl began printing and producing Beuys' editions for Staeck. Staeck and Steidl furthermore installed the artist's exhibitions and documented in photos and video many of his lectures, workshops and performances—on art, life, and "social sculpture," Beuys' theory that everything is art and everyone an artist. Each volume in this boxed set explores a specific Beuys project: his infamous visit to America in 1974 Beuys in America, his installation Honeypump in the Workplace at documenta 6 in 1977 is documented in Honey is flowing in all ... More



Frank Stella debuts first NFT collection with Arsnl, the new digital platform powered by Artists Rights Society.



NEW YORK, NY.- Artists Rights Society, the preeminent copyright, licensing, and monitoring organization for visual artists in the United States, announced Arsnl—a new digital platform that guides artists and institutions through the creation of digital projects and ambitious works of art on the blockchain. Founded by Katarina Feder, a Vice President of ARS, Arsnl bridges the fine art world and digital art space through collaboration and intellectual property protection. Arsnl will launch with digital artworks minted as NFTs by legendary American artist Frank Stella. Arsnl expands upon ARS's 35-year legacy of intellectual property representation and innovation for its 122,000+ creators and partners. Members of the ARS global network include Andy Warhol, Chloe Wise, Elizabeth Colomba, Frida Kahlo, Georgia O'Keeffe, Jenny Holzer, Pablo Picasso, Kenny Scharf, and Mickalene Thomas, among others. ARS recognized an opportunity to provide ... More



Images released by the U.S. Attorney's Office in Savannah, Ga., shows the Pokemon trading card purchased by Vinath Oudomsine for $57,000 after he received a pandemic loan from the Small Business Administration for a nonexistent business.

by David A. Fahrenthold



NEW YORK, NY.- In the midst of the pandemic, the U.S. government gave unemployment benefits to the incarcerated, the imaginary and the dead. It sent money to "farms" that turned out to be front yards. It paid people who were on the government's "Do Not Pay List." It gave loans to 342 people who said their name was "N/A." As the virus shuttered businesses and forced people out of work, the federal government sent a flood of relief money into programs aimed at helping the newly unemployed and boosting the economy. That included $3.1 trillion that former President Donald Trump approved in 2020, followed by a $1.9 trillion package signed into law in 2021 by President Joe Biden. But those dollars came with few strings and minimal ... More
Christopher Grimes Projects welcomes Roxy Paine
Hauser & Wirth presents an exhibition of works by David Hammons
An Oscars apology for Sacheen Littlefeather, 50 years after Brando protest


Roxy Paine, Maelstrom, 2009. Stainless steel 22 x 140 x 50 feet. Commissioned for exhibition at the Metropolitan Museum of Art Iris B. and Gerald Cantor Roof Garden, New York, NY. Image courtesy of the artist.



LOS ANGELES, CA.- Throughout his over three-decade career, Roxy Paine's work has explored the simultaneity of industry and nature, control and chaos, and form and theory. Paine's works are discourses on the collision of conflicting impulses of information. The artist describes his work as a translation between disparate realms of data and knowledge, testing principles of human potential, rigor, and chance. The idiosyncrasy of his work lies in Paine's sculpture-making process, where the physical object and conceptual idea are equivalent forces of rumination. His series titled Dendroids began as an early tree-like form in Bluff, exhibited in Central Park's Whitney Biennial 2002 and evolved into the unusual and innovative, neural, and synaptic systems of Maelstrom exhibited on the rooftop of the Metropolitan Museum of Art 2009 ... More



Installation view.



SOUTHAMPTON, NY.- David Hammons has been a central, if wilfully elusive, fixture in the contemporary art world for almost fifty years. The myriad sources for his heterogeneous practice range from conceptual art to Arte Povera and jazz. Hammons incorporates found objects into many of his evocative works, sourcing much of his material from Harlem, where he has lived and worked since 1974. Hammons at once elevates ephemera to the level of art and questions the superior status of the conventional art object. 'Untitled (Kool-Aid Drawing)' (2003) presents a brightly colored and energetic composition, which cheekily lampoons the painterly bravado of Abstract Expressionism. The transparent wash of the work brings to mind the paintings of Helen Frankenthaler, whose soak-stain technique influenced Color Field artists including Morris Louis and Kenneth Noland. Here, Hammons satirizes the value placed on—and the mythology surrounding—the Abstract Expressionists' painterly approach, demonstr ... More



Sacheen Littlefeather standing before the Oscar statue holding Marlon Brando's statement at the 45th annual Academy Awards in Los Angeles. Photo: UCLA Library Special Collections.



NEW YORK, NY.- The Academy of Motion Picture Arts and Sciences has apologized to Sacheen Littlefeather, an Apache and Yaqui actress and activist who was booed onstage at the Oscars in 1973 after she refused the best actor award on behalf of Marlon Brando. The Academy said in a statement Monday that it had apologized to Littlefeather, 75, in June, nearly 50 years after Littlefeather pierced through the Academy Awards facade of shiny statues and bright lights in 1973 and injected the ceremony with criticism about Native American stereotypes in media. Her appearance at the ceremony, the first time a Native American woman stood onstage at the Academy Awards, is perhaps one of the best-known disruptive moments in the history of the award ceremony. When Littlefeather, then 26, spoke, some of the audience cheered her and others jeered. Littlefeather said she was "stunned" by the a ... More
Cassandra Sohn presents two curated exhibitions of sculptures and works on paper by Jonathan Prince
König Galerie opens its first solo exhibition of Camilla Engström's work
Searching for Leonardo da Vinci in 'Leonardo'


Jonathan Prince, Turbulence.



LENOX, MASS.- "Fluidity of Light" at Sohn Fine Art includes Jonathan Prince's smaller sculptures as well as his mixed-media works on paper from his Turbulence series. Prince's works continuously push the boundaries of how materials can behave. His forms contain both foundation and fluidity. The sculptures included in this exhibition are as much about how light interacts with the piece as the sculptural form itself. As Prince states, "These pieces are really about the liquidity of light rather than the liquidity of matter." They are works of meditation in both process and concept. Prince's ongoing investigation of spirituality is echoed in the pair of reflective liquid state sculptures on view titled "Inhale" and "Exhale". Works on paper and sculptures on display from the Turbulence series explore the ways in which an external force can exert enough energy to disrupt what is seemingly perfe ... More



Orange Earth.



BERLIN.- König Galerie presents its first solo exhibition of Camilla Engström in the St. Agnes | Chapel in Berlin. Engström's practice encompasses painting, drawing, and sculpture, operating between colour-rich landscapes and figurative expression. For her exhibition in Berlin, Engström has created five new oil on canvas paintings that showcase her characteristic trippy, hallucinogenic palette and voluptuous curving forms in sorbet-coloured hues. With these new works, Engström channels both the erotic charge of Georgia O'Keeffe and the spiritual vigour of fellow Swede, Hilma af Klint. These new paintings dive deeper into the texture of landscape, abandoning the human form in favour of imaginary settings – brightly lit and undulating with Engström's curvy lines. The resulting images are sunbathed, from a light source that emanates from somewhere outside the picture frame, as the sun as object is featured in all ... More



Statue of Leonardo da Vinci (Uffizi Gallery).



NEW YORK, NY.- Leonardo da Vinci discovered how to capture life in his drawings. And he found new ways to topple a castle. But the one thing he could never come up with was a good recipe for shampoo. That, at least, is the main message I took away from the eight episodes of "Leonardo," a biopic series that premiered Tuesday on the CW. Following in the footsteps of "The Lord of the Rings" and "Game of Thrones," the makers of "Leonardo" seem to have decided that old-time heroes need to have greasy locks. But then "Leonardo" seems so indebted to "Game of Thrones" that it could hardly have gone its own way on grooming. Its music riffs on "GoT," complete with drumbeats and a twinkly harp, and it includes gratuitous nudity and a pointless beheading. Think of it as a "CSI"-style spinoff — "GoT: Florence." It shows how deeply our sense of history is essentially aesthetic, even pictorial: Our understanding of the pa ... More
The return of the ruffle
Wolfgang Petersen, director of 'Das Boot,' is dead at 81
'As It Turns Out,' a sister's remembrance of Edie Sedgwick and Andy Warhol


The Late designer Mario Buatta, who was considered "the Prince of Chintz," in a space he designed for Hilary and Wilbur Ross, the former secretary of commerce, on West 57th Street in Manhattan in 2014. Ruffles and their close cousin chintz — the often bright floral fabric with a glossy finish — are returning, partly in rebellion to the minimalist aesthetic that has dominated interior design for so long. Trevor Tondro/The New York Times.



NEW YORK, NY.- Paige Minear gets a thrill from frills. In the style blogger's Atlanta home, a ruffled skirt with a green bow print adorns a bedroom vanity. In the family room sits a chintz ottoman with a ruffle along the bottom; ruffled throw pillows rest on the armchairs. "I think ruffles just add that edge," said Minear, 52. "That little bit of whimsy." You could call it a comeback: Ruffles and their close cousin chintz — the often bright floral fabric with a glossy finish — are returning, partly in rebellion to the minimalist aesthetic that has dominated interior design for so long. Anna Marcum, an architectural historian and preservationist in Brooklyn, laments the recent "gray-washing" of interiors associated with modern minimalist décor. "There's ... More



He made it big in Hollywood with box-office hits, but he's best remembered for a harrowing, Oscar-nominated German film set inside a U-boat in World War II.



NEW YORK, NY.- Wolfgang Petersen, one of a handful of foreign directors to make it big in Hollywood, whose harrowing 1981 war film, "Das Boot," was nominated for six Academy Awards and became one of Germany's top-grossing films, died Friday at his home in the Brentwood section of Los Angeles. He was 81. The cause was pancreatic cancer, according to Michelle Bega, a publicist at the agency Rogers & Cowan PMK in Los Angeles. His death was announced Tuesday. Petersen was the most commercially successful member of a generation of filmmakers active in West Germany from the 1960s to the '80s, whose leading lights included Rainer Werner Fassbinder, Wim Wenders and Werner Herzog. But he was equally known in Hollywood. Over five decades Petersen toggled between his native Germany and the United States, directing 29 films, many of them box-office hits like 1990s ... More



In her memoir, Alice Sedgwick Wohl describes growing up in a large genteel family, and refines the popular impression of her famous younger sister.



NEW YORK, NY.- Growing up in the first half of the last century, Alice Sedgwick Wohl was taught, among many other draconian rules of WASP etiquette, that "it was wrong to begin a letter or even a paragraph with the pronoun 'I.'" Although letters and even paragraphs may now be as threatened as the Arctic ice caps, Wohl has defiantly written an entire book in the first person singular. Her late-life memoir, "As It Turns Out" — published just before its author's 91st birthday — is beautiful, if not exactly joyful. Wohl was the first child of eight in a family of genteel birth and uneven mental health, the Sedgwicks, who moved from Cold Spring Harbor, New York, to a succession of ranches in California. On one of those properties they struck oil, fortifying their attenuated fortune. Their rich ancestry included Theodore Sedgwick, a speaker of the House under Thomas Jefferson; Ellery Sedgwick, a longtime editor of The Atlantic Monthly; and Ellery's brother ... More
Quote
I try to apply colors like words that shape poems, like notes that shape music. Joan Miró
---
AFPR—Meet The Artists: Jomo Tariku
---

Flashback
On a day like today, Italian painter Francesco Albani was born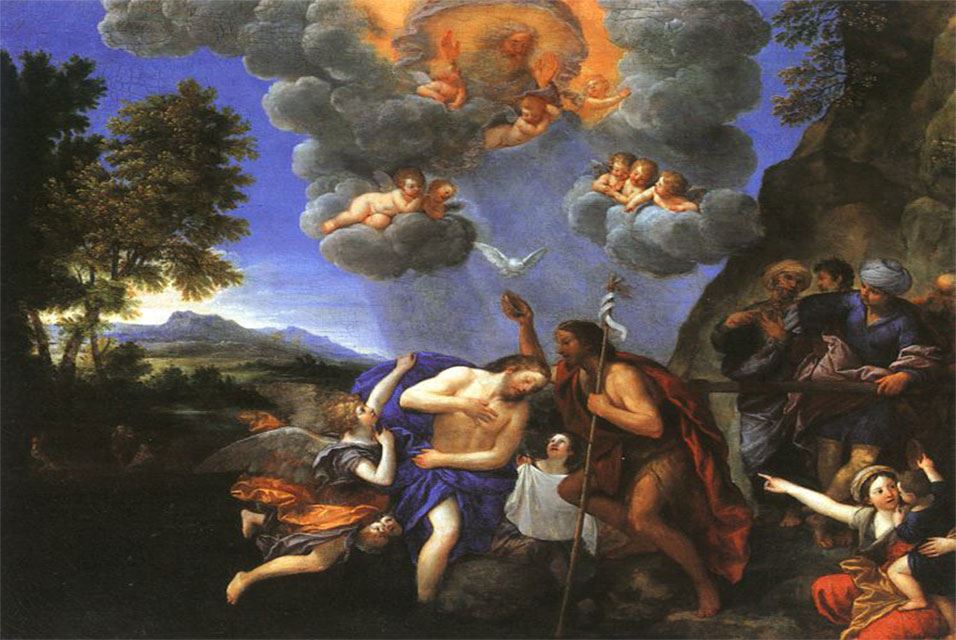 August 17, 1578. Francesco Albani or Albano (17 March or 17 August 1578 - 4 October 1660) was an Italian Baroque painter. Albani never acquired the monumentality or tenebrism that was quaking the contemporary world of painters, and in fact, is derided often for his lyric, cherubim-filled sweetness, which often has not yet shaken the mannerist elegance. While Albani's thematic would have appealed to Poussin, he lacked the Frenchman's muscular drama. His style sometimes appears to befit the decorative Rococo more than of his time. In this image: Baptism of Christ ca 1640 (State Hermitage Museum, St. Petersburg.
---

Museums, Exhibits, Artists, Milestones, Digital Art, Architecture, Photography,
Photographers, Special Photos, Special Reports, Featured Stories, Auctions, Art Fairs,
Anecdotes, Art Quiz, Education, Mythology, 3D Images, Last Week,

.
Royalville Communications, Inc
produces: