Marina Abramovic relents and adapts a provocative piece for today
Brittany Bailey performing "Luminosity," a 1997 work on display in "The Artist is Present," a Marina Abramovic show at the Museum of Modern Art in New York, March 7, 2010. Marina Abramovic relents and adapts a provocative piece for today; in a new retrospective, a work that shocked audiences in the 1970s has been altered to suit contemporary mores. (Josh Bright/The New York Times)

by Alex Marshall
LONDON
.-
In June 1977, visitors to the Gallery of Modern Art in Bologna, Italy, were met with a shocking sight: Marina Abramovic, the Serbian performance artist, and her partner, Ulay, standing in the museum's doorway, completely naked. The only way inside was to squeeze between the couple. Abramovic and Ulay remained in place for three hours, staring intently into each other's eyes, as a stream of visitors pushed through and sometimes stepped on their toes. Then, the police arrived, and shut down the performance as obscene. This fall, Abramovic, now 76, is restaging that work, "Imponderabilia," at the Royal Academy of Arts, in London, as part of a major retrospective of her work that runs through Jan. 1, 2024. Since Abramovic no longer performs the work herself, and Ulay died in 2020, she has recruited younger performers to take part — and there is another major difference from the 1977 piece. ...
More
The Best Photos of the Day
Mammals' time on Earth is half over, scientists predict
Smithsonian acquires major collection about enslaved poet
Forum Gallery presents a special exhibition of prints and drawings to commemorate fifty years since Picasso's death


The waters off Addison, Maine, at sunset on July 12, 2023. A new model suggests that in 250 million years, all land will collide into a supercontinent that boosts warming and pushes mammals to extinction. (Greta Rybus/The New York Times)

by Carl Zimmer



NEW YORK, NY.- It's been about 250 million years since reptile-like animals evolved into mammals. Now a team of scientists is predicting that mammals may have only another 250 million years left. The researchers built a virtual simulation of our future world, similar to the models that have projected human-caused global warming over the next century. Using data on the movement of the continents across the planet, as well as fluctuations in the chemical makeup of the atmosphere, the new study projected much further into the future. Alexander Farnsworth, a paleoclimate scientist at the University of Bristol who led the team, said the planet might become too hot for any mammals — ourselves included — to survive on land. The researchers found that the climate will turn deadly thanks ... More



In an undated image provided by Josh Weilepp, a statue of Phillis Wheatley in the National Museum of African American History and Culture in Washington, with a copy of her 1773 book of poems. (Josh Weilepp via The New York Times)

by Jennifer Schuessler



NEW YORK, NY.- In September 1773, Phillis Wheatley, a young enslaved woman from Boston, boarded a ship home from London, where she had gone to promote her forthcoming book of poems — the first ever published by an American of African descent. It was not the first time Wheatley had sailed to Boston. Twelve years earlier, she had arrived from Africa as a child captive and was sold to a prominent family, the Wheatleys, who named her after the slave ship. But on this second voyage, Phillis — now a literary celebrity — picked up a pen and wrote "Ocean," a 70-line ode full of dreaming, wonder and longing for freedom. "Ocean" went unpublished and was seemingly lost until 1998, when the manuscript surfaced at an auction. Now it has been acquired by the Smithsonian's ... More



Pablo Picasso, Portrait de Femme, c. 1897, colored pencil and charcoal on paper, 8 1/8 x 6 1/8 inches, Courtesy of Forum Gallery, New York.



NEW YORK, NY.- As the world commemorates fifty years since Pablo Picasso's (1881-1973) death and remembers his unique contributions to art, Forum Gallery presents a special exhibition of prints and drawings curated for quality, originality, provenance, condition, and excellent value. Spanning eight decades of Picasso's creative expression, the exhibition will present more than thirty works spotlighting Picasso's extraordinary early gift, his classical training, his enduring and vigorous artistic production, and his voracious appetite for experimentation in visual vocabulary and art-making techniques. Picasso treated drawing, painting, printmaking, and sculpture as equal conduits to his vision, revolutionizing traditional approaches to each in ways that would change forever the way we see and make art. In Picasso on Paper, we present some of the most memorable images created by Picasso including ... More
Electronic pioneers Tangerine Dream shape-shift once again
Juilliard's top-tier graduate acting program is going tuition-free
Soulis Auctions shines spotlight on giants of American Regionalism art movement


The members of Tangerine Dream, from left: Thorsten Quaeschning, Hoshiko Yamane and Paul Frick in Austin, Texas, Sept. 14, 2023. (Ilana Panich-Linsman/The New York Times)

by Steve Smith



NEW YORK, NY.- Before this past spring, the last time Tangerine Dream performed live in the United States was on Sept. 30, 2013. The occasion was "Live From Los Santos: The Music of Grand Theft Auto V," a showcase presented during the 51st New York Film Festival. Surrounded by fellow composers and a phalanx of session musicians, the pioneering electronic-music band was hard to pick out of the crowd. But you couldn't miss the group's leader, Edgar Froese, front and center in his signature black hat. It was the final New York performance by Froese, who died of a pulmonary embolism in 2015. He founded Tangerine Dream in Berlin in 1967 and kept the trailblazing group alive through myriad lineups and stylistic shifts: from eerie soundscapes and hypnotic sequencers in the 1970s, through anthemic synth-pop suites ... More



Signage for the Juilliard School is seen in New York, June 10, 2021. (Jeenah Moon/The New York Times)

by Michael Paulson



NEW YORK, NY.- The Juilliard School, one of the world's most elite conservatories, is making its top-notch graduate acting program tuition-free. School officials said they hoped that the move would make the drama division accessible to a broader array of students, and that it would make it easier for graduates to pursue careers in the arts because they will have less debt. "There's a mythology around a place with a name like Juilliard, and I know too many people who didn't apply because they thought, 'I couldn't afford it,'" said Damian Woetzel, the school's president. "We recognize that talent is so much greater than opportunity." Juilliard's drama division, in which undergraduate and graduate acting students train together, was again declared the best in the nation by The Hollywood Reporter earlier this year. The school's alumni have included Robin Williams, Jessica Chastain, Adam Driver and Viola Davis. The ... More



Margaret Brisbane (American, 1901-1970), signed and dated portrait of Thomas Hart Benton's wife, Rita, and their son, T.P. Commissioned by the Bentons in 1934. Size: 36in x 30in (sight). Consigned to Soulis Auctions by a gallery owner who acquired several works from the Thomas Hart Benton Trust.



LONE JACK, MO.- Pride in "homegrown" artists who've gone on to achieve success on the national or international stage is what spurred the meteoric rise of Regionalist art. Perhaps no other part of the country has embraced the Regionalist art movement with more fervor than the Midwest, leading to the theme of Soulis Auctions' October 14 event. The 320-lot Fine & Decorative Arts Auction is highlighted by original works created by luminaries of Midwest Regionalist and Kansas City art, including "The Big Three": Thomas Hart Benton, John Steuart Curry and Grant Wood. America's heartland is where painter, muralist, printmaker and art educator Thomas Hart Benton (1889-1975) was born and spent most of his life. He also studied in Paris, lived in New York City for 20 years, and summered on Martha's Vineyard for half ... More
Private view of 'Antonio Pichillá : In Front of the Lake'
Art of the Islamic and Indian worlds including rugs and carpets at bi-annual autumn sale at Christie's
Archaeologists discover world's oldest wooden structure


Installation View. Photo Courtesy of Elizabeth Xi Bauer Gallery and the artist.



LONDON.- Elizabeth Xi Bauer Gallery, London, is having a private viewing of In front of the lake, Antonio Pichillá's first solo exhibition in Europe. This exhibition closely follows Inherited Threads, at Tate Modern, a new collection display of works by North and Latin American artists that were recently acquired by the institution, as well as Antonio Pichillá Quiacaín: Tejiendo El Paisaje, a video installation at the Museum of Contemporary Art Santa Barbara. For the exhibition opening this September at Elizabeth Xi Bauer, Pichillá will experiment with ways of hanging and displaying his works, including: hanging them from the ceiling; video installation; as well as utilising found objects from nature and alongside those that are man-made. As well as works created in his studio positioned near Lake Atitlán, Pichillá will spend time creating works for this upcoming exhibition in Elizabeth ... More



A large Khorassan Bronze Incense Burner in the form of a lion, North East Iran, 12th century. Photo courtesy of Christie's.



LONDON.- Christie's announces the bi-annual Autumn sale of Art of the Islamic and Indian Worlds including Rugs and Carpets, a live auction at Christie's King Street, London, on 26 October. The sale offers a curated selection of carpets, ceramics, manuscripts, textiles, works on paper and metalwork from the Islamic world. With objects originating from the 9th century to the 20th century and featuring a diversity of artistic traditions, the lots offered come from a geographical area stretching from Spain through to Central Asia, highlighting the global reach, influence and longevity of Islamic culture and celebrating the high standards of craftsmanship that continue to be prized by collectors today. A large Khorassan Bronze Incense Burner in the form of a lion, North East Iran, 12th century, (estimate £400,000-600,000). ... More



Professor Larry Barham (pictured, right) uncovering the wooden structure on the banks of the river with a fine spray. Image courtesy: Professor Geoff Duller, Aberystwyth University.



LIVERPOOL.- Half a million years ago, earlier than was previously thought possible, humans were building structures made of wood, according to new research by a team from the University of Liverpool and Aberystwyth University. The research, published in the journal Nature, reports on the excavation of well-preserved wood at the archaeological site of Kalambo Falls, Zambia, dating back at least 476,000 years and predating the evolution of our own species, Homo sapiens. Expert analysis of stone tool cut-marks on the wood show that these early humans shaped and joined two large logs to make a structure, probably the foundation of a platform or part of a dwelling. This is the earliest evidence from anywhere in the world of the deliberate crafting of logs to fit together. ... More
How complete was Stephen Sondheim's final musical?
Images that show the passage of time by Michael Wesely now on view at Esther Woerdehoff Gallery
Tampa Museum of Art welcomes 'Frontiers of Impressionism: Paintings from the Worcester Art Museum'


Stephen Sondheim sits for an interview at home in Roxbury, Conn., a few days before his death, on Nov. 21, 2021. (Daniel Dorsa/The New York Times)

by Michael Paulson



NEW YORK, NY.- Stephen Sondheim, asked days before his death if he had any sense of when his final musical would be finished, offered a simple answer: "No." The great composer and lyricist, who was 91 at the time, in late 2021, had been working on and off for years on the show, which was adapted from two Luis Buñuel films. He had written songs for the first act but was struggling with the second. "I'm a procrastinator," he told me then. "I need a collaborator who pushes me, who gets impatient." Now, two years after his death, the show, which Sondheim had been calling "Square One" but which was later renamed "Here We Are," is being presented for the first time, in a 526-seat theater at the Shed, a nonprofit cultural center in Hudson Yards on the Far West Side of Manhattan. Performances of the show, which is based on Buñuel's "The Discreet Charm of the ... More



Michael Wesely, B1520 The Museum of Modern Art, New York. (2.5.2003 - 21.11.2004), 2004, pigment print, Unique, 125 × 150 cm.



PARIS.- Can photography measure the thickness of time? This is the question posed by the works of German photographer Michael Wesely presented in the Stilleben exhibition now opening at Esther Woerdehoff Gallery. Michael Wesely creates unique photographic images that are the result of superimposing thousands, or even millions, of individual images captured over a long exposure time. In this way, in a single photograph, we can see everything that was in front of the lens during a given period of time. If Michael Wesely's approach has similarities with video, which shares with it this recording of reality, it nevertheless captures the essence of a phenomenon, the very idea of a thing. The life of a bouquet of flowers, from birth to wilting, the flickering glow of candles watching over the dead in a Mexican cemetery and the path of the sun across the façade of the Museum of Modern Art as it undergoes renovation, are all condensed in these wor ... More



Frank Weston Benson (American, 1862–1951). Natalie, 1917. Oil on canvas. Worcester Art Museum, Gift of Desmond Callan, Mary H. Bailey, and Cristina E. Callan, 1996.106. Image courtesy of the Worcester Art Museum.



TAMPA, FL.- The Tampa Museum of Art is thrilled to host Frontiers of Impressionism: Paintings from the Worcester Art Museum from September 28, 2023, to January 7, 2024. This breathtaking exhibition, which paints a vivid picture of the global expansion and influence of Impressionism, showcases 53 works by renowned artists—including Claude Monet, Pierre-Auguste Renoir, Camille Pissarro, Mary Cassatt, and more. Unique to the Tampa Museum of Art's showing, many of these pieces will be displayed for the first time outside of the Worcester Art Museum in Massachusetts, offering visitors a fresh look at historic works. "Presenting these impressionist masterpieces is a testament to art's enduring ability to challenge and redefine conventions. Their significance transcends aesthetic appeal, offering Tampa Bay audiences a crucial education on how art breaks ... More
Quote
Michelangelo Buonarroti was the Homer of painting. Sir Joshua Reynolds
---
HIGH VOLTAGE | Photographs New York | October 2023
---

Flashback
On a day like today, American fashion designer Geoffrey Beene died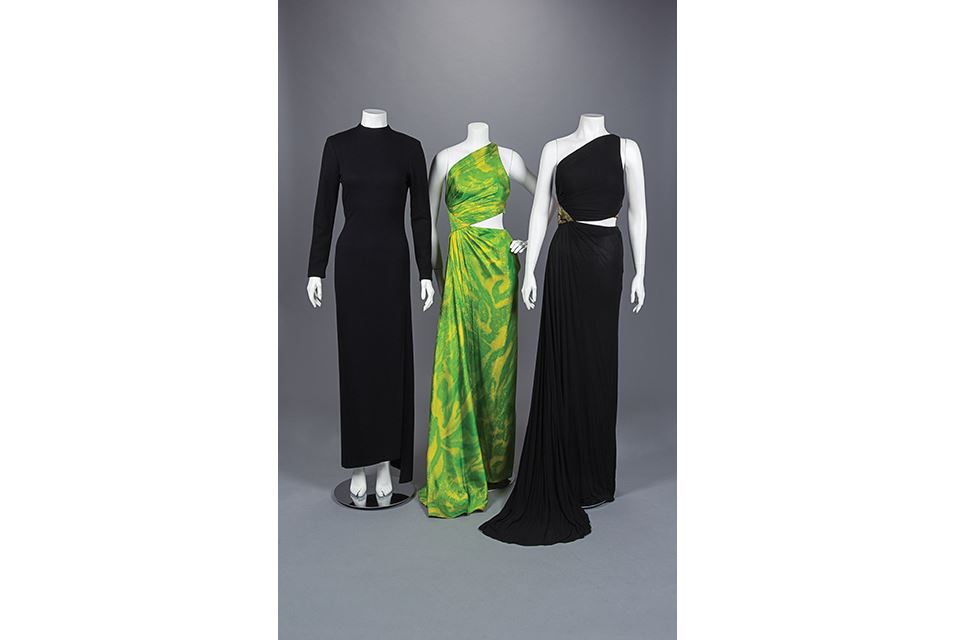 September 28, 2004. Geoffrey Beene (born Samuel Albert Bozeman Jr., August 30, 1924 - September 28, 2004) was an American fashion designer. Beene was one of New York's most famous fashion designers, recognized for his artistic and technical skills and for creating simple, comfortable and dressy women's wear. Beene's clients included Lady Bird Johnson, Pat Nixon, Nancy Reagan, Faye Dunaway and Glenn Close. In this image: Three Geoffrey Beene Dresses, Spring 1992. The Geoffrey Beene Archive.
---

Museums, Exhibits, Artists, Milestones, Digital Art, Architecture, Photography,
Photographers, Special Photos, Special Reports, Featured Stories, Auctions, Art Fairs,
Anecdotes, Art Quiz, Education, Mythology, 3D Images, Last Week,

.
Royalville Communications, Inc
produces: