Cambodia says it's found its lost artifacts - in gallery 249 at the Met
Antiquities on display in Gallery 249 at The Metropolitan Museum of Art, Manhattan, on July 29, 2022. Cambodia says it suspects that a half dozen objects on display in this corner of Gallery 249 were looted, including two artifacts that were given to the Met by British-Thai businessman and collector Douglas Latchford. Jeenah Moon/The New York Times.

by Tom Mashberg and Graham Bowley
NEW YORK, NY
.-
In the 1970s, long after its encyclopedic collection had been acknowledged as among the world's finest, the Metropolitan Museum of Art recognized it had slender holdings in South or Southeast Asian art. One in-house estimate suggested that no more than 60 objects were worth exhibiting. But over the next two decades, it built a world-class collection, acquiring hundreds of artifacts for new galleries that now occupy the equivalent of more than a city block. The massive undertaking brought the glories of ancient Cambodia and India, Thailand and Vietnam to New York, where they took pride of place alongside the Western masterpieces that had long defined the museum. Significant to this effort was Douglas A.J. Latchford, a British-Thai businessman who had become a leading collector, scholar and dealer in Khmer art — and would later be indicted as an illegal trafficker of Cambodian artifacts. Starting in 1983, Latchford gave or sold the museum 13 artifacts — a modest amount, bu ...
More
The Best Photos of the Day
David Hockney takes the lead at La Belle Epoque Auction House's Multi-Estates-Auction
Andréhn-Schiptjenko opens an exhibition of fourteen works by Argentinian artist Julio Le Parc
Pace opens an exhibition of works by Lynda Benglis and Arlene Shechet


David Hockney signed lithograph Four Flowers in a Still Life. Sold for $20,480.



NEW YORK, NY.- New York City's newest full-service boutique auction house La Belle Epoque Auction, on August 13th, enjoyed its first new auction after temporarily shutting down since suffering extreme water damage in the spring of this year. A David Hockney signed lithograph took the lead in the sale, along with fine silver and other artwork. The live online-only Multi-Estates Summer auction featured over 300 lots with a varied selection of fine art, decorative items, furniture, Mid Century Modern pieces and silver. The David Hockney signed lithograph,"Four Flowers in a Still Life" signed, dated and numbered 6/50 circa 1990, floating on a rag mat with eight ply opening gold leaf molded frame. Approx sight size 27" x 38". Approx overall size 35" x 46, sold to a collector in the U.K. for $20,480, making it the top seller of the day. While in the silver arena, a set of Kirk Sterling Silver flatware Approx 127ozt 102 pcs. sold for $2300 ... More



Julio Le Parc, Ondes 156 no.8, 1972. Acrylic on canvas, 100 x 100 cm (39 3/8 x 39 3/8 in.).



STOCKHOLM.- Andréhn-Schiptjenko presents an exhibition of fourteen works by Argentinian artist Julio Le Parc from August 18 to October 1, 2022. A pioneer of Op Art and Kinetic Art, this is one of few exhibitions ever held in Scandinavia with Julio Le Parc and includes a large-scale kinetic sculpture as well as a selection of vibrant geometric paintings and collage work ranging from the 1970's to today. Upon moving to France and there becoming acquainted with other young, like-minded artists such as François Morellet, Horacio Garcia Rossi and Francisco Sobrino, Julio Le Parc co-founded the Groupe de Recherche d'Art Visuel (Visual Art Research Group, 1960–68). This was an artist collective which aimed to make art more accessible and politically relevant, shifting the focus from the solitary artist to the public and moreover, conceiving the public as co-creators of the work. Using industrial, mechanical ... More



Lynda Benglis, B-Witched, 2022. Everdur bronze (golden), 35-3/4" × 19" × 16-1/2" (90.8 cm × 48.3 cm × 41.9 cm).



EAST HAMPTON NY.- Pace is presenting an exhibition of works by Lynda Benglis and Arlene Shechet. This two-person presentation situates recent bronze sculptures by Benglis in conversation with cast paper drawings by Shechet, conjuring new exchanges among the artists' works. Benglis's three bronze sculptures in the exhibition belong to a lexicon of sculptural forms that the artist has been developing, refining, and reworking over the course of her career. These works began as small ceramic sculptures that Benglis refers to as "Elephant Necklaces." The artist transposes her formal experimentations with clay into her undulating, luminous, and reflective bronze sculptures that register the presence and pressure of her fingers at the moment of contact with the original material. Domestically scaled, these bronze works evoke waves, eddies, and whorls frozen in tim ... More
The naked truth behind these impressive paintings offered at Heritage Auctions in September
Hanae Mori, Japanese couturier who melded East-West styles, dies at 96
Her art comes without trigger warnings


Joe Bowler (American, 1928-2017), Tea with Lemon, 2010. Oil on canvas, 16 x 20 inches. Estimate: $800 - $1,200.



DALLAS, TX.- The appeal of the nude form has gripped artists for thousands of years. The ancient Greeks and Romans set the bar high; since then artists from Michelangelo to Auguste Rodin to Gustave Courbet to today's Charles Ray and John Currin have dug into this timeless subject with the combination of sensitivity and boldness the nude requires. We return to the human body again and again because it speaks directly to our universal and intimate daily existence. The late, great Dallas philanthropist Cary M. Maguire (1928-2021) amassed a fascinating collection of modern and contemporary nudes in two and three dimensions. These bronzes and paintings were a prominent part of his family's overall collection, which also includes presidential artifacts and historical documents. The Maguire nudes tell the story of 20th century artists' evolving relationship with the naked form, ranging from the idealized neoclassical in the bronze sculptures to more personal and domestic portraits in the paintings. Maguir ... More



Hanae Mori, Japanese, b. 1926, dress, 1970s, silk velvet.

by Robert D. McFadden



NEW YORK, NY.- Hanae Mori, the Japanese couturier who emerged from the ruins of World War II on the wings of her signature butterfly to build a $500 million fashion house that popularized East-West styles and symbolized the rise of postwar Japan, died Aug. 11 at her home in Tokyo. She was 96. Her office confirmed her death Thursday, without specifying a cause. It said she had fallen ill two days before her death. From a dressmaking shop catering to the wives of American GIs in what had been a bombed-out section of Tokyo, Hanae Mori (pronounced HA-na-eh MO-ree), the daughter of a surgeon, climbed to global fame in a 50-year career that brought fabulous wealth; the creation of 20 companies; palatial homes in Paris, New York and Tokyo; and remarkable standing for a woman in a male-dominated profession and society. After decades of struggle to refine and market her styles, she was admitted in 1977 to the Chambre Syndicale de la Haute Coutu ... More



Tiona Nekkia McClodden, In the artist's studio, 2022.

by Roberta Smith



NEW YORK, NY.- In the past three years, Tiona Nekkia McClodden has emerged as one of the most singular artists of our aesthetically rich, free-range time. She announced her presence with a standout piece in the 2019 Whitney Biennial — which received its Bucksbaum Award — and has continued her rise with two impressive gallery solos, one at Company, a gallery on the Lower East Side in late 2019, and another currently at 52 Walker, in Tribeca. McClodden's work, like that of any true artist, derives from the complex, multifaceted nature of her identity, who she is and has become: a Black woman, a lesbian drawn to weight training and bondage, dominance, sadism and masochism, or BDSM, play, a priestess of Santeria. She studied film in the early 2000s, becoming known as an underground filmmaker before turning to video installation and sculpture. McClodden's works are meticulously grounded in their physical nature, evidenced by the way she always enumerates their material components. This ... More
Food Galore in Baroque and Contemporary Art opens at Gammel Holtegaard
Original 'Sandman' pages and one miraculous cover in Heritage's September Comics Art Auction
Rago/Wright to auction Keith Haring Radiant Baby Wall Drawing from artist's childhood home


Abraham Mignon, 'Østers, frugter og et vinglas på et stenbord', (1671-1679). Belongs to SMK National Gallery of Denmark. Photo SMK.



HOLTE.- A spitting oyster woman in a fountain, a seven-metre-long skewer with more or less edible ingredients, a disturbing washing-up scenario, rotting lemons, and paintings of decadent food displays that remind us of our own vanity. All of this and more is part of the new exhibition Food Galore – in Baroque and Contemporary Art at Gl. Holtegaard, a journey through food, food culture and art past and present. Food Galore presents baroque paintings and new Danish contemporary art. The exhibition takes food as its theme – a surfeit of food, guilty pleasures, the sensory delight of eating and decadent feasts that make your mouth water. It also presents the flip side, looking at portrayals of food in a privileged world through the historical lens of baroque art. Artists have painted food throughout history, shedding light on its significance as more than just fuel to keep our bodies up and running. In FOOD GALORE food is seen as a sy ... More



Steve Ditko Amazing Spider-Man #18 Splash Page 1 Original Art (Marvel, 1964).



DALLAS, TX.- Neil Gaiman's sprawling Sandman, a 75-issue epic long thought untranslatable to screens of any size, is a dream made tangible at long last. And its leap from the comics to Netflix has been (mostly) celebrated by admirers and acolytes who once believed Gaiman's Morpheus, Dream of the Endless, would (and should!) forever roam the printed page. Yet the true believer will insist, endlessly, that Sandman must be consumed first and foremost in its original form – as the "comic strip for intellectuals" (said Norman Mailer!) written by Gaiman and drawn by his small army of collaborators from the fall of 1988 through the spring of '96. Sandman, which stretched over 2,000 pages and introduced readers to the unseen universes that co-exist with our own, was a sprawling, moving, eerie and disquieting epic. It blended new myths with old legends, commingled manufactured fables with recognized history, and offered a universe populated by gods and monsters, Shakespeare and serial killers and super ... More



"The piece is amazing because it's on the wall of [Haring's] bedroom where he grew up," says Dr. Christine Isabelle Oaklander, an art historian who is assisting the Garners in bringing the work to auction. She adds, "It's really a tag [saying] that this is Keith Haring's room…There's literally nothing else like this."



LAMBERTVILLE, NJ .- A singular Keith Haring drawing from the artist's childhood home will be among the headlining lots of Rago/Wright's fall Post War & Contemporary Art auction on September 14th. Never-before available or offered on the market, this signature Radiant Baby was drawn by Haring directly onto the blue wall of his bedroom in the Harings' Kutztown, PA, home. The Victorian house's current owners, Angela and Scott Garner, purchased the property in 2004 and recall that the seller was considering painting over the five-inch drawing. The Garners, however, cherished the trace of the artist and, after preserving and living with the drawing for nearly two decades, they have now allowed the portion of the wall that includes the drawing – and the light switch directly below it – to be extracted. "The piece is amazing ... More
Carbon 12 and Macaulay & Co set to open a cooperative exhibition space in New York
Exhibition of works by Dana-Fiona Armour on view at Collection Lambert
Noonans to sell Thomas Henry Kavanagh's famous Indian Mutiny Victoria


Amba Sayal-Bennett, Blur, 2020, Powder coated mild steel, magnets, tape, faux leather, 38 x 30 x 22 cm.



NEW YORK, NY.- Carbon 12 (DUBAI), Macaulay & Co (VANCOUVER, Macaulay & Co (NEW YORK) announced the opening of DIANA, NEW YORK, a cooperative exhibition space in New York at 127 Henry Street, Chinatown. DIANA will feature rotating exhibitions organized by the founding partners as well as by guest galleries and independent curators. An exhibition at DIANA, up to two months in duration, will allow for sustained engagement with the critics, collectors, curators, and artists both based in and traveling through New York. The gallery space itself is a small storefront steeped in the New York history of independent galleries presenting ambitious work. Originally the studio space of Bozidar Brazda and subsequently Ryan Foerster, 127 Henry Street has hosted over fifteen years of exhibitions while Bureau, Chapter NY, and FIERMAN have held tenancy. As programming develops, DIANA will solicit exhibition proposals from galleries and independent curators. Th ... More



Man is here metamorphosed into a plant, but do not think this is a fiction in the style of those of Ovid.1



AVIGNON.- After Theo Mercier, Stéphanie Brossard, and Quentin Lefranc, Dana-Fiona Armour is taking over the spaces of the Rendez-vous, Sous-sol program, dedicated to artistic research and emerging practices. Born in 1988 in Willich, Germany, Dana-Fiona Armour operates in a world in which forms invent themselves in veritable mutagenic agents, transforming each other, and modifying the organisation of the spaces that they occupy, provoking in us a feeling of unsettled strangeness. Man is here metamorphosed into a plant, but do not think this is a fiction in the style of those of Ovid.1 The "Project MC1R" was envisioned as part of a residency of the artist within the company Cellectis, describing itself as "a clinical-stage biotechnology company using its pioneering gene-editing technology TALEN® to develop innovative therapies for treating serious diseases". The collaboration gave rise to the conception of a hybrid plant, both human and plant, a Nicotiana Benthamiana (a spe ... More



This was the first civilian V.C. of five to be awarded and is one of only two that is not currently in a museum, it is estimated at £300,000-400,000.



LO.- The famous Indian Mutiny 'Siege of Lucknow' Victoria Cross awarded to Irishman Thomas Henry Kavanagh will be sold by Mayfair-based Auctioneers Noonans on Wednesday, September 14, 2022 in a sale of Orders, Decorations, Medals and Militaria. This was the first civilian V.C. of five to be awarded and is one of only two that is not currently in a museum, it is estimated at £300,000-400,000. Kavanagh, who was born on July 15, 1821 in Mullingar, Co. Westmeath, Ireland, was employed as a clerk in the Lucknow Office prior to the Siege. In November 1857, he volunteered to leave the safety of the Residency disguised as a Sepoy (an Indian soldier serving under British or other European orders), accompanied by a Brahmin scout. The pair jostled past armed rebels through the narrow Lucknow streets and talked their way past sentries in the moonlight, crossed deep rivers, tramped through swamps and narrowly avoided capture after startlin ... More
Quote
Painting is no problem. The problem is what to do when you're not painting. Jackson Pollock
---
TATM Virtual Tour: Van Gogh's Artistic Roots in the DIA's Collection
---

Flashback
On a day like today, French painter Gustave Caillebotte was born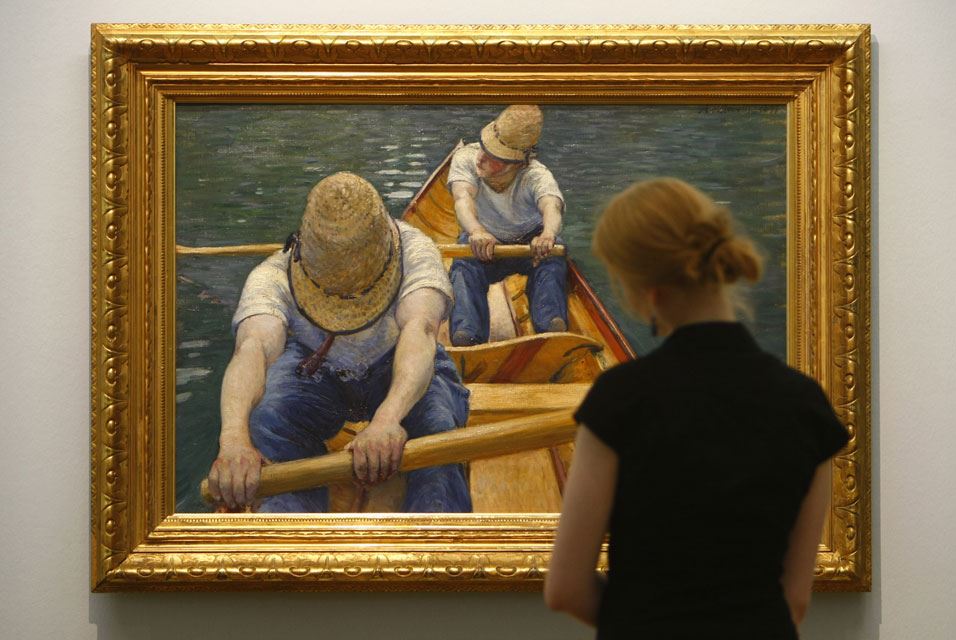 August 19, 1848. Gustave Caillebotte (19 August 1848 - 21 February 1894) was a French painter, member and patron of the group of artists known as Impressionists, though he painted in a much more realistic manner than many other artists in the group. Caillebotte was noted for his early interest in photography as an art form. In this image: An employee looks at a painting 'Oarsmen' of 1877 of French Impressionist Gustave Caillebotte (1848-1894) in the Kunsthalle Bremen, Germany, Thursday, June 26, 2008.
---

Museums, Exhibits, Artists, Milestones, Digital Art, Architecture, Photography,
Photographers, Special Photos, Special Reports, Featured Stories, Auctions, Art Fairs,
Anecdotes, Art Quiz, Education, Mythology, 3D Images, Last Week,

.
Royalville Communications, Inc
produces: