Early Van Gogh painting stolen from Dutch museum
Vincent van Gogh's "The Parsonage Garden at Nuenen in Spring", 1884 (detail). The painting was stolen overnight on Monday, March 30, 2020, from a small museum in Laren in the Netherlands, just 20 miles southeast of Amsterdam, on what would have been the artist's 167th birthday. Groninger Museum via The New York Times.
BERLIN
(NYT NEWS SERVICE)
.-
A Vincent van Gogh painting was stolen early Monday from a small museum in Laren in the Netherlands, just 20 miles southeast of Amsterdam, on what would have been the artist's 167th birthday. "I feel enormous anger and sadness," Jan Rudolph de Lorm, the museum's director, said. "Because especially in these dark days that we are in, I feel so strongly that art is here to comfort us, to inspire us and to heal us." Police were called to the Singer Laren museum at 3:15 a.m. Monday, when an alarm went off. By the time they got there, the thief or thieves were already gone, said a spokeswoman for the Dutch police. All police found was a shattered glass door and a bare spot on the wall where the painting was displayed. Hours later, authorities announced that the work, "The Parsonage Garden at Nuenen in Spring," was taken. The heist comes as museums in much of Europe and the United States are closed in attempts to stem the spread of the coronavirus ...
More
The Best Photos of the Day
Sotheby's to offer rare Superman & Batman comics in complete DC Comics collection
Pint-sized bird may be smallest dinosaur yet: study
The art of a now disputed deal


Detective Comics No. 27, the first appearance of Batman, May 1939. Courtesy Sotheby's.



NEW YORK, NY.- Sotheby's announced that they will offer DC Complete: The Ian Levine Collection, an exclusive private sale offering of every comic book released by American publisher DC Comics from 1935 – 2016, including complete runs of Superman, Batman, Action Comics, and Detective Comics. The more than 40,000 comics in the collection also features superhero icons Wonder Woman, The Flash, Green Hornet and Aquaman, as well as the Justice League series. Available now and on view on Sothebys.com, the sale marks the 81st anniversary of the release of Detective Comics #27 on March 30, 1939, which featured the debut of The Batman. The Ian Levine Collection of DC Comics - the most comprehensive in the 80 year span - was amassed over half a century that spans the birth and development of superhero comics as cheap forms of entertainment to pop culture juggernauts. From New Fun #1, the very first DC comic book published ... More



The skull of Oculudentavis khaungraae was found in a globule of amber in Myanmar, offering researchers a startlingly clear view of its features.

by Patrick Galey



PARIS (AFP).- Tinier than the teeniest bird, older than T-Rex and perfectly preserved for eternity: scientists have identified a 100-million-year-old flying dinosaur encased in amber that may be the smallest yet discovered. The skull of Oculudentavis khaungraae was found in a globule of amber in Myanmar, offering researchers a startlingly clear view of its features. "When I first saw it I was blown away," said Jingmai O'Connor, a paleontologist from the Chinese Academy of Sciences and lead author of the study published in Nature on Wednesday. "It's pretty exquisitely preserved and really weird looking, with its unique scleral ring (eye bones) and large number of teeth," she told AFP. The preserved skull is just 7.1 millimetres (less than one-third of an inch) long, likely making it the smallest dinosaur yet discovered. It would have been ... More



Fordjour, a Harvard graduate from Memphis, Tennessee, and the son of Ghanaian immigrants, is known as an interdisciplinary artist whose colorful works often include references to issues of African American identity.

by Graham Bowley



NEW YORK (NYT NEWS SERVICE).- Six years ago, when Derek Fordjour was a little-known art student at Hunter College, before Michael Ovitz and Beyoncé began collecting his work, before his paintings came to sell for more than $100,000, the fledgling artist struck a deal with a New York gallery. He agreed, according to a lawsuit now being pursued in New York Supreme Court, to produce 20 works for $20,000. The Robert Blumenthal Gallery is suing him now, contending that he still owes the gallery seven of those pieces, and — as ample evidence of the surging popularity of Fordjour's art — saying it will accept no less than $1.45 million in their stead. "Let me reiterate that the Robert Blumenthal Gallery was a supporter of Derek Fordjour for years, long ... More
Museum world's king of memes brings humor to lockdown
Lark Mason Associates announces online bidding for 2 Asian art sales
Lawrence Steigrad Fine Art sells a rare artist's work to the Rijksmuseum


Adam Koszary in Reading, England, on March 27, 2020. Suzanne Plunkett/The New York Times.

by Alex Marshall



LONDON (NYT NEWS SERVICE).- On March 18, the Royal Academy of Arts — one of Britain's grandest art museums, closed because of the coronavirus pandemic — issued a challenge on Twitter. "Who can draw us the best ham," it read. It didn't even bother with a question mark. Dozens of newly drawn images soon flooded in from around the world, from an art nouveau ham to a tiny leg, done in watercolors. There was even a ham reimagined as an isolated office worker, slouched over a laptop. That tweet was just the latest quirky success from Adam Koszary, the Royal Academy's social media editor, a man whose flippant, conversational approach to Twitter has gotten him so much attention over the past two years that one of Silicon Valley's biggest companies briefly lured him away. As museums worldwide go into prolonged lockdown, they are relying on their websites and ... More



A finely painted 18th century Chinese Export Hong Bowl, illustrating the merchant houses of Canton.



NEW YORK, NY.- Lark Mason Associates will present two major Asian art sales: Chinese Export Porcelain and Works of Art from an American Collector– will open for bidding on www.igavelauctions.com on March 31-April 21st,, with the second one– Asian, Ancient, Ethnographic Works of Art- commencing on April 2-23rd. With over 1,000 lots, these two sales will a wide array of decorative Asian works of art and will appeal to a broad base of collectors," says Lark Mason. Some of the major highlights in Chinese Export Porcelain and Works of Art from an American Collector include a finely painted 18th Export Hong Kong Bowl (estimate: $15,000-25,000), illustrating the merchant houses of Canton, made in limited quantities for the western merchants active in Canton for the China Trade; a fine gilded bronze vessel by Hu Wenming, a Chinese bronze artisan whose works created during the late Ming dynasty, featuring his signature imagery of my ... More



Cornelia toe Boecop, Portrait of Ott van Bronckhorst. Oil on panel, 37 7/8 x 30 ¼ inches.



NEW YORK, NY.- Lawrence Steigrad Fine Art announced the sale of a Cornelia toe Boecop (Kampen after 1561 – probably Sint-Michielsgestel 1630 – 1634) to the Rijksmuseum, Amsterdam, The Netherlands. This Portrait of Otto van Bronckhorst is one of only four works known by this 16th Century female artist. Having been taught to paint by her mother (something particularly exceptional on its own), Cornelia was a rare figure herself. In addition to Portrait of Otto van Bronckhorst, three other paintings by Cornelia are known, all are part of the collection of the Stedelijk Museum, Kampen. With the rediscovery of this portrait, the basis for her lasting reputation is validated. Lawrence Steigrad, President, Lawrence Steigrad Fine Art, "We are particularly proud of this sale. To sell a picture to such a prestigious museum as the Rijksmuseum is always an honor, but to be part of a movement to include more female artists in the traditional nar ... More
Placido Domingo leaves hospital after COVID-19 treatment
Ultra-rare Winter Dance Party Tour poster offered in Heritage Auctions' Entertainment & Music Memorabilia Auction
Alan Merrill, a songwriter of 'I Love Rock 'n' Roll,' dies


Domingo tested positive for the coronavirus COVID-19 on March 22, 2020. Spain moved to extend a state of emergency until April 11 to try to curb the spread of coronavirus after the country recorded 394 new deaths from the disease. Christophe SIMON / AFP.



MEXICO CITY (AFP).- Spanish tenor Placido Domingo said Monday he is recovering from COVID-19 at home after being released from hospital in Mexico. The 79-year-old opera star said on March 22 he had tested positive for the coronavirus. He was later admitted to hospital. On Sunday he wrote on his Facebook page that he was back at his Apaculpo home and credited the early treatment he had received with easing his recovery. "I am at home and I feel good. Fortunately from the first symptom I was, as always, under medical supervision, given my age and my comorbidities, so COVID-19 was immediately suspected and this helped me a lot," he wrote. The Spanish icon, who won worldwide acclaim in the 1990s as one of the Three Tenors alongside Jose Carreras and Luciano Pavarotti, has since August ... More



Buddy Holly & The Crickets Stunningly Rare 1959 Winter Dance Party Concert Poster. Estimate: $50,000-100,000. Imaged by Heritage Auctions.



DALLAS, TX.- An exceedingly rare poster promoting a concert just a week before the plane crash that killed three performers is being brought to auction for the first time in Heritage Auctions' Entertainment & Music Memorabilia Auction April 4-5 in Dallas, Texas. Considered the "Holy Grail" of concert poster collecting, this Buddy Holly & The Crickets Stunningly Rare 1959 Winter Dance Party Concert Poster (estimate: $50,000-100,000) announced the Winter Dance Party tour stop in Mankato, Minnesota, Jan. 25, 1959 by five acts: Buddy Holly and the Crickets, the Big Bopper, Ritchie Valens and Dion, the Belmonts and Frankie Sardo. The concert took place just eight days before the last performance on the tour (for which no poster or handbill ever was made); the first three of the acts died in the Feb. 2 plane crash that came to be known as "rock-n-roll's first tragedy." Sardo and Dion and the Belmonts were not aboard the fligh ... More



Cover art for the album I Love Rock 'n' Roll by the artist The Arrows.



NEW YORK (NYT NEWS SERVICE).- Alan Merrill, a guitarist and singer whose song "I Love Rock 'n' Roll" became Joan Jett's breakthrough hit, and who had early success as one of the few Western rock stars in Japan in the late 1960s and early '70s, died in Manhattan on Sunday. The cause was complications of the coronavirus, his daughter Laura Merrill said. She said he was 69, although some documents indicate that he may have been 71. "I was just at his show a couple of weeks ago," Laura Merrill wrote in a post on Facebook announcing his death. "He played down the 'cold' he thought he had." Merrill grew up in a family that was deeply connected to the music industry. His parents were both noted jazz musicians: His mother, Helen Merrill, is a singer; his father, Aaron Sachs, was a saxophonist and clarinetist who died in 2014. As a teenager, Merrill played in rock bands, and in the 1960s auditioned to join the band the Left Banke as a guitarist. ... More
Pop art icon Idelle Weber dies at 88
Freeman's first online-only auction a success in uncertain times
Sotheby's Watches launches new weekly online auctions from 1st April


Idelle Weber at her Brooklyn Heights studio, 1958. Courtesy of Hollis Taggart and the Estate of Idelle Weber. © Idelle Weber.



NEW YORK, NY.- Hollis Taggart announced the death of Pop-art icon Idelle Weber. Weber passed away on March 23 at the age of 88. Over the course of her multi-decade career, Weber produced an impressive oeuvre that drew on and expanded the visual vocabularies of the Pop-art and Photorealist movements. From her early silhouette works of the 1960s and '70s, which featured faceless black and white contoured figures in corporate and abstract settings, to her photorealist paintings that captured the detritus of urban life, Weber's practice poignantly reflected American life and culture. In her works, turbulent political themes, such as the Vietnam War, the Kennedy assassination, consumerism, and environmental decay, were distilled into essential forms. This dynamic interplay between formal and cultural investigation set Weber apart from contemporaries like Andy Warhol and Roy Lichtenstein, and positioned her as a critical voice in the dev ... More



A gem-set eighteen karat gold brooch, Van Cleef & Arpels designed as an owl with black star sapphire eyes, perched upon a river pearl branch. 9.1 dwt.; Length: 1 1/2 in.; Width: 1 1/4 in. Estimate $1,500-2,000. Sold for $2,860 (buyer's premium included).



PHILADELPHIA, PA.- On March 24, Freeman's successfully hosted its first online-only jewelry auction: Luxe | Boutique Jewels & Vintage Watches @1600. The auction achieved just short of $250,000. 44% of successful bidders in this sale were new to the house. Bidders expressed significant interest in Art Deco, Art Nouveau and Retro pieces, and strong prices were achieved for pieces by designers Ed Weiner and Fred Skaggs. Jewelry by renowned houses such as Van Cleef & Arpels and Tiffany & Co., and watches by Breitling, Patek Philippe, Rolex and Omega were coveted by bidders from all over the world including a large number of bidders (17%) from New York. Said Lauren Della Croce, Head of Sale: "I am delighted that our first online-only sale was a success, which speaks to the resiliency and strength of ... More



Paul Newman Daytona, Reference 6241, circa 1968. To be offered in the first sale, open for bidding 1-8 April (est. HKD 1-2m / USD 129,000 – 258,000). Courtesy Sotheby's.



GENEVA.- Sotheby's Watch Division is to launch new weekly online auctions from 1st April, complementing its existing calendar of sales. The rolling sale format, with a new selection of watches being unveiled every seven days, will offer a fast and dynamic format for collectors to sell and buy watches. The new weekly sales will provide great responsiveness to trends in the market and more ways for sellers to offer their property. They are also in tune with the increased confidence from collectors in buying important watches online. Sotheby's digital offering is rapidly growing and this innovative format is a further development in the company's wider strategy of constantly exploring new ways to connect with watch collectors and respond to this evolving market. Sam Hines, Worldwide Head of Sotheby's Watches said: "This move is grounded in countless conversations with clients over the course of recent months, and has on ... More
Quote
Every brushstroke is, in a sense, some kind of accident. Raphael Soyer
---
Artemisia Gentileschi, 'Triumph of Galatea'
---
Flashback
On a day like today, English painter John Constable died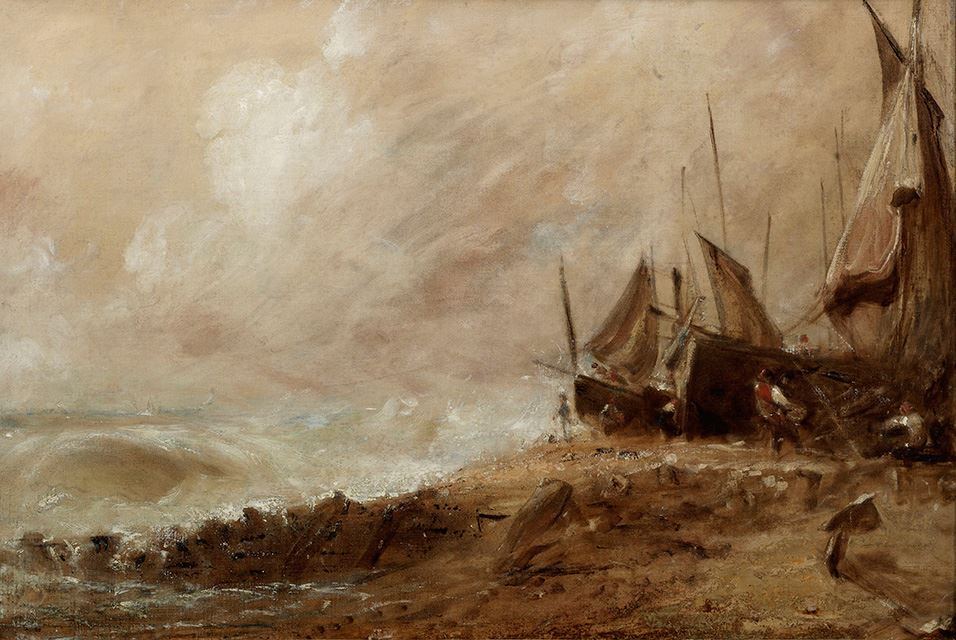 March 31, 1837. John Constable, RA (11 June 1776 - 31 March 1837) was an English Romantic painter. Born in Suffolk, he is known principally for his landscape paintings of Dedham Vale, the area surrounding his home -- now known as "Constable Country" -- which he invested with an intensity of affection. In this image: A Sea Beach - Brighton, Photo: Bonhams.
---

Museums, Exhibits, Artists, Milestones, Digital Art, Architecture, Photography,
Photographers, Special Photos, Special Reports, Featured Stories, Auctions, Art Fairs,
Anecdotes, Art Quiz, Education, Mythology, 3D Images, Last Week,

.
Royalville Communications, Inc
produces: