'Priceless' jewels snatched from German state museum

BERLIN (AFP).- Robbers made off with priceless 18th century jewellery from a state museum in Dresden on Monday, police and museum directors said, in a major art heist that has shocked Germany. The thieves at dawn broke into the Green Vault at Dresden's Royal Palace -- home to around 4,000 precious objects of ivory, gold, silver and jewels -- after a power cut deactivated the alarm. The stolen items included brilliant-cut diamonds that belonged to a collection of jewellery of 18th-century Saxony ruler Augustus the Strong. Museum directors had earlier feared much of three sets of diamond jewellery in the collection were snatched, but the loss turned out to be more limited than thought. "The criminals didn't manage to take everything," the director of Dresden's state art collections Marion Ackermann told public broadcaster ZDF on Monday evening. ... More
The Best Photos of the Day

Pompeii's grand baths unveiled, with hidden tragedy
POMPEII (AFP).- Magnificent thermal baths designed to be the jewel of Pompeii but destroyed by a volcanic eruption before they could be completed opened to visitors for the first time on Monday after a painstaking excavation. Marble pillars and blocks lie where they were abandoned when the city was submerged by a pyroclastic flow from Mount Vesuvius in the 79 AD disaster. But excavators also found a victim of the disaster, the skeleton of a child who had sought shelter there in vain. The architects "were inspired by Emperor Nero's thermal baths in Rome. The rooms here were to be bigger and lighter, with marble pools," the archaeological site's director Massimo Osanna told AFP. The Central Baths lie in an area restored under the Great Pompeii Project, launched in 2012 to save the historical site after the collapse of the 2000-year-old "House of the Gladiators", which sparked outrage worldwide. "It was an emotionally charged dig," said Alberta ... More

Tiffany: An American jeweler headed for the LVMH empire
WASHINGTON (AFP).- An iconic US company with a storied history, the jeweler Tiffany agreed Monday to be acquired by French luxury giant LVMH for $16.2 billion. Upon sealing the deal, LVMH chief Bernard Arnault called Tiffany itself a "jewel" and vowed to bestow it with "the same dedication and commitment" that the company had applied to all its businesses. The company's story dates back to 1837 when founder Charles Lewis Tiffany opened a store on Broadway in New York that sold stationary, handkerchiefs and other finery. Over the next decade or so, the company shifted to jewelry, especially in 1848 through acquisitions of top European collections, including diamonds worn by Marie-Antoinette. In 1850, Tiffany opened a store in Paris at rue de Richelieu, which was followed by a London store in 1868 and a watch factory in Geneva a few years later. The company flourished further when Charles' son, Louis Comfort Tiffany -- a painter, born ... More

Cape Ann Museum receives promised gift of Winslow Homer watercolor painting for permanent collection
GLOUCESTER, MASS.- The Cape Ann Museum has received the promised gift of a significant watercolor by the American artist, Winslow Homer (1836–1910), for its permanent collection. This painting, Boy Hailing Schooners, 1880, was hung for the first time at the Museum this weekend and arrives just before the Museum's nationally acclaimed and most popular exhibition to date, Homer at the Beach: A Marine Painter's Journey, 1869-1880, closes December 1. "We are so very grateful for this important work to join our growing permanent collection," said Museum Director Oliver Barker. "It points to our concerted strategy to strategically build the Museum's collections by adding significant and iconic works that attest to the paramount role that Cape Ann has played in shaping both American art and history." This new addition is a promised gift from Janet and William Ellery James, whose family history on Cape ... More


Phillips announces highlights included in its New Now Sale
LONDON.- Phillips announced highlights ahead of the New Now auction in London on 12 December. Featuring 224 lots, New Now will offer works of art by established artists including leading highlights by William Kentridge, Damien Hirst and Jonas Wood. In the spirit of New Now this sale will also feature a strong selection of works by young and emerging artists such as Eddie Martinez and Katharina Grosse, following the success and world records established for these artists at Phillips this year. Simon Tovey, Head of New Now, said: "Building on the success of our September sale in New York, which achieved our highest total for our New Now sale platform, we are excited to continue with our new catalogue initiative in our forthcoming New Now London sale. Designed to reduce environmental impact and to encourage the exploration of our digital resources, the new catalogue is streamlined, easier to review and immediately engaging with a concentr ... More

Andrew Jones Auctions will present two special sales in December
LOS ANGELES, CA.- Andrew Jones Auctions will present two special sales in December. Both will be held online and in the gallery at 2221 South Main Street in downtown Los Angeles. The Saturday, December 7th auction is titled Holiday Luxury and will feature fashion, accessories, jewelry, tableware and objects. The Sunday, December 8th auction is titled All Creatures Great and Small: Animals in the Arts. Start times for both sales is 1 pm Pacific. "Holiday Luxury is just what you need to sparkle and shine, and ours is the perfect venue to find that special gift," said company president Andrew Jones. "The auction features high-end fashion, couture, fine jewelry, tableware and more. Clothing, shoes, handbags and accessories from designers like Chanel, Christian Dior, Comme des Garçons, Gucci, Issey Miyake, Manolo Blahnik, Louis Vuitton, Prada and Versace, as well as gold and gemstone jewelry and tableware by Baccarat, Buccellat ... More

Dorothy Seiberling, influential arts editor, dies at 97
NEW YORK (NYT NEWS SERVICE).- Dorothy Seiberling, an influential magazine editor who championed modern artists, died Saturday in Wilmington, Delaware. She was 97. Her death was confirmed by her niece Mary Huhn. As Life magazine's art editor, Seiberling helped shape public opinion about the 20th century's foremost avant-gardist artists, encouraging open-minded consideration of their importance. Jackson Pollock and Georgia O'Keeffe were already renowned by the time she produced feature articles on them, but their legacies were in question. Some art critics had written off Pollock's Abstract Expressionist work, particularly his celebrated "drip paintings," as chaotic and unintentional, and O'Keeffe's as explicitly feminine — "a woman on paper," as her husband, the photographer and gallerist Alfred Stieglitz, said. (She didn't see it that way.) Seiberling's ... More


Auction of 19th Century Art at Ketterer Kunst in Munich totals €1.4 million
MUNICH.- The autumn auction season at Ketterer Kunst kicked off with an extremely successful sale of 19th Century Art. With total proceeds of around € 1.4 million, currently almost double the proceeds of the direct German competitor, the final of the anniversary year could not have started better. The star of the auction was Carl Spitzweg. "That was an excellent auction", states Robert Ketterer, auctioneer and owner of Ketterer Kunst. "A sales quota of 75% by lots is just as self evident as a rate of more than 30% first time buyers. A particularly remarkable aspect is the fact that within such a compact range of just 80 works on offer, some 30 objects, more than a third of the offer, realized prices above € 10,000*. The average result per sold lot is at € 23,000." Carl Spitzweg's "Blick ins Tal (Zwei Mädchen auf einer Alpe)" (lot 8) set a peak standard at the very beginning ... More

Russian Constructivist poster, Dracula jumbo lobby card claim top lot honors in Heritage Auctions' Posters Auction
DALLAS, TX.- An extraordinarily rare jumbo lobby card for Dracula (Universal) sold for nearly five times its estimate to bring $192,000 in Heritage Auctions' Movie Poster Auction Nov. 23-24. The 14-inch by 17-inch card is especially unique because it was owned by actor Bela Lugosi, the actor who played the title role in the 1931 classic. The entire sale brought $2,504,814, the highest grossing movie poster auction of the year. "We knew collectors were going to be excited by this particular piece," said Grey Smith, Director of Posters at Heritage. "Not only is it of unquestionable rarity, the fact it came from Lugosi's private collection makes it a true piece of cinematic history." A rare Russian poster for one of the most effective propaganda films of all time sold for $108,000, beating high expectations. Never before offered by Heritage, the rare Battleship Potemkin (SovKino, R-1929) Russian Poster was one of a pair of R ... More

Victoria Miro announces representation of María Berrío
LONDON.- Victoria Miro announced representation of María Berrío. Work by the Brooklyn-based artist will feature as part of the gallery's presentation at Art Basel Miami Beach in December 2019. Her first solo exhibition in the UK will take place at Victoria Miro in June 2020. Based in Brooklyn, María Berrío grew up in Colombia. Her large-scale works, which are meticulously crafted from layers of Japanese paper, reflect on cross-cultural connections and global migration seen through the prism of her own history. Populated predominantly by women, Berrío's art often appears to propose spaces of refuge or safety, kaleidoscopic utopias which in the past have been inspired in part by South American folklore, where humans and nature coexist in harmony. To these apparently idealised scenes, however, Berrío brings to light the hard realities of present-day politics. For example, Oda a la Esperanza (Ode to Hope), 2019, in which girls a ... More


Thomas Dane Gallery introduces Bruce Conner's BREAKAWAY (1966) to a London audience for the first time
LONDON.- Following presentations of Bruce Conner's films such as CROSSROADS (1976) in June 2015, A MOVIE (1958) in May 2017, and EASTER MORNING (2008) in Naples, January 2018, Thomas Dane Gallery introduces BREAKAWAY (1966) to a London audience for the first time. Conner was one of the foremost American artists of the twentieth century, whose transformative work addressed facets of post-war American society, from a rising consumer culture to the dread of nuclear apocalypse. Working in a range of media, Conner created photography, collage and graphic work alongside hybrids of painting and sculpture, film and performance. Conventionally lesser known within this diverse practice were Conner's films, which have been reappraised as an iconic, experimental and independent body of work. Conner began making short-films from the late-1950s and created BREAKAWAY in 1966. The film comprises two distinct halves which feature the perfo ... More

Christie's announces Important Watches & American Icons and Watches Online x The Webster
NEW YORK, NY.- Christie's New York announces Important Watches and American Icons to take place on Thursday, December 12th. The auction offers a carefully curated selection of over 150 distinct lots, all highly sought-after for their historical notoriety, fresh-to-market condition, and extreme rarity, with estimates up to $600,000. Highlights include modern, vintage and sport watches from Rolex, Patek Phillipe, F. P. Journe, Omega, Richard Mille and more. The sale presents a dedicated section titled American Icons, which offers a curated selection of timepieces with important provenance. Featured is a paired lot that includes an L. Leroy & Cie. pocket watch that belonged to Ernest Hemingway, sold alongside a Vacheron Constantin pocket watch owned by Charles C. Ritz ($15,000-25,000). This paired lot symbolized their friendship ... More

Museum of Contemporary Art North Miami opens late artist Alice Rahon's "Poetic Invocations"
MIAMI, FLA.- The Museum of Contemporary Art North Miami is presenting a new exhibition featuring works of French-Mexican surrealist painter Alice Rahon (1904–1987). "Poetic Invocations" is guest curated by Mexico-City based art historian Tere Arcq. The exhibition aims to contribute to the scholarship and recognition of under-explored women artists, and to the intercultural influences on European artists in exile in the Americas, whose work was often deeply marked by indigenous and archaic cultures. Opening on Tuesday, Nov. 26, the exhibition will be on view during Miami Art Week and run through Sunday, March 29, 2020. Born in France and later nationalized as a Mexican, Rahon joined the Parisian Surrealist circle as a poet, but once in Mexico, she turned her creativity mainly to painting. She became an active a member of a group of European Surrealists artists in exile including ... More

Quote
Painting is nothing but a construction in ethics. Stendhal

Flashback
On a day like today, American cartoonist Charles M. Schulz was born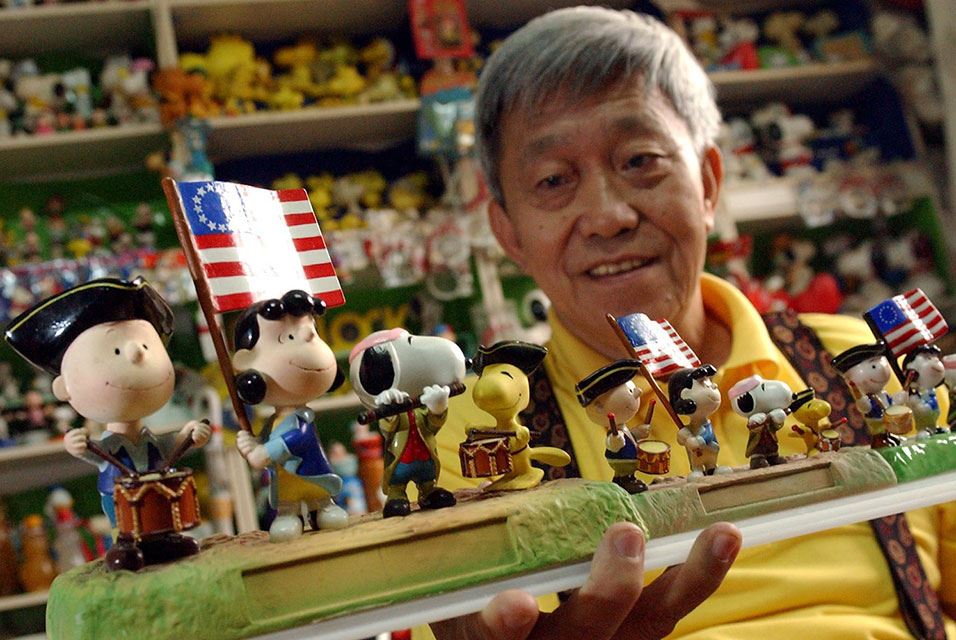 April 26, 1922. Charles Monroe "Sparky" Schulz (November 26, 1922 - February 12, 2000) was an American cartoonist, whose comic strip Peanuts proved one of the most popular and influential in the history of the medium, and is still widely reprinted on a daily basis. In this image: Ma Leshan, 76, holds a series of models of Peanut characters in his exhibition room in Shiqi of Zhongshan city, south China's Guangdong Province, 29 May 2003. Charles Schulz, the US cartoonist, appointed Ma as the only manual models sculptor for his Peanut series in 1978. Ma has made over 10,000 Snoopy models in the past 25 years. Manual models are the first models made according to the drawings before the mass production.

In Plain Sight: The Henry Art Gallery opens a museum-wide exhibition
SEATTLE, WA.- The Henry Art Gallery is presenting In Plain Sight, a museum-wide exhibition that engages artists whose work addresses narratives, communities, and histories that are typically hidden or invisible in our public space. The exhibition features the work of fourteen U.S.-based and international artists, along with a diverse schedule of events and programs. In Plain Sight is the first large-scale exhibition curated by Shamim M. Momin since joining the Henry as Senior Curator in fall of 2018. The presenting artists approach the exhibition's theme from a range of directions, varying across all media as well as aesthetic and conceptual contexts. Works encompass deliberately activist endeavors and direct documentation; the unpacking of individual histories excluded due to race, ethnicity, or class; explorations of coded language for protection, secrecy, or both; ... More

Ron Nagle presents a selection of 25 sculptures and drawings at Vienna's Secession
VIENNA.- In the Secession, the San Francisco-based artist presents a selection of 25 sculptures and drawings from recent years. For the past six decades or so, Ron Nagle has been pursuing parallel careers as a sculptor and musician. His small-format ceramic sculptures are simultaneously miniature landscapes, abstract compositions, thoughts turned into form, and visual jokes – Nagle's humor and his penchant for puns and wordplay find expression not only in his song texts, but also in the titles of his sculptures. Thus the artist turns phrases such as "finishing touch" into titles such as "Finishing Touchéz" – although Nagle always emphasizes that his titles bear no relationship, in terms of content, to his objects, and should not be regarded as keys to the understanding of his works. In addition to their miniature format, the artist's works are characterized by structure, form, color and the equally s ... More

GaHee Park's first solo show with Perrotin on view in Seoul
SEOUL.- Perrotin is presenting We Used to Be Fish, an exhibition by Seoul born New York based-artist, GaHee Park. This is her first solo show with the gallery. In an era where technology has enabled vast new networks of connection, these means of communication are—more-often-thannot—unreliant on physical presence and touch. Our own time could easily be described as a paradoxical heightening of connection and isolation in equal measure. In this exhibition, Park's work is notable for her celebration of a slower and more personal sense of bonding. Comprised of paintings and drawings depicting intimacy within domestic scenes, Park's sensual visions are profoundly personal ones. Born and raised in Korea, Park's early life was influenced by her strict and religious upbringing as well as the socially restrictive and conformist atmosphere of Korea ... More

HK elections showed 'great spirit': dissident artist
BERLIN (AFP).- Victory in community-level elections in Hong Kong showed the "great spirit" of the pro-democracy movement, according to a Chinese dissident cartoonist whose work has been a feature of the protests. "The result is extraordinary," Badiucao told reporters on Monday during a visit to Berlin where he exhibited some of his politically satirical art in German MP Gyde Jensen's office. The election showed Hong Kongers were not just fighting for democracy but "also practising it". "I think that great spirit was shown.... That's how powerful democracy is," said Badiucao, adding that the protests were "a source of hope" for China as a whole. Badiucao originally comes from Shanghai but is now based in Australia. He says he cannot return to China as he and his family on the mainland have received threats because of his work. He has been compared to Banksy ... More

The Empty Quarter opens 'The Real Owners of the Planet' by Björn Persson
DUBAI.- Björn Persson is an internationally renowned artist based in Stockholm, Sweden. He has spent many years travelling around the world in search of adventure and spectacular images. His passion for this planet's beautiful wildlife and humans is reflected in his images. Björn looks upon his work as an art form rather than pure nature and documentary photography. He sees the animals as they truly are; emotional, thinking and conscious beings with different personalities. He tries to portray their souls and translate their wisdom with his camera as his paintbrush. Instead of creating despair about their threatened situation, he wants to give people the urge and inspiration to get involved. Apart from fine art photography, Björn is committed to documenting and raising awareness to the threatened species situation. His passion for wildlife was born ... More

In the Jersey suburbs, a bookstore whose vibe is pure Narnia
MONTCLAIR (NYT NEWS SERVICE).- Montclair Book Center is 35 years old, going on eternity. A ramshackle throwback to a funkier, more literary time, the store has shelves handmade from raw lumber. And its customers and clerks are often just as eccentric as the shelves. I've been shopping and snooping there since 1995 and still haven't exhausted all of this biblioscape's labyrinths and warrens — some of which, I suspect, lead to C.S. Lewis' Narnia or Mervyn Peake's Gormenghast. Stuffed with hundreds of thousands of bestsellers, worst sellers and everything in between, the store is a haven where you can ferret out that certain book (or vinyl record) you don't know you need until you see it. I've stumbled across Italo Calvino limited editions, a hardcover of William Burroughs' "Naked Lunch," and a stash of musty, black-and-white comics ... More

New large-scale works by Julie Buffalohead premiere at the Minneapolis Institute of Art
MINNEAPOLIS, MN.- The Minneapolis Institute of Art is presenting a solo exhibition of new work by St. Paul-based artist Julie Buffalohead. "Storytelling: Julie Buffalohead" unveils three large-scale diptychs—each approximately 12 feet tall by 4 1/2 feet long—and two smaller works, each providing a visual narrative told by animal characters with personhood, agency, and individuality. The exhibition opened November 23 in Gallery 255 and runs through September 6, 2020. Like all great storytellers, Buffalohead connects the mythical with the ordinary and the imaginary with the real, offering a space to which viewers can bring their own experiences. As the viewer enters her worlds, she coaxes them to discover additional layers of meaning—social, historical, political, personal—using metaphor, wisdom, and wit. The show was curated by Jill Ahlberg Yohe, ... More

Superhero or supervillain? Technology's role changes comic books
NEW YORK (NYT NEWS SERVICE).- Comic books have been around since the 1930s, each story taking shape as it moves from its writer to its artists (usually a penciler and an inker) and then to its letterer and colorist. Today, that team effort, which also includes an editor reviewing the work and mindful of deadlines, remains largely the same. But while the way writers and editors work is relatively unchanged, computers and technology have broadened the options for illustrators — some of whom have traded pencils and inks for styluses — and revolutionized the roles of letterers and colorists, in speed, output and artistry. This technological evolution did not go exactly as some had imagined it might. "I recall in the late '80s, we were all so sure that every discipline of comics creation would switch over to being done with the aid of the personal ... More

Incomparable collection of The Getz-McDonagh Dance Library (NYC) to be auctioned Dec. 12
FALLS CHURCH, VA.- On Thursday, Dec. 12, Quinn's Auction Galleries will host a single-consignor auction of the Getz-McDonagh Dance Library, a 60-year privately held assemblage of historical literature, correspondence, ephemera and illustrations pertaining to classical dance. Originally known as the Getz Dance Library, in reference to its founder Leslie Getz (1945-2019), it is also known to many in the dance community internationally as the Getz-McDonagh Dance Library. Donald McDonagh is Leslie Getz's steadfastly supportive husband, who shared his wife's passion for dance and took an active partnership role in the library's growth and maintenance until the day of his wife's passing. Leslie Getz's June 2, 2019 obituary in the New York Times described her as "a widely known, valued and admired member of the New York City dance community," ... More

'Egyptian Mummies: Exploring Ancient Lives' exhibition extended until March 29, 2020
MONTREAL.- By popular demand, the Montreal Museum of Fine Arts is extending the run of the exhibition Egyptian Mummies: Exploring Ancient Lives until March 29, 2020. Already seen by over 100,000 visitors, this major exhibition offers a completely new picture of everyday life of six individuals who lived along the Nile between 900 B.C.E. and 180 C.E. using an innovative approach that combines the arts and science. Making its North American premiere at the MMFA, Egyptian Mummies: Exploring Ancient Lives presents six mummies together with 240 artefacts from ancient Egypt from the collection of the British Museum. Non-invasive medical imaging techniques such as CT scanning have made it possible to shed new light on different aspects of the life – and death – of these six ancient Egyptians. The exhibition reveals fascinating discoveries about ... More

Fridman Gallery opens an exhibition of works by Phill Niblock
NEW YORK, NY.- Fridman Gallery is presenting a solo exhibition of the iconic composer, experimental filmmaker, and photographer Phill Niblock. ​Working Photos ​ compiles still photography, video, and minimalist sound works created all over the world throughout his six-decade career. The gallery features many of Niblock's photographs scored by his drone compositions, editioned prints of his images from around the world, and layered photographs and video works such as ​Light Patterns, ​ a series of high-contrast black and white slides that slowly dissolve into one another, suggesting the fluidity of memory and place. The gallery will also screen his videos including ​The Magic Sun ​ (1966) featuring Sun Ra and his Solar Arkestra,​ ​ a 1986 collaborative video project with Arthur Russell, as well as works featuring Rhodri Davies, and Max Neuhaus. His series, ​Anecdotes (Stories f ... More
Royalville Communications, Inc
produces: