A new level of ambition in art by 3 women
Installation view of 'Mickalene Thomas: Beyond the Pleasure Principle' at Lévy Gorvy. Photo: Tom Powel Imaging.

by Roberta Smith
NEW YORK, NY
.-
Fall tends to be a great time in New York City's art world. The weather can be superb. There's a back-to-school excitement as galleries reopen, sometimes at new addresses, usually with new shows. Even having art fairs arrive inconveniently early this year, during Labor Day week, didn't dampen things. As usual, much of the buzz of a new season derives from gallery solos which reveal individual artists making changes and taking new risks. Going to galleries is, on one level, a search for such signs of growth and the cultural optimism they engender. Three of the most exciting gallery shows right now present the latest efforts of well-known artists: Lisa Yuskavage in Chelsea, Mickalene Thomas on the Upper East Side and Alison Elizabeth Taylor in Tribeca. We get to see what's utmost on their minds as reflected in markedly different, and improved, work fresh out of the studio, often completed during the pandemic. All of which makes them very satisfying to visit and mull o ...
More
The Best Photos of the Day
Phillips to sell works by Max Ernst from the collection of Peter Schamoni
Asia Week New York heads into the autumn season with gallery exhibitions and auctions
Russian oligarch to appeal Swiss closure of art dealer case


Max Ernst, Matin et soir, 1930. Estimate: £200,000-300,000. Image courtesy of Phillips.



LONDON.- Phillips announced 'Maximiliana: Max Ernst from the Collection of Peter Schamoni'. Through his close friendship with Max Ernst, renowned film director and screenwriter Peter Schamoni assembled an exceptional collection that serves as a lasting memento of one of the most significant artists of the 20th century. Over 80 works of art will be offered, starting with the 20th Century & Contemporary Art Day and Evening sales in London on 14 and 15 October, followed by New York in November. The sale of the collection will culminate in December with a dedicated online-only sale of works on paper, editions, photographs and ephemera. Cheyenne Westphal, Global Chairwoman, Phillips, said, "The relationship between Peter Schamoni and Max Ernst, an artist who welcomed him into his home, studio and life for close to two decades, is at the heart of this esteemed collection. Having been on loan to the Max Ernst Museum in Brühl, the ped ... More



Mamuli Heirloom Ornament, Sumba. Gold. 19th Century, 2.75 in x 2.25 in (7cm X 5.7cm) 38.8 grams. Photo: Courtesy Thomas Murray.



NEW YORK, NY.- Whether it's a contemporary ceramic vessel created by a National Treasure from Japan, an ink drawing by a young emerging artist from China or an ancient tribal mask from Borneo, Asia Week New York never disappoints with its amazing bounty of Eastern treasures. Starting September 17th through October 1st, 23 international galleries will present their exhibitions online at www.asiaweekny.com or in their New York galleries (by appointment or check for hours) with six auction houses–Bonhams, Christie's, Doyle, Heritage, iGavel, and Sotheby's mounting their respective sales. Organized by category, here is a round-up of the highlights at the galleries: Portrait of a standing nobleman is one of four Indian miniature paintings offered by Oliver Forge and Brendan Lynch, Ltd. This Mughal drawing, circa 1660-80, with opaque watercolor and gold on paper, in a reduced album page ... More



AS Monaco President Dmitry Rybolovlev looks on during the French League Cup final football match between Monaco (ASM) and Paris Saint-Germain (PSG). NICOLAS TUCAT / AFP.



GENEVA.- Russian oligarch Dmitry Rybolovlev's lawyers said Friday he would appeal Swiss prosecutors' closure of his case against a top art dealer he accused of swindling him out of millions of dollars. Rybolovlev, president of the AS Monaco football club, has alleged Swiss art dealer Yves Bouvier charged him inflated prices on dozens of works he acquired for more than $2.1 billion. He has brought cases against the dealer since 2015 in Monaco, Singapore, Hong Kong, New York and Switzerland. But after Rybolovlev suffered setbacks in the other jurisdictions, and saw his case against the art dealer thrown out in Monaco in 2019, the office of Geneva's top prosecutor said last January that it planned to drop the case. A spokesman for the Geneva judicial authorities confirmed to AFP on Friday that the case had been officially closed. Bouvier, who has always maintain ... More
Johnny Ramone's Mosrite guitar up for auction
Sotheby's to present first-of-its-kind auction celebrating New York graffiti and street artists
Interactive shadowboxes breathe life into the legacies of Village artists


Punk Rock's most historically important guitar heading for auction.



BOSTON, MASS.- An auction from Boston-based RR Auction features Johnny Ramone's 'Number One' Mosrite guitar. The 1965 Mosrite Ventures II electric guitar was personally owned and used by Johnny Ramone (John Cummings) for nearly two decades as the guitarist for punk rock legends the Ramones. The guitar's back is signed, "Johnny Ramone, My Main Guitar, 1977-1996." It was played at every Ramones performance until his retirement: from November 1977 through August 1996, for approximately 1,985 shows. The instrument was used on all 15 Ramones albums and can be heard on any live Ramones bootleg from late 1977-1999. It was later displayed at the Rock & Roll Hall of Fame in Cleveland. According to guitar historian Chris Lamy, Cummings originally purchased the guitar in 1977 to replace his original blue Ventures II slab body, which was stolen from the Sire Records van with the rest of the ... More



Richard Hambleton, Stop Sign 2017. Courtesy Sotheby's.



NEW YORK, NY.- Sotheby's announced Public Intervention: Art of the Street, a first-of-its-kind online auction celebrating the first generation of New York graffiti and street artists, the iconoclasts who pioneered the style of street art that has become a global staple of popular culture and an increasing source of inspiration in the world of Contemporary Art. Open for bidding on Sothebys.com from 24 September – 1 October, this special auction presents works by legendary artists such as Lee Quiñones, Rammellzee, DONDI, Lady Pink, Zephyr, KAWS, Phase 2, Keith Haring, Kenny Scharf, and Richard Hambleton. The dedicated street art sale follows earlier Sotheby's sales that presented street art in the context of contemporary art sales, most notably Dear Keith: Works from the Collection of Keith Haring, which included many artists from this generation. Together, Sotheby's has an unparalleled track record of showcasing ... More



The Jackson Pollock exhibit is one of 21 shadowboxes displayed throughout New York's Greenwich Village neighborhood, Sept. 13, 2021. An Rong Xu/The New York Times.

by Laura Zornosa



NEW YORK, NY.- At St. Mark's Church in-the-Bowery, there hangs a shadowbox — a square, 3D display case — containing a black-and-white photograph of Charlie Parker. His lips are pursed, his fingers are poised and he's playing his saxophone with deep concentration. In the top-right corner is an orange QR code. Scan it, and the voice of actor-comedian John Leguizamo begins, crisp and clear. "A blazing jazz virtuoso and developer of bebop, Charlie Parker, or 'Bird,' as he was nicknamed, changed the course of music," Leguizamo says. "He was a saxophonist, pioneering composer, an improvisational genius who ushered in a new era of jazz." Leguizamo tells the tale of bebop, the fast-tempo jazz style that Parker pioneered. At the height ... More
Gagosian opens an exhibition of new paintings by Kon Trubkovich
Anthony White wins the 2021 Betty Bowen Award
Winterthur acquires recently discovered Anna Pottery Liberty Monument


Kon Trubkovich, Golden Ratio (Chartreuse), 2021. Oil on canvas, 95 x 77 in. 241.3 x 195.6 cm © Kon Trubkovich. Photo: Rob McKeever. Courtesy Gagosan.



NEW YORK, NY.- Gagosian is presenting The Antepenultimate End, an exhibition of new paintings by Kon Trubkovich. In paintings, works on paper, and videos, Trubkovich employs recollection as his primary source material. Through reference to antiquated technology, he investigates some of the ways in which personal and collective memories contradict one another, their gradual transformation complicating ideas of historical truth. Drawing on both recorded history and the story of his family's 1990 emigration from the USSR to the United States, he marks the passage of time by alluding to the appearance of electronic media in decay. Trubkovich borrows imagery of many different origins—historical and contemporary—and reconstructs events from their depiction on TV, using the on-screen image as a metaphor for displacement. He employs a fine paintbrush to emulate the grain of the broadcast image; the fuzzy reproduction quality of ... More



Anthony White, AT THE SURFACE, 2021. PLA (polylactic acid) on panel, 60 x 48 x 1 ½ in., Courtesy of the artist and Greg Kucera Gallery, © Anthony White.



SEATTLE, WA.- The Seattle Art Museum and Betty Bowen Committee, chaired by Gary Glant, announced today that Anthony White is the winner of the 2021 Betty Bowen Award. The juried award comes with an unrestricted cash award of $15,000 and a solo exhibition at SAM. Founded in 1977 to continue the legacy of local arts advocate and supporter Betty Bowen, the annual award honors a Northwest artist for their original, exceptional, and compelling work. In Anthony White's work, composed of PLA plastic, consumer items and brand symbols that define our moment coalesce to offer a reflection of society through the lens of social media, cell phones, and selfies. In 2019, White was the recipient of the Kayla Skinner Special Recognition Award, and in 2020 he won the Neddy at Cornish Painting Award. Recent exhibitions include Queer Visibility: Dean Sameshima & Anthony White at the Henry Art Gallery, Seattle and solo shows at Greg Kucera Gallery, Seat ... More



Object depicts racial massacre in the Reconstruction Era.



WINTERTHUR, DE.- Winterthur Museum, Garden & Library has acquired the recently discovered Liberty Monument, a unique 150-year-old stoneware masterwork that dramatically depicts a racially motivated massacre in Colfax, Louisiana, in 1873. Winterthur acquired the Liberty Monument during the Summer 2021 auction of American stoneware and redware pottery by Crocker Farm, which described it as "one of the greatest American ceramic discoveries to come to light in recent decades." A consigner who lives near Boise, Idaho, discovered the monument. The Liberty Monument was created by Wallace and Cornwall Kirkpatrick, owners of Anna Pottery in Anna, Illinois, from 1859 to 1896. The brothers were known to be socially progressive. Vocal about their views, they often commented caustically on events and politics through their work. The primary scene depicted on the Liberty Monument is the massacre of Black citizens who acted against efforts to overturn ... More
Exhibition examines the representation of Black women in the United States over the past two centuries
Marian Goodman Gallery opens the fall season with an exhibition of new works by Tacita Dean
Sotheby's to offer the only first printing of the Constitution in private hands


Mrs. Nancy Lawson, 1843, oil on canvas by William Matthew Prior. Shelburne Museum, Shelburne, Vermont.



BRUNSWICK, ME.- This fall, the Bowdoin College Museum of Art presents There Is a Woman in Every Color: Black Women in Art, a new exhibition examining the representation of Black women in the United States over the past two centuries. Drawing on more than sixty works of art, historical objects, and artist books both from the Museum's collection and on loan, the show confronts the history of marginalization and make visible the presence of women of color in the history of American art. The show features works by a number of important 20th and 21st century artists, including: Elizabeth Catlett, Alma Thomas, Carrie Mae Weems, Betye Saar, Faith Ringgold, Kara Walker, Mickalene Thomas, Ja'Tovia Gary, LaToya Ruby Frazier, and Nyeema Morgan. Supporting these works are a selection of artifacts and ephemera, as well as 19th century works of art, that highlight the continuity of experiences of ... More



Tacita Dean, Pan (Not in evidence), 2021. Collage on vintage index card. Paper: 4 x 6 in. (10.2 x 15.2 cm) Frame: 12 3/4 x 12 3/4 x 1 5/5 in. (30.5 x 32.4 x 4.1 cm).



NEW YORK, NY.- Marian Goodman Gallery announced that the Fall season opened with an exhibition of new works by Tacita Dean. The show includes a range of works in multiple mediums, including photogravure, large-scale photographs, silkscreen prints, two new 16mm films, slate drawings and a new box edition, nearly all inspired from her time living in Los Angeles, from 2014 to the present. The exhibition unfolds around a new body of work made in association with 'The Dante Project,' commissioned by The Royal Opera House in London to create new designs for The Royal Ballet, which will premiere in October 2021. Centered on Dante's Divine Comedy, with new music by Thomas Adès and choreography by Wayne McGregor, the ballet is structured in three parts: Inferno; Purgatorio; and Paradiso. Dean represents these three realms of Dante's journey in an inspired odyssey through various mediums and means of ... More



The Official Edition of the Constitution, the First Printing of the Final Text of the Constitution. Photo: Ardon Bar-Hama.



NEW YORK, NY.- This Constitution Day – exactly 234 years since America's Founding Fathers signed the country's most significant and lasting document – Sotheby's announces a copy of The Official Edition of the Constitution, the First Printing of the Final Text of the Constitution as a highlight of Sotheby's Evening Sales this November in New York, marking the first time a manuscript or historical document will be presented in a fine art evening auction. On offer with an estimate of $15/20 million, the extremely rare document – now the longest continuing charter of government in the world – is one of just 11 known copies of the official printing produced for the delegates to Constitutional Convention and for the Continental Congress. This is the only copy of the first printing of the Constitution that remains in private hands. The Constitution is on offer from the collection of Dorothy Tapper Goldman, and foll ... More
Quote
To be an artist you must learn the laws of nature. Pierre-Auguste Renoir
---
Ilka Perkins Empowers Through Pottery | Portraits of Radical Generosity
---

Flashback
On a day like today, Dutch realist painter Anton Mauve was born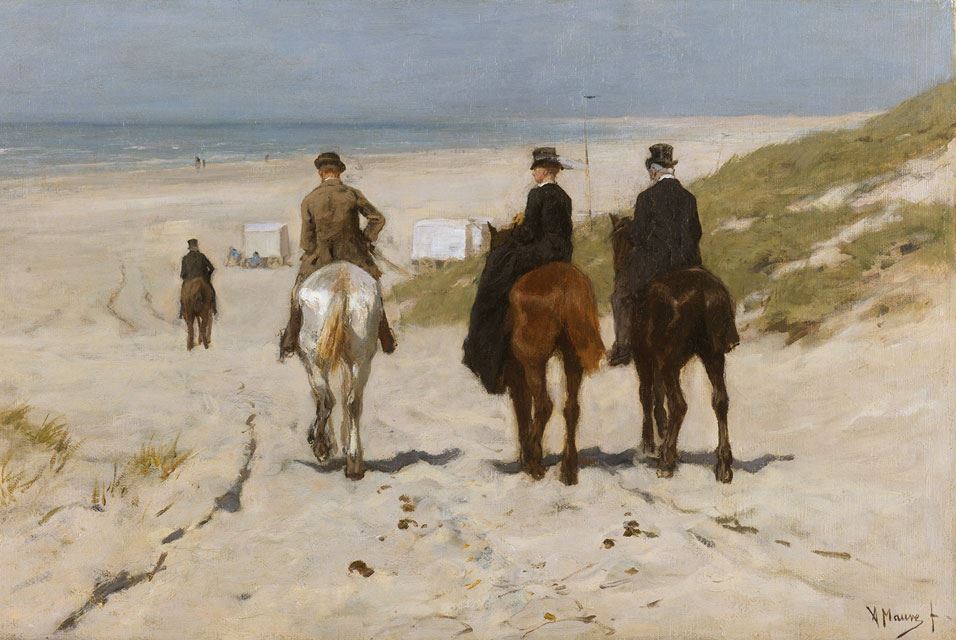 September 18, 1838. Anthonij (Anton) Rudolf Mauve (18 September 1838, Zaandam, North Holland - 5 February 1888, Arnhem) was a Dutch realist painter who was a leading member of the Hague School. He signed his paintings 'A. Mauve' or with a monogrammed 'A.M.'. A master colorist, he was a very significant early influence on his cousin-in-law Vincent van Gogh. In this image: Morning Ride on the Beach (1876), oil on canvas, Rijksmuseum.
---

Museums, Exhibits, Artists, Milestones, Digital Art, Architecture, Photography,
Photographers, Special Photos, Special Reports, Featured Stories, Auctions, Art Fairs,
Anecdotes, Art Quiz, Education, Mythology, 3D Images, Last Week,

.
Royalville Communications, Inc
produces: