David Hockney unveils new drawings of his close friends in new exhibition
Hockney has always communicated through drawing; the sittings allow an intimacy and closeness with the subject that cannot be achieved so readily with the bravura of the painted portrait. © David Parry and National Portrait Gallery.
LONDON
.-
New portraits of David Hockney's close friends – textile designer, Celia Birtwell; his business manager and curator Gregory Evans, and master printer, Maurice Payne – have gone on public display for the first time in a major new exhibition, David Hockney: Drawing from Life, opening at the
National Portrait Gallery
, London on Thursday 27 February. Inspired by the National Portrait Gallery exhibition, which explores Hockney as a draughtsman from the 1950s to now by focusing on his depictions of himself and a small group of his closest sitters, Hockney invited his friends to sit for him once more for a new series of drawings – ten of which are on display in the exhibition. Drawn in Los Angeles and Normandy in 2019, the three-quarter length portraits are fond evocations of time spent together and represent the familiar faces and different ...
More
The Best Photos of the Day
Andrew Jones Auctions' first-ever auction of Collections Curated by Designers of Distinction totals under $2M
Auction House Aguttes announces a rediscovered masterpiece by Sanyu
Convenience, fun and top names tempt a new generation of collectors at Palm Beach Modern Auctions


North Italian Rococo parcel gilt blue and polychrome japanned Chinoiserie decorated commode, Pietro Massa, Piedmont, mid-18th century, 38 ˝ inches tall ($27,500).



LOS ANGELES, CA.- The results of Andrew Jones Auctions' first-ever auction of Collections Curated by Designers of Distinction were nothing short of phenomenal, as 97 percent of lots found new owners in a sale that totaled just under $2 million. The event was held February 23rd, online and in the downtown Los Angeles gallery at 2221 South Main Street. The sale comprised nearly 500 lots, pulled from six California collections assembled by legends of interior design: Kalef Alaton, Craig Wright, Henrix Allardyce, Therien & Company, Inc., Steven Volpe and James Lumsden. Luxuriously upholstered chairs, elegant occasional tables, Chinoiserie decoration, fine art selections and exquisite objects struck a chord with bidders. 'We seem to have turned back the clock to a time when richly appointed interiors were the paradigm," said Andrew Jones, president and CEO of Andrew Jones Auctions. ... More



Sanyu, Potted peonies in a blue and white jardiniere, 1950s Oil on hardboard, signed lower right 43 1/4 x 31 3/8 in. Estimate: €2,500,000-3,500,000.




PARIS.- Aguttes announced the auction of a masterpiece by renowned Chinese painter Sanyu (1901-1966). The painting is from a private collection assembled from the late 1930s and was acquired directly from the artist in the late 50s. It has remained in the hands of the heirs of the original owner, Comtesse Locatelli until April 1990 when bought by a Spanish private collector who kept it until recently. This painting stands as a major piece in Sanyu's career, for it highlights one of his favourite themes – potted flowers –, its bright and contrasting colours and its size. Potted peonies in a blue and white jardiničre, unseen for 70 years, is estimated between €2,500,000 and €3,500,000. Sanyu was born in 1901 in a province of Sichuan and showed great talent for art from an early age. His father encouraged his creativity and enabled him to take calligraphy lessons with ... More



The George Ohr (American, 1857-1918) vase realized $9,100 on an estimate of $300-500, with strong presale interest.



WEST PALM BEACH, FLA.- Art lovers flocked to South Florida – physically and virtually – for Palm Beach Modern Auctions' February 8th Modern Art & Design sale headlined by a wall-spanning Tom Wesselmann steel-cut floral bouquet which realized $338,000. The premier sale raked in $2.1 million and recorded an overall 90% sell-through rate, a record single-day event for the firm. "As a new generation develops buying power, the industry changes to reflect their preferences," says Modern Auctions' co-owner and auctioneer, Rico Baca, who also mentioned that the live audience trended towards 45-and-under as well. "We've seen growth in bidding specific to mobile devices. If they're bidding online, they're on the app, not at their desk on a computer. If they have a phone line, they're taking the call while out and about. One of our phone reps was certain her bidder was on a date during the call." ... More
Smithsonian releases 2.8 million free images for broader public use
Clyfford Still canvas leads the Collection of Harry W. & Mary Margaret Anderson at Sotheby's this May
See $100 million of historic rare coins, Georgia gold and "funny money" in Atlanta


Stock Ticker. Photo: National Museum of American History.



WASHINGTON, DC.- The Smithsonian announced today the launch of Smithsonian Open Access, an initiative that removes Smithsonian copyright restrictions from about 2.8 million of its digital collection images and nearly two centuries of data. This means that people everywhere can now download, transform and share this open access content for any purpose, for free, without further permission from the Smithsonian. Among museums and cultural institutions, this is the largest and most interdisciplinary open access program to date. The Smithsonian will continue to add items on an ongoing basis, with more than 3 million images designated as open access by late 2020. "Open access is a milestone for the Smithsonian in our efforts to reach, educate and inspire audiences," said Smithsonian Secretary Lonnie G. Bunch III. "Through this initiative, we are empowering people across the globe to ... More



Clyfford Still, 1947-Y-No.1. Executed in 1947. Oil on canvas. Courtesy Sotheby's.



NEW YORK, NY.- Sotheby's announced that they will present Property from the Collection of Harry W. and Mary Margaret Anderson as a highlight of their marquee Contemporary Art auctions this May in New York. Harry W. "Hunk" Anderson (1922 – 2018) and Mary Margaret "Moo" Anderson (1926 – 2019) were among the most passionate and influential American collectors of the 20th century. Theirs is a history of philanthropy and patronage, with countless institutions benefiting from donations of works by Post-war masters such as Jackson Pollock, Robert Rauschenberg, Willem de Kooning, Ellsworth Kelly and David Smith, among many others. Most notably, the Anderson Collection at Stanford University houses more than 120 works gifted from their holdings, through which visitors can explore the breadth of contemporary American art and experience the family's distinctive vision. Sotheby's will offer a ... More



The million-dollar penny in Atlanta! Lincoln cents were only supposed to be made of zinc-coated steel in 1943 because copper was needed for World War II efforts. Photo: American Numismatic Association.



ATLANTA, GA.- The public can see more than $100 million of historic rare coins and colorful currency, including a $1 million penny, a $3 million nickel, historic Georgia gold coins and currency, and misprinted "funny money," at the National Coin & Money Show® in the Cobb Galleria Centre in Atlanta, February 27-29, 2020. Plus, all visitors can find out what their old coins and currency may be worth. "It's a family-friendly, educational event sponsored by the non-profit American Numismatic Association (www.money.org)," explained Col. Steve Ellsworth, president of the 25,000-member organization. "Money is history you can hold in your hands, and you can see more than $100 million of historic numismatic treasures on public display at the National Coin & Money Show," said Ellsworth. Among the special exhibits from the American ... More
Opera star Domingo apologizes as union probe confirms 'inappropriate activity'
Dulwich Picture Gallery opens an ambitious and wide-spanning survey of the origins of surrealist art in Britain
Exhibition offers an overview of Natalia Goncharova's work from the first four decades of the 20th century


In this file photo taken on August 28, 2019 Spanish tenor Placido Domingo gestures as he performs during a concert. Attila KISBENEDEK / AFP.

by Hazel Ward



MADRID (AFP).- Opera star Placido Domingo, facing multiple allegations of sexual harassment, on Tuesday apologized for "the hurt" caused to his accusers, as a union probe found he engaged in a pattern of "inappropriate activity." The 79-year-old -- a mainstay of some of the world's most prestigious opera houses -- delivered the apology as the American Guild of Musical Artists announced the wrap of an independent investigation into the storied tenor-turned-baritone, which was launched in early September over members' allegations of sexual harassment and discrimination. At least 20 women have accused Domingo of forcibly kissing, grabbing or fondling them in incidents dating back to at least the 1980s. He has maintained that his relationships were consensual, and in the apology ... More



Marion Adnams, L'infante égarée, 1944. Photo: Manchester Art Gallery / Bridgeman Images
.



LONDON.- Dulwich Picture Gallery will present British Surrealism, an ambitious and wide-spanning survey of the origins of surrealist art in Britain, and the first to trace its roots back to 1620 through supporting archive material. Marking the official centenary of surrealism, when founder André Breton began his experiments in surrealist writing in 1920, it will present a fresh take on this revolutionary movement, through over 70 eclectic works. British Surrealism will explore the contribution and responses that British artists made to the movement, whether they were involved directly as surrealists, or were significantly influenced by it. Bringing together over 40 artists, including Leonora Carrington, Edward Burra, Francis Bacon, Lucian Freud, Ithell Colquhoun, John Armstrong, Paul Nash and Reuben Mednikoff, the exhibition showcases paintings, sculpture, photography, etchings and prints made between the years 1783 ... More



Natalia Goncharova: Peasant Woman from Tula Province (1910). The State Tretyakov gallery. © The State Tretyakov gallery.



HELSINKI.- Natalia Goncharova (1881–1962) is known as a central figure in Russian avant-garde art, inspiring experimental artists in both Russia and Western Europe. The exhibition offers a comprehensive overview of the artist's work from the first four decades of the 20th century. Before coming to the Ateneum, the exhibition has been displayed at Tate Modern in London and the Palazzo Strozzi in Florence. Natalia Goncharova received recognition early on in her career, proclaiming herself the leading figure of the Russian avant-garde before her artist colleagues Kazimir Malevich, Marc Chagall and Wassily Kandinsky, by staging a huge private exhibition in Moscow in 1913. In 1916, she moved to France and became a key figure in the whirling art world of Paris. Goncharova's extensive artistic work was inspired by folk art and religious icons. Her art was also contradictory; Goncharova could at one moment be taking part in ... More
Dallas Museum of Art presents two portraits by 17th-century Dutch painter Frans Hals
Auschwitz Memorial upset over scene in new Amazon series 'Hunters'
Hindman continues to expand nationwide with new locations in San Diego and Washington D.C.


Frans Hals, Portrait of Pieter Jacobsz. Olycan, 1629-1630, Private Collection, Courtesy of David Koetser Gallery, Zurich.



DALLAS, TX.- This year, visitors to the Dallas Museum of Art have the rare opportunity to see two paintings that showcase the revolutionary technique of Frans Hals, the first great portraitist of 17th century Holland. Recognized for "painting character" through virtuosic, loose, and animated brushwork, Hals is considered to be the third prominent painter of the Dutch Baroque era along with Rembrandt and Vermeer. Hals's portraits of Pieter Jacobsz. Olycan—created about a decade apart and nearly 400 years ago—demonstrate the evolution of his technique at the highest point of his career. On loan to the DMA from The John and Mable Ringling Museum of Art and a private collection, the two works depicting the same sitter are perhaps unique for the artist's oeuvre, as he rarely painted the same subject twice. They are shown side-by-side for the first time in the DMA presentation. ... More



Al Pacino attends the Premiere Of Amazon Prime Video's "Hunters" at DGA Theater on February 19, 2020 in Los Angeles, California. Frazer Harrison/Getty Images/AFP.



LOS ANGELES (AFP).- The Auschwitz museum has slammed Amazon's new television series "Hunters," saying that a fictionalised scene from the show starring Al Pacino was "dangerous" and would encourage "future deniers." "Auschwitz was full of horrible pain & suffering documented in the accounts of survivors," the Auschwitz Memorial, which preserves the site of the Nazi death camp in Poland, tweeted on its official account. "Inventing a fake game of human chess for @huntersonprime is not only dangerous foolishness & caricature," it said. "It also welcomes future deniers. We honor the victims by preserving factual accuracy." The tweet was accompanied by a photo of a scene from the series that showed humans used as chess pieces. The drama series, which stars Pacino as a Holocaust survivor, is set ... More



Maura Ross opened Hindman's first regional office in Naples, Florida in 2010.



CHICAGO, IL.- Hindman Auctions announced two new business development appointments in its ongoing nationwide expansion. Senior Jewelry Specialist and Business Development Director Katie Guilbault will establish Hindman's presence in Southern California, based in San Diego, and Maura Ross, Business Development Director, will lead Hindman business development efforts in the mid-Atlantic, based in Washington D.C. Working in conjunction with Hindman's satellite offices and Chicago-based Headquarters, Katie and Maura will continue to source quality consignments across all of Hindman's collecting categories. Katie Guilbault is a Graduate Gemologist and has traveled the country evaluating important jewelry collections including antique, period and contemporary pieces. She first joined the firm in 2003, where she became the Director of Fine Jewelry and Director of Consignments. In 2007, Katie joined Trabert & Hoeffer ... More
Quote
The things that I have apparently parodied I actually admire. Roy Lichtenstein
---
Pepi Marchetti Franchi on Giuseppe Penone: Leaves of Bronze | Gagosian Quarterly
---
Flashback
On a day like today, French illustrator and painter Honoré Daumier was born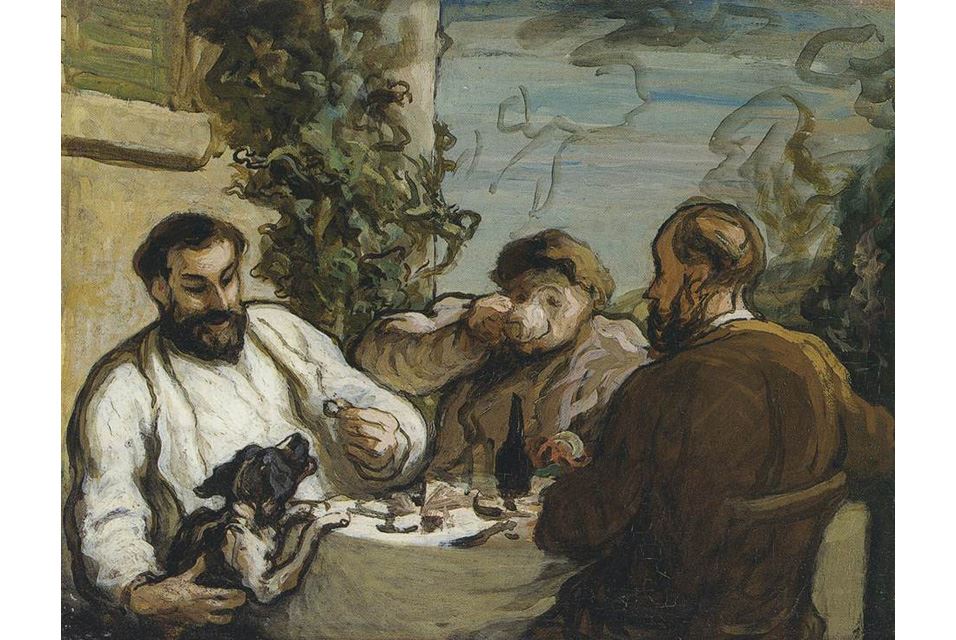 February 26, 1808. Honoré-Victorin Daumier (February 26, 1808 - February 10, 1879) was a French printmaker, caricaturist, painter, and sculptor, whose many works offer commentary on social and political life in France in the 19th century. In this image: Honore Daumier, Lunch in the Country, c. 1867-1868. Oil on panel, 26 x 34 cm. National Museum of Wales, Cardiff. Photo © National Museum of Wales
---

Museums, Exhibits, Artists, Milestones, Digital Art, Architecture, Photography,
Photographers, Special Photos, Special Reports, Featured Stories, Auctions, Art Fairs,
Anecdotes, Art Quiz, Education, Mythology, 3D Images, Last Week,

.
Royalville Communications, Inc
produces: