Rare violin tests Germany's commitment to atone for its Nazi past
Felix Hildesheimer, right, plays piano accompaniment for his younger daughter, Elsbeth, in the mid-1930s. More than 80 years after Hildesheimer's death, his 300-year-old violin — valued at around $185,000 — is at the center of a dispute that is threatening to undermine Germany's commitment to return objects looted by the Nazis. Via David Sand via The New York Times.

by Catherine Hickley
NEW YORK
(NYT NEWS SERVICE)
.-
No one knows why Felix Hildesheimer, a Jewish dealer in music supplies, purchased a precious violin built by the Cremonese master Giuseppe Guarneri at a shop in Stuttgart, Germany, in January 1938. His own store had lost its non-Jewish customers because of Nazi boycotts, and his two daughters fled the country shortly afterward. His grandsons say it's possible that Hildesheimer was hoping he could sell the violin in Australia, where he and his wife, Helene, planned to build a new life with their younger daughter. But the couple's efforts to get an Australian visa failed and Hildesheimer killed himself in August 1939. More than 80 years later, his 300-year-old violin — valued at around $185,000 — is at the center of a dispute that is threatening to undermine Germany's commitment to return objects looted by the Nazis. The government's Advisory Commission on the return of Nazi-looted cultural property determined in 2016 that the violin was almost certainly eit ...
More
The Best Photos of the Day
National Gallery of Art announces new acquisitions
In Ice Age Siberia, a meeting of carnivores may have given us dogs
Asia Week New York zooms-in on the allure of Indian painting


Aurelio Lomi, The Stoning of Saint Stephen, c. 1602. Pen and ink with oil over chalk on four sheets of paper, framed: 106.5 × 86.5 × 5.5 cm (41 15/16 × 34 1/16 × 2 3/16 in.) National Gallery of Art, Washington. New Century Fund and The Ahmanson Foundation 2020.101.1



WASHINGTON, DC.- The National Gallery of Art has acquired The Stoning of Saint Stephen (c. 1602) by Aurelio Lomi (1556–1622), the leading painter in Pisa during the last quarter of the 16th century. It joins two other works by Lomi in the Gallery's collection: a figure study in chalk, Studies of a Youth Pulling Ropes (recto); Faint Study of a Youth Pulling a Rope (verso) (1610s), and a small monochrome bozzetto of the Visitation, a preparatory work for a Florence altarpiece from around 1590. The Stoning of Saint Stephen, a large study in oil on four joined sheets of paper, depicts the martyrdom of one of Genoa's patron saints. The composition refers to a touchstone for the entire school: Giulio Romano's altarpiece from c. 1521 in the church of Santo Stefano. The study is closely related to Lomi's altarpiece for the church of Santa Maria della Pace (now in Genoa's ... More



An artistic rendering of the relationships between humans and canines in Siberia. Ettore Mazza via The New York Times.

by James Gorman



NEW YORK (NYT NEWS SERVICE).- Twenty-three thousand years ago, in the cold of the last ice age, some humans found a place where the climate was marginally better: Siberia. While many people associate the region that is now in Russia with forbidding cold today, climate data as well as archaeological and DNA evidence show that this was where horses, mammoths and other prey animals found enough to eat, which attracted humans and other carnivores. Hemmed in by worse conditions, the humans, some of them the ancestors of Native Americans, were isolated for thousands of years. So were wolves. It is there and then that dogs were first domesticated, according to a new hypothesis from a group of archaeologists and ancient DNA experts who specialize in the deep history of humans and canines. They published their analysis on Monday in Proceedings of the National Academy of Sciences. ... More



A Party of hunters returning to camp (detail), Leaf from the British Library-Chester Beatty Library, Akbarnama, Mughal India, 1603-04, 9 x 5 inches, 22.9 x 12.7 cm, painting, 12 1/4 x 8 1/2 inches, 31 x 21.5 cm, folio. Courtesy of Oliver Forge and Brendan Lynch Ltd.



NEW YORK, NY.- Continuing its lively series of virtual panel discussions, Asia Week New York will present Tales in Connoisseurship: Appreciating Indian Painting with an all-star panel of specialists including Brendan Lynch, co-director of London-based Oliver Forge & Brendan Lynch Ltd., Marika Sardar, PhD, Curator, The Aga Khan Museum in Toronto, and collector Gursharan Sidhu, PhD. These renowned experts will reveal their personal journeys of connoisseurship within the rich and wonderful world of Indian paintings. The presentation will be held on Thursday, January 28 at 5:00 p.m. (EST), 2:00 p.m. (PST). To reserve, visit here. Says moderator Anu Ghosh-Mazumdar, Senior Vice President & Head of the Indian & Southeast Asian Art Department at Sotheby's: "Any collecting category requires three lynchpins to thrive and survive – the collector, the curator and the dealer. We are excited to host ... More
David Nolan Gallery announces the death of Barry Le Va
Chairwoman of San Francisco art school facing budget issues resigns
Exhibition of sculptures by Sarah Lucas on view at Contemporary Fine Arts


Barry Le Va, 2019.



NEW YORK, NY.- David Nolan Gallery announced the death of Barry Le Va on January 24th. A pioneer of process art, Le Va rose to prominence in the late 1960s through sculptures and installation work of unconventional materials made according to meticulous yet dynamic drawings. Barry Le Va was born in 1941 in Long Beach, California to Arthur and Muriel Le Va. In his youth, he was greatly interested in cartoons, architecture, and the artwork of Frank Lloyd Wright, Öyvind Falhström and Roberto Matta as well as detective stories, all which would influence his work later in his career. Le Va attended California State University, Long Beach from 1960 to 1963, continuing his studies at Los Angeles College of Art & Design, and Otis Art Institute of LA County, where he received a Master of Fine Arts in 1967. In 1968, Le Va received a Young Talent Award from the Los Angeles County Museum of Art and graced the cover of Artforum, accompanied ... More



"The Making of a Fresco Showing the Building of a City" by Diego Rivera, on display at the San Francisco Art Institute. SFAI via The New York Times.

by Zachary Small



NEW YORK (NYT NEWS SERVICE).- Pam Rorke Levy has resigned as chairwoman of the San Francisco Art Institute, a 150-year-old college that has struggled over the past year to emerge from a multimillion-dollar debt and declining enrollment despite its history of training artists such as Kehinde Wiley, Catherine Opie and Annie Leibovitz. "I feel I can step back," Levy said in a statement Thursday in which she expressed optimism that debt restructuring and new leadership would mean that "SFAI has the runway to rebuild itself." Her departure comes amid criticism over discussions of the potential sale of a Diego Rivera mural worth $50 million that would have given the institute a way to close its budget gap. That move now seems to be on hold because of an effort to give the ... More



Sarah Lucas, OOPS 2019. Strumpfhosen, Draht, Wolle, Schuhe, Acrylfarbe und Vinylstuhl. Tights, wire, wool, shoes, acrylic paint and vinyl chair, 86 x 76 x 97 cm. 333/4 x 30 x 381/4 in. Courtesy Contemporary Fine Arts, Berlin. Photo: Matthias Kolb.



BERLIN.- Contemporary Fine Arts is presenting Hurricane Doris, an exhibition of sculptures by Sarah Lucas. The artist's sixth solo exhibition with the gallery encompasses a new group of soft sculptures from her ongoing body of Bunnies as well as a work in bronze from the same series. The first Bunnies were created as early as 1997 and are becoming increasingly timeless. The new, anthropomorphic figures made out of stuffed pantyhose reclining on chairs are a perpetuation of Lucas' recognisable visual language bordering on the surreal. Deploying highly gender-coded found objects such as high heels and nylon stockings, Lucas inflates the notion of female objectification to its apex, only to invert it with an ungainly, exaggerated pose. Reminiscent of the reclining ... More
John Mendelsohn's first solo exhibition at David Richard Gallery opens in New York
Exhibition at Gladstone Gallery presents Shirin Neshat's latest body of work, Land of Dreams
He Xiangyu's first solo show in the United States opens at Andrew Kreps Gallery


John Mendelsohn, Tenebrae 5, 2014. Acrylic and oil stick on canvas, 40 x 28 ". Artwork Copyright © John Mendelsohn, Courtesy David Richard Gallery.



NEW YORK, NY.- David Richard Gallery is presenting, Color Wheel + Tenebrae Paintings, the gallery's first solo exhibition for New York artist, John Mendelsohn. This exhibition features two series of works by Mendelsohn, the Color Wheel paintings from 2020 and the Tenebrae paintings from 2014. Each series has a distinctive approach to color and structure, but in both groups, the abstract qualities conduct an undercurrent of emotion. Constellations of moods and meanings evoked by the paintings are reflected in two poems commissioned by the artist: Jeffrey Cyphers Wright's "A Round" on the Color Wheel series, and Danny Rivera's "Ekphrasis" on the Tenebrae series. The exhibition is on view January 20 through February 12, 2021 at David Richard Gallery located at 211 East 121 Street, New York, New York 10035, P: 212-882-1705. These ten ... More



Shirin Neshat, Jenasis Greer, from Land of Dreams series, 2019. Digital c-print with ink and acrylic paint. © Shirin Neshat. Courtesy the artist and Gladstone Gallery, New York and Brussels.



NEW YORK, NY.- Gladstone Gallery is presenting an exhibition by Shirin Neshat and the New York premiere of the artist's latest body of work, Land of Dreams. Comprised of more than 100 photographs and a two-channel film installation, Land of Dreams marks a significant visual and conceptual shift for the artist, who has turned her lens to the landscape and people of the American West. For this exhibition, Neshat presents the entire collection of photographs from this series as well as both films, which has been complemented by an online viewing room and virtual screenings throughout the show's run. Combining Neshat's singular artistic language with her intuitive approach to documenting the subjects she photographs, Land of Dreams presents multifaceted, surreal views into contemporary American culture ... More



Installation view. Image courtesy of the Artist and Andrew Kreps Gallery, New York. Photo: Dan Bradica.



NEW YORK, NY.- Andrew Kreps Gallery is presenting Soft Dilemma, He Xiangyu's first exhibition with the gallery, as well as the artist's first solo show in the United States. He Xiangyu's conceptual practice manifests in multi-year projects that span sculpture, drawing, installation, film and publications. Emerging as part of a generation of artists who experienced the post-socialist state of China, He's work looks to shift the viewer's perception of cultural signifiers through an examination and manipulation of material. The exhibition highlights the divergent strategies used by He to investigate an array of clinical, social and anthropological themes, and his response to the ongoing political and existential crises in the world. Upon entering the space, the viewer is confronted with Practical Opacity, 2020, a sculpture from an ongoing series that incorporates found school chairs, with doodles, scratches, stickers, and graff ... More
The Snite Museum of Art acquires a work by Magnum photographer Alex Majoli from The Eye of the Storm series
Austrian artist and Holocaust survivor Arik Brauer dies
Edmund de Waal donates library of exile to Mosul following exhibition at the British Museum


Alex Majoli, Scene #2756, Novara, Italy, 2020, archival pigment print. Snite Museum of Art, University of Notre Dame. Milly and Fritz Kaeser Endowment for Photography, 2020.024



NOTRE DAME, IN.- The Snite Museum of Art at the University of Notre Dame has added an important photograph by Magnum photographer Alex Majoli from his The Eye of the Storm series. Shot in Novara, Italy, in 2020 during the COVID-19 pandemic, Scene #2756, Novara, Italy, 2020, captures the moment when a priest blesses coffins that have just arrived at the cemetery by Italian Army trucks from nearby Bergamo. This image brings into sharp focus the painful and tragic extent that northern Italy suffered during the first outbreak of the COVID-19 pandemic. Italy's death toll was the highest in Europe during the first months of the outbreak, and the country could barely keep up with the transportation of coffins for burial. The photograph was an acquisition proposed by the Museum's PhotoFutures, a student seminar led by the Curator of Academic Programs and Curator of Photographs. Designed ... More



This file photo taken on November 13, 2014 shows Austrian artist Arik Brauer lifting his hat during a press tour of his exhibition 'Arik Brauer - Gesamt.Kunst.Werk' at the Leopold Museum in Vienna. HERBERT NEUBAUER / APA / AFP.



VIENNA (AFP).- Austrian artist and Holocaust survivor Arik Brauer, renowned in his homeland for his painting and songwriting, has died at the age of 92, his family announced Monday. Brauer -- whose prolific output included work as a painter, graphic designer and singer-songwriter -- died on Sunday night surrounded by his family. According to a statement from his family, Brauer's last words were: "I was happy with my wife, with my family, with my art and my Vienna Woods." Born in Vienna in 1929 into a Russian-Jewish family, his childhood was thrown into turmoil when the Nazis annexed Austria in 1938. While his father was killed in a concentration camp, Brauer survived in Vienna, partly through hiding his mandatory Star of David badge. During the November 1938 Kristallnacht pogrom, he was hidden by the caretaker at his ... More



Edmund de Waal library of exile at the British Museum 2020 © The Trustees of the British Museum.



LONDON.- Following presentations in Venice, Dresden, and London, British artist and author Edmund de Waal will donate almost 2,000 books from his acclaimed installation library of exile to the Mosul University Library in Iraq to help rebuild its collection which was almost destroyed in 2015 by the group calling itself the Islamic State. The Mosul University Library will be the final home for the library's collection recently on display at the British Museum, and features the work of writers from over a hundred countries in dozens of languages from antiquity to the present day by over 100 writers from across the world who have experienced exile, loss and displacement. The books will be transported to Mosul with the kind participation of Book Aid International, the UK's leading book donation and library development charity and the Iraqi Embassy in London. On Friday 29th January, 6pm the British Museum will host 'A Space to be', a free evening of readings and musical performanc ... More
Quote
The spectacle of the sky overwhelms me. Joan Miró
---
Virtual tour - Tracey Emin / Edvard Munch: The Loneliness of the Soul
---

Flashback
On a day like today, Dutch painter Govert Flinck was born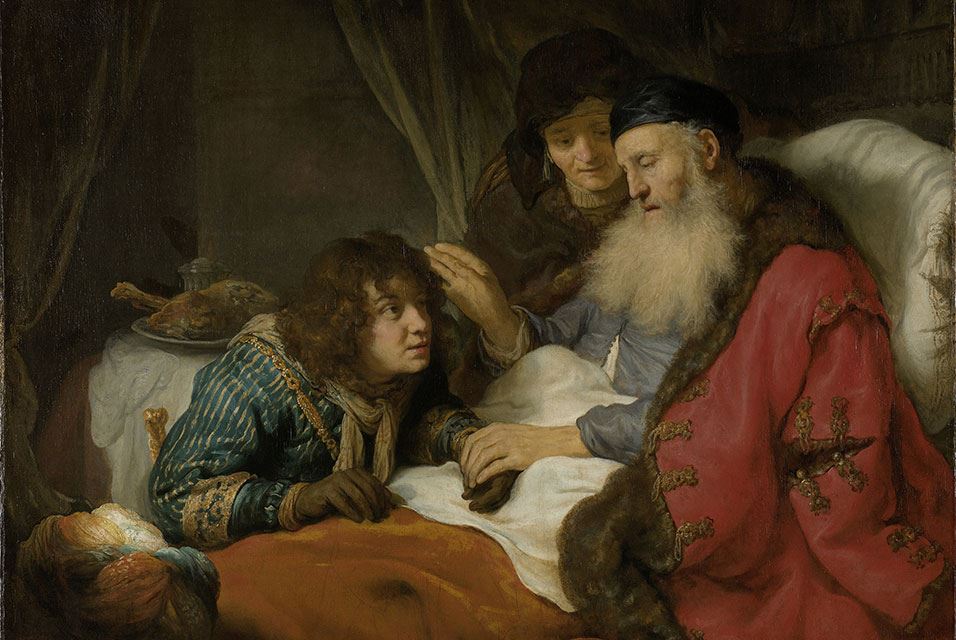 January 25, 1615. Govert (or Govaert) Teuniszoon Flinck (25 January 1615 - 2 February 1660) was a Dutch painter of the Dutch Golden Age. For many years Flinck laboured on the lines of Rembrandt, following that master's style in all the works which he executed between 1636 and 1648. With aspirations as a history painter, however, he looked to the swelling forms and grand action of Peter Paul Rubens, which led to many commissions for official and diplomatic painting. In this image: Blessing of Jacob (1638).
---

Museums, Exhibits, Artists, Milestones, Digital Art, Architecture, Photography,
Photographers, Special Photos, Special Reports, Featured Stories, Auctions, Art Fairs,
Anecdotes, Art Quiz, Education, Mythology, 3D Images, Last Week,

.
Royalville Communications, Inc
produces: