Scholten Japanese Art opens two exhibitions during Asia Week New York 2023
In dialogue with the Multiple Masters exhibition, the Ukiyo-e Woodblock Prints from the Shin Collection reverberates back to the source-code of floating world imagery.
NEW YORK, NY
.-
Scholten Japanese Art
is suffering from an embarrassment of riches during this Asia Week. In addition to the gallery presentation, MULTIPLE MASTERS: Modern Prints & Paintings, a gathering of early modern works by masterful artists who produced paintings and prints, Scholten will also be offering Ukiyo-e Woodblock Prints from the Shin Collection, a simultaneous exhibition of 'golden age' figure prints of the late 18th century and magnificent 19th century landscapes. The MULTIPLE MASTERS exhibition presents a select group of works by major artists following the intertwined shin hanga (lit. 'new print') and sosaku hanga (lit. 'creative print') movements, both approaches seeking to revitalize Japanese printmaking in the modern era. Works by the painter and print artist Kitano Tsunetomi (1880-1947) include a complete set of four prints from the scarce 1918 series, Four Seasons of the Licensed ...
More
The Best Photos of the Day
The Montreal Museum of Fine Arts opens 'Naline Malini: Crossing Boundries' today
These New Yorkers don't (heart) the 'We (Heart) NYC' logo
Joan Miro drawing out in front at La Belle Epoque Auction House reopening multi-estates auction


Nalini Malani, City of Desires – Global Parasites, Castello di Rivoli, 1992-2018. Wall drawing/erasure performance; ephemeral wall drawing, charcoal, ink. © Nalini Malani. Photo Ranabir Das.



MONTREAL.- The Montreal Museum of Fine Arts opens today Nalini Malani: Crossing Boundaries, the first-ever Canadian solo exhibition by one of India's most important contemporary artists. The exhibition showcases the profound and powerfully engaged works of Malani, who has been addressing social inequalities and violence for more than 50 years, giving voice to the subjugated, marginalized, and oppressed, especially women. The exhibition, which runs from March 23 to August 20, 2023, consists of her critically acclaimed video installation Can You Hear Me? (2018-2020), the latest iteration of her Wall Drawing/Erasure Performance series, City of Desires—Crossing Boundaries (1992-2023), executed on site at the MMFA, and a brand new video projection, Ballad of a Woman (2023), commissioned for the MMFA's Digital Canvas. Born in 1946 in Karachi (then undivided India and now Pakistan) Nalini Malani is one of the most critically acclaimed In ... More



An undated photo provided by the New York State Department of Economic Development of the new We 'Heart' NYC logo. Just a few hours after the logo was revealed on Monday, reaction on Twitter — and beyond — was not merely negative, but brutal. (New York State Department of Economic Development via The New York Times)



NEW YORK, NY.- "It's bad!" one person wrote. "If there's going to be a riot in NYC, it'll be over this," wrote another. Someone else posted, "This is literally the worst design I've ever, ever seen." Just a few hours after the new "We (heart) NYC" logo was revealed Monday, reaction on Twitter — and beyond — was not merely negative, but brutal. The design is part of a campaign aiming to "cut through divisiveness and negativity" that accompanied the pandemic, according to Kathryn Wylde, the president and CEO of the Partnership for New York City. The logo draws on the "I (heart) NY" logo, designed by Milton Glaser for a 1977 campaign to promote tourism in New York state. At the time, the state was in the midst of an economic crisis, with high levels of unemployment. Commercials and print advertising in the "I (heart) ... More



Leading the way at the first new auction was an Attributed to Joan Miro (Spanish-Catalan, 1893-1983) Drawing of a Woman, Signed and dated Miro 1917 lower right. Approximate site size 7"H x 6.5"W. This piece was estimated at $700-$1000 but sold higher to a bidder in the room for $2,048.



NEW YORK, NY.- The Grand Reopening of La Belle Epoque Auction House in Manhattan kicked-off with their Multi-Estates Auction" on Saturday, March 18th, marking La Belle Epoque's first auction since temporarily shutting down for 10 months of complete renovations in the Spring 2022, due to severe water damage in their 7,000 square-foot space at 71 8th Avenue on the border of the Meatpacking District and the West Village in New York City. Leading the way at the first new auction was an Attributed to Joan Miro (Spanish-Catalan, 1893-1983) Drawing of a Woman, Signed and dated Miro 1917 lower right. Approximate site size 7"H x 6.5"W. This piece was estimated at $700-$1000 but sold higher to a bidder in the room for $2,048. This theme of unusual finds at great prices carried out through the entire auction, which featured an impressive collection ... More
Still life masterpiece from private collection leads Bonhams Classics sale
Peta Smyth textiles triumph among impressive results at Bonhams Collections sale
Benton Museum of Art announces major gift of photography documenting Civil Rights Movement


Detail of Still life with a basket of fruit, seashells and a lizard by Jacob Marrel. Estimate: €30,000-50,000. Photo: Bonhams.



PARIS.- Still life with a basket of fruit, seashells and a lizard by the German master Jacob Marrel leads The Classics sale at Bonhams Cornette de Saint Cyr in Paris on Wednesday 19 April 2023. It is estimated at €30,000-50,000. Marell (1614-1681) was born in Germany but from 1632-1650, trained with the major still life painter Jan Davidszoon de Heem in the city of Utrecht. After two years back in Frankfurt, he returned to Utrecht in 1660 where he established a successful art dealership before settling in Germany permanently five years later. The painting forms part of a fine private European collection which also includes: • A pair of Louis-Philippe ormolu twelve-light sphinx candelabra, circa 1830-40, in the manner of Thomire & Cie. Although they are unsigned, these candelabra are very much in line with the later production of one of the most celebrated bronzier fondeur-ciseleur of the First French Empire, Pierre-Philippe Thomire ... More



A large leaf tapestry fragment from the southern Netherlands circa 1550. Sold for £63,300. Photo: Bonhams.



LONDON.- Tapestries from the collection of Peta Smyth took centre stage at Bonhams Collections sale in Knightsbridge yesterday (21 March 2023). The top lot of the sale was a large leaf tapestry fragment from the southern Netherlands, circa 1550, which achieved £63,300 against a pre-sale estimate of £12,000-18,000. The collection of Peta Smyth made a total of £431,670. The 400-lot sale, which also included the collection of Lord & Lady Flight and the Contents of Chequers' Attics, made a total of £707,650 with 83% sold by lot and 99% sold by value. The Collection of Lord & Lady Flight made a total of £208,210, with ceramics making up £53,920 of the final total. The top lot of the collection was Portrait of William Petty, 2nd Earl of Shelburne and 1st Marquess of Lansdowne by Thomas Gainsborough, R.A. (Sudbury 1727-1788 London), which sold for £17,850. The portrait had, until recently, been on display in the House of Commons. ... More



Cecil Stoughton, President Lyndon B. Johnson is sworn in by Judge Sarah T. Hughes as his wife and Mrs. John F. Kennedy flank him in the cabin of Air Force One, November 22, 1963 (printed 1964). Vintage wire photograph on paper. 6 9/16 x 8 in. (16.67 x 20.32 cm). Gift of Michael Mattis and Judy Hochberg in honor of Myrlie Evers-Williams. P2021.9.70.



CLAREMONT, CA.- The Benton Museum of Art at Pomona College is thrilled to announce a major gift from donors Michael Mattis and Judy Hochberg of more than 1600 press photographs that document the civil rights movement. The gift was made in honor of Myrlie Evers-Williams, the civil rights pioneer and member of the class of 1968 at Pomona College. The Mattis-Hochberg photographs include wrenching scenes of resistance, inspiring acts of civil disobedience, and depictions of such civil rights leaders as Martin Luther King Jr., Cesar Chavez, James H. Meredith, and Myrlie Evers-Williams herself. "It is a pleasure to continue our multi-decade collaboration with the Benton, where we know from experience that these works will be accessible to students, faculty, ... More
Pedro Pedro's third solo show 'Table, Fruits, Flowers and Cakes' on view at The Hole
Praz-Delavallade opened Thought Forms, an exhibition of new paintings by Chris Hood
Bonhams Los Angeles to present four fine art sales in April


Charcuterie on Cutting Board with Knives, 2022, textile paint on linen, 36 x 42 inches, 91 x 106 cm.



LOS ANGELES, CA.- The Hole has announced the forthcoming exhibition of paintings and drawings by Pedro Pedro: Table, Fruits, Flowers and Cakes. For his third solo show with The Hole, LA-based artist Pedro Pedro (b. 1986) includes a variety of his signature imagery, creating indulgent and delicious paintings awaiting consumption. While the paintings are bountiful— charcuterie and cheese, stacks of seafood, soft and sugary cakes, citrus stacked to the ceiling—there is a lingering restraint, with just a slice or two taken from each. Where are the people to feast on the fruit, scarf the seafood, smoke the strewn cigarettes or to paint with the plentiful pots of paint on Pedro's tables? With fourteen paintings and nine paintings on paper, we are treated to an abbondanza of works, the most he has shown at one time. ... More



Installation view.



LOS ANGELES, CA.- 'Thought Forms', which opened on March 18th, and is the artist's second solo exhibition with Praz-Delavallade will end on April 22nd, 2023. Chris Hood's most recent body of work features pop culture iconography both familiar and banal. Fragmented surrealist clichés of melting clocks and burning candles commingle with cartoonish, disembodied hands and faces. These playful elements drift aimlessly across a vivid, shifting color field, often serially repeating across the composition like a fading echo. Their dynamic background is the bleeding through of paint applied to the reverse side of the canvas, a distinct approach central to the artist's practice in which the canvas consequently functions as a veil—a thin partition between the conscious and subconscious, the mundane and the uncanny, the immediate and the profound. ... More



Traditional Dancer II, 1990, by John Nieto, estimated at $20,000 - 40,000. Photo: Bonhams.



LOS ANGELES, CA.- Bonhams' Los Angeles saleroom will present four fine art sales in April which range from innovative works by contemporary artists to breathtaking landscapes depicting the American West. The first sale of the month is Modern Native American Art featuring several works by Jaune Quick-to-See-Smith including a drawing titled Kalispell Series. Next the Made in California: Contemporary Art sale will highlight contemporary works of art created in California including Three Bathers, 1960, a monumental canvas by Elmer Bischoff. At the end of the month, St. Tropez by E. Charlton Fortune will highlight the California Art sale. The next day Western Art will feature incredible landscapes highlighted by Abandoned House, Contra Costa County, Cal. by Maynard Dixon. On April 5, several works by Jaune ... More
Everything, Everywhere is going to change all at once
What awaits in the Philharmonic's new season
Puppetry so lifelike, even their deaths look real


Everything Everywhere All at Once poster.



NEW YORK, NY.- I had a most remarkable but unsettling experience last week. Craig Mundie, the former chief of research and strategy officer for Microsoft, was giving me a demonstration of GPT-4, the most advanced version of the artificial intelligence chatbot ChatGPT, developed by OpenAI and launched in November. Craig was preparing to brief the board of my wife's museum, Planet Word, of which he is a member, about the effect ChatGPT will have on words, language and innovation. "You need to understand," Craig warned me before he started his demo, "this is going to change everything about how we do everything. I think that it represents mankind's greatest invention to date. It is qualitatively different — and it will be transformational." Large language modules like ChatGPT will steadily increase in their capabilities, Craig added, and take us "toward a form of artificial general intelligence," delivering efficiencies in operations, ideas, discoveries and i ... More



Mirga Gražinytė-Tyla conducts the Metropolitan Opera's orchestra in Tchaikovsky's "Symphony No. 4" at Carnegie Hall in New York, May 18, 2018. The lively Lithuanian conductor, a possible successor to Gustavo Dudamel in Los Angeles, will make her debut with New York Philharmonic this October. (Hiroyuki Ito/The New York Times)



NEW YORK, NY.- In his final season as music director of the New York Philharmonic, Jaap van Zweden will lead a host of premieres, performances of Mozart's Requiem and Mahler's Second Symphony, and a residency in China, the orchestra announced Tuesday. Gary Ginstling, the Philharmonic's incoming president and CEO, said the season would showcase van Zweden's devotion to new music and traditional works. "This is an opportunity," Ginstling said in an interview, "to really celebrate all the elements that Jaap brought to the New York Philharmonic." Van Zweden will make his first appearance on Sept. 27, with a gala featuring cellist Yo-Yo Ma as the soloist in Dvorak's Cello Concerto. ... More



Hiran Abeysekera, left and puppeteers with Richard Parker, the large-scale puppet of a Royal Bengal tiger, in "Life of Pi," at the Gerald Schoenfeld Theater in New York, March 8, 2023. (Hiroko Masuike/The New York Times)

by Laura Collins-Hughes



NEW YORK, NY.- Fair warning: This article is riddled with spoilers about puppet deaths in "Life of Pi," the stage adaptation of Yann Martel's bestselling novel about a shipwrecked teenager adrift on the Pacific Ocean. He shares his lifeboat first with a menagerie of animals from his family's zoo in India — large-scale puppets all, requiring a gaggle of puppeteers — and eventually just with a magnificent, ravenous Royal Bengal tiger named Richard Parker that takes three puppeteers to operate. Now in previews on Broadway, where it is slated to open March 30 at the Gerald Schoenfeld Theater, the play picked up five Olivier Awards in London last year. Puppetry ... More
Quote
I live on the fringe of society. Tamara de Lempicka
---
Connected by Glass | 37th Rakow Commission Unveiling with Charisse Pearlina Weston
---

Flashback
On a day like today, Spanish painter and sculptor Juan Gris was born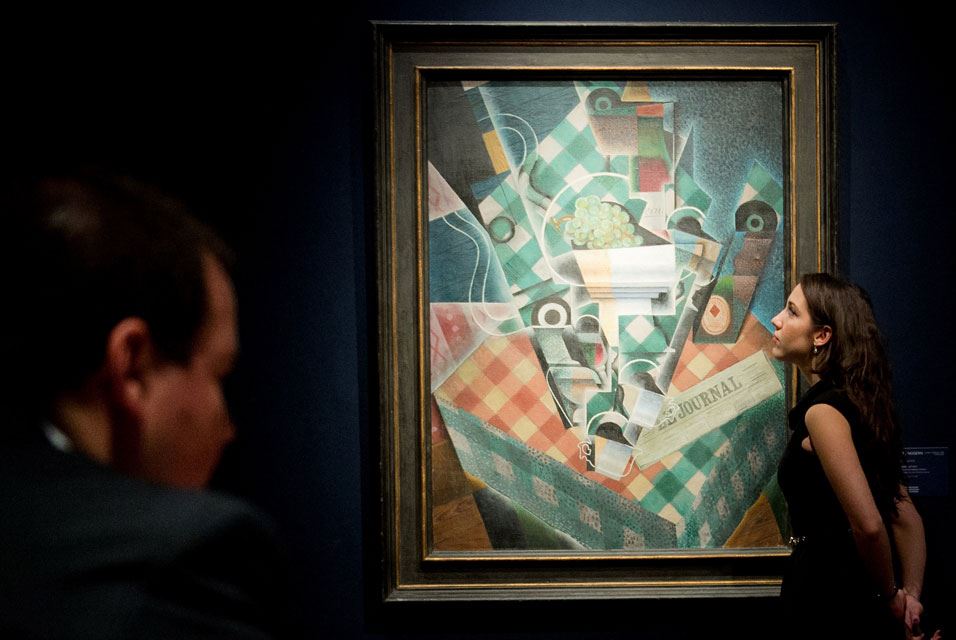 March 23, 1887. José Victoriano (Carmelo Carlos) González-Pérez (March 23, 1887 - May 11, 1927), better known as Juan Gris, was a Spanish painter and sculptor born in Madrid who lived and worked in France most of his life. Closely connected to the innovative artistic genre Cubism, his works are among the movement's most distinctive. In a file picture taken on January 30, 2014 a gallery assistant looks at Juan Gris's "Nature mort a la nappe a carreaux" (1915) during a press call for the "Impressionist, Modern and Surrealist Art" sale at Christie's auction house in London. Juan Gris's Cubist still life "Nature Morte a la Nappe a Carreaux" sold for 34.8 million GBP at a London sale on February 4, smashing the auction record for the Spanish artist. AFP PHOTO/Leon NEAL.
---

Museums, Exhibits, Artists, Milestones, Digital Art, Architecture, Photography,
Photographers, Special Photos, Special Reports, Featured Stories, Auctions, Art Fairs,
Anecdotes, Art Quiz, Education, Mythology, 3D Images, Last Week,

.
Royalville Communications, Inc
produces: