How the Guggenheim got its groove back
"Ragnar Kjartansson: Romantic Songs of the Patriarchy," with performers Diana Gameros, left, and Kendra McKinley at the Guggenheim Museum iin New York. A video installation by Wu Tsang with Beverly Glenn-Copeland is part of a series of shows with a shared political charge, a taste of what can be. Solomon R. Guggenheim Museum; David Heald via The New York Times.

by Holland Cotter
NEW YORK
(NYT NEWS SERVICE)
.-
When the lockdown lifted this past spring, some of our big New York City museums were able to slide major waiting-in-the-wings exhibitions into place. The Guggenheim wasn't so lucky. A traveling Joan Mitchell retrospective slated to fill its rotunda had been canceled. The museum might have whipped up a crowd-pleasing show of modernist chestnuts from the collection. Instead, it did something more interesting. It turned itself into an old-style alternative space. It already had some small side-gallery shows in place or on track, including a selection of gnarly, gripping photographs by the 2020 Hugo Boss Prize winner, Deana Lawson. But to fill its spiraling central space — high and wide, a combination cathedral and chasm — the museum had to get inventive, and it did so in a multipart series of installations called "Re/Projections: Video, Film, and Performance for the Rotunda." In part, the program was designed to facilitate social distancing. The ramp bays, which ...
More
The Best Photos of the Day
Ace Gallery founder arrested on embezzlement charges
The National Gallery of Art acquires works by Friedrich Sustris and Arthur Wesley Dow
Murals at a San Francisco school should stay for now, judge says


Chrismas organized important early exhibitions at his gallery for such artists as Robert Irwin (pictured above), Michael Heizer, Tim Hawkinson and Mary Corse. Alex Marks/The New York Times.

by Jori Finkel



LOS ANGELES (NYT NEWS SERVICE).- Art dealer Douglas Chrismas, who has a decadeslong track record of discovering major artists and an equally lengthy history of not paying artists in full for their sales, has been arrested on charges of embezzlement. Chrismas, 77, surrendered to FBI agents Tuesday and was released on a $50,000 bond. He has pleaded not guilty to the charges, which carry a sentence of up to 15 years in federal prison. A trial date has been set for Sept. 21. The indictment, filed on March 16, 2020, was unsealed Tuesday. In it, Chrismas is accused of redirecting about $265,000 in funds from the bankruptcy estate of Ace Gallery, which he opened in Los Angeles in 1967, to a separate corporation that he owned. Chrismas' bankruptcy lawyer, Jonathan Shenson, did not respond to requests for comment this week and it was not clear who was representing Chrismas in the criminal case. Chrismas organized important early exhibitions at his ... More



Friedrich Sustris, Euterpe (Personification of Music), 1569/1573. Pen and black ink with gray wash, heightened with white gouache, on gray-green laid paper squared in black chalk Sheet: 27.3 x 20.3 cm. National Gallery of Art, Washington. Ruth and Jacob Kainen Memorial Acquisition Fund 2021.15.1.



WASHINGTON, DC.- The National Gallery of Art has recently acquired Euterpe (Personification of Music) (1569/1573), an outstanding drawing by Friedrich Sustris (c. 1540–1599). Created shortly after Sustris's arrival in what is now modern Germany, the work exemplifies his broad stylistic knowledge and refinement. It joins two other drawings by the artist in the collection: The Baptism of Christ (probably 1580s) and An Elaborate Altar with the Resurrection of Christ and the Martyrdom of Saint Andrew (1570/1580). Of Netherlandish origin but born in Padua, Italy, Sustris trained with his father, Lambert, a painter in Titian's circle. He worked briefly in Rome and went on to spent four years in the painter Giorgio Vasari's studio in Florence. His first decorative project was in the Fugger Palace (1568–1573) for a powerful banking family in Augsburg, Germany. One of the very few studies that can be directly connected to that project, th ... More



"The Life of George Washington," a series of murals created in the 1930s for the Works Progress Administration by a Russian-born artist, in the lobby of George Washington High School in San Francisco, April 9, 2019. Jim Wilson/The New York Times.

by Carol Pogash



NEW YORK (NYT NEWS SERVICE).- A California court this week ruled that Works Progress Administration frescoes depicting the life of George Washington cannot be removed from a local high school without an environmental review, thwarting the San Francisco Board of Education's plans to cover up the hotly debated artwork. Painted in the 1930s by Victor Arnautoff, a onetime assistant to Diego Rivera, the "Life of Washington" murals dominate the entryway to the school and have been the subject of debate for years. Critics, including parents and students, have said that high school students should not be forced to see the racism in the murals' portrayal of enslaved African Americans and Native Americans. They wanted the frescoes painted over. Mural supporters, who included art historians, said that destroying them would be equivalent to book burning. Arnautoff, who was a communist, was born in Russia ... More
'Alice Neel: People Come First'
Timothy Rub, the George D. Widener Director and CEO of the Philadelphia Museum of Art, to retire
Guggenheim Museum curators move to join a union


"Two Girls, Spanish Harlem," by Alice Neel. Estate of Alice Neel via The New York Times.

by Roberta Smith



NEW YORK (NYT NEWS SERVICE).- "Alice Neel: People Come First," on view through Aug. 1, at the Metropolitan Museum of Art, is a momentous show of more than 100 paintings, drawings and watercolors from streetscapes, still lifes and interiors to the portraits of a veritable cross section of New Yorkers, occasionally nude, that are considered her greatest work. The largest Neel retrospective yet seen in New York and the first in 20 years, it reigns over prime Met real estate — the Tisch Galleries, typically host to historic figures like Michelangelo, Delacroix and Courbet, and only now to a female artist. This array confirms Neel (1900-1984) as equal if not superior to artists like Lucian Freud and Francis Bacon and destined for icon status on the order of Vincent van Gogh and David Hockney. Neel's star has been on the rise since 1974, when, after several decades on the art world's margins, her confrontational, solidly painted portraits were finally ... More



Before coming to the Philadelphia Museum of Art, Rub served as the Director and Chief Executive Officer of the Cleveland Museum of Art from 2006 to 2009. Photo: Elizabeth Leitzell.



PHILADELPHIA, PA.- Timothy Rub, the George D. Widener Director and Chief Executive Officer, announced today that he plans to retire in early 2022 after thirteen years of service at the Philadelphia Museum of Art. Rub, who will turn 70 in early March, has led the museum since September 2009. During his tenure, the museum has undergone a significant transformation. A major phase of the Facilities Master Plan designed by Frank Gehry, the "Core Project," was completed in late spring 2021 after a decade of planning and four years of construction. Hailed as a thoughtful and nuanced response to the architectural character of the museum's landmark main building, the Core Project represents the largest increase in public and gallery space to this facility since it was opened to the public in 1928. Rub also initiated several other capital improvements (listed below), among them the renovation of the Rodin Museum and its gardens, that ... More



The exterior of the Solomon R. Guggenheim Museum in New York, July 15, 2019. Sara Krulwich/The New York Times.

by Colin Moynihan



NEW YORK (NYT NEWS SERVICE).- For decades there were no unions at the Solomon R. Guggenheim Museum, but now its curators, conservators, editors and other employees are aiming to form the second in just over two years, organizing with a local connected to the United Auto Workers. Workers in similar jobs are already part of collective bargaining units at institutions like the Museum of Modern Art and the New Museum of Contemporary Art. On Friday, the Technical, Office and Professional Union, Local 2110, UAW filed a petition with the National Labor Relations Board asking for it to authorize a vote by the Guggenheim employees on the union, said Maida Rosenstein, the local's president. She said she had sent an email message to the Guggenheim's director, Richard Armstrong, letting him know that the petition had been filed. "We respectfully ask the Museum not to delay the election or campaign against ... More
Smithsonian American Art Museum receives $2.1 million from the Windgate Foundation
The Menil Collection opens 'Enchanted: Visual Histories of the Central Andes'
Fourth suicide at the Vessel leads to calls for higher barriers


Major gift establishes an endowment for acquiring artworks by living artists and support for fellowship positions. Photo: Ron Blunt.



WASHINGTON, DC.- The Smithsonian American Art Museum has received a $2.1 million gift from the Windgate Foundation to establish an endowment dedicated to acquiring artworks by living craft artists. The gift also funds two sequential one-year pre-doctoral fellowship positions that further scholarship in American craft. This major gift to the museum affirms the Renwick Gallery as the nation's preeminent center for the enjoyment and study of American craft, and supports the leadership role of its craft program to advocate for a diverse and inclusive view of what is traditionally considered great art. For the past decade, the Renwick Gallery has presented a series of exhibitions that reassess what craft is in a modern world. This new fund for acquisitions is dedicated to adding to the museum's collection artworks made by a broadly representative and diverse group of American artists. This collecting effort will be featured, for the first ... More



Waisted Cup (Kero) Depicting Two Musicians and Floral Elements, late 15th–18th century. Quechua. Colonial Period, Peru. Wood, natural resin, and pigments, 5 3/4 × 5 3/8 × 5 1/4 in. (14.6 × 13.7 × 13.3 cm). The Menil Collection, Houston. Photo: Paul Hester.



HOUSTON, TX.- Running along the western side of South America, the Andean Mountains have supported a rich, interconnected series of civilizations and empires for more than 3,000 years. Surveying this captivating, multifaceted world, the Menil Collection presents Enchanted: Visual Histories of the Central Andes from July 30 through November 14, 2021. The exhibition showcases works from the museum's collection and loans from the Museum of International Folk Art in Santa Fe, NM. More than forty objects from different historical moments of Andean history are on view—including polychrome ceramic vessels of the Nazca culture (ca. 100 BCE–800 CE), important textiles from the Wari (ca. 600–1000 CE) and Chimú (ca. 1150–1450) civilizations, and 20th–21st century examples of elaborately embroidered esclavinas (short ... More



People walk past the Vessel at Hudson Yards in New York on Thursday, July 29, 2021, hours after a 14-year-old boy died by suicide there. Jeenah Moon/The New York Times.

by Ashley Wong and Michael Gold



NEW YORK (NYT NEWS SERVICE).- Just two months after the Vessel, a honeycomb-like spiral of staircases in Hudson Yards, reopened with design changes meant to lower the risk of suicides, a 14-year-old boy died by suicide there Thursday afternoon, the police said. The death, which was the fourth suicide at the tourist attraction in a year and a half, angered community members who have repeatedly called on developers to build higher barriers on the walkways and raised questions about the effectiveness of the structure's suicide-prevention methods. The Vessel was closed after the death, and an investigation is underway. The structure, which is the centerpiece of the Hudson Yards complex on Manhattan's Far West Side, rises 150 feet above the ground with waist-high glass barriers bordering its walkways. It had ... More
Frankenthaler Foundation commits $10M to promote climate change action in visual arts
National Museum of the American Indian repatriates two objects to the Siksika Nation
Joslyn Art Museum reveals design for New Rhonda and Howard Hawks Pavilion


The Museo de Arte de Ponce, one of the grant recipients.



NEW YORK, NY.- The Helen Frankenthaler Foundation announced today that it has increased the Frankenthaler Climate Initiative to a total commitment of $10 million and conferred $5.1 million to nearly 80 visual art institutions across the United States. The first program of its kind supporting energy efficiency and clean energy projects for the visual arts in the U.S., the Frankenthaler Climate Initiative was developed in partnership with RMI, a leading global expert and advocate for clean energy, and Environment & Culture Partners consultancy, and was launched this past February as a $5-million, multi-year program. In response to the range, depth, and need of applications from the first call for proposals, the Foundation is conferring the full initial commitment in its inaugural cycle and dedicating an additional $5 million to be awarded over the next two years. The 79 grant recipients from the 2021 ... More



Prairie Chicken Society Headdress. Image courtesy of the National Museum of the American Indian (01/6748).



WASHINGTON, DC.- The Smithsonian's National Museum of the American Indian repatriated a Prairie Chicken Society Headdress and a Weather Dance Robe to Siksika Nation. Siksika Nation, which is located in Alberta, Canada, maintains a network of societies that provide a foundation for their cultural and religious practices. The Prairie Chicken Society is unique to the Siksika, and the headdress once belonged to the society's leader. It was accessioned into the Museum of the American Indian—the predecessor museum to the current National Museum of the American Indian—in 1908. The collector is unknown. The Weather Dance Robe is associated with the functions of a Weather Dancer—a medicine man who maintains a divine connection with the sun. The primary function of a Weather Dancer is the control of the weather during ceremonial ... More



Discovery Connection. Image: Moare.



OMAHA, NE.- Joslyn Art Museum executive director & CEO Jack Becker unveiled the design for the Museum's expansion and renovation, led by international architectural firm Snøhetta in partnership with Omaha's Alley Poyner Macchietto Architecture (APMA). The new building will be named for Rhonda and Howard Hawks of The Hawks Foundation. Central to the 42,000-square-foot Rhonda and Howard Hawks Pavilion are abundant light-filled galleries designed to meet the demands of and explore the possibilities of a growing permanent collection. Visitors will find new community spaces, additional classrooms, and enhanced amenities that support increased public programs. In addition to the new galleries and public spaces, the architectural team will restore and modernize existing office spaces in Joslyn's 1931 Memorial Building. The project also redesigns and rejuvenates more than three acres of public gardens and outdoor spaces on the Museum site. ... More
Quote
I have spent my life making blunders. Pierre-Auguste Renoir
---
Collection in Focus: Scott Joplin's Maple Leaf Rag
---

Flashback
On a day like today, French painter and sculptor Jean Dubuffet was born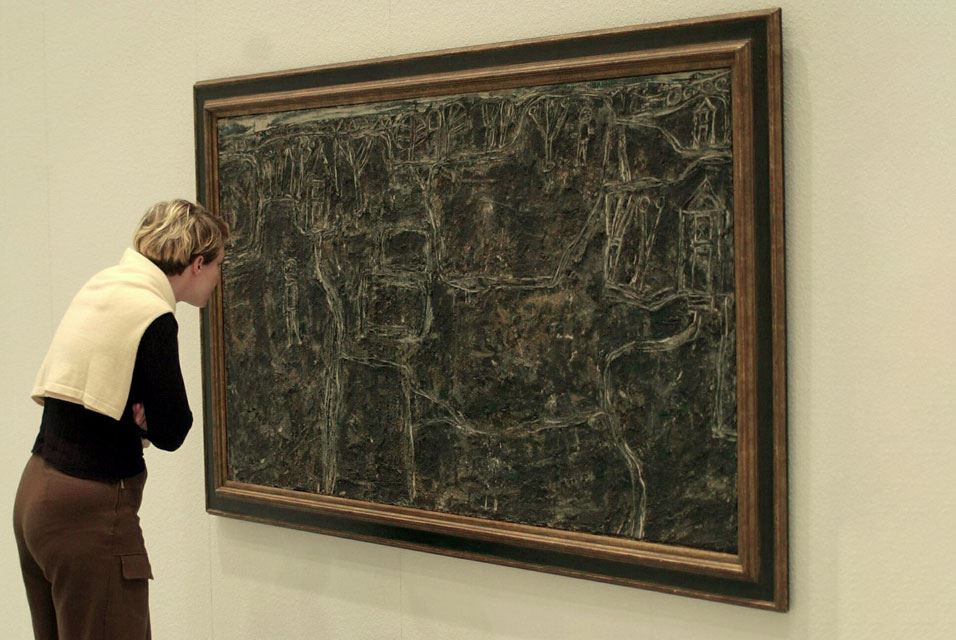 July 31, 1901. Jean Philippe Arthur Dubuffet (31 July 1901 - 12 May 1985) was a French painter and sculptor. His idealistic approach to aesthetics embraced so called "low art" and eschewed traditional standards of beauty in favor of what he believed to be a more authentic and humanistic approach to image-making. In this image: A young lady looks at "Paysage charbonneux" by French artist Jean Dubuffet dated 1946, and valued at 3.5 million Marks (1.5 million Dollars) at the 34th International fair for modern art "Art Cologne" in Cologne, Germany, Friday, November 3, 2000.
---

Museums, Exhibits, Artists, Milestones, Digital Art, Architecture, Photography,
Photographers, Special Photos, Special Reports, Featured Stories, Auctions, Art Fairs,
Anecdotes, Art Quiz, Education, Mythology, 3D Images, Last Week,

.
Royalville Communications, Inc
produces: