Mammoth tusks in the East River? How Joe Rogan started a 'bone rush.'
Divers search for prehistoric artifacts in the East River off Manhattan, Jan. 9, 2023. After a podcast guest on Joe Rogan's show claimed that tons of prehistoric remains were dumped decades ago, scuba divers suited up. But the truth, like the water, is as murky. (Michael Wilson/The New York Times)

by Michael Wilson
NEW YORK, NY
.-
The surveying vessel Red Rogers made its way up the East River on a recent Saturday, stopping at a precise location off the Manhattan shoreline. Two guests on board — a fossil collector and a treasure hunter with large audiences on social media — tugged on scuba gear and dropped overboard into the frigid waters. The boat, based in Staten Island, is named for a Korean War veteran and former New York City firefighter — and a redhead — and carries state-of-the-art equipment designed to map and scan the ocean floor to assist in construction, dredging and investigating wrecks. On this day, they were drawn to their spot, near East 65th Street, not by scientific data or the boat's keen instruments, but by a massively popular podcast: "The Joe Rogan Experience." In a recent interview on that show, which has an estimated audience of 11 million listeners per episode on Spotify, a guest from Alaska presented an explosive discovery: There are tens of thousands of ...
More
The Best Photos of the Day
Gagosian to presents new works by Adam McEwen in London
Hauser & Wirth Zurich exhibits both painting and sculpture by Berlinde De Bruyckere
Sotheby's to offer the collection of renowned interior designer & collector Jacques Garcia


Adam McEwen, Untitled (Greta), 2023, chromogenic print, dry-mounted on Dibond, 60 × 40 inches (152.4 × 101.6 cm), edition of 5 + 3 AP © Adam McEwen. Photo: Prudence Cuming Associates Ltd. Courtesy Gagosian.



LONDON.- Gagosian opened an exhibition of new works by Adam McEwen. This is McEwen's first solo gallery exhibition in London. The exhibition on Davies Street introduces new obituary works by McEwen, who is returning to this ongoing series for the first time in over a decade. As with the artist's paintings and life-size sculptures made of graphite and other materials, these works operate between the familiar and the uncanny, optimism and oblivion. In London, blown-up facsimiles of obituaries are dedicated to well-known people including musicians Grace Jones and Dolly Parton, Formula One driver Lewis Hamilton, and climate activist Greta Thunberg. Contemporary public figures with a diverse range of life stories and accomplishments, all of them are in fact still alive. Begun in 2000, the series predates the ubiquity and ambiguities of social media in its consideration of histo ... More



Installation view, 'Berlinde De Bruyckere. A simple prophecy', Hauser & Wirth Zurich, Limmatstrasse, 26 January until 13 May 2023 © Berlinde De Bruyckere. Courtesy the artist and Hauser & Wirth. Photo: Stefan Altenburger Photography Zürich.



ZURICH.- Presenting a powerful meditation upon the fundamental human search for transformation, transcendence and reconciliation in the light of mortality, De Bruyckere's exhibition at Hauser & Wirth Zurich, Limmatstrasse features new bronze and lead sculptures from the Arcangelo series. Alongside these, a selection of monumental, framed relief works and paper collages from the artist's It almost seemed a lily series are being shown. Spanning both painting and sculpture, De Bruyckere works with wax, animal skins, paper, textiles, metal and wood to create hybrid forms with human, animal and plant features. Layering religious iconography and ancient mythology with narratives of transience, carnality and sensuality, Berlinde De Bruyckere surpasses religious connotations and transfers them to the realm of the universal and profane ... More



Dedicated auction of 75 lots with royal provenances including Marie-Antoinette, Louis XV, Louis XVI and Napoleon marking Garcia's 75th birthday. Proceeds to benefit the Château du Champ-de-Bataille. Photo Courtesy of Sotheby's / ArtDigital Studio'.



PARIS.- "The power of exceptional residences lies in the unforgettable feeling that stays with those who has visited them. As with all of Jacques Garcia's creations, Champ de Bataille is one such memorable place. This setting leaves an indelible mark from the first visit, from the initial shock of its beauty to the awe when you realise the mammoth effort that has gone into its construction and renovation. Nowhere is Garcia's mastery of atmosphere more evident" -Mario Tavella, Président of Sotheby's France, Chairman of Sotheby's Europe. On 16 May, 75 prestigious works of art – handpicked by the interior designer from the project of a lifetime – will be offered at Sotheby's Paris. The proceeds will benefit Champ de Bataille, preserving its legacy for future generations. French interior designer and collector Jacques Garcia is world- renowned as the creative ... More
An artist who blends secular and sacred (with sequins)
Phillips appoints Lauren Peterson as Regional Director, Chicago-Midwest
Ben Brown Fine Arts open their third solo exhibition of artist Awol Erizku


Myrlande Constant in front of one her intricate tapestries at Fort Gansevoort gallery in Manhattan, Jan. 12, 2023. (Gioncarlo Valentine/The New York Times)

by Siddhartha Mitter



NEW YORK, NY.- The scene was a vibrant pastorale, rendered in thousands of shimmering sequins and beads that filled a nine-foot-wide canvas with a red tasseled border. In the background were emerald fields, bulbous trees, a blue-and-white streaked sky. Up front were clusters of small figures in conversation on the ground, beside a bull grazing. And anchoring the center of this bustling tapestry were the many manifestations of Kouzen Zaka, the lwa, or Haitian Vodou spirit, of farming — or as an embroidered inscription read at the top of the piece, the "minister of Agriculture." There is so much activity in Myrlande Constant's tapestries that it can feel unfair to ask her to explain each detail. But recently, in New York for the opening of an exhibition of her newest works at Fort Gansevoort gallery in the Meatpacking district, this Haitian artist ... More



Ms. Peterson joined Phillips as Regional Representative in Chicago in 2017. Image courtesy of Phillips.



NEW YORK, NY.- Phillips announced the appointment of Lauren Peterson as Regional Director, Chicago-Midwest. In this role, Ms. Peterson will partner with Phillips' specialists across all departmental categories to support the auction house's growing business development efforts in the Americas. Ms. Peterson joined Phillips as Regional Representative in Chicago in 2017 and was promoted to Director of Museum & Corporate Collections in 2021. During her tenure, she facilitated Phillips' support of such important exhibitions as Christina Quarles at the Museum of Contemporary Art Chicago, Surrealism Beyond Borders at The Metropolitan Museum of Art, Scandinavian Design and the United States, 1890-1980 at the Los Angeles County Museum of Art, Philip Guston Now and Georgia O'Keeffe, Photographer at the Museum of Fine Arts, Houston, and Edward Hopper's New York at the Whitney Museum of American Art. Prior to joining Phillips ... More



Awol Erizku (b. 1988), No Hesi, 2022. Spray paint, regulation size basketball hoops and metal chains on printed aluminium, 243.8 x 182.9 x 61 cm; (96 x 72 x 24 in.)



LONDON.- Ben Brown Fine Arts is presenting Cosmic Drill, their third solo exhibition of Los Angeles-based artist Awol Erizku. The exhibition follows his highly acclaimed shows with Ben Brown Fine Arts, 慢慢燃燒 Slow Burn (Hong Kong, 2018) and Make America Great Again (London, 2017). This exhibition unveiled an alluring new body of work that converges the mediums of painting, photography and sculpture, while harnessing myriad influences including street markings, hip-hop music, basketball, and NASA telescopic data. Cosmic Drill features large-scale mixed media paintings and a seminal marble sculpture, as well as a conceptual mix-tape produced specifically for the exhibition. The paintings are executed upon industrial aluminium surfaces directly emblazoned with photographic imagery that includes pictures of the cosmos captured by NASA's Hubble Space Telescope ... More
Exhibition searches for meaning at the limits of science and perception
New-York Historical Society reveals the extraordinary story of a Black artisan in post-revolutionary New York
New York Public Library acquires Joan Didion's papers


Dario Robleto, "American Seabed," 2014. Fossilized prehistoric whale ear bones salvaged from the sea (1 to 10 million years), various butterflies, butterfly antennae made from stretched and pulled audiotape recordings of Bob Dylan's "Desolation Row," concrete, ocean water, pigments, coral, brass, steel, Plexiglas. 37 x 68 x 55 inches (overall without pedestal). Image courtesy of the artist.



EVANSTON, ILL.- American artist Dario Robleto (b. 1972) believes artists and scientists share a common aspiration: to increase the sensitivity of their observations. From understanding the human body's pulses and brainwaves to viewing the faintest glimmers of light from the edge of the observable universe, groundbreaking science pushes the limits of perception. Similarly, the perceptive work of artists can extend the boundaries of empathy and understanding. Since 2018, Robleto served as an artist-at-large at the McCormick School of Engineering. This unique program partnership between The Block Museum and McCormick gave the artist an open "hall pass" to learn from, collaborate with and question scientists, engineers and experts from across the University. Robleto's five-year ... More



Based on recently discovered evidence, exhibition shines a new light on New York's free Black community in the early 1800s.



NEW YORK, NY.- This winter, the New-York Historical Society presents Crafting Freedom: The Life and Legacy of Free Black Potter Thomas W. Commeraw, the first exhibition to bring overdue attention to Thomas W. Commeraw, a successful Black craftsman who was long assumed to be white. Formerly enslaved, Commeraw rose to prominence as a free Black entrepreneur, owning and operating a successful pottery in the city. Over a period of two decades, he amassed property, engaged in debates over state and national politics, and participated in New York City's free Black community. On view January 27 –May 28, 2023, the exhibition explores Commeraw's multi-faceted history as a craftsman, business owner, family man, and citizen through approximately 40 pieces of stoneware produced by Commeraw and his competitors between the late 1790s and 1819, in the largest presentation of his work to date. Alongside these pieces are the primary documents that ... More



In a photo provided by the New York Public Library shows, Joan Didion and John Dunne in HawaiI. (The archives of Joan Didion and John Gregory Dunne/New York Public Library via The New York Times)

by Jennifer Schuessler



NEW YORK, NY.- It was April 1957, and Joan Didion was writing to her family in California about her job as a copywriter at Vogue. "Work is dull and tedious," she wrote, adding, "I can hardly wait to quit." Didion, 22 at the time and less than a year out of the University of California, Berkeley, also added her thoughts on a book she had recently read that lamented the conformism of her peers. "All anyone in this generation wants is security and group belonging," she wrote, "and what will happen to the world if nobody is willing to risk that security to gain the big things?" Inside the envelope, Didion tucked a magazine clipping showing a "little black dress" she had recently bought, which had proved "a smashing success." "It looks slightly different on me, because it is slightly too small for me," she wrote, "wherein lies the success of it all ... More
Personal telephone and address book, and other memorabilia owned by Elvis Presley to be auctioned today
UNESCO moves to protect Odesa, designating the city a World Heritage Site
Forgotten history of Chinese railroad workers rises from Texas dust


Elvis Presley's Valium Prescription Pill bottle prescribed by Dr. Kaplan from Don's Medical Center Pharmacy in Palm Springs, CA.



LOS ANGELES, CALIF.- A rare and personal telephone and address book owned and used by Elvis Presley, "The King of Rock and Roll," is about to hit the auction block at Kruse GWS Auctions for the very first time. The address book was personally owned and used by Elvis and contains handwritten names, addresses and telephone numbers of some of the most influential people in his personal life and of his career. From starlets to major Hollywood players, Elvis kept personal numbers by his side in his bedside nightstand for many years. The telephone address book is well documented by a personal recollection by Priscilla Presley adding to its unique provenance. The book is part of a carefully curated auction to take place at Kruse GWS Auctions on Saturday, January 28th, 2023 beginning at 10:00 a.m. PT. The "Artifacts of Hollywood and Music" auction features a collection of unusual artifacts from the life and career of Elvis Presley ... More



School graduates dance by sandbags protecting the front of the Opera Theater for a video to be posted online, in Odesa, Ukraine, June 15, 2022. This most storied of port cities remains Russian President Vladimir Putin's obsession, not only because it holds the key to the Black Sea, but because its openness and diversity embody all he wants to destroy. (Laetitia Vancon/The New York Times)



NEW YORK, NY.- The United Nations cultural agency, UNESCO, designated the historic center of Odesa, Ukraine, as a World Heritage Site and classified it as being "in danger" during a committee session in Paris on Wednesday, in a nod to the historic importance of a Black Sea port that Russia has battered with missiles as it tries to reconquer Ukraine. France's foreign minister, Catherine Colonna, traveled to the city Thursday in a show of support, but her plans were interrupted by the threat of a Russian missile strike. "Thanks to a Russian missile, I experienced my first diplomatic bilateral meeting in a shelter," Colonna wrote on Twitter, sharing a photo with Ukraine's minister of foreign affairs. President Volodymyr Zelenskyy called on the U.N. to designate Odesa ... More



The artist Kenneth Tam in Houston, Jan. 9, 2023. (Shane Lavalette/The New York Times)

by Zachary Small



MARFA, TX.- What remains of the Chinese immigrants who built the Southern Pacific Railroad through Seminole Canyon in the 1880s are the objects they left behind — opium pipes, rice bowls and imperial coins buried here in the scrublands, three hours east of the desert town of Marfa. The laborers, who after brutal hours toiling in the rattlesnake-infested lands would sleep in tents near the tracks, left little of their own writing. (Their white counterparts lodged inside the train cars.) Artist Kenneth Tam was asked to come here from New York, in December 2021, to explore the canyon's archaeological sites and piece together a story of the 3,500 laborers. His sculptures of compressed dirt and detritus, horse saddles and leather straps are on exhibit in Ballroom Marfa, a contemporary art space that was once a dance hall. Titled "Tender is the hand which holds the stone of memory ... More
Quote
Every child is an artist. The problem is how to remain an artist once he grows up. Pablo Picasso
---
In Celebration of Georg Baselitz's 85th Birthday
---

Flashback
On a day like today, American painter Alice Neel was born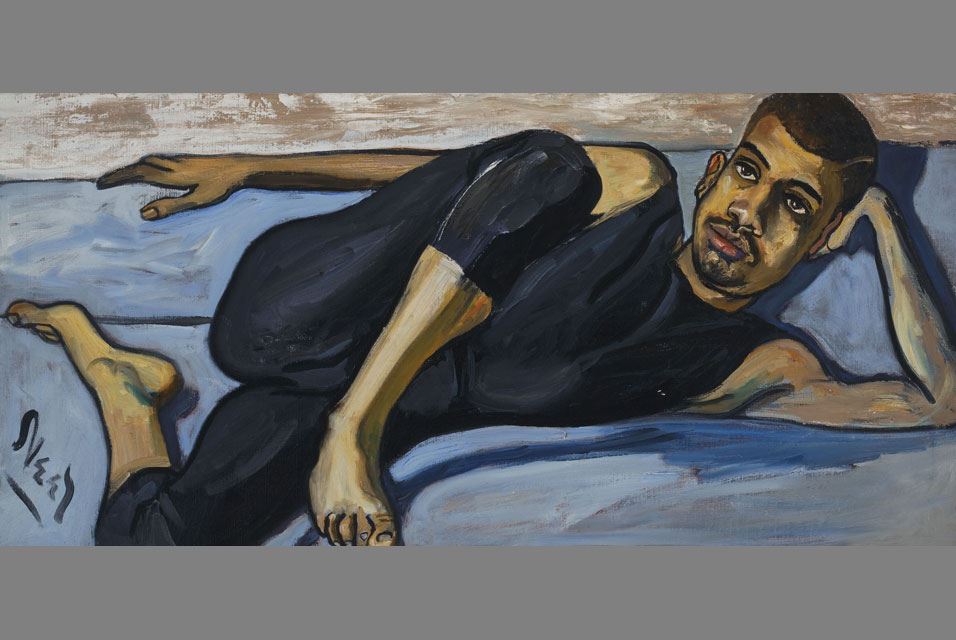 January 28, 1900. Alice Neel (January 28, 1900 - October 13, 1984) was an American visual artist, who was known for her portraits depicting friends, family, lovers, poets, artists and strangers. Her paintings have an expressionistic use of line and color, psychological acumen, and emotional intensity. Neel was called "one of the greatest portrait artists of the 20th century" by Barry Walker, curator of modern and contemporary art at the Museum of Fine Arts, Houston, which organized a retrospective of her work in 2010. In this image: Ballet Dancer, 1950. Hall Collection. © The Estate of Alice Neel. Courtesy David Zwirner, New York/London and Victoria Miro, London.
---

Museums, Exhibits, Artists, Milestones, Digital Art, Architecture, Photography,
Photographers, Special Photos, Special Reports, Featured Stories, Auctions, Art Fairs,
Anecdotes, Art Quiz, Education, Mythology, 3D Images, Last Week,

.
Royalville Communications, Inc
produces: