Saint Bartholomew by Luca Giordano is now part of Nationalmuseum's collections
Saint Bartholomew, Oil on canvas, 74.7 x 63 cm, second half of 1600s, Luca Giordano, Italian, (1634 – 1705). Acquisition Donated: 2022 by the Friends of the Nationalmuseum.
STOCKHOLM
.-
The painting of Bartholomew the Apostle by the Italian painter Luca Giordano has been donated to
Nationalmuseum
, the first painting in the collections by this famous Baroque artist from Naples whose final years were spent as painter at the Spanish court. It was generously donated by the Friends of Nationalmuseum. During the second half of the seventeenth century, Luca Giordano (1634–1705) was a leading painter of the Neapolitan School. At that time, Naples was one of the biggest cities in Europe and its population was larger than that of Rome. During the seventeenth century, southern Italy was part of the Spanish Empire and the culture of Naples was thus influenced by both Italy and Spain. A young artist from Naples would naturally be interested in both the dynamism of the Baroque art of Rome and the Spanish tradition. The paintings of saints and philosophers by the Spanish master Jusepe de Ribera, inspired Giordano's ...
More
The Best Photos of the Day
Exhibition creates a visual, artistic, and sensorial dialogue between Claude Monet and Joan Mitchell
Gallery Wendi Norris announces representation of the Estate of Eileen Agar
Records tumble at Bonhams Bazing a Trail sale


Claude Monet, The Artist's House Seen from the Rose Garden, 1922-1924 (detail). Oil on canvas, 89 × 92 cm. Musée Marmottan Monet, Paris.



PARIS.- The exhibition "Monet - Mitchell" creates, for the first time, a visual, artistic, sensorial, and poetic dialogue between the works of two exceptional artists, Claude Monet (1840-1926), with his Water Lilies, and Joan Mitchell (1925-1992). Both artists left their mark not only on their epoch but also on subsequent generations of painters. The "Monet-Mitchell" exhibition is complemented by a retrospective of Joan Mitchell's work, enabling the public in France and Europe to discover her work. "Monet - Mitchell" and the "Joan Mitchell Retrospective" present each artist's unique response to a shared landscape, which they interpret in a particularly immersive and sensual manner. In his last paintings, the Water Lilies, Monet aimed to recreate in his studio the motifs he observed at length ... More



Eileen Agar, Homage to the Scissor, n.d., Sculpture, 25 x 11 cm.



SAN FRANCISCO, CA.- Gallery Wendi Norris announced its representation of the estate of Eileen Agar (1899-1991). An artist whose life spanned nearly the entire 20th century, Eileen Agar was a radical woman of her times: transcontinental worldliness simultaneously deeply informed and belied her highly personal, unconventional artworks. Born in Argentina to Scottish and American parents, Agar was, from the outset, a traveler. With her formative youth spent in South America and adulthood in the United Kingdom and Europe, her external travels were mirrored by internal explorations, mining her own and society's unconscious to produce works that consistently align and juxtapose the recognizable with the mysterious. "I am honored to work with this important material, '' said Wendi Norris. "In 2023 my gallery will present ... More



Audrey Cruddas (British, born 1912), Artist with a Seagull. Photo: Bonhams.



LONDON.- A new world record at auction for a work by the British surrealist painter Ithell Colquhoun (1906-1988) was set at Bonhams Blazing a Trail sale in London last week. Still Water sold for £53,200 having been estimated at £5,000-8,000. This surpassed the previous world auction record of £37,750 for the artist's work established for Battle Fury of Cuchullin at last year's Blazing a Trail sale. Other world auction records included. • Artist with a Seagull by Audrey Cruddas (1912-1979). Sold for £6,575 (estimate: £2,000-3,000) • A View of Highbury by Helen Lessore (1907-1994). Sold for £5,523 (estimate £1,500-2,000) • Composition on Black and Green with Two Cups by Rachel Nicholson (b 1934) sold for £5,523 (estimate £1,500-2,000) Janet Hardie, Bonhams Senior Specialist in Modern British and Irish Art said: "The objective ... More
The Dhaka Art Summit reveals the first details of artist projects for the 2023 edition, titled Bonna
Colombian artist Olga de Amaral opens first solo show in London at the Lisson Gallery
Art dies where anything may be deemed a threat


Sahej Rahal, Black Origin, 2022. Digital collage generated using AI program. Courtesy the artist and Chatterjee & Lal.



DHAKA.- The Samdani Art Foundation has announced the first details of artist projects for the Dhaka Art Summit 2023. Taking place at the Bangladesh Shilpakala Academy from 3-11 February 2023, the Summit is a hub for contemporary art in South Asia and one of the largest contemporary art events of its kind. A bridge connecting Bangladeshi artists to the rest of the world, the Summit is arranged around a series of intersecting exhibitions, and in 2023 it will bring together over 120 local and international artists and architects including: Rana Begum, Bhasha Chakrabarti, Simon Fujiwara, Antony Gormley, Yasmin Jahan Nupur, Ashfika Rahman, Joydeb Roaja, Rupali Gupte and Prasad Shetty, Lapdiang Syiem, Sumayya Vally and Anpu Varkey. This sixth edition, titled Bonna, will explore the theme of Bangladesh's climate, and how this has shaped the country's history, identity and culture. As both the word for 'flood' and a girl ... More



I find that the knot is the beginning of everything. Everything is accidental to me. An accident becomes a work. – Olga de Amaral



LONDON.- The renowned Colombian artist Olga de Amaral opens her first solo show in London for almost a decade, following her inaugural exhibitions with Lisson Gallery in New York last year. This display of cascading, layered textiles, and numinous clouds of hanging strands, among a range of other historic and recent pieces, reveals Amaral's mastery of the loom and the woven language, but also the ways in which her practice crosses over into painting, sculpture and installation – being as much fine art as fibre art. While a recent touring museum exhibition in the US, entitled 'To Weave a Rock', introduced her to many new audiences, her work is seldom seen in such great depth in Europe, despite many of her earliest influences emanating from her travels and influences encountered here and elsewhere, between the 1950s and '70s. Most of the works in this show hail from the past two decades, featuring her characterist ... More



In Bangladesh, a crackdown on free speech has left filmmakers in a Kafkaesque bind as their movies are blocked for vague reasons.



DHAKA.- The celebrated Bangladeshi director had tried to do everything by the rules. Before shooting his movie, the filmmaker, Mostofa Sarwar Farooki, submitted the script for approval by the country's Ministry of Information and Broadcasting. He had received permission to cast prominent Indian and Palestinian actors, in addition to Bangladeshi artists. But even as the film, "Saturday Afternoon" — a single-shot feature loosely based on the 2016 terrorist attack at a bakery in Dhaka, the capital, that left 24 dead — has been screened to applause and awards at festivals abroad, Bangladesh's government has refused to permit its release at home. For three years, the country's film censor board has been denying Farooki's appeals — an indication, analysts and activists say, of how the government of Prime Minister Sheikh Hasina is shrinking the space for free speech, sometimes in arbitrary ways. ... More
Loretta Lynn, country music star and symbol of rural resilience, dies at 90
Photographic portraits of Native Americans featured in exhibition at Reading Public Museum
Coolio, rapper who hit pay dirt with 'Gangsta's Paradise,' dies at 59


Loretta Lynn performs at the Grand Ole Opry in Nashville on Oct. 20, 1972. Gary Settle/The New York Times.

by Bill Friskics-Warren



NASHVILLE, TENN.- Loretta Lynn, the country singer whose plucky songs and inspiring life story made her one of the most beloved American musical performers of her generation, died Tuesday at her home in Hurricane Mills, Tennessee. She was 90. Her family said in a statement that she died in her sleep at her ranch, which had turned Hurricane Mills, about 70 miles west of Nashville, into a tourist destination. Lynn built her stardom not only on her music but also on her image as a symbol of rural pride and determination. Her story was carved out of Kentucky coal country, from hardscrabble beginnings in Butcher Hollow (which her songs made famous as Butcher Holler). She became a wife at 15, a mother at 16 and a grandmother in her early 30s, married to a womanizing, sometime bootlegger who managed her ... More



Charles Milton Bell (American, 1848 – 1893), Es-En-Ce (Little Shell), 1874, photograph, 6 ½ x 4 1/4 inches, Gift, E.D. McCauley Esq., 1940.206.48.1. Courtesy of the Reading Public Museum, Reading, Pennsylvania.



READING, PA.- The Foundation for the Reading Public Museum announced the opening of Indigenous Identities: Portraits of Native Americans in the Civil War Era. The exhibition is on view from October 1, 2022 through January 8, 2023 in The Museum's Works on Paper Gallery on the ground floor. The exhibition includes 49 photographic portraits taken during the United States Civil War era (1846 – 1877). These images were collected as part of the Hayden Survey (later known as the US Geological and Geographical Survey of the Territories) conducted by the Department of the Interior in 1871. The purpose of the survey was to gather intelligence about the West in order to open the land to white settlers. As the United States turned its attention westward, tensions between Americans and Indigenous people began to rise. To deal with the "Indian Problem ... More



From a bookish, asthmatic child to mainstream hitmaker, the West Coast M.C. charted a distinctive path to hip-hop stardom.



NEW YORK, NY.- Coolio, the rapper whose playful and sometimes gritty takes on West Coast rap and anthemic hits like "Gangsta's Paradise" made him a hip-hop star in the 1990s, died Wednesday in Los Angeles. He was 59. His longtime manager, Jarez Posey, said he was told that Coolio died at a friend's house. No cause was given. Coolio, whose legal name was Artis Leon Ivey Jr., achieved mainstream superstardom and critical success with "Gangsta's Paradise" in 1995. A grim, minor-key track that featured the singer L.V. and drew on Stevie Wonder's 1976 song "Pastime Paradise," it spent three weeks atop Billboard's Hot 100 and was named the chart's No. 1 song of the year. It also won the Grammy for best rap solo performance in 1996 and was later certified triple platinum by the Recording Industry Association of America, outshining the movie it was featured in, the high school drama "Dangerous Minds." "Coolio ... More
Sara Nightingale Gallery presents 'Gus & George: Out Side'
Period jewellery achieves strong prices at Noonans
SJ Auctioneers announces highlights included in Fall for the Auction of Collectibles


Lily Pond, Gus Yero, acrylic on wood panel, 40" x 30".



SAG HARBOR, NY.- In this exhibition at the Sara Nightingale Gallery, which will run through October 18th, recent works by Gus Yero and George Singer, look to the natural (and unnatural) outside world in a collection of abstract and narrative paintings that allow color to do much of the story telling. Gus & George are married and share a home and studio in East Hampton, NY. Though they create their works as separate individuals, they often share ideas, comments and inspiration. They write: "Among the things we all seem to have in common, and which was likely magnified during the pandemic, is a desire to seek something larger than ourselves. Perhaps we stand in wonder at the expanse of the ocean or stare up at a night sky hoping to see unidentified arial phenomena. We have daily interactions with nature, and also must confront ourselves internally as we work a blank canvas with paint and texture, shapes and color. ... More



Stunning three carat diamond ring formerly the property of Mrs. Flora Abraham Sassoon sells for hammer price of £38,000 at Noonans.



LONDON.- An early 20th century diamond and platinum ring, formerly the property of business woman, philantrophist, Jewish scholar and famed hostess Mrs. Flora Abraham Sassoon (1856-1936) of the legendary Sassoon dynasty, sold for a hammer price of £38,000 at Mayfair auctioneers Noonans on Tuesday, September 13, 2022 in a sale of Jewellery, Watches and Objects of Vertu. Estimated to fetch £20,000-30,000, the ring had been passed on to Flora's eldest daughter, Rachel Sassoon Ezra (Lady Ezra) and thence by family descent to the current vendors [lot 335]. Prior to the sale, Frances Noble, Associate Director and Head of Jewellery at Noonans commented: "In the 19th century, the Sassoon dynasty were known as the 'Rothschilds of the East'. Mrs Flora Abraham Sassoon played a significant ... More



Large 1920 Steuben aurene art glass footed bowl, 8 ¼ inches tall by 6 inches wide (est. $1,000-$5,000).



BROOKLYN, NY.- SJ Auctioneers will hold an important online-only Fall for the Auction of Collectibles sale on Sunday, October 23rd, beginning promptly at 4 pm Eastern time. The auction features over 250 lots of vehicle collectibles, trains, paperweights, art glass, porcelain, décor, sterling silver, jewelry, fashion bags and Disney collectibles – something for just about everyone. Names in the sale read like a who's who in famous brand manufacturers, names like Cartier, Tiffany & Company, Dominick & Haff, Jose Hess, Emile Delaire, Gorham, Movito, Reed & Barton, Watson, Wallace, Wm. B. Kerr, Sackermann Hessenberg & Company, Italian Vetreria Murano, Arte, American Flyer, Lionel, Tootsie Toy, Buddy L, Dinky Toys, Matchbox, Lesney, Steuben, Disney and Baccarat. Online bidding is via LiveAuctioneers.com and BidSpirit.com. A link to the catalog is here: ... More
Quote
Sketch everything and keep your curiosity fresh. John Singer Sargent
---
Sotheby's Spotlight: The Stan Barrett Collection
---

Flashback
On a day like today, Italian painter Francesco Guardi was born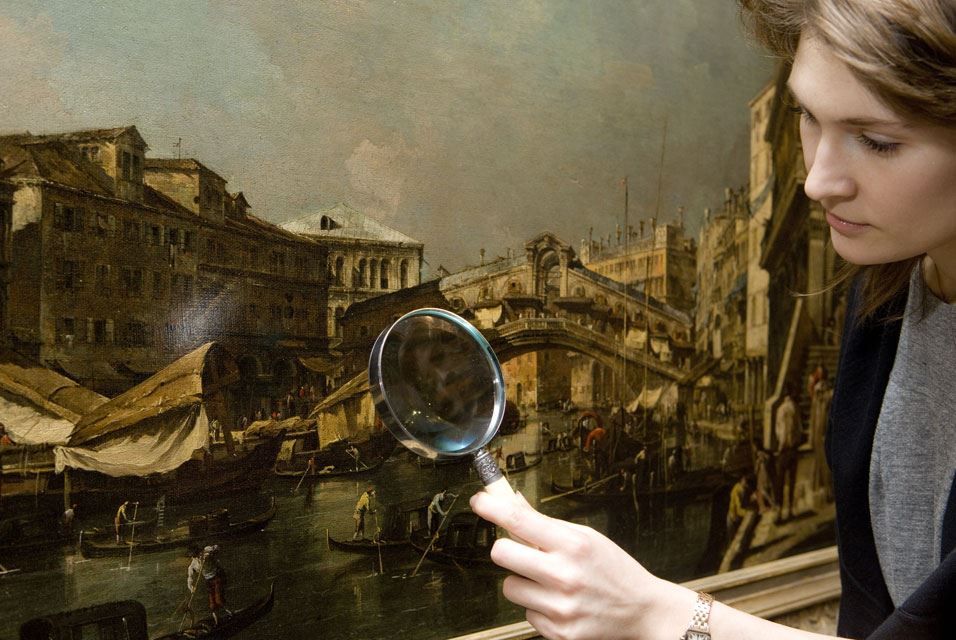 October 05, 1712. Francesco Lazzaro Guardi (October 5, 1712 - January 1, 1793) was a Venetian painter of veduta, a member of the Venetian School. He is considered to be among the last practitioners, along with his brothers, of the classic Venetian school of painting. In this image: Sotheby's employee Maria Sheremeteva studies Francesco Guardi's Venice, a view of the Rialto Bridge.
---

Museums, Exhibits, Artists, Milestones, Digital Art, Architecture, Photography,
Photographers, Special Photos, Special Reports, Featured Stories, Auctions, Art Fairs,
Anecdotes, Art Quiz, Education, Mythology, 3D Images, Last Week,

.
Royalville Communications, Inc
produces: