Exhibition marks Pierre Cardin's first New York retrospective in 40 years
A dress is displayed at the Pierre Cardin's "Future Fashion" Exhibition at the Brooklyn Museum July 19, 2019. Pierre Cardin: Future Fashion is the first New York retrospective in forty years to focus on the legendary couturier. TIMOTHY A. CLARY / AFP PHOTO / AFP.
BROOKLYN, NY
.-
Pierre Cardin: Future Fashion traces the legendary career of one of the fashion world's most innovative designers, one whose futuristic designs and trailblazing efforts to democratize high fashion for the masses pushed the boundaries of the industry for more than seven decades. The retrospective exhibition features over 170 objects that date from the 1950s to the present, including haute couture and ready-to-wear garments, accessories, photographs, film, and other materials drawn primarily from the Pierre Cardin archive. Pierre Cardin: Future Fashion, curated by Matthew Yokobosky, Senior Curator of Fashion and Material Culture,
Brooklyn Museum
, will reveal how the designer's bold, futuristic aesthetic had a pervasive influence not only on fashion, but on other forms of design that extended beyond clothing to furniture, industrial design, and more. Pierre Cardin (French, b. 1922) is best known for his avant-garde Space Age desi ...
More
The Best Photos of the Day
Exhibition celebrates the collecting eye of curator and scholar Gillett Griffin
Sotheby's "Moonwatch" auction reaches $1.2 million on eve of Apollo 11 anniversary
Exhibition presents afresh look at Georgia O'Keeffe's art, fashion and style


Gillett G. Griffin, Self -Portrait, ca. 1952–53. Oil on board. Rare Books and Special Collections, Graphic Arts Collection, Princeton University Library. © Estate of Gillett. G. Griffin.



PRINCETON, NJ.- Gillett G. Griffin (1928-2016) was not only a respected curator, scholar and collector but also a beloved teacher at Princeton University, where he taught and curated for 52 years. Legacy: Selections from the Gillett G. Griffin Collection celebrates Griffin's eclectic tastes through a selection of artworks and artifacts from the thousands that he gave to the Museum (at his death, over 2,500 works joined the gifts of art Griffin, who held the title of emeritus curator of Pre-Columbian and Native American Art at the Museum, had made to the Museum in his lifetime). Among the 55 works in the exhibition are Greek, Roman, Egyptian, ancient Near Eastern, Islamic, African, Chinese, Japanese and Pre-Columbian antiquities; European and American prints, drawings and sculptures; and a handful of paintings and drawings that attest to Griffin's own talents as an artist. The exhibition, organized by Curator ... More



Omega Speedmaster. Ref 2915-1 'Broad Arrow'. A Stainless Steel Chronograph Wristwatch with Bracelet. Made in 1958. Estimate $150/200,000. Sold for $250,000. Courtesy Sotheby's.



NEW YORK, NY.- In celebration of the 50th anniversary of the first Omega watch landing on the moon in July 1969, Sotheby's dedicated auction of Omega Speedmasters totaled $1.2 million today, with a strong 87.8% of watches sold. Nate Borgelt, Head of Sale for Sotheby's Watch Department in New York, said: "It has been exciting to put together this sale of Omega Speedmasters, commemorating the watch that Buzz Aldrin wore on the moon exactly 50 years ago. Today's results affirm the strength of the market for rare stainless-steel sports watches - from the Ref 2915-1 'Broad Arrow', the first Speedmaster model ever created, to the Ref 145.012-67 'Ultraman', named after its appearance in the Japanese television series, to the Alaska III Ref 145.022, made for NASA's Space Shuttle program in 1978. We were particularly encouraged to see strong interest and participation this afternoon from first-time watch collectors." ... More



Georgia O'Keeffe (American, 1887-1986). Dark Tree Trunks, 1946. Oil on canvas, 40 x 30in. (101.6 x 76.2 cm). Brooklyn Museum, Bequest of Georgia O'Keeffe, 87.136.1. Photo: Brooklyn Museum.



RENO, NEV.- This July, the Nevada Museum of Art will offer a fresh look at the life, art, and style of renowned modernist artist Georgia O'Keeffe. Georgia O'Keeffe: Living Modern expands the common understanding of this icon in the context of her self-crafted public persona—including her clothing and the way she posed for the camera. The exhibition focuses on O'Keeffe's wardrobe, shown for the first time alongside key paintings and photographs that confirm and explore her determination to control how the world understood her identity and artistic values. Organized by the Brooklyn Museum, Georgia O'Keeffe: Living Modern will be on view at the Nevada Museum of Art in downtown Reno, Nevada, July 20 through October 20, 2019. The Nevada Museum of Art is the only venue in the western United States to host the exhibition. Georgia O'Keeffe: Living Modern opens with an introduction that demonstrates ... More
The Royal Academy of Arts opens a survey exhibition of Finnish artist Helene Schjerfbeck
En Plein Air: Simon Lee Gallery opens a group exhibition
Apollo's legacy: A quiet corner of Alabama that is forever Germany


Helene Schjerfbeck, Self-portrait, 1884-85. Oil on canvas, 50 x 41 cm. Friends of Ateneum Collection. Finnish National Gallery / Ateneum Art Museum; photo: Hannu Aaltonen.



LONDON.- The Royal Academy of Arts will present a survey of the long and productive career of Finnish artist Helene Schjerfbeck (1862 – 1946). This will be the first solo exhibition of Schjerfbeck's works to be held in the UK. Celebrated as one of the most famous and highly regarded artists in Finland, it will be a rare opportunity to see Schjerfbeck's paintings together. The exhibition will feature around 65 portraits, landscapes and still lifes, charting the development of Schjerfbeck's work from a naturalistic style inspired by French Salon painters in the early 1880s, to a radically abstracted and modern approach from the turn of the twentieth century onwards. Throughout her career, Schjerfbeck exhibited internationally and was particularly successful in the Nordic countries and across mainland Europe; however, she has remained largely undiscovered in the UK. The exhibition will be organised in five sections ... More



João Penalva, Looking up in Osaka Minamisemba 1 cho-me, 2005-2006 (Printed 2012). Unique Archival pigment print on Innova. Smooth Cotton High White 315 gsm paper, dry-mounted on Alu Reynobond, acrylic glass, oak frame 202.7 x 152.7 x 5.7 cm. Courtesy of the artist and Simon Lee Gallery.



LONDON.- Simon Lee Gallery, London, is presenting En Plein Air, bringing together works by artists who seek to reinterpret the artistic tradition of painting outdoors for a contemporary audience. The plein air approach has been prevalent since the mid-19th century, although it gained traction in the 1860's as a practice essential to the development of the Impressionist movement. While artists had long painted from observation to create preparatory sketches or studies, during this period the plein air method led to a naturalistic style that threw out the academic rule book in the pursuit of formal and compositional spontaneity. The artists included in En Plein Air are united by a desire to refresh the audience's interpretation of outdoor painting, whether via landscapes or portraits, photography or painting, figuration ... More



Jeff Delmas, director of the Swanson Observatory at the Von Braun Astronomical Society, demonstrates the controls of a Swanson 21-inch telescope at the observatory on July 16, 2019, in Huntsville, Alabama. Loren ELLIOTT / AFP.



HUNTSVILLE (AFP).- It's not hard to find schnitzel, a quintessential German dish of breaded cutlets, in Huntsville Alabama, the heart of America's Deep South. Every fall, the local military base hosts an Oktoberfest. On Thursdays, the space museum organizes a Biergarten. And on Tuesday evening, at a dinner celebrating the 50th anniversary of the Apollo 11 mission to the Moon, guests at the Space & Rocket Center munched on bratwurst and Bavarian pretzels. Klaus Heimburg, Hans Hoelzer and Peter Grau didn't get tickets and so held their own party at a nearby hotel with dozens of other "second generation Germans": the children of the engineers and scientists who, after developing V-2 rockets for the Nazis, invented those that took Americans to the Moon. Their fathers, led by the legendary Wernher von Braun, surrendered themselves to the Americans at the end of the ... More
'Fly Me to the Moon: The Lunar Landing, 50 Years Later' opens at Museum der Moderne Salzburg
Exhibition at rosenfeld porcini features the work of 17 international artists
SFMOMA announces five summer exhibitions


Vladimir Dubossarsky & Alexander Vinogradov, Cosmonaut No. 1, 2006. Oil on canvas. Courtesy Vladimir Dobrovolski.



SALZBURG.- Fly Me to the Moon. The Lunar Landing, 50 Years Later will whisk the Museum der Moderne Salzburg's visitors off on a fantastic voyage into the rich history of creative engagements with the moon. The show's narrative arc is anchored by the titular lunar landing half a century ago, the first time a human set foot on the moon, framed by excursions into the histories of science and art and an examination of the wide-ranging consequences of this watershed event. Around 280 exhibits, from copperplate prints and paintings to photographs, works of video art, and multimedia installations, reflect the diverse—scientific, artistic, philosophical, and utopian—meanings that the moon has held for humans. The majority of the works date from the twentieth and twenty-first centuries; many come from the outstanding collection of our cooperation partner the Kunsthaus ... More



Artur Lescher, Diamantado, 2015, Aluminum, 220 x 12 x 12 cm.



LONDON.- rosenfeld porcini is presenting Materia, the gallery's second themed exhibition this year. Featuring the work of 17 international artists, Materia reflects on the idea of a hierarchy of materials, historically a cornerstone, yet today made obsolete by the radical 'democratisation' of media that took places across the last century. Attempting to offer a glimpse on the ever more blurred line of demarcation between art and design, the exhibition juxtaposes practices based on the use of traditional materials with works which have only recently achieved the status of contemporary art. Historically, the value and prestige of a sculpture was determined both by the artist's celebrity but also by his or hers choice of material. Numerous artists during the Renaissance and Pre-Renaissance made extensive use of terracotta (which was often painted) however, the so-called 'noble' materials of marble and bronze ... More



Cristina de Middel, MIWITU from the series The Afronauts, 2012; © Cristina De Middel.



SAN FRANCISCO, CA.- In addition to its major presentations of Andy Warhol—From A to B and Back Again, JR: The Chronicles of San Francisco and Suzanne Lacy: We Are Here, the San Francisco Museum of Modern Art announces an exciting schedule of architecture and design, contemporary and photography exhibitions opening at the museum this summer. On the occasion of the 50th anniversary of the Apollo 11 moon landing, Far Out: Suits, Habs, and Labs for Outer Space will include a wide range of visionary designs in pursuit of outer space ventures. SFMOMA's New Work series will highlight recent sculptures and photographic works by multimedia artist Erin Shirreff. SFMOMA's Pritzker Center for Photography, the largest space dedicated to the medium in any art museum in the United States, will present three new shows this summer. In the New to the Collection gallery, a recently acquired archive of previously ... More
Getty Foundation announces 2019 Keeping It Modern architectural conservation grants
Rossi & Rossi opens solo exhibition of Tibetan artist Tenzing Rigdol
Kayne Griffin Corcoran opens an exhibition of a new body of work by Anthony Hernandez


Side view of Buzludzha Monument. © Dylan Thuras.



LOS ANGELES, CA.- The Getty Foundation today announced more than $1.6 million in architectural conservation grants dedicated to 10 significant buildings of the 20th century as part of its Keeping It Modern initiative. The 2019 grants stretch across four continents and extend Keeping It Modern's geographic reach into several new countries: Argentina, Bulgaria, Lithuania, Mozambique, Spain, and Uganda. The types of buildings represented range from a Soviet-era monument to a beloved church, and from a soaring exhibition hall to an inventive railway station. Since its inception in 2014, Keeping It Modern has supported 64 national and international model conservation projects that emphasize research and planning. The initiative has also created new networks of professionals involved in the conservation of modern buildings. To solidify this impact, the Getty Foundation will offer one more year of direct project support in 2020 and ... More



Tenzing Rigdol, In Exile, in Storm, 2019. Acrylic on paper, 33 x 30.5 cm.



HONG KONG.- Rossi & Rossi is presenting Dialogue, an exhibition showcasing drawings and paintings by Tibetan diasporic artist Tenzing Rigdol (b. 1982). This presentation marks Rigdol's fourth solo exhibition with Rossi & Rossi. Dramatic diagonal lines and sharp angles – referencing the gridlines and guidelines used in traditional Buddhist paintings to ensure accurate representations of sacred figures and diagrams – disrupt the forms depicted in the artist's latest works. However, whilst such marks are never shown in traditional Buddhist art, they form an essential component of Rigdol's practice. Instead of hiding them, he uses these lines to deconstruct and dismantle the deities and figures he depicts, creating tension between the lines and the coloured forms. The gridlines featured so prominently in Rigdol's work also draw inspiration from his family life. ... More



Anthony Hernandez, Screened Pictures #6, 2017/2018. Inkjet Print. Edition 1 of 5, 44 1/2 x 44 1/2 inches framed. Courtesy the artist and Kayne Griffin Corcoran. Photo: Flying Studio, Los Angeles.



LOS ANGELES, CA.- Kayne Griffin Corcoran is presenting Screened Pictures, an exhibition of a new body of work by Anthony Hernandez being shown together for the first time. This is the first exhibition of the artist with the gallery and his first solo exhibition in his hometown of Los Angeles in over a decade. Screened Pictures consists of portraits of Los Angeles as seen through the metal mesh of the various different bus stops throughout the city. The scenes are abstracted and offer a different perspective of the city than his earlier works—giving off a digital appearance even though they are all taken on film and have not been digitally manipulated. Screened Pictures brings forth a shift back to figures in Hernandez's photographs as well. Different from his earlier series, his figures are now blurred ... More
Quote
I have handled color as a man should have. Josef Albers
---
Ernesto Salmerón's Truck of Nicaraguan History
---
Flashback
On a day like today, British painter Lucian Freud died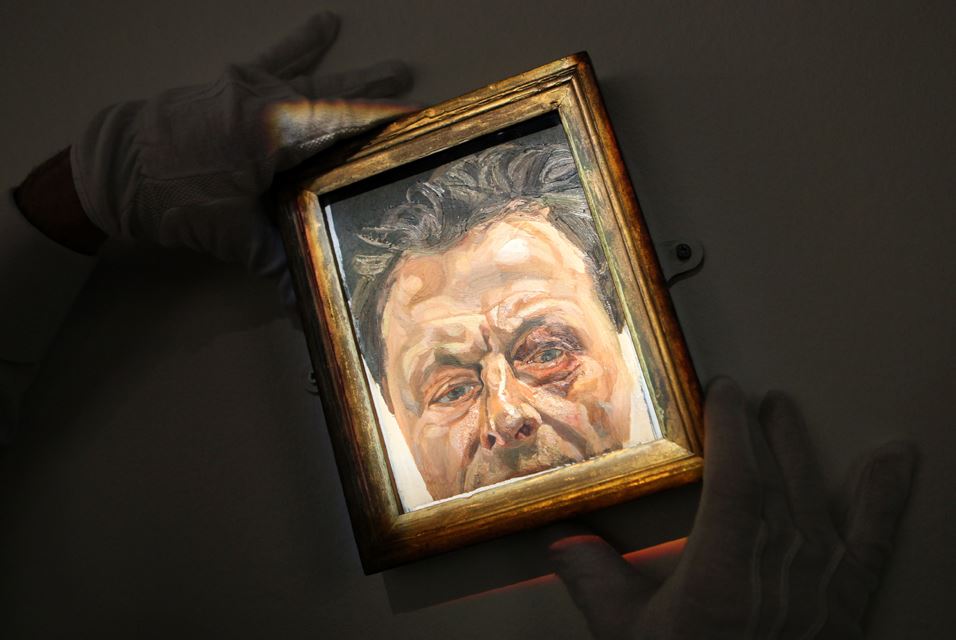 July 20, 2011. Lucian Michael Freud, OM, CH (8 December 1922 - 20 July 2011) was a German-born British painter. Known chiefly for his thickly impastoed portrait and figure paintings, he was widely considered the pre-eminent British artist of his time. His works are noted for their psychological penetration, and for their often discomforting examination of the relationship between artist and model. In this image: A Sotheby's employee holds British Artist Lucian Freud's 'Self-Portrait with a Black Eye' during a Sotheby's auction preview in London.
---

Museums, Exhibits, Artists, Milestones, Digital Art, Architecture, Photography,
Photographers, Special Photos, Special Reports, Featured Stories, Auctions, Art Fairs,
Anecdotes, Art Quiz, Education, Mythology, 3D Images, Last Week,
.
Royalville Communications, Inc
produces: