Buckingham Palace conjures up Victorian ghosts in new show
Britain's Queen Elizabeth II looks at a painting of Queen Victoria inspecting wounded Coldstream Guardsmen, 1855, by John Gilbert, as part of an exhibition to mark the 200th anniversary of the birth of Queen Victoria, for the Summer Opening of Buckingham Palace in London on July 17, 2019. Victoria Jones / POOL / AFP.

by Robin Millard
LONDON
(AFP)
.-
The ballroom of Queen Victoria's Buckingham Palace has been brought back to life through Pepper's Ghost: a 19th-century illusion recreated by Hollywood animation whizzkids. The dancing, music and colour scheme has been revived inside the palace ballroom as part of an exhibition for the 200th anniversary of Queen Victoria's birth. The 1856 ball celebrating the end of the Crimean War has been recreated using a Victorian technique called Pepper's Ghost. Film is projected upwards and then reflected off a near-invisible glass screen set at 45 degrees, making dancers seem to appear magically in the room. Scientist John Henry Pepper's trick stunned and terrified people in theatres when it first came out. The palace's original wallpaper, friezes, windows and ...
More
The Best Photos of the Day
With the passing of Frieder Burda, Germany loses one of its foremost art collectors
Israel unearths remains of rare ancient mosque
Lost portrait of Charles Dickens finds its way home


Frieder Burda 29. April 1936 - 14. Juli 2019 © Barbara Klemm.



BADEN-BADEN.- After a long period of illness, the entrepreneur and art collector Frieder Burda passed away in his home town of Baden-Baden on Sunday with his family at his side. The family, foundation, the museum and the town are united in their great sorrow at his passing. His belief in the unifying power of art was unbowed, his fascination in the electrifying power of colours was limitless: The passing of Frieder Burda means the world of art loses one of its great collectors, a man who always wished to share his love of and enthusiasm for art with the largest possible number of people. Humanist principles were always more important to him than materialistic considerations, owning art meant for him an obligation to make it accessible to people. As a friend to the artists, Frieder Burda was keen to exchange views on the origins of art, to be in close contact with and be inspired by the creators of art. In the establishment ... More



Yaser Alamor of Israel's antiquities authority displays a stone retrieved from the newly discovered remains of an ancient rural mosque. MENAHEM KAHANA / AFP.



RAHAT (AFP).- Israeli archaeologists said Thursday they had unearthed the remains of a rare ancient rural mosque from the seventh and eighth centuries AD in the country's south. The remains were discovered during preparations to construct a new building in the Bedouin town of Rahat, the Israel Antiquities Authority said. It said the remains were of an open-air rectangular mosque with a mihrab, or prayer niche, facing Mecca. The authority called it one of the earliest known rural mosques worldwide. "From this period there are large known mosques in Jerusalem and in Mecca, but here we have evidence of an ancient house of prayer, which seems to have served the farmers who lived in the area," the authority said in a statement from the excavations' directors, Jon Seligman and Shahar Zur. It said no similar building had been found in the area where it was ... More



Margaret Gillies (1803-87), Charles John Huffman Dickens (1812-1870), wearing dark jacket and cravat, white waistcoat, his dark hair worn collar-length in long curls, (1843) Watercolour and gouache.



LONDON.- Today, the Charles Dickens Museum announced that, following a successful fundraising campaign, it has acquired and secured the future of the 'lost portrait' of Dickens. Recently re-discovered by Philip Mould & Co, the exquisite portrait miniature by Margaret Gillies has found a permanent home at the Museum at 48 Doughty Street, the London residence where Dickens wrote Oliver Twist and Nicholas Nickleby, completed The Pickwick Papers and began Barnaby Rudge. Since launching the Lost Portrait Appeal in November 2018, the Museum has received magnificently generous donations from admirers of Dickens from all over the world and substantial grants from Art Fund and the Arts Council England/V&A Purchase Grant Fund, to meet the £180, 000 target and enable the portrait to join its permanent ... More
First major exhibition of works by Canadian Impressionists to open in Munich
Monroe Gallery of Photography announced the death of photographer Ida Wyman
World's largest private collection of Dutch delftware to Gemeentemuseum Den Haag


James Wilson Morrice, Luxembourg Gardens, Paris, c. 1905. Gift of A.K. Prakash, J.W. Morrice Collection, 2015. National Gallery of Canada, Ottawa. Photo: NGC.



OTTAWA.- The National Gallery of Canada opens its new exhibition Canada and Impressionism: New Horizons July 19, 2019, at the Kunsthalle in Munich, Germany. Presented in collaboration with the Kunsthalle München, Fondation de l'Hermitage (Lausanne, Switzerland) and Musée Fabre (Montpellier, France), the exhibition highlights the contributions made by Canadian artists to the Impressionist movement at the turn of the twentieth century. Canada and Impressionism: New Horizons will be on view in Munich until November 17, 2019. Organized by the National Gallery of Canada and curated by Katerina Atanassova, Senior Curator, Canadian Art, this unprecedented exhibition reveals as much about Canada as it does about the creative minds of the Canadian Impressionists. Covering nearly five decades, Canada and Impressionism: New Horizons features 121 paintings by 36 Canadian artists, drawn from both renowned public and private ... More



Always curious about people and how things work, she obtained her first camera at age fourteen and joined the Walton High School Camera Club.



SANTA FE, NM.- Monroe Gallery of Photography is sad to announce the death of Photographer Ida Wyman. Ida Wyman, an American photographer and member of the Photo League, passed away in Fitchburg, Wisconsin, Saturday, July 13, 2019. The daughter of Jewish immigrants from Riga, Latvia, Wyman was born March 7, 1926, in Malden, Massachusetts. She soon moved to New York, where her parents ran a small grocery store in the Bronx. Always curious about people and how things work, she obtained her first camera at age fourteen and joined the Walton High School Camera Club. There she met Life magazine photographer Bernard Hoffman, who encouraged her to pursue a career in photography. She credits Hoffman for helping her become a nationally published photographer in a time when few women did this work. She became ACME Newspictures first "girl mailroom boy." She soon was promoted to the position of ... More



Four large containers in the model of a lady, Delft, 1760-80, tin-glazed earthenware, height 49 cm, Gemeentemuseum Den Haag – The Lavino Collection.



THE HAGUE.- Gemeentemuseum Den Haag is to receive one of the world's largest and most important private collections of Dutch delftware on long-term loan. The Lavino Collection was built by steel magnate Meijer Lavino, who died in 2005. This unique collection, never before shown to the public, includes almost the entire range of wares produced by Delft potters between 1660 and 1820. From 31 August a large proportion of the collection, which numbers over a thousand items, will be displayed for the first time in The Lavino Collection – Showcase of Dutch Delftware. The exhibition will focus on the quality and range of the collection, and its history. 'Thanks to this generous loan we will be able to show the public a good cross-section of the impressive faience production of Delft potters,' says director Benno Tempel. 'In addition to the museum's existing collection, we will be able to provide a multifaceted a ... More
UK's best new building: 2019 RIBA Stirling Prize shortlist announced
Hake's collectibles auction hits $1.5M with world-record price for Star Wars toy
'Sesame Street' and Earth, Wind & Fire among Kennedy Center honorees


Cork House © Ricky Jones.



LONDON.- The shortlist for the coveted 2019 RIBA Stirling Prize for the UK's best new building has been revealed today (Thursday 18 July 2019). The buildings competing to be crowned the best in the UK range vastly in their type, scale, budget and location. A Scottish whisky distillery, major London transport interchange, rural opera house, large development of energy-efficient council housing, experimental house made of cork and contemporary art gallery are all in the running. The six shortlisted buildings are: • Cork House, Berkshire (Architect: Matthew Barnett Howland with Dido Milne and Oliver Wilton) An ingenious, experimental, carbon-neutral private house made almost entirely from cork. • Goldsmith Street, Norwich (Architect: Mikhail Riches with Cathy Hawley) A large development of 105 highly energy-efficient homes for social rent, designed to Passivhaus standards for Norwich City Council. • London ... More



Rocket-firing Boba Fett prototype (L-slot) action figure, 3.75in., AFA 85 NM+ condition, Kenner, 1979. Sold for $112,926, the first Star Wars toy to sell for six figures. World auction record for any Star Wars toy.



YORK, PA.- Hake's, America's first collectibles auction house, ventured into uncharted territory on July 11 with a rocket-firing Boba Fett action figure that sold for $112,926. The 3.75-inch prototype figure from Kenner's licensed toy line for The Empire Strikes Back had been displayed at the 1979 Toy Fair in New York, but never saw production. Forty years later, the production-line reject was the top seller in a $1.5 million online auction of superior-quality entertainment, sports and political memorabilia conducted on July 10-11. The Boba Fett action figure in AFA 85 NM+ condition was similar to a prototype from the legendary Russell Branton collection that Hakes sold for $86,383 last year. Hake's president, Alex Winter, had predicted the example in the July sale might ... More



Sesame Street Live characters. STAN HONDA / AFP.



WASHINGTON (AFP).- The iconic children's television program "Sesame Street" along with the R&B collective Earth, Wind & Fire will be among those recognized at this year's Kennedy Center Honors, one of America's most prestigious arts awards. The Kennedy Center -- Washington's performing arts complex that serves as a living monument to slain president John F. Kennedy -- announced Thursday that actress Sally Field, genre-spanning singer Linda Ronstadt and 11-time Grammy winning conductor Michael Tilson Thomas would also be among the 2019 class. The choice of "Sesame Street" -- a childhood staple that premiered in 1969 to high viewership and glowing reviews, which this year is celebrating its 50th anniversary -- marks the first time the Kennedy Center will honor a television program and the second time it chose a work of art rather than individuals. Last year's inclusion of the groundbreaking musical "Hamilton" ... More
Dulwich Picture Gallery announces £5 tickets for under 30s
Eric Golo Stone appointed new artistic director at Künstlerhaus Stuttgart
Gary Card transforms Phillips London into an immersive landscape with HYSTERICAL


Those aged 18-30 can now sign up to the scheme at dpg.art/under30 to find out more and be first to hear when tickets go on sale.



LONDON.- Dulwich Picture Gallery today announces a new £5 ticket price for visitors aged 18-30*, which will include entry to the Gallery's Collection and temporary exhibitions. It will come into effect for Rembrandt's Light this October, which will present a dramatic and contemporary re-telling of works by the Dutch Master. The introduction of the discounted ticket continues the Gallery's commitment to engage young people with great art and acknowledges the significant financial strain many in this age group are under. It also follows research published by the Art Fund this year showing that under-30s are twice as likely to visit a museum or gallery on a monthly basis to de-stress**. It is hoped that the introduction of the £5 ticket will enable as many young people as possible to access and engage with the varied exhibitions and inspiring ... More



From 2013 to 2017 he was a curator at LAXART, Los Angeles. Photo: Sidonie Loiseleux.



STUTTGART.- Eric Golo Stone has been appointed as the new artistic director of the Künstlerhaus Stuttgart. He will begin working in the position January 1, 2020. Stone will succeed Fatima Hellberg, whose tenure as artistic director concludes in December, 2019. Stone's writing and exhibitions emphasize legal mechanisms and socioeconomic conditions that constitute the production, distribution, and reception of art. From 2013 to 2017 he was a curator at LAXART, Los Angeles. In 2018, he organized the exhibition and program, Contractual Situations We Live By, at the Kunsthalle Bern. In addition to currently working on multiple book projects, he is organizing, US Code: Title 26, a forthcoming research initiative and exhibition at Artists Space, New York, which considers the consequential relationship between the art field, tax law, and systemic inequality in the United States. His ... More



HYSTERICAL Hosted by Gary Card. Image courtesy of Phillips.



LONDON.- This summer, Phillips London transformed its Berkeley Square gallery into an immersive landscape with HYSTERICAL, a selling exhibition in collaboration with renowned set designer and artist Gary Card. HYSTERICAL bridges Gary's creative wonderland as a backdrop to a selection of works available for private sale by contemporary artists including Erik Parker, Cindy Sherman, Kenny Scharf, Ugo Rondinone, Joyce Pensato, Harold Ancart, Nicolas Party, Andre Butzer, and Paul McCarthy. The works are being exhibited in harmony with Gary's designs, focusing on the farcical and neurotic within contemporary art. HYSTERICAL is open to the public from 18 July to 21 August 2019. Miety Heiden, Phillips' Head of Private Sales, said, "By joining forces with Gary Card we are going to flood our London gallery with colour, fun and ... More
Quote
The reason for my painting large canvases is that I want to be intimate and human. Mark Rothko
---
An Interview With David Hall on His T206 Collection
---
Flashback
On a day like today, French painter Edgar Degas was born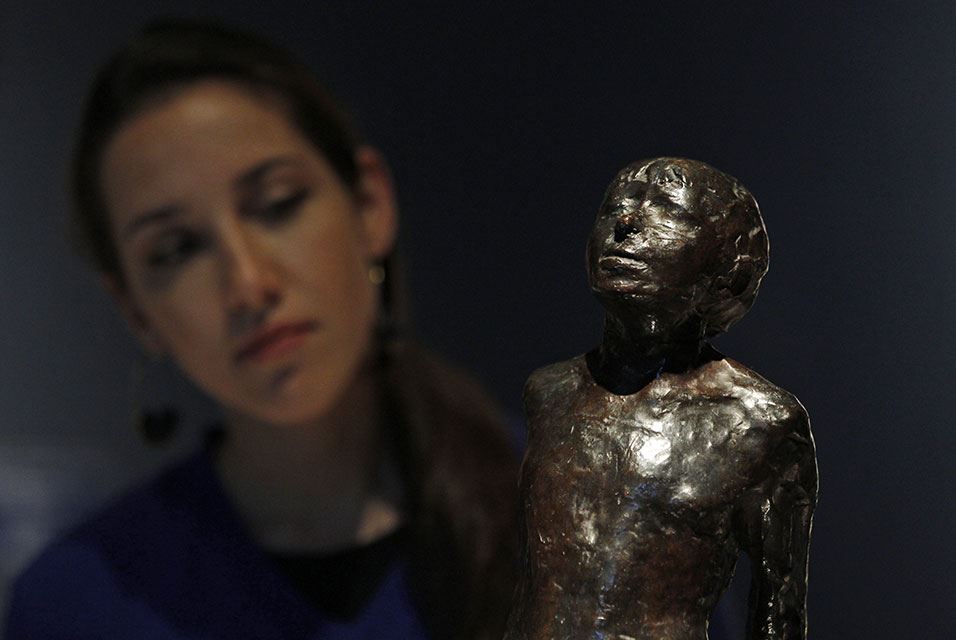 July 19, 1834. Edgar Degas (19 July 1834 - 27 September 1917), was a French artist famous for his work in painting, sculpture, printmaking and drawing. He is regarded as one of the founders of Impressionism although he rejected the term, and preferred to be called a realist. A superb draftsman, he is especially identified with the subject of the dance, and over half of his works depict dancers. In this image: An auction house worker poses for the photographers behind a sculpture by Edgar Degas, ahead of an auction sale in central London, Friday, June 15, 2012.
---

Museums, Exhibits, Artists, Milestones, Digital Art, Architecture, Photography,
Photographers, Special Photos, Special Reports, Featured Stories, Auctions, Art Fairs,
Anecdotes, Art Quiz, Education, Mythology, 3D Images, Last Week,
.
Royalville Communications, Inc
produces: