Artemis Gallery to host July 20 no-reserve auction benefiting Alzheimer's charity
Greek Boeotian terracotta horse and rider, 575-550 BCE, 4ľ inches tall, originally listed at $1,200; now opening at $450 and estimated at $900-$1,350.
BOULDER, COLO
.-
Artemis Gallery
, one of the world's premier sources of authentic, expertly researched antiquities and cultural art, will conduct a July 20 timed online auction to benefit the Boulder Walk to End Alzheimer's Disease. Absentee and Internet live bidding will be available exclusively through LiveAuctioneers. "In association with Balfour Senior Living Team, we are donating 100% of the hammer price to the 'Walk,' which is the world's largest event to raise awareness and funds for Alzheimer's care, support and research," said Teresa Dodge, executive director of Artemis Gallery. The auction will start at 12 p.m. Eastern Time (10 a.m. Mountain Time) and consists of 110 lots of fully vetted ancient and ethnographic art. All will be offered without reserve, meaning each piece will sell for the highest bid, regardless of the amount. "Collectors are sure to find some ...
More
The Best Photos of the Day
Inside Notre-Dame: rubble, emptiness and an immense task ahead
Louvre museum removes Sackler name amid opioid controversy
Ai Weiwei awarded 230k euro in damages for advertising infringement


A part of the nave is seen through a safety net during preliminary work in the Notre-Dame de Paris Cathedral three months after a major fire on July 17, 2019 in Paris. STEPHANE DE SAKUTIN / POOL / AFP.



PARIS (AFP).- Three months after a fire ravaged Notre-Dame cathedral in Paris, a rare glimpse inside the burned masterpiece on Wednesday revealed it to be eerily empty and with rubble still littering the nave. Journalists were on Wednesday given unprecedented access during a tour around the inside of the 850-year-old World Heritage landmark. Just three months ago, it would have been packed with worshippers and tourists admiring the Gothic architecture and famed stained-glass windows, which emerged largely unscathed from the inferno. On Wednesday, instead of crowds, only a few dozen specialist workers wearing white protective overalls, hard hats and masks could be seen carrying out painstaking work to make the building safe. Great protective nets have been hung to prevent objects falling from the roof and causing damage, and staff must guard against lead poisoning because of the contamination caused by the old melted roof. ... More



An aerial view taken on July 11, 2019 shows the Louvre Pyramid located in the main courtyard, the Cour Napoleon, of the Louvre Palace in Paris. Kenzo TRIBOUILLARD / AFP.



PARIS (AFP).- The Louvre museum in Paris has removed the name of the Sackler family from one of its wings, amid a controversy that has seen the billionaire donors accused of pushing a highly-addictive opioid blamed for tens of thousands of deaths. An AFP reporter on Wednesday saw that masking tape had been put in place to hide the Sackler name on plaques in the rooms of what had been the Sackler Wing of Oriental Antiquities, which houses artefacts from the ancient Near East. A museum spokesperson could not say when the tape had been put in place. The wing had been given the name due to a $3.6 million donation made by the Sackler family in 1996. Louvre president Jean-Luc Martinez said on RTL television on Tuesday that the rooms no longer carried the name as such a tribute lasted a maximum of 20 years after the donation. This would mean that the Sackler wing should not have been named after the family for several years. But the Louvre ... More



Chinese contemporary artist and activist Ai Weiwei listens during a press conference to present his exhibition at the K21 contemporary art museum on May 16, 2019. INA FASSBENDER / AFP.



COPENHAGEN (AFP).- A Danish court Wednesday ordered a Volkswagen dealer to pay Chinese artist Ai Weiwei more than 230,000 euros ($258,000) in damages for using one of the artist's works in an ad without authorisation. "SMC's (the dealer) use of the piece of art constituted a violation of the marketing law's paragraph... on good marketing practises," the tribunal ruled. In 2017, SMC used a photo of a Volkswagen Polo parked in front of an Ai Weiwei art installation in Copenhagen to promote the launch of a new car on its website and in the dealer's customer magazine. The work by the 61-year-old dissident artist, entitled "Soleil Levant", comprised 3,500 life jackets collected from refugees who had arrived on the Greek island of Lesbos between 2015 and 2016, crammed into the windows of the Charlottenborg art gallery. The court held that commercial use of the work was a "clear contradiction of the considerations and thoughts ... More
Blain│Southern opens an exhibition of works by Ed Moses and Qin Feng
Neil Armstrong's lunar flown gold medal brings $2+ million at Heritage Auctions
Hauser & Wirth presents an exhibition of works by László Moholy-Nagy


Ed Moses, Mor #1, 2014, Courtesy the Estate of Ed Moses and Blain|Southern, Photo Peter Mallet.



LONDON.- Blain|Southern is presenting an exhibition that places the work of Ed Moses (1926-2018, Long Beach, California) and Qin Feng (1961, Xinjiang, China) in a conversation across cultures, conducted in a shared artistic language. Ed Moses and Qin Feng make dynamic, gestural paintings influenced by both Eastern calligraphy and Western abstraction, yet each artist arrived at this common ground from different directions. Moses was one of the founding artists of the Ferus Gallery, Los Angeles (alongside the likes of Robert Irwin, Ed Ruscha, and Ed Kienholz), and over many decades he created one of the most diverse bodies of abstraction in late twentieth-century American art. As with many American artists of the post-war generation, especially on the West Coast, Moses was attracted to Buddhist thought, and he became a practitioner in the early 1970s. While Qin Feng, one of the key figures of China's avant-garde ... More



Perhaps the rarest and most desirable of all flown commemorative artifacts.



DALLAS, TX.- Neil Armstrong's personally-owned gold medal, flown to the moon with him on his historic Apollo 11 landing, sold for $2,055,000 on Tuesday, July 16, at a public auction of rare space memorabilia at Heritage Auctions in Dallas. The solid gold Robbins Medal was a cherished keepsake and the highlight of the beginning of a three-day auction event, which includes Part III of The Armstrong Family Collection™. Even the moonwalker's well-loved childhood teddy bear sold for $3,500. "The response from admirers of Mission Commander Armstrong's contribution to humanity has been simply overwhelming," said Michael Riley, Director of Space Exploration at Heritage Auctions. Two national treasures Armstrong carried with him to the moon sparked competitive bidding as collectors bid $143,750 for a 1-1/4-inch swath of muslin cloth from the left wing of the Wright Brothers' 1903 Flyer and a section ... More



László Moholy-Nagy, Collage mit 2 Kreuzen (Collage with 2 Crosses), 1922. Mixed media, 31 x 22.5 cm / 12 1/4 x 8 7/8 in. © the Estate of László Moholy-Nagy / Artists Rights Society (ARS), New York / VG Bild-Kunst, Bonn. Courtesy of the Estate of László Moholy-Nagy.



LONDON.- Hauser & Wirth is presenting an exhibition of works by László Moholy-Nagy coinciding with the centenary of the Bauhaus in 2019. The show in London provides a deeper understanding of this restless innovator, artist, educator and writer, considered one of the most influential figures of the avant-garde. The works in the exhibition span a period from the early 1920s to the 1940s revealing a diverse practice that defies categorisation, moving fluidly between disciplines that encompassed photography, painting, sculpture, film and design. Curated by Daniel Hug – the artist's grandson – the exhibition examines Moholy-Nagy as a proto-conceptualist, whose work interrogated the role of the art object and the artist in society, anticipating questions posed by subsequent generations of ... More
Living artwork 'Beuys' Acorns' opens in London to inspire climate action
Collector Miles Nadal acquires 99 of 100 rarest sneakers ever produced for $850K in private sale
HEATWAVE: An online sale of contemporary art, design, photographs and editions launches in London


Beuys' Acorns: A new installation by Ackroyd & Harvey, at Bloomberg Arcade, London, 17 July – 7 September 2019. Photo: Jeff Spicer.



LONDON.- Beuys' Acorns - a dynamic, living installation comprising fifty-two trees grown from acorns collected from German artist Joseph Beuys's monumental 1982 artwork 7000 Oaks – was unveiled today at Bloomberg Arcade, the site of Bloomberg's European headquarters in London. The work by UK-based artist duo Ackroyd & Harvey is on view at Bloomberg Arcade from 17 July - 7 September 2019. The new commission, brought to London by Bloomberg Philanthropies, aims to challenge the relationship between humans and ecological systems in our cities and highlight the need for urgent climate action. Originally collected as acorns by Ackroyd & Harvey in 2007, the saplings that make up Beuys' Acorns have become a living research project on the cultural, biological and climatic significance of trees. As London faces a climate emergency, the installation at Bloomberg Arcade aims to act as a catalyst for conversation ... More



'Back to the Future II' Nike Mags. Both the 2011 and 2016 releases bring the science fiction classic to life. Courtesy Sotheby's.



NEW YORK, NY.- Sotheby's and Stadium Goods announced that 99 of 100 rarest sneakers ever produced have been acquired privately for $850,000. Originally scheduled for an online-only auction closing on 23 July, Stadium Goods – the world's premier sneaker and streetwear marketplace – curated a selection of the most prized footwear from their famed Trophy Case - the most exclusive and coveted sneakers ever produced by Nike, Air Jordan, Adidas, Yeezy and more, spanning over 15 years of the most sought-after, limited edition drops in sneaker history. International entrepreneur and collector Miles Spencer Nadal originally presented an offer to acquire the entire collection of 100 pairs, however the consignor of the Nike Moon Shoes preferred to keep the property available in public auction. As a result, the 1972 Nike Waffle Racing Flat 'Moon Shoe' will remain open for bidding for one more week, until 23 July ... More



Nicolas Party, Three Trees, 2016. Estimate: Ł2,500 - 3,500. Image courtesy of Phillips.



LONDON.- Phillips announced HEATWAVE, an online-only auction of modern and contemporary artworks, design, editions, and photographs to be held on the company's own platform this July. Launching from London, HEATWAVE marks another step forward as Phillips continues to invest in digital initiatives that expand buying opportunities for the growing number of new and existing clients who bid online. HEATWAVE comprises a curated selection of 62 lots and includes established artists and designers such as Wolfgang Tillmans, Arne Jacobsen, George Condo, and David Hockney, as well as cutting-edge contemporary artists such as Tala Madani, KAWS, Eddie Martinez, Nicolas Party, Toyin Ojih Odutola, Jack McConville, and Mary Ramsden. HEATWAVE will be live and on view from 17 to 26 July. Leading HEATWAVE is Tala Madani's The Bubble. Painted in 2012, The Bubble demonstrates Madani's distinctive brushwork, as well as the artist ... More
Sporting heroes and summer fun to the fore in Swann Galleries' August 7 Vintage Posters auction
Art, design, lighting and furnishings, spanning centuries and continents, in Rago's unreserved auctions on August 24-25
Galerie Richard features eleven screen prints made by Carl Fudge


Sergio Trujillo Magnenat, Bogota 1938 / IV Centenario / Juegos Deportivos Bolivarianos, 1938. Estimate $2,000 to $3,000.



NEW YORK, NY.- Summer means sport as well as fun and games on the beach. It also means gearing up for the landmark vintage poster sale celebrating these pursuits at Swann Auction Galleries. Among the many fascinating aspects of this sale is that, in addition to creating exhibitions of developing trends in commercial art, fashions and leisure over the past 100 years and more, they also recall important but largely forgotten events. The August 7 Vintage Posters auction is no exception as a series of five designs by the Colombian artist Sergio Trujillo Magnenat (1911-99) illustrate. Created to celebrate the 1938 Bolivarian Games, which themselves marked the 400th anniversary of the city of Bogota, these rare, colourful and dynamic views of sportsmen and women come from the hand of one of the most important figures to emerge in Latin American art ... More



Tiffany Studios, Fleur-de-Lis Candelabrum. Estimate: $600 - 800.



LAMBERTVILLE, NJ.- On Saturday, August 24 and Sunday, August 25, Rago Auctions will hold a 2-day Unreserved Auction featuring early 20th century art and design, modern and contemporary art and design, Scandinavian furniture, garden décor and much more. Included in this 1,121 lot sale: period and contemporary works of Arts and Craft design; American and European mid-century furnishings; a broad selection of lighting and estate goods; prints, multiples and works on paper; and antique and contemporary art glass and pottery. Additional highlights include: a run of Spanish copper cookware; a single-owner collection of Pairpoint lamps; rock & roll ephemera; historical documents; works in multiple media from a private collection of works by René Buthaud; as well as decorative objects in silver, coin silver and silver plate. "Our August Unreserved sale has something for everyone," says Michael Ingham, ... More



All Clear 2, 2004,39 ˝ x 39 ˝ inches, framed silk screenprint, edition 1/6, published by the artist.



NEW YORK, NY.- Galerie Richard in New York is featuring eleven screen prints made between 2000 and 2008 from July 17 to August 30, 2019. Galerie Richard has been representing Carl Fudge since 2003 and this is seventh solo exhibition with the gallery. Carl Fudge made his recognition in the artworld with paintings and prints from this period. He was working with reconfiguring existing material and subject matter with specific softwares. These include both Japanese Ukiyo-e prints and images from contemporary Japanese anime. The exhibition also include some screen prints from Warhol's camouflage series. The Ukiyo-e was interesting to him for several reasons, first was the influence they had on the development of European modernism and the "road to flatness" which ultimately results in our current virtual space. The second is the act of disguising the content of the image, taken from erotic prints the images are ... More
Quote
Not everybody trusts paintings but people believe photographs. Ansel Adams
---
A Spectacle of Color in Diamonds Online
---
Flashback
On a day like today, Italian painter Caravaggio died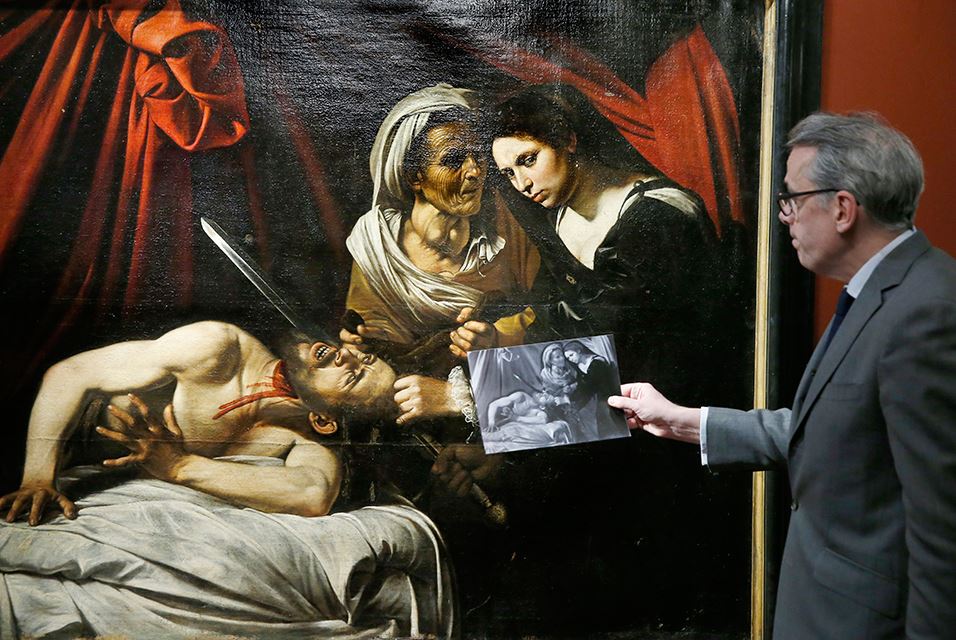 July 18, 1610. Michelangelo Merisi (28 September 1571 - 18 July 1610) was an Italian painter active in Rome, Naples, Malta, and Sicily from the early 1590s to 1610. His paintings combine a realistic observation of the human state, both physical and emotional, with a dramatic use of lighting, and they had a formative influence on Baroque painting. In this image: French art expert Stephane Pinta shows a radiography of the painting entitled "Judith cutting off the head of Holofernes", presented as being painted by Italian artist Caravaggio (1571-1610), while experts are still to determine its authenticity, on April 12, 2016 in Paris. The painting was found out in an attic of a house near Toulouse, southwestern France. PATRICK KOVARIK / AFP.
---

Museums, Exhibits, Artists, Milestones, Digital Art, Architecture, Photography,
Photographers, Special Photos, Special Reports, Featured Stories, Auctions, Art Fairs,
Anecdotes, Art Quiz, Education, Mythology, 3D Images, Last Week,
.
Royalville Communications, Inc
produces: