Shrine to Apostle Peter unearthed: Israeli archaeologist
In this file photo taken on August 06, 2017, a general view of an archeological excavation site, believed to be the location of a biblical village that was home to Saint Peter, near the Sea of Galilee in northern Israel. Excavations in Israel's Galilee have uncovered remains of an ancient church said to mark the home of the apostles Peter and Andrew, the dig's archaeological director said on July 19, 2019. MENAHEM KAHANA / AFP.

by Stephen Weizman
JERUSALEM
(AFP)
.-
Excavations in Israel's Galilee have uncovered remains of an ancient church said to mark the home of the apostles Peter and Andrew, the dig's archaeological director said Friday. Mordechai Aviam of Kinneret Academic College, on the shore of the Sea of Galilee in northern Israel, said this season's dig at nearby El-Araj confirmed it as the site of Bethsaida, a fishing village where Peter and his brother Andrew were born according to the Gospel of John. The Byzantine church was found near remnants of a Roman-era settlement, matching the location of Bethsaida as described by the first century AD Roman historian Flavius Josephus, Aviam said. The newly-discovered church, he added, fitted the account of Willibald, the Bavarian bishop of Eichstaett who visited the area around 725 AD and reported that a church at Bethsaida had been built ...
More
The Best Photos of the Day
Cesar Pelli, creator of Malaysia's Petronas Towers dies aged 92
Hamiltons exhibits photographs of women from across Erwin Olaf's career
PAFA presents the untold story of Philadelphia's leadership role in the story of American landscape painting


In this file photo taken on December 16, 2009 Argentinian architect Cesar Pelli delivers a speech during the Grand Opening of the CityCenter, a mixed-use urban development center on the Las Vegas Strip. Pelli passed away on July 19, 2019 at the age of 92. Gabriel BOUYS / AFP.



BUENOS AIRES (AFP).- Cesar Pelli, the Argentine architect and creator of Malaysia's Petronas Towers and New York's One World Financial Center, died Friday at the age of 92, his family said. "I want to send my condolences to the family and friends of the talented Cesar Pelli," President Mauricio Macri wrote on Twitter. "The works he leaves throughout the world as a legacy are a pride for all Argentines." After graduating from the University of Tucuman, Pelli left for the US in 1952, where he studied on a scholarship. He was dean of Yale's architecture faculty from 1977 to 1984, and counted the American Institute of Architects Gold Medal among his many accolades. His most high-profile achievement was the Petronas Towers in the Malaysian capital Kuala Lumpur -- a 452-metre high structure that was the world's ... More



Palm Springs series - The Family Visit , The Niece, 2018. Chromogenic print. Large format, edition of 12: 46 7/8 x 35 1/4 in. (119 x 89.4 cm.) Small format, edition of 15: 29 1/2 x 22 1/4 in. (75 x 56.4 cm.)



LONDON.- In celebration of Erwin Olaf's 60th year and long collaboration with the gallery, Hamiltons is presenting photographs of women from across Olaf's career. Hamiltons Gallery owner Tim Jefferies has selected these works from Olaf's oeuvre of 40 years, comprising photographs from Chessmen (1987-88), Squares (1983-2018), Blacks (1990), Mature (1999), Fashion Victims (2000), Royal Blood (2000), Hope (2005), Grief (2007), Hotel (2010), Keyhole (2011-13), Vogue (2012), Berlin (2012), Jewish (2013), Waiting (2014), Catwalk (2015), Skin Deep (2015), Shanghai (2017) and Palm Springs (2018), and so encompassing women of all ages, skin tones, body shapes and attitudes. Olaf believes that he can photograph women with more clarity than men, as without distractions he can be more precise in expressing his feelings. "With female talents I can be fairly critical and say exactly what I want them to ... More



A highlight of the exhibition are major Hudson River School paintings acquired by PAFA over the last 10 years.



PHILADELPHIA, PA.- The Pennsylvania Academy of the Fine Arts is presenting From the Schuylkill to the Hudson: Landscapes of the Early American Republic on view June 28–December 29, 2019 in the Fisher Brooks Gallery in the Samuel M.V. Hamilton Building. Philadelphia's key role in the growth of American landscape painting has never been the subject of a major museum exhibition. From the Schuylkill to the Hudson delves into the important and underexplored tradition of landscape painting in Philadelphia from the Early American Republic to the Centennial Exhibition and how that tradition shaped the better-known Hudson River School in New York State. PAFA's exhibition, along with the accompanying catalog, illuminate the growth of the landscape genre from its roots, through its rise into the public consciousness, and as a leading area of art historical interest. "I am thrilled to be able to take a deep dive into PAFA's treasure trove of ... More
Kunsthaus Zürich extension to commence operations in 2021
Summer at the Science and Industry Museum features blockbuster exhibition The Sun
Galerie Thaddaeus Ropac opens an exhibition: Alexander Kluge in conversation with Georg Baselitz and Anselm Kiefer


Extension Kunsthaus Zürich. View of the art garden with the second entrance. Non-binding rendering, 2017 © David Chipperfield Architects.



ZURICH.- After more than five years under construction, the extension to Zurich's Kunsthaus will be finished in winter 2020. The Zürcher Kunstgesellschaft and the Stiftung Zürcher Kunsthaus will take as much time as is needed to fit out the building designed by David Chipperfield Architects. A pilot operation phase is planned for spring 2021, by which time the environmental conditions within the extension should have reached their targets. The valuable works of art will move into the collection and storage areas specially designed for them and the public will be able to participate in the first art actions. At the end of 2021, when both sides of Heimplatz are fully functional and completely fitted out, the Kunsthaus will switch over to normal operations. At this point the Emil Bührle Collection as well as the Merzbacher ... More



The Sun exhibition, kids in sunbeam.



MANCHESTER.- Sunshine is dazzling Manchester this summer no matter what the weather, as the Science and Industry Museum opens their summer blockbuster exhibition – The Sun. The exhibition is a joyously fun, visually stunning and utterly fascinating exploration of the awesome power, incredible beauty and dangerous dark side of our nearest star. From ancient Norse myths to upcoming NASA missions, The Sun is full of remarkable stories and unique objects. Highlights of the exhibition include interactive activities where visitors can 'try on' sunglasses from different eras and cultures, an indoor beach and immersive solar storm plus a prototype fusion reactor and retro posters illustrating how we became a nation of sun worshippers. Dr Harry Cliff, Lead Curator of the exhibition, said "The fact that the Sun has had such a profound influence on the way we live makes it an incredibly rich subject for an exhibition ... More



Alexander Kluge © Markus Kirchgessner.1



PARIS.- For this exhibition, the German filmmaker and writer Alexander Kluge presents a multi-screen video installation alongside a selection of his writings. Featuring some of Kluge's characteristic montage films, this installation is being exhibited in dialogue with twenty drawings by Georg Baselitz, which have never been shown before, and two new paintings by Anselm Kiefer. Having shared a deep intellectual affinity with both of these artists for many years, Alexander Kluge pays them a cinematic homage which engages and further extends the intersection between their individual practices. In both his writings and films, Alexander Kluge brings together disparate elements from the real world, filling the gaps with fiction, then cutting and pasting them together. He approaches the world as an archeologist, exhuming various fragments and then incorporating them in the open structure of his films. In his unpredictable ... More
Frank Lloyd Wright's Sondern-Adler House will be sold by Heritage Auctions
Non-Vicious Circle: Paula Cooper Gallery opens summer group exhibition
Throckmorton Fine Art exhibits female nudes and iconic photographs by Lucien Clergue


Bidding for the house, which was last listed at $1,650,000, will take place Aug. 12 at Heritage's Luxury Real Estate Auction.



DALLAS, TX.- A home once described by Frank Lloyd Wright as "a little gem," in Kansas City, Missouri, will soon be sold Aug. 12 by Heritage Auctions. The 2,965 square-foot, ft. three-bedroom/three-bath contemporary estate will sell at a no-reserve auction, regardless of price. The renowned home is located on nearly one and a half acres in the historic Roanoke neighborhood near downtown. Designed by Wright in 1939 for Clarence Sondern as a 900-square-foot home, three squares formed what was to become the classic Usonian L-shaped style. Arnold Adler hired the architect in 1948 to expand the home to its current 2,965 square feet, adding a great room, a third bedroom and two additional bathrooms. Renowned in Kansas City, the Sondern-Adler House has delighted its stewards and visitors for generations. "I chose Heritage to represent the house because of its audience of collectors and art ... More



Installation view, Non-Vicious Circle, Paula Cooper Gallery, 524 W 26th St, New York, NY, July 8 - August 16, 2019. Photo: Tessa Morefield.



NEW YORK, NY.- "Non-Vicious Circle," Paula Cooper Gallery's summer show presents a selection of sculptures and installations by Sam Durant, Liz Glynn, Walid Raad, Kelley Walker, and Meg Webster. The exhibition takes its title from one of the works on view, a 2014 mobile by Sam Durant. The works on view address the notion of recurrence, conceived as a catalyst to question the concepts of historical linearity, narrative or progression. Sam Durant's sculptures use war- related paraphernalia (missile and bullet shells, in particular) to explore the relationship between Surrealism and World War I, as well as the echoing of the past in the present. Liz Glynn's vibrant spiral, Eternal Return II, 2017, from her recent major exhibition at MASS MoCA, is made from contemporary materials and industrial detritus that translate theories of historical progression—often visualized as ... More



Pablo Picasso once said: "Clergue's photographs are from God's own sketchbooks".



NEW YORK, NY.- Throckmorton Fine Art is presenting an exhibit of female nudes and iconic photographic images spanning the fifty year career of one of France's greatest photographers, Lucien Clergue. On the 50th anniversary of the launch of the Rencontres de la Photographie d'Arles photography festival, which Clergue co-founded with Michel Tournier, Throckmorton Fine Art gallery will feature more than forty black and white and color images, including some of Clergue's most acclaimed images. Spencer Throckmorton says, "Clergue was a master of sensual photography, brilliantly capturing the play of light and shadow, as well as they of the human form. His photography is classic, never forced or manipulated." While Clergue photographed many subjects, among them portraits of fellow artists (including his dear friend Pablo Picasso) Clergue is most renowned for his female nudes. The Throckmorton exhibit offers an opportu ... More
Vatican opens burial chambers in hunt for princesses and missing teen
Blum & Poe opens a solo exhibition of new sculpture by Alma Allen
"Chiura Obata: An American Modern" spans Japanese American painter's 70-year career


A man wears a jersey with a photo of Emanuela Orlandi, a teenager who disappeared in 1983 in one of Italy's darkest mysteries. Andreas SOLARO / AFP.



VATICAN CITY (AFP).- The Vatican on Saturday opened two burial chambers discovered under a trapdoor as it attempts to get to the bottom of a riddle involving two 19th-century princesses and a teenager who went missing 36 years ago. The ossuaries were found last week under the floor of the Pontifical Teutonic College after the shock discovery earlier this month that the bones of the princesses had disappeared from tombs in the Teutonic Cemetery. The graves of Princess Sophie von Hohenlohe and Princess Charlotte Federica of Mecklenburg, who died in 1836 and 1840, were exhumed after an anonymous tip-off that they may hold the remains of a missing Italian youngster. Emanuela Orlandi, the daughter of a Vatican employee, was last seen leaving a music class in Rome in 1983 aged 15, and theories have circulated for decades about who could have taken her and where ... More



Alma Allen, Not Yet Titled, 2017. Bronze, 15 x 14 x 14 1/2 inches (38.1 x 35.6 x 36.8 centimeters). © Alma Allen, Courtesy of the artist and Blum & Poe, Los Angeles/New York/Tokyo. Photo: Heather Rasmusseum.



LOS ANGELES, CA.- Blum & Poe is presenting a solo exhibition of new sculpture by Alma Allen, showcasing work made after the artist's recent relocation from Joshua Tree, CA, to Tepoztlan, Mexico. The pieces continue the compulsive and prolific explorations of a singular sculptor with a recognizable and idiosyncratic visual sensibility, who creates psychologically charged forms in stone, wood, and bronze. In talisman-like handheld objects in silver and bronze, and in large-scale forms contoured from 500-pound burls of wood and slabs of stone, Allen's works are exacting in their fluidity. These nonreferential forms at once evoke the familiar and the nameless, drawn from the trauma and willfulness that have marked the artist's life and his own specificities of resonance and ... More



Chiura Obata, Devastation, 1945 (detail). Watercolor on paper, 13 x 18 1/2 in. Private collection.



SACRAMENTO, CA.- The Crocker Art Museum is presenting the exhibition "Chiura Obata: An American Modern", which surveys the seven-decade career of one of the most significant Japanese American artists working on the West Coast in the last century. Drawn from private and public collections, this internationally travelling retrospective showcases more than 100 paintings, drawings, prints, and personal items, many of which have never been on public display. Works range from Obata's nihonga (Japanese-style painting) studies as a student in Japan, watercolors from his magazine-illustrator days in San Francisco, and works depicting his personal experience of incarceration during World War II. Two of Obata's famed woodblock prints are represented, as are his ink scrolls and the large-scale California landscapes for which he is perhaps best known, including his depictions of Yosemite. Chiura Obata ... More
Quote
Abstract painting is abstract. It confronts you. Jackson Pollock
---
The Design of the Lunar Rover Was Mostly Guesswork
---
Flashback
On a day like today, Armenian-born American artist Arshile Gorky died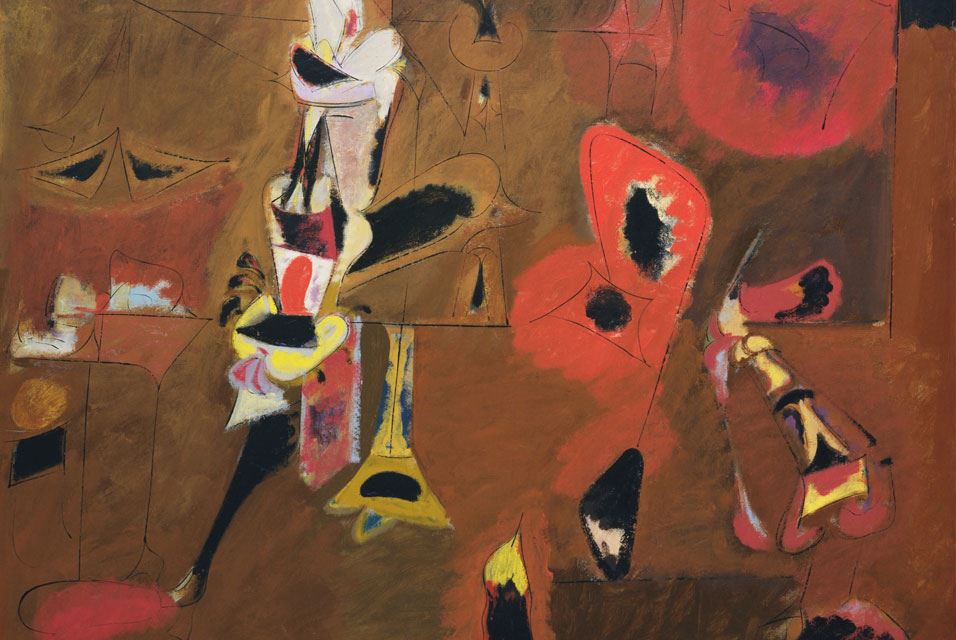 July 21, 1948. Arshile Gorky ( April 15, 1904 - July 21, 1948) was an American painter of Armenian descent who had a seminal influence on Abstract Expressionism. As such, his works were often speculated to have been informed by the suffering and loss he experienced of the Armenian genocide. In this image: Arshile Gorky, "Agony", 1947. Oil on canvas, 40 x 50 1/2 in., The Museum of Modern Art, New York, A. Conger Goodyear Fund. ©2010 Estate of Arshile Gorky/Artists Rights Society (ARS), NY.
---

Museums, Exhibits, Artists, Milestones, Digital Art, Architecture, Photography,
Photographers, Special Photos, Special Reports, Featured Stories, Auctions, Art Fairs,
Anecdotes, Art Quiz, Education, Mythology, 3D Images, Last Week,
.
Royalville Communications, Inc
produces: