Over the moon: Nike sneakers sell for record $437,500
A view of sneakers on display for "The Ultimate Sneaker Collection" online auction at Sotheby's on July 15, 2019 in New York City. Dia Dipasupil/Getty Images/AFP.
NEW YORK
(AFP)
.-
A new world record for a pair of sneakers was set at auction on Tuesday when an avid collector splashed out $437,500 on Nike's 1972 "Moon Shoe," Sotheby's said. The sale smashed the previous record of $190,373 spent in 2017 on a pair of signed Converse worn by Michael Jordan in the 1984 Olympic basketball final, the New York-headquartered auction house said in a statement. It was also well above the pre-sale estimate of $160,000, Sotheby's added. Canadian collector Miles Nadal was the successful bidder in the online action, adding to the 99 pairs of other hard-to-find shoes that he bought in a private sale last week. "I am thrilled to acquire the iconic Nike 'Moon Shoes,' one of the rarest pairs of sneakers ever produced, and a true historical artifact in sports history and pop culture," Nadal said. Nike co-founder Bill Bowerman designed the flat racing 'Moon Shoe' which was made for runners at the 1972 Olympic trials. Sotheby's said that just around 12 pairs were ...
More
The Best Photos of the Day
Costume Institute's fall 2019 exhibition celebrates Sandy Schreier Collection gift
Andrew Jones Auctions announces highlights of back-to-back sales
Paris show gives the humble back its place in the limelight


Evening Dress, Cristóbal Balenciaga (Spanish, 1895–1972) for House of Balenciaga (French, founded 1937), summer 1961; Promised gift of Sandy Schreier. Photo © Nicholas Alan Cope.



NEW YORK, NY.- The Costume Institute's fall 2019 exhibition, In Pursuit of Fashion: The Sandy Schreier Collection, will feature promised gifts from Sandy Schreier, a pioneering collector who over the course of more than half a century assembled one of the finest private fashion collections in the United States. On view from November 27, 2019, through May 17, 2020, the show will explore how Schreier amassed a trove of 20th-century French and American couture and ready-to-wear, not as a wardrobe, but as an appreciation of a form of creative expression. The gift is part of The Met's 2020 Collections Initiative celebrating the Museum's 150th anniversary. "Sandy Schreier's gift—one of the largest in recent Costume Institute history—will dramatically enrich the Museum's holdings of 20th-century fashion," said Max Hollein, Director of The Met. "We are thrilled and honored to receive these important ... More



Italian parcel gilt sterling silver model of the H.M.S. Victory from the second half 20th century, 18 inches tall by 23 inches long, silver weight approx. 37 oz. troy (est. $1,500-$2,000).



LOS ANGELES, CA.- It's summertime and Andrew Jones Auctions will present two days of amazing back-to-back sales for savvy buyers, collectors and decorators looking for a new way to acquire great pieces. Both events will be held in the Andrew Jones gallery at 2221 Main Street in downtown Los Angeles. The DTLA Collections and Estates auction on Sunday, July 28th, at 10:30 am Pacific time, is where folks will find different, fun, quirky and out-of-the-ordinary accessories and furnishings, as well as luxe décor and statement pieces for the home, loft, gallery and retail space. Interior designers will be able to re-design a room or an entire home in an affordable, sustainable way. Internet bidding will be available on the platforms LiveAuctioneers.com and Invaluable.com. That sale will include 400 lots of antiques, fine art, fine jewelry, Asian art, tribal art, Modernist design, rugs and vintage finds from local private sources. ... More



Jeanloup Sieff, Ève de dos, Kim Inslinski, New York [Haut et jupe Martine Sitbon], 1997 © Estate Jeanloup Sieff.



PARIS (AFP).- It does not usually make it into the spotlight but the humble back is always there, yet almost never seen in fashion images, forgotten amid the focus on the front and faces. A new Paris exhibition, however, aims to redress this imbalance, exploring the relationship between fashion and this part of the body that is so rarely seen. At the exhibition organised by the Palais Galliera fashion museum -- showing at the Bourdelle Museum amid its famous collection of plaster statues -- visitors are confronted by mannequins with their backs turned. Curators say one of the aims of the exhibition is to explore the relationship with the back through history, with the complex fastenings imposed on women often seen as a symbol of submission. Excluding the straitjacket, no men's clothing item has ever fastened at the back. But women's clothing often has been, leaving them in a position of dependence. "Anatomically, the body is not made to put its arms ... More
Winterthur acquires two exceptional historic paintings
B.B. King's "Lucille" guitars, stage worn jackets, jewelry & more to rock Julien's Auctions special event
Bilbao Fine Arts Museum selects Norman Foster to enlarge and remodel the museum


Self-Portrait of John Lewis Krimmel with Susanna Krimmel and her Children by John Lewis Krimmel (1786–1821), Oil on canvas, 14 x 12 inches, 1810–11.



WINTERTHUR, DE.- Winterthur Museum, Garden and Library announced its acquisition of two important paintings with significant stories to tell: Self-Portrait of John Lewis Krimmel with Susanna Krimmel and her Children (1810–1811) by John Lewis Krimmel (1786–1821) and Family Group in a New York Interior by François-Jules Bourgoin (1786–1821). Together the paintings shed light on the impact of the revolution era in the Atlantic World on American art and material culture. German-American John Lewis Krimmel is often referred to as the first genre painter in America. Born Johann Ludwig Krimmel in 1786, in the family of an established baker of fine pastries of Ebingen in Württemberg, Germany, Krimmel immigrated to Philadelphia in the aftermath of Napoleon's invasion of German territories. Following his older brother George to Philadelphia in 1809, Krimmel was to become George's assistant in business. About a year after his arriva ... More



The most coveted item of the auction will be King's stage played black Gibson ES-345 prototype 1 for 80 limited edition Lucille guitar that was gifted by Gibson to B.B. King on his 80th birthday.



LOS ANGELES, CA.- Julien's Auctions will hail the legendary King of the Blues with Property from the Estate of B.B. King taking place Saturday, September 21 live at The Standard Oil Building in Beverly Hills and live online at juliensauctions.com. This spectacular auction of the revered fifteen-time Grammy Award-winning artist, singer and founding father of the electric blues, who inspired a generation of musicians and artists including Jimi Hendrix, The Beatles, Eric Clapton, Jeff Beck and more, will feature an unsurpassed collection of his instruments, stage worn jackets, jewelry, awards, personal items and more from the titan's celebrated career spanning six decades. Born Riley B. King in Atta Bean, Mississippi, on September 16th, 1925, King began playing gospel music on street corners as a teen. In 1947, he hitchhiked to Memphis, TN, to pursue his music career and studied the blues with his ... More



The winning project will also resolve the museum's orientation to the city by once again making the façade of the old building, which today faces Plaza Euskadi, permeable.



BILBAO.- Today, the jury to choose the architectural team that will design the museum's enlargement has submitted its verdict to the Board, presided over by Unai Rementería, president of the Provincial Council of Bizkaia and president of the Bilbao Fine Arts Museum Foundation Board. The project with the pseudonym "Agravitas" submitted by UTE Foster + Partners Ltd. + LM Uriarte Arkitektura S.L.P., was chosen to be the winning proposal to enlarge and remodel the Bilbao Fine Arts Museum. The verdict was revealed after the second phase in the submission of proposals by the six finalist candidates, thus fulfilling the contest calendar and procedure established via the partnership agreement between BBK, which is the Honorary Patron, and the Bilbao Fine Arts Museum Foundation. The jury has unanimously deemed that the winning project is the one that best meets the priority objectives, namely to provide the museum ... More
The Fondation Louis Vuitton exhibits a six-part charcoal on paper sculpture by Gilbert & George
Christie's Watches Online to offer The Keystone Collection
Art world meets plastic surgery in new novel "Plastic" by playwright Frank Stausser


Gilbert & George, There were two young men, 1971. © Gilbert & George, DR. Photo: © Primae / David Bordes.



PARIS.- The Fondation Louis Vuitton is presenting a rare and complete six-part Charcoal On Paper Sculpture by Gilbert & George, "There Were Two Young Men" (April 1971), which belongs to the Fondation's collection. This work, which is being exhibited in Gallery 2, was first shown in 1971 at the Sperone Gallery in Turin. It is one of the 13 different Charcoal On Paper Sculptures, created between 1970 and 1974, and now scattered around the word.Thanks to its monumental proportions, "There Were Two Young Men" suggests an immersive relationship with the viewer. This "sculpture" depicts two protagonists – the artists – in a bucolic environment whose hedonism is tinged with melancholy. They seem to be conversing quietly, leaning on a tree, in the spirit of neo-romantic British landscape painting. The graphic intrusions, in each part of the "sculpture", from the title in capital ... More



Rolex. 18K GMT-MASTER 'SARU'. REF. 16758. Estimate: $280,000-320,000. © Christie's Images Ltd 2019.



NEW YORK, NY.- In collaboration with The Keystone, Christie's will present Christie's Watches Online: The Keystone Collection, taking place from July 30 to August 13, 2019. The online sale will include over 200 watches that exemplify the highest quality of watchmaking and manufacturers. Featured highlights include a rare Patek Philippe ref. 725 perpetual calendar pocket watch signed Tiffany & Co., a Rolex ref. 16758 GMT-Master 'SARU', and an A. Lange & Sohne, limited edition pink gold Lange 1 tourbillon. The offering includes a mix of modern and vintage watches across all price points. The Keystone is a Beverly Hills based company focused on bringing customers unique timepieces, intriguing stories and an unparalleled experience in engaging with and acquiring vintage watches. Founded by Justin Gruenberg and Max Abbott, The Keystone is known for presenting a diverse ... More



Frank Strausser is also now hosting events at the Strand Bookstore in New York City on July 24th and at Spur at The Station in Southampton, NY on Saturday, August 3rd.



NEW YORK, NY.- The debut novel "Plastic" by acclaimed playwright/author Frank Strausser, who gained much praise during the very successful three month run of his stage comedy Physcho Therapy at The Cherry Lane Theater in New York City, brings together various high-level players in the art world with the high-profile Beverly Hills plastic surgery culture in this edgy tale of psychological suspense that explores the ephemeral and diabolical world inside Hollywood as "the Capital of Good Looks". "Plastic" was just released on July 9th, published by Los Angeles based independent publisher Rare Bird Books, whose books have won the PEN Center USA Fiction Award and a Pulitzer Prize, with release/launch events at both the Chateau Marmont Hotel and Soho House in Los Angeles. And, the book was the ... More
Sotheby's & RM Sotheby's offer iconic Dune Buggy via 'Online Only' auction series
Todd Merrill Studio debuts the first collection of functional design from Przemek Pyszczek at the Seattle Art Fair
New Orleans funk icon Art Neville dies at 81


1968 Meyers Manx. Photo: Ryan Merrill © 2019 Courtesy of RM Sotheby's.



NEW YORK, NY.- Sotheby's and RM Sotheby's have announced the next car offered via their Online Only collector car auction series—a 1968 Meyers Manx. This is the fourth automobile in the single-lot series presented via Sotheby's newly developed digital auction platform and follows the successful sale of the 11-mile 2006 Ford GT which closed on 11 July at a final $310,500. The Meyers Manx is open for bidding as of 23 July at 11:00 am EDT, closing on 1 August at 12:00 pm EDT. The entry-level collectible dune buggy is ready for summer fun, estimated to bring $40,000 - $50,000. Built by Bruce Meyers beginning in the mid-1960s, the Manx originated the Southern California "dune" or "beach" buggy craze of the decade. From the lightweight, roofless fiberglass bodywork to the rear-mounted engine and large wheels and tires, dune buggies were extraordinary recreational vehicles, ideally suited for sand ... More



Przemek Pyszczek, Wall Mounted Shelf with Seat, 2019. Painted steel, acrylic, 72h x 73w x 18d in.



NEW YORK, NY.- For his first exhibition with Todd Merrill Studio, Polish-Canadian artist Przemek Pyszczek translates his conceptual Playground Structures into high-end, playfully utilitarian furniture design. Employing elements of constructivism, minimalism, and postmodernism, Pyszczek's sculptures and installations thematically explore the homogeneity of mass-produced communist architecture and the visual legacy that flourished after the fall of the Eastern Bloc. "The idea to collaborate came about very naturally," says Todd Merrill. "Works that present a dynamic visual impact while conveying a thoughfulness, personal to the maker, are what is driving the best of today's contemporary design. I was immediately drawn to Pyszczek's ability to distill very complex ideas into such simple, evocative pieces and he had been considereing creating a series of works that bridged the gap between ... More



In this file photo taken on May 04, 2008 Art Neville sings with The Neville Brothers during the New Orleans Jazz and Heritage Festival at the Fair Grounds Race Course in New Orleans, Louisiana. Chris GRAYTHEN / Getty Images North America / AFP.



NEW YORK (AFP).- Art Neville, a New Orleans funk legend and co-founder of the Neville Brothers, has died, his brother said Monday. He was 81 years old. The singer and keyboard player who answered to the sobriquet "Poppa Funk" was well known as the voice of the "Mardi Gras Mambo," which quickly became a mainstay of his home city's famed carnival after he first played it at age 17. "Artie Poppa Funk Neville you are loved dearly by every one who knew you. Love always your lil' big brother AARON (we ask for privacy during this time of mourning)," his brother, soul singer Aaron Neville, tweeted. His death follows that of another famed New Orleans musician, the blues pianist Dr. John, who died last month. Born Arthur Lanon Neville on December 17, 1937, the funk icon grew ... More
Quote
Color alone is both form and subject. Robert Delaunay
---
Louisa Elderton on Eberhard Havekost's "U Say Love"
---
Flashback
On a day like today, Czech painter and illustrator Alphonse Mucha was born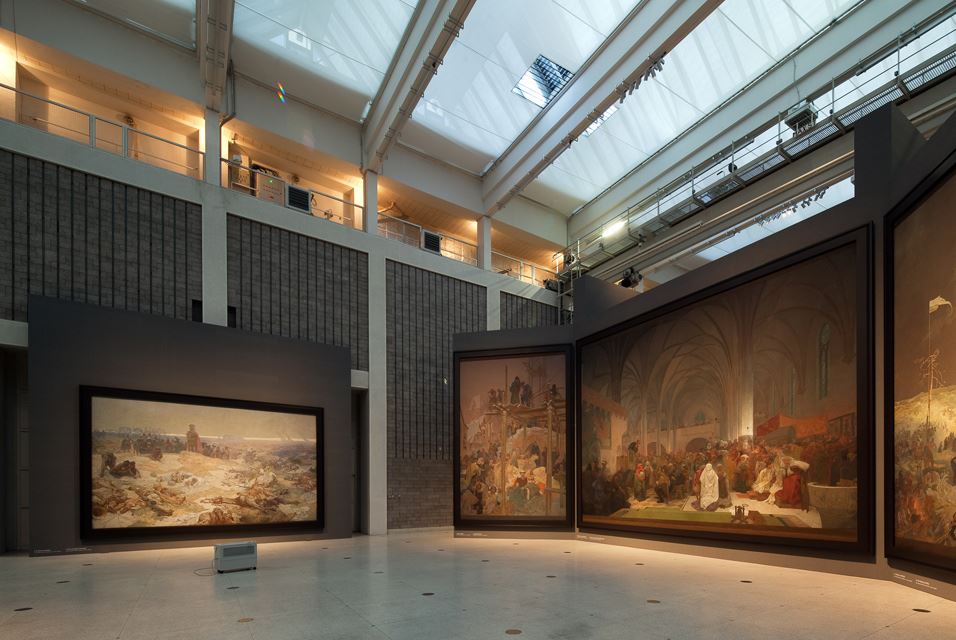 July 24, 1860. Alfons Maria Mucha (24 July 1860 - 14 July 1939), known as Alphonse Mucha, was a Czech Art Nouveau painter and decorative artist, known best for his distinct style. He produced many paintings, illustrations, advertisements, postcards, and designs. In this image: The "Slav Epic", a cycle of 20 allegories tracing the history of the Slavic people and inspired in part by mythology, by Art Nouveau Czech artist Alfons Mucha, at the National Gallery in Prague."The Slav Epic" by Alfons Mucha, a Czech Art Nouveau gem, went on display in Prague, fulfilling the wish of the artist who spent 18 years on the series of paintings from 1910 to 1928.
---

Museums, Exhibits, Artists, Milestones, Digital Art, Architecture, Photography,
Photographers, Special Photos, Special Reports, Featured Stories, Auctions, Art Fairs,
Anecdotes, Art Quiz, Education, Mythology, 3D Images, Last Week,
.
Royalville Communications, Inc
produces: