'One giant leap': United States marks Apollo mission 50 years on
A Lunar Module, the same type that landed on the moon for Apollo 11, is displayed behind Rick Armstrong, the son of Neil Armstrong, Vice President Mike Pence, Smithsonian's National Air and Space Museum Director Ellen Stofan, and NASA Administrator Jim Bridenstine appearing for the unveiling of Neil Armstrong's Apollo 11 spacesuit at the Smithsonian's National Air and Space Museum on the National Mall in Washington, DC on July 16, 2019. Andrew Harnik / POOL / AFP/

by Leila Macor with Issam Ahmed in Washington
WASHINGTON
(AFP)
.-
Fifty years after a mighty rocket set off from Florida carrying the first humans to the Moon, a veteran of the Apollo 11 crew returned to its fabled launch pad Tuesday to commemorate "one giant leap" that became a defining moment in human history. "We crew felt the weight of the world on our shoulders, we knew that everyone would be looking at us, friend or foe," command module pilot Michael Collins said from the Kennedy Space Center. He and Buzz Aldrin, who piloted the module that landed on the Moon's surface, are the two surviving members from the mission that would change the way humanity saw its place in the universe. Their commander Neil Armstrong, the first man on the Moon, died in 2012 aged 82. The spacecraft took four days to reach the Moon, before the module known as the "Eagle" -- whence the iconic phrase "the Eagle has landed" -- touched the lunar surface on July 20, 1969. ...
More
The Best Photos of the Day
Sotheby's hosts major exhibition celebrating the émigrés who transformed the British art world
National Gallery of Modern and Contemporary Art explores the role of the vase in art
Benin readies for return of treasures taken by France


William Scott, Red Interior, 1952, Hanover Gallery © Estate of William Scott; Courtesy William Scott Foundation.



LONDON.- This summer, Sotheby's will host a major new exhibition Brave New Visions: The Émigrés who transformed the British Art World to tell the story of the pioneering émigré dealers and publishers who revolutionised Britain's art world. Part of Insiders / Outsiders – a nationwide, year-long festival celebrating refugees from Nazi Europe and their indelible contribution to British culture – the exhibition, open from 17 July to 9 August – illustrates the histories and vision of these art world luminaries and highlights their profound influence and impact. Brave New Visions shows how in bleak post-war London, a group of émigrés who had found sanctuary in Britain in the 1930s re-made their lives and introduced avant-garde European and British artists such as Naum Gabo, Oskar Kokoschka, Kurt Schwitters, Graham Sutherland and Ben Nicholson to the broader public. ... More



Gaetano Pesce, Amazonia Vase, 1997 ca (Edition 2019). Resin, 100 cm. Courtesy Corsi Design.



ROME.- With the exhibition On Flower Power. The Role of the Vase in Arts, Crafts and Design, curated by Martí Guixé with Inga Knölke, the Galleria Nazionale d'Arte Moderna e Contemporanea radically and unconventionally explores the hybrid territory in which art, design and craftsmanship interact. This exhibition represents the first occasion for the Galleria Nazionale to compare these languages in relation to contemporary art and focuses on a seemingly neutral object: the flower vase. This element, a recurring archetype, becomes the principle medium for a narrative that intertwines the history of art, the history of applied arts and the history of design. After becoming an obsolete object, the vase was rediscovered in the second half of the twentieth century when artists, architects and designers began to re-code a typology, which has now become a real icon of everyday life. Thanks to the shapes and ... More



Elected member of the Abomey City Council, head of the region's Heritage and Tourism Office of the historical museum of Abomey, Bernard Gabin Djimasse speaks as he visits the historical museum of Abomey. Yanick Folly / AFP.



ABOMEY-CALAVI (AFP).- The display cases at the royal palaces in Benin's sleepy southern town of Abomey are coated in dust and the exhibition halls plunged in darkness. But local tourism chief Gabin Djimasse hopes all this will change with the return of 26 artefacts from former colonial master France and the construction of a new museum to hold them. "These objects are a chance for the survival of the site," Djimasse told AFP as he toured the vast courtyards lined with bas-relief dating back to the 18th-century Dahomey Kingdom. "They will allow us to build a new museum and make the royal palaces more economically sustainable." In November President Emmanuel Macron took the landmark decision to return the artworks -- including a royal throne -- taken by French ... More
The Brooklyn Museum opens 'Rembrandt to Picasso: Five Centuries of European Works on Paper'
The Montreal Museum of Fine Arts adds major work by Tony Cragg to its collection
Sotheby's to offer the Collection Countess Jacqueline de Ribes, the 'Last Queen of Paris'


Vasily Kandinsky (Russian, 1866–1944). Small Worlds VII, 1922. Color lithograph on wove paper, 10 5/8 x 9 3/16 in. (27 x 23.3 cm). Brooklyn Museum, Gift of Stephen Currier, 58.108.11. © 2019 Artists Rights Society (ARS), New York.



BROOKLYN, NY.- Showcasing the breadth of the Brooklyn Museum's exceptional works on paper collection, Rembrandt to Picasso: Five Centuries of European Works on Paper highlights more than one hundred European prints and drawings, pairing masterworks by renowned artists such as William Blake, Albrecht Dürer, Francisco Goya, and Vincent van Gogh with lesser known, rarely seen drawings, prints, and watercolors. Works on view feature intimate portraits, biting social satire, fantastical visions, vivid landscapes, and more, and are organized into four broad chronological sections spanning the early sixteenth through the early twentieth centuries. The exhibition is presented in conjunction with One: Titus Kaphar, which examines ... More



Tony Cragg (born in 1949), Sharing, 2005, bronze, cast Schmäke, Düsseldorf. MMFA, gift of Jacques and Céline Lamarre. © Tony Cragg / SOCAN (2019). Photo Christine Guest.



MONTREAL.- The Montreal Museum of Fine Arts welcomes to its collection the bronze sculpture Sharing (2005) by the British artist Tony Cragg, thanks to the generosity of Jacques and Céline Lamarre. Tony Cragg first came to international prominence in the early 1980s with a body of work that explored the sculptural possibilities of everyday objects that he rearranged into sculptural forms, ranging from figures to landscapes to the British Union Jack. In so doing, he endowed these cast-offs with new life in the aim of forcing his viewers not only to consider what they throw away, but also to examine their relationship to materials, both natural and man-made. By the end of the decade, Cragg had moved away from using recycled – or in his words, "processed" – materials in his practice and began ... More



Jacqueline de Ribes. Photo: Roloff Beny.



PARIS.- The name "de Ribes" internationally resonates with a timeless sense of style – the essence of French chic and elegance. Over the next year, Sotheby's will present the collection of the Count and Countess de Ribes, tracing two centuries of French history and Parisian sophistication. Coming from the ancestral home of the de Ribes family – one of the last noble buildings in Paris, the offering is imbued with the presence of its current custodian, Jacqueline de Ribes, the extraordinary muse, socialite and designer immortalised by Richard Avedon and described as the "last Queen of Paris". Following the recommendation of her late husband, the Countess decided it was time to part with the collection and share it with collectors around the world. Part of the proceeds will benefit charitable and cultural organisations. Comprising paintings and drawings from the 17th to the ... More
South African anti-apartheid singer Johnny Clegg dies aged 66
Christie's offers meteorites from the Stifler Collection
Pace/MacGill moves to Pace Gallery's new headquarters at 540 West 25th Street


In this file photo taken on June 16, 2014, South African singer Johnny Clegg performs during the 20th edition of the World Sacred Music Festival in Fez, Morocco. South African legendary singer Johnny Clegg, who blended Zulu rhythms with Western styles, died on July 16, 2019, after a long battle with cancer, his manager said. Fadel SENNA / AFP.



JOHANNESBURG (AFP).- Legendary South African singer Johnny Clegg, who blended Zulu rhythms with Western styles and defied apartheid segregation laws, died on Tuesday after a long battle with cancer. "Johnny passed away with his family this afternoon," manager Roddy Quinn said. "We are devastated." Clegg succumbed to pancreatic cancer at the age of 66 at his home in Johannesburg, more than four years after he was diagnosed. "Johnny leaves deep footprints in the hearts of every person that considers himself or herself to be an African," Quinn said. "He showed us what it was to assimilate to and embrace other cultures without losing your identity. "In many of us, he awakened awareness." Nicknamed the "White Zulu", Clegg mastered the language, ... More



The sale is led by a natural sculpture from outer space – the outstanding aesthetic iron Gibeon Meteorite (Estimate: $250,000 – 350,000). © Christie's Images Ltd 2019.



NEW YORK, NY.- Christie's announces its auction The Moon and Beyond: Meteorites from the Stifler Collection, which is open for bidding from July 11 - 25 with estimates ranging from $700 up to $350,000. Amongst the foremost collection of meteorites in the World, the Stifler Collection boasts the six largest lunar meteorites on Earth. The vast majority of the collection is being donated to the Maine Mineral & Gem Museum; offered in this auction are duplicates and cuttings taken from specimens being enhanced for display. Proceeds will be donated to the Museum, a land trust created by Stifler & McFadden and other charities supported by the Stifler family. The sale is led by a natural sculpture from outer space – the outstanding aesthetic iron Gibeon Meteorite (Estimate: $250,000 – 350,000) is draped in a variegated gunmetal-hued patina with ochre accents and the broad apex and even more voluminous terminal regions are ... More



Pace's new flagship gallery in New York City, located at 540 West 25th Street, opens to the public on September 14, 2019. Courtesy of Bonetti / Kozerski Architecture.



NEW YORK, NY.- Pace/MacGill Gallery announced its move to Pace Gallery's new headquarters at 540 West 25th Street, where it will join its longtime partners. "Thirty-six years after Pace/MacGill's founding, we are finally under one roof," said Marc Glimcher, President of Pace Gallery. "We welcome Pace/MacGill and its team to our flagship building, where we will continue to build on our long and successful relationship." The transition to 540 West 25th Street will be overseen by Peter MacGill, President of Pace/MacGill, who founded the gallery with partners Arne Glimcher and Dick Solomon in 1983. MacGill will remain closely involved to oversee special projects, while day-to-day operations of the gallery will be overseen by Lauren Panzo, Kimberly Jones, and Margaret Kelly. "After nearly four decades on 57th Street, the move to Chelsea provides a natural time for a transition and a moment to ... More
Spruth Magers presents an exhibition of works by Eric Fischl
Hauser & Wirth opens an exhibition of modern and contemporary works by important female artists
More than 100 artworks added to PAFA's permanent collection at recent Collections Committee meeting


Eric Fischl, Self-Reflection, 2018. Oil on linen, 165,1 × 127 cm. 65 × 50 inches © Eric Fischl. Courtesy of the artist, Skarstedt, New York, and Sprüth Magers.



LOS ANGELES, CA.- For over four decades, Eric Fischl has produced uncompromising images of American society, as seen through the lens of middle and upper class malaise. Figures routinely share space on his canvases, yet their gazes rarely meet; even when they do, through composition, pose and gesture, they are trapped in the midst of strained exchanges that in turn impel the viewer to examine his or her own relationships and sense of self. Monika Sprüth and Philomene Magers are presenting Complications From an Already Unfulfilled Life, the first solo exhibition of Fischl's paintings in Los Angeles in twenty-five years, and his first with the gallery. The exhibition includes a series of recent works centered on bodies of water: pools, oceans and lakeside views provide the settings for images of aspiration, desire, frivolity and ennui. Fischl's virtuosic technique is as apparent as ever in these new works. Using a combination of densely l ... More



Mary Heilmann, No Passing, 2011 (detail). Oil on canvas, 101.6 x 127 x 3.8 cm / 40 x 50 x 1 1/2 in © Mary Heilmann. Courtesy the artist, Hauser & Wirth and 303 Gallery, New York.



ST. MORITZ.- Hauser & Wirth inaugurated the gallery's first summer season in St. Moritz with an exhibition of modern and contemporary works by important female artists from the gallery's roster. Entitled 'Material Actions', the exhibition takes its title from a series by the artist Anna Maria Maiolino and refers to the gesture innate in the creative process. The presentation aims to explore the complex discourse of painting, questioning its inherently masculine tradition, and the different ways in which artists in the exhibition have engaged with the genre. All works show traces of the hand whether the artist is expressing geometric form, line or their own subjectivity. The perspectives featured traverse continents and decades including work by the key figures: Rita Ackermann, Ida Applebroog, Mary Heilmann, Jenny Holzer, Luchita Hurtado, Maria Lassnig, Lee Lozano and Anna Maria Maiolino. Of the many dialogues which are evo ... More



Other highlights in the latest group of gifts and purchases include eighteen sculptures from the estate of John Rhoden (1916 – 2001).



PHILADELPHIA, PA.- The Pennsylvania Academy of the Fine Arts has announced the addition of 111 historic, modern and contemporary works to its permanent collection of American art, including one of the earliest painted views of the Schuylkill River, which is part of a new PAFA exhibition that opened on June 28, 2019. The newest acquisitions and gifts include Schuylkill Below the Falls, a painting of the Schuylkill River by London-born artist George Beck (1749 – 1812) -- one of the earliest professional landscape painters working in the U.S. -- completed during his time in Philadelphia. Dated circa 1798, the watercolor was painted around the same time Beck received his commission from George Washington to paint scenes of the Potomac for his home at Mount Vernon. "This is an incredibly rare watercolor by Beck," said Dr. Anna O. Marley, Curator of Historical American Art. "Works by this artist rarely come onto the market. It's also t ... More
Quote
Blessed are they who see beautiful things in humble places where other people see nothing. Camille Pissarro
---
Carmen Herrera: Estructuras Monumentales at City Hall Park, New York
---
Flashback
On a day like today, German-American painter and caricaturist Lyonel Feininger was born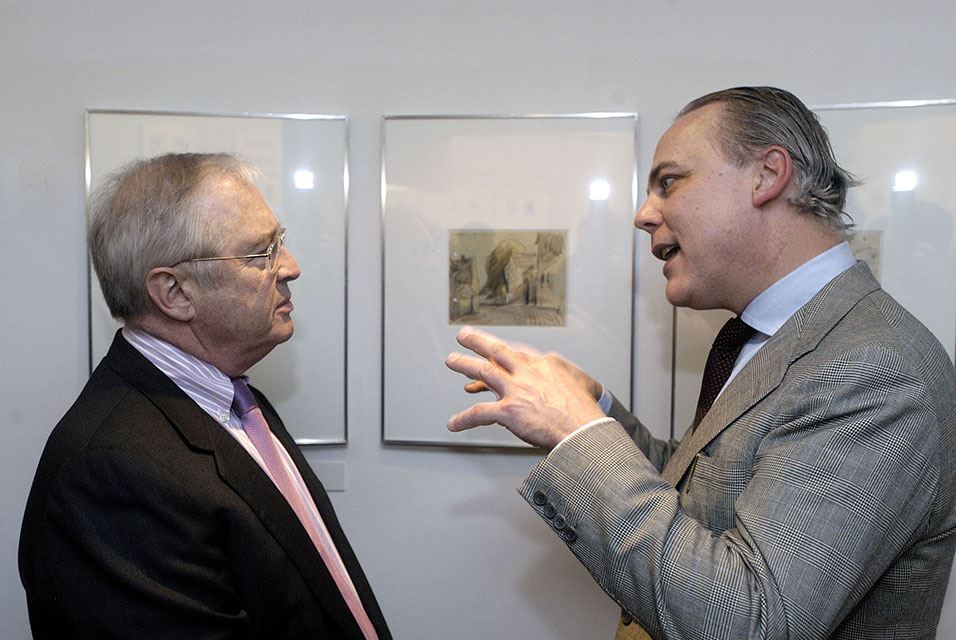 July 17, 1871. Lyonel Charles Feininger (July 17, 1871 - January 13, 1956) was a German-American painter, and a leading exponent of Expressionism. He also worked as a caricaturist and comic strip artist. In this image: Hellmut Seemann president of the foundation "Weimarer Klassik", right, talks with William Timken, US ambassador to Germany, left, about drawings of artist Lyonel Feininger after the opening of the "Feininger" exhibition at the Bauhaus museum in Weimar, eastern Germany, Saturday, Feb. 18, 2006.
---

Museums, Exhibits, Artists, Milestones, Digital Art, Architecture, Photography,
Photographers, Special Photos, Special Reports, Featured Stories, Auctions, Art Fairs,
Anecdotes, Art Quiz, Education, Mythology, 3D Images, Last Week,
.
Royalville Communications, Inc
produces: