Greece seeking Parthenon sculpture loan from Louvre: official

ATHENS (AFP).- Greece has asked France to loan a Parthenon marble frieze fragment displayed at Paris's Louvre Museum to mark its 200th independence anniversary in 2021, an official said Saturday. "There has been a proposal by the Greek side and it is been evaluated in a positive manner," a government source told AFP. "The details will be worked out by the respective culture ministries. This is a temporary exchange," the official added. State agency ANA on Friday said the issue had been discussed during talks between Greek Prime Minister Kyriakos Mitsotakis and French President Emmanuel Macron in Paris this week. The 5th-century BC frieze depicts a scene from a mythical battle between Centaurs -- mythological creatures with the upper body of a human and the lower body and legs of a horse -- and men. In return, Greece will loan the Louvre a collection of ancient bronze artifacts, ANA said. According to the Louvre, the frieze was found at the foot of the Parthenon in ... More
The Best Photos of the Day

Taschen celebrates 20 years of Helmut Newton's SUMO
NEW YORK, NY.- Helmut Newton (1920–2004) always showed a healthy disdain for the easy or predictable, so it's no surprise that the SUMO was an irresistible project. The idea of a book the size of a private exhibition, with spectacular images reproduced to state-of-the-art origination and printing standards, emerged from an open, experimental dialogue between photographer and publisher. With the SUMO weighing in—boxed and shrink-wrapped—at 35.4 kg (just under 80 pounds), Newton created a landmark book that stood head and shoulders above anything previously attempted, both in terms of conceptual extravagance and technical specifications. Published in an edition of 10,000 signed and numbered copies, the SUMO sold out soon after publication and quickly multiplied its value. It now features in numerous collections around the world, including New York's Museum of Modern Art. The legendary copy number one, signed by more than 100 ... More

Sotheby's Paris announces 'Le Soleil de Nuit: Pre-Columbian Treasures from an Important French Collection'
PARIS.- Sotheby's Paris will present the auction Le Soleil de Nuit, Trésors Précolombiens d'une Grande collection Francaise, on October 30. The collection is from the estate of a lifelong collector whose well tuned eye assembled art of many eras and styles, from masterpieces of 17th and 18th decorative arts, natural history, to 20th design and modern art. The 75 works of Pre-Columbian fit comfortably in his domain, reflecting his passion for quality, beauty and the soulful element of fine objects. The collection is distinguished by a group of four Teotihuacan stone masks, in both luminous tecali, (the Mexican alabaster), and dark greenstone and serpentine, each visage conveying an individual element within the corpus of these idealized faces. Two of the masks were formerly in private American collections of the 1950's and 1960's, and exhibited at the Art Institute of Chicago (estimates: €125,000 – 175,000 and ... More

Algeria's culture minister resigns after deadly concert stampede
ALGIERS.- Algeria's Culture Minister Meriem Merdaci resigned Saturday, following the deaths of five young music fans in a stampede at a packed concert by rapper Soolking in the capital, the president's office announced. It said Merdaci handed her resignation to interim president Abdelkader Bensalah "who accepted it". On Friday, prime minister Noureddine Bedoui fired the head of ONDA (the National Office of Copyright and Neighbouring Rights), the public authority in charge of organising concerts. An investigation has been opened amid charges on social media of security failings. Thursday night's stampede that killed five people aged between 13 and 22 came as fans thronged an entrance of the August-20 Stadium in Algiers where France-based Soolking was performing. The president's office later Saturday also announced ... More


Otto Penzler's Mystery Fiction among top offerings in Heritage Auctions' Rare Books Auction
DALLAS, TX.- A group of 481 rare book lots from the personal collection of a giant in the New York literary community are expected to be among the top draws in Heritage Auctions' Rare Books Auction Featuring the Otto Penzler Collection of Mystery Fiction Part II Sept. 5 in New York City. The collection belongs to Otto Penzler, who has spent most of his life collecting prized first editions and opened the Mysterious Bookshop in Midtown Manhattan in 1979; the store became a can't-miss destination for like-minded fiction fans and helped fuel Penzler's passion for acquiring literature. "Otto Penzler is an icon among American collectors of literature," Heritage Auctions Rare Books Director James Gannon said. "His collection is a combination of quantity and quality that few can match. A main focus of this group is English mystery ... More

Christie's Interiors Sale totals $2,331,375
NEW YORK, NY.- Christie's August sale of Interiors totaled $2,331,375 with 89% sold by lot and 92% sold by value. The sale attracted a high volume of online bidding through Christie's LIVE, with 59% of all lots won or directly underbid by clients participating online. The sale saw global participation with registered bidders from 43 countries. The top lots of the sale were André Masson's Histoire de Thésée, which realized $125,000 against a high estimate of $7,000 and a Victorian silver tête-a-tête service mark of Elkington & Co., Birmingham, 1879, which sold for $68,750 above a high estimate of $5,000. Ahead of the sale Christie's collaborated with Alexandra O'Neill, designer of the ready-to-wear line Markarian, and CeCe Barfield Thompson principal of the interior design ... More

Sotheby's Hong Kong to offer the distinguished cellar of a pioneering collector
HONG KONG.- Sotheby's Hong Kong Autumn 2019 wine sale series is led by The Distinguished Cellar of A Pioneering Collector, a stunning single-owner sale that consists of over 1,100 lots estimated at HK$37-50 million / US$4.7-6.4 million. The collection is dominated by magnificent wines from Burgundy (460+ lots) and Bordeaux (410+ lots), including an exceptional selection of Domaine de la Romanée-Conti, Domaine Leflaive and the First Growths. The broad palate of the collection is enhanced by a superb array of wines from Rhône, Italy and the United States, including a vertical of Harlan Estate in magnums. This is a collection amassed by a true wine lover with diverse and immaculate tastes, built over four decades at the forefront of a pioneering era for wine collecting in Asia, when a vast amount of effort and research was made in order to acquire the world's finest wines. The majority of the wines were acquired on release ... More


Gammel Holtegaard's autumn exhibition invites you into the circus ring
HOLTE.- This autumn's exhibition at Gammel Holtegaard explores the central role of the circus in art history, from the period known as the modern breakthrough in Scandinavia to contemporary art today – from Toulouse-Lautrec to Tal R. Welcome to the circus! Gammel Holtegaard's autumn exhibition invites you into the circus ring with works by historical and contemporary artists from Denmark and abroad. With walls covered in red and white stripes the big top has taken over the galleries at Gammel Holtegaard. The stage is set with dramatic spotlights focusing on the spellbinding ups and downs of circus life. With CIRCUS Gammel Holtegaard sheds light on circus themes in art from the late 1800s to today. As a symbol of modernity and city life, the circus was a major source of inspiration for avant-garde artists in the early 20th century. Depictions of circus horses, clowns, acrobats ... More

Andréhn-Schiptjenko exhibits a series of three-dimensional objects as paintings by Jacob Dahlgren
STOCKHOLM.- Andréhn-Schiptjenko has opened the Stockholm fall season with Not and Or, a solo-exhibition by Jacob Dahlgren. The exhibition runs through September 28. Not and Or is a series of three-dimensional objects as paintings, connecting Dahlgren's interest for the everyday with an eye for the possibilities of the discarded. Using left-overs from his studio practice, shipping material or simply found objects, he creates work that mimic classic form and even may appear familiar. This relationship with everyday life is one of the pillars of Dahlgren's practice. Dahlgren constantly seeks geometric and abstract patterns in the surrounding world and processes the mundane and quotidian into art. His own life is inseparable from his work in a tangible way, for his project Peinture Abstraite ... More

A new permanent installation, Silent Studio, by Mark Manders opens at Kistefos
JEVNAKER.- 2019 is the most ambitious year in the history of Kistefos, with multiple new sculptures to be unveiled as well as the opening of the new museum building "The Twist" on the 18th of September. Mark Manders' Silent Studio is a great addition to the continuously expanding sculpture park at Kistefos. His works and installations are a permanent part of several international exhibitions and are displayed at several prestigious museums such as Guggenheim in New York and the Louvre in Paris. We see it as a vote of confidence as well as confirmation that Kistefos is in the same "league" as the major international institutions, says museum director Egil Eide. Situated inside an existing reconfigured historic structure, "Steinhuset", this site specific installation includes a range of new sculptures highlightening the artist´s ongoing uncanny investigation of scale, time and materials. The installatio ... More


Taxispalais transformed into a cinema consisting of four theaters soundproofed with natural substances
INNSBRUCK.- In this moment of planetary crisis, how can we mobilize a joyful, responsive way of interacting with the planet? How can we engender non-anthropocentric ecologics where we no longer think in terms of personal rights or fair exchange but rather of mutual care and empathy, in order to contribute to the benefit of all beings? Would it be possible to move on (while at the same time going back) to concepts that might guide us to act kindly towards and in resonance with planetary needs? What if we were to think of ourselves as in a continuum with the non-human and non-animal, in an affirmative, perhaps even libidinal, relation? Could we free ourselves from the idea that we must renounce something and instead experience the pleasure of living in affinity with others – plants, animals and ... More

Exhibition of new ceramics and paintings by Jun Kaneko opens at Gerald Peters Projects
SANTA FE, NM.- Gerald Peters Projects opened Jun Kaneko: An Abundance of Presence. Featuring new ceramics and paintings, the exhibition brings together over twenty pieces in the Omaha-based artist's largest show to date at the gallery. Kaneko revolutionized the medium of ceramics with his monumental dangos. Now, he continues to push the boundaries of the material – while honoring its history – with a new body of work featuring his distinctive raining blue indigo glaze. Developed over the last two decades, raining blue indigo glaze grew out Kaneko's 1996 residency at the European Ceramic Work Center in the Netherlands. There Kaneko had the opportunity to experiment with traditional blue porcelain glazes. First developed by the Chinese in the sixth and seventh centuries, the glazes reached the Netherlands via the maritime trade in the seventeenth ... More

Lino Tagliapietra brings ambitious solo exhibition to San Francisco
SAN FRANCISCO, CA.- Montague Gallery is presenting a selection of recent works by Lino Tagliapietra. The show is titled Radiance, based on the artist's engagement with color and his appreciation of the unique light of San Francisco. Widely considered the best glass artist in the world, this is Tagliapietra's second exhibition with the gallery and showcases 22 works made between 2017-2019. The exhibition opened on August 23 and runs through September 28, 2019. Tagliapietra states that he expresses himself through the use of color. "The color gives the impression of the spirit, how we work, how we are feeling," said Tagliapietra. He compares San Francisco to glass and believes its light and color are characteristic of the city. "San Francisco is like glass - it looks very strong, but there is a fragility too. To me, what is special about San Francisco is the light. There are very few places in the world that have this light ... More

Quote
Architecture should produce true realisations of solified desires. Salvador Dalí
Flashback
On a day like today, American artist Dorothea Tanning was born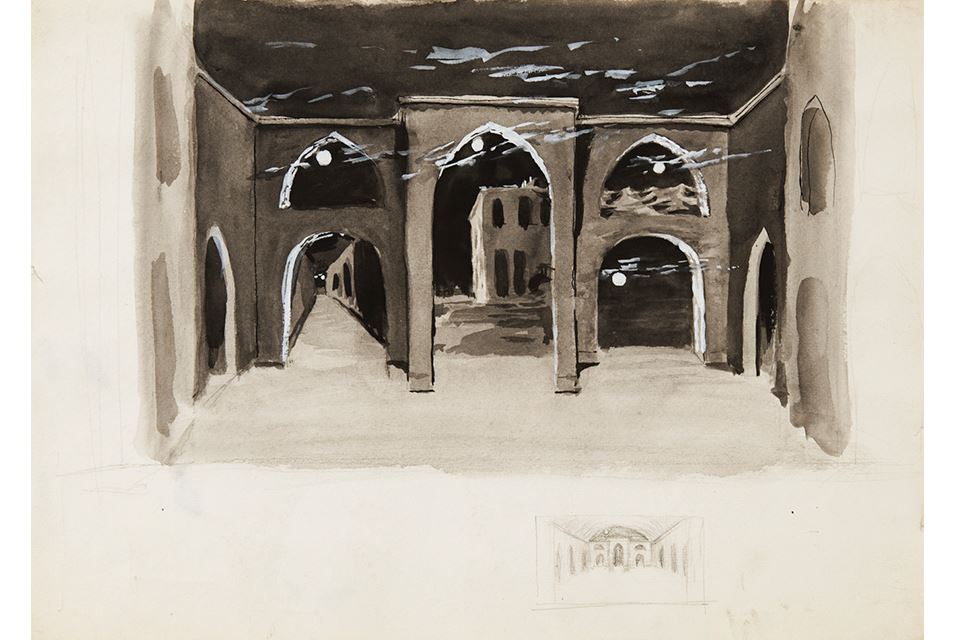 August 25, 1910. Dorothea Margaret Tanning (August 25, 1910 - January 31, 2012) was an American painter, printmaker, sculptor, writer, and poet. Her early work was influenced by Surrealism. In this image: Dorothea Tanning, Untitled (Set Design for The Night Shadow or an Unrealized Ballet), c. 1950. Graphite, ink, and gouache on paper, 25.4 x 35.6 cm, 10 x 14 ins © ADAGP. Courtesy of The Destina Foundation, New York, and Alison Jacques Gallery, London.

Chrysler Museum of Art announces new Director of Education and Director of Development
NORFOLK, VA.- This summer, the Chrysler Museum of Art welcomed Allison M. Taylor as Director of Education and Heather Sherwin as Director of Development. Both were selected after an extensive nationwide search. Together, they bring several decades of museum experience to the Chrysler. "Both Allison Taylor and Heather Sherwin have displayed a longstanding commitment to museums and the community. Their passion for art and breadth of experience are tremendous assets to the Chrysler and will help further the Museum's mission of bringing art and people together," said Museum Director Erik Neil. As Director of Education, Taylor establishes in-house programs and partnerships to cement the Chrysler as a center of lifelong learning. She also manages the Chrysler's education and library staff, as well as the Museum's docents. Sherwin ... More

Fremantle Biennale announces program for second edition: UNDERCURRENT 19
FREMANTLE.- Fremantle Biennale announced today UNDERCURRENT 19, the second edition of the city-wide contemporary art program showcasing experimental site responsive work from established and emerging artists from across the world. Opening UNDERCURRENT 19, the Fremantle Biennale will present the internationally acclaimed light installation WATERLICHT by Studio Roosegaarde founded by Dutch artist Daan Roosegaarde. Marking the first time the studio have presented this work in the Southern Hemisphere, the installation calls attention to rising water levels and the climate change crisis. Now running for three weeks from 1-24 November 2019, the Fremantle Biennale will also present 15 new commissions including large-scale artworks, installations, architectural pavilions, performances and group exhibitions realised in new ... More

The Design Museum launch Bauhaus road crossing as part of London Design Festival Programme
LONDON.- The Design Museum has announced a new London Design Festival installation, a Bauhaus road crossing created by award-winning graphic designer and new Pentagram partner Sascha Lobe celebrating the women of Bauhaus. To mark the centenary of the Bauhaus, the Design Museum has commissioned Pentagram partner Sascha Lobe to design a pedestrian crossing for London Design Festival 2019. The road installation, titled Bauhaus Rewritten pays homage to the women of the Bauhaus, whose achievements are all too often overlooked in design history. The names of pioneering designers including Anni Albers, Gertrud Arndt, Marianne Brandt and Ise Gropius, will feature in a typographic layout among glyphs that Lobe and his team created while designing the new identity for the Bauhaus Archive in Berlin last year. The crossing ... More

TarraWarra Museum of Art appoints Stacie Piper as First Peoples Curator for Yalingwa
MELBOURNE.- TarraWarra Museum of Art has appointed Wurundjeri and Dja Dja Wurrung woman and current Victorian NAIDOC Committee Chairperson Stacie Piper as First Peoples Curator. The position forms part of Yalingwa, a major First Peoples visual arts initiative, backed by a partnership between the Victorian Government, the Australian Centre for Contemporary Art (ACCA) and TarraWarra Museum of Art. With a primary focus on South East Australian artists, Yalingwa encompasses major exhibitions, curatorial positions and artist fellowships. It was behind the successful exhibition A Lightness of Spirit is the Measure of Happiness, presented at ACCA in 2018 and curated by inaugural Yalingwa curator Hannah Presley; and last year saw the first Yalingwa Fellowship awarded to esteemed artist Destiny Deacon. Working with TarraWarra Museum ... More

University of Richmond Museums opens four new exhibitions in August
RICHMOND, VA.- Structure & Gesture: Abstract Prints by Jack Tworkov is on view in the Harnett Museum of Art, August 20, 2019, through July 5, 2020. Jack Tworkov (American, born in Poland, 1900-1982) came to prominence in the 1950s as a pivotal member of the New York School of Abstract Expressionism. Along with artists such as Willem de Kooning, Grace Hartigan, Mark Rothko, and Jackson Pollock, he was part of the 8th Street Club, generally regarded as responsible for introducing the New York School style to the American public. His work from this period was highly gestural abstraction. In the 1960s, his painting moved towards a more geometrical and structural format, and he often echoed his themes in his prints. The artist wrote of his process, "The limits impose a kind of order, yet the range of unexpected possibilities is infinite." ... More

The San Diego Museum of Art opens two special exhibitions this month
SAN DIEGO, CA.- Two special exhibitions opened at The San Diego Museum of Art this month! One show puts a spotlight on the African American community in Southern California during the second half of the 20th century, and the other show highlights the female artists who helped found the Abstract Expressionism movement. Photographers Harry Adams (1918–1988), Charles Williams (1908–1986), and Guy Crowder (1940–2011) were prominent members of the African American community in Southern California. Spanning 50 years, their compelling images document the political events as well as the daily life of this community during the second half of the twentieth century. Adams, Crowder, and Williams worked primarily as freelancers for such publications as the Los Angeles Sentinel, California Eagle, Los Angeles Times, and the LA Metropolitan Gazette. ... More

Kuckei + Kuckei exhibits Guy Tillim's "Museum of the Revolution"
BERLIN.- Kuckei + Kuckei is showing "Museum of the Revolution" after it has been exhibited at Fondation Henri Cartier-Bresson earlier this year in Paris. "These photographs were made on long walks through the streets of the African cities of Johannesburg, Durban, Maputo, Beira, Harare, Nairobi, Kampala, Addis Ababa, Luanda, Libreville, Accra, Abidjan, Dakar and Dar Es Salaam between 2014 and 2018. The series takes its title from the Museum of the Revolution on the Avenida 24 Julho, in Maputo, the capital of Mozambique. The avenue was named soon after the establishment of Lourenço Marques as the Portuguese colonial capital. The 24th of July 1875 marked the end of a Luso-British conflict for possession of the territory that was decided in favour of Portugal. One hundred years later the name of the avenue remained the same, but ... More

From Canoes to Chandeliers: Summers Place Auctions announce October sale
BILLINGSHURST.- Summers Place Auctions next sale will take place on Tuesday, 1st October with the sealed bid sale closing on the 2nd October 2019 and includes many decorative items for the outdoors as well as indoors. A first for the auction house is the sale of a collection of boats, which had been in private ownership for several decades and spanning a period of fifty years in boatbuilding. They include a mahogany hulled day launch built by Morgan Giles Ltd (Devon) in the 1920's. In 1990 it was in use in Windermere and has a Stuart Turner engine as well as two oars and is an impressive 320 cm long. Francis Charles Morgan-Giles (1883-1964) was a boat designer and builder from Devon, England. He built rowing boats, dinghies, yachts and large motor cruisers. His boats were known for their high quality, elegance and craftsmanship ... More

New arts charity charity aims at providing opportunities and raising aspirations for 11-16 year olds
LONDON.- The Sixteen Trust, a new arts and education charity aimed at providing opportunities and raising aspirations for 11-16 year olds in deprived parts of the UK, has been founded, and will launch next month with two major exhibitions in London and Margate. The Sixteen Trust will focus on driving real-world opportunities through the charity's significant network of arts professionals, believing that the arts have the unique capability to touch all aspects of daily life, and provide young people with opportunities through practical, creative or even scientific pathways. Education through the arts has the potential to reach into and inform a wide variety of subjects, providing cross-pollination and transferable skills, giving students experiences and hands-on knowledge that could prove invaluable in initiating a variety of interests and, eventually, ... More

Royalville Communications, Inc
produces: