Chinese ceramic artist and painter Bai Ming opens exhibition at Lacoste Gallery
Bai Ming, Charity of Blue Mountain, 2016, 12.5 x 12.5 in. Porcelain.
CONCORD, MASS
.-
Lacoste Gallery
introduces the celebrated Chinese ceramic artist and painter Bai Ming to the USA. The exhibition BAI MING: SOLO November 11 – December 2, 2017 features over 50 porcelain works, paintings and drawings. Bai Ming is an artist with an illustrious art career in Asia and Europe. His recent successful retrospectives were at the Museum of Asian Art, Paris and the Museum of Art, Architecture and Technology (MAAT), Lisbon. In 1998, he exhibited alongside Picasso in a two person exhibition at Taipei International Art Fair titled "Vallauris in France & Jingdezhen in China". Born near Jingdezhen, the birthplace of porcelain, Mr. Bai has contributed to the renewal and revival of contemporary Chinese ceramics while introducing it to a new audience worldwide. His paintings on clay are abstractions with free brush strokes. He uses dots and lines on his works referencing western art thus bridging the two cultur ...
More

The Best Photos of the Day
New discoveries in ancient paintings: Artcurial announces highlights from the Old Master and 19th Century Art Sale
Christie's announces highlights from its Russian Art Sale
Save the Art - Save the Museum Group to hold "Eleventh Hour" protests at Berkshire Museum and Sotheby's


Gustave Courbet, Autoportrait, oil on canvas, estimate: €80,000 – 120,000 / $88,000 – 132,000. © Artcurial.



PARIS.- After the triumph of the Gaston Delestre collection in March, Artcurial's Old master of the 19th century art department, will organise its prestigious sale in the second half of the year, on November 14th under the hammer of auctioneer and specialist Matthieu Fournier. Three sessions will be held on November the 14th with an overall estimate of 4 M€. The first, entitled A life of passion for old framework and gilded wood, will be devoted to the Pierre Berndt collection, a famous Geneva merchant of old frames; the second will be dedicated to the ancient and nineteenth-century Masters, with a chapter devoted to painting, led by a painting by Baudrin Yvart rediscovered, by specialists of the hous, as well as two important Dutch paintings ; and the third dedicated to sculpture in the 19th century, including 40 bronzes by Antoine-Louis Barye and a masterpiece by Alfred Boucher. « The department continues its work ... More



An exceptional and rare guilloché enamel and varicolour gold miniature model of a sedan chair estimated at £700,000–1,000,000. © Christie's Images Limited 2017.



LONDON.- Christie's Important Russian Art sale on 27 November 2017 will be highlighted by an Important Collection of Fabergé Masterpieces and Imperial Treasures as well as significant paintings by Natalia Goncharova, Vasily Vereshchagin, Apollinarii Vasnetsov and Marie Vassilieff, among other artists. The Works of Art section will also feature an important monumental vase by the Imperial Porcelain Factory, rare Russian Imperial orders from the Princely Murat Collection and important militaria from the Romanov family. Selected works will be on display at Christie's Moscow Gallery space on November 9, 2017. The London pre-sale exhibition will take place on November 24-26, 2017. Alexis de Tiesenhausen, International Head of the Russian Department, Christie's: "Christie's is honoured to offer an important ... More



Pittsfield Stand with the Rockwells.



PITTSFIELD, MASS.- As the date rapidly approaches for the controversial sale of art from the Berkshire Museum, the grassroots citizens' group Save the Art – Save the Museum will hold an emergency "eleventh-hour" rally to oppose the auction of 40 artworks, including two iconic Norman Rockwell paintings. The rally will be held in front of the Berkshire Museum on Saturday, Nov. 11 from 11 a.m. to 1 p.m. On the same day, Save the Art is also staging a protest gathering at Sotheby's, York Ave. at 72nd St., in New York City, also from 11 a.m. to 1 p.m. New York organizers encourage supporters to take the opportunity to see the works now on display for auction and meet others who oppose the sale. Save the Art was deeply disappointed by Tuesday's ruling by Judge John Agostini in Berkshire Superior Court allowing the auction to proceed on Monday, Nov. 13. Save the Art, along with plaintiffs in the case, are hopeful that the decision will ... More
Christie's achieves nearly £5 million for the Photographs Sales and sets a new world record for Man Ray
Barnes Foundation announces new framework for searching collection online
Exhibition at the Norton Simon Museum marks the centenary of Edgar Degas's death


Philippe Garner selling Man Ray's masterpiece Noire et Blanche for €2,688,750. © Christie's Images Limited 2017.



PARIS.- Christie's France has realised nearly €5M for this week's Photographs auctions. On Thursday 9 November, the highly anticipated masterpiece by Man Ray was sold to an anonymous telephone bidder after a long bidding battle between 4 clients on the phone and 3 clients present in the room. This photograph, formerly in the collection of Jacques Doucet, portraying Kiki de Montparnasse, Man Ray's muse and lover sold for €2,688,750/£2,373,124/$3,120,658, establishing a new auction record for a photograph by Man Ray, for any photograph sold in France and established a new world auction record for any classic photograph topping the previous record from 2006 for a print by Edward Steichen. The Photographies sale which happened on Friday 10 November realised strong results for rare prints such as The Hand of Miles Davis by Irving Penn which sold for €199,500, doubling its ... More



The new collection website allows visitors to browse artworks based on visual characteristics and download images of over 1,400 works. Courtesy of the Barnes Foundation.



PHILADELPHIA, PA.- In celebration of its fifth anniversary in Philadelphia, the Barnes Foundation has launched a new collection website that enables visitors to explore thousands of works in the Barnes's unparalleled collection based on aesthetics, and download high resolution images of over 1,400 works that are in the public domain. Led by Shelley Bernstein, Barnes Foundation deputy director for audience engagement & chief experience officer, and funded by a $155,000 grant from the John S. and James L. Knight Foundation, the new online tool is the first in the museum field designed to search holdings with a deep focus on visual properties such as light, line, color, and space, in addition to more traditional searches by artist name, media, or historical movement. Based on the same criteria that Dr. Albert C. Barnes applied to displaying his collection in ... More



Edgar Degas, Dancers in the Wings, c. 1876-78. Pastel, gouache, distemper, and "essence" on paper, mounted on board. Norton Simon Art Foundation.



PASADENA, CA.- The Norton Simon Museum presents Taking Shape: Degas as Sculptor, an illuminating exhibition that explores the improvisational nature of Edgar Degas's artistic practice and considers the affinities between sculpting, painting and drawing in his oeuvre. By bringing together the Museum's entire collection of modèles, the first and only set of bronzes cast from the artist's original wax and plaster statuettes, and related pastels, drawings and paintings, Taking Shape offers viewers the opportunity to study Degas's artistic process across media. Seen together, this expansive body of Degas's works—one of the largest collections of its kind in the world—celebrates the artist's boundless enthusiasm for creation and his insatiable impulse to build form. Renowned for his technical experimentation, Degas (French, 1834–1917) exhibited just one sculpture during his lifetime, the controversial Lit ... More
UNESCO's new head vows to restore 'unity' to troubled agency
Buzz Aldrin's Apollo 11 Cartier solid gold Lunar Module replica up for auction
All Good Art is Political: Exhibition of works by Käthe Kollwitz and Sue Coe on view at Galerie St. Etienne


Former French culture minister Audrey Azoulay looks on at the UNESCO headquarters in Paris on November 10, 2017 after UNESCO member states approved her nomination to head of the cultural agency. Eric FEFERBERG / AFP.



PARIS (AFP).- UNESCO's new director general, French former culture minister Audrey Azoulay, says her top priority will be to calm the waters for a body riven by dissensions and under fire for dragging its feet on much needed reforms. "To rebuild unity, we must promote UNESCO's assets and know-how and that of its members," Azoulay told AFP in an interview. The Paris-based cultural, scientific and cultural organisation "must show through its actions that UNESCO is addressing the challenges of globalisation today," said the 45-year-old whose nomination was confirmed on Friday. She said she would seek to "reduce a certain amount of tensions" but conceded that they would "always exist". The vote that saw Azoulay succeed outgoing UNESCO chief Irina Bokova was overshadowed by Washington's ... More



Incredible 18-karat gold model of the Apollo 11 Lunar Module to be auctioned.



BOSTON, MASS.- Buzz Aldrin's Apollo 11 Cartier solid gold Lunar Module replica will be auctioned by Boston-based RR Auction. Produced by the legendary jewelry company Cartier, three of the solid gold models of the Lunar Module Eagle were commissioned by the French newspaper Le Figaro and presented to the Apollo 11 astronauts during their post-flight visit to Paris in October 1969. The newspaper asked its readers to contribute to the cost of producing them, and donations poured in from around the nation—10 francs, 20 francs, or whatever they could afford. The astronauts' visit to Paris came as part of their 'Giant Step' international goodwill tour, which brought them to 24 countries in 45 days. In the celebratory mania that ensued, one hundred million people turned out to see the crew who had performed man's greatest triumph—a journey to the moon and back. "Intricately reproducing the iconic Lunar Module in s ... More



Käthe Kollwitz, Never Again War! 1924. Lithograph with text on dark tan poster paper. 37" x 27" (94 x 68.6 cm). Knesebeck 205/IIIb. Daniel Stoll and Sibylle von Heydebrand Collection.



NEW YORK, NY.- At a moment when politics are all but inseparable from daily life, Galerie St. Etienne examines the work of two major artists renowned for their activist approach. All Good Art is Political: Käthe Kollwitz and Sue Coe is on view from October 26, 2017 through February 10, 2018. The exhibition is one of many marking the 150th anniversary of the birth of Käthe Kollwitz this year, though the only one in the U.S. All Good Art is Political: Käthe Kollwitz and Sue Coe presents more than 30 drawings and prints by Kollwitz (1867-1945) and more than 30 paintings, drawings, and prints by Coe (b. 1951). The exhibition borrows its title from writer Toni Morrison, who once noted, "All good art is political! The ones that try hard not to be political are political by saying, 'We love the status quo.'" The exhibition coincides with the ... More
How churches were lifted to safety in communist Bucharest
Sotheby's Hong Kong Chinese Works of Art Sales to take place on 30 November and 1 December
Psychedelic color storm takes over Washington art space


Engineer Eugeniu Iordachescu gives an interview at his place in Bucharest November 1, 2017. Daniel MIHAILESCU / AFP.



BUCHAREST (AFP).- A bit bruised but still standing, old Orthodox churches can be found around Bucharest, having escaped the frenzied demolition of the Romanian capital in the 1980s ordered by ex-communist dictator Nicolae Ceausescu. At least 10 jewels of Romania's religious heritage from the 16th to 19th centuries survived due to an engineering tour de force: they were moved and hidden away. Engineer Eugeniu Iordachescu was head of an institute at the time that was confronted with the architectural whims of Ceausescu and his wife Elena. The couple had been impressed with Pyongyang, the North Korean capital, and got the idea to bulldoze the historic centre of Bucharest to make way for a government district dominated by a gigantic "House of the People". The demolitions had already started when Ceausescu inquired about the width of Bucharest's main Kiseleff road. "Someone said 50 metres (165 feet), another 70 metres. Then Ceausescu said, 'Make the boulevard 90 metres wide'. That had major ... More



A Rare Blue and White Ingot-Shaped 'Dragon' Box and Cover, Mark and Period of Wanli, 21.6 cm. Estimate: HK$400,000 - 600,000/US$51,000-77,000. Courtesy Sotheby's.



HONG KONG.- Sotheby's will stage two mid-season sales of Chinese works of art at its Hong Kong Gallery: An Asian Collection of Jade Carvings (30 November) and Chinese Art including Selected Works of Art from the T.Y. Chao Family Collection (30 November – 1 December). All works will be exhibited for public viewing from 24 – 29 November 2017. Vivian Tong, Acting Head of Sotheby's Chinese Works of Art Mid-Season Sales, comments, "Following our successful Chinese Works of Art autumn sales, we are pleased to wrap up the season with two well-curated auctions featuring various distinguished private collections. Encompassing exquisite jade carvings from the post Han period, an era which observed unprecedented innovation, An Asian Collection of Jade Carvings showcases the influential stylistic canon which remained pertinent even to later Qing jades. The Chinese Art auction features fine Chinese works of art of outstanding pr ... More



Varying hues, ranging from deep blues to hot pink and sparkling gold, ripple across a surface, spill onto geometric shapes and drop dramatically on flowers like milk or heavy smoke to the beat of a dreamy electronic soundtrack from Leonardo Villiger.



WASHINGTON (AFP).- It all began by accident. After hurting his wrist, artist Oilhack started mixing paints, oil and soap in a bowl, experiments that eventually morphed into brightly colored moving seascapes in a collaboration with fellow Frenchman Thomas Blanchard that Apple used to promote its iPhone X. In their US debut, the pair, who form the WeAreColorful collaborative, are bringing an immersive experience -- filling the main gallery space at Artechouse, a Washington venue marrying art, science and technology, with 270-degree projections of their liquid mixtures. Varying hues, ranging from deep blues to hot pink and sparkling gold, ripple across a surface, spill onto geometric shapes and drop dramatically on flowers like milk or heavy smoke to the beat of a dreamy electronic soundtrack from Leonardo Villiger. The shapes seem huge in the projections, towering far above visitors, but Oilhack and ... More
Shaun Leane on Innovation & Alexander McQueen
Flashback
On a day like today, French painter Paul Signac was born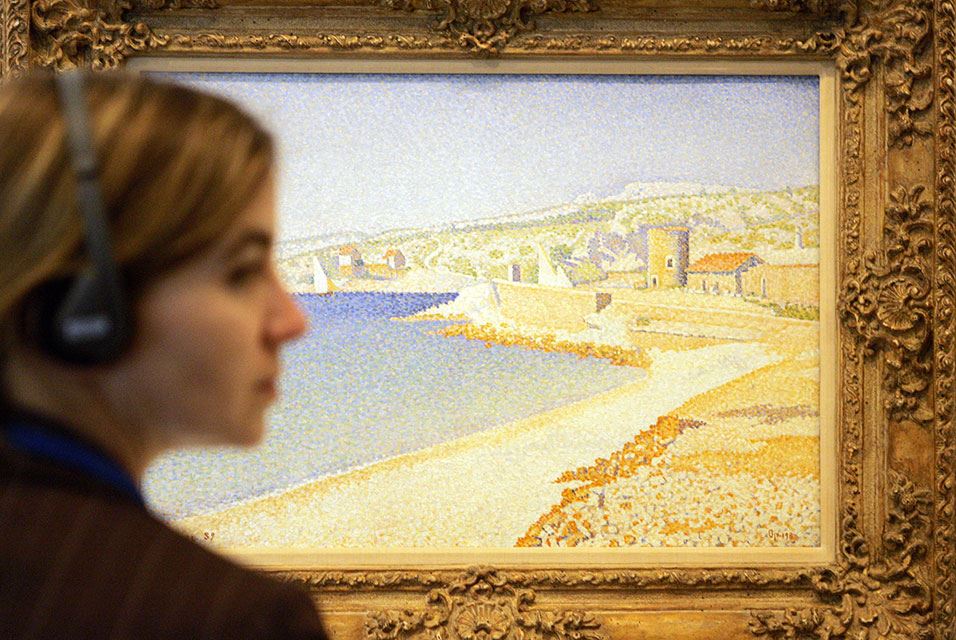 November 11, 1863. Paul Signac (11 November 1863 - 15 August 1935) was a French neo-impressionist painter who, working with Georges Seurat, helped develop the pointillist style. In this image: Esther Lausek from Hungary takes a look at the painting "The Jetty at Cassis" by Paul Signac that is on display at the exhibition "The nicest Frenchmen come from New York City" in Berlin, Wednesday, May 30, 2007.
---

Museums, Exhibits, Artists, Milestones, Digital Art, Architecture, Photography,
Photographers, Special Photos, Special Reports, Featured Stories, Auctions, Art Fairs,
Anecdotes, Art Quiz, Education, Mythology, 3D Images, Last Week,
.
---
Royalville Communications, Inc
produces: