Archaeologists find 2,000-year-old human skeleton at Mediterranean shipwreck
Archaeologists Brendan Foley, Theotokis Theodoulou and Alex Tourtas excavate the Antikythera Shipwreck skeletal remains, assisted by Nikolas Giannoulakis and Gemma Smith. Photo by Brett Seymour, EUA/WHOI/ARGO.
PARIS
(AFP)
.-
Archeologists have discovered a 2,000-year-old human skeleton at the same Mediterranean shipwreck that yielded the most sophisticated piece of technology, a clockwork, to survive Antiquity, Nature reported Monday. If DNA can be prised from the remains, found on August 31 off the coast of the Greek island Antikythera, it may reveal clues as to the skeleton's identity, the science journal said. The surprisingly well-preserved bones -- including a partial skull, two arm bones, several ribs and two femurs -- could also unlock secrets about the famous first-century BC merchant ship which probably foundered during a storm. The Greek government has yet to give permission for DNA testing. The skeleton is a rare find. The bodies of shipwreck victims are usually swept away or eaten by fish, and rarely survive decades, much less centuries. ...
More
The Best Photos of the Day
J. Paul Getty Museum acquires excquisite 17th century Roman cabinet
National Gallery of Australia returns two sculptures to India
Artcurial to offer four sculptures by Georges Laurent Saupique


The Borghese- Windsor Cabinet, Rome, about 1620. Cabinet: 178 cm high (including statuette) x 126 cm wide x 54 cm deep, Stand: 84 cm high x 153.5 cm wide x 65.5 cm deep. Ebony; statuettes in gilded bronze and silver; hard stones include lapis lazuli, jaspers, agates, carnelians, amethyst; ebony and ivory (removed) for the central niche. Photo Courtesy of Sotheby's Paris.



LOS ANGELES, CA.- The J. Paul Getty Museum announced today the acquisition at auction of the Borghese-Windsor cabinet, a magnificent work of furniture, sculpture and stone inlay (pietre dure) made in Rome about 1620 for Pope Paul V and later acquired by King George IV of England. "The Borghese-Windsor cabinet is one of the finest examples of Italian pietre dure cabinets known. Works of this quality, craftsmanship, and historical significance are almost all in museums and princely private collections, so the opportunity to acquire one of the most renowned examples for the Getty is too good to pass up," said Timothy Potts, director of the J. Paul Getty Museum. "The Getty Museum's strong ... More



Chola dynasty (9th–13th centuries), Tamil Nadu, India. Goddess Pratyangira, 12th century, stone, 125 x 56 x 30cm.



CANBERRA.- The NGA is to voluntarily return two sculptures to the Government of India following the discovery of new evidence about their provenance and removal from India. The Goddess Pratyangira (Tamil Nadu, India, 12th Century) and Worshippers of the Buddha (Andhra Pradesh, India, 3rd Century) antiquities were purchased by the NGA in 2005 from New York dealership 'Art of the Past'. The dealership owner Mr Subhash Kapoor was arrested in 2011 and is awaiting trial in India for his alleged involvement in the illicit art trade, with further charges pending in the USA. In February this year, the NGA published an independent review of the Asian Art Provenance Research Project conducted by the former High Court Justice, Susan Crennan, which confirmed that 11 works purchased from Mr Kapoor have 'highly problematic' provenance. The NGA has been ... More



Les Colonies, L'Indochine, Georges Laurent Saupique, 1927-1929 © Artcurial.



PARIS.- At the Art Deco auction organised on 21st November at 8pm, Artcurial will offer an exceptional lot of four monumental sculptures by Georges Laurent Saupique. Created between 1927 and 1929 to decorate the entrance of the headquarters of the Compagnie Financière Française et Coloniale on the rue d'Anjou in Paris, the four statues represent the four French colonies: North Africa, Sub-Saharan Africa, Indochina and the West-Indies (L'Afrique Noire, l'Afrique du Nord, l'Indochine and Les Antilles.) The work comes from a private American collection and is estimated at 1 200 000 € - 1 500 000 €/ 1 320 000 – 1 650 000 $. Georges Laurent Saupique worked for more than two years on this impressive piece which helped establish his name as an artist. He later went on to work on the 1937 exhibition and after the war, on several public buildings; each project highlighting his distinct skills. The ... More
Exhibition of new works by Georg Baselitz opens at Gagosian
Phillips announces fall season in Hong Kong
Musée de l'Elysée exhibits works by Wojciech Zamecznik and Martin Kollar


Georg Baselitz, Zweimal Treppe runter (Twice Down the Stairs), 2016. Oil on canvas, 122 1/16 × 99 5/8 inches (310 × 253 cm) © Georg Baselitz. Photo by Jochen Littkemann, Berlin. Courtesy Gagosian Gallery.



NEW YORK, NY.- Gagosian Gallery presents "Jumping Over My Shadow," an exhibition of new paintings, drawings, and monumental sculpture by Georg Baselitz. In 1969, seeking to free painting from the constraint of immediate comparison to reality, Baselitz began inverting his subjects. He painted portraits and landscapes upside-down, creating compositions that appear at first as abstractions, but slowly resolve as representational works. More than four decades later, he continues to subvert the painted subject—now seeking atmospheric effects that impart to the viewer the sensation of peering through a vaporous void to discover ambiguous bodies within. Baselitz's work confronts the very limits of color, material, and composition. This, combined with his compulsive reference to self, ... More



Lee Ufan From Winds, , 1986. Estimate: HKD 4,800,000 – 5,800,000.



HONG KONG.- Phillips announced its fall season of sales in Hong Kong, which will take place from 27 to 29 November 2016 and introduce the company's first auctions of Art, Design and Jewellery in Asia. These auctions represent the latest stage of the company's strategic growth in the region and follow the successful sales of Watches in Hong Kong in December 2015 and May 2016. Edward Dolman, CEO and Chairman of Phillips: "Our Asian headquarters in Hong Kong are crucial to the development of our global business and these auctions mark a notable stage of our growth in one of the art market's most important regions. Our auctions in London and New York are welcoming record numbers of collectors from Asia, so it is exciting to be able to present the Phillips platform in Hong Kong, where we can engage with both new and existing clients." Jonathan Crockett, Head of 20th Century and Contemporary ... More



Affiche de la semaine du cinema polonais organisee par la Cinematheque suisse ® Juliusz & Szymon Zamecznik, Fundacja Archeologia Fotografii.



LAUSANNE.- Wojciech Zamecznik (1923-1967) The Polish graphic artist Wojciech Zamecznik was an influential figure in the post-war Polish art scene. Working between 1945 and 1967, he is famous for his posters (more than 200), and his sphere of activity covered various fields: publishing (magazine covers, book designs), music (posters, album covers), cinema (posters, opening credits, films) and exhibitions. Zamecznik soon became interested in photography and is considered a pioneer in combining the medium with graphics. The exhibition, organized in partnership with the Fundacja Archeologia Fotografii, which holds the artist's archives in Warsaw, is the first international presentation of his photographic work. Curated after studying thousands of the artist's phototypes, the project reveals his ceaseless exploration of the photographic medium. His work shows his ... More
Sotheby's announces highlights from its fall auction of photographs
The Hepworth Wakefield exhibits new installation by Turner Prize nominee Anthea Hamilton
Major exhibition of the work of Donald Baechler on view at Reflex Gallery


Man Ray, 'TORSO (LAMA [SIC] SHEATH)', 11 1/2 by 8 7/8 in. (29.2 by 22.5 cm.)
Est. $80/120,000. Photo: Sotheby's.



NEW YORK, NY.- Sotheby's fall auction of Photographs on 7 October in New York will offer a variety of exceptional works from the 19th to the 21st centuries. Of special note are masterpieces of 20th-century photography by Alfred Stieglitz, Ansel Adams, Man Ray, Robert Heinecken, and Yves Klein, among many others. This carefully selected offering illustrates the expressive breadth of the medium and will feature 178 works with estimates ranging from $3,000 to $500,000. The New York exhibition will be open to the public from 1 to 6 October. An early, bravura print of Alfred Stieglitz's portrait of Georgia O'Keeffe (above, est. $300/500,000) depicts the artist posed in front of her drawing No. 15 Special, a charcoal inspired by O'Keeffe's visits to Palo Duro Canyon, Texas. This photograph is accompanied by its original frame, fabricated by George F. Of, who worked with ... More



One of the first visitors to Anthea Hamilton Reimagines Kettle's Yard views Handwoven grass mats, 2016 by Anthea Hamilton. Exhibition opens to the public on Thursday 15 September at The Hepworth Wakefield. Photo © Darren O'Brien/Guzelian. Courtesy The Hepworth Wakefield.



WAKEFIELD.- The Hepworth Wakefield announces a new installation by Turner Prize nominee Anthea Hamilton, entitled Kettle's Yard Reimagined: Anthea Hamilton. Anthea Hamilton reinstalled the existing presentation of Kettle's Yard at The Hepworth Wakefield, on display at the gallery for 12 months while Kettle's Yard is closed for a major building project. Hamilton studied BA (Hons) Fine Art and graduated from Leeds Beckett University (formerly Leeds Metropolitan University) in 2000. Her ambitious installation exhibits for the first time, a series of new works, created in response to works from the Kettle's Yard Collection. Anthea Hamilton said: "Kettle's Yard is a very special place, I find it graceful in every way. It touches us personally with its attention to domestic ... More



Donald Baechler, Popcorn, 2016. Gesso, Flashe, graphite and paper collage on paper, 86,6 x 53,3 cm.



AMSTERDAM.- Reflex Gallery announces a major exhibition of the work of Donald Baechler. This is the first exhibition not just in Amsterdam for the world-famous American artist, but also the first in the Benelux area. One of the few continuously active members of the 1980s New York art scene, Baechler is an internationally acclaimed artist with a remarkable pedigree. Born in Connecticut in 1956, Baechler studied at Cooper Union, NY and in Frankfurt. He made his name in New York in the 1980s showing his work at the legendary Tony Shafrazi Gallery with a group of artists that included Keith Haring, Kenny Scharf and Jean-Michel Basquiat. He is known predominantly for his intensely reworked graphic work and paintings which return frequently to a group of motifs and characters often associated with childhood: ice-cream cones, thumbs-up, Disney-esque fawns, as well as more clichéd images from art history – flowers, skulls and globes. ... More
Baudelaire's vision of art explored in exhibition at Musée de la Vie romantique
Personal Sendak drawings for auction at Swann Galleries
Original painting for E.T. The Extra-Terrestrial inspired the Movie Poster offered at Heritage Auctions


Eugène Delacroix (1798-1863), La Madeleine dans le désert 1845, Paris musée Eugène Delacroix. Photo © RMN-Grand Palais (musée du Louvre) / Droits réservés.



PARIS.- To mark the 150th anniversary of the poet's death, the Musée de la Vie Romantique is holding an exhibition of Charles Baudelaire's aesthetic curiosities. Imagine an exhibition that resumes the dialogue between a young poet's texts and the works of art they describe. Visitors will be given an opportunity to step into the pages of Baudelaire's aesthetic writings, landmark works in the history of art criticism. Surrounded by some one hundred paintings, sculptures and prints evoked by Baudelaire, viewers are invited to compare their own way of seeing with the author's of Les Fleurs du Mal artistic sensibility, and to understand how the definition of modern beauty was forged, a definition he would never abandon. What does it mean to fall in love with the "virtue of the unexpected", to prefer a painting which is "made" to a painting which is "finished", to recognise the essentially romantic ... More



Sendak created the drawings for four-year-old Nicholas Hentoff, called Kiko, whose father Nat profiled the author for The New Yorker in 1966. Image courtesy of Swann Auction Galleries.



NEW YORK, NY.- Author and illustrator Maurice Sendak is best known for Where The Wild Things Are, the 1963 children's book that became a global phenomenon. Several of his personal drawings never intended for publication will be available September 29 in an Illustration Art sale at Swann Auction Galleries in New York. Sendak created the drawings for four-year-old Nicholas Hentoff, called Kiko, whose father Nat profiled the author for The New Yorker in 1966. During an outing at the beach on Fire Island in 1965, "Nicholas, returning from a thwarted attempt to play with some older children, noticed that Sendak had been sketching. Nicholas asked, 'Can you make me a ferryboat?' Sendak did, and then drew other pictures at Nicholas' request, including some of seagulls – creatures that my son is very fond of. The next day, Sendak dropped in at our house with a ... More



John Alvin (American, 1948-2008), E.T. the Extra-Terrestrial, original promotional movie illustration, 1982. Acrylic on board, 41 x 27 in. (sight). Signed lower right.



DALLAS, TX.- Hanging on Hollywood writer and producer Bob Bendetson's office wall for the last 13 years, the Original Promotional Movie Poster Illustration for E.T. The Extra-Terrestrial, is now expected to sell for $150,000 when it premiers Oct. 12, 2016 in Heritage Auctions' Illustration Art Auction in Dallas. "Every time my son's or daughter's friends would see the painting they'd stand in front of it with their fingers touching in the same way," recalled Bendetson. Universal Pictures outsourced the poster to a company called Intralink and its master movie poster artist John Alvin. Utilizing his daughter's hand as a model and taking inspiration from Michelangelo's The Creation of Adam, Alvins' painting became the most well-associated image for the 1982 film, which many critics call director Steven Spielberg's masterpiece and one of the greatest movies ever made. "This ... More
Vito Acconci | Where We Are Now (Who Are We Anyway?)
Flashback
On a day like today, American fashion designer Geoffrey Beene died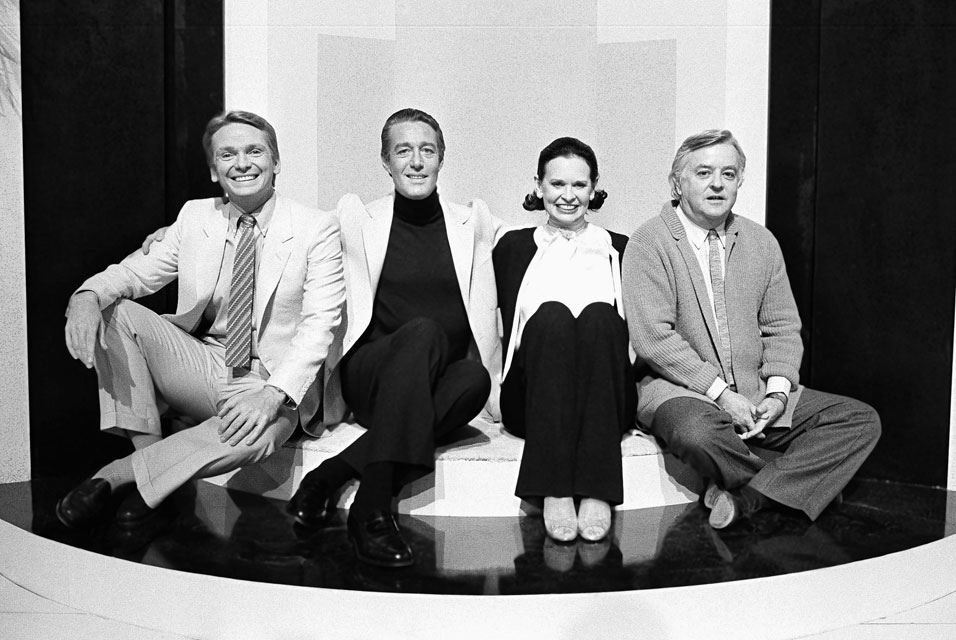 September 28, 2004. Geoffrey Beene (August 30, 1927 - September 28, 2004) was an American fashion designer. In this image: America's foremost fashion designers get together Tuesday, February 4, 1981 for a taping of an episode of ABC-TV's "Love Boat" in which the elite group will appear, portraying themselves. The designers, from left, Bob Mackie, Halston, Gloria Vanderbilt and Geoffrey Beene, will appear on the show, to be aired in May, accompanied by models showing styles most closely identified with each designer.
---

Museums, Exhibits, Artists, Milestones, Digital Art, Architecture, Photography,
Photographers, Special Photos, Special Reports, Featured Stories, Auctions, Art Fairs,
Anecdotes, Art Quiz, Education, Mythology, 3D Images, Last Week,
.
---
Royalville Communications, Inc
produces: