From Sèvres to Fifth Avenue: Exhibition of French porcelain opens at The Frick Collection
Sèvres Porcelain Manufactory (French), Three Potpourris Vases, ca. 1762. Soft-paste porcelain, 1918.9.10: 14 3/16 x 8 ½ x 7 ⅛ inches 1918.9.11 and 12: 11 x 6 ¾ x 5 ¼ inches. The Frick Collection, New York. Photo: Michael Bodycomb.
NEW YORK, NY
.-
When Henry Clay Frick set out to furnish his new residence at 1 East 70th Street, his intention was to replicate the grand houses of the greatest European collectors, who surrounded their Old Master paintings with exquisite furniture and decorative objects. With the assistance of the art dealer Sir Joseph Duveen, Frick quickly assembled an impressive collection of decorative arts, including vases, potpourris, jugs, and basins made at Sèvres, the preeminent eighteenth-century French porcelain manufactory. Many of these objects are featured in the upcoming exhibition From Sèvres to Fifth Avenue, which presents a new perspective on the collection by exploring the role Sèvres porcelain played in eighteenth-century France, as well as during the American Gilded Age. While some of these striking objects are regularly displayed in the grand context of the Fragonard and Boucher Rooms, others have come out of a long period of storage for this presentation. These finely painted examples will be s ...
More
The Best Photos of the Day
Last of its kind Vickers Supermarine Spitfire to be auctioned at Christie's London
Doig, Twombly, Baselitz, Rauschenberg and Holler to be featured at the 2015 Venice Biennale
Masterpieces by Rubens, Rembrandt and other masters on view again at Alte Pinakothek




A restored Vickers Supermarine Spitfire Mk.1A – P9374/GMK1A. Estimate: £1,500,000-2,500,000. © 2011 John Dibbs.





LONDON.- This summer, Christie's London will present a unique and remarkable piece of British history at auction – an authentic and immaculately restored Vickers Supermarine Spitfire Mk.1A – P9374/GMK1A (estimate: £1,500,000-2,500,000, illustrated above). As we commemorate the 75th anniversary of the Battle of France and the Battle of Britain, Christie's is proud to mark this moment in history by offering Spitfire P9374 in The Exceptional Sale on 9 July 2015. Robert Copley, Deputy Chairman Christie's UK and Head of The Exceptional Sale: "Christie's is proud to be entrusted with the sale of this Spitfire; a truly iconic aircraft which is symbol of the bravery 'of the few' in the Battle of Britain. We look forward to seeing this extraordinary Mk.1 Spitfire reach new heights at 'The Exceptional Sale', which will be a unique moment in auction house history." There are only two remaining ... More





Peter Doig, Untitled, 2014, Oil on paper, mounted on canvas, 23.5 x 16.5 inches.





VENICE.- An exhibition of new works by Peter Doig, a tribute to Robert Rauschenberg, a major exhibition of works by Cy Twombly, and young artists representing Ukraine in a specially created glass pavilion are among the projects being presented at this year's Venice Biennale from 9 May – 22 November 2015 (Press Previews: 6-8 May 2015). An exhibition of new works by the British artist Peter Doig will go on show at the Palazetto Tito at Fondazione Bevilacqua La Masa. The artist's latest works will include large paintings and several intimately scaled works. The exhibition follows a line of prestigious solo shows at the Foundation dedicated to artists such as Sonia Delaunay, Yoko Ono, Alex Katz, Marlene Dumas. Peter Doig, 2004 Turner Prize nominee, and winner of the 2008 Wolfgang Hahn Prize of the Society for Modern Art, Museum Ludwig, Cologne, is considered one of the most gifted artists of his generation. The exhibition is curated ... More





Bartolomé Esteban Murillo, The Pastry Eaters, c. 1675/82 © Bayerische Staatsgemäldesammlungen, Alte Pinakothek Munich.





MUNICH.- Following the prelude last year, some 50 works of French, Spanish, Italian, Flemish, Dutch and German Baroque painting can now be seen as 'new neighbours' in dynamic constellations. Masterpieces by Rubens, Rembrandt and other Baroque masters are being made accessible to the general public once again in this way following the closure of several rooms in the Alte Pinakothek for renovation. The exhibition addresses four different themes through the juxtaposition of these masterpieces: 'Nature and Mythology', 'Portraits', 'Art in Rome around 1600' and 'Caravaggism'. One element linking the topics is the pictorial mise-en-scène of the human figure. An additional common motif shared by the paintings in the first part of the exhibition is the landscape. Whether in the idealised Classical mood of Claude Lorrain or inspired by the pastoral Mediterranean way of life, ... More
Exhibition of three sculptures by Robert Therrien on view at Gagosian London
Saint Louis Art Museum exhibition tells the story of Hieronymus Bosch's afterlife in print
Elvis Presley's planes, The Lisa Marie and Hound Dog II, staying put at Graceland




Robert Therrien, No title (Disc cart, II), 2006 - 2008. Cart: stainless steel with plastic Discs: steel with enamel and silkscreen or graphite on each disc, 34 3/4 x 27 x 42 inches. © Robert Therrien. Courtesy Gagosian Gallery. Photo: Josh White/JWPictures.com.





LONDON.- Gagosian London presenting an exhibition of three sculptures by Robert Therrien. Therrien's work has clear links to the generation of Pop and Conceptual artists that preceded him, while attesting to his affinities for folk culture, cartoons, and American design. Working in two and three dimensions with great attention to the effects of scale, he transforms elements from the culture of everyday life into artworks that evoke classical archetypes. Given its evident concern with childhood narratives, his art invites psychological interpretation while remaining firmly objective due to its uncanny proximity to the real, and its relationship with the minimal. No title (table leg) (1993) was a significant breakthrough, marking a shift from less representational works. This was followed by Under the Table (1994), an enormous wooden kitchen table and chair set, which further defined this pivotal moment in his development. By recreating everyd ... More





Balthasar van den Bosch (b. 's-Hertogenbosch, 1518–d. 1580, Antwerp) in the manner of Hieronymus Bosch; The Conjuror (or Charlatan), n.d.; engraving, only state; image and platemark: 9 11/16 × 12 9/16 inches; Private collection.





SAINT LOUIS, MO.- The Saint Louis Art Museum is presenting Beyond Bosch: The Afterlife of a Renaissance Master in Print, an exhibition exploring the significant role that prints inspired by Hieronymus Bosch played in establishing the Netherlandish master as a highly desirable brand in the growing print market of the 16th century. The free exhibition in Galleries 234 and 235 opened on April 17 and closes on July 19. Bosch (c. 1450−1516) became an international phenomenon with his paintings of hellfire and hybrid monsters that captured the imaginations not only of his Renaissance patrons but also of generations of artists who came after him. Bosch lived and worked in the town of 's-Hertogenbosch, but it was in the nearby metropolis of Antwerp—at the time the epicenter of trade and culture in northern Europe, where prints inspired by the painter began appearing some 40 years after his death. Bosch made no ... More





The planes remain two of the most important pieces of Elvis Presley history and are presently displayed at Graceland.





WASHINGTON (AFP).- Elvis Presley's two personal jets are staying at Graceland, his estate said Monday, ending months of jitters among his legion of fans that they were about to be sold off. The Lisa Marie, a vintage Convair 880 airliner, and Hound Dog II, a Lockheed JetStar executive jet, have been on display at the late King of Rock 'n' Roll's estate in Memphis, Tennessee since 1984. But until now, their fate had been up in the air after they were put on sale by their owners, which exhibited them at Graceland in return for a share of ticket proceeds -- triggering an uproar among loyal Elvis fans worldwide. In a brief statement Monday, Graceland said "an agreement has been reached for Elvis' two airplanes ... to remain at Elvis Presley's Graceland in Memphis permanently." It did not elaborate, but Presley's daughter and sole heir Lisa Marie Presley hinted on her Twitter feed that Graceland had acquired the two aircraft, which are no longer in flying condition. "Exciting news! ... The planes will remai ... More
Exhibition of new work by Theaster Gates opens at White Cube Bermondsey
Diango Hernández to show three new bodies of work at Marlborough Contemporary
New York's Madison Ancient Tribal Arts Fair slated for May 14-17th at the Arader Galleries Mansion




Photo: Sara Pooley. © the artist and White Cube.





LONDON.- White Cube presents an exhibition of new work by Theaster Gates. Gates' practice is wide-ranging and polysemous, attempting to bridge the gap between art and life and catalyse social and economic change through direct artistic agency. For this exhibition, entitled 'Freedom of Assembly', Gates explores the theme of assembly in its widest sense, enmeshing ideas of an autonomous art object with notions of individual freedom and the empowerment of place. In particular, Gates refers to the First Amendment of the United States Constitution, which protects freedom of speech, the right to peaceably assemble, and the free exercise of religion. 'Freedom of Assembly' includes several new series of sculptures, a large-scale presentation of tar paintings and a body of work that foregrounds, for the first time, Gates' long-term involvement with clay production. Notions of assembly become evident in works that draw ... More





Diango Hernández, Floating Citron #6, "Affirmative", 2015. Acrylic on lemon, dimensions variable. Courtesy the artist and Marlborough Contemporary. Photo: Anne Pöhlmann.





LONDON.- Marlborough Contemporary announces 'The Book of Waves', an exhibition of new works by Cuban artist Diango Hernández. Working in a range of media, Hernández engages with his national identity across his work, avowing that the theme is inescapable for Cuban artists, even in exile. 'The Book of Waves' will consist of three new bodies of work that investigate problematic external perceptions of the country as well as its internal representations. Since leaving Cuba, Düsseldorf-based Hernández has actively engaged with the country, frequently exploring the ways in which socialist ideology denies or promotes an aesthetic or spiritual experience. The theme of nature and the histories of socialism and art will be brought together by the three bodies of work in the exhibition. ... More





From the Marquesas Islands, an 18th c. carved wood stilt step made for a child. Image courtesy of Patrick Mestdagh.





NEW YORK, NY.- The Madison Ancient and Tribal Arts Fair May 14th—17th at the Arader Galleries townhouse at 1016 Madison Avenue is a singular opportunity to shop distinguished collections of the antique sculptural and figurative arts of Africa, Oceania and the ancient Americas. Wood sculptures and carvings, fiber works, masks, beadwork, and body objects created by remote cultures for use in daily life, sport and ritual will be on view. The MATA Fair is a vetted show, offering only authentic and museum quality items. Several of the dealers rarely show publicly, making the Fair unique. Exhibitors at the Arader Galleries townhouse include Bruce Frank (New York), Patrick Mestdagh (Brussels), Marc Assayag (Montreal), Wayne Heathcote (England), James Stephenson (New York), Michael Rhodes (New York), Kellim Brown (Brussels), Michael ... More
MAD foregrounds women's contribution to Postwar visual culture and explores their legacy
Retrospective show of Italian artist Giuseppe Uncini opens at Cardi Gallery
Espace Fondation EDF opens retrospective exhibition of the work of Pol Bury




Ruth Asawa, Ruth Holding a Form-Within-Form Sculpture, Imogen Cunningham, 1952 © 2015 Imogen Cunningham Trust. Photo by Imogen Cunningham.





NEW YORK, NY.- From April 28 to September 27, 2015, the Museum of Arts and Design presents Pathmakers: Women in Art, Craft and Design, Midcentury and Today, an exhibition that considers the notable contributions of women to modernism in postwar visual culture. In the 1950s and 60s, an era when painting, sculpture, and architecture were dominated by men, women had extensive impact in alternative materials such as textiles, ceramics, and metals. Largely unexamined in major art historical surveys, either due to their gender or choice of materials, these pioneering women achieved success and international recognition, establishing a model of professional identity for future generations. Featuring more than 100 works, Pathmakers focuses ... More





Giuseppe Uncini, Architetture n. 211, 2006. Concrete and iron, 172 x 162 x 23 cm.





MILAN.- Cardi gallery presents from Tuesday, April 28th through Tuesday, September 15th 2015, at the same time of Expo Milano 2015, a retrospective show of the Great Italian artist Giuseppe Uncini (Fabriano 1929 – Trevi 2008) realized in collaboration with Archivio Giuseppe Uncini. The Show is curated by Annamaria Maggi and its aim is to propose to the audience a synthetic but thorough excursus of the work of the artist that can give an overview of the production of Uncini: from the early "Cementarmati" of the end of the 50s, to the last "Artifici" of 2007-2008, going through the "Ferrocementi", the "Mattoni", the "Ombre", the "Dimore", the "Muri d'ombra", the "Spazi di ferro" and the "Architetture". In Giuseppe Uncini's artistic practice it is essential and decisive the idea of building. The elements that ... More





Multiplans, 1957, 10 lames métalliques et fond Isorel, peint à l'huile en bleu, bleu pâle, jaune, orange, rouge, vert, cadre et caisse métal noir, courrole, moteur 118 x 73,5 x 12,5 cm © Collection Letaillieur.





PARIS.- On the occasion of the tenth anniversary of the death of Belgian sculptor, Pol Bury (1922-2005), the Espace Fondation EDF is hosting a retrospective of the artist's work, his first in Paris since 1982. From 28 April to 23 August 2015, the exhibition Pol Bury – Instants donnés (a title in homage to Marcel Duchamp) brings together some 80 works representative of the unusually inventive career of one of the fathers of kinetic art and international sculpture. On display is half a century of creation: sculptures, installations, fountains, jewellery, maquettes, photographs, archival films, etc. Over the course of his artistic career, Bury perpetually renewed his perspectives, experimenting with epochs and ... More
Auguste Rodin - Le Baiser
---
Flashback
On a day like today, Expo 67 opened to the public in Montreal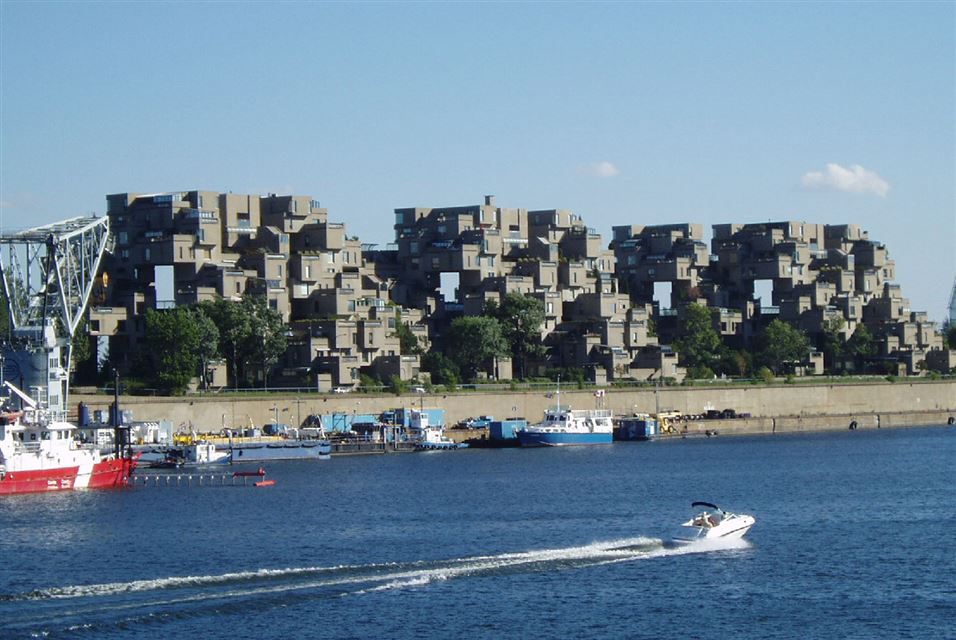 May 28, 1967. MONTREAL.- The 1967 International and Universal Exposition, or Expo 67 as it was commonly known, was the general exhibition, category one World's Fair held in Montreal, Quebec, Canada from April 28 to October 29, 1967. It was considered to be the most successful World's Fair of the 20th century, with over 50 million visitors and 62 nations participating. It also set the single-day attendance record for a world's fair with 569,000 visitors on its third day. Expo 67 was Canada's main celebration during its centennial year. The fair was originally intended to be held in Moscow, to help the Soviet Union celebrate the 50th anniversary of the Russian Revolution but, for various reasons, the Soviets decided to cancel, and Canada was awarded it in the fall of 1962. In this image: Habitat 67, a housing complex built for Expo 67.
---

Museums, Exhibits, Artists, Milestones, Digital Art, Architecture, Photography,
Photographers, Special Photos, Special Reports, Featured Stories, Auctions, Art Fairs,
Anecdotes, Art Quiz, Education, Mythology, 3D Images, Last Week,
.
---
Royalville Communications, Inc
produces: