Priceless Van Goghs or just plain art? Works sent to museum for authentication
Steve Meadows, an architect, actor, inventor and dabbler in art, poses in his Venice, California, home on February 14, 2017, with two paintings he shipped to the Van Gogh Museum in Amsterdam for an authentication review as possible works by the Dutch master artist. Joe JACKSON / AFP.
LOS ANGELES
(AFP)
.-
On a Tuesday morning last month, Steve Meadows, a 66-year-old architect, actor, inventor and dabbler in art, left his home in Venice, California, with a cargo boasting an extraordinary history. Trailed by documentary filmmakers and aided by a friend, he loaded two potentially precious paintings -- once at the center of an international art scandal -- into his SUV, and headed to a shipping warehouse near downtown Los Angeles. The still life artworks on paper and canvas were bound for the Van Gogh Museum in Amsterdam, where long-awaited examinations may finally determine if the Dutch master painted them. Their authentication would startle the art world and likely generate astronomical valuations. The canvas, measuring 68 by 52 centimeters (26.8 by 20.5 inches), would be among the largest paintings by Vincent Van Gogh confirmed genuine in recent decades. "I'm feeling relief at getting them to the museum," Meadows said. "I just want the truth." ...
More
The Best Photos of the Day
Christie's pulls Iraq painting from Dubai auction over ownership row
Trump budget 'cripples' environment, arts, science, critics say
LIDL Works and Performances from the 60s by Jörg Immendorff on view at Michael Werner Gallery


Faeq Hassan (Iraqi, 1914-1992), Untitled (Salah Al-Din, presumably Battle of Hattin) detail. Estimate USD 400,000 - USD 500,000. © Christie's Images Limited 2017.



DUBAI (AFP).- Christie's said Thursday it was pulling a painting by Iraqi artist Faeq Hassan from an auction later this week in Dubai because of a "dispute over ownership". "As per Christie's protocol we would not offer works of art when there might be a dispute over title of ownership," Alexandra Kindermann, senior communications director at the auction house, said. "As a result the work Untitled (Salah Al-Din, presumably Battle of Hattin) by Faeq Hassan, painted in 1968, has been withdrawn from the upcoming auction on 18 March in Dubai," she said in a statement. The decision comes after Iraqi authorities said that the painting belongs to the Iraqi state and had been smuggled out of the country. "We believe that the painting is owned by the Iraqi state and has been smuggled out," of the country "and according to experts and artists it was on display at the officers' club of the defence ministry," Iraqi member of parliament ... More



Beatriz Calderon looks at work by artist Jacqueline Roch hanging in a gallery at the Bakehouse Art Complex on March 16, 2017 in Miami, Florida. The Bakehouse Art Complex uses some federal funding for the artists to have gallery and studio space to be creative. Joe Raedle/Getty Images/AFP.



MIAMI (AFP).- US President Donald Trump's proposed 2018 budget would slash funding for science, health and environmental programs at home and abroad, sparking an outcry Thursday among experts who say the cuts would endanger the planet. The blueprint, which also includes sharp cuts in spending on the arts and foreign aid, has yet to undergo scrutiny in Congress and must be approved by lawmakers before it can take effect. But environmentalists swiftly lashed out at the plan, calling it "shocking," and "drastic," particularly for the way it trimmed science programs while boosting defense spending by $52 billion. A key target was the Environmental Protection Agency (EPA), which would get $5.7 billion, a 31 percent cut compared with 2017 levels. Some 3,200 jobs at the agency would be eliminated, about one-fifth of its ... More



"LIDL-Akademie (LIDL-Academy)", 1968 (2000). Paper, wood, stamped print, 5 x 8 3/4 x 5 1/2 inches, 13 x 22 x 14 cm.



NEW YORK, NY.- Michael Werner Gallery, New York, is presenting Jörg Immendorff: LIDL Works and Performances from the 60s. Featuring both paintings and objects, the exhibition provides viewers with an opportunity to see a rarely-exhibited body of early work by one of the most important artists to emerge during the post-war period in Germany. Jörg Immendorff (1945-2007) began his formal artistic training at the Kunstakademie Düsseldorf during a time when that city was developing into an international center for contemporary art. In 1964 Immendorff was admitted into the class of Joseph Beuys, then the most important artist working in Germany and a figure of profound influence for an entire generation of German artists. Immendorff's relationship with Beuys marked the beginning of an intensely productive period for the young artist, who was deeply affected by the Beuysian notion that art can and should play a wider role in society. Immendorff init ... More
Ai Weiwei slams 'shameful' politicians ignoring refugees
Sotheby's Asia Week New York sales achieve $47.9 million thus far
A joint letter from Boston art museum directors


Chinese conceptual artist and political activist Ai Weiwei reacts during a press conference on his new exhibition at the National Gallery in Prague. Michal Cizek / AFP.



PRAGUE (AFP).- Chinese dissident artist Ai Weiwei on Thursday slammed "shameful" politicians who ignore refugees as he launched a giant art installation centered on their fate at the National Gallery in Prague. Called "Law of the Journey", the show features a 70-metre-long (230-foot-long) inflatable boat with 258 oversize refugee figures. A tribute to the thousands who have drowned crossing the Mediterranean, the piece is Ai's biggest-ever installation. It will be on display until the end of the year. "My message is very clear: being a politician or a political group, you cannot be so short-sighted, you cannot have no vision, you cannot sacrifice human dignity and human rights for political gain," Ai told AFP. "I think this is very, very shameful behaviour," he added. The Czech Republic and the other post-Communist central European members have rejected EU plans to allow Muslim refugees on their territories thr ... More



An Exceptionally Rare and Large Fine Blue and White Reserve-Decorated 'Peony' Dish Xuande Mark and Period. Diameter 15 1/4 in., 38.6 cm. Estimate $1/1.5 million. Sold for $ 2,172,500. Photo: Sotheby's.



NEW YORK, NY.- Henry Howard-Sneyd, Chairman of Asian Art, Europe & the Americas, noted: "In a thriving market for Asian Art in New York, we saw a strong series of auctions across all categories comfortably exceed pre-sale expectations. Our offerings this week were particularly diverse, with great prices for works from an early 3rd century Gandharan Grey Schist Figure of a Seated Buddha from the Cleveland Museum of Art to a Ming Dynasty Anhua-Decorated Tianbai-Glazed Meiping, Bada Shanren's album of classical Chinese paintings to Maqbool Fida Husain's modern untitled painting of four women. The stage is truly set for our Hong Kong sales at the beginning of April." Angela McAteer, Head of Chinese Works of Art in New York, commented: "This was a great way to start our Asian Art sales in New York. This auction of treasures from the Ming Dynasty is an indicator of the tremendous global appetite for ... More



Matthew Teitelbaum. Photo: Courtesy the Art Gallery of Ontario.



BOSTON, MASS.- As directors of Boston's art museums, we serve as stewards of the public trust. So, we are alarmed at reports that the National Endowment for the Arts is under threat of being abolished, along with the National Endowment for the Humanities and the Corporation for Public Broadcasting. Each of these entities champions art and culture in communities across America. In Boston, NEA and NEH funding has been instrumental at each of our museums, supporting our extensive programs of public access, teaching and scholarship, conservation, collection and exhibition. NEA and NEH grants supported the digitization and cataloging of the Isabella Stewart Gardner Museum's singular collection; acquisition funds for works of art by American artists of color in The Heritage Fund for a Diverse Collection at the Museum of Fine Arts, Boston; the forthcoming exhibition Animal-Shaped Vessels from the Ancient World: Feasting with Gods, Heroes, and Kings at the Harvard Art Museums; the ... More
Hendrikje Crebolder joins the Board of Directors of the Rijksmuseum
German sculptor Alf Lechner dies at the age of 91
Art Basel and Google Arts & Culture to collaborate on virtual reality project for Hong Kong show


Hendrikje Crebolder. Photo: © Jan Kees Steenman.



AMSTERDAM.- Hendrikje Crebolder (1970 Sumve, Tanzania) will join the Board of Directors of the Rijksmuseum. As the Director of Development & Media she will work alongside General Director, Taco Dibbits and Director of Finance & Operations, Erik van Ginkel, and will be responsible for fundraising, communications and marketing. Hendrikje Crebolder has been the Head of Development at the Rijksmuseum since 2009. Taco Dibbits, General Director, said: Hendrikje Crebolder is a great asset to the management team. Bringing fundraising and audience development expertise to the Board is essential for the museum's operations and responds to the challenges the Rijksmuseum faces. With her international experience and expertise as a fundraiser, Hendrikje has successfully attracted many supporters to the museum. Hendrikje Crebolder trained as a lawyer (Leiden, Cape Town and London). Since 1997 she had worked as a lawyer at Baker McKenzie in ... More



Alf Lechner was best known for his massive steel sculptures.



BAVARIA.- Alf Lechner, one of Germany's most important contemporary sculptors, died suddenly at his home in Bavaria on February 25th, 2017. Lechner was 91 years old. Best known for his massive steel sculptures, Lechner connected steel, space, geometry, physics and architecture. The starting point for his work was geometric shapes such as the circle, square, rectangle or cuboid from which he produced provocatively shaped steel sculpture through welding, breaking, cutting and compressing. "If it doesn't show resistance, I'm not interested," Lechner used to say. A strong-willed, self-made-man and an intelligent provocateur, Lechner enjoyed the controversy that erupted around his art and accompanied him throughout his career. Lechner's sculpture can found at the Nationalgalerie Berlin, the Alte Pinakothek Munich, the Städel Museum Frankfurt and the Kunstsammlung K21 Düsseldorf and the Lechner ... More



Boychild Portrait. Courtesy of Boychild.



HONG KONG.- Art Basel announced a new collaboration with Google Arts & Culture, which will be presented at the upcoming Art Basel show in Hong Kong this month. 'Virtual Frontiers: Artists experimenting with Tilt Brush' is a collaborative presentation of work by renowned international artists boychild, Cao Fei, Robin Rhode, Sun Xun and Yang Yongliang, created with Tilt Brush by Google – a 3D drawing and painting application. Art Basel's Hong Kong show, whose Lead Partner is UBS, takes place at the Hong Kong Convention and Exhibition Centre from March 23 to March 25, 2017. As part of this collaboration, Art Basel helped select artists whose existing practice made them good candidates to experiment with Tilt Brush, who were then invited by Google Arts & Culture to attend multiday residencies in Beijing and Paris. For the duration of the show, fair visitors will be able to explore five new virtual reality works that were created by artists wh ... More
Important Chinese Art from the Fujita Museum totals $262.8 million at Christie's
"1917: How One Year Changed the World" opens at the National Museum of American Jewish History
PAFA announces appointment of Brooke Davis Anderson as Museum Director


A Magnificent and Highly Important Bronze Ritual Wine Vessel, Fangzun, late Shang dynasty, 13th-11th century BC, realized USD$37,207,500 / HK$287,756,347. © Christie's Images Limited 2017.



NEW YORK, NY.- Christie's dedicated Evening Sale of Important Chinese Art from the Fujita Museum, realized a grand total of USD$262,839,500 / HK$2,032,755,075, which alone has surpassed the previous record for any Asian Art Week series in auction history. The exhibition, global tour, and auction generated huge international interest driven by Shang and Zhou dynasty ritual bronzes and classical Chinese paintings with exceptional provenance. The top lot for the sale was Chen Rong (13th Century) as Catalogued in Shiqu Baoji, Six Dragons, which realized USD$48,967,500 / HK$378,706,146. Exceptional prices were realized for the six handscrolls that were formerly part of the collection of the Qianlong Emperor (1711-1799), as evidenced by his collector's seals and their inclusion in his official catalogue, the Shiqu Baoji, which ... More



German canteen brought back by World War I soldier William Shemin as a souvenir. Courtesy of Elsie Shemin-Roth.



PHILADELPHIA, PA.- The National Museum of AmericanImage Jewish History will debut the special exhibition 1917: How One Year Changed the World from March 17 through July 16, 2017. The exhibition looks back 100 years to explore how three key events of 1917—America's entry into World War I, the Bolshevik Revolution, and the issuing of the Balfour Declaration, in which Great Britain indicated support for a Jewish homeland in Palestine—brought about political, cultural, and social changes that dramatically reshaped the United States' role in the world and provoked its most stringent immigration quotas to date. The exhibition examines this consequential year through the eyes of American Jews, who experienced these events both as Americans and as part of an international diaspora community. Following its run at NMAJH, 1917 will be on view in New York at the American Jewish Historical Society, ... More



Brooke Davis Anderson; Photo by Jay Potter.



PHILADELPHIA, PA.- The Pennsylvania Academy of the Fine Arts (PAFA) announced the appointment of Brooke Davis Anderson as the Edna S. Tuttleman Director of the Museum. Anderson, who has more than 25 years of arts and cultural experience and most recently served as Executive Director of Prospect New Orleans, the international triennial of contemporary art, accepted the position after an extensive national search conducted by PAFA. She will begin her new role June 5. "Brooke Davis Anderson is an inspiring, energetic, and collaborative leader who will maintain our focus on presenting aspects of American art that have not been fully explored. She is committed to organizing a vibrant contemporary art program and giving greater recognition to artists from diverse backgrounds," said David R. Brigham, PAFA President and CEO. "Brooke will also continue to build PAFA's outreach to the arts community, including student and alumni artists, and underserved audience ... More
Inner Land
Flashback
On a day like today, American architect Louis Kahn died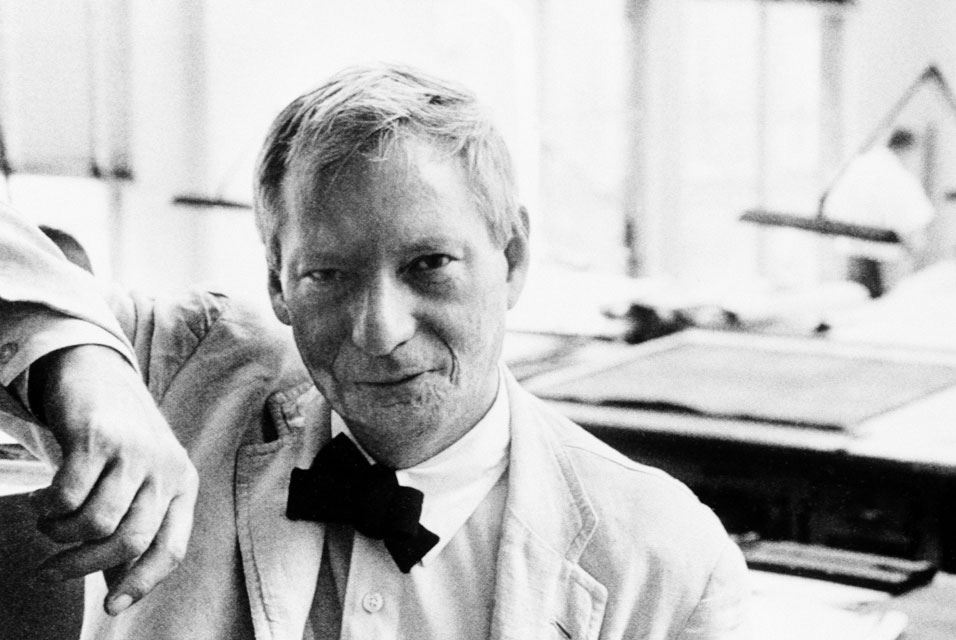 March 17, 1974. Louis Isadore Kahn (born Itze-Leib Schmuilowsky) (February 20, 1901 - March 17, 1974) was an American architect, based in Philadelphia, Pennsylvania, United States. After working in various capacities for several firms in Philadelphia, he founded his own atelier in 1935. While continuing his private practice, he served as a design critic and professor of architecture at Yale School of Architecture from 1947 to 1957. In this image: Louis I. Kahn, architect, who has been elected a member of the National Institute of Arts and Letters, the highest honor society of the arts in America. This photo is dated February 15, 1964.
---

Museums, Exhibits, Artists, Milestones, Digital Art, Architecture, Photography,
Photographers, Special Photos, Special Reports, Featured Stories, Auctions, Art Fairs,
Anecdotes, Art Quiz, Education, Mythology, 3D Images, Last Week,
.
---
Royalville Communications, Inc
produces: