Egyptian archaeologists discover seventeen mummies in an area south of Cairo
Egyptian Antiquities Minister Khaled el-Enany (C) speaks to the media on May 13, 2017, in front of mummies following their discovery in catacombs in the Touna el-Gabal district of the Minya province, in central Egypt. KHALED DESOUKI / AFP.

by Haitham El-Tabei
TOUNA EL-GABAL
(AFP)
.-
Egyptian archaeologists have discovered 17 mummies in desert catacombs in Minya province, an "unprecedented" find for the area south of Cairo, the antiquities ministry announced Saturday. Archaeologists found the non-royal mummies in a series of corridors after following the trail of burial shafts in the Touna-Gabal district of the central Egyptian province, the ministry said in a statement. Along with the mummies, they found a golden sheet and two papyri in Demotic -- an ancient Egyptian script -- as well as a number of sarcophogi made of limestone and clay. There were also animal and bird coffins, the ministry said. But the mummies have not yet been dated. ...
More
The Best Photos of the Day
Royal Ontario Museum identifies spectacular new species of armoured dinosaur
Historic S.S. Normandie panels from the Forbes Family Collection offered at Sotheby's
Brancusi bronze sells for $57mn in New York


Dan Aykroyd with Zuul crurivastator.



TORONTO.- Scientists from the Royal Ontario Museum have identified and named a new species of anklylosaurid or armoured dinosaur, Zuul crurivastator (Zool CRUR-uh-vass-TATE-or). Its skeleton, acquired by the ROM in 2016, is one of the most complete and best preserved skeletons of this group of dinosaurs ever found, which includes a complete skull and tail club, and preserved soft tissues. Research on the new species is published in the May 10 issue of the open-access journal Royal Society Open Science. The new 75-million year old, plant-eating dinosaur is named after 'Zuul', a fictional monster from the 1984 movie Ghostbusters, based on the features of its well-preserved skull. Like Zuul, the new species has a short, rounded snout and prominent horns behind the eyes. The shape of the horns and the ornaments on the skull are what identified Zuul as a species new to science. Its species name, crurivastator, means 'destroyer of shins ... More



History of Navigation Mural for the S.S. Normandie to highlight spring Auction of Important Design. Purchased by Malcolm Forbes in 1981 as a wedding present for his son Robert. Photo: Sotheby's.



NEW YORK, NY.- Sotheby's will offer eight exceptionally rare panels from the legendary ocean liner, the S.S. Normandie, in their 6 June auction of Important Design in New York. From the esteemed Forbes family collection, the stunning reverse-glass panels are part of the monumental History of Navigation mural, designed by French artist Jean Dupas, which was originally installed in the luxury voyageur's Grand Salon. Depicting part of the mythological Birth of Aphrodite scene, the eight adjacent panels on offer are surviving relics of the French vessel's extravagant Art Deco interiors, and capture the glamour of this by-gone era. It has been nearly ten years since a comparable series of panels have appeared at auction. Sotheby's sold a suite of ten panels from The Birth of Aphrodite in December 2009, which established a record price at the ... More



The top lot of the sale were Constantin Brancusi's (1876-1957) La muse endormie which sold for a world auction record price of $57,367,500 to client in the room after 9 minutes of bidding.



NEW YORK (AFP).- A bronze sold for $57.37 million in New York on Monday, setting a new auction record for Romanian-born sculptor Constantin Brancusi and fetching more than twice its lowest pre-sale estimate, Christie's said. The sculpture of a sleeping woman's head -- "La muse endormie" -- by a pioneer of modernism sold after nine minutes of bidding at Christie's impressionist and modern art sale, kicking off a week of high-profile art auctions expected to rake in hundreds of millions of dollars. The 1913 sculpture, cast by an artist who spent most of his working career in Paris, was snapped up by an anonymous bidder having been valued pre-sale at $25-35 million, the auction house said. The second top selling lot was a Picasso portrait of his mistress, Dora Maar, called "Femme assise, robe bleue," painted on the Spanish master's ... More
Xavier Veilhan transforms French pavilion into a studio for musicians
Christie's New York announces highlights from the spring sale of Design
Sale of European Art at Sotheby's New York includes five exceptional paintings by Jean Béraud


Xavier Veilhan, Studio Venezia (2017). Installation view French Pavilion, Biennale di Venezia. Photo © Giacomo Cosua © Veilhan / ADAGP, Paris, 2017.



VENICE.- The French pavilion for the Venice Art Biennale 2017 has been transformed by Xavier Veilhan and the pavilion's curators, Christian Marclay and Lionel Bovier, into a musical space in which professional musicians from all over the world will work throughout the duration of the exhibition. It is no accident that the word "studio", in both English and Italian, is used to denote a place that houses both musicians and artists. Teamwork is one of the central pillars of Xavier Veilhan's atelier, and he has always expressed his desire for collaboration, in contrast to the common perception of the "lone creator". Studio Venezia is fully in keeping with this desire, bringing together musicians, sound technicians, programmers and producers, amongst others. In this immersive installation that blurs the architectural lines initially drawn up for the French pavilion (designed in 1912 by the Venetian engineer Faust Finzi), ... More



Francois-Xavier Lalanne (1927-2008), 'Grand Wapiti', 2000. Estimate: $300,000-500,000. © Christie's Images Limited 2017.



NEW YORK, NY.- Christie's announces the spring sale of Design taking place on June 7, 2017, at Rockefeller Plaza. The comprehensive auction encompasses over 100 works across all major Design movements of the 20th and 21st centuries with representation from some of the most iconic names in design from notable private collections. Leading the sale is Marc Newson (B. 1963), Pod of Drawers, designed in 1987 (estimate: $700,000-1,000,000), the companion piece to his earlier Lockheed Lounge of 1986, a dynamic and energetic form created from sculpted fiberglass and covered with non-overlapping sheets of aluminum. The Pod and the Lockheed share a metallic, visual weightlessness and a rounded, hourglass form that references the antique while remaining strikingly modern. Offered in this sale is one of the earliest examples of the Pod of Drawers, distinguished from later versions by the complex stud-work of rivets delivering ... More



Jean Béraud, La Marseillaise (detail). Estimate $400/600,000. Photo: Sotheby's.



NEW YORK, NY.- Sotheby's annual spring auction of European Art will be held in New York on 24 May 2017. The sale offers more than 80 paintings and sculptures that exemplify the diversity of the 19th to early 20th centuries, led by exquisite works by Jean Béraud, Jean-Léon Gérôme and William Bouguereau. Many of the pieces on offer have emerged after decades spent in private collections, including newly-rediscovered paintings by John William Godward, Jean-Francois Millet and Sir Alfred James Munnings. The public exhibition will open in our New York headquarters on 20 May, alongside our American Art and Latin American Art sales. The May sale includes a varied selection of paintings by Sir Alfred James Munnings. In 1924, Munnings left England for his only trip to the United States – a whirlwind six-month itinerary of painting and parties. The artist first visited New York, Washington and Pittsburgh, and later joined Frederick Prince and his ... More
Carlos Amorales represents Mexico at La Biennale di Venezia
Rosemarie Trockel from a Chicago estate highlights Leslie Hindman Auctioneers' May Fine Art Auctions
Birmingham Museum of Art announces new Curator of American art


Carlos Amorales' project for Biennale Arte 2017 is the outcome of an extensive research in which the artist introduces a formal language that unfolds in the works which comprise the installation.



VENICE.- The Ministry of Culture of Mexico through the National Institute of Fine Arts (INBA) presents Life in the folds, a proposal by the artist Carlos Amorales with the curatorship of Pablo León de la Barra. This project represents Mexico at the 57th International Art Exhibition – La Biennale di Venezia. Lidia Camacho highlights that in this edition, México commemorates the first decade of its participation with an official pavilion in Biennale Arte 2017, the most important event to promote contemporary art worldwide. To celebrate this special occasion, INBA has selected Carlos Amorales with his work Life in the folds, in which the artist "introduces us to a world where prints, sculpture, music, and cinema combine to give life and form to a new way of looking into reality, which materialize critical thinking and today's problematics in contemporary art". Carlos Amorales studied in Netherlands ... More



Rosemarie Trockel, o.T. (Pro), 1986 (detail), Knitted Wool on Canvas. Estimate: $300,000 to $500,000.



CHICAGO, IL.- Leslie Hindman Auctioneers' May fine art sales will include Post War and Contemporary Art and Fine Prints auctions on May 23 and an American and European Art auction on May 24. Property from important estates and collections offer many of the sales' highlights, which include paintings by Rosemarie Trockel, Sam Gilliam, Jean Paul Riopelle, Theodoros Stamos, Henri Le Sidaner, Thomas Hart Benton and Frederick Carl Frieseke. From the Estate of Phyllis Warsaw, Chicago, Illinois is a 1986 Rosemarie Trockel, o.T. (Pro). Made of knitted wool on canvas, it carries a presale estimate of $300,000 ­ 500,000. Coming of age artistically in the male dominated German art scene, Trockel distinguished herself from the luminary figures of Beuys, Kiefer, Polke and Richter by aligning herself with gallerist Monica Sprüth, whose eponymous gallery carried a predominately female roster. Executed in 1986, o.T. (Pro) is one of the more starkly minimal w ... More



Crawford currently serves as assistant curator of American art at The Nelson-Atkins Museum of Art.



BIRMINGHAM, AL.- The Birmingham Museum of Art announces Katelyn D. Crawford, Ph.D., as its new William Cary Hulsey Curator of American Art. Crawford currently serves as assistant curator of American art at The Nelson-Atkins Museum of Art in Kansas City, Missouri and will join the BMA this summer. She succeeds Graham C. Boettcher, Ph.D., who was appointed deputy director of the Birmingham Museum of Art in 2016, and who will continue to serve under the new of title of James Milton and Sallie R. Johnson Deputy Director. In her new role, Crawford will oversee the Museum's permanent collection of American art, which currently exceeds 3,000 works. "We are thrilled to add Katelyn to our talented team of curators, as we work to provide our community with more meaningful, relevant, and engaging art experiences," says Gail Andrews, R. Hugh Daniel Director of the Birmingham Museum of Art. "Katelyn's proven ability to create dynamic narra ... More
Taka Ishii Gallery New York opens two-person exhibition of works by Shozo Shimamoto and Atsuko Tanaka
Freeman's announces highlights from its May 25 British & European Furniture & Decorative Arts Auction
Doyle to hold inaugural Russian Works of Art Auction on May 25


Atsuko Tanaka, No. 205 "1986c", 1986. Synthetic resin enamel paint on canvas, 131 x 97.5 cm.



NEW YORK, NY.- Taka Ishii Gallery New York is presenting a two-person exhibition of works by Shozo Shimamoto and Atsuko Tanaka from May 4 to May 27. Shimamoto and Tanaka were key members of the Gutai Art Association, which played a seminal role in the development of postwar Japanese art. Based in Kansai, since the early 1950s at the start of Japanese contemporary art world, the artists produced and exhibited revolutionary works unencumbered by existent art practices and received acclaim both domestically and internationally. The avant-garde art collective Gutai Art Association was formed under the leadership of Jiro Yoshihara, who had been an influential figure in Japanese art since the prewar period, to establish new foundations for art. Shimamoto, a founding member of Gutai, began making abstract paintings in college and began studying under Yoshihara in 1947. Shimamoto, who had been making avant-garde works, such as those in which hol ... More



Unlike these typical works, which usually combine two to three alabaster reliefs, it is composed of seven larger reliefs and several smaller ones.



PHILADELPHIA, PA.- Freeman's May 25 British & European Furniture & Decorative Arts Auction offers a diverse and exclusive grouping of over 350 items. The sale opens with furniture and decorative objects from the Estate of Betty Rhoads Wright and includes a beautiful George II mahogany flip-top card table ($1,000-1,500) circa 1750 opens the sale, along with several carpets, porcelain figurines and a Lot 8, a Neoclassical ivory mounted giltwood thermometer ($800-1,200). Wright was recognized for devoting her time to improving the community. Together with her husband, Frank Lester Wright, the couple formed the Wright to Read foundation, promoting literacy skills through mentoring and tutoring programs for elementary school children in Alexandria, Virginia. The Wrights collected fine art and antiques appropriate for their historic home, which was originally built for the Surgeon General of the American ... More



Diamond-Set, Guilloché Enamel and Two-Color Gold Russian Imperial Presentation Snuff Box, Mark of Carl Martin Weishaupt und Söhne, Hanau, circa 1860. Estimate: $12,000-18,000.



NEW YORK, NY.- Doyle Auctioneers & Appraisers will hold its inaugural Russian Works of Art auction on Thursday, May 25 at 10am in New York. The sale will showcase Imperial Russian and Soviet decorative arts, from Fabergé to porcelain, silver to icons. Sourced from American and European collections, many of the works have Russian Imperial provenances and are fresh to the market. Highlights include a Gold and Guilloché Enamel Russian Imperial Presentation Snuff Box with the diamond cypher of Empress Maria Alexandrovna (1824-1880), the wife of Emperor Alexander II (1818-1881). It was made in Hanau, Germany, by C.M. Weishaupt Söhne. Consigned by a New York Estate, the snuff box is appearing on the market for the first time in generations (est. $12,000-18,000). Also offered is an Important Gold Minute Repeating Chronograph Hunting Case Pocket ... More
Brancusi's La muse endormie
Flashback
On a day like today, Italian architect Pietro da Cortona died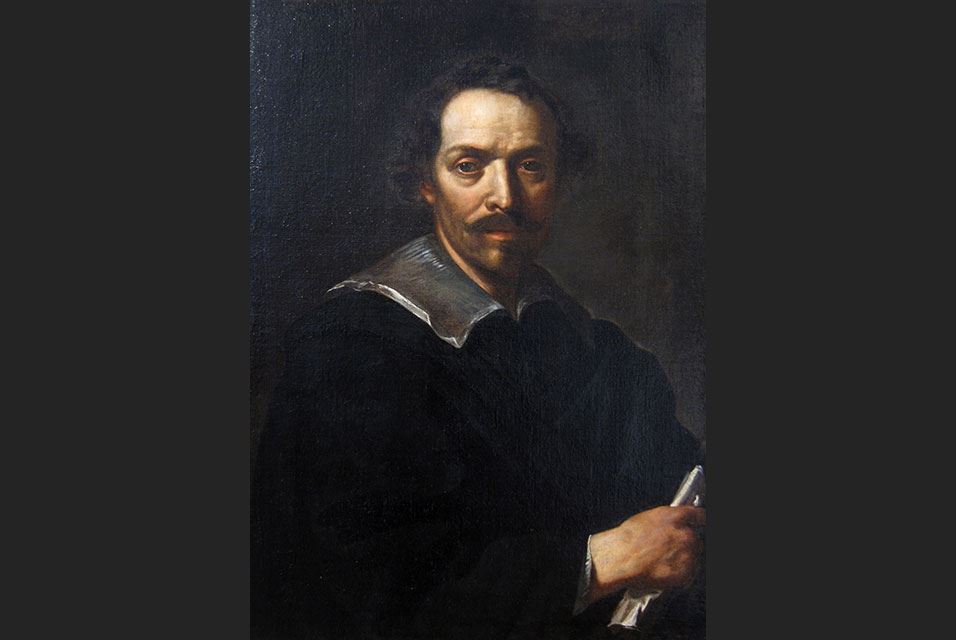 May 16, 1669. Pietro da Cortona, also called Pietro Berrettini, born Pietro Berrettini da Cortona, (1 November 1596/7 – 16 May 1669) was the leading Italian Baroque painter of his time and, along with his contemporaries and rivals Gianlorenzo Bernini and Francesco Borromini, was one of the key figures in the emergence of Roman Baroque architecture. He was also an important designer of interior decorations.Cortona worked mainly in Rome and Florence. He is best known for his frescoed ceilings such as the vault of the salone or main salon of the Palazzo Barberini in Rome and carried out extensive painting and decorative schemes for the Medici family in Florence and for the Oratorian fathers at the church of Santa Maria in Vallicella in Rome. He also painted numerous canvases. Only a limited number of his architectural projects were built but nonetheless they are as distinctive and as inventive as those of his rivals.
---

Museums, Exhibits, Artists, Milestones, Digital Art, Architecture, Photography,
Photographers, Special Photos, Special Reports, Featured Stories, Auctions, Art Fairs,
Anecdotes, Art Quiz, Education, Mythology, 3D Images, Last Week,
.
---
Royalville Communications, Inc
produces: