Gemeentemuseum presents: Hubert de Givenchy: To Audrey with Love
A woman prepares the exhibition To Audrey With Love showcasing a retrospective of the work of designer Hubert de Givenchy at the Gemeentemuseum in The Hague, on November 23, 2016. Bart Maat / ANP / AFP.
THE HAGUE
.-
This autumn the
Gemeentemuseum Den Haag
presents an ambitious exhibition in which couturier Hubert de Givenchy pays homage to his muse, Audrey Hepburn. The exhibition will be a grand retrospective of the work of French couturier Hubert de Givenchy, one of the leading fashion designers of the 20th century. His career ran concurrent to that of Christian Dior and Cristóbal Balenciaga and he is a living legend in the history of haute couture. The Gemeentemuseum is delighted and extremely honoured to be able to create this prestigious exhibition hand in hand with Monsieur Hubert de Givenchy himself. The exhibition is being curated in close consultation with Monsieur Hubert de Givenchy and will therefore give a unique insight into his career, which spanned a period of half a century, from the opening of his fashion house in 1952 through to his retirement ...
More
The Best Photos of the Day
Controversial British photographer David Hamilton dies
musée du quai Branly continues its examination of the history of art collecting
Museum Berggruen opens exhibition of works by American painter George Condo


Portrait taken on September 12, 1990 in Paris shows British photographer and film director David Hamilton during the opening of his exhibition. Hamilton is known for his nude images of young teenage girls. Pierre GUILLAUD / AFP.



PARIS (AFP).- British fashion photographer David Hamilton, 83, was found dead in his Parisian home on Friday, emergency services sources said Friday. Hamilton, known for his widely published nude images of underage girls, hit the headlines recently after former child models said he had raped them. An informed source said he had died of heart failure and that medication was found near the body. Hamilton, whose books of often suggestive pictures of young girls have sold millions of copies, this week threatened to sue his accusers, saying he had previously been cleared of abuse. The artist, whose work has long raised questions about where art ends and pornography begins, was at the centre of a raft of allegations after a French radio presenter accused him of raping her when she was 13. Flavie Flament published an autobiographical novel last month ... More



"Masque" Marada Malagan, XXe siècle. Bois, pigments, patine croûteuse. H : 44 cm ; l : 35 cm ; P: 35 cm © musée du quai Branly - Jacques Chirac, Photo: Claude Germain.



PARIS.- Following in the footsteps of past exhibitions such as D'un regard l'Autre (2006) and Charles Ratton. L'invention des arts primitifs (2013), and ahead of the upcoming shows Picasso Primitif (2017) and Fénéon (2018), with Eclectic. A 21st Century Collection the musée du quai Branly - Jacques Chirac continues its examination of the history of art collecting, as well as the place of so-called 'tribal' art in the broader history of the arts. Perspectives on non-Western arts, and the way in which collectors approach them, have evolved constantly and considerably since the late 19th century. By presenting a selection of masterpieces from the collection of Marc Ladreit de Lacharrière, the musée du quai Branly - Jacques Chirac hopes to offer new insight into the mechanisms and motivations of 21st century art collectors, particularly concerning art from Africa and Oceania. An iconic modern collection, assembled ... More



George Condo, Windswept Figure, 2007. Oil on canvas, 50.8 x 40.6 cm. Collection of the artist, New York. Courtesy Sprüth Magers and Skarstedt © VG Bild-Kunst, Bonn 2016. Photo: © George Condo 2016.



BERLIN.- Museum Berggruen opened an exhibition of works by American painter George Condo (b. 1957, Concord, New Hampshire). This first ever large-scale exhibition of contemporary art at Museum Berggruen since its opening combines works by George Condo from the early 1980s through today with works by classical modernist artists from the collection of Berlin's Nationalgalerie. George Condo. Confrontation is on view throughout the museum, and many of the paintings, drawings, collages by the American artist selected are to be shown to the public for the very first time in this show. The presentation of masterpieces by Cézanne, Picasso, Matisse, Klee and Giacometti from Museum Berggruen alongside Condo's works develops an open field of references. Since the early 1980s, Condo refers in his works with a mixture of humor, irony, and veneration to the entire spectrum of European and American art. For his ... More
Orthodox Israeli director opens window on closed society
Artcurial to offer Willy Ronis' inheritance
Phillips announces New Now Sale in London on 8 December


Israeli film director Rama Burshtein poses for a photograph during the Haifa Film Festival on October 20, 2016, in Haifa. NIR KAFRI / AFP.



HAIFA (AFP).- Film director Rama Burshtein's team includes all the usual movie-making roles, but with a couple of exceptions: her rabbi and an assistant who keeps her from coming into contact with men. That's because Burshtein also happens to be an ultra-Orthodox Jewish woman, which means she strictly observes religious tradition. It leaves the director of the "Fill the Void," her critically-acclaimed 2012 breakout film which was shown at the Venice Film Festival, with a difficult balance strike between her art and her beliefs. And there is no instruction manual on how to do it, says this 49-year-old American-Israeli, wearing a multi-coloured head wrap to hide her hair, as required of ultra-Orthodox women. "Every time I have to go back to my rabbi, and together we're thinking on how to deal with situations that come up. There is no book that tells you how to make cinema with Halakha (Jewish law)." While there is a mini-industry of ultra- ... More



Willy Ronis (1910-2009), Le nu provençal - Gordes, été 1949. Épreuve argentique (c. 1990), signée à l'encre dans la marge inférieure à droite Titre et date de la main de l'auteur au verso, 40,5 x 30,5 cm avec marges. Estimate: 3.000-4.000 € © Artcurial.



PARIS.- On December 13th, Artcurial's photography department will gather collectors from around the world for a rare event, an auction with a remarkable origin: The Stéphane Kovalsky Collection, featuring the Willy Ronis inheritance. This is the first monographic auction dedicated to the great humanist artist, Willy Ronis and will include around 160 lots, mixing famous works and lesser-known pieces, retracing the impressive career of the photograph whose comrades included Henri Cartier-Bresson, Robert Doisneau and Edouard Boubat. Photo in November and marvel international collectors passing through the French capital at this time. In just three years, Artcurial's photography department has really stood out for its works at auction sourced from important private collections, offering an insight into the history of the second ... More



KAWS, Four Foot Dissected Companion, 2009. Estimate: £12,000 - 18,000. Image courtesy of Phillips



LONDON.- This December, Phillips' New Now auction will bring together over 240 works of art by emerging artists as well as some of the foremost names in the contemporary art world today. The New Now sale focuses on artists who are important and relevant to the current art landscape, including Gerhard Richter, KAWS, Tracey Emin, Keith Haring, Sarah Lucas, Julian Opie, Jim Shaw and Tom Wesselmann. With individual estimates ranging from £1,000 to £200,000, the sale presents collecting opportunities for both new and established buyers to grow their collections at all levels. New Now will take place on 8 December at 30 Berkeley Square, London. Simon Tovey, Phillips' Head of Sale, New Now, said: "We are excited to be able to offer such a diverse range of works representing both established artists of the late 20th century, and the younger generation, many of whose reputations continue to grow from season to season." The sale ... More
PIASA's Contemporary Design sale brings €1.2 million
National Portrait Gallery marks 50 years of advances in gay rights
Why do religious extremists attack art?


Vincent Darré, Conversation guillotinée - Fauteuils - 2013. Velour de mohair Pierre Frey, Tapisserie Phelippeau. Edition Maison Darré. H 103 x L 66 x P 67 cm. Est : 5 000 / 7 000 €. Sold for: 8 372 €, 7 728 €.



PARIS.- Nearly two hours of feverish bidding in the PIASA saleroom cast the spotlight on contemporary furniture – firstly at an auction organized jointly with the magazine AD, then with a sale devoted to interior decorator Vincent Darré. The PIASA presentation of works from the Vincent Darré Collection was designed by Vincent himself. The jaw-dropping display – replete with furniture, lighting, drawings, objets d'art, contemporary works and items bought at the flea-market – reflected years of inspiration, close encounters and fruitful collaboration. This eclectic ensemble provoked an excited response, spearheaded by an imposing 1971 Untitled by the youthful Gérard Garouste that clattered to €50,230 (lot 179). The majestic eight-fold giltwood screen that had graced the PIASA foyer before the sale sold for €28,340 (lot 154). ... More



Saffron Burrows by Derrick Santini, 2001. © National Portrait Gallery, London



LONDON.- A display of photographic portraits to mark the fiftieth anniversary of the partial decriminalisation of male homosexuality in England and Wales in 1967 opened at the National Portrait Gallery this Friday 25 November. Marking the advances in gay rights in Britain over the past half century, Speak its Name! is the first in a year-long programme of special displays and events at the National Portrait Gallery exploring sexuality, gender, art and identity. In Speak its Name! portraits of fashion designer Alexander McQueen and journalist Isabella Blow, politician Angela Eagle, actors Ben Whishaw and Saffron Burrows, poet Jackie Kay, diver Tom Daley and singer Will Young are accompanied by quotations from the sitters who share their experiences of coming out. These range from coming out to friends and family, to wanting to be honest to an audience of fans and the media. The title of the display is derived from 'I am the Love ... More



Francois Boespflug, French historian of art and religion, poses in Paris on November 18, 2016. PATRICK KOVARIK / AFP.



PARIS (AFP).- Jihadists from the Islamic State group have destroyed ancient sites and museum pieces in Syria and Iraq in the last two years but that is just the latest example of extremists attacking religious buildings or art. Historian Francois Boespflug, a French former Catholic priest, tells AFP about the roots of attacks against images that the perpetrators consider to be blasphemous or idol worship. Question: What is the common thread between the destruction of the giant Buddhas of Bamiyan in Afghanistan by the Taliban in 2001, the mausoleums of Timbuktu in Mali by Al-Qaeda-linked militants and two of the most important temples in the Syrian city of Palmyra by militants from the Islamic State group? Answer: "When an image is considered to convey contempt or is the object of a cult that extremists consider fetishist, they react as if they have been insulted themselves. ... More
Fifth solo exhibition of David Maljkovic at Annet Gelink Gallery on view in Amsterdam
Guitars owned by Janis Joplin, Prince top Heritage Auctions' $1 million Entertainment & Music Memorabilia sale
Major retrospective exhibition celebrating Alex Janvier opens at the National Gallery


David Maljkovic, Vignettes, 2016 (detail). Inkjet print on canvas, laser drawing and hand drawing on plexiglass, 150 x 100 cm. Photo: Michel Claus © David Maljkovic, Courtesy Annet Gelink Gallery, Amsterdam.



AMSTERDAM.- Annet Gelink Gallery is presenting Vignettes, the fifth solo exhibition of David Maljkovic at the gallery. In his work, Maljkovic processes various methods, such as the use of individual and collective relationships through the complexity of time, the collage approach and self-reference by taking his earlier works as raw material and playing with the nature of the gaze. In eight collages and a video this exhibition questions the nature of various spaces, such as image space, working and living space, city space and personal space. There is a certain parallelism on stage in which everyday routine and artistic practice are problematized. This procedure itself is visible on the two-dimensional surface: the central point of this relationship is articulated in the juxtaposition of a photograph of everyday routine and a drawing placed on the image as a vignette that evokes ... More



The guitar used by premier blues vocalist Janis Joplin sold for $50,000.



DALLAS, TX.- Guitars owned and played by Janis Joplin and Prince — two of the most legendary American musicians of the last century — took top honors in Heritage Auctions' $1 million Entertainment and Music Memorabilia Auction Nov. 12 in Dallas. The guitar used by premier blues vocalist Janis Joplin sold for $50,000. It was used by her when she perfected the song Me and Bobby McGee. A "Cloud" style, cobalt blue electric guitar played by Prince sold for $42,500. "Janis Joplin and Prince were two of the greatest musicians of their generation," Heritage entertainment director Garry Shrum said, "so it's not surprising at all that their guitars were in such high demand. These guitars drew the attention of music fans and serious collectors, and deservedly so." A collection of Beatles memorabilia also inspired spirited bidding. Headlining the group was a Yesterday and Today Sealed Livingston First State Mono "Butcher Cover" LP that sold ... More



Alex Janvier, Untitled, 1986 (detail). Acrylic on canvas, 165.1 x 266.7 x 6 cm. National Gallery of Canada, Ottawa. Photo © NGC.



OTTAWA.- The National Gallery of Canada presents the largest retrospective exhibition devoted to Alex Janvier, one of Canada's most respected Indigenous artists. The exhibition, which opens November 26 and runs until April 17, 2017, features a selection of well-known masterpieces from Janvier's seven decade long career, along with paintings that are on display for the very first time. "The Alex Janvier exhibition recounts the story of a life devoted to art and the re-empowerment of Indigenous cultures," said NGC Director and CEO Marc Mayer. "Alex Janvier is among the most important figures in the development of modern Indigenous art in Canada and the National Gallery has long envisioned a major solo exhibition dedicated to him." Alex Janvier's artistic universe is a rich visual language marked by color, symbols and calligraphic features evoking different elements of the Land such as landscapes, natural phenom ... More
A Glimpse of "Moholy-Nagy: Future Present"
Flashback
On a day like today, American cartoonist Charles M. Schulz was born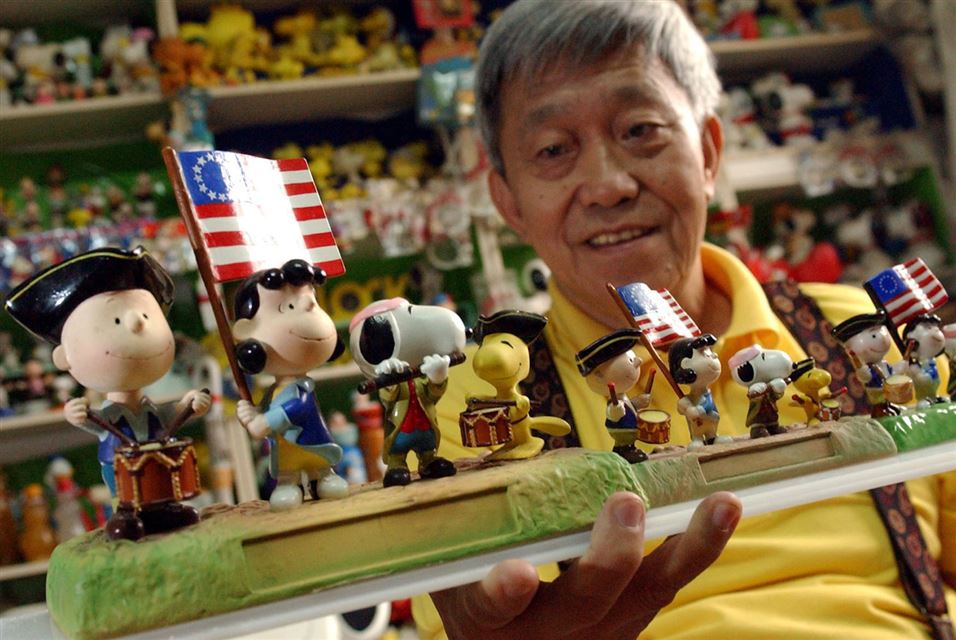 December 26, 1922. Charles Monroe "Sparky" Schulz (November 26, 1922 - February 12, 2000) was an American cartoonist, whose comic strip Peanuts proved one of the most popular and influential in the history of the medium, and is still widely reprinted on a daily basis. In this image: Ma Leshan, 76, holds a series of models of Peanut characters in his exhibition room in Shiqi of Zhongshan city, south China's Guangdong Province, 29 May 2003. Charles Schulz, the US cartoonist, appointed Ma as the only manual models sculptor for his Peanut series in 1978. Ma has made over 10,000 Snoopy models in the past 25 years. Manual models are the first models made according to the drawings before the mass production.
---

Museums, Exhibits, Artists, Milestones, Digital Art, Architecture, Photography,
Photographers, Special Photos, Special Reports, Featured Stories, Auctions, Art Fairs,
Anecdotes, Art Quiz, Education, Mythology, 3D Images, Last Week,
.
---
Royalville Communications, Inc
produces: