The Prado opens the first major monographic exhibition on Lorenzo Lotto's portraits
Image of the exhibition galleries "Lorenzo Lotto. Portraits". Photo © Museo Nacional del Prado.
MADRID
.-
The Museo del Prado
is presenting the first major monographic exhibition on Lorenzo Lotto's portraits. Lorenzo Lotto (Venice, 1480 – Loreto, 1557) was one of the most unique and fascinating artists of the Italian Cinquecento. His reputation has consistently grown among scholars and art lovers since Bernard Berenson devoted the first monograph to him, Lorenzo Lotto. An Essay in Constructive Criticism, published in 1895. Writing at the time of the emergence of Freudian psychoanalysis, Berenson saw Lotto as the first portraitist to be interested in reflecting his sitters' states of mind, and as such the first modern one. Although interest in the artist has been particularly notable since the 1980s, until now no exhibition has focused exclusively on the portraits, making this project a pioneering one. The exhibition focuses on already known aspects of Lotto's portraiture such as their varied typology, psych ...
More
The Best Photos of the Day
Monet, Degas, Renoir, Cassatt arrive in Winnipeg
The Musée Fabre opens a major exhibition encompassing Pablo Picasso's entire career
Glasgow blaze guts one of world's top art schools - again


Conservator Vitaliy Yatsevych inspects Claude Monet's Rising Tide at Pourville, 1882, before it is installed in the French Moderns exhibition, Manitoba's first major display of French Impressionist paintings.



WINNIPEG.- The biggest names in Impressionist art have arrived at the Winnipeg Art Gallery. Monet, Degas, Renoir, Cassatt, and many others are featured in Manitoba's first major display of French Impressionist paintings, drawings, and sculptures. Two exhibitions opened June 16 and run until September 9, 2018. The Impressionists and their followers sparked a revolution in European art in the late 19th century: they broke from convention by painting spontaneously out-of-doors and 'on the spot' to capture a sense of the moment. Once outsiders of the art world, today they are some of the most beloved artists of all time. Organized by the Brooklyn Museum and their renowned collection of European art French Moderns: Monet to Matisse, 1850-1950 brings to Winnipeg paintings and sculptures ... More



Pablo Picasso, Femme assise aux bras croisés, 1937, huile sur toile, 81 x 60 cm, Musée national Picasso-Paris, dation Pablo Picasso, 1979, inv. MP162, Photo © RMN-Grand Palais (Musée national Picasso-Paris) / Mathieu Rabeau, service presse / musée Fabre © Succession Picasso 2018.



MONTPELLIER.- From 15 June to 23 September 2018, the Musée Fabre de Montpellier Méditerranée Métropole is presenting the Picasso – Donner à voir exhibition, in association with 'Picasso-Méditerranée', an international cultural event launched by the Musée National Picasso-Paris. Montpellier – a Mediterranean metropolis located halfway between Catalonia and Provence – is involved in this programme. The Musée Fabre is presenting a major exhibition encompassing the artist's entire career and offering an overview of the creation of a prodigious oeuvre with a particular focus in the selection and presentation of the works. The exhibition is structured around his ... More



Firefighters work at the scene of a fire at the Glasgow school of art in Glasgow on June 16, 2018. Andy Buchanan / AFP.



GLASGOW (AFP).- Fire devastated one of the world's top art schools once again on Saturday, destroying four years of restoration work after a previous blaze ripped through the historic Glasgow School of Art. The famed Mackintosh Building in Scotland's biggest city has been "extensively damaged", fire chiefs said. A restoration project, set to cost between £20 million and £35 million ($26.5 million and $46.5 million; 23 and 40 million euros), had been returning the world-renowned institution to its former glory following a fire in 2014. But much of that work has been wrecked, firefighters confirmed, after rushing to tackle the inferno which broke out at around 11:20 pm (2220 GMT) on Friday. No casualties were reported. "This is a devastating loss for Glasgow," deputy assistant chief fire officer Peter Heath told a press conference. ... More
New exhibition highlights 450-year-old terracotta bust by famed sculptor Alessandro Vittoria
Dali's 'Christ of St. John of the Cross' back on show at Kelvingrove Museum
Illuminated mediaeval manuscript fetches 4.2 mln euros at French auction


Alessandro Vittoria, Giulio Contarini, c. 1570-1576, painted terracotta, 74.3 x 61 x 30.7 cm with integral base. National Gallery of Canada, Ottawa.



OTTAWA.- From June 13 to September 16, 2018, the National Gallery of Canada presents Masters of Venetian Portraiture: Veronese, Tiepolo, Vittoria as part of its Masterpiece in Focus series. Featuring 17 works – including three sculptures, 12 works on paper, one book and one painting – the exhibition looks at how portraiture played a key role in elevating and celebrating social status during the late Baroque and Renaissance periods. At the centre of the exhibition is a terracotta bust sculpted in the 1570s by Alessandro Vittoria (1525-1608), one of the greatest portraitists working in three dimensions in sixteenth-century Italy. The bust marked the first Vittoria work acquired for a Canadian public collection when it was purchased by the National Gallery of Canada in 2002. This work, one of possibly only two autograph busts by the ... More



Detail of Christ of St John of the Cross by Dali.



GLASGOW.- One of Scotland's favourite paintings, Christ of St John of the Cross by Salvador Dalí, has returned to Kelvingrove Art Gallery and Museum in Glasgow. The seminal artwork is now back on show, hanging in its bespoke gallery on the first floor of the museum. The painting had been on loan to the Royal Academy of Arts in London for their exhibition Dalí/Duchamp, before it travelled to The Dalí Museum in St Petersburg, Florida as part of the exhibition tour. Chair of Glasgow Life, Councillor David McDonald, said: "After a hugely successful visit to the Royal Academy and the Dali Museum it's wonderful to welcome Christ of St John of the Cross back to Kelvingrove, in time for the upcoming holiday period. The must-see painting is one of the best-loved works in Glasgow Museums' entire collection, for both tourists and Glaswegians alike. It's certain to captivate the thousands of people who will visit the museum ... More



The "Petau" Book of Hours was estimated to sell for €700,000 - €900,000.



PARIS (AFP).- An illuminated mediaeval manuscript known as the Petau Book of Hours has been sold at auction for more than 4.2 million euros, or around six times its asking price, auctioneers Drouot said on Saturday. The Latin manuscript, dated from around 1495, was sold for 4.29 million euros ($5.0 million) compared with an original estimate of 700,000-900,000 euros, the auction house said. It contains 16 medallions painted on vellum in shades of gold with highlights attributed to the artist Jean Poyer -- who was active between 1490 and 1520 -- and an illuminated heraldic composition dating from 17th century added around the first medallion, Drouot said. It described the prayer book as "a masterpiece of Touraine illumination" that displayed an "extraordinary mastery and prowess of layout." It was part of a number of manuscripts and rare volumes ... More
Russian conductor Gennady Rozhdestvensky dead at 87
Exhibition focuses on the diversity of styles and subject matter found in the graphic art made by Henry Moore
Galerie Sultana exhibits works by Pia Camil


This undated file photo shows Gennady Rozhdestvensky conducting his orchestra during a rehearsal. Alexander NEMENOV / AFP.



MOSCOW (AFP).- Russian conductor Gennadi Rozhdestvensky has died at the age of 87, Moscow's prestigious Bolshoi Theatre announced on Saturday. "The Bolshoi is in mourning," the theatre announced on Twitter. "Today, June 16, Gennady Rozhdestvensky passed away at the age of 87." Born in Moscow in 1931, Rozhdestvensky -- who was also a pianist and a composer -- was general artistic director of the Bolshoi between 2000 and 2001. During a career that spanned more than 50 years, he was chief conductor of a number of orchestras both inside and outside Russia, including the Bolshoi orchestra, the BBC Symphony Orchestra in London, the Vienna Symphony Orchestra and the Royal Stockholm Philharmonic. He was awarded the title, "People's Artist of the USSR" in 1976, the highest cultural distinction in the former Soviet Union. His repertoire was wide, ... More



Henry Moore, Mother and Child, 1973, lithograph, 20 x 15 in. The Huntington Library, Art Collections, and Botanical Gardens. Gift of Philip and Muriel Berman Foundation. © The Henry Moore Foundation. All Rights Reserved, DACS 2017 / henry-moore.org



SAN MARINO, CA.- An exhibition focused on the surprising diversity of styles and subject matter found in the graphic art made by Henry Moore (1898-1986), the most prominent British sculptor of the 20th-century, opened at The Huntington Library, Art Collections, and Botanical Gardens on June 16. "Spirit and Essence, Line and Form: The Graphic Work of Henry Moore" celebrates the Philip and Muriel Berman Foundation's gift to The Huntington of 337 of Moore's works on paper with a display of 28 prints selected to highlight the range of intricate, often delicate works that explore the same universal themes found in Moore's sculpture: the roots of creation, the body, life, and death. The exhibition runs through Oct. 1, 2018. "One of the most exciting things about the Berman Collection is the great ... More



Installation view. Courtesy of the artist and Galerie Sultana. Photo © Aurélien Mole.



PARIS.- There is a lot of drama in what Pia Camil puts in front of us, but it's always a screamless drama, as if suspended: waiting for an upcoming action, the crack. To talk about cracks when approaching Camil's work, primarly known for her manipulation of textiles, seems, in the first place, quite odd – a fabric doesn't crack, it rips, it tears apart - But the artist's textile pieces, always on the verge of ripping because rethought / repaired from already torned apart manufactured products, are the holders of potential cracks, questionning the fragility of what sustain us and hold us together. The promise of the crack, that which holds the potential of the drama, is also the door to theatre. The curtains, costumes and masks could then, suddenly, become alive. They are, actually, full of holes, holes that could act as the nests for organes with various functions. And then, in between holes and cracks, something happens. It's ... More
Diller Scofidio + Renfro and Woods Bagot win Adelaide Contemporary International Design Competition
70,000 children to take part in Art UK's Masterpieces in Schools
Fondazione Prada presents a newly commissioned, site-specific work by Laura Lima


Acclaimed New York architects with leading Adelaidean practice convince jury with concept design to create a dynamic new art space on Adelaide's celebrated North Terrace.



ADELAIDE.- Arts South Australia and competition organisers Malcolm Reading Consultants announced that the team led by Diller Scofidio + Renfro (US) with Woods Bagot (Australia) has won the Adelaide Contemporary International Design Competition. The winning team's concept design reconciled the brief for a dynamic people-friendly new place with a skilfully-organised gallery, while also incorporating a performance lab, a dramatic 'Super Lobby', floating top-floor sky galleries and a suspended rooftop garden. The garden, inspired by 'Minkunthi', the Kaurna word 'to relax', would display the planting of a pre-colonised South Australian landscape, linking the idea of the contemporary to Kaurna ecological and cultural history. The building was described by the team in their presentation as a charismatic soft beacon on North ... More



Pimders Primary pupil. © Art UK and Arts Council Collection.



LONDON.- 70,000 schoolchildren from 125 schools the length and breadth of the UK are going to be experiencing world class works of art in their classrooms as part of the largest ever sculpture project undertaken in Britain. Over the next two years, Art UK is aiming to digitise around 170,000 sculptures, which are located inside galleries, museums and public buildings and outdoors in parks, streets and squares, the length and breadth of the UK. These will then be displayed on the free-to-access artuk.org website for enjoyment, learning and research – the first database of its kind in the world. As with the previous Art UK digitisation initiative – which saw 212,000 oil paintings reproduced online - a key part of the project is getting more children to engage with art. Therefore, during October 2013, works by artists such as Gainsborough, L. S. Lowry, Monet and Turner visited twenty-five schools across the UK where they were ... More



Exhibition view of "Slight Agitation 4/4: Laura Lima". Photo: Mattia Balsamini, 15 June - 22 October 2018. Fondazione Prada, Milano. Courtesy Fondazione Prada.



MILAN.- From 15 June to 22 October 2018 Fondazione Prada is presenting "Slight Agitation 4/4: Laura Lima", the fourth and last chapter of the exhibition project conceived by Fondazione Prada Thought Council, whose current members are Shumon Basar, Elvira Dyangani Ose, and Dieter Roelstraete. "Slight Agitation", a four-part project of newly commissioned, site-specific works hosted in sequence within the Cisterna in the Milan venue of Fondazione, including works by Tobias Putrih (Slovenia, 1972), Pamela Rosenkranz (Switzerland, 1979) and Austrian collective Gelitin, continues with a final instalment by Brazilian artist Laura Lima. Lima presents "Horse Takes King", following Putrih's installation which engaged with ideas of play, politics and emancipation; Rosenkranz's intervention that offered visitors ... More
In the Studio with Suzan Frecon
Flashback
On a day like today, Dutch illustrator M. C. Escher was born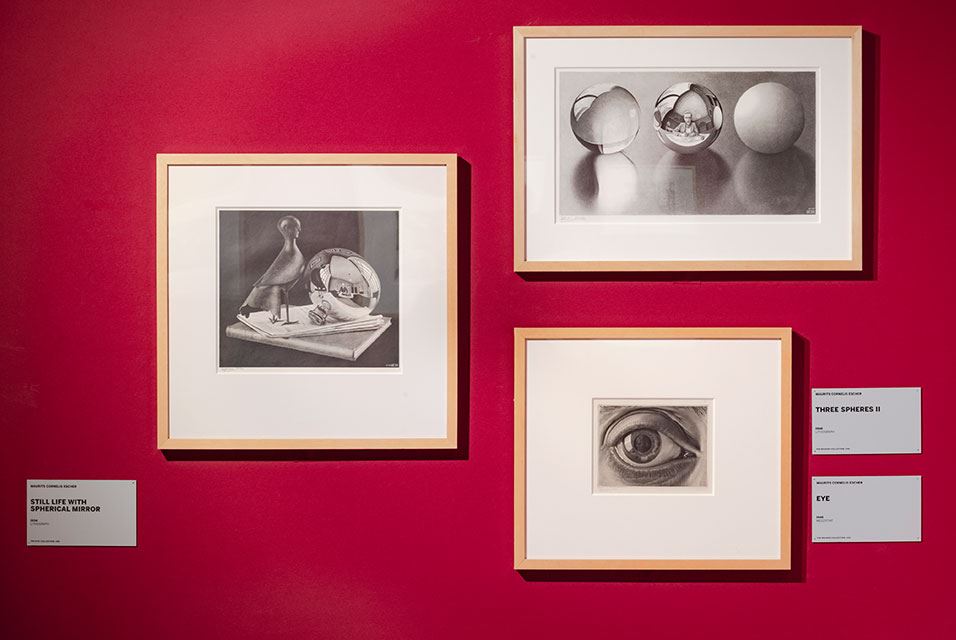 June 17, 1898. Maurits Cornelis Escher (17 June 1898 - 27 March 1972) was a Dutch graphic artist who made mathematically-inspired woodcuts, lithographs, and mezzotints. In this image: Installation view, ESCHER. The Exhibition & Experience at Industry City, June 8, 2018 - February 3, 2019. Photo by Adam Reich. Courtesy Arthemisia.
---

Museums, Exhibits, Artists, Milestones, Digital Art, Architecture, Photography,
Photographers, Special Photos, Special Reports, Featured Stories, Auctions, Art Fairs,
Anecdotes, Art Quiz, Education, Mythology, 3D Images, Last Week,
.
---
Royalville Communications, Inc
produces: