Exhibition at The Met illustrates what visitors encountered at The palace of Versailles
Visitors to Versailles (1682-1789) at The Met, 2018. Courtesy of The Metropolitan Museum of Art.
NEW YORK, NY
.-
The palace of Versailles has attracted travelers since it was transformed under the direction of the Sun King, Louis XIV (1638–1715), from a simple hunting lodge into one of the most magnificent public courts of Europe. French and foreign travelers, royalty, dignitaries and ambassadors, artists, musicians, writers and philosophers, scientists, Grand Tourists and day-trippers alike, all flocked to the majestic royal palace surrounded by its extensive formal gardens. Opening April 16 at
The Metropolitan Museum of Art
, Visitors to Versailles (1682–1789) tracks these many travelers from 1682, when Louis XIV moved his court to Versailles, up to 1789, when Louis XVI (1754–1793) and the royal family were forced to leave the palace and return to Paris. The exhibition brings together nearly 190 works from The Met, the Palace of Versailles, and more than 50 lenders worldwide. Through paintings, portraits, furniture, tapestries ...
More
The Best Photos of the Day
Los Angeles County Museum of Art presents the U.S. premiere of David Hockney: 82 Portraits and 1 Still-life
Unprecedented exhibition 'Painting After Postmodemism' opens at the Reggia di Caserta
New installation by Doug Aitken on view at 303 Gallery


David Hockney, Gregory Evans, 1st, 2nd, 3rd December 2013 from 82 Portraits and 1 Still-life, acrylic on canvas (one of an 82-part work), 48 × 36 in., courtesy of the artist, © David Hockney, photo by Richard Schmidt.



LOS ANGELES, CA.- The Los Angeles County Museum of Art is presenting the U.S. premiere of David Hockney: 82 Portraits and 1 Still-life. On view April 15–July 29, 2018, this exhibition features recent portraits that revisit a genre that has been a major part of the artist's long career. Vibrant and full of life, these paintings, which Hockney considers a single body of work, were executed between 2013 and 2016 in the artist's Hollywood Hills studio. The exhibition provides insight into the artist's life, his connections to the art world, and the people who have crossed his path recently. For each portrait Hockney asked the sitter for a commitment of three days, which the artist has described as "a 20-hour exposure." The portraits are painted on canvases of the same size (48 × 36 inches), with each subject seated in the same chair against a similar ... More



Painting after Postmodemism investigates why when Marcel Duchamp declared that painting was dead in 1918, many believed him.



CASERTA .- Reggia di Caserta is presenting Painting After Postmodemism. an exhibition curated by the distinguished American art historian Barbara Rose. This is the third venue of the exhibition. which was inaugurated at the landmak Vanderborght as well as at the Cinema Galeries in Brussels under the High Patronage of Her Majesty the Queen of the Belgians. and then traveled to Ars Malaga in the Palacio Episcopal. where it was held under the auspices of the city. Comprising over 100 paintings by prominent American. Belgian. and Italian artists. the exhibition. as well as its accompanying catalogue. is devoted to defining new modes of painting that reconstitute. rather than deconstruct the elements of painting in fresh new syntheses free of dogma and theoretical reduction. The unprecedented exhibition Painting After Postmodemism takes place at the Reggia di Caserta. a former royal residence constructed for the ... More



Doug Aitken, NEW ERA, (still), 2018. Video installation with three channels of video (color, sound), three projections, freestanding room, PVC projection screens, mirrors. 10:56 minutes/loop, Installation dimensions variable. Image © Doug Aitken, courtesy 303 Gallery, New York.



NEW YORK, NY.- 303 Gallery is presenting a new installation by Doug Aitken, titled New Era. On view from April 13 through May 25, 2018, New Era is centered around 89-year-old protagonist Martin Cooper's seemingly straightforward statements about his invention of the mobile phone and his thoughts on the future. Aitken's film was inspired by his research into and conversations with the inventor of this ubiquitous device, and weaves the story of Cooper's life into a poetic narrative about humanity's history and future. Beginning with this simple introduction, Cooper's words become the leitmotif of a gradual deconstruction of images and sounds into a dystopian landscape where nature and technology coexist. New Era functions like a Greek mythology for the 21st ... More
Artcurial announces highlights from its Spring Fashion Arts sale
Exhibition spanning four decades in Karen Kilimnik's career opens at Sprüth Magers
Anton Kern Gallery opens an exhibition of new work by the New York-based artist Anne Collier


This essential event for both enthusiasts and international collectors will carry approximately 200 lots grouped into 4 of the 15 Hermčs universes: Leather, Jewellery & Timekeeping, Homeware and fashion.



PARIS.- On May 4th, Artcurial will host its Spring Fashion Arts in two chapters: the returning Hermčs Vintage will begin at 10:30 am including approximately 200 lots, followed by Fashion Arts from 1:30 pm including 300 lots. Iconic Must-have or collector accessories, signed by Chanel, Louis Vuitton, Dior, Bottega Veneta will pave the way for Haute-Couture and Pręt-ŕ-porter names from the 1930's to our time. Following the Japanese auction held this autumn, Pénélope Blanckaert, director of the Hermčs Vintage & Fashion Arts Department has selected a range of 1960's and '70's outfits, through the works for Norwegian designer Per Spook, artistic director for maison Louis Féraud before creating his eponymous brand in 1977.« Our previous auction in 2016 was dedicated to the archives of Elisabeth de Senneville. This time, we highlight the creations of Per Spook. It is always a ... More



Karen Kilimnik, winter of 1939 - bohemia + moravia, 1990. Crayon, pastel, and watercolor on paper in 2 parts 27.9 x 43.2 cm, each 55.9 x 43.2 cm, overall 11 x 17 inches each 22 x 17 inches overall © Karen Kilimnik. Courtesy Sprüth Magers.



LONDON.- Karen Kilimnik's latest exhibition with Sprüth Magers brings together works from across four decades in her career as one of the most important representatives of figurative painting, sculpture and installation. Included in the exhibition is an early example of her sculptures, as well as early drawings, and more recent paintings and prints in her delightful and darkly humorous style. Kilimnik's diverse practice is recognised for activating relationships between the traditions of culture and art history. Frequently, she combines figures and motifs from art history and collective memory – ballerinas, aristocracy, the Second World War – with cultural references to music, media and film. Paris is Burning (1991)/ Is Paris Burning?(1944) from 1992 is the first work in the exhibition, occupying the ground floor space. The work has not ... More



Anne Collier Tear (Comic) #2, 2018 C-Print 49.7 x 73.39 inches (126.24 x 186.41 cm). All images courtesy the artist and Anton Kern Gallery, New York / © Anne Collier.



NEW YORK, NY.- Anton Kern Gallery opened an exhibition of new work by the New York-based artist Anne Collier. This is Collier's fifth solo exhibition with Anton Kern and her first in the gallery's new 55th Street location. Collier's exhibition includes recent works from her ongoing series "Women Crying"; two text-based photographic works based on printed materials originally used in group-therapy and self-analysis; works from her latest series "Crying (Comic)" and "Tears (Comic); and a 35mm slide projection piece "Women With Cameras (Self Portrait)". Sourced from imagery that appeared on record covers from the 1960s-1980s the photographs in Collier's ongoing series "Women Crying" depict tightly-cropped and dramatically enlarged images of women – actresses or models – acting out as if crying or in heightened emotional states. These contentious yet highly seductive i ... More
Exhibition at Les Abattoirs brings together over 60 artworks in various media by Eduardo Chillida
Contemporary art exhibition dedicated to the game of fútbol on view at Pérez Art Museum Miami
The Photography Show presented by AIPAD reports second successful year at Pier 94


Eduardo Chillida, Homage to Architecture II, 2000. Sculpture, alabaster. Collection Famille Chillida - Belzunce. © Zabalaga - Leku, Adagp, Paris, 2018. Photo: Alberto Cobo.



TOULOUSE.- Bringing together over 60 artworks in various media the exhibition Eduardo Chillida – La gravedad insistente, running from April 6 to August 26, 2018 at Les Abattoirs in Toulouse focuses on the sculptor's relationship to space and the gravity of materials. Devised with exceptional support from the Fundación Eduardo Chillida-Pilar Belzunce, it highlights how the Spanish artist breathed new life into the art of sculpture from the 1950s into the early 2000s. From the early 1950s, Spanish artist Eduardo Chillida (1924-2002) contributed to the renewal of the kind of sculpture that challenged the constraints of materials. He therefore opted at the start of the 50s to create his sculptures directly with fire, in the forge, and refused the traditional duplication of sculpture in bronze. Associating wrought ironwork with modern sculpture in new and original ways, ... More



Kehinde Wiley, Samuel Eto'o, 2010. Oil on canvas, 72 x 60 inches. Private Collection; Courtesy of the artist and Roberts & Tilton, Los Angeles, California.



MIAMI, FLA.- Pérez Art Museum Miami presents The World's Game: Fútbol and Contemporary Art, an exhibition dedicated to the intersection of art and the most popular sport in the world—fútbol. On view from April 13 through September 2, The World's Game: Fútbol and Contemporary Art is an art-based exhibition on the subject of soccer, or fútbol, and its interactions with societies around the world. Planned to overlap with the 2018 World Cup, the exhibition explores how the sport has stimulated artists to reflect upon its implications on society. The first exhibition of its kind in Miami, it engages with the city's special passion for the global game. The exhibition features 50 works of art ranging from video and photography to painting and sculpture by more than 30 artists including Andy Warhol, Vik Muniz, Maria Lassnig, Kehinde Wiley, Miguel Calderón, Robin Rhode, Taryn Simon, Quisqueya Henriquez, Antoni ... More



Joseph Szabo, Priscilla, 1969, © Joseph Szabo, Priscilla, 1969.



NEW YORK, NY.- The 38th edition of The Photography Show presented by AIPAD, held April 5-8, 2018, garnered rave reviews for the second year in a row at its new location at Pier 94. Fair attendance held steady at last year's record of more than 15,000 visitors, which was the highest in AIPAD history, up from the 12,000 who attended the Show when it was previously held at the Park Avenue Armory. The Photography Show featured 96 of the world's leading fine art photography galleries, a lively photography book section with 36 publishers and book sellers, 15 AIPAD talks, three special exhibitions, and one screening room. Presented by AIPAD (Association of International Photography Art Dealers), the fair is the longest-running and foremost exhibition dedicated to the photographic medium. Presenting a range of museum-quality work including contemporary, modern, and 19th-century photographs, as well as photo-based art, video, and new media, The Phot ... More
Award-winning Italian filmmaker Vittorio Taviani dies
Smith College Museum of Art will steward the collections of feminist artists Nina Yankowitz and Joyce Kozloff
Afghan artisans pit their talents against Chinese imports


In this file photo taken on February 11, 2012 Italian director Vittorio Taviani poses during a photocall for the film "Caesar Must Die" (Cesare Deve Morire) in Berlin. Taviani, who received the Palme d'Or of the Cannes Film Festival in 1977 for his movie Padre Padrone, died in Rome aged 88, AFP reports on April 15, 2018. GERARD JULIEN / AFP.



ROME (AFP).- Italian filmmaker and Cannes Film Festival winner Vittorio Taviani has died aged 88, according to media reports on Sunday citing family sources. Taviani and his brother Paolo formed one of cinema's greatest directorial duos and made politically engaged films together for over half a century. One of their best-known was the gritty biopic "Padre Padrone", set in Sardinia, which won the top Palme d'Or prize at Cannes in 1977. Born in San Miniato, Tuscany, on September 20, 1929, Taviani died in Rome after suffering from a long-term illness. "It's a sad day for culture, we have lost one of the greatest masters of our cinema," said Italy's culture minister Dario Franceschini. Another of the brothers' critically acclaimed films is 2012's "Caesar ... More



Ida Applebroog (American, Born 1929), Untitled, 1978. Ink and acrylic on Mylar with Plexiglass, paper and glue.



NORTHAMPTON, MASS.- The Smith College Museum of Art will steward the personal art collections of Nina Yankowitz and Joyce Kozloff, feminist artists and longtime friends. These two distinctive collections focus on diverse works of art made by women artists from the 1960s to the present day. Yankowitz donated 74 works of art to SCMA in 2016; Kozloff's gift of 190 works arrived at the museum in February 2018. Both Yankowitz and Kozloff are based in New York City. Nina Yankowitz (born Newark, New Jersey, 1946) is known for her work in new media technology, site specific public installations and signature 1960's "Draped paintings" exhibited in New York and elsewhere. Yankowitz's 1970's Canvas Thread Reading painting was included in the first Whitney Biennial (1973). Her new media installations have blurred boundaries and interrogated both physical and virtual spaces. Like many artists, her ... More



This photo taken on February 25, 2018 shows an Afghan tailor working on a cotton fabric piece at Zarif Design House in Kabul. WAKIL KOHSAR / AFP.



KABUL (AFP).- Cheap, Chinese-made nylon burkas are flooding Afghanistan's north as consumers turn to affordable, mass-produced fabrics -- but in Kabul a small, determined fashion house is fighting to preserve the traditional textiles once integral to Afghan culture. Launched in 2006, "Zarif" -- "precious" in Persian -- commissions traditional cotton and silk from artisanal weavers, then employs more than two dozen people -- mostly women -- to tailor and design the fabrics into handcrafted, embroidered clothing. But with cheaper imports saturating the market, they are struggling to keep local traditional methods afloat, says founder Zolaykha Sherzad. Only decades ago, the textile industry was on par with Afghanistan's legendary carpet trade, famed since the days of the old Silk Road. During its heyday textiles were more than just fabrics, with their patterns, colours and embroidery illuminating the origins and tribal ... More
'An equal partnership' between Matisse and his model
Flashback
On a day like today, Mexican architect Pedro Ramírez Vázquez was born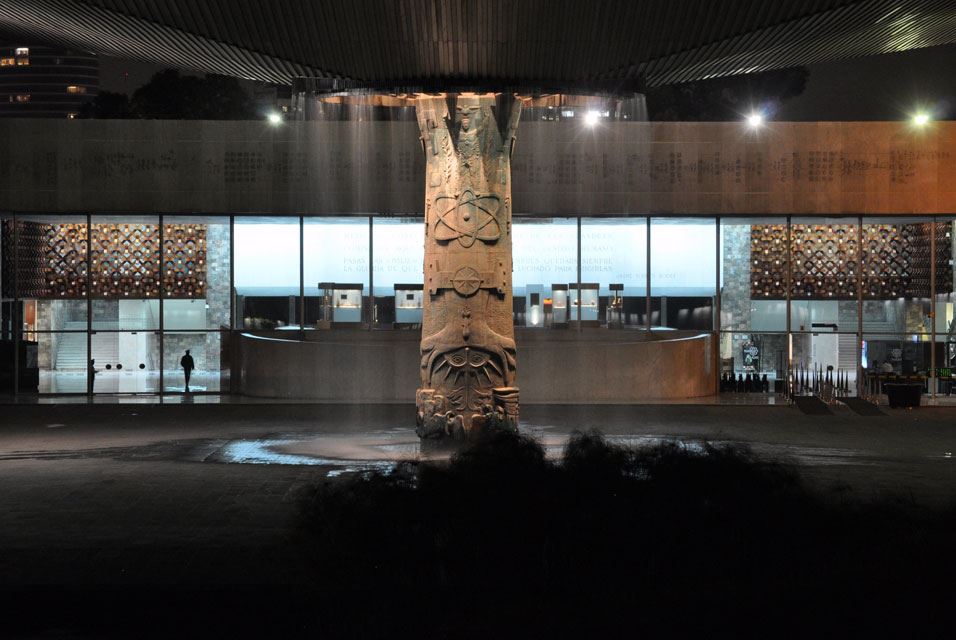 April 16, 1919. Pedro Ramírez Vázquez (April 16, 1919 - April 16, 2013) was a late twentieth century Mexican architect. He was born in Mexico City. He was persuaded to study architecture by writer and poet Carlos Pellicer. In this image: National Museum of Anthropology in Mexico City.
---

Museums, Exhibits, Artists, Milestones, Digital Art, Architecture, Photography,
Photographers, Special Photos, Special Reports, Featured Stories, Auctions, Art Fairs,
Anecdotes, Art Quiz, Education, Mythology, 3D Images, Last Week,
.
---
Royalville Communications, Inc
produces: