Prime Minister Mark Rutte gives a history lesson in the Rijksmuseum
Fifteen pupils from the Spinoza Lyceum in Amsterdam got a very exceptional history lesson today - from no less a personage than Mark Rutte, Prime Minister of the Netherlands. They were the first visitors to the Rijksmuseum's new exhibition 80 Years' War. The Birth of the Netherlands. Himself an historian, Mr Rutte accompanied the children on their trip 450 years back in time.
AMSTERDAM
.-
This year is the 450th anniversary of the outbreak of the Eighty Years' War, and to mark the event the
Rijksmuseum
is holding an exhibition entitled '80 Years' War. The Birth of the Netherlands'. From 12 October 2018 to 20 January 2019, satirical cartoons, items of clothing, weapons and paintings by Bruegel, Rubens and Ter Borch will be our 'eyewitnesses', telling the story of how the Dutch nation was born. In a contemporary exhibition created by the Flemish stage designer Roel van Berckelaer, the Rijksmuseum shows how the 80 Years' War changed and shaped the Netherlands, and how this conflict gave the southern Netherlands, now Belgium, a distinct character. 80 Years' War is the first major exhibition to encompass the entire conflict and place it in its international context. It raises many issues – such as religious freedom, self-determination, terror and persecution – that remain highly to ...
More
The Best Photos of the Day
Sotheby's breaks auction record for any bottle of wine twice in one sale
First comprehensive exhibition of chiaroscuro woodcuts from Italian Renaissance on view at National Gallery of Art
Toledo Museum of Art organizes first major international exhibition of family portraits by Frans Hals


Two bottles of Romanée Conti 1945 each sell for $558,000 and $496,000. The Macallan 1926 60 Years Old (Sir Peter Blake Label) achieves $843,200. The highest price in Sotheby's history for a single spirit. Courtesy Sotheby's.



NEW YORK, NY.- This morning in Sotheby's New York salesroom, two exceptional bottles of wine each broke the prior world auction record for a single bottle of wine of any size. The two bottles of Romanée Conti 1945 shattered the previous record when they sold to applause for $558,000 and $496,000, respectively. The wines were offered as part of a 'white-glove' (100% sold) auction of rare Domaine de la Romanée-Conti emerging from the personal cellar of Robert Drouhin, which totaled $7.3 million – more than five times its high estimate. Immediately following the conclusion of the Personal Cellar of Robert Drouhin, The Macallan 1926 60 Years Old (Sir Peter Blake Label) sold for $843,200 – the highest price in Sotheby's history for a single spirit, as well as the top auction price for any spirit sold in North America. The Macallan 1926 represents the celebrated distillery's oldest vintage, with only 40 bottles ever produced, ... More



Ugo da Carpi, after Parmigianino, Diogenes, c. 1527–1530. Chiaroscuro woodcut from four blocks in light blue, green-blue, green, and gray, state i/iii, sheet: 18 3/4 x 13 3/4 in. Blanton Museum of Art, The University of Texas at Austin, Purchase through the generosity of Julia and Stephen Wilkinson.



WASHINGTON, DC.- Chiaroscuro woodcuts are among the rarest and most beautiful prints that flourished throughout Renaissance Italy. This exhibition, with its accompanying catalog, addresses all aspects of this remarkable art form, from attribution and chronology to materials and processes, intention and reception. The first comprehensive study devoted to the Italian chiaroscuro woodcut, the exhibition is based on new art-historical and technical research carried out over the last decade. Presenting some 100 of the finest impressions from American and British collections, The Chiaroscuro Woodcut in Renaissance Italy will be on view at the National Gallery of Art from October 14, 2018, through January 20, 2019. "One of the earliest and most successful ventures into color printing, the chiaroscuro woodcut redefined what viewers in the Renaissance had ... More



Frans Hals (Dutch, 1582/83–1666), Portrait of a Dutch Family, mid-1630s, oil on canvas. 111.8 x 89.9 cm. Cincinnati Art Museum, Cincinnati (Ohio), inv. 1927.399.



TOLEDO, OH.- One of the greatest portraitists in the history of Western European painting, Frans Hals (1582/83-1666) is renowned for his revolutionary candid style of capturing sitters in seemingly spontaneous poses and lively gestures. For the first time, Hals's family group portraits from collections in the United States and Europe, including the reunion of one canvas cut into sections more than two centuries ago, have been brought together in the international exhibition Frans Hals Portraits: A Family Reunion, on view at the Toledo Museum of Art, the exclusive U.S. venue, from Oct. 13, 2018, through Jan. 6, 2019. Lawrence W. Nichols, William Hutton senior curator, European and American painting and sculpture before 1900 at the Toledo Museum of Art co-curated the exhibition with Liesbeth De Belie, curator 17th-century Dutch paintings at the Royal Museums of Fine Arts of Belgium in Brussels. The exhibition will travel to Brussels and ... More
300 years of American art reinterpreted in major exhibition organized by Princeton University Art Museum
New ways to exhibit art and design at the renovated Nationalmuseum
New exhibition space designed by Pritzker laureate Tadao Ando opens in Chicago


Albert Bierstadt, Mount Adams, Washington, 1875 (detail). Oil on canvas, 138 × 213 cm. Princeton University Art Museum. Gift of Mrs. Jacob N. Beam (y1940-430).



PRINCETON, NJ.- This fall, the story of our changing relationship with the natural world is being comprehensively told through a groundbreaking exhibition encompassing three centuries of American art. Nature's Nation: American Art and Environment presents more than 120 paintings, sculptures, prints, drawings, photographs, videos and works of decorative art, from the colonial period to the present, exploring for the first time how American artists of different traditions and backgrounds have both reflected and shaped environmental understanding while contributing to the development of a modern ecological consciousness. This sweeping exhibition engages a wide range of genres and historical contexts – from colonial furniture to the art of Jeffersonian natural science, from Hudson River landscape painting to ... More



Inauguration Nationalmuseum 13 October 2018. Photo: Linn Ahlgren/Nationalmuseum.



STOCKHOLM.- In parallel with the renovation of Nationalmuseum, extensive work to create totally new presentations of the museum's collections has taken place behind the scenes. Among other things, visitors notice that the various art forms are displayed side by side, accompanied by a chronological narrative. In addition to the so-called "Timeline," there are also new spaces such as the Treasury, the Design Depot, Children's Art World, and the Sculpture Courtyard. Nationalmuseum has the richest and most extensive collections in the Nordic region, with more than 700,000 objects and works of art. The work with the presentations of the collections began with a desire to be able to display more art and design in the museum building than had previously been possible. It was also important that the collections interacted harmoniously with the building's original architecture and that daylight was afforded a prominent ... More



Wrightwood 659, Chicago, IL. A new exhibition space designed by Tadao Ando. © Jeff Goldberg/Esto.



CHICAGO, IL.- Wrightwood 659, a new exhibition space in Chicago, opened on October 12, 2018. Designed by Pritzker Prize-winning architect Tadao Ando, who has transformed a 1920s building with his signature concrete forms and poetic treatment of natural light, Wrightwood 659 will be devoted to exhibitions of architecture and socially engaged art. The inaugural exhibition, Ando and Le Corbusier: Masters of Architecture, on view October 12–December 15, 2018, explores Le Corbusier's pivotal influence on Ando. In a city rich with art institutions and internationally known for its architecture, Wrightwood 659 is a site for both intimate experiences of art and architecture, and thoughtful engagement with the pressing social issues of our time. Located at 659 W. Wrightwood Avenue, in Chicago's Lincoln Park neighborhood, it is a private, non-commercial initiative envisioned as an integral part of the cultural and civic fabric ... More
Christie's announces highlights from its Classic Week to be held in New York, 30 Oct-1 Nov
The Velvet Undergound Experience: A new multi-media art and music exhibition opens in New York
Lest they forget: Five families' mementos from World War I


Pompeo Batoni, Portrait of a lady as Flora, half-length, holding a wicker basket of flowers, 1775. Oil on canvas, unframed 28 7/8 x 24 1/8 in. Estimate: $400,000 - USD 600,000. © Christie's Images Limited 2018.



NEW YORK, NY.- Christie's Classic Week presents auctions from Antiquities, Old Masters, European Art as well as two standout sales of property from The Collection of Eugene V. Thaw and The Collection of Elizabeth Stafford, from 30 October – 1 November. Across the week of sales more than 850 works will be offered, maintaining the hallmark traits collectors seek; superb quality, freshness to the market, and distinguished provenance. Aligning with the TEFAF fair, the auction exhibition at Christie's Rockefeller Center Galleries begins on 25 October for the first auction. The leading works of art offered during the series of sales include an important Assyrian Gypsum Relief of a Winged Genius from the Palace of Ashurnasirpal ... More



Album cover by Andy Warhol for The Velvet Underground, 1967.



NEW YORK, NY.- The Velvet Underground Experience, an intriguing new multi-media art and music exhibition spotlighting the iconic band's early NYC roots, opened in New York City on October 10. It is the first global exhibition dedicated to the Velvet Underground and its influence on modern music, fashion, art & popular culture, set against the backdrop of the band's early days collaborating with Andy Warhol in NYC in the 1960s. Co-presented by Bandsintown and Citi, the three-month exhibition is located at 718 Broadway in Greenwich Village, paying homage as well to the neighborhood's deep artistic base. The first leg of the exhibition's global tour originated in Paris in April 2016 at La Philharmonie de Paris, the largest Music & Art museum in Europe who served as originating producer, to great public and critical acclaim, with more than 65,000 visitors attending the exhibition. ... More



Elizabeth Sonia Touloumdjian, 91, holding photographs of her father Sarkis Najarian who was in the 'Legion d'Orient', the unit formed by France in 1916 to fight in areas of present-day Turkey, during an interview with AFP at her house in Nicosia on August 28, 2018. Amir MAKAR / AFP.



PARIS (AFP).- The 1914-18 "War to End All Wars" threw up all manner of fates for millions across a brutalised continent -- from couples torn apart to heroic acts in forgotten battles and even epic quests for long lost family members. In the second of a two-part series, AFP interviews five people about how their treasured mementos preserve the memory of those who fought in World War I, a century after it ended. In a handful of sepia portraits and a letter tucked away in a small box, Elizabeth Sonia Touloumdjian has preserved the memory of how her father crossed continents during one of the Great War's least-known episodes. Holding black-and-white photographs of a dark-haired ... More
Perrotin Paris opens an exhibition of new works by Elmgreen & Dragset
Opening this weekend at Sotheby's NY: Prints & Multiples, featuring the collection of David Teiger
Three large-scale sculptures by Joel Shapiro on view in Kasmin's rooftop sculpture garden


Elmgreen & Dragset, Triple Diving Board, 2018. MDF, PVC, aluminium, stainless steel, 220 x 48 x 32 cm © Elmgreen & Dragset/ADAGP, Paris, 2018. Courtesy: Galerie Perrotin. Photo by: Elmar Vestner.



PARIS.- Perrotin Paris is presenting an exhibition of new works by Elmgreen & Dragset, their first solo show in the city since the duo mounted a one-day installation at the Grand Palais in the fall of 2016. Michael Elmgreen and Ingar Dragset have worked together for more than twenty years, in a wide range of media. They create sculptures and installations that often echo early land art or Minimalist aesthetics, but engage with current, social, and existential issues surrounding both public space and everyday designs, and how these influence our behavior and mindsets. Their new body of sculptural works continues the artists' ongoing interest in how we interact with spatial contexts. In a new large-scale installation on the ground floor of the gallery, the entire room seems to have chewed up an expanse of urban streetscape. The massive, broken shards of asphalt stack up like the wreckage ... More



Prints from the Collection of David Teiger, led by a rare set of Jasper Johns's Cicada from 1981. Estimate $300/500,000. Courtesy Sotheby's.



NEW YORK, NY.- Sotheby's upcoming auction of Prints & Multiples in New York will feature an extensive selection of seminal works spanning the 20th and 21st centuries, with 450+ works being sold across four auction sessions held between 18 and 22 October 2018. Following last week's 'white-glove' auction of fine art from the collection of the late David Teiger at Sotheby's London, the New York sale will open with 21 prints from the personal collection of this visionary collector, patron and museum trustee. Proceeds from the collection will benefit Teiger Foundation – soon to be one of the world's largest and most significant contemporary art foundations – set up to support and promote excellence in contemporary art. The October group is led by Cicada, an extremely rare and complete set of screenprints by Jasper Johns that is estimated to sell for $300/500,000. The Prints & Multiples auction will be on public v ... More



Installation view. Photo: Courtesy of Kasmin Gallery. Photography by Christopher Stach. © 2018 Joel Shapiro / Artists Rights Society (ARS), New York.



NEW YORK, NY.- Kasmin is presenting three large-scale sculptures by Joel Shapiro: the first in an ongoing program of outdoor exhibitions in the gallery's rooftop sculpture garden. Situated on top of its new flagship space at 509 West 27th Street, New York, the sculpture garden can be viewed by The High Line's 6 million visitors per year. It opened on October 10, 2018, with the Shapiro exhibition. Specializing in large-scale sculpture and engaging public art projects around the world, Kasmin is spearheading a new model for publicly sited commercial sculpture with its new rooftop garden, designed to exhibit monumental sculptures. As one of the only purpose-built commercial galleries in Chelsea, Kasmin's new space with its unique sculpture roof signals a new era of curatorial ambition for the gallery. In the early 1970s, when Shapiro began showing his work in New York, he became known for introducing common forms of ... More
80 Years' War. The Birth of the Netherlands
Flashback
On a day like today, Italian painter Alesso Baldovinetti was born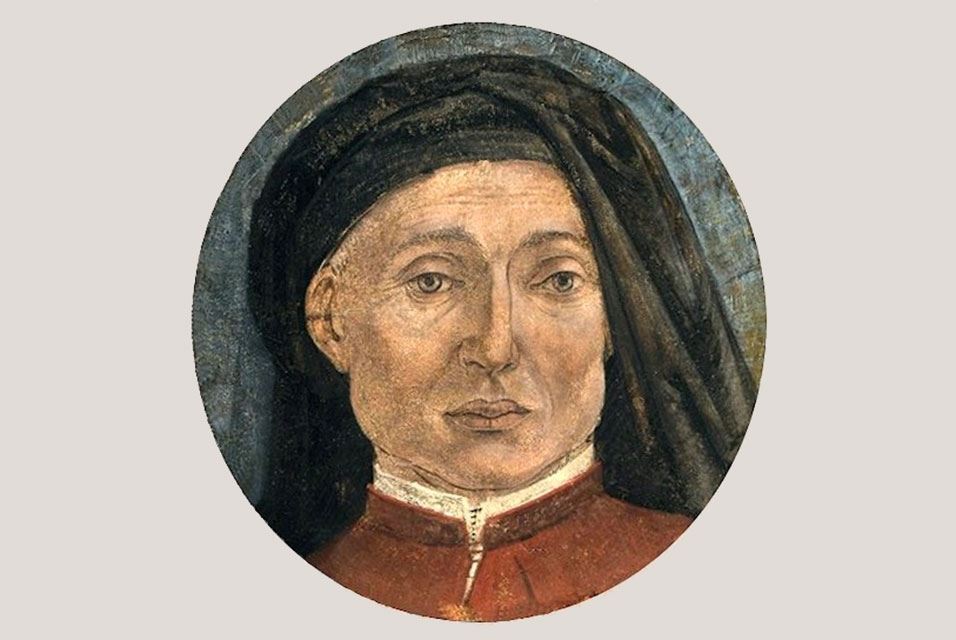 October 14, 1425. Alesso Baldovinetti (14 October 1425 - 29 August 1499) was an Italian early Renaissance painter. He was a follower of the group of scientific realists and naturalists in art which included Andrea del Castagno, Paolo Uccello and Domenico Veneziano. In this image: Alesso Baldovinetti's self-portrait. Fragment of destroyed frescos in Gianfiliazzi chapel (Bergamo, Accademia Carrara)
---

Museums, Exhibits, Artists, Milestones, Digital Art, Architecture, Photography,
Photographers, Special Photos, Special Reports, Featured Stories, Auctions, Art Fairs,
Anecdotes, Art Quiz, Education, Mythology, 3D Images, Last Week,
.
---
Royalville Communications, Inc
produces: