Abbot Hall Art Gallery in Cumbria displays Claude Monet's 'Haystacks: Snow Effect'
The painting, dated 1891, is from a series of work widely regarded as among Monet's best and is loaned from the National Galleries of Scotland, Edinburgh.
KENDAL
.-
A masterpiece by one of the world's most famous painters will go on show at Abbot Hall Art Gallery in Kendal, Cumbria. Claude Monet's Haystacks: Snow Effect, is being displayed at the Gallery in Kendal from Friday 12 January until Saturday 28 April. The painting, dated 1891, is from a series of work widely regarded as among Monet's best and is loaned from the National Galleries of Scotland, Edinburgh. Monet, a founder of French impressionist painting and the most consistent and prolific practitioner of the movement's philosophy produced over 30 haystacks paintings. He worked at different times of day and season to capture the affect changing light had on their form. The arrival of the Monet painting cements
Abbot Hall
's commitment to show work by iconic international artists and comes at a time of growth for the Gallery. Lakeland Arts recently ...
More
The Best Photos of the Day
The Cranberries singer Dolores O'Riordan dies aged 46
Museum Rietberg Zurich showing comprehensive exhibition on the Nasca culture
Exhibition takes a close look at how eighteenth-century pastels were made


This file photo taken on January 18, 2012 shows Dolores O'Riordan, singer of the Irish rock band The Cranberries, posing on January 18, 2012 in Paris. Joël SAGET / AFP.



LONDON (AFP).- Irish singer-songwriter Dolores O'Riordan, frontwoman of the multi-million selling rock band The Cranberries, died suddenly in London on Monday, aged 46, her publicist said. "Irish and international singer Dolores O'Riordan has died suddenly in London today, family members are devastated," Lindsey Holmes said in a statement. "The lead singer...was in London for a short recording session," she added. "No further details are available at this time." A spokeswoman for London's Metropolitan police said officers are "dealing with a sudden death" after they were called to a hotel in Park Lane, in the centre of the British capital, at 0905 GMT this morning. She did not confirm the identity of the person found. "A woman in her mid-40s was pronounced dead at the scene," the spokeswoman said. "At this early stage it is being treated as ... More



Two-spouted bottle with bail handle featuring a squid. Clay, modelled and painted, fired; Middle Nazca (Style Phase Nazca 4) AD 300–450; Private collection, Lima© Daniel Giannoni.



ZURICH.- Probably the most comprehensive exhibition on the fascinating as well as mysterious Nasca culture ever to be seen in Europe is on view at the Museum Rietberg Zurich. Nasca. Peru – Searching for Traces in the Desert whisks visitors away to the southern part of the Andes where the Nasca culture (ca. ca. 200 BC – AD 650) once flourished. On the desert ground of this region in Peru the Nasca left behind one of the greatest puzzles ever encountered by archaeologists: large geoglyphs, better known as the Nasca Lines. Recent archaeological findings tell of a lost culture full of mysterious rituals, but also of a vibrant tradition of art and music and of a life under extreme conditions in one the most arid places on earth. On show are ceramic vessels bearing enigmatic drawings, gold masks, musical instruments, and colourful textiles. All the exhibits are from Peruvian ... More



Jean-Baptiste Perronneau, Portrait of Théophile Van Robais, 1770. Pastel, 74.3 × 57.5 cm. 2005.52. The J. Paul Getty Museum, Los Angeles.



LOS ANGELES, CA.- In the eighteenth century, paper was made by hand, pulled in sheets that were no wider than the span of a paper maker's arms. Artists who worked in pastels at first worked on a small scale, but as they began to compete with oil painters for major portrait commissions, some started piecing together multiple sheets of paper to create large, continuous surfaces for their work. Pastels in Pieces, on view January 16–July 29, 2018 at the J. Paul Getty Museum at the Getty Center, explores the practice and purpose of "piecing," inviting visitors to take a closer look at how eighteenth-century pastels were made. "The piecing together of multiple sheets of paper began as a way to enlarge the artist's canvas and to accommodate ever grander compositions," says Timothy Potts, director of the J. Paul Getty Museum. "The Museum owns the largest pastel made in the eighteenth century, a portrait ... More
JR launches Lazinc, a new gallery space in Mayfair
Sam Hines appointed Worldwide Head of Sotheby's Watch Division
The Walid Juffali Collection to be offered by Bonhams onsite at Bishopsgate House, Surrey


Installation Veiw - JR - Giants - Body of Work, Lazinc Sackville Street, 2017. Image courtesy of artist and Lazinc.



LONDON.- This January sees globally renowned artist JR launch a multidisciplinary solo exhibition in a new space, in the heart of Mayfair, set to be the home of Lazinc, formerly Lazarides. Steve Lazarides and Wissam Al Mana, under the new name Lazinc, launched their two-storey gallery space at 29 Sackville Street. The gallery opened its doors with a "behind the scenes" exhibition by widely acclaimed French street artist JR, entitled GIANTS – Body of Work. The Grade II* listed, 4,000 square foot site offers extensive space to present a comprehensive view of JR's installation practice, from studio conception to outdoor execution. The artist showcases never before seen studio plans, drawings and prototypes used to realise his GIANTS series displayed during the 2016 Rio de Janeiro Olympic Games. JR presents ... More



Sam Hines joins the company from Phillips where he was named International Head of Watches in 2015. Courtesy Sotheby's.



NEW YORK, NY.- Sotheby's announced the appointment of Sam Hines as Worldwide Head of its Watch Division. Based in Hong Kong, Sam Hines will lead the international team of Sotheby's Watch specialists and work with them on the company's flagship sales in Geneva, New York, Hong Kong and London, while continuing to advise watch collectors. A leading authority in the field, Sam Hines brings over twenty years of experience in the auction market and the watch industry, joining the company from Phillips where he was named International Head of Watches in 2015. Previously, Sam was International Co-Head of Christie's Watches Department and occupied executive positions in New York and in Asia. "The watch market is one of the most global and fastest growing collecting categories, and we are delighted to welcome ... More



Fernando Botero, Adam and Eve. Photo: Bonhams.



LONDON.- The collection of paintings, antiques, sculptures and objets d'art belonging to the late Walid Juffali, the Saudi billionaire, will be offered by Bonhams on 26 March 2018 in an auction at Bishopsgate House, his estate in Surrey, UK. The sale comprises some 450 lots and is estimated at £4m. The Walid Juffali Collection is drawn from the private family contents of Dr Juffali's three properties in England and has been brought to auction by his children. • Contents from Bishopsgate House, in Egham, Surrey, a mansion in a 42-acre estate, set on the edge of Windsor Great Park, the grounds of which have monumental bronzes by Fernando Botero in and major works by Dale Chihuly, including Float Boat, a sailing fantasia rendered in glass. Inside the 20-bedroom house, complete with a Chinoiserie drawing room, a ballroom and a gilded dining room, is an indoor swimming pool with a vast Chihuly chandelier and light fittings, ... More
Four generations of Lamborghini lead the charge at Bonhams Paris sale
Display offers a unique opportunity to enjoy 18th-century satire on both ceramics and prints
Suzanne Cotter named new Director of Mudam Luxembourg


1968 Lamborghini Miura P400 S Coupé (€1,200,000-1,400,000). Photo: Bonhams.



PARIS.- Four generations of legendary Italian marque, Lamborghini, will be offered at Bonhams Grandes Marques du Monde au Grand Palais Sale in Paris on 8 February. The story of one of the most widely-recognised and sought-after supercar marques is told through four models offered, the 400 GT, the Miura, the Countach, and finally the Diablo VT. It is the stuff of legend that Ferrari-obsessive Ferruccio Lamborghini only turned his hand to creating his own automobiles after receiving short shrift at Maranello; he left in a rage and vowed to build a better machine. The 350GT was upgraded to become the 400GT to challenge Ferrari's larger models – this 1966 Lamborghini 400 GT 2+2 Coupé (€520,000-580,000) is one of the rarest and earliest of Ferruccio's creations, and retains its matching numbers. The next chapter of the Lamborghini story came in the form of one of the era-defining cars built, considered by many ... More



Bonaparte Dethron'd April 1st 1814. Creamware jug, Cambrian Pottery, Swansea, Wales, transfer-printed in black and painted in enamels, 1814. 165 mm. On loan from Private collection.



LONDON.- The British Museum is presenting a selection of objects in a new display called Pots with Attitude: British Satire on Ceramics, 1760-1830. This focussed display offers a unique opportunity to enjoy 18th-century satire on both ceramics and prints. Drawing on the British Museum's rich collection of satirical and political prints as well as loans from a private collection, this exhibition reveals how political blunders and royal scandals were caricatured for the pleasure of Georgian society. This is the first exhibition at the British Museum to focus on the display of printed ceramics alongside their engraved counterpart prints. Ceramics are rarely confrontational, yet when printed with political messages with a powerful agenda, they are transformed. The invention of fine creamware (cream-coloured earthenware) and the development of transfer-printing ... More



Suzanne Cotter has been Director of the Museum of Contemporary Art of the Serralves Foundation in Porto since 2013 © Marion Dessard and Mudam Luxembourg.



LUXEMBOURG.- The Board of Directors of Mudam Luxembourg - Museum of Modern Art Grand Duke Jean, presided over by Her Royal Highness the Hereditary Grand Duchess of Luxembourg, has appointed Suzanne Cotter as General Director of the museum. This appointment follows the perusal of 40 candidatures by a selection committee composed of Frances Morris (Tate Modern, London), Catherine Grenier (Giacometti Foundation, Paris), Dr Hans-Peter Wipplinger (Leopold Museum, Vienna) Philippe Dupont (Vice-Chairman), Paul di Felice (Vice-Chairman), Danièle Wagener and Catherine Decker, with the assistance of Elizabeth Amos, Director of the executive recruitment consultancy for the non-profit sector, Liz Amos Associates. Suzanne Cotter has been Director of the Museum of Contemporary ... More
North Korea orchestra to perform in S. Korea during Winter Games
Major solo exhibition brings together a selection of works by Lisa Milroy
Paula Cooper Gallery opens exhibition of works by Linnea Kniaz and Jackie Winsor


In this file photo a man watches a television news broadcast showing North Korean leader Kim Jong-Un's New Year's speech. JUNG Yeon-Je / AFP.



SEOUL (AFP).- A 140-member North Korean orchestra will perform in South Korea during next month's Winter Olympics, the two sides announced Monday, amid a tentative rapprochement after months of tensions over Pyongyang's nuclear programme. The North agreed last week to send athletes, high-level officials and others to the Winter Olympics in Pyeongchang. The two sides agreed an artistic troupe would be part of the delegation, and four officials from each country met Monday at the border truce village of Panmunjom to thrash out details of that visit. The 140 members of the Samjiyon Orchestra will hold concerts in the capital Seoul and the eastern city of Gangneung close to Pyeongchang which is hosting the Games, said a joint statement after the talks. "The South will ensure the safety and convenience of the North's performing squad to the utmost extent," it said, without ... More



Lisa Milroy, Seamless, 2012. Oil on canvas, 145 × 160 cm (57 × 63 in). Photograph by FXP Photography. © Lisa Milroy, courtesy of the artist.



LONDON.- Parasol unit foundation for contemporary art presents Here & There: Paintings by Lisa Milroy . This major solo exhibition brings together a selection of Milroy's paintings from the past fifteen years, exploring her approaches to still life through making, looking, touch and transformation. The term 'still life' signals the fundamental experience of painting for Milroy, encapsulating her fascination with the relation between stillness and movement, contemplation and action. In the 1980s Milroy's paintings featured everyday objects depicted against an off-white ground, compositionally arranged in a grid or random scatter and characterised by a quick gestural application of paint. In the 1990s, Milroy shifted from fast painting to a slower, more modulated approach. She began to paint objects within settings, which expanded her understanding of still life to embrace landscape, ... More



Jackie Winsor, Solid Lattice, 1970. Wood and nails, 27 x 24 x 22 in. (68.6 x 61 x 55.9 cm) © Jackie Winsor. Courtesy Paula Cooper Gallery, New York.



NEW YORK, NY.- Paula Cooper Gallery is presenting Jackie Winsor, Linnea Kniaz at 529 West 21st Street. This is the second in a series of two-person presentations at Paula Cooper Gallery's 529 West 21st Street space curated by Laura Hunt, the gallery's archivist. In 1979, the Museum of Modern Art presented a mid-career retrospective of Jackie Winsor's work, the first retrospective show of a woman artist in MoMA's department of Painting and Sculpture since 1946. This type of pioneering accomplishment punctuates Winsor's 50-year career. Included in that 1979 MoMA show and exhibited here again, Winsor's early work Solid Lattice (1970) encapsulates Winsor's ability to imbue raw materials such as wood, rope, and nails with willpower and elegance. Lucy Lippard has noted: "Winsor often refers to 'muscle' when she talks about her work, not just the muscle it takes to make the pieces ... More
Mysterious René Magritte painting offered at BRAFA Art Fair 2018
Flashback
On a day like today, American painter Andrew Wyeth died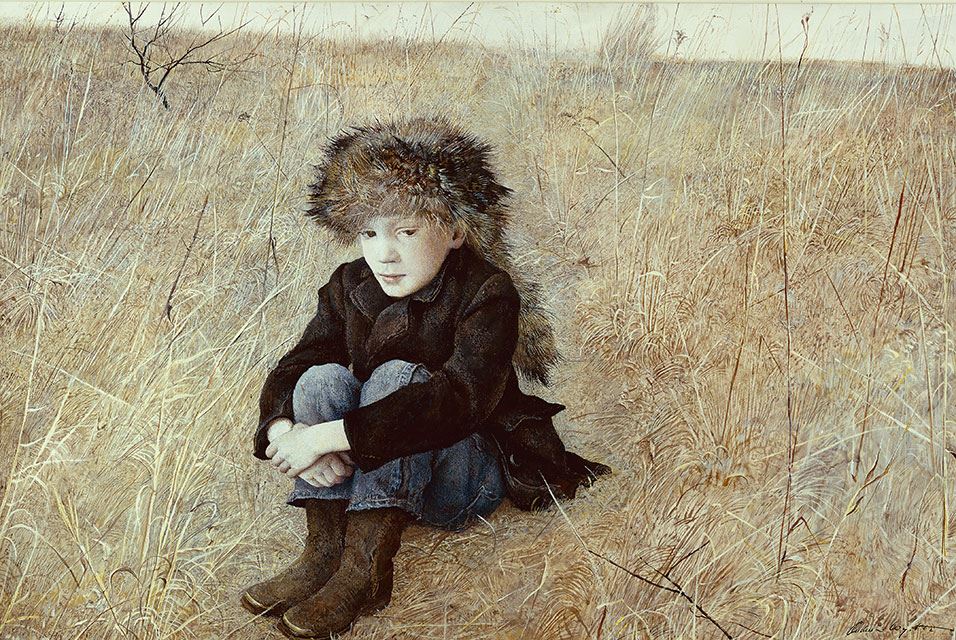 January 16, 2009. Andrew Newell Wyeth (July 12, 1917 - January 16, 2009) was a visual artist, primarily a realist painter, working predominantly in a regionalist style. He was one of the best-known U.S. artists of the middle 20th century. In this image: Andrew Wyeth, Lejanía, 1952 (Faraway). Pincel seco sobre papel. 34,92 x 54,61. The Phyllis and Jaimie Wyeth Collection.
---

Museums, Exhibits, Artists, Milestones, Digital Art, Architecture, Photography,
Photographers, Special Photos, Special Reports, Featured Stories, Auctions, Art Fairs,
Anecdotes, Art Quiz, Education, Mythology, 3D Images, Last Week,
.
---
Royalville Communications, Inc
produces: