Major George Rickey sculpture installed at Penn State
A monumental stainless-steel sculpture completed by George Rickey in 2001, has been installed on the museum's distinctive plaza.
UNIVERSITY PARK, PA
.-
The Palmer Museum of Art
at Penn State announced that a major work by American sculptor George Rickey is catching the eye of visitors to Penn State's University Park campus. Breaking Column III, a monumental stainless-steel sculpture completed by the artist in 2001, has been installed on the museum's distinctive plaza on Curtin Road. On loan from a private collection, this major sculpture by an iconic American artist will be on view through November 2019. One of the most celebrated kinetic sculptors of the twentieth century, Rickey made his first mobile during his service in World War II and turned his full attention to making kinetic sculpture in the late 1940s. His signature stainlesssteel sculptures are comprised of "ordinary shapes," in Rickey's words, that are expertly engineered to respond to air currents and gravitational pull with deliberate, graceful, and unpredictable movements. Just over ...
More
The Best Photos of the Day
Dia acquires 155 sculptural works by Charlotte Posenenske
Statement regarding decision by Italy's Court of Cassation on the legal ownership of the Victorious Youth
Christie's sale led by very rare drawing by Lucas van Leyden


Charlotte Posenenske, Spritzbild, 1964–65. Collection Michalke, Germany. © Estate of Charlotte Posenenske. Photo: Arne Schultz, Munich, Germany, courtesy the Estate of Charlotte Posenenske, Mehdi Chouakri, Berlin and Peter Freeman, New York.



BEACON, NY.- The first North American retrospective dedicated to German artist Charlotte Posenenske (1930–1985) will premiere at Dia:Beacon in Beacon, New York, this spring. Marking the most comprehensive exploration of the artist's work since her death, Charlotte Posenenske: Work in Progress will highlight the entirety of Posenenske's intensely productive 12-year practice, before she turned away from making art to study the sociology of labor. Spanning her earliest experiments with mark-making and drawing, to her transitional aluminum wall-reliefs, to her final modular sculptural projects, the exhibition will include both the original prototypes for her sculptures as well as more than 150 newly fabricated elements. These works will be presented at Dia:Beacon in site-specific displays from March 8 to September 9, 2019. In conjunction with the exhibition, Dia announced the ... More



Statue of a Victorious Youth, 300–100 B.C. Bronze with inlaid copper, 151.5 × 70 × 27.9 cm, 64.4108 kg (59 5/8 × 27 9/16 × 11 in., 142 lb.)



LOS ANGELES, CA.- We will continue to defend our legal right to the statue. The law and facts in this case do not warrant restitution to the Italian government of a statue that has been on public display in Los Angeles for nearly a half century. The statue is of ancient Greek origin, was found in international waters in 1964, and was purchased by the Getty Museum in 1977, years after Italy's highest court, the Court of Cassation, concluded in 1968 there was no evidence that the statue belonged to Italy. The court has not offered any written explanation of the grounds for its decision, which is inconsistent with its holding 50 years ago that there was no evidence of Italian ownership. Moreover, the statue is not and has never been part of Italy's cultural heritage. Accidental discovery by Italian citizens does not make the statue an Italian object. Found outside the territory of any modern state, and immersed in the sea for two millennia, the Bronze has only ... More



Lucas van Leyden's very rare drawing, A young man standing selling for £11,483,750/ $14,607,330/ €12,827,349 (estimate: in the region of £1.5 million) Setting a World Record Price for the Artist at Auction.



LONDON.- Having been carefully selected to ensure that nothing intrinsic to the history of Rugby School was sold, the sale Old Masters/New Scholars: Works of Art to Benefit Rugby School on 4 December realised a total of £14,794,125 / $18,818,128 / €16,525,039, far exceeding all pre-sale expectations. 83% sold by lot and 99% sold by value, the sale inspired widespread interest from across the globe with registered bidders from 33 countries across 5 continents. Over 40% of the lots were sold to or directly underbid by online bidders on Christie's LiveTM. The star of the sale, Lucas van Leyden's very rare drawing, A young man standing, sparked fierce competition between three bidders, resulting in it selling for £11,483,750/ $14,607,330/ €12,827,349, far exceeding its pre-sale estimate (in the region of £1.5 million). This result sets not only a new world record price for the artist at auction, it makes van Leyden only the second ... More
Museum-quality works steal the show at Sotheby's Swiss Art/Swiss Made Sale in Zurich
Sierra Leone's 'peace diamond' dividend slow in coming
Belgian king skips re-opening of 'looted' Africa museum


Albert Anker, Fleissig/Appliquée (1886). Estimate: CHF 1,000,000 – 1,500,000 / EUR 875,000 – 1,310,000. Sold for: CHF 1,215,000 (EUR 1,072, 579). Courtesy Sotheby's.



ZURICH.- This evening, Sotheby's Zurich sale of Swiss Art/Swiss Made was led by Fleissig/Appliquée, a masterful and rarely-seen portrait by Albert Anker, which fetched CHF 1,215,000 (EUR 1,072,579). Further highlights this evening included a delightful early landscape of Lake Thun by Ferdinand Hodler, Thunersee mit Blüemlisalp und Niesen, which found a buyer for CHF 795,000 (EUR 701,811) and a monumental portrait by Ernest Biéler, Portraits à Grindelwald, which sold for CHF 471,000 (EUR 415,790). Following record attendance at our pre-sale exhibitions, tonight's auction achieved a total of CHF 4,980,213 (EUR 4,396,439), bringing the annual total for Sotheby's Swiss Art sales to CHF 7,404,713 (EUR 6,504,279). Speaking after the auction, Stéphanie Schleining and Urs Lanter, Co-Heads of Sotheby's Swiss Art Department, commented, "This masterful ... More



In this file photo taken on December 4, 2017 the Peace Diamond is on display at the Rapaport Group in midtown New York. TIMOTHY A. CLARY / AFP.



KORYARDU (AFP).- They were promised a "peace diamond" dividend in the Sierra Leone village of Koryardu after the stone they handed over for auction fetched $6.5 million (5.7 million euros) a year ago. But they are still waiting to see the benefits. "Absolutely nothing happened," said Pastor Emmanuel Momoh, who manages the team of diggers that found the 709-carat diamond in March 2017, in eastern Kono province. The idea of handing the diamond over to the government to sell was that it would generate money to be ploughed back into developing the local community. But at the village school, Peter Baimoi, who helps teach its about 190 pupils, said there was no sign of the promised government funding. With no qualified teachers in the village, parents rely on their children being taught by some of the better-educated local people who can read and write, like Bamoi who finished high school. They do it voluntarily, the pastor said. ... More



King Philippe of Belgium (2ndR) attends a ceremony held for the 140th anniversary of the Brussels main synagogue (Grande synagogue de Bruxelles / Grote synagoge van Brussel) in Brussels on November 26, 2018. LAURIE DIEFFEMBACQ / Belga / AFP.



BRUSSELS (AFP).- The king of the Belgians will not attend the re-opening of his country's notorious Africa Museum, for fear of being dragged into the debate about the continent's looted treasures. The museum is to re-open at the weekend after a five-year refurbishment meant to better explain Belgium's brutal colonial-era exploitation of the royal territory in what is now the Democratic Republic of Congo. Previously, the former Royal Museum for Central Africa had a reputation for outdated exhibits that minimised or even glorified the crimes of Belgian colonists against Africans under their rule. Curators now hope that the museum will put the art and artefacts of the era in proper context, but the re-opening coincides with a new debate on whether Belgium should hold the pieces at all. And King Philippe, whose royal ancestor Leopold II founded ... More
Simon Lee Gallery opens an exhibition of new photography by Josephine Pryde
Jeff Koons's unique Mirror-Polished Smooth Egg to be highlighted at Art Basel Miami Beach
Exhibition of paintings is a visual history of one of the most important artists to emerge from post-war Germany


Josephine Pryde, Cup and Ring 6, 2018. Two digital C-prints mounted on dibond with frame, 153.6 x 215.7 x 6 cm (60 1/2 x 84 7/8 x 2 3/8 in.) Edition 1 of 2 + 1 AP. © the artist, Courtesy Simon Lee Gallery London.



LONDON.- Simon Lee Gallery is presenting an exhibition of new photography, together with some models in 3D, by Josephine Pryde, her second to be held in the London gallery. Carvings were made into the surfaces of rocks, across what was later Europe. She held a tampon between her finger and thumb, and an image popped into her head, of the chemist in Chancery Lane where she had bought the box of tampons. If you take a course in Photoshop, the teacher may talk to you about Photoshop and memory. It could be the very first thing the teacher says. It's thrilling. Photoshop remembers the pixels and where they are. It's a map. The first verb the teacher uses to introduce Photoshop is 'to remember'. Not the verb 'to depict', 'to demonstrate', 'to represent', nor 'to show'. I think of my body ... More



Jeff Koons, Smooth Egg with Bow (Magenta/Orange), 1994-2009.



NEW YORK, NY.- Edward Tyler Nahem Fine Art will present an exhibition of sculpture and paintings by artists Jeff Koons, Andy Warhol, Tom Wesselmann, Ed Ruscha among others at Art Basel Miami Beach 2018. Koons's Smooth Egg with Bow (Magenta/Orange), 1994-2009, Warhol's Bald Eagle, 1983 and Wesselmann's Sunset Nude with Wesselmann, 2003, are some of the works exhibited from December 6th to December 9th in the gallery's stand, E-4. "We are very excited about our stand at this year's Art Basel Miami Beach," said Edward Tyler Nahem, long time exhibitor and founder of the eponymous gallery. "We expect that the Koons Egg will be quite the head-turner for the public, as will the other works we plan to show." Standing at nearly seven feet high, Jeff Koons's Smooth Egg with Bow (Magenta/Orange), 1994-2009 is an exceptional sculpture from the artist's most lauded body of work, ... More



Jörg Immendorff, So...Besuch bei einem Künstler (So…Visit to an Artist), 1976. Acrylic on canvas, 78 3/4 x 59 inches, 200 x 150 cm. Photo courtesy Michael Werner Gallery, New York and London.



LONDON.- Michael Werner Gallery, London is presenting Jörg Immendorff: Questions from a Painter Who Reads, opening. This exhibition of paintings is a visual history of one of the most important artists to emerge from post-war Germany and spans four decades of the artist's career from 1974 to 2007. Jörg Immendorff (1945-2007) is known for an oeuvre that challenged both artistic and political establishments, all with a particular focus on the role of the artist in contemporary society and within history at large. The title of this exhibition, taken from a 1980 painting, recalls a 1935 poem by Bertolt Brecht called "Questions from a Worker Who Reads," which asks if ancient victories were the result of a single hero or a legion of unacknowledged supporters. The exhibition begins ... More
White Cube opens an exhibition of new works by Indonesian artist Christine Ay Tjoe
Mitchell-Innes & Nash now represents Annette Lemieux
Exhibition presents positions of the Neoavantgarde from the mumok Collection


Christine Ay Tjoe in the studio 2018 © Christine Ay Tjoe. Photo © Jon Lowe. Courtesy White Cube.



LONDON.- White Cube is presenting an exhibition of new works by Indonesian artist Christine Ay Tjoe at Bermondsey. Titled 'Black, kcalB, Black, kcalB', it explores the idea of darkness and features large-scale oil paintings and drawings on aluminium plates. 'The reality is that darkness is part of human nature' Ay Tjoe has said. 'If we create a distance between it and the self, treat it as something that can be calmed, made docile, be reshaped, freed yet part of ourselves, it is not just the enemy but an eternal life partner.' Ay Tjoe's gestural practice, which includes painting, sculpture and installation as well as a number of printmaking mediums such as intaglio, woodcut and silkscreen, is rooted in an exploration of expressive line and the fundamental principles of drawing. In her new series of paintings, she addresses the duality of human existence and the dialogue between our inner ... More



The Human Comedy, 1987. Oil and graphite on canvas, 96 by 78 in. 243.8 by 198.1 cm. © Annette Lemieux. Courtesy of the artist and Mitchell-Innes & Nash, New York.



NEW YORK, NY.- Mitchell-Innes & Nash announced the representation of Annette Lemieux (b. 1957). Part of a generation of artists who developed their practices around what was then called "Picture Theory," Lemieux has gone on to become a trailblazer in the field of post-Conceptualist painting, assemblage and photomontage, drawing influences from Minimalism and Pop art and often employing as her source material media images from the 20th century. Lemieux's deft use of readymade imagery in her practice is always tied to contemporary life, its humanity and its indignations, its politics and its ever-changing visual codes, and thus her work is always open to new meaning, on both a personal and collective level. In his catalogue essay accompanying the artist's 2010 ... More



Leon Polk Smith, Correspondence Orange Blue, 1965. Oil on canvas, 230 x 174 cm. mumok Museum moderner Kunst Stiftung Ludwig Wien. On loan from the Austrian Ludwig Foundation, since 1981. Photo: mumok © Bildrecht Wien, 2018.



VIENNA.- The art of the 1960s and 1970s was characterized by radical breaks with tradition and redefinitions of form and artistic media. The emergence of media-based art and the link between the theory and practice of art also led to innovative forms of painting. The general tendency to abandon figurative or gestural-abstract forms of representation went hand in hand with focused, formal and configured work structures determined by an expanded and reflective understanding of painting. Technique and Color as the Themes of Painting Beginning in the 1950s, the liberation of painting from figurative and narrative depictions and from expressive signaturing or surreal magic was accompanied by a reflective process on ... More
Hidden Treasures: Paintings From a Radical Era in European Art History
Flashback
On a day like today, photojournalist Alfred Eisenstaedt was born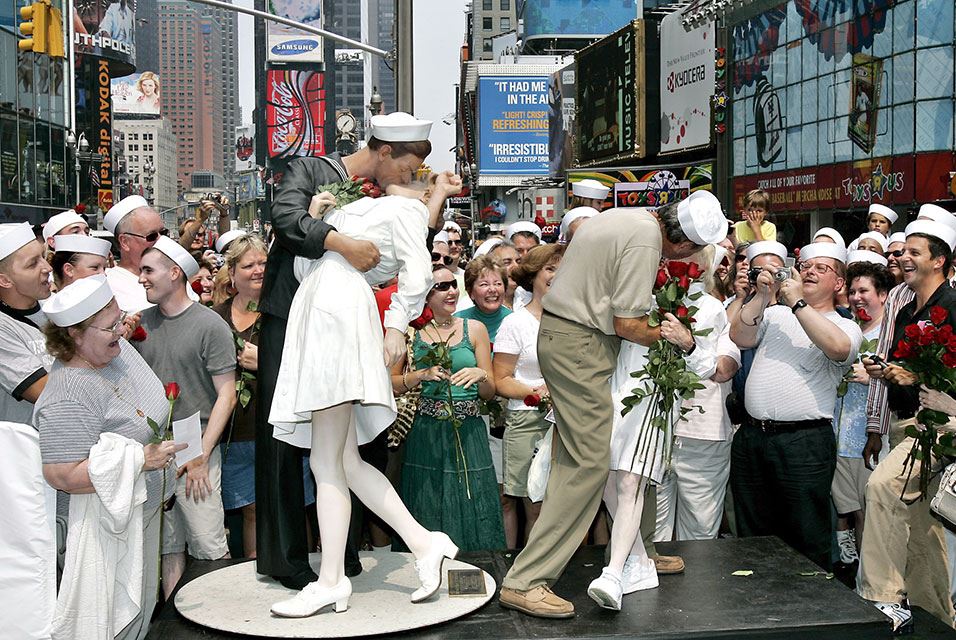 December 06, 1898. Alfred Eisenstaedt (December 6, 1898 - August 24, 1995) was a German-American photographer and photojournalist. He is renowned for his candid photographs, frequently made using various models of a 35mm Leica rangefinder camera. He is best known for his photograph capturing the celebration of V-J Day. In this image: 86 year-old Edith Shain and 78 year-0ld Carl Muscarello recreate the Famous 'Kiss Picture', Sunday 14 August 2005. The original couple in the iconic image, Edith Shain the nurse and Carl Muscarello the sailor was taken by Alfred Eisenstaedt 60 years ago do the day in Times Square on Victory Japan Day in 1945 to signify the end of World War Two. The Artist Seward Johnson created a life-sized sculpture of the kiss Unconditional Surrender for the event.
---

Museums, Exhibits, Artists, Milestones, Digital Art, Architecture, Photography,
Photographers, Special Photos, Special Reports, Featured Stories, Auctions, Art Fairs,
Anecdotes, Art Quiz, Education, Mythology, 3D Images, Last Week,
.
---
Royalville Communications, Inc
produces: