Kröller-Müller Museum sheds new light on the work of French artist Odilon Redon
Exhibition view Odilon Redon. La littérature et la musique. Photo: Marjon Gemmeke. © Kröller-Müller Museum.
OTTERLO
.-
In Odilon Redon. La littérature et la musique, the
Kröller-Müller Museum
sheds new light on the oeuvre of French artist Odilon Redon (Bordeaux 1840-Paris 1916). With a large number of paintings, pastels, drawings and lithographs, the exhibition shows the important role that literature and music play in Redon's life and work. Redon is a painter, pastelist, draughtsman and lithographer, but he also learns to play violin and piano and acquires a love of literature at an early age. He has close friendships with writers and composers, is himself active as a writer and gives music recitals. For him, music, literary themes and visual art are inextricably linked. In his own time, he was already highly praised for his entirely unique way of combining these different expressive powers in his work. More than anyone, Redon thus embodies the popular late nineteenth-century concept of synaesthesia: the idea that a more intense experience c ...
More
The Best Photos of the Day
American Storybook: The Speed Art Museum presents the Imaginary Travelogue of Thomas Chambers
Gianguan's fall sale strong on paintings and ceramics plus Chinese seals and Zisha teapots
Crowd-funded headstone marks lost grave of poet William Blake


Thomas Chambers, Rockaway Beach, New York, with the Wreck of the Ship "Bristol", ca. 1837–1840 (detail). Oil on canvas, 21 3/4 x 30 3/8 in. (55.2 x 77.2 cm) Morton and Marie Bradley Memorial Collection. Eskenazi Museum of Art, Indiana University, 98.44.



LOUISVILLE, KY.- Join the Speed Art Museum in the adventure of a lifetime, with American Storybook: The Imaginary Travelogue of Thomas Chambers. Chambers (1808 – 1869), was the first artist working in America to make landscape painting accessible to a wider audience and broader socioeconomic class. During the mid-19th century, as the country faced the realities of urbanization, industrialization, and westward expansion, demand for paintings depicting the wonder of the untouched American landscape – and an interest the larger world - grew exponentially. Chambers was an entrepreneur at heart; over the course of his career, he set up studios in the major American cities of New York City, Boston, Albany, and Baltimore, catering to a new generation of ... More



Qing, Dark-Glazed Famille-Rose Gilt Painted Zisha Teapot with Twin-Dragons amidst Floral Scrolls.



NEW YORK, NY.- When Gianguan Auctions, New York's premier independent Chinese Auction Gallery, opens its doors for the 15th annual running of its fall sale on September 8, international connoisseurs will find strong collections of Chinese paintings, porcelains and archaic bronzes as well as small collectibles such as stone seals, carved jades and snuff bottles. As is traditional, we begin with the headliners–the stars of design and craftsmanship whose values set the tone for more reachable items in each category. At first blush is a pair of Warring States ritual Dou that rise 19" inches tall from the backs of ferocious looking Bixie. Making them even more fantastical are Kui dragons that encircle the risers and dare clutch the horn of the stealthy Bixie below. All components are intricately inlaid with silver and gold in geometric patterns and scrolling and set flush with the bronze. Created several hundred years before the ... More



A new tombstone for William Blake lies on his grave at Bunhill Fields Burial Ground in London, on August 12, 2018. Daniel LEAL-OLIVAS / AFP.



LONDON (AFP).- The lost resting place of British poet and artist William Blake was finally marked Sunday with a gravestone, almost 200 years after he died. Despite his influence today, Blake died in obscurity in 1827 and was buried in an unmarked common grave in Bunhill Fields, a London cemetery. Only a plain memorial stone recorded that he was buried nearby, much to the dismay of two devotees who visited, and who decided to find his exact resting place. Luis and Carol Garrido had as their guide the original coordinates of his burial, which were based on a grid of graves but became confused when parts of the cemetery were converted into gardens. After two years of research and some painstaking work with a tape measure, they found it, and the Blake Society -- of which they were members -- began fundraising for a new memorial to mark the spot. The society raised £30,000 ... More
Nobel-winning writer V.S. Naipaul dies aged 85
The Museum of Contemporary Art Australia presents a major survey by bark painter John Mawurndjul
Romanian dressmakers revel in Dior folk coat vogue


This May 03, 1973 file photo shows Nobel prize-winning British author V.S. Naipaul, who has died at the age of 85, his family announced on Saturday, August 11, 2018. STF / LEHTIKUVA / AFP.



LONDON (AFP).- British author V.S. Naipaul, a famously outspoken Nobel laureate who wrote on the traumas of post-colonial change, has died at the age of 85. Naipaul, who was born in Trinidad and the son of an Indian civil servant, was best known for works including "A House for Mr Biswas" and his Man Booker Prize-winning "In A Free State". "He died surrounded by those he loved having lived a life which was full of wonderful creativity and endeavour," his wife Lady Nadira Naipaul said in a statement on Saturday. She described the outspoken author as a "giant in all that he achieved". Vidiadhar Surajprasad Naipaul settled in England and studied English literature at Oxford University on a scholarship. But he spent much of his time travelling and despite becoming a pillar of Britain's cultural establishment, was also a symbol ... More



John Mawurndjul. Photo: Jacquie Manning.



SYDNEY.- The Museum of Contemporary Art Australia is presenting the first major survey of works by one of Australia's leading contemporary artists – master bark painter John Mawurndjul from Friday 6 July until Sunday 23 September. Developed and co- presented by the MCA and Art Gallery of South Australia (AGSA), in association with Maningrida Arts & Culture, this landmark exhibition includes over 160 works, spanning forty years of the artist's practice. John Mawurndjul AM is celebrated for his mastery of rarrk (cross-hatching) and his depiction of djang (sacred sites), a tradition shared by generations of Kuninjku artists. Bark paintings and sculptures drawn from private and public collections across the world tell the stories of Kuninjku culture and the significant locations surrounding the artist's home in central north Arnhem Land. Born in 1952, Mawurndjul lives and works in Milmilngkan in western Arnhem Land and Maning ... More



A woman working at the local museum shows a 100 years-old traditional outfit from the Bihor northwestern region of Romania in Beius, Romania on July 17, 2018. Daniel MIHAILESCU / AFP.



BEIUS (AFP).- They may feel aggrieved at not obtaining an official seal of approval, but traditional Romanian dressmakers are riding a wave of demand for their folk designs after a top fashion house inadvertently showcased their craft. Clothes makers from the northwestern Bihor region were more than a little bemused when they got wind of a 2017 Dior collection. Their jaws notably dropped when they saw an embroidered folk coat which looked strikingly similar to the "cojocel binsenesc" waistcoat their region has been producing for around a century. A Romanian version of the garment, historically worn on important occasions, sells at home and abroad for around 500 euros ($580) -- almost a month's salary in one of the European Union's poorest countries. The Dior coat did not go unnoticed among the wider ... More
Mika Tajima is now represented by Kayne Griffin Corcoran
Ballistic baked goods, belief and botany at new exhibition Human Non Human
Garvey Simon presents Select 3, the third annual exhibition of work by mid-career artists


Installation view of "Mika Tajima" at Kayne Griffin Corcoran, 2016.



LOS ANGELES, CA.- Kayne Griffin Corcoran announced representation of New York based artist Mika Tajima. The gallery will be presenting a selection of new works by Tajima at the West Bund Art Fair in Shanghai, November 2018. The artist's first solo exhibition with the gallery is scheduled for November 2019. Born in Los Angeles in 1975, Tajima earned a BA in Fine Arts and East Asian Studies from Bryn Mawr College and an MFA from Columbia University, School of the Arts. Tajima's work examines the bodily and psychic experience of power in contemporary life. Through a research-based practice, Tajima focuses on how the human body, actions, and emotions are shaped by ortho-architectonic and computational technology. In creating heightened sensorial and material experiences, her installation and objects underline the dynamics of control, performance, and freedom and the agency of being ... More



Ken Thaiday with Jason Christopher, Beizam Triple Hammer Head Shark, 2016. Cast aluminium, stainless steel, aluminium extrusion, steel, Perspex, rubber, electronic components, computer system, audio, 3500 x 2800 x 2800mm. Courtesy of the artists. Photograph: Jason Christopher.



SYDNEY.- Art, science and speculation converge in Human non Human, an exhibition posing the question: what makes us human, and how might humans adapt in the future? Exclusive to the Powerhouse Museum from 7 August – 27 January 2019 and on view as part of the Sydney Science Festival, the exhibition is a riveting exploration of humanity's entanglement with non-human agents. "We're thrilled to unveil Human non Human, two years in the making," said Museum of Applied Arts and Sciences Director of Curatorial, Collections and Exhibitions Peter Denham. "In exploring what it means to be human, the exhibition provides insights on the collective human experience, as intimate as it is vastly universal. The exhibition is a great reflection ... More



Jane Schiowitz, History, 2016, oil on canvas, 22h x 26w in.



NEW YORK, NY.- Garvey Simon is presenting Select 3, the third annual exhibition of work by mid-career artists chosen by director Elizabeth K. Garvey through the gallery's innovative Review Program. This year's artists are: Kathy Cantwell, Kate Doyle, Bob Erickson, Jeanne Heifetz, Eileen Murphy, Tim Nighswander, Steven Paddack, Jane Schiowitz, and Marilyn Turtz. The Review Program was established in order to open a dialogue between artists and galleries, a practice that has long been anathema to gallery orthodoxy. Neither the past practice of artists drowning galleries in heaps of slides, nor today's avalanche of emails, is beneficial to gallery or artist. Garvey believes that artists "need to have a working platform to engage with dealers who otherwise might not see their work." In the first phase of the multi-tiered program, artists must pay a nominal fee for their website to be reviewed. "We want artists to think ... More
Installation at Museu Calouste Gulbenkian takes its starting point from an enigmatic blue ceramic tiling
Exhibition at Blue Projects brings together the work of four Los Angeles based artists and designers
Ottocento Art Gallery to offer an elegant reader painted on canvas by Giovan Battista Crema


Praneet Soi, Third Factory.



LISBON.- An enigmatic blue ceramic tiling, situated upon the façade of the mausoleum of Miran Zain, the mother of the 8th Sultan of Kashmir Zain-Ul-Abedin (1420-1470) was the starting point for this solo installation. Situated on the banks of the river Jhelum in Srinagar, the mausoleum dates to 1430. Its architecture points to the links between Kashmir and central Asia—Miran Zain herself hailed from Turkmenistan. The tile itself, glazed in blue, had sculpted upon it a shape in bas-relief that Soi found difficult to interpret. This tile was replicated at the Bordallo Pinheiro Ceramic Factory, located in Caldas da Rainha. The period of fabrication, starting from the modelling of the tiles to their eventual placement in the kiln, provided Soi with an alibi for observing the workers and the industrial processes employed within. Documenting it allowed the dynamics of the factory to seep into the ensuing video narrative. These ... More



For Energy



LONDON.- Blue Projects announces Slip Covers, an exhibition bringing together the work of four Los Angeles based artists and designers. The works on show include paintings, coats, furniture and a film that explore the potential to create a concentrated experience. The intricacies of individual perception are at the core of the exhibition, offering meditations on the effects of colour and form, and how we take in information. Alex Olson's oil paintings created for this exhibition are small and intimate in scale. They are produced as tools for the viewer, each one made for a different outcome, such as "for focus" or "for energy". Specific combinations of colour and elemental brushstrokes act as sites of contemplation that engage the eye and brain towards these specific ends. Kristin Dickson-Okuda's coats are made from dyed silk organza using natural ingredients known for their medicinal properties. The visitor ... More



Giovan Battista Crema (Ferrara 1883 – Rome 1964), The reader. Oil on canvas cm 58 x 58 signed (GB Crema) lower right. © Ottocento Art Gallery.



ROME.- Among latest acquisitions, Ottocento Art Gallery offers a masterpiece by Ferrara painter Giovan Battista Crema ( 1875 –1948 ) which embodied his high-quality divisionist technique. The effect of the luminous vibration, typical of the divisionist technique, is revealed in this painting, giving the viewer a soft light, coming from the deep source of the intimate. In this highly refined interior, "ideism" reigns, a conception of art as a psychological emanation of the artist, which in the specific case of Crema, is softened by his intent to faithfully bring back the inner reality of the depicted subject. On the other hand, the elegant reader seems immersed in a timeless fluid, in a suspended dimension, her enigmatic and absorbed figure evokes a symbolist sensibility. The delicacy of the pose, the naturalness of the description, the face inclined ... More
The Grandmaster of Kung Fu Films: Lau Kar-leung | HOW TO SEE Martial Arts Films
Flashback
On a day like today, French painter Eugène Delacroix died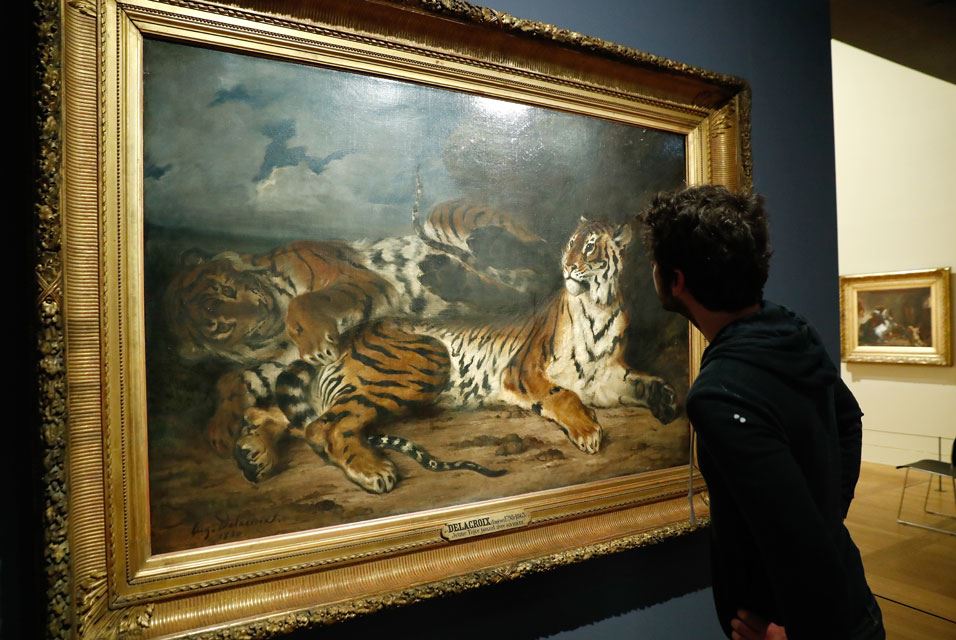 August 13, 1863. Ferdinand Victor Eugène Delacroix (26 April 1798 - 13 August 1863) was a French Romantic artist regarded from the outset of his career as the leader of the French Romantic school. In this image: A man looks at the painting "Jeune tigre jouant avec sa mere" during a press visit of the exhibition "Delacroix (1798-1863)" at the Louvre Museum in Paris on March 27, 2018. The exhibition on French artist Eugene Delacroix will run from March 29 to July 23. PATRICK KOVARIK / AFP.
---

Museums, Exhibits, Artists, Milestones, Digital Art, Architecture, Photography,
Photographers, Special Photos, Special Reports, Featured Stories, Auctions, Art Fairs,
Anecdotes, Art Quiz, Education, Mythology, 3D Images, Last Week,
.
---
Royalville Communications, Inc
produces: