Artist Bosco Sodi opens exhibition at the National Museum of Art in Mexico City
The works of art intend to highlight through 'dialogues' the formal qualities ranging from texture and color to the materials and customs that comprise the Munal's permanent collection which is conformed of pieces from the vice-royal period to some from the 20th Century and Sodi's use of matter, materials and color that are site specific for their relationship to the pieces they interchange with.
MEXICO CITY
.-
This past June 30th 21 works of art produced by the prominent contemporary artist Bosco Sodi (Mexico City, 1970) were presented in the exhibition "Through the Centuries of Centuries" at the
National Museum of Art
(Munal). The event, which was organized through the support of the National Institute of Fine Arts in synthesis with the Secretariat of Culture, will continue through November 5th, 2017 on the first and second floors. The works of art intend to highlight through 'dialogues' the formal qualities ranging from texture and color to the materials and customs that comprise the Munal's permanent collection which is conformed of pieces from the vice-royal period to some from the 20th Century and Sodi's use of matter, materials and color that are site specific for their relationship to the pieces they interchange with. ...
More
The Best Photos of the Day
Paddle8 announces sale of never-before-seen images in 'Scene: Warhol by Makos'
Britain celebrates literary icon Jane Austen on bicentenary of her death
Exhibition at Haus der Kunst focuses on two pivotal exhibitions held in 1937


Andy Warhol Kissing John Lennon, Digital pigment print, 1978. Est: $2,000-$2,800.



NEW YORK, NY.- Paddle8 announces Scene:Warhol By Makos a dedicated sale of rare and never-before-offered photographs by photographer Christopher Makos. Makos was part of Andy Warhol's inner circle throughout the 1970s and 80s, capturing many of the iconic images of Andy's celebrated social scene as well as of Andy himself. The sale includes 18 photographs, each a new edition of 10, offered in a buy-now format on Paddle8, July 18-25. "Downtown New York in the 70s and 80s wa s dangerous and everything mixed together, fashion, art, music, we were all part of Andy's scene," says Makos. "It was all very intimate, and being a photographer is a little like being a psychotherapist, reading people and reflecting back their self-image." Makos and Warhol became close friends in the mid-1970s, bonding over their shared love of the new point-and-shoot cameras of the era. Over the next decade, they traveled ... More



Jane Austen by James Andrews, watercolour, 1869. © Private collection, courtesy of the 19th Century Rare Book and Photograph Shop, Stevenson, Maryland.



WINCHESTER (AFP).- Two hundred years after Jane Austen's death, Britain is celebrating one of its best-loved authors, who combined romance with biting social commentary that still speaks to fans around the world. The author of classic novels "Pride and Prejudice", "Emma" and "Sense and Sensibility" had only just become known when she died on July 18, 1817, aged 41. But her six novels, dissecting the lives of 19th century rural aristocracy, have since sold millions of copies, led to film adaptations and even spawned a zombie spin-off. She has inspired countless other authors, from Virginia Woolf, who praised her "genius", to Helen Fielding of the best-selling "Bridget Jones" series. Next week the Bank of England will issue a new £10 note bearing Austen's image, during this year of special events including walks through her native Hampshire in southern England and exhibitions ... More



"Große Deutsche Kunstausstellung", München, 1937. Stadtarchiv München, DE-1992-FS-NS-00456.



MUNICH.- On 18 July, the Archive Gallery in Haus der Kunst will open a new presentation, "Munich, Summer 1937." The exhibition which will be on view through 4 February, 2018, will focus on two pivotal exhibitions "Große Deutsche Kunstaustellung" and "Entartete Kunst" which were on view in Munich that summer. In 1937, with the two exhibitions the National Socialists presented their cultural-political program that opposed the art they favoured and promoted and one which they denounced. With "Grosse Deutsche Kunstausstellung" (Great German Art Exhibition) in the Haus der Deutschen Kunst and, "Entartete Kunst" (Degenerate Art) in the Hofgarten Gallery - within walking distance of each other, and opening on 18 and 19 July respectively, the Nazi's counter-program could not be more clear. The exhibition "Entartete Kunst" was organized on short notice. It followed the confiscation of about ... More
First public drawing collection in North America on view at Bowdoin College Museum of Art
Oscar-winning actor Martin Landau dies at 89
Berkshire Museum unveils $60 million reinvention plan


The Barefoot Child, 1897, pastel, by Mary Cassatt American, 1844–1926. Gift of Mrs. Murray S. Danforth, in memory of her husband, Dr. Murray S. Danforth, Class of 1901. Courtesy of Bowdoin College Museum of Art.



BRUNSWICK, ME.- The Bowdoin College Museum of Art is presenting the first-ever survey of the museum's extensive collection of drawings, the oldest public collection of works on paper on the continent, illuminating the evolving and foundational role of drawing within artistic practice. Entitled Why Draw? 500 Years of Drawing and Watercolors at Bowdoin College, the exhibition is on view through September 3, 2017, and includes more than 150 works by over 100 American and European artists across cultures, genres and time periods, such as Peter Paul Rubens, Winslow Homer, Henri Matisse, Eva Hesse, and Roy Lichtenstein, among many others. Why Draw? will be accompanied by a fully-illustrated catalogue that features original texts from renowned scholars and contemporary artists, all considering what compels ... More



This file photo taken on March 27, 1995 shows US actor Martin Landau kissing the Oscar he received for Best Supporting Role at the 67th annual Academy Awards in Los Angeles. JEFF HAYNES / AFP.



LOS ANGELES (AFP).- Veteran actor Martin Landau, whose versatile screen career stretched from the 1960s TV series "Mission: Impossible" to his Oscar-winning turn as Bela Lugosi in "Ed Wood," has died at 89, his publicist said Sunday. Brooklyn-born Landau died Saturday of unexpected complications during a hospital stay in Los Angeles, according to a statement issued by publicist Dick Guttman. "We are overcome with sadness to report the death of iconic actor Martin Landau," said the statement. "He had just celebrated his 89th birthday." Screenwriter Joss Whedon said Landau's turn as philandering eye doctor and brother of Jerry Orbach in Woody Allen's 1989 "Crimes and Misdemeanors" was "perfect."
"RIP Martin Landau," he added on Twitter. Landau got his start on Broadway in the 1950s, before a 1959 film debut in Alfred ... More



Berkshire Museum Facade. Courtesy the Berkshire Museum.



PITTSFIELD, MASS.- On Wednesday, July 12, 2017, the Berkshire Museum Board of Trustees and Executive Director Van Shields announced the results of nearly two years of research and planning – the creation of an exciting new interdisciplinary Museum, where connections among science, history, and the arts are explored to inspire curiosity and wonder in audiences of all ages. The announcement was made at 3:30 p.m. during an hour-long gathering at the Museum that featured an introduction by Berkshire Museum Board of Trustees president Elizabeth "Buzz" McGraw, a detailed presentation of the Master Plan process and the concepts and designs for the new Museum by Shields, and closing remarks by John L. Bissell, president and CEO of Greylock Federal Credit Union. Earlier in the day, the Board of Trustees met and voted unanimously to approve the plans for the new Museum as well as the plans for funding the transformation, marking the end of t ... More
Beetles + Huxley exhibits photographs by pioneering early photographer Eadweard Muybridge
Bertoia Auctions million-dollar Spring 2017 auction led by $51,000 mechanical bank
Works by Van Gogh and Monet headline Woodshed Art Auctions' July 26th sale


Animal Locomotion: Plate 617 (Nude Man Riding Horse), 1887' (C) Eadweard Muybridge. Image courtesy of Beetles+Huxley.



LONDON.- An exhibition of photographs by pioneering early photographer, Eadweard Muybridge will open at Beetles + Huxley tomorrow. The exhibition will showcase 65 collotypes prints made by the artist in 1887, from his influential series Animal Locomotion, which features images of animals and people captured in mid-movement. Muybridge made his most enduring work in the project Animal Locomotion between 1884 and 1887 for the University of Pennsylvania, Philadelphia. Each plate in the series shows the same subject in sequential phases of one action. Muybridge recorded varied forms of movement in a wide range of animals, mostly taken at Philadelphia zoo, from pigeons in flight to the subtleties of gait found in sloths, camels and capybaras. Muybridge also documented human subjects walking, running and descending staircases and engaging in boxing, fencing, weight lifting and wrestling. The works in this exhibition will collectively demon ... More



J & E Stevens cast-iron Germania Exchange mechanical bank with painted-lead goat figure, circa 1880s, $51,000. Images courtesy Bertoia Auctions.



VINELAND, NJ.- Collectors started planning their bidding strategies weeks ahead of Bertoia's million-dollar 2017 Spring Auction, held June 2-3 at the family-owned company's sleek New Jersey gallery. Extra time was needed, some said, because of the auction's large and exceptionally fine array of toys, banks, dolls and doorstops from some of the best collections to reach the marketplace in years. Among the choice offerings were a Swiss family's multigenerational collection of hand-painted German tin toys, the final installment of Jay Schoedinger's pristine pressed-steel toys, and antique teddy bears from the highly regarded Catherine McKinney teddy bear collection. As if that were not enough, the sale also included several toys with provenance from the legendary Donald Kaufman collection, which was originally auctioned by Bertoia's in 2009 and 2010. Reaching a $1.05-million total, the nearly 1,300-lot sale left ... More



Tempera and gouache on paper attributed to Vincent Van Gogh (1853-1890), titled Morning, Going to Work (est. $40,000-$50,000), one of five Van Goghs in the sale.



FRANKLIN, MASS.- A tempera on paper painting attributed to Claude Monet (1840-1926), titled Study for Gare Saint-Lazare, and a tempera and gouache on paper attributed to Vincent Van Gogh (1853-1890), titled Morning, Going to Work, are expected star lots in Woodshed Art Auctions' next Prestige Collection sale, a 65-lot internet-only fine art auction ending July 26th. With a pre-sale estimate of $100,000-$160,000, the Monet is the auction's expected top lot. It is signed verso and marked "Gallery Simon, Paris," stamped and with a pencil-written reference number. The painting is possibly a study made on location, for one of the paintings in his famous 1877 series of the Gare Saint-Lazare train station. The work is 14 ½ inches by 18 inches, framed. The Van Gogh, one of five works in the auction attributed to the Dutch master, is signed by the artist and is possibly a study for the 1890 finished painting ... More
Van Doren Waxter exhibits small-scale, optical drawings by Cameron Martin
Spanish architect Rafael Moneo to receive the first Soane Medal for contribution to architecture
The Museum of Contemporary Art Chicago opens first-ever museum exhibition of Amanda Williams


Cameron Martin, Untitled, 2016. Permanent marker on paper, 4 1/2 x 3 1/2 inches. Photo: Courtesy Van Doren Waxter.



NEW YORK, NY.- Van Doren Waxter is presenting Cameron Martin: Reticulations, an exhibition debuting contemporary artist Cameron Martin's new body of small-scale, optical drawings. On view through August 25, 2017, Reticulations is the first solo show of Martin's work in New York in six years. Accompanying the show is a fully illustrated catalogue with an essay by Dan Nadel. The drawings in Martin's Reticulations were made over a period of three years using permanent marker on paper, representing a radical departure from the artist's 15-year practice of large-format landscape-based painting. Deviating from the issues of representation foregrounded in his dark gray and black photo-based paintings of the mid to late 2000s and the illusory, nearly white-on-white work from his subsequent Bracket series, the lush, saturated colors and purely abstract nature ... More



Rafael Moneo. Photo: Massimiliano Polles.



LONDON.- Sir John Soane's Museum announces the Soane Annual Lecture – a new signature public event that recognises architects, artists, writers and others whose work has broadened and enriched understandings of architecture and the built environment. The Soane Annual Lecture will be held at the Royal Institution, Albemarle Street, in the auditorium where Soane himself lectured, and will be the headline event in the Museum's new programme of talks beginning in September. The inaugural Soane Annual Lecture will be delivered by the distinguished Spanish architect Rafael Moneo, who has devoted his career to teaching, writing and practice. Moneo's career has embodied the idea of architecture as something that resides not just in the structure and the materials of a building, but in time and place, word and image, people and community. His most famous works include the National Museum of Art in Merida, the extension to Prado ... More



Amanda Williams, Flamin' Red Hots from Color(ed) Theory Suite, 2014–16 (detail). Courtesy of the artist/ McCormick Gallery.



CHICAGO, IL.- The Museum of Contemporary Art Chicago presents the first-ever museum exhibition of breakout Chicago artist Amanda Williams, featuring a new addition to her highly acclaimed project, Color(ed) Theory, which debuted at the first Chicago Architecture Biennial. The bright, monochromatic houses painted as part of Color(ed) Theory bring attention to the overwhelming number of vacancies on Chicago's South Side, reflecting Williams' perspective that architecture serves as a microcosm for larger social issues. Together with new works such as A Dream or Substance, a Beamer, a Necklace or Freedom? -- where Williams invited Englewood-based collaborators to gild a room in imitation gold leaf in the same proportion of a Chicago lot, and then sealed off the room with just a small gap for viewing the gleaming interior -- Williams' solo ... More
LACMA 2016-17 Year in Review
Flashback
On a day like today, Italian artist Caravaggio died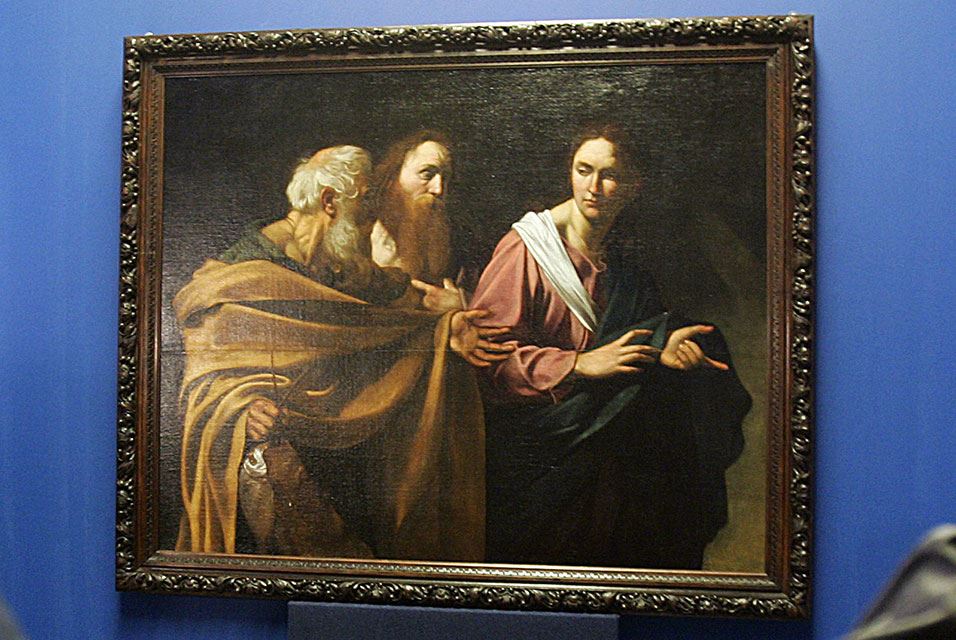 July 18, 1610. Michelangelo Merisi da Caravaggio (29 September 1571 - 18 July 1610) was an Italian artist active in Rome, Naples, Malta, and Sicily between 1593 and 1610. His paintings, which combine a realistic observation of the human state, both physical and emotional, with a dramatic use of lighting, had a formative influence on the Baroque school of painting. In this image: A photographer and a cameraman take a picture of Caravaggio's painting "The calling of Saints Peter and Andrew" in Rome, Monday, Nov. 20, 2006. The painting, owned by Queen Elizabeth II, languished for years in a dusty storeroom before being identified as the work of Italian master Caravaggio, on show at the Gate Termini Art Gallery in Rome.
---

Museums, Exhibits, Artists, Milestones, Digital Art, Architecture, Photography,
Photographers, Special Photos, Special Reports, Featured Stories, Auctions, Art Fairs,
Anecdotes, Art Quiz, Education, Mythology, 3D Images, Last Week,
.
---
Royalville Communications, Inc
produces: