Exhibition focuses on the role of music in the great ancient civilisations
An employee walks through the exhibition "Music: Echo of antiquity", on September 12, 2017 in the Louvre Lens museum. DENIS CHARLET / AFP.
LENS
.-
Let the crotales ring and the trumpets sound!
The Louvre-Lens Museum
presents the very first exhibition dedicated to the role of music in the great ancient civilisations, from the Orient to Rome via Egypt and Greece. Music was an ever-present aspect of ancient cultures, where it served several functions. Whether played by professional musicians or amateurs, it accompanied people through the various stages of their lives, from the cradle to the grave. Just as likely to be heard on the battlefield as it was around the high tables of power, it was also a key part of religious rites and acted as an intermediary between people and their gods. Known by all and played by many, music represents an original yet universal key, with which our visitors can unlock the secrets of civilisations, which vanished long ago, and discover their social, political and religious workings. ...
More
The Best Photos of the Day
British artists to headline Christie's Post-War and Contemporary Art Evening Auction
Exhibition of recent paintings by Richard Prince opens at Galerie Max Hetzler
The Brooklyn Museum opens Arts of Korea, a celebration of its historic collection


Peter Doig, Camp Forestia (detail). Oil on canvas, 67 x 67in. (170 x 170cm.). Painted in 1996. Estimate: £14,000,000-18,000,000. © Christie's Images Limited 2017.



LONDON.- Christie's will present Antony Gormley's A Case for an Angel I (1989, estimate £5,000,000- 7,000,000) as a highlight of Christie's Frieze Week Auctions. Poised to set an auction record for the artist, Antony Gormley's A Case for an Angel I is a magnetic and imposing presence, resplendent with an 8.5metre wingspan. British artists will form a focal point of Christie's Frieze Week Post-War and Contemporary Art Evening Auction on 6 October 2017, which will also feature masterworks by major figures, including Peter Doig, Hurvin Anderson and Jenny Saville. This autumn season will bring together a number of key works that demonstrate the power and far reaching impact that British art had in the 1990s and beyond. These will be on view from 30 September 2017 at Christie's King Street. Katharine Arnold, Head of the Post-War and Contemporary Art Evening Auction: "Antony Gormley has pioneered a poignant typ ... More



Richard Prince, Super Group, 2017. Ink jet, collage, oil stick and acrylic on canvas, 189 x 139,6 x 3,5 cm. Courtesy the artist and Galerie Max Hetzler, Berlin I Paris.



BERLIN.- Galerie Max Hetzler is presenting the exhibition Super Group with recent paintings by Richard Prince in both its Berlin locations Bleibtreustrasse 45 and Goethestrasse 2/3. For his first solo exhibition with Galerie Max Hetzler, Richard Prince presents a selection of works that form part of a series titled Super Group. Referring to a music group which consists of band members that are already successful and famous from previous projects, a supergroup embodies in a pointedly way the iconic and individualistic spirit inherent in Western rock and pop culture. Akin to his ongoing interest in American high and low culture, Prince integrates elements of and references to music culture to the works exhibited. Playing with the sense and texture of collage, painting and printing, these recent canvases include actual or scanned and printed record sleeves, stapled and glued onto the surface as well as photos, ... More



Ewer in the Shape of a Lotus Bud. Korea, Goryeo dynasty, first half 12th century. Carved stoneware with slip decoration under celadon glaze, 9 ⅞ x 9 ½ x 5 ½ in. (25.1 x 24.1 x 14 cm). Brooklyn Museum, Gift of Mrs. Darwin R. James III, 56.138.1a-b. Photo: Brooklyn Museum.



BROOKLYN, NY.- The Brooklyn Museum unveiled Arts of Korea, a celebration of the Museum's historic Korean collection and a preview of the future Arts of Asia and the Middle East galleries. The renovated Arts of Korea gallery is triple its original size and displays more than three times the amount of artworks and objects, many of which are on view for the first time or after multiple decades in storage. Arts of Korea opened September 15, 2017. A pioneer in the collection and display of Korean art, the Brooklyn Museum has amassed one of the country's premier Korean collections and was one of the first museums in the United States to establish a permanent Korean art gallery. Arts of Korea presents 80 works of art, including a stunning selection of ceramics—from early stoneware funerary vessels and inlaid celadons ... More
Regen Projects opens an exhibition curated by gallery artists Abraham Cruzvillegas and Gabriel Kuri
US actor Harry Dean Stanton dead at 91
Chinese pyrotechnics master brings lantern rides to US


Installation view of Primordial Saber Tararear Proverbiales Sílabas Tonificantes Para Sublevar Tecnocracias Pero Seguir Tenazmente Produciendo Sociedades Tántricas – Pedro Salazar Torres (Partido Socialista Trabajador) curated by Abraham Cruzvillegas and Gabriel Kuri, on the occasion of Pacific Standard Time: LA/LA. September 9 - October 28, 2017. Photo: Brian Forrest, Courtesy Regen Projects, Los Angeles.



LOS ANGELES, CA.- Regen Projects is presenting an exhibition curated by gallery artists Abraham Cruzvillegas and Gabriel Kuri concurrent with Pacific Standard Time: Los Angeles / Latin America. The exhibition examines the influence of the Latin American diaspora by bringing together a group of works by international artists living and working beyond the geographical limits of Latin America. Spanning a variety of media from the 1940s to the present, the exhibition features painting, drawing, sculpture, photography, video, performance, and installation. Shown together, the works in the installation represent the result of a dialogue between Cruzvillegas and Kuri, who are also long time friends and colleagues, creating an idealized world of cultural exchange that is defined ... More



This file photo taken on May 10, 2007 shows cast member Harry Dean Stanton arriving for the premiere of "The Wendell Baker Story" at the Writers Guild theater in Beverly Hills, California. Well known character actor Stanton, 91, died of natural causes September 15, 2017 in Los Angeles, California, according to his agent John S. Kelly. ROBYN BECK / AFP.



LOS ANGELES (AFP).- Harry Dean Stanton, whose grizzled looks and acclaimed acting talent earned him a prolific Hollywood career playing mainly supporting roles, died at a Los Angeles hospital on Friday. He was 91 years old. He "passed away from natural causes" at Cedars-Sinai medical center, according to his agent John S Kelly. Despite over 150 television and film appearances spanning six decades, including roles in the "Alien," "The Green Mile," "Pretty in Pink" and "The Avengers," Stanton was not a household name -- though his weathered, drooping face is instantly recognizable. One of his rare leading roles came in the 1984 road movie "Paris, Texas" where his turn as a father suffering from amnesia helped director Wim Wenders win the 1984 Palme D'Or. A close friend of Hollywood luminaries Jack Nicholson, Sean ... More



Pedi-cab operators weave their lantern-decorated cycles in choreographed movements for the grand opening of Chinese artist Cai Guo-Qiang's latest work "Fireflies" in Philadelphia. DOMINICK REUTER / AFP.



PHILADELPHIA, PA.- Cai Guo-Qiang, the Chinese artist known for harnessing fireworks and gunpowder to craft delicate, ephemeral works, brought childhood dreams to life Thursday in a colorful public installation that is one of his largest in the United States. To celebrate the centennial of Philadelphia's grand boulevard, 900 illuminated paper lanterns in an array of bright colors will bob up and down Benjamin Franklin Parkway at night for four weeks on a fleet of 27 pedicabs. The lanterns were crafted by hand in Cai's hometown of Quanzhou into whimsical shapes including space aliens, rocket ships, pandas, emojis, orbs and stars. "I am shedding the conventions of large-scale celebrations to inject childlike playfulness and laughter into the centennial's festivities," Cai said ahead of the project. Following a choreographed performance on Thursday, the free "Fireflies" rides will take place for four hours between Thursday and Sunday until October 8, 2017. The three-wheeled pedicabs themselves ... More
New-York Historical Society showcases activist artworks by Arthur Szyk
White Cube Hong Kong opens a solo exhibition by multimedia artist Wang Gongxin
Former Secretary General of the European Commission Dr Catherine Day appointed Chair of Chester Beatty Library


Arthur Szyk (1894−1951), My People. Samson in the Ghetto (The Battle of the Warsaw Ghetto), 1945. Watercolor, gouache, ink, and graphite on paper. Taube Family Arthur Szyk Collection, Magnes Collection of Jewish Art and Life, University of California, Berkeley, 2017.5.1.129.



NEW YORK, NY.- More than 40 gorgeously rendered and politically incisive artworks by celebrated illustrator and miniaturist Arthur Szyk (1894–1951), made during his years in New York City, are on view at the New-York Historical Society from September 15, 2017 – January 21, 2018 in Arthur Szyk: Soldier in Art. Featuring works on loan from public and private collections throughout the United States―more than half of which come from the Taube Family Arthur Szyk Collection, The Magnes Collection of Jewish Art and Life, University of California, Berkeley―the exhibition shows the Polish-Jewish artist fighting in his watercolors and drawings as a "one-man army" against Hitler and other Nazi leaders, Mussolini, and Hirohito. Szyk's ... More



Wang Gongxin, Rotation, 2017 installation view. Photo: White Cube and Kit Min Lee.



HONG KONG.- White Cube Hong Kong is presenting 'Rotation', a solo exhibition by multimedia artist Wang Gongxin. This is the first presentation of the artist's early installation works, as well as being Wang's first solo exhibition in Hong Kong. Born in 1960 in Beijing, Wang is a pioneering media artist, being one of the first in China to use digital editing. He was also, in 2001, the founder of Loft, the earliest media art centre in China. Wang began his career as a painter, but his experiences and in particular the art education he received in the US between the late 1980s and early 1990s encouraged him to broaden his artistic language, evidence of the energy and vitality within his practice. The Sky of Brooklyn, created in 1995, established Wang as a leading experimental artist. The installation sets the tone for his subsequent practice, one that is humorous and modest, rooted in ideas of memory, reality, ... More



She is currently a special adviser to the President of the European Commission, Jean Claude Juncker.



DUBLIN.- Chester Beatty Library has announced the appointment of former European Commission Secretary General Dr Catherine Day as Chair of its Board of Trustees. Dr Day has been a Trustee of the Library for two years and takes over from out-going Chair, Dr T.P. Hardiman. Both Dr Day and the Director of the Library Fionnuala Croke, have paid tribute to Dr Hardiman for his significant contribution steering the Chester Beatty Library in its development over some two decades. Dr Day was Secretary General of the European Commission for ten years from 2005 to 2015 and was the first woman to hold this position. Prior to that, she served as Director General for Environment and worked in the external relations division of the Commission as a Director and deputy Director General. Dr Day worked in the Cabinets of Commissioners Richard Burke, Peter Sutherland and Leon Brittan ... More
Exhibition at James Cohan presents the New York premiere of Omer Fast's August
Toni Schmale presents a series of new sculptural works at Vienna's Secession
Pace opens an exhibition of recent works by Kevin Francis Gray at Villa Santo Sospir in Saint Jean Cap Ferrat


Omer Fast, Looking Pretty for God (After G.W.), 2008. HD single channel color video with sound, 27 minutes. Edition 2 of 6. Courtesy of the Artist and James Cohan, New York.



NEW YORK, NY.- James Cohan is presenting an exhibition by Omer Fast on view from September 16 through October 29, 2017 at the gallery's Lower East Side location. This show is Fast's second solo exhibition at James Cohan. The exhibition presents the New York premiere of August, a 3D digital film inspired by the life and work of renowned German photographer August Sander, celebrated for his masterful portraiture in People of the Twentieth Century. In his 15-minute fictional film, Fast offers a dark portrait of Sander at the end of his life, nearly blind and haunted by the memory of his son who died as a political dissident in a Nazi prison. August examines Sander as both visionary and powerless, exposing an entanglement between these states and inviting viewers to reconsider the relevance of image-making in ... More



Toni Schmale, das management, Secession 2017, Photo: Sophie Thun.



VIENNA.- Encompassing sculptures as well as performative interventions, video pieces, and graphic art, the work of Toni Schmale scrutinizes social power relations and a hegemonic society's stereotypical gender roles, which she counters with gender-political utopias served up with characteristically sly humor masking radical dauntlessness. Her metal, concrete, and rubber sculptures have the air of a fleet of dysfunctional machines while also calling up associations of fitness equipment and torture instruments, surveying a wide terrain crisscrossed by desires, from the yearning for physical perfection to practices of sexual gratification. In her exhibition HOT HOT HOT, Schmale presents a series of new sculptural works she describes as "transitional objects", an idea lifted from the theories of the psychoanalyst Donald Winnicott, whose work the artist has studied extensively. She is interested in the peculiar something ... More



Installation view of Kevin Francis Gray's work at Villa Santo Sospir in Saint Jean Cap Ferrat.



PARIS.- Pace is presenting an exhibition of recent works by Kevin Francis Gray at Villa Santo Sospir in Saint Jean Cap Ferrat, France, on view from 16 September to 31 October 2017. The exhibition features a selection of sculptures by Kevin Francis Gray, realized in the artist's studio in Pietrasanta, Italy, in dialogue with the architecture and interiors of the legendary Villa Santo Sospir which is a listed building. With splendid views over the Mediterranean Sea, the historical Villa hosted Jean Cocteau and Édouard Dermit in 1950. Used as a location for Cocteau's film Testament of Orpheus (1960), the house is decorated with murals both by him and his close friend Pablo Picasso. Gray's striking marble sculptures boldly recall the first steps of his creative process, which begins in claywork and is subsequently translated into marble: the marks of the artist's hands, fingers and tools are visible and palpable, giving ... More
A 250th Birthday: A New Royal Academy of Arts
Flashback
On a day like today, Indian painter M. F. Husain was born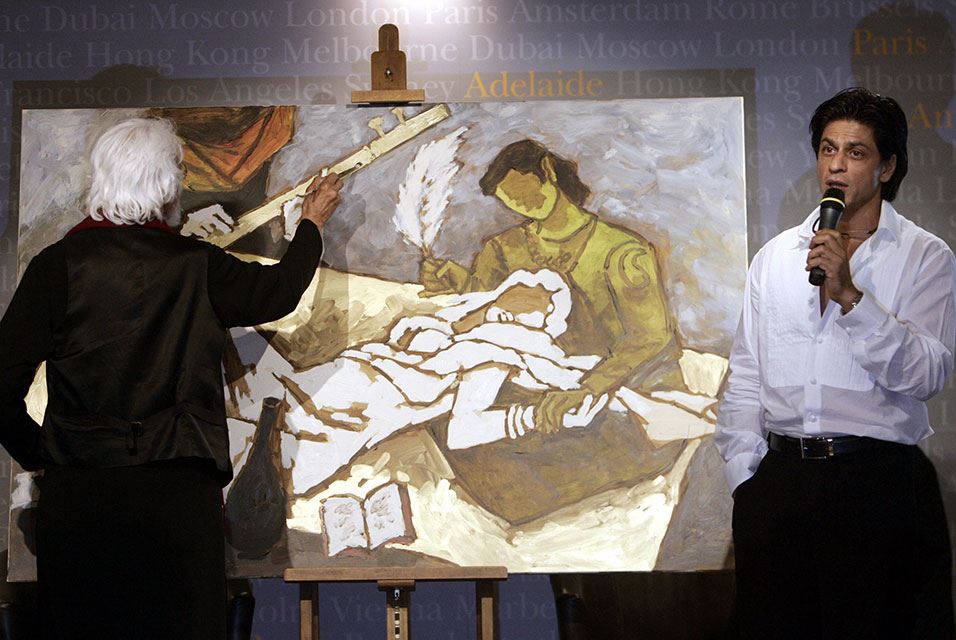 September 17, 1915. Maqbool Fida Husain (17 September 1915 - 9 June 2011) commonly known as MF Husain, was an Indian painter. Husain was associated with Indian modernism in the 1940s. A dashing, highly eccentric figure who dressed in impeccably tailored suits, he went barefoot and brandished an extra-long paintbrush as a slim cane. He never maintained a studio but he spread his canvases out on the floor of whatever hotel room he happened to be staying in and paying for damages when he checked out. In this image: M.F. Husain, India's most famous artist finishes off a canvas he painted together with Shah Rukh Khan, right, one of India's biggest movie stars, during a fund-raising auction in a central London's auction house, Thursday June 7, 2007. The pair, two of India's biggest cultural brands, painted the piece, that was to be sold in the auction along with other works by both established Indian masters and a newer generation of artists.
---

Museums, Exhibits, Artists, Milestones, Digital Art, Architecture, Photography,
Photographers, Special Photos, Special Reports, Featured Stories, Auctions, Art Fairs,
Anecdotes, Art Quiz, Education, Mythology, 3D Images, Last Week,
.
---
Royalville Communications, Inc
produces: