First exhibition exploring the life and work of Lockwood Kipling on view in London
Installation image of Lockwood Kipling. © Victoria and Albert Museum, London.

LONDON
.-
The Victoria and Albert Museum
has collaborated with the Bard Graduate Center, New York, to present the first exhibition exploring the life and work of Lockwood Kipling (1837 – 1911), an artist, teacher, curator and influential figure in the Arts and Crafts movement. Lockwood Kipling was a social campaigner for the preservation of Indian crafts, a craftsman whose terracotta panels can still be seen on the exterior of the V&A and was an illustrator of books by his son, the renowned writer Rudyard Kipling. Lockwood Kipling: Arts and Crafts in the Punjab and London explores the history of the V&A's collections through the life of Lockwood Kipling who played a significant role in shaping the foundation collection. Highlights include paintings of the Indian section of the Great Exhibition, Lockwood Kipling's own sketches of Indian craftspeople observed during his time living in India, objects he selected in India for the V&A, ...
More
The Best Photos of the Day
Christie's to offer collection of legendary figures of the late 19th and early 20th centuries
Exhibition dedicated to Cartier-Bresson's publication Images à la Sauvette opens in Paris
Mayoral opens exhibition inspired by the Spanish Pavilion at the 1937 Paris Exposition


Jean-Baptiste Perronneau, Portrait d'homme. Est: €80.000-120.000. © Christie's Images Limited 2017.



PARIS.- Christie's France announces the sale of the collection Boni de Castellane & Anna Gould, la mémoire du Palais Rose on the 7 March 2017, continuing Christie's long history of offering prestigious collections. Legendary figures of the late 19th and early 20th centuries, Boni de Castellane and his wife Anna Gould decorated their famous Palais Rose with the most exquisite works of art, including old master paintings and drawings, furniture, porcelain and jewelry. Collectors and connoisseurs will have the opportunity to enjoy the pre-sale exhibition for a week, from 28 February to 6 March 2017. Lionel Gosset, Head of Collection sales, Christie's France, comments: "We are honoured to be offering this important collection at auction, and have no doubt that collectors will recognise the rarity of the Palais Rose's provenance and pay tribute to the incredible taste of those who have assembled and enriched it". ... More



Henri Cartier-Bresson, Images a la Sauvette (Verve, 1952), couverture ® Henri Cartier-Bresson / Magnum Photos.



PARIS.- From January 11 to April 23, 2017, the Foundation devotes an exhibition to Cartier-Bresson's famous publication Images à la Sauvette. Initated by the French publisher Tériade, the project is finally achieved on October 1952 as a French-American co-edition, with the contribution of Matisse and the American publishers Simon and Schuster. The latter chose "The Decisive Moment" as the title of the American version, and unintentionally imposed the motto which would define Cartier-Bresson's work. Since its publication in 1952, Images à la Sauvette has received an overwhelming success. It is considered as "a Bible for photographers" according to Robert Capa's words. The innovative design of the publication stroke the art world with its refine format, the heliogravure quality and the strength of the image sequences. The publication reveals ... More



Pablo Picasso, Head of Women, 1953, Signed Picasso and dated 25 June 53 (upper right), Oil on canvas, 33 x 24 cm. Courtesy of Mayoral.



LONDON.- Mayoral presents an exhibition inspired by the Spanish Pavilion at the 1937 Paris Exposition Internationale des Arts et Techniques dans la Vie Moderne, commemorating 80 years since its inauguration. The original Pavilion marked a crucial moment during the Spanish Civil War (17 July 1936 – 1 April 1939), with the Spanish Republic using it as a platform to demonstrate to the rest of the world the atrocities that were taking place in Spain. Similarly to the original pavilion, this exhibition features paintings and sculptures by modernist masters including Pablo Picasso, Joan Miró, Alexander Calder and Julio González. This exhibition in London also brings together important archival material, such as rare propaganda posters from the original pavilion and a replica of Miró's infamous work El Segador (The Reaper) which disappeared when the pavilion ... More
Exhibition at the Israel Museum presents a special encounter between Avant-Garde forerunners
MoMA presents major new performance commission by Alexandra Bachzetsis
Marlborough Gallery opens exhibition of work by Turkish artist Ahmet Güneştekin


Otto Freundlich, Composition, 1935. Gouache on paper on wood panel, 108 x 99 cm. Musée de Pontoise, France, Donation Freundlich. Inv. DOF.1968.1.18 – Wvz. 179 © Musée de Pontoise.



JERUSALEM.- In 1937 the Nazi regime held a major 'Decadent Art' exhibition in Munich, displaying avant-garde art, which they considered a danger to society. Not by accident did they choose a photo of Otto Freundlich's sculpture The New Man for the cover of the exhibition catalog. Freundlich, who was born to a Jewish family, aspired to what he called "cosmic communism", and developed an abstract method of conveying egalitarian political views. This was expressed in his work through separate forms that combined into a single unit, itself but a part of the larger whole. In this way his works are considered a political manifesto, expressed in color and form. The exhibition The Shadow of Color brings together - for the first time - the works of four path breaking abstract artists: Otto Freundlich, Len Lye, Lygia Clark and Blinky Palermo. Though working at different times and in different places, they developed a similar ... More



Alexandra Bachzetsis. Massacre: Variations on a Theme. 2016. Rehearsal image. © 2016 Alexandra Bachzetsis.



NEW YORK, NY.- The Museum of Modern Art presents Alexandra Bachzetsis's Massacre: Variations on a Theme, a new performance commission consisting of a video installation on view during regular Museum hours, and four ticketed live performances, taking place on the evenings of January 24, 25, 27, and 28. Comprising choreography for three dancers and a musical composition for two pianos, Bachzetsis's performance takes the form of a feverish interchange between violent physical movement and excessive mechanical repetition, with a physical and visual vocabulary drawn from a variety of sources: Tarantism, classic Northern Soul dancing, and Surrealist imagery. The work of Alexandra Bachzetsis (b. 1974) frequently brings together the tropes and gestures of popular culture with ancient rituals and the choreographic language of landmark figures in dance such as Trisha Brown. In Massacre—literally a "ballet mécanique," with nods to the b ... More



Ahmet Gunestekin, Inconsolable Pain of Prometheus, 2014, oil on canvas, 59 x 59 in © Ahmet Güneştekin, courtesy Marlborough Gallery, New York.



NEW YORK, NY.- Marlborough Gallery announced the opening of an exhibition of work by Turkish artist Ahmet Güneştekin. The exhibition continues through February 4th. In this, the artist's first solo exhibition at Marlborough Gallery since 2013, Güneştekin lends his signature detailed, combed brushwork, rich symbolism, graphic lines and intense color schemes to artwork in textiles, ceramics, and metal, in addition to oil on canvas works. In addition to paintings, ceramics and textile works, Ahmet Güneştekin: New Works, includes metal screens and 3-D wall-relief metal paintings, which are his own unique creations. These mixed-media works include concave mirror, metal and photographic elements which come together to evoke the sun, that arbiter of light and time passing. The amalgam of parallel lines, curves and circles, which often create a kinetic interplay use the effects of Op-Art to emphasize the presence of the sun. ... More
Alexander and Bonin opens four solo exhibitions
Rare important sculpture acquired by Ben Uri Gallery and Museum
Parasol unit foundation for contemporary art opens a solo exhibition by Tschabalala Self


Untitled (rooftop/water towers) ca. 1987. Acrylic and canvas on board, 10¼ x 13¼ in/26 x 33.5 cm. Photo: Joerg Lohse, © The Estate of George Paul Thek; courtesy Alexander and Bonin, New York.



NEW YORK, NY.- Alexander and Bonin announces the opening of four solo exhibitions of the work of Jorge Macchi, Rita McBride, Paul Thek, and Jonathas de Andrade. Jorge Macchi is considered one of Argentina's leading artists. Although Macchi has worked in a wide range of mediums from installation, sculpture, and works on paper to video and performance art, he has recently directed his efforts to painting, the discipline in which he was initially trained. The exhibition at Alexander and Bonin includes ten oil paintings made over the past three years. Departing from the ordinary and coincidental, his paintings alter scale and context, employing a system of layered visual complications and interruptions that offers a sensorial, disconcerting, and contemplative experience. Macchi's paintings have been termed "anti-iconic"1 by curator and art historian Cuauhtémoc Medina, in that they seek to escape an overcoded, predictable ... More



Moshe Oved (Edward Goodack, aka Edward Good, 1885 Poland –1958 London), Eastern European mystic Jew, bronze, 40cm h, n.d.



LONDON.- Ben Uri announced the acquisition of a rare early bronze portrait by one of its founding fathers, Moshe Oved (Edward Good, 1885 Poland – 1958 London). Oved is most recognised for his jewellery designs which are greatly sought after. This sculpture, reflecting his classical approach prior to his experimental and more avant-garde period, is of a type seldom available in the open market. It therefore marks an important addition to the eleven works by Oved already in Ben Uri's collection of 1300 plus artworks - both for its powerful subject matter, depicting a pious Ost Jude (eastern Jew) with characteristic side locks and decorative brimmed hat, at a time when the gallery is focussing on identity and migration - and because of the significance of its maker. Oved/Good was one of the key founding figures of the Ben Uri Art Society, established in London's East End ghetto in July 1915 by Jewish émigré artisans who had escaped persecu ... More



Tschabalala Self, Bodega Run, 2015. Oil, pigment and Flashe® on canvas, 111.8 x 76.2 cm (44 x 30 in). Courtesy of Arthur Lewis and Hau Nguyen, Los Angeles. Photograph by Thomas Nelford.



LONDON.- Parasol unit foundation for contemporary art presents a solo exhibition by American artist Tschabalala Self. Showing for the first time in the United Kingdom it brings together works drawn from the first five years of her artistic career. Self's expressive and dynamic works, which include painting, print, collage and sculpture, depict the human figure. The fluidity of movement and exaggerated form of her images are quick to capture the attention of viewers and elicit a vivid response. Primarily concerned with the concept of the Black female body within contemporary culture, Self examines the confluence of race, gender and sexuality through a variety of forms and narratives in which each subject – or as she prefers, character – expresses an individually powerful identity. In her bold, confident and vibrant paintings and works on paper, Self plays inventively with figuration, deconstructing and recreating the Black ... More
Paul M. Hertzmann, Inc. publishes its fourth e-catalogue
Photography and video of repression and black protest on view at Ryerson Image Centre
Russian protest artist flees to France


Cameron Macauley, It Really Is...It Certainly (detail). Vintage gelatin silver print, 1955.



SAN FRANCISCO, CA.- Paul M. Hertzmann, Inc. has published its fourth E-Catalogue, Photographs We Like: Photographers at the California School of Fine Arts, 1945-55. Between 1945 and 1955, a fortunate group of students at the California School of Fine Arts in San Francisco studied under a faculty that included some of the great photographers of the age—Ansel Adams, Minor White, Edward Weston, Imogen Cunningham, Dorothea Lange, and Lisette Model. Many of the students went on to distinguished photographic careers themselves. Work by many of these accomplished photographers is now available for purchase through this fourth E-Catalogue (link). These promising newcomers to the art of photography created images finely observed and composed, psychologically perceptive, by turns lyrical or mordant. Their photographs are worthy of recognition - as well as a place in private and museum collections. A folder labeled "CSFA exchange ... More



Bob Schutz, Clenched fists at Attica State Prison, Attica, NY, USA, September 10, 1971. Courtesy of the Associated Press.



TORONTO.- In Winter 2017, the Ryerson Image Centre and Black Artist's Network Dialogue team up to present a season of shows titled Power to the People: Photography and Video of Repression and Black Protest. These exhibitions explore the historical and ongoing struggle for justice between people of colour and police forces representing the state. On view from January 18 to April 9, 2017, the RIC presents Attica USA 1971: Images and Sounds of a Rebellion; Birmingham, Alabama, 1963: Dawoud Bey/Black Star; Adam Pendleton: My Education, A Portrait of David Hilliard; and From the Collection: Sister(s) in the Struggle. The season launches with a reception on Wednesday, January 18, from 6:00 to 8:00 pm. Following this, from February 2 to 26, 2017, BAND presents No ... More



Russian artist Piotr Pavlenski (L) and his wife Oksana Chaliguina (R) pose on January 16, 2017 in Paris. MARTIN BUREAU / AFP.



PARIS (AFP).- Russian artist Pyotr Pavlensky, famous for radical performances denouncing state power that have landed him in jail in the past, has fled to France, where he will seek asylum, he told AFP on Monday. In an interview in Paris, the artist who memorably once nailed his scrotum to Red Square, said he fled Russia after he and his partner Oksana Shalygina were accused of sexual assault -- allegations he denies. The couple arrived in the French capital on Saturday with their two children. "We intend to seek asylum in France," said the 32-year-old performer, who was detained and questioned for nine hours last month over the assault claims. "If we had stayed in Russia, Oksana and I would have been sent to a prison camp for up to 10 years," he said. Pavlensky has gained a reputation for ... More
MAN RAY–HUMAN EQUATIONS: A JOURNEY FROM MATHEMATICS TO SHAKESPEARE
Flashback
On a day like today, American painter Robert De Niro, Sr., was born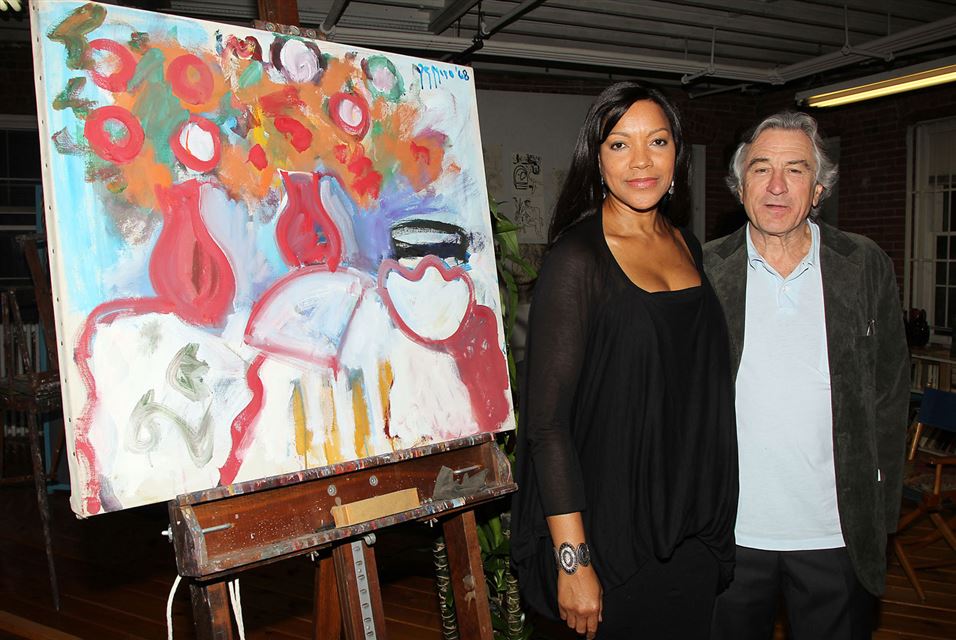 January 17, 1922. Robert Henry De Niro, Sr.(May 3, 1922 - May 3, 1993) was an American abstract expressionist painter and the father of actor Robert De Niro. In this photo released by Starpix, actor Robert De Niro, and his wife, Grace Hightower, stand next to a painting executed by his father, Robert De Niro Sr., Wednesday, Nov. 17, 2010 in New York. At the private event hosted by the Tribeca Film Institute, Di Niro introduced the "Robert De Niro, Sr. Prize," a $25 thousand annual award aimed at mid-career American artists.
---

Museums, Exhibits, Artists, Milestones, Digital Art, Architecture, Photography,
Photographers, Special Photos, Special Reports, Featured Stories, Auctions, Art Fairs,
Anecdotes, Art Quiz, Education, Mythology, 3D Images, Last Week,
.
---
Royalville Communications, Inc
produces: