Spain mourns the death of art collector Cayetana Fitz-James Stuart, Duchess of Alba
File photo of Cayetana Fitz-James Stuart y Silva, Duchess of Alba, standing in front of the painting "The Duchess of Alba in White," by Francisco de Goya. With her are the president of the Junta de Andalucía, José Antonio Griñán (2r), and the Cultural counselor, Rosa Torres, during the inauguration of the exhibition.
SEVILLE
.-
Spain's eccentric Duchess of Alba, one of the nation's richest women with more titles than any other aristocrat on earth, died on Thursday at the age of 88. Maria del Rosario Cayetana Fitz-James Stuart passed away at her Duenas Palace in the southern city of Seville on Thursday morning where she was surrounded by her family, a family spokesman said. Known for her frizzy hair and colourful dress sense, the duchess owned swathes of real estate, great houses and treasures including paintings by Great Masters from Goya to Velazquez. Although she appeared to be a walking monument to the plastic surgeon's art, she was coy on subject. "If they forget you, you are nobody," the twice-widowed aristocrat once told one of the Spanish celebrity magazines of which she was a fixture. Her principle title was Duchess of Alba de Tormes but she had more than 40 others due ...
More
The Best Photos of the Day
William F. Ruprecht to step down; Sotheby's board conducting search for next CEO
'Degenerate art' should go back to museums: German advisor Jutta Limbach
O'Keeffe painting sells for more than three times the previous world auction record for any female artist




Sotheby's recently sold one of contemporary artist Jasper Johns' well-known pieces depicting an American flag sold at auction for a record 36 million dollars. Photo: Sotheby's.





NEW YORK, NY.- Sotheby's today announced that its Board of Directors has begun a search for the Company's next Chief Executive Officer and that William F. Ruprecht will step down by mutual agreement with the Board. Mr. Ruprecht, who has served as CEO since 2000, will continue as Chairman, President and CEO until his successor is in place to ensure a smooth transition. The Board has formed a Search Committee to oversee the recruiting of a new CEO and has retained Spencer Stuart, a leading executive search firm, to assist in the process. The Committee is led by Domenico De Sole, Lead Independent Director. Mr. De Sole said, "The Board is focused on ensuring a smooth transition that will facilitate Sotheby's continued success. As we move to new leadership, the Board is sharply focused on upholding the world-class standard of excellence that Sotheby's has long represented to our clients and achieving ... More





This picture taken in Munich, dated July 18, 1937, shows German Chancellor Adolf Hitler and nazi military dignitaries visiting an art exhibition. AFP PHOTO.





BERLIN (AFP).- The head of a German art restitution panel called Thursday for avant-garde artworks deemed "degenerate" by the Nazis to be handed back to the museums from which they were seized. Former Constitutional Court presiding judge, Jutta Limbach, said it would be "a good solution" if today's owners of the works handed them back to the museums and collections they were confiscated from after 1937. Art by painters such as Germany's Otto Dix were labelled by Hitler as "degenerate" for violating the ideals of the Third Reich. The issue of so-called degenerate art has recently re-gained prominence in the wake of revelations late last year of a spectacular discovery in southern Germany of art believed looted by the Nazis. In an interview with the Sueddeutsche Zeitung daily, Limbach, the chairwoman of a government-backed advisory board set up to resolve ownership disputes, was asked if "degenerate art" should be returned to the museum that had owned it 77 years ... More





Georgia O'Keeffe, Jimson Weed/White Flower No. 1. Oil on canvas, 48 by 40 inches (121.9 by 101.6 cm). Painted in 1932. Estimate $10/15 million. Sold for $44,405,000 © 2014 The Georgia O'Keeffe Museum / Artists Rights Society (ARS), New York.





NEW YORK, NY.- This morning in Sotheby's New York auction of American Art, Georgia O'Keeffe's iconic flower painting Jimson Weed/White Flower No. 1 sold for a remarkable $44,405,000 – more than three times the previous world auction record for any female artist, and more than seven times the previous auction record for O'Keeffe*. The sale went on to achieve a spectacular total of $75.4 million, well in excess of its $46 million high estimate**, with ten works achieving prices over $1 million. Seven bidders competed for Jimson Weed/White Flower No. 1, but it was a prolonged battle between two determined bidders that drove the price to this record height – nearly tripling the work's high estimate of $15 million. The work is a well-known example of O'Keeffe's celebrated flower paintings, which in turn stand among the most recognizable images in both art history and popular culture. ... More
Ancient Resource taps into major collections for its Dec 7 Fine Ancient Artifacts Auction
Oscar-winner Mike Nichols, who directed nearly two dozen films in all, dies aged 83
Art teacher's gift helps National Gallery acquire rediscovered David Wilkie painting




New Kingdom (circa 1570-1075 BC) limestone relief with hieroglyphic characters, ex Lipinsky collection, est. $6,000-$7,000. Ancient Resource image.





MONTROSE, CA.- In 2003, after years of producing and writing ancient-history documentaries for History Channel, Discovery Channel and other respected networks, Gabriel Vandervort took his considerable knowledge and love of antiquities down a different path. He founded Ancient Resource – a small specialty business that evolved into a big business with a staunchly supportive clientele. The final link that made Ancient Resource a globally recognized brand in its space was the establishment of an auction division, which has grown to a position of respect and acknowledged integrity in the marketplace. Ancient Resource painstakingly authenticates and guarantees every item it sells, and that includes the 400 superior-quality lots to be offered in its December 7th Fine Ancient Artifacts Auction. Methods of bidding for the sale include phone, absentee, and live via the Internet through LiveAuctioneers or ... More





The legendary director directed nearly two dozen films in all.





LOS ANGELES (AFP).- Oscar-winning director Mike Nichols, the creative force behind countless classic American films and plays including "The Graduate," has died at age 83, triggering a flood of tributes. The legendary director directed nearly two dozen films in all, among them the timeless "Who's Afraid of Virginia Woolf?" and lighter fare with a contemporary edge like "Working Girl." Nichols is one of the rare figures in American entertainment to have earned an "EGOT," having been honored with at least one Emmy, Grammy, Oscar and Tony award. "This is a seismic loss," said fellow director Steven Spielberg. "Mike was a friend, a muse, a mentor, one of America's all-time greatest film and stage directors, and one of the most generous people I have ever known." Nichols was a member of American entertainment royalty, being married for many years to celebrated ABC television news ... More





David Wilkie, A Young Woman Kneeling at a Prayer Desk, 1813. Oil on wood. Canvas dims (H x W): 34 x 25.5 cm. Frame dims (H x W x D): 60.4 x 53.4 x 10.2 cm. Glazed Bought with the support of a generous legacy from Miss Marcia Lay, 2014© National Gallery, London.





LONDON.- A painting by Scottish artist Sir David Wilkie, that was thought to be lost for more than 140 years, went on display at the National Gallery, London today (20 November 2014) – and its purchase is all thanks to the gift of a Birmingham art teacher. A Young Woman Kneeling at a Prayer Desk was discovered in the USA after last being heard of in1872, when it was put up for sale by a relative of the 1st Earl Mulgrave. It is thought his daughter – Lady Augusta Phipps, who died in 1813 aged just 12 – is the subject of the painting. The work was known to exist because it had featured in an oil sketch Display of Eight Paintings that the artist sent to his brother, Captain Wilkie, an army officer in India. It was London-based art dealer Ben Elwes who recognised the painting ... More
Self-made South Korean chicken mogul buys Napoleon Bonaparte hat for his 'spirit'
The archaeology of daily life during the Great War: INRAP finds a German camp
Whitney Museum of American Art announces new building will open on May 1, 2015




South Korean T.K Lee, buyer of one of Napoleon's famous two-pointed hats talks to the press in Fontainebleau. AFP PHOTO / DOMINIQUE FAGET.





SEOUL (AFP).- The self-made South Korean chicken mogul who bought a hat worn by Napoleon for $2.2 million said Tuesday he saw the French emperor as a mentor and kindred spirit, and would have happily paid more. "I can understand and relate to many passages of his life," Kim Hong-Kuk, the 57-year-old founder and chairman of the poultry giant Harim Group, told AFP. "I've always thought there were certain similarities between him and me in terms of thinking and decision-making, though I'm nowhere near being as great as Napoleon." The chairman of South Korea's top poultry processing firm shelled out nearly 1.9 million euros for one of Napoleon's famous two-pointed hats at an auction in Paris on Sunday. Kim started out as a teenager with around a dozen chickens and built a conglomerate with additional interests in pork processing, animal feed and retail that posted annual ... More





This camp is located in a territory that was occupied by the Germans throughout the war.





PARIS.- A team of Inrap archaeologists is currently excavating artefacts from the First World War near Reims. Covering 4.5 hectares, this Inrap excavation, curated by the State (Drac Champagne-Ardenne), is taking place in advance of the construction of an activity zone for the Chamber of Commerce and Industry of Reims-Epernay. Originally programmed for the study of Iron Age and Gallo- Roman remains, this research has also led to the discovery of a German army camp behind the front. Though few second line camps have been excavated, they provide evidence for daily life activities that were different than those on the front lines. This camp is located in a territory that was occupied by the Germans throughout the war, near an ancient railway hub that directed provisions and weapons to the front line. On the front line, each squad protected a portion of the trench. They were replaced approximately every three weeks and the soldiers rested in a camp ... More





Archibald J. Motley Jr., Self-Portrait (Myself at Work), 1933. Oil on canvas, 57.125 × 45.25 in. Collection of Mara Motley, MD, and Valerie Gerrard Browne. Image courtesy of the Chicago History Museum, Chicago, Illinois. © Valerie Gerrard Browne.





NEW YORK, NY.- Last night, before an audience of supporters at the Whitney Museum's annual fall gala, Adam D. Weinberg, the Whitney's Alice Pratt Brown Director, announced that the Museum's new home in the Meatpacking District, located at 99 Gansevoort Street between Washington and West Streets, will open to the public on Friday, May 1, 2015. Designed by Pritzker Prize–winning architect Renzo Piano, the building affirms the Whitney's role as the leading museum of modern and contemporary art of the United States. The new building will approximately double the Whitney's exhibition space and provide extraordinary possibilities for artists, curators, and audiences. For the first time, the Whitney will be able to present all of its exhibitions in the context of its unsurpassed collection of twentieth- ... More
Exhibition of seventeen large-format photographs by Hiroshi Sugimoto opens at Pace London
Mosby & Co. to offer dolls, advertising and off-the-wall circus memorabilia in Nov. 29 auction
Dallas Museum of Art acquires its first painting by seminal artist Frank Bowling




Hiroshi Sugimoto, Pinon - Juniper Forest, 2012 (detail), gelatin silver print, 119.4 cm x 171.5 cm, Edition 1 of 5, Edition 5 © Hiroshi Sugimoto, courtesy The Pace Gallery.





LONDON.- Pace London presents Hiroshi Sugimoto: Still Life, an exhibition of seventeen large-format photographs from the artist's ongoing Diorama series executed between 1976 and 2012. The exhibition will be on view at 6 Burlington Gardens from 21 November 2014 to 24 January 2015. Capturing large-scale dioramas inside natural history museums, Sugimoto's photographs initially seem to be documents of the natural world, featuring far-flung landscapes and wildlife. Sugimoto, however, dwells in the artifice of the images. Composed in crisp black and white and sharp tones, the pristine quality and stillness of these large-scale pieces reveal the inherent artificiality of the constructed worlds contained within their frames. Surveying his Diorama series, the exhibition highlights recurring themes and images that have sustained Sugimoto's ... More





Original circa-1918 Western Union stock ticker tape machine from New York Stock Exchange, est. $8,000-$10,000. Mosby & Co image.





FREDERICK, MD.- Around 400 lots from an unusual and tantalizing group of collections – mostly toys, dolls, advertising and circus memorabilia – will come up for bid on Saturday, Nov. 29, at Mosby & Company, in the firm's gallery located at 5714-A Industry Lane in Frederick. Start time will be 10 a.m. Eastern time, with internet bidding provided by LiveAuctioneers.com. "This auction features a good, solid lineup of items, with opportunities for beginners as well as advanced collectors," said Keith Spurgeon, owner of Mosby & Co. "The Homer Tate circus gaffs and sideshow banners come from different sources, but combine very nicely as one theme. Toys will be a mixed offering, with German and Japanese toys and some ceramic banks." Spurgeon added, "We also have some very nice motorcycle toys, a category that's unbelievably hot right now. Motorcycles that used to sell for $2,000 ... More





Frank Bowling, Marcia H Travels, 1970 (detail), acrylic on canvas, 120.1 x 224.5 in. (305 x 570 cm), Courtesy of Frank Bowling and Hales Gallery, © Frank Bowling, photograph by Charles Robinson.





DALLAS, TX.- The Dallas Museum of Art today announced the acquisition of Marcia H Travels (1970), the first work in the DMA's collection by the Guyanese-born British painter Frank Bowling. Bowling, widely celebrated for his contributions to the field of abstraction and his advocacy of black artists internationally, created a number of paintings in the 1970s characterized by his use of world maps as organizational tools to explore color as its own subject—a recurring theme in his work. Marcia H Travels is part of this influential "Map Paintings" series and will be featured in the DMA-organized exhibition exploring this pivotal moment in Bowling's engagements with abstraction. Featuring four monumental works, the remaining three from private collections, Frank Bowling: Map Paintings, opening February 19, 2015, will mark the first ... More
Online Scholarly Catalogue Demonstration
---
Flashback
On a day like today, Belgian painter René Magritte was born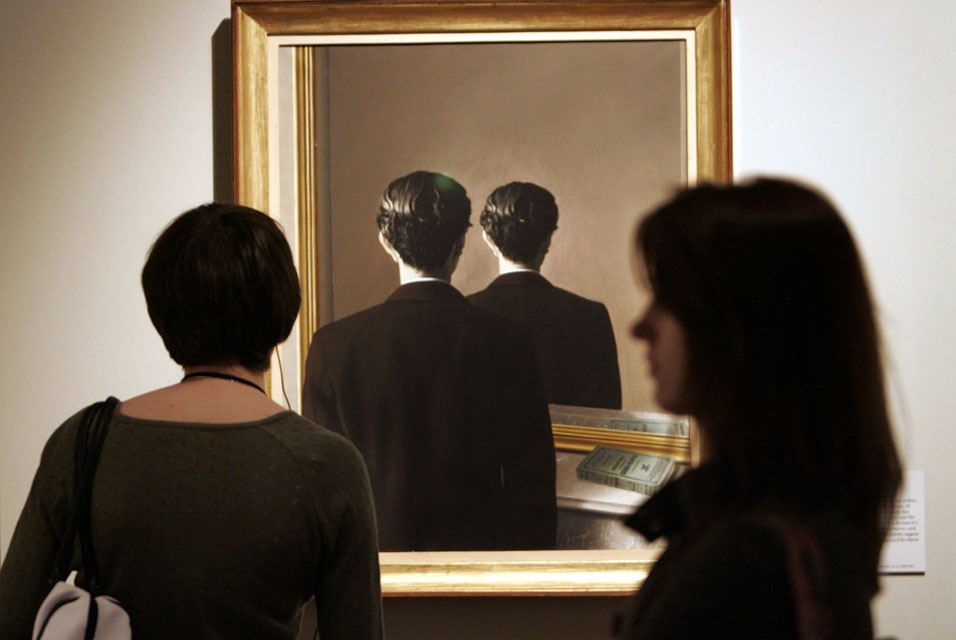 November 21, 1898. René François Ghislain Magritte (21 November 1898 - 15 August 1967) was a Belgian surrealist artist. He became well known for a number of witty and thought-provoking images that fell under the umbrella of surrealism. His work challenges observers preconditioned perceptions of reality. In this March 27, 2007 file photo, the painting "Not to be Reproduced" by Rene Magritte in 1937 is seen as people view the exhibition 'Surreal Things', in central London's Victoria and Albert Museum.
---

Museums, Exhibits, Artists, Milestones, Digital Art, Architecture, Photography,
Photographers, Special Photos, Special Reports, Featured Stories, Auctions, Art Fairs,
Anecdotes, Art Quiz, Education, Mythology, 3D Images, Last Week,
.
---
Royalville Communications, Inc
produces: