First major exhibition in Italy dedicated to Irving Penn opens at Palazzo Grassi in Venice
A picture by photographer Irving Penn is shown as part of the exhibition "Irving Penn, Resonance" at Palazzo Grassi in Venice on April 11, 2014. The show will run from April 13, 2014 till December 31, 2014. AFP PHOTO / GIUSEPPE CACACE.
VENICE
.-
From April 13 through December 31, 2014,
Palazzo Grassi
presents "Irving Penn, Resonance", the first major exhibition dedicated to the American photographer Irving Penn (1917-2009) in Italy. The exhibition "Irving Penn, Resonance", curated by Pierre Apraxine and Matthieu Humery, brings together on the second floor of Palazzo Grassi 130 photographs, taken between the end of the 1940s and the mid-1980s. It is the first time Palazzo Grassi-Punta della Dogana-François Pinault Foundation presents an exhibition of photographs from the collection, thereby demonstrating its commitment to this major medium of creation. Part of these photographs comes from. Kuniko Nomura's collection, which was assembled in the 1980s with the help of Irving Penn himself. He indeed put together photographs that, according to him, could sum up his work in a complete and coherent way. ...
More
The Best Photos of the Day
Oldest Biblical manuscripts in the world online from Chester Beatty Library in time for Easter
Hitler's wife Eva Braun may have had Jewish ancestry: British television documentary
Vienna Philharmonic to return Nazi looted "Port-en-Bessin" by French artist Paul Signac




Revelation 11: 19, 12: 1-6 (P47): The Book of Revelation, ca. AD 250 – 300© The Trustees of the Chester Beatty Library, Dublin.





DUBLIN.- The Chester Beatty Library in Dublin Castle has some of the finest treasures of the great cultures and religions of the world. Among the priceless treasures in the Library is the Biblical Papyrus Collection of incredible texts dating to the 2nd century, discovered in Egypt in 1929. And now these texts can be seen online in time for the Easter Christian celebrations. The Papyrus collection includes some of the oldest and most important biblical manuscripts in the world. The oldest manuscript of Paul's letters (dated c AD 200), the oldest surviving copy of all four Gospels and the Acts of the Apostles in one codex, and portions of the Book of Revelation dating to the 3rd century are among the important manuscripts on display. With this wealth of material it is small wonder that the Library has become one of the major centres in the world for the study of the Christian ... More





Eva Braun. 14 June 1942. Photo: German Federal Archive.





LONDON (AFP).- Nazi leader Adolf Hitler's wife Eva Braun may have been of Jewish descent according to DNA analysis carried out for a British television documentary, the makers said Saturday. The anti-Semitic German leader responsible for the Holocaust married his long-term lover Braun shortly before they committed suicide in a Berlin bunker in 1945. But the programme to be screened by Britain's independent Channel 4 on Wednesday said hair samples show Braun may have had Jewish ancestry herself. Scientists commissioned by the Dead Famous DNA programme tested hair said to have come from a brush used by Braun and found at Hitler's mountain retreat. In DNA from the hair, they found a sequence passed down through the maternal line -- haplogroup N1b1 -- which was "strongly associated" with Ashkenazi Jews. Ashkenazi Jews dispersed into central and eastern Europe in the ... More





Austrian violonist and president of the Vienna Philharmonic orchestra Clemens Hellsberg. AFP PHOTO / ALEXANDER KLEIN.





VIENNA (AFP).- Vienna's Philharmonic Orchestra said Saturday it was returning a painting that was stolen by the Nazis to the descendants of its rightful owners, in the latest high-profile restitution case in Austria. The Philharmonic, famed for its annual New Year's concert, sent a letter to the descendants of the painting's former French owner Marcel Koch on Thursday to inform them of the move, a spokeswoman said. The 1883 painting "Port-en-Bessin" by French artist Paul Signac, known for his pointillistic style, was confiscated in 1940 in France's Jura region and given to the Philharmonic after it performed in the region, the orchestra said in a statement. After over two decades of research, an art historian commissioned by the orchestra, Sophie Lillie, finally managed to identify the painting's origins. "We're very happy that thanks to ... More
"The imaginary Museum of Henri Langlois" opens at the French Cinematheque in Paris
Rare Medieval knight's sword provides cutting edge to Bonhams Sale of Arms & Armour in London
Poet's granddaughter welcomes major Heritage Lottery Fund investment in Swansea's Dylan Thomas Centre




A woman looks at a painting by French painter Frederic Pardo displayed at "The imaginary Museum of Henri Langlois" exhibition. AFP PHOTO BERTRAND GUAY.





PARIS.- Henri Langlois was loved and admired by artists. They often paid him tribute and frequently rubbed shoulders with him. For others, he was only legendary. All had the opportunity to evoke the memory of his action and his love of cinema. Jean-Jacques Lebel uses collage technique like Langlois; from a picture of Denise Bellon showing films saved from destruction and accumulated in a bathtub as a matter of urgency, the artist evokes a myth in the history of cinema: so many stars in their bathtub! César, whose patronymic henceforth designates the symbol of the French 'Oscar', transformed a portrait of Langlois by Henri Cartier-Bresson to express the innumerable facets of the founder of the Cinémathèque. Henri Langlois's unceasing activity as film programme planner of forty years translates his figurative thinking. He thereby hoped that, by bringing films together, new evidences ... More





One of the rarest of medieval sword types – known to academics as the Oakshott Type XIII – it will be offered for sale for an estimated £20,000 to £30,000. Photo: Bonhams.





LONDON.- Holding an object of this age and type – Late 13th early 14th century - in Bonhams Arms and Armour Department it is not difficult to imagine the very different life and times of the knight who wielded it in battle, and possibly carried it on a crusade. One of the rarest of medieval sword types – known to academics as the Oakshott Type XIII – it will be offered for sale for an estimated £20,000 to £30,000 at Bonhams sale of Arms and Armour on April 30th in Knightsbridge. This sword is a rare survivor. A few others are in private collections and museums. So for keen collectors this antique sword represents a once in a lifetime opportunity. One would not be human if lifting this object that inflicted possible injury and death, one did not feel something atavistic running down one's arm as its balance and weight is felt. This after all was a ... More





During 2014 the Dylan Thomas Centre will be the focus of the centenary celebrations.





SWANSEA.- Swansea's Dylan Thomas Centre has been awarded £935,700 by the Heritage Lottery Fund, securing its future and the legacy of its most famous son a century after his birth. The HLF grant will enable the expansion of the current Dylan Thomas Exhibition, allowing for unique memorabilia, previously kept in archives, to be placed on display. This includes a short, but sweet, love letter from Dylan Thomas to his wife Caitlin, hastily scribbled on the back of a pay-in bank stub. As part of this project, a collection of Thomas' notebooks will be returned to Wales on loan for the first time since he sold them in 1941 to the University of Buffalo, in New York, where he later di​ed. During 2014 the Dylan Thomas Centre will be the focus of the centenary celebrations, in Swansea and beyond, reflecting its role as an international hub for Dylan Thomas sites worldwide. The grant awarded will ensure that the new-look exhibition can n ... More
Work from the early 1980s and mid 2000s by Kim MacConnel on view at Quint Contemporary Art
Exhibition that explores artistic responses to light over four centuries opens at Vassar College
"Somewhat Abstract: Selections from The Arts Council Collection" opens at Nottingham Contemporary




Installation View - KIM MACCONNEL - Luft Gesheften: The Value of War. April 12 - May 31, 2014. Photo: Philipp Scholz Rittermann.





LA JOLLA, CA.- Quint Contemporary Art announces the opening of Luft Gesheften: The Value of War, a presentation of work from the early 1980s and mid 2000s by Kim MacConnel. This is MacConnel's ninth solo exhibition at QCA. "MacConnel's achievement is to have taken the attitudes of modernism and redrawn them in his own style, presenting his images in the incongruous, purportedly light-hearted manner of the decorative in order to convey a distinctly ironic sense of our preeminently militaristic, industrial landscape." – Steven Henry Madoff, Art in America, Summer 1982 In 1982, Kim MacConnel mounted an exhibition called Luft Gesheften, in which the artist interpreted a Yiddish phrase meaning "Air Business," as in made up, made of nothing, not real business. The "not real" business that he was referring to was war. As MacConnel states, "military buildup to it (war) is based on a perceived threat, ... More





Edvard Munch (Norwegian 1863-1944), The Seine at St. Cloud, 1890. Oil on canvas. Frances Lehman Loeb Art Center, Vassar College. Gift of Mrs. Morris Hadley (Katherine Blodgett, class of 1920).





POUGHKEEPSIE, NY.- What impact has light had on art? A new exhibition, curated by the Frances Lehman Loeb Art Center, explores artistic responses to light by European and American artists from the sixteenth through the early twentieth centuries. Mastering Light: From the Natural to the Artificial is on view from April 11 through June 29. Lighted candles, electric lamps, a full moon, starlight, and the brilliant rays of the sun attract the eye with their magnetism. Artists throughout the centuries have used these attention-getters as pictorial devices and potent metaphors. "They have literally turned the eyes of viewers and, in effect, left us with not only arresting works of art but also with a deeper understanding of aesthetic, social, and technological histories of lighting," says Patricia Phagan, the Philip and Lynn Straus Curator of Prints and Drawings at the Art Center. Visitors to Mastering Light ... More





Tomma Abts, Heit, 2011. Arts Council Collection, Southbank Centre, London. Photo: Marcus Leith. Courtesy of greengrassi, London.





NOTTINGHAM.- Virtually every significant artistic movement since the Second World War is touched on in this major exhibition of British made art. It presents the work of 70 artists including eight Turner Prize winners and is curated by Nottingham Contemporary's Director, Alex Farquharson. Somewhat Abstract is the largest exhibition from The Arts Council Collection since 2006. Although the exhibition includes several great exponents of abstract art, including Anthony Caro, Barbara Hepworth, Kenneth Martin and Bridget Riley – most of the works are not strictly speaking abstract. Instead they are near abstract or made with abstraction in mind. In the mid 20th century abstract and figurative art were seen as opposites, with artists forced to take sides. The works in Somewhat Abstract reveal how this dichotomy became redundant as new ways of thinking about art came to the fore, such as conceptual approaches and political conce ... More
Nationalmuseum Sweden announces new acquisition: Furniture suite from foreign minister's residence
Eric Caren Archive treasures sell for $1.3 million at Bonhams New York on April 7
Russian decorative arts book written by Cynthia Coleman Sparke offers secrets of the Tsars




Furniture suite, 1830s. Photo: Linn Ahlgren/Nationalmuseum.





STOCKHOLM.- Nationalmuseum has acquired a suite of furniture made in the 1830s and once used in the official residence of the Swedish foreign minister. Fully gilded, and upholstered in French silk, the suite is unusually luxurious by Swedish standards. The closest parallel is the suite that furnishes the Lantern Room at Rosendal Palace. Nationalmuseum has expanded its applied art collection with the acquisition of a seven-piece suite of furniture once used in what was then the official residence of the Swedish foreign minister on Blasieholmstorg in Stockholm. Made in Stockholm, probably in the 1830s, the suite is fully gilded and is upholstered in French silk of the same vintage, decorated with a pattern scaled to the seat and back. Originally the suite comprised at least 13 pieces: two sofas, eight armchairs, two banquettes and a mirror. One sofa, four armchairs, one banquette and the mirror have now been transferred to Nationalmuseum ... More





Paul Revere, The Bloody Massacre perpetrated in King-Street Boston on March 5th, 1770. Sold for $100,000 incl. prem., Est. $25,000 - 35,000. Photo: Courtesy of Bonhams.





NEW YORK, NY.- Bonhams' extraordinary sale of historical paper, titled Treasures from the Caren Archive: How History Unfolds on Paper, realized $1,370,000 on April 7. The 300 lots on offer were selections from The Caren Archive, the property of Eric Caren. They included rare newspapers, broadsides, photographs, books and manuscripts dating from the 16th century through the 1960s. Nearly 200 bidders from a dozen countries participated. "It is gratifying to see the tremendous emotional power that these documents hold being appreciated in the marketplace," said Christina Geiger, Director of the Books and Manuscripts Department at Bonhams New York. "This result is a testament to Eric Caren's astonishing ability to hunt down rare and unusual material that excites collectors around the globe." Americana proved to be the most desirable collecting category, generating tremendous pre-sale interest. Leading ... More





"Some lucky person is going to pick up a decorative Easter egg at a car boot sale one day and find they have won the arts lottery when it sells for £20m" says author Cynthia Coleman Sparke, whose book is being launched at Bonhams.





LONDON.- With Easter drawing near and the recent discovery of The Third Imperial Easter Egg, thought lost for over 100 years, all eyes are on the legendary Russian designer, Fabergé. Each of the 50 Fabergé eggs created for the Tsar took one year to complete - from the original conception to delivery on Good Friday each Easter. Russian Decorative Arts is an informative guide to Russian artworks and their historical context written by Cynthia Coleman Sparke, Russian Art consultant at Bonhams. Published by Antique Collectors' Club, the book covers a wide range of crafts from Fabergé, jewellery, woodwork, hardstone, glass and porcelain to precious metals, explained against the fascinating backdrop of Russian history. Each topic is detailed with an illustrated chapter which introduces the creative technique, its specific Russian ... More
---
Flashback
On a day like today, Belgian painter James Ensor was born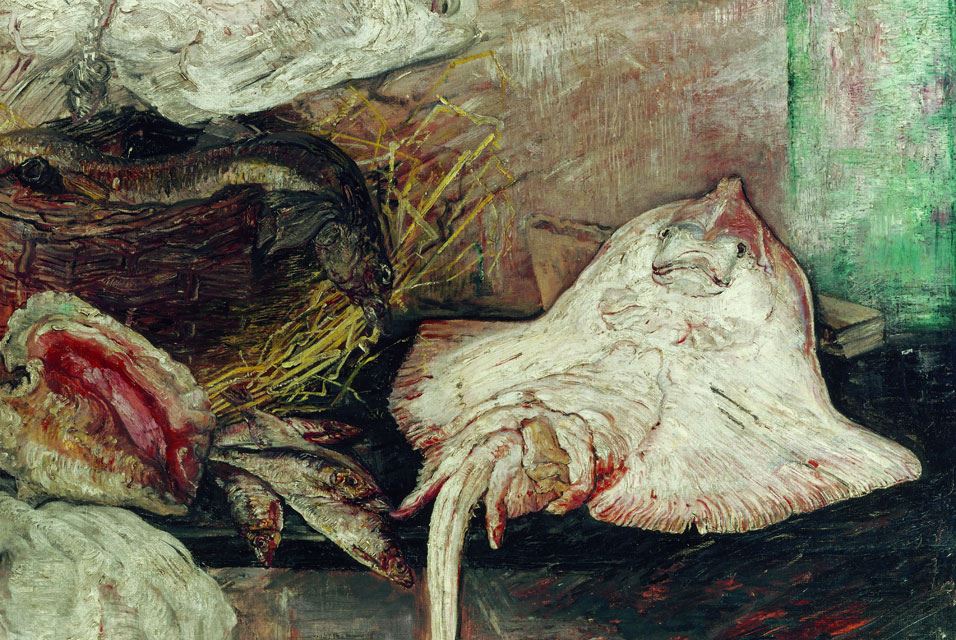 April 13, 1860. James Sidney Edouard, Baron Ensor (13 April 1860 - 19 November 1949) was a Belgian painter and printmaker, an important influence on expressionism and surrealism who lived in Ostend for almost his entire life. He was associated with the artistic group Les XX. In this image: James Ensor, "La raie", 1892. Huile sur toile, 80 x 100 cm. Bruxelles, Musées royaux des Beaux Arts de Belgique © ADAGP, Paris 2009.
---

Museums, Exhibits, Artists, Milestones, Digital Art, Architecture, Photography,
Photographers, Special Photos, Special Reports, Featured Stories, Auctions, Art Fairs,
Anecdotes, Art Quiz, Education, Mythology, 3D Images, Last Week,
.
---
Royalville Communications, Inc
produces: