'Mad' king Ludwig II of Bavaria lost gift to composer Richard Wagner gets rare show
This picture taken on May 7, 2018 in Brussels shows a piece of the "Lohengrin Cup", created by Ludwig II of Bavaria for the late German composer Richard Wagner.
The fragment of porcelain was saved from ruins after a bombing in Bayreuth in April 1945 and it was believed to be completely destroyed. EMMANUEL DUNAND / AFP.

by Philippe Agret
BRUSSELS
(AFP)
.-
Kept safe in a silk-lined box by its Belgian "custodian" lies a piece of the historic legacy of German composer Richard Wagner that was nearly lost forever. The Lohengrin vase, made of porcelain, was given to Wagner more than 150 years ago by Ludwig II, the "mad king" of Bavaria, whose passion for building fairy-tale castles was matched only by his love of Wagner's operas. It was believed lost after Allied bombing in World War II destroyed much of Bayreuth, the town where Wagner built the legendary theatre that now hosts an annual music festival. But one fragment emerged after the war and was taken to the Belgian capital, Brussels, in 1949, where it has largely remained out of sight in the intervening years. A group of Wagner devotees recently received a special viewing during a production in Brussels of the opera "Lohengrin" -- the work that first bewitched Ludwig -- and an AFP reporter was given a rare glimpse. Patrick Collon, the renowned organ maker and art expert who now owns th ...
More
The Best Photos of the Day
Auschwitz trial files classed UNESCO heritage
MY Kwong Lum, Chairman of Gianguan Auctions, recipient of 2018 Ellis Island Medal Honor Award
Louisiana Museum of Modern Art exhibits works by Ed Ruscha from the UBS Art Collection


Hesse's science and arts minister Boris Rhein (R) holds an Unesco certificate next to former chief prosecuter Gerhard Wiese at the Frankfurt's Auschwitz trial in Frankfurt am Main. Boris Roessler / dpa / AFP.



BERLIN (AFP).- Documents from the post-war Auschwitz trial have been classed part of the UNESCO "Memory of the World Register", underlining their significance as "common heritage of humanity", Germany's foreign minister said Wednesday. The 1963-1965 trial of 22 Nazi officials who ran the Auschwitz death camp marked a turning point when Germans faced up to their role in the Holocaust. Unlike the better known 1945-1946 Nuremberg trials where judges from the Allied powers presided over the hearings of top Nazis, the Frankfurt trial was the first in which Germans prosecuted Germans. In 183 days of hearings, the trial "paved the way for an entire society to take a critical look in the mirror at the role of Germans as citizens, participants, followers and criminals," said Foreign Minister Heiko Maas. Classifying the court material ... More



Over the years, Mr. Lum's commitment to furthering an understanding of Chinese art and culture has earned him the respect of museum authorities, art experts and appraisers in China and the U.S.



NEW YORK, NY.- Kwong Lum, internationally known scholar, artist, poet, and Chairman of Gianguan Auctions in New York City, has been awarded an Ellis Island Medal of Honor. The award is bestowed on American citizens who have distinguished themselves within their own ethnic groups while exemplifying the values of the American way of life. In responding to the honor, Mr. Lum said, "I am grateful for the opportunities I have been afforded in China, Canada and the U.S. to support the arts and share my knowledge of Chinese heritage as it was and as it is in contemporary art." He credited his teachers, the artists and ceramicists he has had the honor of knowing, his wife and family, and said, "The open mindedness I have experienced when people come together to share the joy of art proves to me that community ... More



Ed Ruscha, Gas, 1962. Lithograph, 50,96 x 37,62 cm. UBS Art Collection © Ed Ruscha. Courtesy of the artist & Gagosian.



HUMLEBAEK.- Ed Ruscha is unconditionally the hero of the artists. The exhibition VERY offers the Danish public the opportunity to get a better impression of the now 80-year-old American master's work. In 2015 Louisiana showed an overview of the British artist Lucian Freud's prints, also from the UBS Art Collection. The same is true of this first exhibition in Denmark of Ed Ruscha's art. The works from the collection, comprised of drawings and prints, provide not only a general introduction to Ruscha's art, but also insight into his sometimes radical approach to materials – for example the use of gunpowder and organic fluids. Moreover, the exhibition presents the artist's legendary artist books, which are a part of Louisiana's collection. For six decades Ed Ruscha (b. 1937) has explored the notion that in the familiar and recognizable one may also find the unusual and thought- ... More
Getty Museum announces acquisition of second-century Roman portrait bust
High Museum of Art receives Henry Church sculpture from Forward Arts Foundation
Christie's announces the Spring American Art auctions


Portrait Bust of a Man, AD 140-160. Roman. Marble. Height: 30 in.



LOS ANGELES, CA.- The Getty Museum announces the acquisition of a second-century AD Roman marble portrait bust of a man. The life-sized sculpture portrays a middle-aged man of high status who has a powerful and vivid appearance. His short beard and moustache are akin to those of the emperor Hadrian (AD 117-138), but the curly hair, prominent facial features, and intense gaze are more characteristic of the expressive style of the reign of Antoninus Pius (AD 138-161) and his son and successor, Marcus Aurelius (AD 161-180). He wears a deeply folded paludamentum (military cloak) fastened with a circular brooch over his left shoulder. "This new acquisition is a superb example of early Antonine portraiture, which was previously not well represented in the Museum's collection," said Timothy Potts, director of the J. Paul Getty Museum. "Roman portraiture achieved its most individualized and dynamic expression between the mid-second and early ... More



Henry Church (1836–1908), A Friend in Need is a Friend Indeed, 1888, sandstone and iron. High Museum of Art, Atlanta.



ATLANTA.- Rand Suffolk, Nancy and Holcombe T. Green, Jr., director of the High Museum of Art, announced today that the Forward Arts Foundation has enabled the important acquisition of the Henry Church, Jr., masterpiece "A Friend in Need Is a Friend Indeed" (1888). The Forward Arts Foundation made this generous gift in celebration of its 50th anniversary and to highlight 50 years of supporting the Museum's growth via acquisitions and investments in programming. The Foundation purchased Church's work from Atlanta collectors Carl and Marian Mullis, and it will feature prominently in the reinstallation of the High's folk and self-taught art collection galleries, set to debut in October 2018. "We are incredibly grateful to the Forward Arts Foundation for its generosity, which allows us to bring this one-of-a-kind work into our collection," said Suffolk. "We're thrilled that this extraordinary object will re ... More



Georgia O'Keeffe (1887-1986), Hibiscus, oil on canvas Painted in 1939. Estimate: $4,000,000-6,000,000. © 2018 Georgia O'Keeffe Museum / Artists Rights Society (ARS), New York.



NEW YORK, NY.- Christie's announces the Spring American Art auctions, with a live auction on May 22 and a concurrent online sale taking place from May 15-22. The sales are distinguished by private collections including The Collection of Joan and Preston Robert Tisch, The Estate of Robert A. Mann and the Mann Family, and the Collection of Mandell & Madeleine Berman, among others. The top lot of the sale is Georgia O'Keeffe's seminal work, Hibiscus, painted in 1939 during her three-month Hawaiian sojourn at the behest of the Hawaiian Pineapple Company (estimated: $4,000,000-6,000,000). Composed of brilliant and varying hues, Hibiscus is an affirmation of O'Keeffe's color theory and epitomizes the brilliance of the artist's Hawaiian works that excited such praise from contemporary critics. Highlighting the works by Norman Rockwell in the sale ... More
Simon Lee Gallery opens an exhibition of paintings by Bernard Frize
Christie's announces highlights from its spring sales of Books & Manuscripts
First written treaty between the U.S. and a Native American Nation on view at the American Indian Museum


Bernard Frize, Tonka, 2017. Acrylic and resin on canvas, aluminium frame, 146 x 110 cm (57 1/2 x 43 1/4 in.) Courtesy the artist and Simon Lee Gallery.



LONDON.- Simon Lee Gallery presents an exhibition of paintings by Bernard Frize, the fourth to be held in the London gallery. This exhibition brings together paintings from Frize's most recent series with works made in the decade from 1999 to 2008. As the Centre Pompidou prepares for its first major survey exhibition of the artist's work, to be held in 2019, the juxtaposition of these works reveals both the consistency of Frize's project, and his constant innovation. Throughout his career, Frize has revisited and revised his own works from earlier series. The loops and switchbacks of the trajectory of his career seem to echo those interweaving marks which structure many of the paintings themselves. He has spoken of these structures as devices for the removal of compositional decisions. The paintings proceed in series; the series are determined by the rules which govern them. He continues until the variations, and the p ... More



An Olympic Gold Medal awarded for Basketball to George Louis Redlein (18851968), St. Louis, 1904. $100,000-200,000. © Christie's Images Limited 2018.



NEW YORK, NY.- Christie's announces the spring various owner sale of Fine Printed Books & Manuscripts Including Americana encompassing over 200 lots of autograph manuscripts, cartography, literature, illustrated books and historical artifacts. The sale will take place on June 14, 2018 at Christie's New York, immediately following the dedicated sale of the exceptional "Duke of Portland" complete first folio edition of John James Audubon's The Birds of America (1827-1838) (estimate: $8,000,000–12,000,000). Fittingly, the first section of the various owners' auction is led by the first edition of Audubon's folio Quadrupeds of North America, 1845-46-48, an homage to the American frontier, and the most ambitious of all color-plate books to be wholly produced in the United States (estimate: $200,000–300,000), followed by a choice selection of further works illustrating American animals and landscape by Alexa ... More



The Treaty with the Delawares, 1778. Photo: AP Paul Morigi/Smithsonian, National Museum of the American Indian.



WASHINGTON, DC.- The first written treaty between the United States and an Indian Nation, the Treaty with the Delawares, 1778, is on display at the Smithsonian's National Museum of the American Indian. The original document, on loan from the National Archives and Records Administration, will be on view through September as a part of the exhibition "Nation to Nation: Treaties Between the United States and American Indian Nations." In an effort to gain support for the Patriot cause, the Continental Congress of the United States dispatched U.S. treaty commissioners to negotiate a treaty of peace, friendship and alliance with the Lenape (Delaware), whose lands were strategically located between present-day Pittsburgh and British-held Detroit. Among other things, the treaty asked that the Delawares provide safe passage for American troops across their tribal lands in exchange for the recognition of Delaware ... More
Marvel icon Stan Lee in $1 bn lawsuit against company he started
Annely Juda Fine Art presents large and small-scale sculptures by David Nash
Royal wedding venue steeped in British history


In this file photo comic book creator Stan Lee holds up a replica of his new star on the Hollywood Walk of Fame. AP Photo/Chris Pizzello.



LOS ANGELES, CA.- Comic books legend Stan Lee is suing the entertainment company he co-founded for damages topping $1 billion, accusing bosses of trying to steal his image, according to court documents filed Tuesday. The complaint, filed in Los Angeles County Superior Court and published by several US entertainment media outlets, alleges that POW! Entertainment CEO Shane Duffy and co-founder Gill Champion failed to fully disclose to Lee details of the firm's 2017 sale to Camsing International. The entertainment icon contends that they took advantage of him at a time when he was despondent over the death of his wife Joan and suffering from macular degeneration, a condition affecting the eyes. The 95-year-old co-creator of many superhero characters, including Black Panther and Spider-Man, alleges he was duped into signing a fraudulent agreement that gave POW! exclusive rights to his name, identity and likeness. ... More



David Nash, 'Black in White, Black in Black: Column' 2017. In 2 parts: Base: charred beech, Column: beech, 197 x 46 x 46 cm. © the Artist. Courtesy Annely Juda Fine Art, London.



LONDON.- Annely Juda Fine Art is presenting a solo exhibition by internationally-renowned sculptor, David Nash, entitled 'Wood, Metal, Pigment'. Large and small-scale sculptures in wood, charred wood, bronze and iron in addition to pigment works on paper, explore the breadth of Nash's established practice with a focus on his three primary materials: wood, metal and pigment. Nash has developed his sculpted work consistently over the last five decades, placing trees at the centre of his exploration. His intimate knowledge of their characteristics, both in life and in the process of change that continues after their being cut down, has informed his artistic development. Nash carefully chooses the way he treats the wood, allowing its natural qualities to inform the final shape of the work. Meanwhile, the effect of charring some of his wooden sculptures varies according to species: 'charred beech, ... More



This file photo shows general view shows the west door and west steps of St George's Chapel at Windsor Castle. Dominic Lipinski / POOL / AFP.



LONDON (AFP).- St. George's Chapel, where Prince Harry and Meghan Markle will tie the knot on Saturday, is a royal church steeped in centuries of British history. The final resting place of kings and queens and the epicentre of English chivalry, the Windsor Castle chapel has witnessed multiple royal weddings and state occasions. When Harry and Meghan wed, they will be surrounded by tombs of his ancestors as well as priceless relics and heraldry dating back to the Middle Ages. Inspired by King Arthur's Knights of the Round Table, King Edward III founded the Order of the Garter, the most prestigious order of chivalry, in 1348. He made Windsor's chapel its mother church and rededicated it to St. George, England's patron saint. In an annual ceremony which still continues, knights walk to the chapel in a grand procession, dressed in their garter robes: heavy blue velvet capes and black velvet hats with elaborate white ostrich plumes. ... More
Claude Debussy's rediscovered score for Hymnis
Flashback
On a day like today, American painter Mary Cassatt was born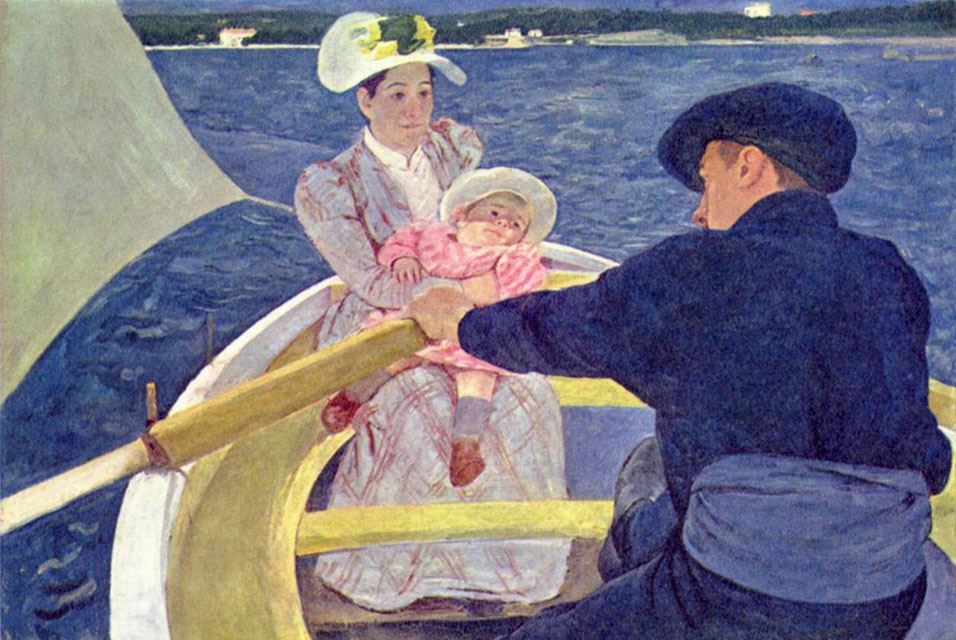 May 22, 1844. ALLEGHENY CITY, PA.- Mary Stevenson Cassatt was an American painter and printmaker. She lived much of her adult life in France, where she first befriended Edgar Degas and later exhibited among the Impressionists. Cassatt often created images of the social and private lives of women, with particular emphasis on the intimate bonds between mothers and children. In this image: The Boating Party by Mary Cassatt, 1893-94, oil on canvas, 35 1/2 x 46 in., National Gallery of Art, Washington
---

Museums, Exhibits, Artists, Milestones, Digital Art, Architecture, Photography,
Photographers, Special Photos, Special Reports, Featured Stories, Auctions, Art Fairs,
Anecdotes, Art Quiz, Education, Mythology, 3D Images, Last Week,
.
---
Royalville Communications, Inc
produces: