Fondation Louis Vuitton in Paris presents an expansive exhibition by Olafur Eliasson
Olafur Eliasson's exhibition explores "the relations between self, space, and universe" by creating a cosmos within the Fondation. Photo: Iwan Baan.
PARIS
.-
Fondation Louis Vuitton
launched the second phase of its inaugural program with an expansive exhibition by Olafur Eliasson, from 17 December 2014 to 16 February 2015. Entitled Contact, Olafur Eliasson's exhibition explores "the relations between self, space, and universe" by creating a cosmos within the Fondation. Eliasson's first solo show in France since his 2002 exhibition at the Musée d'Art moderne de la Ville de Paris, Contact envelops visitors in a choreography of moving light and shadows, seemingly transporting them into the darkness of outer space. A number of smaller optical devices distributed throughout specially built passageways continue the artist's on-going investigations into the mechanisms of perception and the construction of space. As Olafur Eliasson explains: "My exhibition addresses that which lies at the edge of our senses and knowledge, of our imagination and ...
More
The Best Photos of the Day
Christie's London to offer Paul Cézanne's 'Vue sur L'Estaque et Le Château d'If
Fifteen paintings by Winston Churchill sold off in rare auction at Sotheby's London
French adman Franck Davidovici accuses artist Jeff Koons of stealing 'Fait d'Hiver' idea




Paul Cézanne (1839-1906), Vue sur L'Estaque et le Château d'If. Painted circa 1883-1885. Oil on canvas, 28 x 22 3/4 in. (71 x 57.7 cm.). Estimate: £8-12 million. Photo: Christie's Images Ltd 2014.





LONDON.- Christie's announced the sale of a masterpiece by Paul Cézanne, Vue sur L'Estaque et Le Château d'If, which comes to the market for the first time since it was acquired in 1936 by Samuel Courtauld, the founder of the illustrious Courtauld Gallery and Institute of Art in London (estimate: £8-12 million). The painting remained in Courtauld's private collection throughout his lifetime and following his generous bequest to the Courtauld Gallery. One of the leading highlights of the Impressionist & Modern Art Evening Sale on 4 February 2015, this magisterial work was painted circa 1883-1885, during one of the last visits that Cézanne ever made to L'Estaque, a fishing port and small seaside resort in his native Provence, where he sought inspiration repeatedly from the mid-1860s. This is a rare example on a vertical canvas of Cézanne's treatment of this iconic motif; the format lends the composition stately d ... More





Sir Winston Churchill and his daughter Mary aboard the HMS Duke of York, December 1941 © Lt. C J Ware/ IWM via Getty Images.





LONDON (AFP).- A collection of paintings by Britain's wartime leader Winston Churchill was auctioned off on Wednesday in the biggest ever sale of artwork by the statesman and accomplished painter. The 15 paintings included views from his holidays in France as well as the interiors of his home in Chartwell near London and Blenheim Palace, where the cigar-chomping aristocrat was born. The works in the Sotheby's auction came from the personal collection of his daughter and close confidante Mary Soames who passed away earlier this year. "The Goldfish Pool at Chartwell", showing the garden pond where the statesman used to feed fish whose descendants still swim there today, sold for 1.8 million pounds ($2.8 million, 2.2 million euros), a record for a Churchill painting. The paintings provide a rare insight into the World War II prime minister's family life and the talent that his daughter said had helped him escape the rough and tumble of political life. Sotheby's said it was "the most ... More





File photo of US ambassador in France Jane Hartley (l) posing with US artist Jeff Koons during a ceremony at the US embassy in Paris on November 22, 2014. AFP PHOTO.





PARIS (AFP).- A French adman has accused US mega-artist Jeff Koons of stealing an idea from his 1985 Naf Naf advert to make a multi-million-euro artwork, a source close to the case said Wednesday. Franck Davidovici was the author of ad campaigns for the French clothing brand in the 1980s, famously introducing a little pig to pose alongside models in highly successful, theatrical scenes. The 1985 autumn-winter campaign showed a young girl lying in snow, apparently the victim of an avalanche, being nosed at by a small pig with a barrel of rum under its neck in reference to the famous Saint Bernard rescue dogs. Koons's porcelain artwork, which dates from 1988, shows a similar looking young girl, strands of hair on her cheek just like in the ad, though she is wearing different clothes. The pig does appear to be wearing a rum barrel. Like the ad, it is called "Fait d'Hiver". A bailiff went to the Georges Pompidou Centre in Paris ... More
Meadows Museum acquires monumental portrait by Ignacio de Zuloaga y Zabaleta
Museo Mario Testino presents an installation of five videos by Andy Warhol
More than 40,000 masterpieces of Asian and American art available for free public use




Ignacio Zuloaga y Zabaleta (Spanish, 1870-1945), Portrait of the Duchess of Arión, Marchioness of Bay, 1918. Oil on canvas. Meadows Museum, SMU, Dallas. Museum Purchase with funds generously provided by Mr. and Mrs. Walter Levy and Mr. and Mrs. Lawrence Heremele, MM.2014.05. Photo: Michael Bodycomb.





DALLAS, TX.- The Meadows Museum announces the acquisition of a life-size portrait by the modern Spanish master Ignacio de Zuloaga y Zabaleta as part of its ongoing initiative to expand and enhance its collection and further strengthen its role as a leading center for the study and presentation of Spanish art. Portrait of the Duchess of Arión, Marchioness of Bay (1918) builds on the Meadows's prior acquisition of additional works this year— including those by artists Raimundo de Madrazo y Garreta, Miquel Barceló, and Juan Muñoz—as well as the Meadows's holdings of two works by Zuloaga, The Bullfighter "El Segovianito" (1912) ... More





Mario Testino, Bianca Jagger and Eric Shiner.





LIMA.- MATE - Museo Mario Testino announces a new exhibition in their Temporary Exhibition Space of films by American artist and filmmaker Andy Warhol, renowned figure in the Pop Art movement. Open to the public from Saturday 13th December, this is the first exhibition of the artist's films in Peru, and will be opened by Eric Shiner, Director of The Andy Warhol Museum. Warhol (1928 - 1987) became famous worldwide for his work as a painter, film director, producer, writer and as an influential member of various social circles that included prominent intellectuals and celebrities. In the short five year period between 1963 and 1968, he created 650 films, many of which are now considered classic avant-garde films. The many "Screen Tests" recorded by Warhol particularly stood out- films where the artist portrayed an array of characters who visited his studio known as "The Factory". "I only wanted to find ... More





Collection digitization in progress, November 2014. Photo by Hutomo Wicaksono / Freer and Sackler Galleries, Smithsonian.





WASHINGTON, DC.- The Freer Gallery of Art and Arthur M. Sackler Gallery, the Smithsonian's museums of Asian art, will release their entire collections online Jan. 1, 2015, providing unprecedented access to one of the world's most important holdings of Asian and American art. The vast majority of the 40,000 artworks have never before been seen by the public, and more than 90 percent of the images will be in high resolution and without copyright restrictions for noncommercial use. The Freer and Sackler galleries are the first Smithsonian and the only Asian art museums to digitize and release their entire collections, and in so doing join just a handful of museums in the U.S. "We're poised at a digital tipping point, and the nature of what it means to be a museum is changing," said Julian Raby, the Dame ... More
The Museum of Modern Art announces an exhibition of Jacob Lawrence's Migration Series
Exhibition at Sprovieri presents a single large installation by Jannis Kounellis
Masterpieces from the Frick Collection travel outside the US for the first time for exhibition at Holland's Mauritshuis




Cover from William Attaway, with dust jacket by Charles Alston. Blood on the Forge. Garden City, NY: Doubleday, Doran & Co., Inc., 1941. Collection of Leon F. Litwack. Photograph courtesy Yale Collection of American Literature, Beinecke Rare Book and Manuscript Library.





NEW YORK, NY.- The Museum of Modern Art marks the centennial of the beginning of the Great Migration, the multi-decade mass movement of African Americans from the rural South to the urban North, with the exhibition One-Way Ticket: Jacob Lawrence's Migration Series and Other Visions of the Great Movement North from April 3 through September 7, 2015. The show highlights the ways in which Lawrence and others in his circles developed a set of innovative artistic strategies to offer perspectives on this crucial episode in American history. An extensive program of public events, performances, digital resources, and publications that underscore the movement's transformative impact on American culture, politics, and society will be ... More





Jannis Kounellis, Untitled, 2014. Iron beams, knives and torn coats, variable dimensions, installation view at Sprovieri, London, courtesy of the artists and Sprovieri, London. Photo: Bastien Choury.





LONDON.- Sprovieri is presenting the fifth solo show by Jannis Kounellis at the gallery. The exhibition presents a single large installation that occupies the whole space of the main gallery. The installation was originally presented at Palazzo Vignola in Todi (Umbria) in August 2014, which the following text by Rudi Fuchs refers to. 'More and more emphatically in recent years, heavy black stains have become a basso continuo in the repertoire of Jannis Kounellis.That black lies so deeply submerged in his imagination that I regard it, in fact, as an essential aspect of his artistic 'handwriting'. The form of those stains is undefined. This is moreover how those fluid forms come about: as results or remnants of a process. Three or four summers ago, in a studio in Umbria, I saw him creating them – with men's coats immersed in boiling tar. With an assistant he lifted ... More





Hans Memling, Portrait of a Man, c.1470, panel, 13 1/8 x 9 1/8 inches, The Frick Collection, New York; photo: Michael Bodycomb.





THE HAGUE.- Over 30 masterpieces from the celebrated Frick Collection will be seen outside New York for the first time as part of a special exhibition at the Mauritshuis in The Hague in 2015. The Frick Collection – Art Treasures from New York will be the first major exhibition to be displayed in the new wing of the Mauritshuis following the opening exhibition of the museum in 2014. The exhibition will give visitors to the Mauritshuis a fascinating insight into the history of The Frick Collection and its founder, wealthy American steel magnate Henry Clay Frick (1849—1919). The works selected for the exhibition are masterpieces from the 13th to 19th centuries, which include not only paintings, but also drawings, sculpture and decorative arts, reflecting the outstanding quality and diversity of The Frick Collection. They perfectly complement the Mauritshuis's own collection which focuses on Dutch art of the ... More
Fashionable ladies, tranquil landscapes and exotic views shine in Bonhams 19th Century Paintings Sale
Nationalmuseum Sweden announces new acquisition: English cabinet in imitation lacquer
Edgar Peters Bowron to retire from the Museum of Fine Arts, Houston, after nearly 20 years




Ernest Ange Duez, Une Parisienne. Photo: Bonhams.





LONDON.- Exceptional examples of works from top names are to be offered in the 19th Century European, Victorian and British Impressionist Art sale, taking place on 21 January 2015 at Bonhams New Bond Street salerooms. Ernest Ange Duez's 1883 work Une Parisienne, £60,000-80,000, is an iconic image of the independent young Parisian woman walking along an open boulevard, her sober but fashionable dress offset by a bouquet of bright flowers. It is a vision of Paris made famous by artists such as Edouard Manet and Edgar Degas, and writers from Balzac to Zola. By the social standards of the time, Une Parisienne could be seen as a challenging image; depicting an unaccompanied woman in an urban setting was a subject that in the 1880s still had the power to shock. Duez's work reflects his place amongst the leading figures of the Parisian avant-garde, as his focus on the lives of bourgeois Parisians places him at the heart of what the Impressionis ... More





English cabinet in imitation lacquer, circa 1680. Photo: Stockholms Auktionsverk.





STOCKHOLM.- Nationalmuseum has acquired a magnificent English cabinet in imitation lacquer. Manufactured circa 1680, the cabinet had been part of the Biby estate collection since 1788. Nationalmuseum purchased the piece at last summer's auction of items from the Biby estate. Nationalmuseum has added a splendid English piece with a proud Swedish heritage to its antique furniture collection. The cabinet had been part of the Biby estate collection, owned by the von Celsing family, since 1788. According to family tradition, it once belonged to the mill owner Johan Lohe (1643–1704). Via Lohe's daughter and grandson, it passed into Gustaf Celsing's ownership in 1781 as a result of a purchase. This lengthy Swedish pedigree shows that high-quality English furniture was being imported to Sweden as far back as the late 17th century. Japanese and Chinese lacquer pieces were the height of fashion and were much sought ... More





Since joining the staff in 1996, Dr. Bowron has strengthened the Museum's collection of European art.





HOUSTON, TX.- Gary Tinterow, director of the Museum of Fine Arts, Houston, today announced the retirement of Edgar Peters Bowron, the Audrey Jones Beck Curator of European Art, at the end of this year. During 18 years at the Museum, Dr. Bowron has overseen the prestigious John A. and Audrey Jones Beck Collection of Impressionist and PostImpressionist paintings; the Samuel H. Kress and Edith A. and Percy S. Straus Collections of European Old Masters; and the Museum's wide-ranging collection of European art from the Middle Ages to 1900. Since joining the staff in 1996, Dr. Bowron has strengthened the Museum's collection of European art with the acquisition of such masterpieces as Still Life of Flowers and Fruit (c. 1715) by Jan van Huysum; Saint James the Greater (c. 1636–38) by Guido Reni; The Gust of Wind (c. 1865) by Gustave Courbet; Portrait of a Young Woman (1633) by Rembrandt van Rijn; and ... More
Happy holidays from the Gardner Museum
---
Flashback
On a day like today, Swiss-born painter Paul Klee was born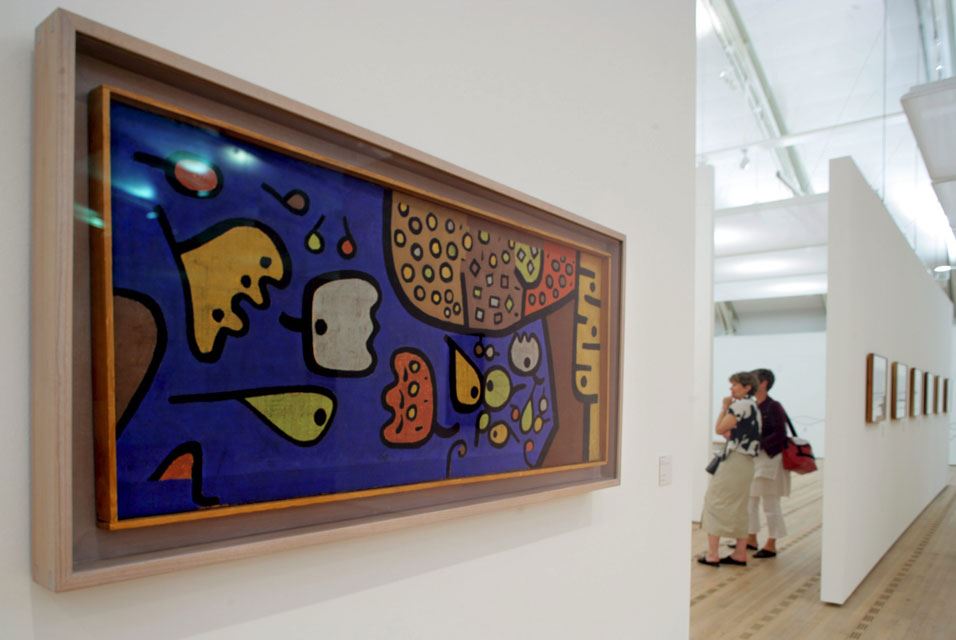 December 18, 1879. Paul Klee (18 December 1879 - 29 June 1940) was born in Münchenbuchsee, Switzerland, and is considered both a Swiss and a German painter. His highly individual style was influenced by movements in art that included expressionism, cubism, and surrealism. He was, as well, a student of orientalism. Klee was a natural draftsman who experimented with and eventually mastered color theory, and wrote extensively about it; his lectures Writings on Form and Design Theory (Schriften zur Form und Gestaltungslehre), published in English as the Paul Klee Notebooks, are considered so important for modern art that they are compared to the importance that Leonardo da Vinci's A Treatise on Painting had for Renaissance. In this image: The painting Fruechte auf Blau (1938) by German artist Paul Klee is on display in the new Zentrum Paul Klee.
---

Museums, Exhibits, Artists, Milestones, Digital Art, Architecture, Photography,
Photographers, Special Photos, Special Reports, Featured Stories, Auctions, Art Fairs,
Anecdotes, Art Quiz, Education, Mythology, 3D Images, Last Week,
.
---
Royalville Communications, Inc
produces: