Jitish Kallat returns to painting in new exhibition at Galerie Templon in Paris
Kallat's newest works, titled Palindrome/ Anagram Paintings, draw upon insights from his varying artistic explorations, as well as his work from the mid-nineties, to produce a radical linguistic renewal accomodating a wide array of his recurring preoccupations.
PARIS
.-
Born in 1974, Jitish Kallat is one of the best known and respected artists from India on the international scene. For over 20 years his wide-ranging and deeply reflective work has drawn an imaginary map connecting the everyday to the cosmic. Phase Transition is Jitish Kallat's third solo exhibition in Paris and marks the artist's return to painting after close to a five-year hiatus from the medium. For the past five years, Kallat's long-standing engagement with the ideas of time, transience, sustenance and the cosmological took the form of large elemental drawings, and investigative animation videos, photo-works and sculptures. Kallat's newest works, titled Palindrome/ Anagram Paintings, draw upon insights from his varying artistic explorations, as well as his work from the mid-nineties, to produce a radical linguistic renewal accomodating a wide array of his recurring preoccupations. A hand-drawn graph undergirds the paintings as well as the Untitled (Emergence) Drawings a suite of sm ...
More
The Best Photos of the Day
French actress Deneuve to auction personal YSL clothing next week
Madre museo d'arte contemporanea presents exhibition of over 160 works by Robert Mapplethorpe
Christie's Americana Week totals $15,867,250


A picture taken on January 18, 2019 shows a creation by Yves Saint Laurent at the Christie's auction house in Paris during a presentation of Yves Saint Laurent's clothes that belonged to French actress Catherine Deneuve, and which will be sold on auction on next January 24. ALAIN JOCARD / AFP.



PARIS (AFP).- French screen legend Catherine Deneuve's personal clothing collection designed by her friend Yves Saint Laurent will be auctioned in Paris next week. Deneuve, 75, is auctioning her clothing by the late fashion icon after selling her country home in northern France where she kept a wardrobe full of Saint Laurent items. "These are the designs of such a talented man who designed only to make women more beautiful," Deneuve said in a message last October shared by the auction house Christie's, which is handling the sale. Hundreds of items, including coats, dresses and accessories -- some of them unique pieces designed for Deneuve -- will be auctioned in an open sale on January 24 and online. One of the highlights of the auction is a beaded evening dress from a 1969 collection which she wore when meeting ... More



Robert Mapplethorpe, Phillip Prioleau, 1982. © Robert Mapplethorpe Foundation. Used by permission.



NAPLES.- Madre · museo d'arte contemporanea Donnaregina of Campania Region is presenting Robert Mapplethorpe. Choreography for an Exhibition,, curated by Laura Valente and Andrea Viliani in collaboration with the Robert Mapplethorpe Foundation. The exhibition coincides with the thirtieth anniversary of the traveling solo exhibition The Perfect Moment, opened in December 1988, just a few months before the artist's death on March 9, 1989, at the age of 43. More than 160 works, including those from the Museo Archeologico Nazionale di Napoli, Museo e Real Bosco di Capodimonte and from Reggia di Caserta (Terrae motus collection), thanks to a virtuous collaboration among the institutions. An hypothetical dialogue between ancient times and modernity, between photography and dance, that at the Madre Museum goes on stage not only in the exhibition section, but also through a live performance program commissioned for the exhibition to some of t ... More



Ammi Phillips (1788-1865), Girl in a Red Dress with a Dog, painted circa 1830-1835. Estimate: $800,000 – 1,200,000. Price Realized: $1,692,500. © Christie's Images Ltd 2019.



NEW YORK, NY.- The successful Outsider and Vernacular Art auction realized a total $4,261,625 selling 99% by lot and 98% by value. The auction achieved the highest sale total for the category. Henry Darger's double sided work 148 At Jennie Richee During fury of storm are unsuccessfully attached [sic] by Glandelinians / 149 At Jennie Richee narrowly escape capture but Blengins come to rescue realized $684,500, the second highest auction price for a work by the artist and the top lot of the sale. Other impressive results were achieved for William Edmondson's Lady, 1930s which realized $237,500 against a high estimate of $80,000 and Bill Traylor's Woman Pointing at Man with Cane realized $396,500 against a high estimate of $60,000. Property from the William Louis-Dreyfus Foundation and family collections realized a total of $1,395,375. Important American Furniture, Folk Art, Silver and Prints achieved $7,926,500 selling ... More
Betty Cuningham Gallery opens an exhibition of 25 works by Bill Traylor
Nationalmuseum Sweden acquires two 18th century portrait drawings
After 600 years, night watchman still keeps vigil over Lausanne


Mexican Man ("He Just Come to Town"), c. 1939-1942. Pencil and Crayon on Cardboard, 10 1/4 x 7 5/16 in. (26.04 x 18.57 cm).



NEW YORK, NY.- Bill Traylor, born a slave in 1853, is today revered as a major American artist and is currently the subject of an extensive solo exhibition at the Smithsonian American Art Museum, Between Worlds: The Art of Bill Traylor (up through March 17, 2019). Betty Cuningham Gallery presents its second exhibition of the work of Bill Traylor, opening on Saturday, January 19th, 4 – 6 PM. On view will be 25 works, the majority of which are from the collection of The Charles E. and Eugenia C. Shannon Trust. In 1939, Charles Shannon, a young artist, encountered the 85-year-old Bill Traylor, seated in front of a blacksmith shop, with a pencil in his hand, on Monroe Street in Montgomery, AL. Intrigued, Shannon provided Traylor with encouragement and art supplies. He purchased approximately 1200 works from Traylor, for modest prices, and these preserved works have become the basis ... More



Louis-Jean-François Lagrenée, Self-Portrait, 1778. Photo: Cecilia Heisser / Nationalmuseum.



STOCKHOLM.- Nationalmuseum has acquired two 18th century portrait drawings. One is a self-portrait of Louis-Jean-François Lagrenée, while the other, by Johann-Ernst Heinsius, depicts an unknown woman. Both works are fully elaborated and demonstrate a technical virtuosity which captures both the personality and vitality of their subjects. Louis-Jean-François Lagrenée (1725–1805) studied under Carle van Loo (1705–1765) in Paris in the late 1740s. In 1749 he won the Royal French Academy of Art's travel scholarship for studies in Rome, and in the course of the ensuing years spent in Italy he was influenced by Guido Reni (1575–1642) and Francesco Albani (1578–1660), among others. For a period at the beginning of the 1760s, he was Court Painter in Saint Petersburg and also served as the Director of the Imperial Academy of Arts. Much later, between 1781 and 1787, Lagrenée returned to Rome as ... More



Marco Carrara, a replacement watchman, poses for a picture on the Lausanne Cathedral bell tower, on December 17, 2018 in Lausanne. Fabrice COFFRINI / AFP.



LAUSANNE (AFP).- Every evening, the night watchman clambers to the top of the Lausanne cathedral bell tower and gets to work: he shouts out the time each hour, keeping a six-century-old tradition alive. The night watchman, one of the last in Europe, no longer alerts this Swiss city to fires, but he does help residents to keep track of the time. "This is the watchman! The bell has tolled 10. The bell has tolled 10." On a cold night in December, Marco Carrara, who takes on the job on the permanent watchman's days off, repeats the message hourly, only changing the number of chimes that have rung. Cupping his hands around his mouth, he allows his voice to carry across the rooftops, just as his predecessors have done every evening since 1405. All year round, from 10:00 pm to 2:00 am, the night watchman, wearing a big black hat and carrying ... More
TOTAH opens an exhibition of works by Archie Rand
Petzel Gallery opens an exhibition of works from a new series by Adam McEwen
Exhibition at the Art Gallery of Greater Victoria looks at Emily Carr and 20th century Canadian modernist painters


Archie Rand, 13A, 2005. Acrylic on canvas, 24 x 20 inches (61 x 51 cm). Image courtesy of TOTAH.



NEW YORK, NY.- TOTAH presents Misfits, an exhibition of works by Archie Rand, on view January 18 through February 17, 2019. This is the artist's first exhibition with the gallery. The 36 works included in Misfits depict portraits and ambiguous scenarios in the midst of unfolding. Each painting reaches for something beyond what is visible to the naked eye—a world of empathic imagination, comprising wonderment and joy as much as confusion and melancholy. Rand's vibrant paintings are visualizations of philosophical and spiritual questions. Inspired by Egyptian, Babylonian, and Talmudic interpretations of the number 36, every work on exhibit displays what's most characteristic about a certain "misfit"—understood as a numinous being whose righteousness is craftily concealed by the foibles of everyday life. A playful mood is key to this awareness. These Misfits are marginalized figures; humbly righteous, they refuse ... More



Adam McEwen, Chest Freezer Tragedy, 2019 (detail). Archival pigment print on Lusterboard, graphite, 37.5 x 50 inches, 95.3 x 127 cm.



NEW YORK, NY.- Petzel Gallery is presenting a show of works from a new series by the New York-based Adam McEwen. On view through February 16, this marks the artist's first exhibition at the gallery's Upper East Side location, and coincides with an installation of recent works at Lever House on Park Avenue, which runs January 30 through May 2019. The new series at Petzel represents an evolution for McEwen, expanding his practice into more prosaic, but also more challenging, territory. The works unpack and activate McEwen's signature graphite sculptures, which are here mounted on rough plywood faced with aluminum and coated with an image of the subjects of the sculptures themselves. The objects present in McEwen's assemblages are so ubiquitous one's associations are likely to go beyond the physical or aesthetic. Banal, familiar, verging on the outdated ... More



Pegi Nicol MacLeod, The Peace Bird, c. 1946, oil on canvas, 119.7 x 101.5 cm.



VICTORIA, BC.- In their first exhibition of 2019, the Art Gallery of Greater Victoria looks at Emily Carr and 20th century Canadian modernist painters through a new lens. Unformable Things: Emily Carr and Some Canadian Modernists opens with a by-donation Public Open House at the Gallery on Jan. 19, 2019. The exhibition, which runs in the AGGV's Graham Gallery through Oct. 27, 2019, explores the emergence of an increasingly experimental approach to art-making in Canada, an approach that Emily Carr once described as the search for "essence," or "the unformable things one wants to paint." All of the works in the exhibition are drawn from the AGGV collection. "While recent AGGV exhibitions featuring the work of Carr have focused on the artist's biography (Emily Carr: On the Edge of Nowhere and Emily Carr & the Young Generation) or her philosophical concerns (Picturing the Giants: ... More
1968 Grenoble Winter Olympics torch sold for more than $231,000 at auction
Heritage Numismatic Signature Auctions January 6-16 exceed $71 million
Ambitious new sound commission by the artist and musician Mark Fell on view at Focal Point Gallery


Rare and remarkable 1968 Grenoble torch, used by wrestler Daniel Robin to light the closing ceremony's cauldron.



BOSTON, MASS.- A 1968 Grenoble Winter Olympics torch sold for $231,287 according to Boston-based RR Auction. The torch, one of just 33 manufactured was used by French wrestler Daniel Robin to light the Olympic cauldron during the closing ceremonies in Grenoble's Le Stade de Glace on February 18, 1968. Months later, Daniel Robin would go on to win two silver medals at the 1968 Mexico Olympics, in both Greco-Roman and freestyle wrestling, becoming the first wrestler to win two silver medals at the same Games. While Robin considered his World Championship and Olympic medals to be his greatest achievements in wrestling, he looked upon his role as a Grenoble torchbearer as an enormous source of personal pride. "Any Grenoble torch would stand out as one of the rarest and most sought-after Olympic torches ever made, and their desirability has been heightened by the recent 50th ... More



1884 Trade Dollar, PR66. Only 10 Examples Known. Ex: Granberg-Brand-Eliasberg.



DALLAS, TX.- Heritage Auctions announced Friday its early January numismatic auctions surpassed $71 million for the fourth consecutive year. In just three short weeks, high-dollar bids for U.S. Coins, World & Ancient Coins and World Paper Money reached seven figures in some cases at auctions held during the Florida United Numismatic Convention (FUN) and the New York International Numismatic Convention (NYINC). "We take great pride combining our market knowledge with our clients' collecting strategies," said Greg Rohan, President of Heritage Auctions. "This year shows our continued ability to find exceptional rarities to the auction block, despite an unpredictable economy." The bombshell, a $3.96 million winning bid for the finest known 1885 Trade dollar, PR66 NGC, drew thunderous applause during Heritage's FUN Platinum Night Auction. Perhaps the most enigmatic issue in all of American coinage sold to the floor as collecto ... More



Mark Fell, Intermetamorphosis, Performance installation at Serralves Porto, November 2017. Courtesy the artist.



SOUTHEND-ON-SEA.- Focal Point Gallery announces an ambitious new sound commission by the artist and musician Mark Fell. Using sound synthesis and pattern generating systems, A Stitch Outside Time is presented in the form of an app that has been designed to uniquely complement journeys on the London to Southend c2c train line, which traverses the towns of Barking, Basildon, Pitsea and Benfleet through to Shoeburyness. In conjunction with its launch, Focal Point Gallery will stage a major solo exhibition by Fell, 'The Concept of Time is Intrinsically Incoherent', opening 19 January 2019. A Stitch Outside Time explores how we perceive and experience time through a ceaselessly evolving sound composition. c2c passengers will be able to listen to Fell's ever-changing sound work as it employs generative music technology to respond to the train's movement and exact location, never hearing the same ... More
Tania Bruguera | Hyundai Commission
Flashback
On a day like today, American painter Robert Motherwell was born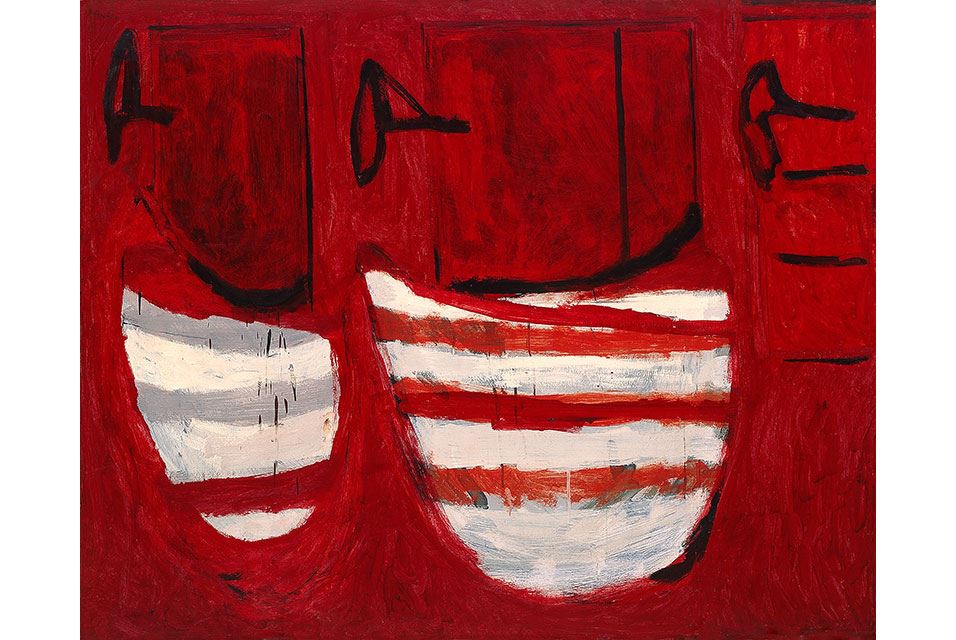 January 24, 1915. Robert Motherwell (January 24, 1915 - July 16, 1991) was an American painter, printmaker, and editor. He was one of the youngest of the New York School (a phrase he coined), which also included Philip Guston, Willem de Kooning, Jackson Pollock, and Mark Rothko. In this image: Robert Motherwell, The Hotel Corridor, 1950. Oil on masonite, 44 x 55 inches, 111.8 x 139.7 cm. © Dedalus Foundation, Inc./ Licensed by VAGA, New York, NY.
---

Museums, Exhibits, Artists, Milestones, Digital Art, Architecture, Photography,
Photographers, Special Photos, Special Reports, Featured Stories, Auctions, Art Fairs,
Anecdotes, Art Quiz, Education, Mythology, 3D Images, Last Week,
.
---
Royalville Communications, Inc
produces: