Large-scale exhibition of Jean Michel Basquiat's work opens at Barbican Art Gallery
Basquiat: Boom For Real. Installation view Barbican Art Gallery 21 September 2017 – 28 January 2018 © Tristan Fewings / Getty Images Artwork: Jean-Michel Basquiat, Hollywood Africans, 1983 Courtesy Whitney Museum of American Art, New York. © The Estate of Jean-Michel Basquiat/ Artists Rights Society (ARS), New York/ ADAGP, Paris. Licensed by Artestar, New York.
LONDON
.-
Basquiat: Boom for Real is the first large-scale exhibition in the UK of the work of American artist Jean-Michel Basquiat (1960­-1988). One of the most significant painters of the 20th century, Basquiat came of age in the late 1970s in the post-punk underground art scene in downtown New York. By 1982, he had gained international recognition and was the youngest ever artist to participate in Documenta 7 in Kassel. His vibrant, raw imagery, abounding with fragments of bold capitalised text, offers insights into both his encyclopaedic interests and his experience as a young black artist with no formal training. Since his tragic death in 1988, Basquiat has had remarkably little exposure in the UK; not a single work of his is held in a public collection. Drawing from international museums and private collections, Basquiat: Boom for Real brings together an outstanding selection of more than 100 works, many never seen before in the UK, and on view now at
More
The Best Photos of the Day
9 Lucio Fontana spatial environments reconstructed in full scale and presented together for the first time
Australian art comes to Tate Modern
Exhibition at Marian Goodman features the latest developments in Tony Cragg's sculptural oeuvre


Lucio Fontana in collaboration with Nanda Vigo, Ambiente spaziale: "Utopie", nella XIII Triennale di Milano, 1964/2017, installation view at Pirelli HangarBicocca, Milan, 2017. Courtesy Pirelli HangarBicocca, Milan. ©Fondazione Lucio Fontana Photo: Agostino Osio.



MILAN.- Fontana's "Spatial Environments" are considered the most innovative outcome of the theories about space that Lucio Fontana first expressed in his Manifiesto Blanco of 1946. Here and in later manifestos, he described a new form of visual representation linked to space and time, which would move past the classic materials of sculpture and painting and employ modern technology to create "artificial forms, rainbows of wonder, words written in light" (Lucio Fontana, Spaziali, 1947 in Lucio Fontana, Manifesti scritti interviste, edited by Angela Sanna, Milan, 2015). These ideas led to the birth of Spatialism, an artistic movement that emerged in Argentina and Italia in the late '40s. Fontana, its founder and prime representative, applied them in famous works such as his Concetti Spaziali (Spatial Concepts, like his "Holes" and "Cuts"), but above ... More



Left to right: Alan Joyce (CEO of Qantas Group), Elizabeth Ann Macgregor OBE (Director of MCA) and Frances Morris (Director of Tate Modern) in front of Gordon Bennett's Possession Island (Abstraction) at Tate Modern. Photo © Tate Photography.



LONDON.- Works by renowned Australian artists Gordon Bennett and Susan Norrie have gone on display at Tate Modern for the first time. They are among ten works of art which have now been jointly acquired by Tate and the Museum of Contemporary Art Australia (MCA) in Sydney. The partnership, launched in 2015, is made possible through a $2.75 million corporate gift from Qantas and enables both museums to expand their collections each year, bringing the work of Australian artists to new global audiences. Qantas Group's CEO, Alan Joyce, and the MCA's Director, Elizabeth Ann Macgregor OBE, travelled to London to help launch the new display yesterday, alongside artist Susan Norrie and Leanne Bennett, Gordon Bennett's widow. They were welcomed by Tate Modern's Director, Frances Morris and Tate's Director of Collection for International Art, Gregor Muir. Frances Morris ... More



Installation view of Tony Cragg's exhibition at Marian Goodman in New York.



NEW YORK, NY.- Marian Goodman Gallery New York is presenting an exhibition of new sculpture by Tony Cragg on view through Saturday, October 14th, 2017. One of the world's most distinguished contemporary sculptors, the past two years brought several important solo presentations of Cragg's work to Europe including The Hermitage in St. Petersburg and a major career retrospective, Parts of the World at the Von der Heydt Museum in Germany, in 2016. A comprehensive exhibition was held at the Luxemburg Modern Art Museum, and A Rare Category of Objects, one of the most extensive outdoor exhibitions to date, was shown at Yorkshire Sculpture Park, Yorkshire UK in 2017. The gallery exhibition features the latest developments in Tony Cragg's sculptural oeuvre during the period of 2015-2017 as Cragg continues his pursuit of giving expression to the intrinsic and dynamic relationship between ourselves and our material surroundings and the ... More
Louisiana Museum of Modern Art opens exhibition of works by Dutch artist Rineke Dijkstra
Michael Werner Gallery, London opens exhibition of new works by Enrico David
Long-lost Faberge silver knives resurface in Poland


Rineke Dijkstra, Kolobrzeg, Poland, July 26, 1992. C-print, 168 x 141,5 cm. Courtesy the Artist and Marian Goodman Gallery, New York, Paris and London; Galerie Max Hetzler, Berlin and Paris and Jan Mot, Bruxelles.



COPENHAGEN.- The Dutch artist Rineke Dijkstra (b. 1959) gained international recognition more than 20 years ago with her Beach Portrait series. Her subject's expressions are powerful, insistent and they leave a lasting and profound impression on the viewer. Dijkstra photographs people in their natural environment but at the same time the composition of the photograph isolates them from their surroundings. By concentrating on the subject's posture, gaze and gestures, Dijkstra's observations result in images that resonate between the posed and the natural. Also small details, which in normal life one would hardly notice, become important in the interpretation of the photograph, and the subjects seem to be lifted from reality. Dijkstra is always looking for the specificity and individuality of each person; the ... More



Enrico David, Untitled (Tonsils), 2017. Wool on canvas, 91 1/4 x 74 3/4 inches, 232 x 190 cm. Courtesy Michael Werner Gallery, New York and London.



LONDON.- Michael Werner Gallery, London is presenting an exhibition of new works by Enrico David. David's work encompasses painting, sculpture, textiles and installation with the act of drawing being key to his exploration of form. Mining a space between figuration and abstraction, the artist consistently returns to the body as a point of departure, exploring the human figure as a metaphor for transformation. The sense of metamorphosis that pervades these forms through allusions to cocoons and germination lends these new works a close affinity with the natural world. This suggestion of continual change is further emphasised by David's manipulation of materials, the final works often being the result of a sequence of modelling and casting processes that divert our understanding of their material truth. This exhibition is David's second with Michael Werner in London. Major solo showings during the past decade include Fault Work ... More



This undated handout picture taken in Opole, southern Poland, shows knives by Faberge. They should have vanished a century ago after Russia's October Revolution, melted down with the rest of a solid silver tableware set by Faberge, Imperial Russia's legendary jeweller. Adam Szymanski / AFP.



WARSAW (AFP).- They should have vanished a century ago after Russia's October Revolution, melted down with the rest of a solid silver tableware set by Faberge, Imperial Russia's legendary jeweller. And yet, two knives from the collection have just resurfaced in Poland. After the 1917 revolution deposed Tsar Nicolas II, the Bolshevik-ruled Russia that emerged needed money to wage war and consolidate its power. To this end, the valuable possessions of pre-revolutionary elites, including the tsar, aristocratic and bourgeois families as well as the Russian Orthodox Church, were nationalised. Handcrafted gold and silverware, platters and goblets were melted down to obtain precious metals. More than 100 pieces of silverware, including plates, dishes and cutlery, made by Peter ... More
Tina Turner donates outfit to Tennessee State Museum
Freeman's to offer rare, early American atlas held in a private collection since 1880
Celebrations, discussions and unveilings: Demodernising the collection at Van Abbemuseum


The jacket and skirt were created by world renowned fashion designer Rifat Ozbek.



NASHVILLE, TENN.- The Tina Turner Museum at Flagg Grove School and the Tennessee State Museum announced the generous gift of apparel from the internationally-acclaimed entertainer Tina Turner. This iconic look selected for an album promo shoot will be added to the collection of the State Museum and exhibited in the new museum opening in the fall of 2018. In a ceremony held on September 19 at the Tina Turner Museum at Flagg Grove School in Brownsville, TN, officials from Tennessee State joined Tina Turner's longtime friend and Executive Personal Assistant Rhonda Graam and Tina Turner Museum Executive Director Sonia Outlaw-Clark, to debut the ensemble which was personally selected by the Tennessee native and international music icon. "It is an honor for the Tennessee State Museum to receive this gift from Tina Turner for our museum's collection," says Tennessee State Museum Executive Director Ashley ... More



Charts of the Coast of America from Cape Breton to the Entrance of the Gulph of Mexico, published and sold by Matthew Clark and Osgood Carleton in Boston between 1789 and 1790.



PHILADELPHIA, PA.- On Thursday, September 28, Freeman's will host its Fall 2017 Books, Maps & Manuscripts auction. Though encompassing notable material from a range of collecting genres, the sale is highlighted by a fresh-to-the-market example of what is generally considered to have been the first American atlas: Charts of the Coast of America from Cape Breton to the Entrance of the Gulph of Mexico, published and sold by Matthew Clark and Osgood Carleton in Boston between 1789 and 1790. Tradition holds that this particular copy, which is comprised of sixteen of the original eighteen charts available for subscription, has been kept in the same private collection since 1880. It is one of but few extant bound sets of Clark's charts: individual sheets are rare in themselves, seldom appearing at auction, and most complete copies of the atlas are only to be found in university ... More



Pablo Picasso, Femme en vert, 1909. Collection Van Abbemuseum. Photo: Peter Cox.



EINDHOVEN.- To officially open its new collection displays and to launch its three-year programme of exploration and transformation, the Van Abbemuseum is holding three days of activities, workshops and celebrations from 21 to 23 September 2017. Together with L'Internationale, a confederation of six modern and contemporary art institutions, the Van Abbemuseum is working to demodernise the museum, rearrange its permanent collections and alter the course of the museological canon. It announced the launch of its three-year programme of exploration and transformation with the official opening of its new collection display during three days of activities, symposia and celebration. As one of the first public museums for contemporary art to be established in Europe, the Van Abbemuseum has been looking at how the relationship of the museum with the public can invite different forms of exchange and representation that better reflect current soc ... More
Sotheby's photographs sale features important daguerreotypes from the Stanley B. Burns Collecction
Show of new and recent works by Michael Craig-Martin opens at Gallery Hyundai, Seoul
Christie's announces a new concept auction to showcase great achievements


Philip Haas, John Quincy Adams Estimate $150/250,000. Courtesy Sotheby's.



NEW YORK, NY.- Sotheby's fall auction of Photographs on 5 October in New York will offer a variety of exceptional works from the 19th century to today. Of special note are masterpieces by Robert Frank, Edward Weston, Eugène Atget, Gustave Le Gray and William Eggleston among many others. This carefully curated, encyclopedic sale will feature 200 works with estimates ranging from $1,000 to $300,000. The New York exhibition will be open to the public from 30 September through 4 October. Leading the sale is Philip Haas's remarkable portrait of John Quincy Adams (estimate $150/250,000). Taken in the spring of 1843, this commanding daguerreotype of President, Secretary of State, Senator, Congressman and diplomat John Quincy Adams (1767–1848) is a landmark in both photographic and American history. When he posed for this portrait, Adams had completed his term as the sixth American president (1825–29) but was still serving ... More



Michael Craig-Martin, Untitled (tennis racket fragment yellow), 2017, Acrylic on aluminium, 61 x 61 cm. © Michael Craig-Martin. Courtesy Gagosian. Photo: Mike Bruce.



SEOUL.- Gallery Hyundai is presenting All in All, an exhibition of new and recent paintings by Michael Craig-Martin. Featuring acrylic on aluminium works, this is the second solo show for the Irish-British artist at the gallery. Minimalism, Pop Art and Conceptual Art became significant influences upon Craig-Martin during his time studying at Yale University School of Art and Architecture in the early 1960s. He returned to London and had his first major solo exhibition there at Rowan Gallery in 1969. His early work explicitly questions the nature of art and representation through a variety of objects and materials. A seminal piece of this period is An Oak Tree, 1973, a glass of water on a shelf with text declaring that the glass is, in fact, an oak tree. In the late 1970s, the artist began to make line drawings of ordinary everyday objects, characterised by their boldly outlined ... More



Gilbert & George, Red Morning (Hell) (1977, estimate: £800,000 – £1,200,000) and Marc Newson, A Lockheed Lounge (Designed 1985-1988, this example executed before 1993, estimate: £1,000,000 – £1,500,000). © Christie's Images Limited 2017.



LONDON.- Christie's Frieze Week season will launch on 3 October 2017, including, for the first time, an evening auction that showcases two complementary collecting categories: Masterpieces of Design and Photography. The auction will showcase masterworks of the 20th and 21st centuries and tell the story of the extraordinary expansion of creativity in both design and photography from 1865 to the present day. Featuring major names including Diane Arbus, Gilbert & George, Andreas Gursky, Allen Jones, Finn Juhl, Robert Mapplethorpe, Carlo Mollino, Marc Newson, Helmut Newton, Irving Penn, Gio Ponti, Jean Prouvé, Gerrit Rietveld and Thomas Struth, the auction will provide an opportunity for both established and younger collectors. On view at Christie's, King Street from 26 September to 3 October. Francis Outred, Chairman ... More
Sir David Attenborough on Museum Collections
Flashback
On a day like today, Italian painter Alessandro Allori died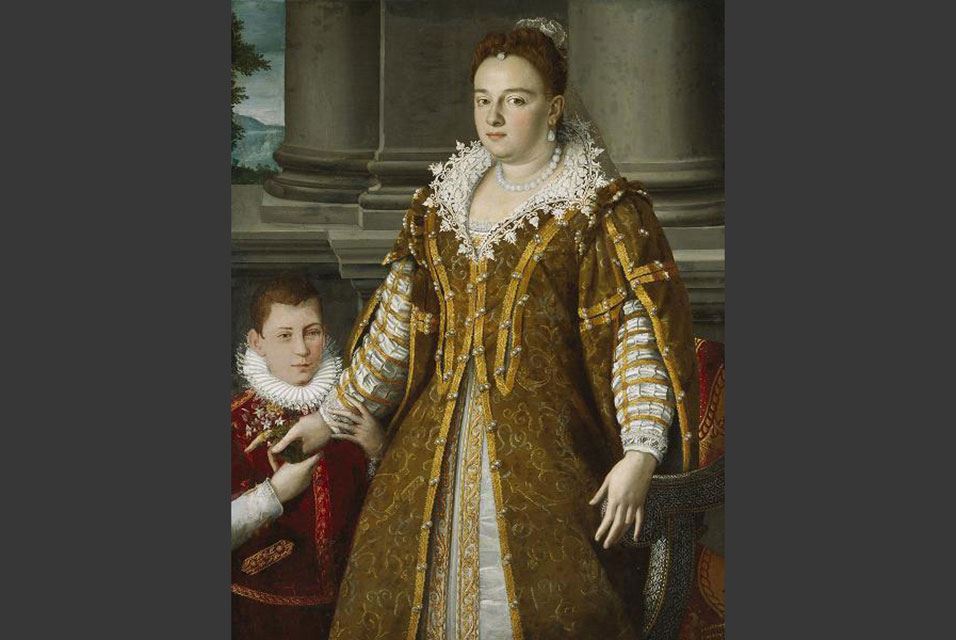 September 22, 1607. Alessandro di Cristofano di Lorenzo del Bronzino Allori (31 May 1535 - 22 September 1607) was an Italian portrait painter of the late Mannerist Florentine school. In this image: Portrait of Grand Duchess Bianca Capello de Medici, by Allori, Dallas Museum of Art.
---

Museums, Exhibits, Artists, Milestones, Digital Art, Architecture, Photography,
Photographers, Special Photos, Special Reports, Featured Stories, Auctions, Art Fairs,
Anecdotes, Art Quiz, Education, Mythology, 3D Images, Last Week,
.
---
Royalville Communications, Inc
produces: