Flemish 'Mystic Lamb' masterpiece restored after chaotic past
Officials unveil the restored exterior panels of "The Adoration of the Mystic Lamb" at Saint Bavo Cathedral in Ghent on October 12, 2016. Photo courtesy EMMANUEL DUNAND/AFP.

by Philippe Agret
GHENT
(AFP)
.-
A painstaking restoration of a 15th-century Flemish masterpiece is revealing the long-lost detail and splendour that helped make the altarpiece one of the world's most stolen artworks. "The Adoration of the Mystic Lamb" by the Van Eyck brothers was unveiled 600 years ago at Saint Bavo's Cathedral in Ghent, but since then its full glory has dimmed, after being split into pieces, seized by Napoleon, then the Nazis, and nabbed by thieves. "You could say it is like the rediscovery of Michelangelo's Sistine Chapel after its restoration," Marie Postec of Belgium's Royal Institute for Cultural Heritage told AFP. "The original was hidden by layers of dirt and alterations, the colours had completely faded. Today, the same thing is happening here, and we have the chance to witness its rebirth," Postec said. The giant altarpiece, which measures 4.4 metres by 3.4 metres (15 feet by 10 feet), is attributed to Hubert Van Eyck and his better-known brother Jan, and was completed in 1432 when Ghent in ...
More
The Best Photos of the Day
Did T-rex wake up to birdsong?
Pierre-Auguste Renoir retrospective opens in Spain
Swiss billionaire fined $4 mn over undeclared artwork: reports


In a Nothofagus forest on the shoreline of Vega Island, Antarctica, a mid-sized raptor dinosaur is shown using close-mouth vocal behavior and Vegavis iaai is flying overhead. Nicole Fuller/Sayo Art for UT Austin.



PARIS (AFP).- Tyrannosaurus-rex and other dinosaurs woke up to birdsong just like we do, though it was probably more honk than melodic chirping, an extraordinary fossil find revealed Wednesday. The discovery in Antarctica of the oldest known avian voice box -- called a syrinx -- proved that birds crisscrossed Late Cretaceous skies some 68 million years ago, during the final act of the age of dinosaurs, a study said. Until now, the oldest known specimen of a syrinx -- made from cartilage quick to decompose -- dated from a mere 2.5 million years ago. The new fossil belonged to a species known as Vegavis iaai and "shows an asymmetry seen in living ducks," said Julia Clarke, an associate professor at the University of Texas in Austin, and lead author of the study published in Nature. The structure of the syrinx suggested "the capacity to produce calls like honks or whistles," she told AFP. V. iaai was already famous among ... More



Pierre-Auguste Renoir, Madame Thurneyssen and her Daughter, 1910. Óleo sobre lienzo. 100 x 81 cm. Buffalo, Nueva York, Colección de la Albright-Knox Art Gallery. Fondos Generales para Adquisiciones, 1940.



MADRID.- Writing about his father, the filmmaker Jean Renoir said: "He looked at flowers, women and clouds in the sky as other men touch and caress." Renoir: Intimacy, the first retrospective in Spain to focus on the Impressionist painter Pierre-Auguste Renoir (1841-1919), challenges the traditional concept that reduces Impressionism to the "purely visual". Rather, it emphasises the central role played by tactile sensations in Renoir's paintings, which are present in all the different phases of his career and are expressed through a wide range of genres including group scenes, portraits, nudes, still lifes and landscapes. Curated by Guillermo Solana, Artistic Director of the Museo Thyssen-Bornemisza, the exhibition is sponsored by Japan Tobacco International (JTI) and presents a survey of 78 works by the artist loaned from museums and collections worldwide, including the Musée Marmottan Monet in ... More



In one case detailed in Sunday's articles, he purchased a Giovanno Segantini painting, "Le due madri", for 1.4 million Swiss francs at a Christie's auction in Geneva in 2011, and quickly flew it to Britain, thus avoiding Swiss taxation.



GENEVA (AFP).- Swiss customs authorities have slapped a billionaire with a $4 million fine for failing to properly declare some 200 artworks imported into Switzerland, according to media reports confirmed by officials Sunday. Financier Urs Schwarzenbach has for years been bringing precious artworks by the likes of Yves Klein and Giovanno Segantini into Switzerland without declaring them to customs officials, or reporting their worth at far below their actual value, several Swiss media outlets reported. Suspecting the billionaire of importing artwork illegally, Swiss customs authorities opened an investigation in 2012. The probe concluded earlier this month that he had effectively dodged duties worth 10 million Swiss francs ($10 million, 9.2 million euros), which he was ordered to repay, along with a four million franc fine, the NZZ am Sonntag, Sonntagszeitung and Le Matin ... More
Laos' Plain of Jars recreated in virtual reality
In Africa, humans used heat to make tools long before others: Study
Art-loving US couple gives multi-million dollar collection to Paris


Plain of Jars: Site 1. Photo: Oliver Spalt/wikipedia.org



SYDNEY (AFP).- Australian archaeologists announced plans Wednesday to recreate Laos' mysterious Plain of Jars as a three-dimensional virtual reality experience, that could one day see museum visitors walk through remote dig sites. The Plain of Jars, in Laos' central Xieng Khouang province, is scattered with thousands of stone vessels but scientists have yet to discover their original purpose. Archaeologists have struggled to access the jar sites, many of which have yet to be cleared of unexploded mines and bombs dropped on the country during the Vietnam War. But Australian researchers now say that their use of drones which capture 3D images every 10 centimetres (3.9 inches) would allow them to explore sites like these that cannot be assessed in traditional ways. "The potential especially for places like Laos where there's a serious UXO (Unexploded Ordnance) problem is that using remote technology to explore and map archaeological sites is incredibly useful," Dougald O'Reilly from the Australian Natio ... More



Heated blades and tools on blades from KDS, layer PBD.



WASHINGTON (AFP).- Humans living in Africa used heat to break stones and make sharp blades tens of thousands of years before the technique was developed elsewhere, according to a study published Wednesday. The new evidence, in the journal Plos One, shows that humans living in South Africa more than 65,000 years ago sharpened rock into blades in the oldest known use of pyrotechnology to transform matter, researchers said. "This marks a leap in knowledge and skill to use fire in the transformation of matter, which represents a considerable step in the technological evolution of man that is unique to this region," Anne Delagnes, a lead researcher of the study from the French National Center for Scientific Research (CNRS), told AFP. Conducted at the Klipdrift Shelter -- a recently discovered Middle Stone Age site southeast of Cape Town -- the researchers analyzed heating techniques used to produce blades from silcrete rock. ... More



American collectors Marlene (L) and Spencer (R) Hays, 80, kiss under the look of the French President Francois Hollande (C). Thomas SAMSON / AFP.



PARIS (AFP).- A Texan couple who discovered their love for art during a trip to Paris in the 1970s are to donate the multi-million dollar collection they have amassed since to the French capital. Businessman Spencer Hays and his wife Marlene were in the city Saturday to formalise the first instalment of their donation -- 187 works including pieces by Edgar Degas and Amedeo Modigliani worth around 173 million euros ($188 million) -- to the Musee d'Orsay. "When Marlene and I grew up in a little town in Gainesville, Texas, even visiting France was far beyond our great expectations. But in 1971 we made our first trip to Paris, and our love affair with this wonderful country began," Hays told a crowd which included President Francois Hollande at the Elysee Palace. "After our death, our collection will be gifted to the French people for the benefit of art lovers around the world. But, even more important to us, this ... More
"Naked Trump" statue sells for $22,000 at Julien's Auctions
Stellar works by Ai Weiwei, Richard Prince, JR, Tracey Emin, and more offered by artnet Auctions
Christie's FIAC Week auctions total $46 million


A naked statue of Republican Presidential Candidate Donald Trump titled "The Emperor Has No Balls" is on exhibition at Julien's Auctions Gallery on October 17, 2016 in Beverly Hills, California. Alberto E. Rodriguez/Getty Images/AFP.



LOS ANGELES, CA.- Julien's Auctions held its highly anticipated "Street Art and Contemporary Art" auction last night, October 22nd, in Los Angeles. The naked Donald Trump statue entitled "The Emperor Has No Balls" sold for $22,000. This was over the original estimate. The statue, by anonymous art collective INDECLINE which appeared on the 4600 block of Hollywood Boulevard, was one of the most talked about pieces in the auction. A portion of the proceeds from the sale are to benefit the National Immigration Forum, one of the leading immigrant advocacy organizations in the country, with a mission to advocate for the value of immigrants and immigration to the nation. Banksy, RETNA, Warhol, Fairey, Mr. Brainwash and many more had collectors in the room and on the phone bidding enthusiastically throughout ... More



Ai Weiwei's Bicycle, one of the highlights of the sale, is a limited edition created to support the Brooklyn Museum's presentation of the major 2014 exhibition.



NEW YORK, NY.- 55 works that reflect the current trends in the art world, are live for bidding on artnet Auctions now through October 27. Featured artists include Ai Weiwei, Tracey Emin, Peter Halley, Jeff Koons, Yoko Ono, Sam Falls, Marilyn Minter, Richard Prince, Chuck Close, Theaster Gates, Guillermo Kuitca, Mickalene Thomas, and more. Ai Weiwei's Bicycle, one of the highlights of the sale, is a limited edition created to support the Brooklyn Museum's presentation of the major 2014 exhibition, Ai Weiwei: According to What?. The bicycle is stamped on the head tube with a signature and edition number, includes an imprint of an image of the artist's face on the seat, is accompanied by a signed and numbered certificate of authenticity, and is available to view by appointment at artnet's New York City office. Also, included in the sale is Richard Prince's Untitled (50 Tweets), created in the same vein as ... More



Untitled Monogold (MG 44) by Yves Klein. Price Realised: $1,313,010. Photo: © Christie's Images Limited 2016.



PARIS.- Christie's new series of 20th Century auctions, held during FIAC week, celebrated Modern, Post-War and Contemporary art and displayed a strong position in Paris with a combined total of €42M/£37.5M/$46M. The week started on a high point with Christie's first curated sale in Paris: Paris Avant-Garde which realised €20,562,500/£18,442,506/$22,610,525; followed by the remarkable Bjäringer Collection which sold 94% by lot and 99% by value. Friday afternoon, the Modern Art sale realised €5,812,375/£5,203,819/$6,379,663 and the week ended with the superb collection of Claude Berri which sold for €8,320,125/£7,422,384/$9,084,744. One of the highlights of the sale was the Monogold (MG 44) by Yves Klein, formely owned by Pierre Restani which achieved €1,202,500/£1,072,750/$1,313,010. 20th Century at Christie's Paris follows the strong results for Christie's London during Frieze Week and confirms ... More
Museum Frieder Burda mounts a major thematic exhibition on the motif of the candle
Moscow Museum of Modern Art launches online game for kids "PLAYMMOMA"
Fondazione Prada opens exhibition of works by William N. Copley


Thomas Demand, Tribute, 2011 © Thomas Demand / VG Bild-Kunst, Bonn, 2016; Courtesy Sprüth Magers.



BADEN-BADEN.- The starting point of the exhibition is the "Candle" by Gerhard Richter. More than 50 paintings, sculptures, installations, video works and photographs, by artists such as Marina Abramović, Georg Baselitz, Christian Boltanski, Thomas Demand, Urs Fischer, Eric Fischl, Peter Fischli und David Weiss, Jörg Immendorff, Karin Kneffel, Jeff Koons, Alicja Kwade, Nam June Paik, A. R. Penck, Andreas Slominski and Thomas Ruff, bear testimony to the topicality of the subject in contemporary art. The candle stands upright – as a symbol for the length of a life, as a sign of rational enlightenment, as a ray of hope on the horizon and even as an indication of a latent sexual desire. From its physical luminescence to spiritual transcendence, from vanity to Eros: the candle as a theme has manifold meanings. The picture of a candle by Gerhard Richter, which has attained iconic status, ... More



The game is designed as a fascinating interactive guide that introduces kids to the world of contemporary art.



MOSCOW.- The Moscow Museum of Modern Art launched the pilot version of its educational online game for kids – "PLAYMMOMA". It became the first museum game in Russia entirely focused on contemporary art practices. The pilot version of the game was financed by the Vladimir Potanin Foundation. In June 2014, the online game project became the winner of the grant competition "A Changing Museum in a Changing World" in the "Museum Educational Programs" nomination. The pilot version was first demonstrated at the "Intermuseum 16" professional festival at the Moscow Manege. For the broader audience it was presented during the specially organized kids festival "PLAYMMOMA: the Game of Contemporary Art!" (MMOMA, 25 Petrovka Street, May 26 – June 10, 2016). The pilot version of the game "PLAYMMOMA" is available for ... More



"William N. Copley" View of the exhibition Artworks from Former Copley Collection 20 October 2016 – 8 January 2017. Photo Roberto Marossi. Courtesy Fondazione Prada.



MILAN.- Fondazione Prada is presenting the exhibition "William N. Copley", open to the public from 20 October 2016 to 8 January 2017 in Milan. Organized in collaboration with The Menil Collection, Houston, the Italian counterpart of this retrospective is curated by Germano Celant, and retraces the entire career of the American artist – started in Los Angeles in the 1940s, developed in Paris and subsequently spanned across Europe and the United States. Expanded considerably compared to the partner show in Houston, at Fondazione Prada "William N. Copley" stands out for its richness and the presence of never-before-seen materials. The exhibition includes over 150 works realized by Copley from 1948 to 1995, from international museums and collections all over the world ... More
How to mix classic art with contemporary design
Flashback
On a day like today, Russian oil magnate and art collector Roman Abramovich was born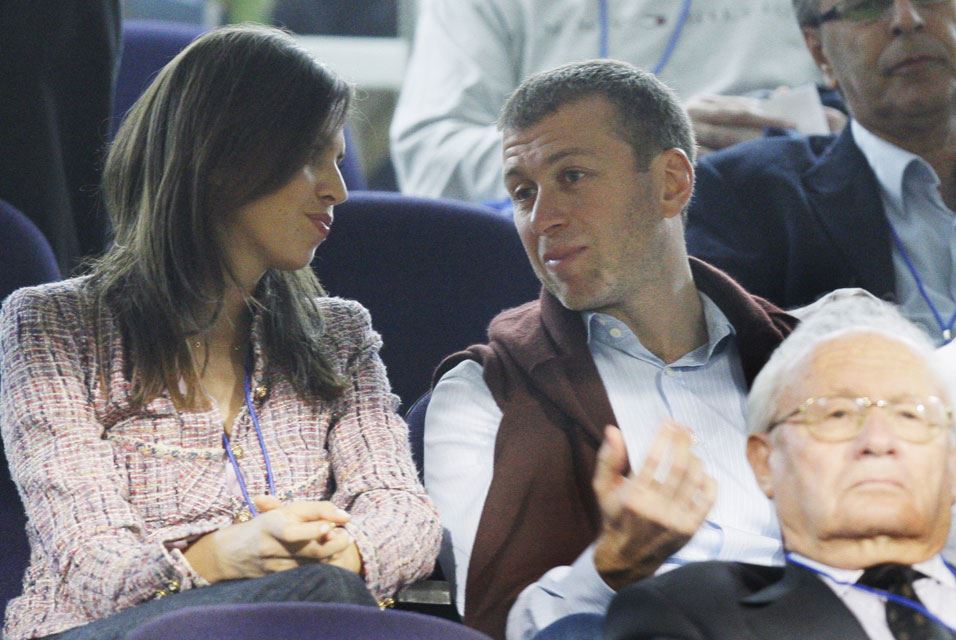 October 24, 1966. Roman Arkadyevich Abramovich (born 24 October 1966) is a Russian business tycoon and the main owner of the private investment company Millhouse LLC. In this image: Roman Abramovich, second from left, the owner of England's Chelsea soccer club sits, next to an unidentified woman during the Euro 2008 group E qualifying soccer match Israel vs Russia at the Ramat Gan stadium outside Tel Aviv, Israel, Saturday, Nov. 17, 2007.
---

Museums, Exhibits, Artists, Milestones, Digital Art, Architecture, Photography,
Photographers, Special Photos, Special Reports, Featured Stories, Auctions, Art Fairs,
Anecdotes, Art Quiz, Education, Mythology, 3D Images, Last Week,
.
---
Royalville Communications, Inc
produces: