Cat mummies, animal statues discovered in Egypt sarcophagi
An Egyptian archaeologist cleans a bronze ancient Egyptian sitting cat statue during a demonstration of a new discovery made by an Egyptian archaeological mission through excavation work at an area located on the stony edge of King Userkaf pyramid complex in the Saqqara Necropolis, south of the capital Cairo, on November 10, 2018. KHALED DESOUKI / AFP.
CAIRO
(AFP)
.-
Seven sarcophagi, some dating back more than 6,000 years, have been discovered at a site on the edge of the pyramid complex in Saqqara, south of the Egyptian capital, archaeology officials announced Saturday. Antiquities Minister Khaled el-Enany said the discovery was made by an Egyptian archaeological mission during excavation work started in April. Three of the tombs had been used for cats, he said, while one of four other sarcophagi discovered at the site belonged to Khufu-Imhat, overseer of the buildings in the royal palace. Mostafa Waziri, head of Egypt's Supreme Council of Antiquities, said the mission had also unearthed the first mummies of scarabs to be found in the area. Two such mummies were found inside a rectangular limestone sarcophagus with a vaulted lid decorated with three scarabs painted in black, he said. Dozens of cat mummies were also unearthed along with 100 wooden, gilded statues of cats and one in bronze dedicated to the ...
More
The Best Photos of the Day
Sotheby's announces highlights of their November offerings of Latin American Art
Christie's announces auction of Magnificent Jewels and the concurrent Jewels Online Auction
Galerie de Bellefeuille opens retrospective exhibition of the work of Guido Molinari


José Clemente Orozco, La Conquista, circa 1942. Estimate $600/800,000. Courtesy Sotheby's.



NEW YORK, NY.- On the heels of their strong results in May 2018 for works by Latin American artists, Sotheby's shared highlights of our November offerings of Latin American Art, which will be presented across the marquee fall auctions of Impressionist & Modern and Contemporary Art from 12-15 November in New York. A superlative group of Modern masterworks by Mexican artists are on offer this season, led by paintings from Rufino Tamayo, Diego Rivera, David Alfaro Siqueiros and José Clemente Orozco, along with outstanding works by Fernando Botero and kinetic artists Jesús Rafael Soto and Carlos Cruz-Diez. Over 100 works on offer in the respective sales are now on public view in Sotheby's York Avenue galleries through 15 November, as part of our exhibitions of Impressionist & Modern and Contemporary Art. Sotheby's major offerings of Modern Latin American art are led ... More



Sensational Fancy Vivid Blue Diamond of 8.08 carats. Estimate: $13,000,000 – 18,000,000. Christie's Images Ltd 2018.



NEW YORK, NY.- Christie's New York announces the December 5 auction of Magnificent Jewels and the concurrent Jewels Online Auction from November 28 to December 7. The auction includes a notable selection of colored diamonds, colorless diamonds, and gemstones, along with important signed pieces by Suzanne Belperron, René Boivin, Bulgari, Cartier, Harry Winston, Tiffany & Co., and Van Cleef & Arpels. The sale will offer over 370 lots, with estimates ranging from $10,000 to $13,000,000. The auction is led by a sensational Fancy Vivid Blue Diamond Ring of 8.08 carats by Bulgari ($13,000,000-18,000,000). This superb stone may be counted among the finest blue diamonds ever to have come to market. Among other top lots is a Fancy Intense Pink Heart-Shaped Diamond Pendant Necklace ... More



Guido Molinari, Mutation rouge-ocre, 1964.



MONTREAL.- Galerie de Bellefeuille, in collaboration with the Guido Molinari Foundation, presents a retrospective of the artist - a selection which include his works from 1951 to 2002: the gestural coloured canvases and black and whites from the 1950s; his dynamic spaces at the beginning of the 60s and the famous impressive vertical bands which would forge his reputation; his triangles and checkerboards of the early 70s; and at the end of that decade, the Quantificateurs which would occupy him for the rest of his career culminating in his Continuums series and his ultimate homage to Mallarmé. In addition to this outstanding selection of paintings, Molinari's works on paper, watercolours, inks and silk screens round out this exceptional exhibition. For the last time, the Molinari Foundation has once again opened its vaults with the view of raising funds to fulfill its mission, which is to offer an exhibition space, not ... More
Bonhams and Turner Classic Movies present...The Dark Side of Hollywood
Ivens Machado's first exhibition in the U.S. opens at Andrew Kreps Gallery
Exhibition provides an intimate look at Toshio Yoshida's artistic production during the height of Gutai's activity


Bela Lugosi's Count Dracula cape from Abbott and Costello Meet Frankenstein. Universal International Pictures, 1948 (estimate on request). Photo: Bonhams.



NEW YORK, NY.- On November 20, Bonhams and TCM Present ... The Dark Side of Hollywood, an auction of more than 470 memorabilia, costumes, posters, and significant pieces of Hollywood history featuring Bela Lugosi's Count Dracula cape from Abbott and Costello Meet Frankenstein, Universal International Pictures, 1948 (estimate on request). The public exhibition is open from November 16-20. Unlike other films where pieces of the same item were made, there was only one Count Dracula cape for Bela Lugosi's Count Dracula character in Abbott and Costello Meet Frankenstein. This black satin cape with its huge 28-foot circumference was also included in Ed Wood's film, Orgy of the Dead (1965), worn by the actor and psychic known as Criswell, and Life Magazine featured the cape in its October 1981 issue, in which the museum of Clark Wilkinson, the ... More



Ivens Machado, Untitled, 2005. Iron, nylon mesh, and red bricks, 55 1/8 x 29 1/2 x 23 1/2 in (140 x 75 x 60 cm) Edition 1 of 5. Image courtesy of the Artist and Andrew Kreps Gallery, New York. Photo: Dawn Blackman.



NEW YORK, NY.- Andrew Kreps Gallery, in collaboration with Fortes D'Aloia & Gabriel and Acervo Ivens Machado, announces the first exhibition of the work of Ivens Machado in the United States. Emerging in the 1970s as part of a generation of artists that succeeded the Neoconcrete movement, Machado's early career was set against the rise of Brazil's military dictatorship. Often working with controversial themes of sexuality, violence, and repression, which he would explore throughout his life, Machado aimed to articulate the social tensions of his time through film, photography, drawing, and his primary medium of sculpture. Machado's sculptures are at the core of the exhibition, dating from 1990 through 2007. Often brutalist in appearance, they incorporate raw construction materials such as steel, cement, rocks, wood, and wire, referencing architectural constructions and ... More



Toshio Yoshida, Untitled (54-6), 1954. Screw hooks and oil paint on wood, 24 5/8 x 16 3/4 x 1 3/4 inches (62.4 x 42.6 x 4.4 cm). © The Estate of Toshio Yoshida.



TOKYO.- Fergus McCaffrey is presenting a solo exhibition of paintings by Toshio Yoshida (1928–97), featuring three early bodies of work made by the innovative artist between 1953–63. Yoshida was one of the founding members of the Japanese avant-garde collective Gutai, and this exhibition provides an intimate look at Yoshida's artistic production during the height of Gutai's activity. This focused exhibition, which is on view from November 3 – December 29, 2018, marks Fergus McCaffrey's first presentation of Yoshida's work at the gallery's Tokyo location. Beginning in the early 1950s, Yoshida abandoned traditional oil painting methodologies to experiment with radical materials and forms, following Gutai founder Jiro Yoshihara's injunction to "do what has never been done before." Yoshida's earliest experiments reveal an imaginative, ambitious young artist: in a remarkable ear ... More
Friedrich Kunath's sixth solo exhibition with Blum & Poe on view in New York
Exhibition presents a multicultural perspective on the sensory experience of religious ritual in the ancient world
Gregor Hildebrandt creates a labyrinth of panels made with various media for exhibition at Perrotin


Friedrich Kunath, Promise, 2017-2018. Oil on canvas, 73 x 61 x 2 inches framed. © Friedrich Kunath, Courtesy of the artist and Blum & Poe, Los Angeles/New York/Tokyo.



NEW YORK, NY.- Blum & Poe is presenting One Man's Ceiling is Another Man's Floor, Friedrich Kunath's sixth solo exhibition with the gallery. This show follows Kunath's Frutti di Mare of 2017—a carpeted, scented, multi-room installation flecked with tie-died tube socks and outfitted with mirrored floors, a mechanical spinning canvas, and a vertical piano. By virtue of the natural balance of expansion and contraction, the psychedelic excess of Frutti di Mare in Los Angeles leads us to the composed, classic tone of One Man's Ceiling is Another Man's Floor presented in New York City. Or as Kunath put it, "That was my Sgt. Pepper's, this is my Let It Be." Kunath carries on his study of a dichotomous human condition—an exploration in happiness and sadness, romanticism, nostalgia, longing, the fetish of authenticity, and the myth of genius. This exhibition negotiates the facets ... More



Master of the Gubbio Cross, Double-Sided Processional Cross, ca. 1310. Tempera on panel. Yale University Art Gallery, Bequest of Maitland F. Griggs, b.a. 1896.



NEW HAVEN, CONN.- In the ancient world, religious rituals were multisensory experiences, filled with vibrantly colored representations of supernatural beings, resonant musical sounds, billowing clouds of incense, and the taste of food and drink. Sights and Sounds of Ancient Ritual considers the ways in which these rituals appealed to the senses through objects that would have drawn worshippers into closer proximity to divine forces. The exhibition brings together more than 80 works from the Yale University Art Gallery and the Yale Babylonian Collection at the Yale Peabody Museum of Natural History that span three millennia—from approximately 1500 B.C.E. to 1500 C.E.— and represent diverse traditions, including those of ancient Greece and Rome, Western Europe, Egypt, West Africa, the Near East, China, and Mesoamerica. The works on view depict gods and goddesses, illustrate aspects ... More



Gregor Hildebrandt, And I laugh as I drift in the wind (schwarze Sound Explosion), 2018. Cut vinyl records, acrylic, canvas, wood, 154 x 130 cm | 60.6 x 11.8 in. Courtesy of the artist and Perrotin.



NEW YORK, NY.- Gregor Hildebrandt uses audio as visual material. His work uses outmoded analogue recording technologies—the magnetic tape of cassettes, vinyl records—to create pieces that point beyond their sleek, reflective surfaces. Contemplating a work by Hildebrandt is a synaesethetic experience, as audio takes physical form. For his show at Perrotin, his 5th with the gallery, he has a created a labyrinth of panels made with various media. Hildebrandt's interest in magnetic tape extends beyond its visual potential. His selection of the recordings contained therein is as carefully intended. The artist himself is inextricably at the center of his work; it documents his musical tastes as much as his lived experiences, given music's associative power. A viewer's familiarity with a recording used by Hildebrandt, something a work's title might give away, affords an ... More
Anton Kern Gallery presents a film and sculptural installation by German artist John Bock
New exhibition in Glasgow celebrates life and work of visionary Scots filmmaker
'Venetian Series' prints by Howard Hodgkin focal point of Italy-inspired exhibition


John Bock, Dead + Juicy, 2017. Courtesy of the artist and Anton Kern Gallery.



NEW YORK, NY.- For their eighth exhibition with German artist John Bock, Anton Kern Gallery is presenting Dead + Juicy, a film and sculptural installation commissioned by The Contemporary Austin which premiered at the museum in 2017. Now staged in New York, the film runs alongside a series of re-envisioned installations spanning two floors. Referred to as "an uncanny musical" by the artist, the film follows the protagonist, Lisa as she interacts with a cast of outsized characters, played by local Texan actors. Unfolding through five chapters, shot in contrasting environments across Austin, the viewer is submerged in a hallucinatory melodrama, full of humor and horror. Each location, a barbershop, a bar, a "modern house" and a wooded swamp among them, becomes inseparable from the artist's haunting visual language, notes of which are reflected and doubled by the presence of the transformed gallery spaces. This ... More



Margaret Tait, Calypso, 1955. Courtesy of the Margaret Tait estate and LUX.



GLASGOW.- Stalking the Image: Margaret Tait and Her Legacy is a celebration of the life, work and legacy of the pioneering Orcadian filmmaker, painter and poet, Margaret Tait (1918–99). Tait is one of the most visionary and stridently independent filmmakers to have emerged from Scotland, yet her work has until recently remained relatively unknown and its significance undervalued. This exhibition at Glasgow's Gallery of Modern Art provides an opportunity to honour Tait's achievements in the centenary year of her birth alongside work by nine contemporary artists and filmmakers, many of whom have been inspired by Tait. A survey of Tait's experimental short films, made across 47 years and many places, features in the exhibition, alongside a series of works commissioned as part of the Margaret Tait Award, Scotland's most prestigious moving image award for artists. Artists include Torsten Lauschmann (2010 Margare ... More



Howard Hodgkin, Venice, Afternoon, 1995 (detail). Hand-colored aquatint and carborundum, 62-1/2" x 77". Gift of Carleen Keating, 2017. Image courtesy of Alan Cristea Gallery, London. © Estate of Howard Hodgkin.



WASHINGTON, DC.- "Howard Hodgkin in Venice," a new exhibition at the Luther W. Brady Art Gallery at the George Washington University, displays four prints from Howard Hodgkin's "Venetian Series" alongside a rug designed by Mr. Hodgkin and a painting titled "Little Venice." A companion exhibition, "Italy Inspiration," showcases photographs and prints from the GW Collection and paintings by GW alumni and a GW professor emeritus depicting the feel of Italy as well as the country's unique sites. Mr. Hodgkin (1923-2017), a British painter, completed more than 120 lithographs, etchings and screen prints during his career. The Luther W. Brady Art Gallery recently received a gift of 10 prints including the series "Venetian Views" from 1995. The gift came from Carleen Keating, a collector, ... More
Frank E. Schoonover: American Visions - Exhibition Video
Flashback
On a day like today, French painter Édouard Vuillard was born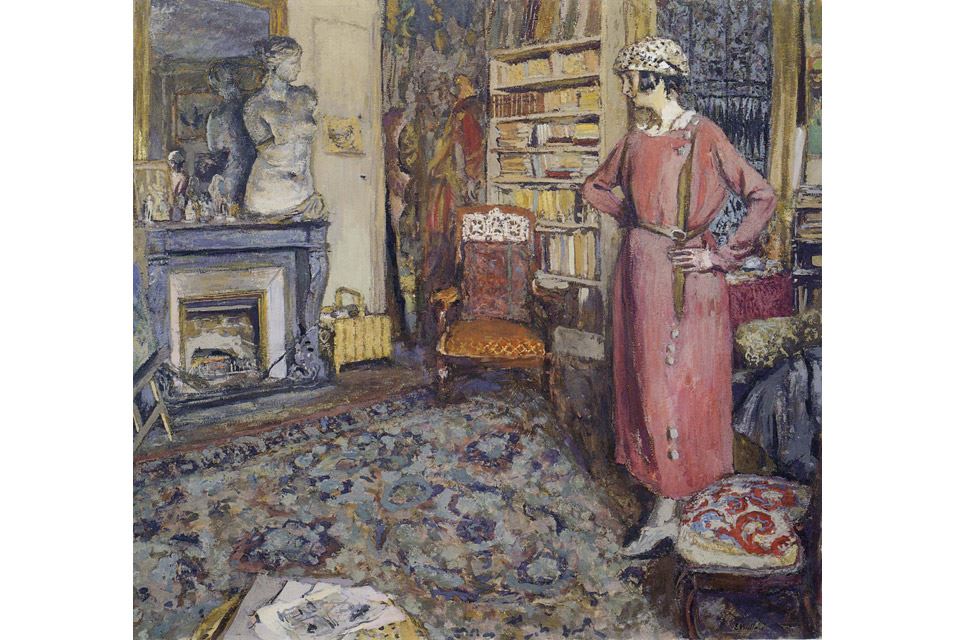 November 11, 1868. Jean-Édouard Vuillard 11 November 1868 - 21 June 1940) was a French painter and printmaker associated with the Nabis. In his paintings and decorative pieces, Vuillard depicted mostly interiors, streets, and gardens. In this image: Edouard Vuillard, Venus de Milo, 1920. Photo: Courtesy Jill Newhouse Gallery.
---

Museums, Exhibits, Artists, Milestones, Digital Art, Architecture, Photography,
Photographers, Special Photos, Special Reports, Featured Stories, Auctions, Art Fairs,
Anecdotes, Art Quiz, Education, Mythology, 3D Images, Last Week,
.
---
Royalville Communications, Inc
produces: