Exhibition of new paintings by Gerhard Richter opens at Albertinum in Dresden
German artist Gerhard Richter and his wife Sabine Moritz are seen on a roundtour before the opening of the new exhibition "Gerhard Richter, New Paintings" of the Gerhard Richter Archive at Albertinum in Dresden, eastern Germany, on May 19, 2017. On the occasion of his 85th birthday, the Gerhard Richter Archive of the Dresden State Art Collections is holding an exhibition from 20 May to 27 August 2017 with new paintings by the artist. Initially, most of his works were already exhibited in Museum Ludwig, Cologne. Now the paintings, supplemented with seven recently created works, will almost all be exhibited in the Albertinum. ROBERT MICHAEL / AFP.
DRESDEN
.-
Gerhard Richter (*1932 in Dresden) is one of the most significant contemporary artists. His work covers a period of more than five decades. On the occasion of his 85th birthday, the Gerhard Richter Archive of the Dresden State Art Collections is holding an exhibition from 20 May to 27 August 2017 with new paintings by the artist. Initially, most of his works were already exhibited in Museum Ludwig, Cologne. Now the paintings, supplemented with seven recently created works, will almost all be exhibited in the Albertinum. The new "Abstrakten Bilder" [Abstract Paintings] since 2015 are strikingly different from the work created five years before, with its reserved and delicately modulated surfaces. The 32 paintings in total tie in with the works from the late 1980s and impress with their vibrant and fragmented multitude of colouration. In addition to his brush and squeegee, Richter also uses a knife to scratch animated traces into the surface of the image and reveals the multipl ...
More
The Best Photos of the Day
Saving Pakistan's lost city of Mohenjo Daro
Art community remains divided over Caravaggio found in French attic
Palm Beach Modern sets major house records on May 6; Sam Francis painting tops $600,000


German researcher Michael Jansen talks to media near the UNESCO World Heritage archeological site of Mohenjo Daro. ASIF HASSAN / AFP.



MOHENJO DARO (AFP).- The centre of a powerful ancient civilisation, Mohenjo Daro was one of the world's earliest cities -- a Bronze Age metropolis boasting flush toilets and a water and waste system to rival many in modern Pakistan. Some 5,000 years on archaeologists believe the ruins could unlock the secrets of the Indus Valley people, who flourished around 3,000 BC in what is now India and Pakistan before mysteriously disappearing. But they warn, if nothing is done to protect the ruins -- already neglected and worn by time -- it will fade to dust and obscurity, never taking its rightful place in history. "Everybody knows Egypt, nobody knows Mohenjo Daro, this has to be changed," says Dr Michael Jansen, a German researcher working at the sun-baked site on the banks of the Indus river in Pakistan's southern Sindh province. Jansen is at the forefront of a new effort to promote the site internationally while finding ... More



French art expert Stephane Pinta shows a radiography of the painting entitled "Judith cutting off the head of Holofernes", presented as being painted by Italian artist Caravaggio, while experts are still to determine its authenticity. PATRICK KOVARIK / AFP.



PARIS.- An original Caravaggio or a master fake? This is the question that continues to befuddle art historians and experts about a painting discovered in a French attic three years ago. The 400-year-old canvas -- depicting the beheading of an Assyrian general, Holofernes, by Judith from the biblical Book of Judith -- was found in 2014 when the owners of a house near the southwestern city of Toulouse were investigating a leak in the ceiling. Discovered in remarkably good condition, the work was painted between 1600 and 1610, specialists believe, and could be worth as much as 120 million euros ($132 million). But whether the spectacular large-format canvas is the long-lost masterpiece by Italian Renaissance master Michelangelo Merisi da Caravaggio or the work of Louis Finson, a Flemish painter and disciple of ... More



Guests at Palm Beach Modern's May 6 auction could dine and bid as auctioneer/PBMA co-owner Rico Baca presided at the podium. Photo: Palm Beach Modern Auctions.



WEST PALM BEACH, FLA.- May 6th was a stellar day for Palm Beach Modern Auctions' co-owners Rico Baca and Wade Terwilliger. Not only did their 492-lot offering of blue-chip modern art, design and luxury goods set a house record for a one-day auction – $1.9 million – it also showcased an important Sam Francis painting that ended up being the most expensive item ever to cross the PBMA auction block. The vibrant canvas sold for a buoyant $603,250 (all prices quoted inclusive of 27% buyer's premium). The Francis painting, a major acrylic-on-canvas titled Quiet Fruitfulness, was created in 1987, seven years before the internationally acclaimed California artist passed away. Measuring 60½ by 80½ inches, the work retained a 1988 Knoedler Gallery (London) label on verso and came with a copy of the sales receipt from the gallery as well as a conservator's condition ... More
US war photographer Stanley Greene dies aged 68
Stedelijk Museum presents a snapshot of Rineke Dijkstra's photographic and video work
Provenance exhibition shows challenges of tracing the path of ownership of artwork


This file photo taken on May 16, 2010 in Cannes shows US photographer Stanley Greene. VALERY HACHE / AFP.



PARIS (AFP).- US war photographer Stanley Greene, who won five World Press Photo awards, died in Paris on Friday aged 68, the photo agency he co-founded said. Greene passed away in a hospital in the French capital after a long illness, Noor Images's managing director Clement Saccomani said. "He passed away surrounded by his friends," Saccomani told AFP of Greene, who was unmarried and had no children. The New York-born photographer was a member of the Black Panthers in his youth and an anti-Vietnam War activist before producing "Western Front", a portrayal of San Francisco's punk scene in the 1970s and 1980s. Greene later turned to photojournalism after meeting renowned photojournalist W. Eugene Smith and moved to Paris in 1986. He went on to photograph conflicts in Chechnya, ... More



Rineke Dijkstra, Nicky, The Krazy House, Liverpool, January 19, 2009.



AMSTERDAM.- This year, the celebrated Dutch photographer Rineke Dijkstra (Sittard, 1959) is the recipient of the 2017 Hasselblad Foundation International Award in Photography, the medium's most prestigious award. In honor of Dijkstra, the Stedelijk Museum Amsterdam, who has followed her work since the 1990s and in 2005 mounted an international traveling survey, presents Rineke Dijkstra: An Ode, a snapshot of the artist's photographic and video work ranging from 1994 to the present. The exhibition both includes iconic photographic works and highlights her early video work and her return to the medium in recent years. The exhibition also premieres three works that have never been displayed in the Netherlands. Rineke Dijkstra: An Ode totals 21 photographs and four videos. The exhibition is primarily comprised of the Stedelijk Museum's extensive holdings of Dijkstra's work, ... More



Bartolomé Esteban Murillo, Christ After the Flagellation, ca. 1670 (detail). Oil on canvas. Gift of Ellnora D. Krannert 1960-4-1.



CHAMPAIGN, ILL.- Nancy Karrels relishes solving the mysteries behind the paintings and objects we see in art museums. Karrels – a doctoral student in art history at the University of Illinois who also has two law degrees – investigates the backgrounds and histories of objects to trace their path from creator through each owner. She has created an exhibition for Krannert Art Museum on provenance research and her efforts to document the history of ownership of several of the museum's works. "Provenance: A Forensic History of Art" opened May 13 and runs through June 2018. Provenance, or the history of ownership of a historical object or work of art, is important to museums and private collectors, both to authenticate the object and to ensure that ownership is legal and the object was not looted. The practice has drawn ... More
Gladstone Gallery opens exhibition of new work by Shirin Neshat
Kunsthaus Zurich presents an overview of the development of Mexican graphic art
Sotheby's to offer the most important space artifact to ever appear at auction


Shirin Neshat, Tim, from Dreamers Series, 2016. Pigment print, 36 x 24 inches (91.4 x 61 cm). © Shirin Neshat. Courtesy the artist and Gladstone Gallery, New York and Brussels.



NEW YORK, NY.- Gladstone Gallery is presenting an exhibition of new work by Shirin Neshat featuring a film and a related series of photographs. Through charged imagery and evocative mise-en-scène, Neshat's photography and film installations critique the cultural construction of difference. This exhibition marks the first time she fully turns her attention to American culture, dissecting the tense and querying experience of being an Iranian in the United States today. In both the film Roja and a new series of photographs, Dreamers, Neshat confronts the ambivalence of living across two cultures and how it coheres to both personal and political identity. To tackle the ambiguous status of the outsider, she utilizes enigmatic images, haunting encounters, and mystified points of view ... More



Diego Rivera, Los frutos de la educación. Los frutos de la tierra, 1932. Lithograph, sheet: 53.7 x 39.3 cm. Kunsthaus Zürich, © Banco de México Diego Rivera & Frida Kahlo Museums Trust, México D.F. / 2017 ProLitteris, Zurich.



ZURICH.- The Kunsthaus Zürich presents an overview of the development of Mexican graphic art, from late 19th-century figurativism to the earliest abstract works in the 1970s. Many of the exhibits are receiving their first showing in Switzerland. The exhibition opens with the 19th-century social satires and skeleton images ('calaveras') of the internationally renowned graphic artists Manuel Manilla and José Guadalupe Posada. It then spans the arc from Ignacio Aguirre, Alberto Beltrán, Fernando Castro Pacheco, Jean Charlot, Leopoldo Mendéz and Alfredo Zalce to 'los tres grandes' ('The Three Greats'): Diego Rivera, José Clemente Orozco and David Alfaro Siqueiros, who produced a large number of murals – 'muralismo mexicano' – ... More



The only such relic available for private ownership expected to fetch $2/4 million. Photo: Sotheby's.



NEW YORK, NY.- On 20 July 2017, the anniversary of the Apollo 11 moon landing, Sotheby's New York is to offer the bag that was used to bring back to Earth the very first sample of lunar material ever collected. Traces of the moon dust and small rocks are still deeply embedded in the fabric of the bag, which is labeled "Lunar Sample Return" in bold black letters, giving a collector the chance not only to own some of the first lunar material ever collected, but also an exceptionally rare relic of humanity's greatest achievement – landing a man on the moon. Nearly all of the equipment from that historic mission is housed in the U.S. National Collections at the Smithsonian; however a recent court ruling has allowed this to be the only such artifact in private hands. The bag will be offered in Sotheby's inaugural Space Exploration sale and is expected to fetch $2/4 million. Cassandra Hatton, ... More
Paul Kasmin Gallery exhibits drawings, sketches and paintings by Mark Ryden
Monumental sculptures by artist Nick Hornby at Glyndebourne Festival 2017
Director of Smithsonian's Asian Art Galleries announces plan to retire


Mark Ryden, Nurse Corps de Ballet, 2016. Oil on panel, 17 x 11 inches, 43.2 x 27.9 cm. © Mark Ryden / Paul Kasmin Gallery.



NEW YORK, NY.- Paul Kasmin Gallery presents Mark Ryden: The Art of Whipped Cream on view at 515 West 27th Street, May 20 – July 21, 2017. The exhibition features drawings, sketches and paintings created for the production of American Ballet Theatre's Whipped Cream. A concurrent exhibition of Ryden's work for the ballet is being held at Gallery Met located at the Metropolitan Opera House, May 19 – July 8, 2017. The exhibition coincides with American Ballet Theatre's New York premiere of Whipped Cream at the Metropolitan Opera House (May 22, 2017), featuring choreography by Alexei Ratmansky with the original 20th-Century score by Richard Strauss. Ryden conceived backdrops, props and costumes for the ballet, all of which retain the artist's meticulous attention to detail and intricate craftsmanship seen ... More



Nick Hornby, Age of Bronze folded to Bird in Space #1, 2017, Corten Steel, 350 x 130 x 60 cm, Edition of 1 of 3 + 2, Courtesy the Artist and Travis Hansson Fine Art.



LEWES.- Glyndebourne nnounces Sculpture (1504-2017), a solo presentation of new monumental works by British sculptor Nick Hornby. The collaboration, a first between Glyndebourne and the artist, coincides with the 2017 summer season of opera and will remain on display until August 27th 2017. Sculptures are on display in the gardens and the house. In each piece Hornby has hybridised key historic artworks. Visitors to Glyndebourne may recognise in Hornby's work fragments of Michelangelo, Rodin, Brancusi and Matisse. Hornby's works are meeting points between digital technologies and the legacies of sculpture, alongside an astute critique of art history. His sculptures are created through complex processes, involving both high-tech production methods and traditional handcrafted techniques. Both the computer and ... More



Julian Raby, Director, Freer Gallery of Art and Arthur M. Sackler Gallery. Photo: Ken Rahaim, Smithsonian Institution.



WASHINGTON, DC.- Julian Raby, the Dame Jillian Sackler Director of the Smithsonian's Arthur M. Sackler Gallery and Freer Gallery of Art, has announced that he will retire from his position at the beginning of 2018 after 15 years with the Institution. As director of the Freer and Sackler galleries, Raby―a well-known scholar of Islamic art―has overseen dozens of highly successful and popular exhibitions, including "Return of the Buddha: The Qingzhou Discoveries" (2004), "Hokusai" (2006), "Garden and Cosmos: The Royal Paintings of Jodhpur" (2008), "Echoes of the Past: the Buddhist Cave Temples of Xiangtangshan" (2011), "Yoga: The Art of Transformation" (2013), "Peacock Room REMIX: Darren Waterston's 'Filthy Lucre,'" (2015), "The Art of the Qur'an" (2016) and "Inventing Utamaro: A Japanese Masterpiece Rediscovered" (2017). He took a lead o ... More
Dan Aykroyd introduces Zuul crurivastator
Flashback
On a day like today, English sculptor and lithographer Barbara Hepworth died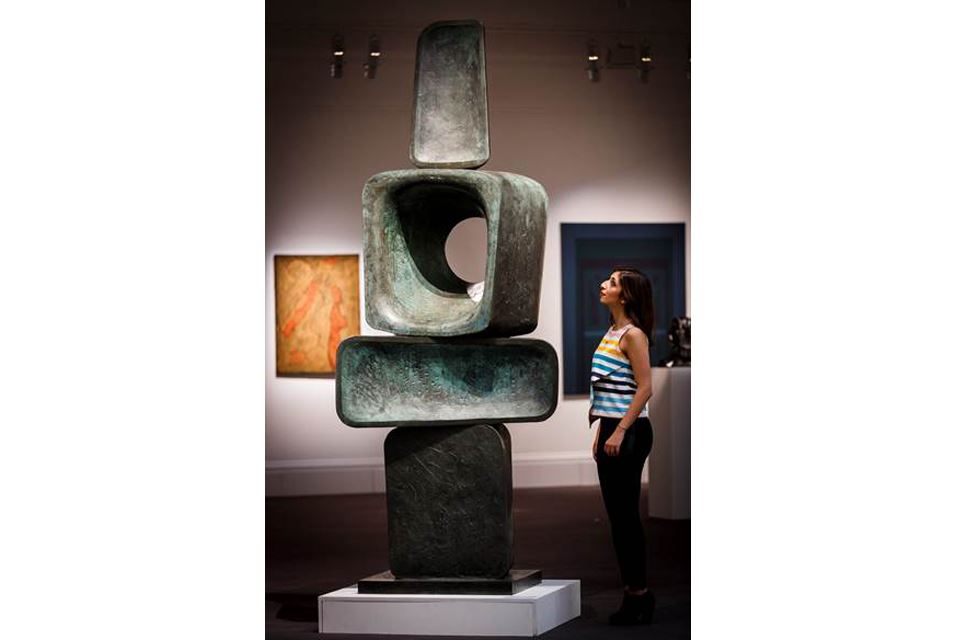 May 20, 1975. Dame Jocelyn Barbara Hepworth DBE (10 January 1903 - 20 May 1975) was an English artist and sculptor. Her work exemplifies Modernism and in particular modern sculpture. She was one of the few female artists of her generation to achieve international prominence. Along with artists such as Ben Nicholson and Naum Gabo, Hepworth was a leading figure in the colony of artists who resided in St Ives during the Second World War. Dame Barbara Hepworth, Parent I, conceived in 1970, number 2 of the 4 individual casts that were made of each of the nine figures (est. £2,000,000-3,000,000). Photo: Sotheby's.
---

Museums, Exhibits, Artists, Milestones, Digital Art, Architecture, Photography,
Photographers, Special Photos, Special Reports, Featured Stories, Auctions, Art Fairs,
Anecdotes, Art Quiz, Education, Mythology, 3D Images, Last Week,
.
---
Royalville Communications, Inc
produces: