Eclectic history of plywood revealed in new Victoria & Albert Museum exhibition
Used to construct everything from a tube to house an experimental elevated railway in 1867 New York to hatboxes, tea chests, surfboards and skateboards, plywood has been embraced by designers, architects and engineers; each successive generation finding ever-more innovative ways to shape, mould, cut and fix it.
LONDON
.-
Light, strong, affordable and versatile, plywood is the unlikely material behind an eclectic array of groundbreaking designs to be celebrated in a world-first exhibition at the
V&A
this summer. From the fastest and highest-flying aeroplane of WWII, the de Havilland Mosquito, to the downloadable selfassembly WikiHouse, more than 120 objects have been brought together in an exploration of how the often-overlooked product has helped create the modern world. Fragments of layered board have been found in ancient Egyptian tombs, but it was the advent of mass production in the nineteenth century that saw plywood's adaptability and potential fully exploited. Used to construct everything from a tube to house an experimental elevated railway in 1867 New York to hatboxes, tea chests, surfboards and skateboards, plywood has been embraced by designers, architects and engineers; each successive generation finding ever-more innovative ways ...
More
The Best Photos of the Day
The National Portrait Gallery opens its first exhibition of old master European portrait drawings
C/O Berlin opens exhibition of works by Josef Koudelka
A present from Sir Winston Churchill to Vivien Leigh set to be unveiled at Sotheby's in London


Sir John Godsalve by Hans Holbein the Younger c.1532-4 Royal Collection Trust © Her Majesty Queen Elizabeth II 2017.



LONDON.- The National Portrait Gallery opened its first exhibition of old master European portrait drawings, many rarely seen, and some not displayed for decades, today Thursday 13 July 2017. But while the works on display are by some of the outstanding masters of the Renaissance and Baroque, the drawings in The Encounter: Drawings from Leonardo to Rembrandt (13 July – 22 October 2017) have been selected not only because they are extraordinary records of an artist's skill and a sitter's appearance, but because they appear to capture a moment of connection, an encounter between an artist and a sitter. Some of the people depicted in these portraits can be identified, such as the emperor's chaplain or the king's clerk, but many are the faces from the street – the nurse, the shoemaker, and the artist's friends and pupils in the ... More



Czechoslovakia, 1968.



BERLIN.- C/O Berlin presents the exhibition entitled Josef Koudelka . Invasion / Exiles / Wall from July 13th to September 10th, 2017. Prague, Wenceslas Square, August 22, 1968: An arm is thrust into the picture. The watch on its wrist indicates the time. In the days before, tanks of the Warsaw Pact had entered the city to the screech of tank tracks on the cobblestones. This photograph by Josef Koudelka fits chronologically into his series Invasion, in which he shows the passionate resistance of his compatriots to the Red Army's determination to quell by bloody means the democratic fervor of the Prague Spring. But it is also the first photograph in his book Exiles, published twenty years later, in 1988, by Robert Delpire. 1968 was a pivotal year—both in the West and in the East. Koudelka's photographs leave a lasting impression of these historical events, conveying a vibrant immediacy and intimacy with the situation and the d ... More



Sir Winston Churchill, Roses in a Glass Vase. Estimate Ł70,000-100,000. Courtesy Sotheby's.



LONDON.- A still-life of roses by Sir Winston Churchill, given to screen-legend Vivien Leigh, will be unveiled for the first time at Sotheby's in London tomorrow (17 July 2017). Never seen in public before, the painting reveals the little-known story of the deep and long-lasting friendship between the Prime Minister and the legendary star of Gone with the Wind. Depicting flowers picked from Churchill's beloved garden at Chartwell, his country home in Kent, Roses in a Glass Vase was gifted to Vivien in 1951, during a midnight supper hosted by Churchill on the birthday of Leigh's husband, Sir Laurence Olivier. Churchill's flower paintings were given only to those dearest to him and Leigh treasured the present so greatly that the work hung on the wall opposite her bed. Fittingly, on Churchill's 90th birthday she sent him a bouquet as a gift. Estimated at Ł70,000-100,000, ... More
Monographic exhibition devoted to Georg Baselitz opens at the Guggenheim in Bilbao
Largest anthological exhibition by Christian Boltanski organized in Italy on view in Bologna
Alvar Aalto's organic design idiom developed in interaction with contemporary visual artists


Georg Baselitz, Eagle 53 – Heroe 65 (Remix), 2007. Oil on canvas, 300 x 250 cm. Privately owned © Georg Baselitz, 2017. Photo: Jochen Littkemann, Berlin.



BILBAO.- The Guggenheim Museum Bilbao is presenting Georg Baselitz. Heroes , a monographic exhibition devoted to a series of paintings that depict vulnerable, defeated "heroes", created in 1965/66 by one of the most influential artists of our time, Georg Baselitz. This show, organized by the Städel Museum Frankfurt in collaboration with the Guggenheim Museum Bilbao, the Moderna Museet Stockholm, and the Palazzo delle Esposizioni in Rome, has assembled 60 paintings, drawings, and sketches from the series for the first time. Baselitz's monumental, frenzied, defiant figures are an energetic statement of the artist's selfassertion and identity that ran contrary to the prevailing artistic and ideological trends of his time. Establishing an ideal continuity between past and present, the exhibition in Bilbao (as in Rome) concludes with a selection of paintings from the Remix cycle that Georg ... More



Christian Boltanski, Anime. Di luogo in luogo, installation view at MAMbo – Museo d'Arte Moderna di Bologna, 2017. Photo: Matteo Monti.



BOLOGNA.- Until November 12, 2017 MAMbo – Museo d'Arte Moderna di Bologna presents Anime. Di luogo in luogo, the largest anthological exhibition by Christian Boltanski organized in Italy. The exhibition, curated by Danilo Eccher, is the heart of the homonymous special project which presents the work of this great protagonist of the international art scene through an itinerary with different simultaneous interventions in different areas of the city. Born in Paris in 1944, like many European artists born during or just after the end of World War II, Boltanski has to deal with his urge to elaborate the deep trauma caused by the war and the sense of tragedy embedded in history. In an attempt to represent the feeling of loss, he uses methods that are typical of human sciences such as anthropology, sociology, and archiving to create a system of memories based on the meticulous collection of traces of what has been lost. The exhibition dis ... More



Pendant Lamp A 331, "Beehive", Alvar Aalto, 1953. © Vitra Design Museum, 2014. Photo: Vitra Design Museum/Andreas Jung.



HELSINKI.- Alvar Aalto (1898–1976) is the most internationally famous Finnish architect and designer. Alvar Aalto – Art and the Modern Form opens up new perspectives into Aalto's life and work. The comprehensive exhibition illustrates how Aalto's thinking and design idiom developed in interaction with contemporary visual artists. In addition to presenting Aalto's extensive oeuvre, works are also being featured from his close friends and modernist masters, such as the American Alexander Calder and the Frenchman Fernand Léger. The exhibition also highlights the role of the Artek furniture and design company, established in 1935, as a contributor to the Finnish art scene. The exhibition is produced by the Vitra Design Museum, in cooperation with the Alvar Aalto Museum and the Ateneum Art Museum. "Alvar Aalto's work showed a broad understanding of the arts. His circle of acquaintances included a large ... More
First exhibition to examine the influence of Constructivism on Australian art on view in Melbourne
George A. Romero, father of the zombie movie, dead at 77
Canada's unique heritage and diversity told from a contemporary perspective


George Johnson, Construction With Brown Triangle, 1986. Acrylic on canvas, 186 x 140 cm. Courtesy of the artist and Charles Nodrum Gallery © the artist.



MELBOURNE.- For more than one hundred years, artists have drawn inspiration from the early twentieth-century avant-garde movement Constructivism. Originating in Russia in the years immediately before and after the 1917 revolution, then spreading to places throughout the world, Constructivism's abstract forms, utopian ideals and vision of art's vital role in building a new society have continued to act as a beacon for artists of successive generations in many countries. This extensive survey (over 200 works across three galleries) explores how Australian visual artists have responded to this ground breaking modernist movement, and reveals its enduring call upon their imaginations from the 1930s to the present day. The excitement of new formal discoveries, the integration of ideas across the various art forms, and the strong role taken by women artists who, unusually for the time, ... More



Shot in black-and-white on a budget of just over $100,000, "Night of the Living Dead" daringly featured black actor Duane Jones as its lead in a script about a group of people attempting to survive an attack by re-animated corpses.



WASHINGTON (AFP).- US filmmaker George A. Romero, whose 1968 cult classic "Night of the Living Dead" spawned the zombie movie genre, died on Sunday aged 77. Tributes poured in from Hollywood and beyond for the legendary director who according to his manager Chris Roe passed away "listening to the score of The Quiet Man, one of his all-time favorite films." "He died peacefully in his sleep, following a brief but aggressive battle with lung cancer, and leaves behind a loving family, many friends, and a filmmaking legacy that has endured, and will continue to endure, the test of time," Chris Roe added in a brief statement. Shot in black-and-white on a budget of just over $100,000, "Night of the Living Dead" daringly featured black actor Duane Jones as its lead in a script about a group ... More



Installation view of the Canadian and Indigenous Galleries at the National Gallery of Canada.



OTTAWA.- After many years of planning and nine months of construction the National Gallery of Canada has opened the new Canadian and Indigenous Galleries. It is the first major gallery transformation at the NGC since the building's inauguration in 1988. Internationally renowned museum design firm Studio Adrien Gardčre reconfigured the galleries to create spacious rooms that are ideally suited to present close to 800 works of art from the NGC's collections of Canadian and Indigenous art, and photographs, alongside loans of historical Indigenous sculptures and objects by Inuit, Métis, and First Nation artists. The transformed galleries incorporate the most up to date museum LED lighting technology, accessibility standards, and custom-made display cases that bring artworks closer to viewers, creating an enhanced visitor experience. "The newly transformed galleries provide the ideal setting to tell a ... More
Occasional Geometries: Rana Begum curates the Arts Council Collection
Patina Gallery in Santa Fe opens a photography exhibition by Doug Menuez
Survey exhibition of the work of Assemble on view at the Architekturzentrum Wien


Tomma Abts, Heit, 2011. Arts Council Collection, Southbank Centre, London © the artist.



WAKEFIELD.- Yorkshire Sculpture Park presents Occasional Geometries, an exhibition selected largely from the Arts Council Collection by Bangladeshi-born artist and guest curator Rana Begum. Begum has established an internationally respected practice creating immaculately conceived and constructed abstract installations that challenge the distinction between two and three-dimensional practice, sculpture and painting. A scroll through Begum's Instagram feed immediately reveals a particular personal interest and delight in the occasional geometries of life. This might be the definition of an air vent, the architecture of a stairwell articulated through light and shadow, or the abstract pattern of a handrail. Begum says, of a childhood memory: 'One particular day as a child in Bangladesh reading the Quran at the local mosque, in a tiny room dappled with morning light. The light and the repetition of recitation, all familiar ... More



Steve Jobs Explaining Ten-Year Technology Development Cycles, Sonoma, California, 1986. Doug Menuez.



SANTA FE, NM.- For photographer Doug Menuez, the most creative period in the career of Steve Jobs, the man who gave the smartphone to 200 million Americans, was a noble cause that reset the trajectory of the human race. To illustrate, he recalls a moment as he ended a talk on the computer revolution in Silicon Valley during of the late-1980s and early-1990s. "I had one guy stand up at one of my lectures," Menuez says. "He started crying and said he would go home, quit his job and start doing something important with his life. "The Silicon Valley story is one of blood, guts and money. It's about the future of the human race, and we have to have a voice." In that spirit, Patina Gallery in Santa Fe announces a photography exhibition by Menuez that opened Friday, July 14, 2017, in the gallery at 131 W. Palace Ave. Fearless Genuis: The Digital Revolution in Silicon Valley will ... More



Yardhouse, 2014. © Assemble.



VIENNA.- The Architekturzentrum Wien presents a world premiere with a survey exhibition of the work of Assemble: 'Assemble. How We Build'. In 2015 the London-based collective of 18 equal members won the coveted Turner Prize, Europe's most prestigious award for contemporary art. The architecture of Assemble is a unique combination of social activation with poetic spaces, and environmental with economic sustainability. The way we build and the relationships between how things are made and how materials are assembled is a reflection of a society's social, economic and political situation — as Assemble acknowledge. Their projects are prototypes for different ways societies can build. Even their debut project The Cineroleum, a temporary cinema erected by the collective at a disused petrol station, attracted widespread attention. Shortly after the completion of their various studies at Cambridge University, The Cineroleum marked the founding of As ... More
A look behind-the-scenes of Darius Frank's Things I Love/d
Flashback
On a day like today, German-American painter and caricaturist Lyonel Feininger was born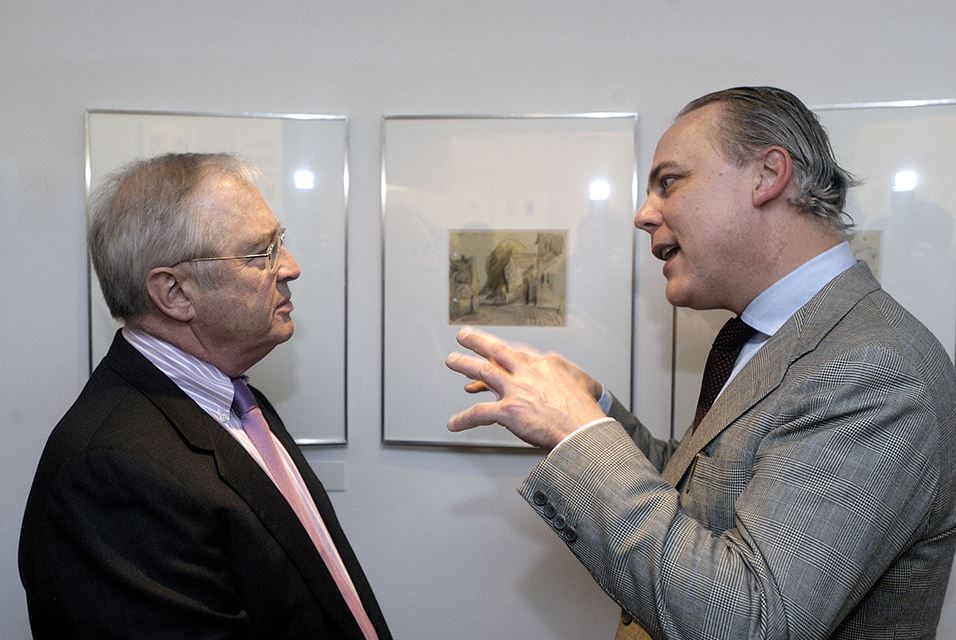 July 17, 1871. Lyonel Charles Feininger (July 17, 1871 - January 13, 1956) was a German-American painter, and a leading exponent of Expressionism. He also worked as a caricaturist and comic strip artist. In this image: Hellmut Seemann president of the foundation "Weimarer Klassik", right, talks with William Timken, US ambassador to Germany, left, about drawings of artist Lyonel Feininger after the opening of the "Feininger" exhibition at the Bauhaus museum in Weimar, eastern Germany, Saturday, Feb. 18, 2006.
---

Museums, Exhibits, Artists, Milestones, Digital Art, Architecture, Photography,
Photographers, Special Photos, Special Reports, Featured Stories, Auctions, Art Fairs,
Anecdotes, Art Quiz, Education, Mythology, 3D Images, Last Week,
.
---
Royalville Communications, Inc
produces: