Exhibition at MoMA celebrates Tarsila do Amaral's pioneering work and influence
Installation view of Tarsila do Amaral: Inventing Modern Art in Brazil, The Museum of Modern Art, New York, February 11–June 3, 2018. © 2018 The Museum of Modern Art. Photo: Robert Gerhardt.
NEW YORK, NY
.-
With Tarsila do Amaral: Inventing Modern Art in Brazil, The
Museum of Modern Art
presents the first monographic exhibition in the United States exclusively devoted to the pioneering work of Tarsila do Amaral (Brazilian, 1886–1973), a founding figure of Brazilian modernism. On view February 11 through June 3, 2018, the exhibition focuses on the artist's production from the 1920s, tracing the path of her groundbreaking contributions through approximately 120 works, including paintings, drawings, sketchbooks, and photographs drawn from collections across the US, Latin America, and Europe. Tarsila do Amaral: Inventing Modern Art in Brazil is organized by The Museum of Modern Art and the Art Institute of Chicago, by Luis Pérez-Oramas, former Estrellita Brodsky Curator of Latin American Art, The Museum of Modern Art, and Stephanie D'Alessandro, former Gary C. and Frances Comer Curator of International Modern Art, the Art Instit ...
More
The Best Photos of the Day
Fire hits Jokhang monastery, one of Tibet's most sacred
Exhibition tells the story of San Antonio's first century through 100 works of art
Stolen million-euro cello returned to French musician


This file photo taken on September 10, 2016 shows Chinese tourists on the roof of the Jokhang Temple in the regional capital Lhasa. JOHANNES EISELE / AFP.



BEIJING (AFP).- Streets around Lhasa's fire-hit Jokhang temple, one of the most sacred sites for Tibetan Buddhism, were reopened to pilgrims Sunday after a blaze broke out the night before, Chinese state media said, but the extent of damage remained unclear. The official Xinhua news agency said the fire had erupted Saturday evening in part of the more than 1,300-year-old Jokhang temple, but was soon put out. Images posted on social media of the blaze showed the eaved roof of a section of the building lit with roaring yellow flames and emitting a haze of smoke. "The fire was quickly extinguished, there were no casualties and order is normal in the area," said the state-run Tibet Daily, adding that Tibet's top Communist party official Wu Yingjie had rushed to the scene. Jokhang temple is a UNESCO World Heritage Site which lies at the heart of old Lhasa. The Barkhor -- a bustling, shop-lined area surrounding Jokhang whose streets and square constitute one of the mo ... More



José María Vásquez (New Spain, active 1790-1822), Don Juan Crisóstomo Domingo Martínez, 1800. Oil on canvas, h. 38 in. (96 cm); w. 29 ½ in. (75 cm). Museo Nacional del Virreinato, 10-54120, Secretaría de Cultura, INAH, MX. Tepotzotlán, México. Photography by Francisco Kochen.



SAN ANTONIO, TX.- The San Antonio Museum of Art is presenting San Antonio 1718: Art from Viceregal Mexico. The exhibition tells the story of San Antonio's first century through 100 landscapes, portraits, narrative paintings, sculptures, and devotional and decorative objects. Throughout, the works pose identities that are in continuity and tension with mainland Spain, while revealing the lives and times of San Antonio's earliest inhabitants. Three hundred years ago, San Antonio was founded as a strategic outpost of presidios and missions, both defending the colonial interests of northern New Spain and advancing Christian conversion. The city's missions bear architectural witness to the time of their founding, but few have walked these sites without wondering who once lived there, what they saw, valued, and thought. ... More



This file photo taken on February 27, 2003 shows French cellist Ophelie Gaillard performing after being awarded the Victoire de la Musique Classique for best soloist. PIERRE VERDY / AFP.



PARIS (AFP).- An 18th-century cello worth more than a million euros was returned to an award-winning French musician on Saturday after she was robbed at knifepoint in a Paris suburb earlier in the week. "I received an anonymous call late in the morning saying that my cello was inside a car in front of my house. I found it in the back seat," soloist Ophelie Gaillard told AFP. One of the car windows was broken and the musician said she quickly grabbed the instrument, which is "in good condition", before notifying police. An attacker had held her up at knifepoint outside her home on Thursday, forcing her to hand over the cello, as well as her mobile phone, before fleeing on foot in the northeastern suburb of Pantin. "The theft was very violent, I have not been able to sleep for two days. I am so relieved to have found it. I'm coming out of a two-day nightmare -- it's a miracle," she said. The police confirmed the cello had been found and a ... More
Westfälischer Kunstverein exhibits works by Berlin-based collective Slavs and Tatars
Julien's Auctions to offer Property from the Life And Career of Prince
French jazz violinist Didier Lockwood dies aged 62


Slavs and Tatars, "Saalbadereien / Bathhouse Quackeries", 3 February - 15 April 2018. Installation view Westfälischer Kunstverein. Courtesy the artists and Kraupa-Tuskany Zeidler, Berlin. Photo: Thorsten Arendt.



MÜNSTER.- Formed in 2006, the international, Berlin-based collective "Slavs and Tatars" combines three modes of expression within its overall artistic practice: publications, lecture performances and exhibitions, all of which draw upon the stylistic palette of popular culture, spiritual and esoteric traditions, oral histories, modern myths, as well as rigorous academic analysis. They have fixed their field of research geographically to the area "east of the Berlin wall and west of the Great Wall of China" – often left unspecified as an area, frequently neglected and yet so endless and diverse. Through their idiosyncratic eclecticism and undauntedly interdisciplinary approach, Slavs and Tatars have opened ... More



Red jumpsuit.



LOS ANGELES, CA.- Coming off another record breaking season that witnessed achieving the world record for a guitar played by Prince sold at auction ($700,000), Julien's Auctions has announced –– Property from the Life and Career of Prince. Julien's will pay tribute to one of the greatest music legends of all time in this exclusive presentation of the titanic seven-time, Grammy-winning singer/songwriter's personal collection of signature wardrobe, guitars, memorabilia and more items related to his iconography as part of their two day MUSIC ICONS auction taking place on May 18 with Prince and historical items by other music legends (to be announced later) on May 19 live in New York at the Hard Rock Cafe and online. Born Prince Rogers Nelson in 1958 in Minneapolis, Minnesota and known around the world by his first name and later only a symbol, the one and ... More



In this file photo taken on May 31, 2017 French composer and jazz violinist Didier Lockwood plays the violin as he poses during a photo session in Paris. JOEL SAGET / AFP.



PARIS.- Noted French jazz violinist Didier Lockwood, a disciple of the late Stephane Grappelli, died of a heart attack early Sunday, his agent said. Lockwood, who performed at Paris jazz venue Bal Blomet on Saturday, had turned 62 on February 11. "His wife, his three daughters, his family, his agent, his co-workers and his record label are sad to announce the sudden passing of Didier Lockwood," his agent said in a statement. Lockwood was playing at a jazz festival when he met Grappelli, who invited the then 20-year-old to join him on a European tour. "That was the start of my career, the launchpad that got me into the world of popular jazz," Lockwood told Radio France in 2008. Lockwood was committed to music education, setting up the Did ... More
Hauser & Wirth opens the first Los Angeles solo presentation devoted to Geta Brătescu
Rudolf Stingel's monumental mountain range to be offered at Sotheby's Contemporary Art Evening Sale
Award-winning Bosnian Roma actor dies penniless


Geta Brătescu, Earthcake, 1992. VHS video cassette transferred onto DVD, colour, stereo sound, 7.18 min. Camera: Alexandru Solomon. © Geta Brătescu. Courtesy the artist and Hauser & Wirth.



LOS ANGELES, CA.- 'Geta Brătescu. The Leaps of Aesop' is the first Los Angeles solo presentation devoted to the 92-year-old forerunner in the field of Romanian Conceptualism. Her diverse oeuvre – comprising drawing, collage, engraving, textiles, and photography, as well as experimental film, video, and performance – mines themes of identity, gender, and dematerialization, often drawing from the stories of literary figures and addressing the symbiotic relationship between art making and working environments. Aesop, the ancient Greek fabulist, serves as a point of departure for this exhibition, which features more than fifty works that span Brătescu's career. In many ways a fitting avatar for Brătescu, ... More



Rudolf Stingel, Untitled, 2009 (detail), oil on canvas, 335.2 by 459.7 cm. Estimate: £4-6 million. Courtesy Sotheby's.



LONDON.- Rudolf Stingel's theatrical view of the Tyrolean Alps near Merano, Italy – the place of the artist's childhood and upbringing - will be offered at Sotheby's London on 7 March 2018. Estimated at £4-6 million, this is the first landscape painting by the artist to come to auction from the series unveiled at Neue Nationalgalerie Berlin in 2010 and last seen at Gagosian New York in 2014. The sale follows strong demand in international salerooms last year for both the artist's work and contemporary landscape paintings. The top four highest auction prices for Stingel were all established in 2017, and a new record price was set at $10.55 million, more than double the previous benchmark. In March, Gerhard Richter's frozen seascape, Eisberg from 1982, reached £17.7 million ($21.5 ... More



In this file photo taken on January 24, 2014 Bosnian Roma actor Nazif Mujic poses with his trophy outside a refugee center. JOHN MACDOUGALL / AFP.



SARAJEVO (AFP).- Bosnian Roma actor Nazif Mujic, who won a Silver Bear acting award at the Berlin Film Festival in 2013, has died aged 48, following a harrowing descent into extreme poverty despite his film success. "We were together yesterday, he was all right, and then this morning I received a call and I was told he was dead," the actor's brother, Suljo Mujic, told AFP on Sunday. The actor, who died in the impoverished hamlet of Svatovac, had been suffering from ill health in recent months. "He was very worried because of his financial situation. In January, he tried to find a way forward in Germany, but he came back," the grieving brother said. Mujic in January said he had sold his acting trophy because he could no longer afford to feed his family. He had been given a hero's ... More
Exhibition mixes Eastern and Western art traditions, woodblocks and 3D technology
Most extensive Ed van der Elsken retrospective ever presented in Spain on view at Fundacion MAPFRE
Rona Pondick Joins Marc Straus Gallery


Sun Xun, Chinese, born 1980; "Time Spy 08", 2016 (detail); woodcut painting; panel: 36 x 71 3/4 inches; Courtesy the artist and Sean Kelly, New York; Photo by Jason Wyche © Sun Xun.



ST. LOUIS, MO.- The Saint Louis Art Museum is presenting present "Time Spy," an animated 3D film that draws from Eastern and Western traditions of art, history, myth, and imagination. To create the work, Chinese artist Sun Xun merged a 1,000-year-old printmaking technique—the woodblock print—with modern film-making technologies. "Sun Xun: Time Spy" includes the 2016 film and a selection of the more than 10,000 carved woodblocks the artist used to create the animation. The free exhibition is on view in Galleries 234 and 235 from Feb. 16 through Aug. 12. Although trained as a woodcut artist, Sun never fully embraced that technique despite being an unusually proficient cutter of blocks. He began making animations in art school, and opened π Animation Studio in 2006, the year after he graduated. He works closely with a team of animators to produce a steady ... More



Ed van der Elsken Ata Kandó checks a print by a light bulb, Paris, 1953. Copia a la gelatina de plata, 35,8 x 23,8 cm. Nederlands Fotomuseum / © Ed van der Elsken / Collection Ed van der Elsken Estate.



MADRID.- Ed van der Elsken (Amsterdam, 1925–Edam, 1990) is a unique figure in Dutch photography and documentary cinema. His expressive, socially committed, experimental work captures the mood of the four decades following the Second World War. His personality shows through in his numerous self-portraits and in his relationship to his subjects. A street photographer, he worked in different cities around the world—Paris, Amsterdam, Tokyo—searching for what he called "his" people, authentic people who are often on the margins of society. The modernity of his images and their quasi cinematic quality cohered with the non-conformist lifestyles of the people whose everyday lives he shared. He sought an aesthetic form and visual authenticity that were devoid of artifice, a beauty that was sometimes openly sensual, at times even erotic. Books, films and slide shows form the ... More



Fox, 1998-99. Stainless steel. Edition of 6 + 1 AP, 14 1/2 x 8 x 38 in (36.83 x 20.32 x 96.52 cm).



NEW YORK, NY.- It is with the utmost pleasure we announce our representation of Rona Pondick, one of the seminal artists of her generation. Over 30 years of friendship has brought Rona and me to this point: a wonderful opportunity to now speak for her work as her gallery. I first saw Rona's work in 1986. Eccentric, hand-made, funny, challenging, and disruptive: naturally, I loved it immediately. Then came a memorable studio visit where on a table sat five 4-inch roundish pink blobs with yellow and brown rubber teeth in them. I recalled Rona said she had wanted to make 500 of these hilarious, menacing Pacmen creatures, meant to run across the floor in an assault action. This work, eventually titled "Little Bathers", was realized and entered Livia and my collection. The bathers poured down two steps into our living room, confronting a large steel Richard Serra, a 14-foot Anselm Kiefer, Richard Artschwager, and Bruce Nauman. The Little Bathers defied these ... More
Michelangelo Pistoletto on his Mirror Paintings
Flashback
On a day like today, Romanian-French artist Constantin Brâncusi was born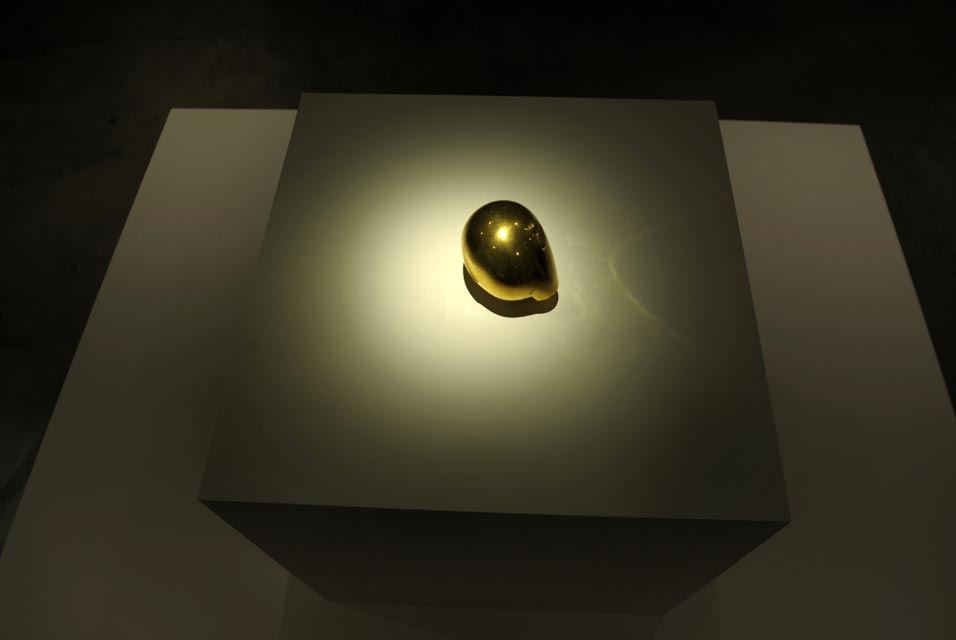 February 19, 2018. Constantin Brâncusi (February 19, 1876 - March 16, 1957) was a Romanian sculptor, painter and photographer who made his career in France. Considered a pioneer of modernism, one of the most influential sculptors of the 20th-century, In this image: The 1911 gilded bronze sculpture "Prometheus" by Constantin Brancusi is displayed during a preview of "Brancusi Serra" at the Guggenheim Museum in Bilbao October 7, 2011. Curator Oliver Wick described the third element of the interaction between the two sculptors as Frank Gehry, architect of the museum.
---

Museums, Exhibits, Artists, Milestones, Digital Art, Architecture, Photography,
Photographers, Special Photos, Special Reports, Featured Stories, Auctions, Art Fairs,
Anecdotes, Art Quiz, Education, Mythology, 3D Images, Last Week,
.
---
Royalville Communications, Inc
produces: