Sotheby's achieves highest-ever total for an auction of Contemporary art in Europe
Andy Warhol's landmark first 'dollar' painting, hand-painted in 1962, sold for £20.9m / $32.8m / €29.4m tonight - the highest price achieved across all auction houses this week. Photo: Sotheby's.
LONDON
.-
Tonight's sale realised £130,376,500 / $204,730,218 / €183,870,150 - the highest total for any auction of Contemporary Art ever held at
Sotheby's
London. Andy Warhol's landmark first 'dollar' painting, hand-painted in 1962, sold for £20.9m / $32.8m / €29.4m tonight - the highest price achieved across all auction houses this week (est. £1318m). This marks the fourth consecutive sale season in London that Sotheby's has achieved the top lot across all auction houses. One of the defining works of the artist's career, this work not only set the foundations for the entire 'dollar bill' series, it is also the only painting from this body of work to have been painted entirely by hand. This was one of eight works sold this evening that took the dollar as their subject, which made a combined total of £34.3m / $53.9m / €48.4m. The remaining 11 works from the collection will be sold in ...
More
The Best Photos of the Day
Museum of the Year 2015: The Whitworth in Manchester wins biggest museum prize in the world
'Audrey Hepburn: Portraits of an Icon' opens at the National Portrait Gallery in London
Newly seen Francis Bacon paintings fetch £30m at Sotheby's auction in London




The Whitworth re-development architecture. Photo: Alan Williams.





LONDON.- The Whitworth has been awarded the Art Fund Prize for Museum of the Year 2015. The £100,000 Prize was presented by novelist Ben Okri and accepted by Maria Balshaw, director of The Whitworth, at a ceremony this evening at Tate Modern. The Art Fund Prize for Museum of the Year is the biggest museum prize in the world and the largest arts award in Britain. The judges said the Whitworth is an impressive institution that has cemented its place at the centre of the cultural national stage. Through its impressive £15m reinvention, the Whitworth has redefined the way that it engages with its public, connecting the building and surrounding park to create a space with a strong sense of openness and invitation. The appeal of the newly-developed building (designed by architects MUMA) combined with the creativity and originality of its outreach programmes during closure resulted in record-breaking visitor figures following its reopening. From the ... More





Audrey Hepburn by Philippe Halsman for LIFEmagazine, 1954. ©Philipe Halsman/Magnum Photos.





LONDON.- A major photography exhibition exploring the fascinating life and career of celebrated film star, fashion icon and humanitarian, Audrey Hepburn, opens at the National Portrait Gallery on Thursday July 2. Audrey Hepburn: Portraits of an Icon follows the captivating rise of one of the world's first truly international stars, from her early years in the Netherlands and as a dancer and chorus girl in London's West End, to her becoming a stage and screen icon, and culminating in her philanthropic work in later life. Photographs of Hepburn before she was famous, formal portraits, and photographs taken on set during the making of some of her most-loved films are brought together in the exhibition. Also on show are portraits of Hepburn by some of the leading photographers of the twentieth century, including Richard Avedon, Cecil Beaton, Angus McBean, Irving Penn, Terry O'Neill and Norman Parkinson. Audrey Hepburn: Portraits ... More





Francis Bacon's, Self-Portrait (1975) realised £15.3m / $24m / €21.5m (est. £10-15m). Photo: Sotheby's.





LONDON (AFP).- Two self-portraits by Irish-born British painter Francis Bacon, never seen before in public, sold for £30 million at a London sale on Wednesday, months after being rediscovered in a private collection. One of the portraits, painted in 1975, fetched £15.3 million ($24 million) while the other work, from 1980, went for £14.7 million when it went under the hammer at Sotheby's. "These sublime self-portraits utterly embody the power and emotion of the very best of Bacon's celebrated small portrait heads," said the auction house. "Fixed against two electrifying blue grounds, they exude conceptual brilliance and, above all, painterly genius. "These magnificent works narrate the latter half of a most extraordinary decade for Francis Bacon." They were acquired directly from Marlborough Fine Art, London, shortly after they were painted. The 14-by-12 inch (35 by 30 centimetres) 1975 canvas was painted after the artist had spent long periods in Paris and was most likely painted ... More
'Uproar in Augsburg: German Paintings of the 1960s to 1980s' opens at Pinakothek der Moderne
Christie's First Impression sale of prints and multiples features accessible blue chip art
Masterpieces from the Ben Uri Collection go on show at Somerset House




Volker Tannert (*1955), Untitled (Study with Six Heads), 1982, Oil on canvas, 200.5 x 150 cm. On permanent loan since 2008 from the Michael and Eleonore Stoffel Foundation, Cologne, to the Bayerische Staatsgemäldesammlungen, Munich © VG Bild-Kunst, Bonn 2015.





MUNICH.- In 'Uproar in Augsburg' two generations of German artists from the postwar period come face to face, each represented by major works from the collections of the Pinakothek der Moderne. What unites them is a leaning towards a kind of figurative painting that does not shy away from personal and political comment, placing it in opposition to the approaches of conceptual art and minimal art. This explicit interest in the medium of painting while critically questioning content and style was first evident in the generation of artists born before the end of the war: Georg Baselitz, Jörg Immendorff, Markus Lüpertz, and A. R. Penck. The way these artists radically changed and redefined painting had an impact on the following generation, loosely defined ... More





Yayoi Kusama, Fruits. Wax fruit, wicker basket and gold paint, 13 3/4 x 17 3/4 x 20 7/8 in. (34.9 x 45 x 52.3 cm.). Estimate: $50,000-70,000. Photo: Christie's Images Ltd 2015.





NEW YORK, NY.- The FIRST OPEN/NYC Summer edition of Post-War and Contemporary Art will present an exciting selection of approximately 350 lots estimated in the region of $4-6 million, which represent the full spectrum of Post-War and Contemporary Art. The sale will present works by an array of artists featured in the recent May auctions, but with price points that are accessible to a wide range of collectors. A great choice of works by blue chip artists such as Alexander Calder, Andy Warhol, Jean-Michel Basquiat, Keith Haring, Louise Bourgeois, Yayoi Kusama and Kazuo Shiraga. But also a great selection of works by European artists Yves Klein, Lucio Fontana, Günther Förg, Imi Knoebel and Niki de Saint Phalle. The highlights of photography comprise works by Cindy Sherman, Hiroshi Sugimoto and Richard Prince. This season ... More





Max Liebermann, Self-portrait, 1927, oil on canvas, 48 x 38 cm, Ben Uri Collection.





LONDON.- The Ben Uri Gallery and Museum celebrates its centenary this year with a major exhibition in Somerset House: Out Of Chaos; Ben Uri: 100 Years in London running from 2 July – 13 December 2015. In this exhibition, a group of rarely seen masterworks by mainly Jewish émigré artists go on show from the Ben Uri collection, including works by the first Jewish Royal Academician, Solomon Hart, Mark Gertler, David Bomberg, First World War poet Isaac Rosenberg, Jacob Epstein, Max Liebermann, Josef Herman, Frank Auerbach, Leon Kossoff and R B Kitaj. A group of important recent acquisitions are also shown including La Soubrette (1933), a rare portrait – probably the finest in the UK – by Chaïm Soutine, acquired in 2012; The Interrogation (1938) by George Grosz, acquired in 2010; Chagall's rare and rediscovered response to the Holocaust, Apocalypse en Lilas, Capriccio (1945), acquired in 2010, and ... More
Tanya Bonakdar Gallery presents a group exhibition, Objects Food Rooms, curated by Andria Hickey
Rare Jimi Hendrix, John Lennon guitars showcased at the Grammy Museum
Legendary New York street photographer known for his six decade love affair with Coney Island dies at 84




Rachel Harrison © 2004 Hasbro Inc. 2015 wood, cement, acrylic, plastic, tape, pedestal, metal, toy gun, fake sausages, helmet and wheels 58 x 27 x 28 in. Courtesy of the artist and Greene Naftali Gallery, New York Photo: Brett Moen.





NEW YORK, NY.- A carafe, that is a blind glass. A kind in glass and a cousin, a spectacle and nothing strange a single hurt color and an arrangement in a system to pointing. All this and not ordinary, not unordered in not resembling. The difference is spreading. So begins Tender Buttons, Gertrude Stein's influential and yet perplexing collection of texts on objects, food, and rooms. First published in 1914, Stein's book is an idiosyncratic and seemingly nonsensical catalogue of mundane objects. More than one hundred years later, her work remains a relevant lens through which to understand the relationship between words and objects. Inspired by Stein's composition, this exhibition brings together the work of twelve artists to explore how sense is made and ... More





John Lennon's Gibson J-160E.





LOS ANGELES, CA.- The GRAMMY Museum is holding an exclusive showing of Jimi Hendrix's treasured 1966 Fender Stratocaster and John Lennon's lost Gibson J-160E before both guitars are put up for auction by Julien's Auctions. Hendrix's guitar is currently on display on the Museum's third floor, where it will remain through February 2016. Lennon's guitar arrives today, July 2. Hendrix played his 1966 black, rosewood fret board Fender Stratocaster at the Monterey International Pop Music Festival, held June 18, 1967, at the county fairgrounds in Monterey, CA. Recommended to festival organizers by Paul McCartney, the Jimi Hendrix Experience performed eight songs, with Hendrix wielding his Stratocaster, before switching to his less-treasured white Stratocaster, which he then famously burned and smashed during the group's ninth and final number, "Wild Thing." Lennon purchased his electric-acoustic Gibson J-160E in 1962 from ... More





Harold Feinstein, Sailors on the Subway from Coney Island, 1957.





NEW YORK, NY.- Harold Feinstein, master photographer and renowned teacher, died in his home on Saturday, June 20, 2015. His wife, Judith Thompson, was at his side. Feinstein was born in Coney Island Hospital in 1931 of Jewish immigrant parents. He began photographing in 1946 at the age of 15 by borrowing a Rolleiflex from a neighbor and heading to Coney Island. Certain of his calling as an artist, he dropped out of school at the age of 16 and became the youngest member of the historic Photo League in 1949. By the time he was 19, Edward Steichen, an early supporter, had purchased his work for the permanent collection of the Museum of Modern Art making him the youngest photographer to be so honored. The first important opportunity to show his work came in 1954 as part of a group show at The Whitney Museum and was followed by a group show at the Museum of Modern ... More
Exhibition at Sprovieri brings together new works by three Berlin-based artists
First New York solo exhibition of Grace Weaver opens at Thierry-Goldberg Gallery
Parafin opens exhibition of works by group of leading and emerging painters




Michael Sailstorfer, M. 25 , 2015. Casted bronze, water pump, 78 x 45 x 19 cm. Courtesy the artist and Sprovieri, London.





LONDON.- Sprovieri has brought together new works by three Berlin-based artists, Alicja Kwade, Michael Sailstorfer and Thomas Rentmeister. The three artists work in adjacent studios in a large building in Liebermannstr 24-28 in former East Berlin. While maintaining their own specific language and use of materials they share a similar artistic vision. Alicja Kwade's work often deals with time and light, something that is reflected in the works chosen for this show. A working clock with a lead cast nearby suggests the 'heaviness' of time passing, the lead face mirroring in the memory of Kwade's earlier pieces of clocks with obscured faces. Kwade has been collecting lamps since moving to Berlin. In her work Lampe (Kaiser Idell Rot) Kwade deconstructs a lamp, grinds the elements into particles that resemble colourful sand, then displays them in specimen ... More





Grace Weaver, Match Point (detail).





NEW YORK, NY.- Thierry-Goldberg Gallery presents the first New York solo exhibition of Grace Weaver. The show opens today, July 2nd, with a reception from 6 to 8 and will run through August 7th. A self-professed fan of guilty pleasure music, Weaver likes to think of her paintings as pop songs. The title of the exhibition is borrowed from Katy Perry's hit single from 2010, Teenage Dream. In Match Point (2015) one of Weaver's most recent paintings in the exhibition, the vantage point is that of a tennis player taking a moment to bend over and tie his shoelace. A scaled-up male figure with red elongated limbs frames the opposing female player that stands in the distance on the other side of the tennis court. The upside down viewpoint of the pictorial composition contributes to the whimsical aspect of the work, where the difference in scale between the two figures make it seem as if the oversized head of the male character ... More





Jonathan Wateridge, Green Shorts, 2015. Oil on canvas, 200 × 300 cm © Jonathan Wateridge 2015. Courtesy Parafin, London.





LONDON.- Parafin announces the first group show in its exhibition programme. Blow Up features a group of leading and emerging painters including Hannah Brown, Hynek Martinec, Justin Mortimer, Issa Salliander, Jonathan Wateridge, Uwe Wittwer and Clare Woods. The exhibition explores connections between contemporary painting and photography. At the heart of Michelangelo Antonioni's iconic swinging London film Blow Up (1966) is a disquieting meditation on photography, photographic images, truth and reality. The central character in the film, Thomas, a fashion photographer played by David Hemmings, takes candid shots of two lovers in a London park and then later, having developed the images, comes to believe that he has unwittingly photographed a crime. Successive enlargements of the images ... More
Barbara Hepworth at Tate Britain
---
Flashback
On a day like today, Welsh garden designer Ralph Hancock was born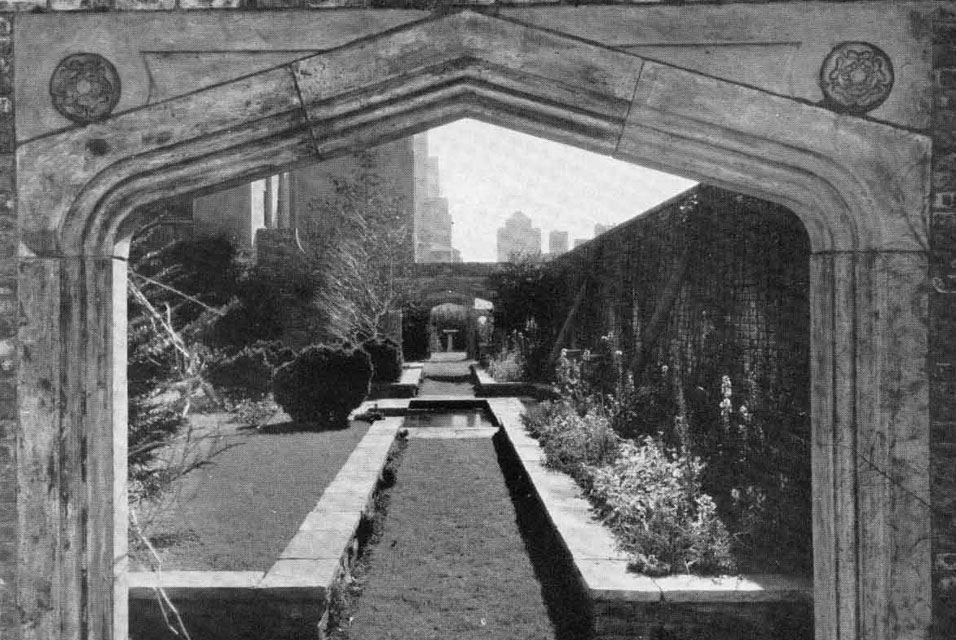 July 02, 1893. Ralph Hancock (2 July 1893 - 30 August 1950) was a Welsh landscape gardener and author. Hancock built gardens in the UK in the 1920s, 30s and 40s and in the United States in the 1930s. A few are well known - the roof gardens at Derry and Toms in London and the Rockefeller Center in New York, the garden at Twyn-yr-Hydd House in Margam and the rock and water garden he built for Princess Victoria at Coppins, Iver, England. In this image: Rockefeller Center English Roof gardens - circa 1935.
---

Museums, Exhibits, Artists, Milestones, Digital Art, Architecture, Photography,
Photographers, Special Photos, Special Reports, Featured Stories, Auctions, Art Fairs,
Anecdotes, Art Quiz, Education, Mythology, 3D Images, Last Week,
.
---
Royalville Communications, Inc
produces: