Tübingen archaeologists find "new" fragment of ivory belonging to 40,000 year old lion
The fragment on the left makes up half the head of the animal figure on the right, showing that the "lion" was fully three-dimensional, and not a relief as long thought. Photo: Hilde Jensen, Universität Tubingen.
TÜBINGEN
.-
Archaeologists from the
University of Tübingen
have found an ancient fragment of ivory belonging to a 40,000 year old animal figurine. Both pieces were found in the Vogelherd Cave in southwestern Germany, which has yielded a number of remarkable works of art dating to the Ice Age. The mammoth ivory figurine depicting a lion was discovered during excavations in 1931. The new fragment makes up one side of the figurine's head, and the sculpture may be viewed at the Tübingen University Museum. "The figurine depicts a lion," says Professor Nicholas Conard of Tübingen University's Institute of Prehistory and Medieval Archaeology, and the Senckenberg Center for Human Evolution and Palaeoenvironment Tübingen. "It is one of the most famous Ice Age works of art, and until now, we thought it was a relief, unique among these finds dating to the dawn of figurative art. ...
More
The Best Photos of the Day
Corcoran, the George Washington University and National Gallery receive approval to implement agreements
Before they left Africa, early modern humans were 'culturally diverse' say researchers
Two Basel art collections to go on tour due to temporary closure of Kunstmuseum Basel




This 19 April, 2005 file photo shows the Corcoran Gallery of Art near the White House in Washington, DC. AFP PHOTO Karen BLEIER.





WASHINGTON, DC.- Leaders of the Corcoran Gallery of Art and Corcoran College of Art and Design, the George Washington University (GW) and the National Gallery of Art today received approval from the D.C. Superior Court to implement their historic agreements that were first announced in February 2014. The parties now plan to move ahead to carry out the terms of the agreements in the coming weeks. The court's ruling permits the parties to proceed with the transfer of ownership of the Corcoran's historic 17th Street building and the College of Art and Design to GW and of custody of the art collection to the National Gallery of Art. The collaboration will maintain the historic building as a showplace for art and a home for the Corcoran College and its programs, creating a global hub for the arts at GW. The collaboration also will safeguard the Corcoran's collection and increase access to it as a public resource in Washington. "Today we ... More





Stone tools from Kharga Oasis, Egypt, one of the archaeological sites used in the study. Photograph reproduced with kind permission from The British Museum.





OXFORD.- A new study provides fresh insights into the life of early modern humans before they left Africa following a massive comparative study of stone tools. Researchers have carried out the biggest ever comparative study of stone tools dating to between 130,000 and 75,000 years ago found in the region between sub-Saharan Africa and Eurasia. They have discovered there are marked differences in the way stone tools were made, reflecting a diversity of cultural traditions. The study has also identified at least four distinct populations, each relatively isolated from each other with their own different cultural characteristics. The research paper also suggests that early populations took advantage of rivers and lakes that criss-crossed the Saharan desert. A climate model coupled with data about these ancient water courses was matched with the new findings on stone tools to reveal that ... More





Pablo Picasso, Pains et compotier aux fruits sur une table, 1908–1909. Öl auf Leinwand, 163.7 x 132.1 cm. Photo: Kunstmuseum Basel, mit einem Beitrag von Dr. h.c. Richard Doetsch-Benziger erworben, 1951.





BASEL.- The Rudolf Staechelin Collection and the Im Obersteg Collection are two distinguished private collections with deep roots in Basel and a long history of affiliation with the Kunstmuseum Basel. The temporary closure of the museum in 2015 creates the unprecedented opportunity to send the two collections on a joint international tour. Bringing the works of both collections together allows for an exhibition that will guarantee unique perspectives: the Rudolf Staechelin Collection includes works by leading nineteenth-century precursors of modernism, and the Im Obersteg Collection holds eminent masterworks of twentieth-century art. The traveling exhibition will be on display at the Museo Nacional Centro de Arte Reina Sofía in Madrid (March 18– September 13, 2015, concurrently with the presentation of works from the Kunstmuseum Basel) and the Phillips Collection in Washington, D.C. ... More
Quinn & Farmer to auction photography collection of former Virginia museum publication manager
Important Indian paintings to feature at Bonhams' Asia Week sale on September 17
Zurich Asia to offer rare stamps, philatelic treasures & superb works of art




Esther Bubley, 'Third Avenue Elm with Gum Machines,' (detail). Est. $200-$500. Quinn & Farmer Auctions image.





CHARLOTTESVILLE, VA.- Quinn & Farmer Auctions in Charlottesville, Virginia, is hosting an online-only sale through LiveAuctioneers that features the photography collection of George Cruger, former publications manager for the Virginia Museum of Fine Arts (VMFA) in Richmond. The auction is now open for bidding, and lots will begin closing at 5:30 p.m. Eastern Time on Thursday, Aug. 28, 2014. For many years, George Cruger held the position of assistant curator of photographs at VMFA. In that capacity, Cruger had the opportunity to research photographic works, recommend additions to the collections, and mount exhibitions. Among the shows Cruger helped produce was the major group show in 1987 titled Portraits: Faces of the '80s. Cruger's personal collection traverses the history of photography as it developed around ... More





Selected from the Barbara Janeff Collection of Indian Painting, the miniatures are among the sale's highly anticipated highlights. Photo: Courtesy of Bonhams.





NEW YORK, NY.- Centuries-old Rajasthani and Pahari miniature paintings will be placed on the auction block for the first time as part of the Indian, Himalayan and Southeast Asian Art sale on September 17 at Bonhams, the third largest international fine art auction house. Selected from the Barbara Janeff Collection of Indian Painting, the miniatures are among the sale's highly anticipated highlights. The group features products of distinguished Indian schools of painting which flourished between the 17th and 19th centuries. Barbara Janeff was captivated by India after seeing James Ivory's film "The Sword and the Flute" in 1972. She immediately became a regular visitor at the R. E. Lewis Gallery in San Francisco where James Ivory, who was also an art collector, had bought many works by Indian artists. Janeff worked at the Charles Campbell Gallery (later the ... More





Vertical pair 1894 Dowager first printing 24 cdn.





HONG KONG.- Zurich Asia, the leading stamp auction house in Asia, will hold its next Hong Kong sale on 31 August & 1 September 2014 at Harbour Plaza Hotel. Presenting over 3,100 offerings, this exciting auction event will bring together both rare philatelic treasures and exquisite Chinese works of art highly coveted by discerning stamp collectors and art connoisseurs alike. Public preview will take place from 29-30 August. The star lot is a very rare 1895 registered cover from Tientsin to Hamilton, New York, redirected to Brooklyn with USA and Dowager franking (Estimate: HK$1-1.2 million/ US$128,000-154,000, Lot 509, illustrated above). In excellent condition, this exceptional cover is believed to be the earliest Dowager cover sent through the US Postal Agency in Shanghai. This centerpiece is expected to arouse tremendous interest from discerning collectors. The cover's front is franked with a USA 5 cents brown ... More
The Queen's Award winning violin dealers J & A Beare launch boutique online auction
Auction house Ketterer Kunst opens "Hommage à Picasso" exhibition in Dusseldorf
Multiple world auction records set as Bonhams two-day Quail Lodge Sale makes history




Beares Auctions will offer players and investors from around the world the opportunity to bid on a limited number of carefully selected fine instruments and bows.





LONDON.- The Queen's Award winning violin dealers, J & A Beare, will make history this October by becoming the first major violin dealer to provide a boutique auction service for fine stringed instruments. Beares Auctions will offer players and investors from around the world the opportunity to bid on a limited number of carefully selected fine instruments and bows. Instruments described as 'by' a particular maker will be accompanied by a J & A Beare certificate of authenticity. The new service will provide an innovative web platform, including iOS compatibility for mobile bidding, and a number of features previously unseen in the violin auction industry such as 'Buy Now' (the option to buy immediately at a fixed price). These new features will sit alongside the traditional expertise and after-sales support that has been provided by J & A Beare for generations. Managing Directors of J & A Beare, ... More





Roy Lichtenstein, Still life with Picasso. 1973. Lithograph in colors, 72,3 x 53,1 cm.





DUSSELDORF.- The exhibition "Hommage à Picasso" is dedicated to the universal genius and multi talent, who passed away some 40 years ago. It will be on display at Ketterer Kunst, first in Duesseldorf in August and then in Berlin-Charlottenburg until October. Homage is rendered by an array of internationally acclaimed artists, who paid their tribute to the great master shortly after his death in the early 1970s by providing an artwork each for a joint portfolio. It delivers proof of the effect that Picasso's œuvre had on their work and of how they saw him. As diverse as the works by, among others, Gerhard Altenbourg, HAP Grieshaber, Richard Hamilton, David Hockney, Robert Indiana, Roy Lichtenstein, Heinz Mack, Joan Miró, Robert Rauschenberg, Emil Schumacher, Frank Stella, Jean Tinguely, Cy Twombly and Günter Uecker may seem, what they share is the legendary Pablo Picasso as source of inspiration and great respect ... More





The ex-Elvis Presley 1963 Rolls-Royce Phantom V Touring Limousine. Photo: Bonhams.





CARMEL, CA.- The second day of Bonhams highly anticipated Quail Lodge auction saw many world records set for Maserati, Mini, Napier, Rolls-Royce, Speedwell and, most famously, Ferrari. With 117 cars on offer and a 92% sell-through rate, the two-day auction, which many were dubbing the "sale of the year", brought a total sales figure of $108,000,000 (£64,578,327 or €80,628,104). After Thursday night's exciting, record-making sale of the 1962 Ferrari 250 GTO, which made history when it achieved over $38-million, making it the most valuable car to ever be sold at auction, Bonhams went on to set several more records. For Ferrari, the most coveted of all marques, Bonhams broke an incredible nine model records. A 1966 Ferrari 275 GTB – Bonhams' catalog cover car – sold for $3,850,000 (£2,306,920) to the applause of the audience and set a new record for the steel-bodied, non-competition, 3-carburetor model, ... More
Thomas Moran's Grand Canyon one of four works included in Forever Stamp series
'Interface: People, Machines, Design' opens at the Powerhouse Museum, Sydney
Nationalmuseum Sweden announces new acquisition: Portraits by Kerstin Bernhard




Thomas Moran (born England), 1837–1926. Grand Canyon, dated 1912 Oil on pressboard 15-7/8 × 23-7/8 inches (40.3 × 60.6 cm). Bequest of Katherine Harvey.





KANSAS CITY, MO.- A painting in the collection of The Nelson-Atkins Museum of Art will be included in a new series of Forever stamps. Thomas Moran's 1912 painting Grand Canyon is one of four artworks, all of the Hudson River School paintings, chosen by the United States Postal Service to be featured in the upcoming 12th issuance of the American Treasures series. In total, 25 million copies of the stamp will be distributed. "We are thrilled that a painting so integral to our American collection will travel so widely and be seen by millions," said Julián Zugazagoitia, Menefee D. and Mary Louise Blackwell Director & CEO. "This is a great honor." Thomas Moran was well-known for his western landscapes and Grand Canyon, a stunning representation of the iconic landmark found in Arizona, is an exemplary model of his ability to create balanced compositions. Readability ... More





'Bauhaus' Telephone. Designed by Marcel Breuer and Richard Schadewell, made by Fuld & Co / Telephonbau & Normazeit GmbH, Germany, 1928. Photo: Powerhouse Museum.





SYDNEY.- The Museum of Applied Arts and Sciences is showcasing its design and technology collection through a compelling new exhibition Interface: people, machines, design at the Powerhouse Museum from 15 August 2014 – 11 October 2015. Featuring iconic products designed and manufactured by the world's famous brands, including Olivetti, Braun and Apple, Interface explores how a handful of companies, designers and industrial visionaries transformed clunky machines of a century ago and created the ubercool, must-have items that we can't live without today. "Each of us has memories of the technologies that have changed our lives. The mobile phone highlights the way technology and design has rapidly evolved, from the heavy object of a few decades ago to the sleek multifunctional device of today. This exhibition is a fine example of the ... More





Kerstin Bernhard, Unknown woman. Photo: Cecilia Heisser/Nationalmuseum.





STOCKHOLM.- Nationalmuseum has acquired a selection of photographic portraits by Kerstin Bernhard for the Swedish National Portrait Gallery. The portraits have been donated by Carl Johan Bernhard, the photographer's nephew and assistant. One of the most prominent Swedish photographers of the 20th century, Kerstin Bernhard would have been 100 years old this year. Kerstin Bernhard (1914–2004), best known for her fashion and food photography, would have turned 100 on 27 August this year. Bernhard started out as a portrait photographer with her own studio, so Nationalmuseum is delighted to have acquired some of her most important portraits for the Swedish National Portrait Gallery. The majority of the acquired works date from Bernhard's early career in the 1930s and '40s, when she was trying to strike a balance between personal expression and the conventions of the time. The award-winning 1939 portrait of the ... More
---
Flashback
On a day like today, French painter Gustave Caillebotte was born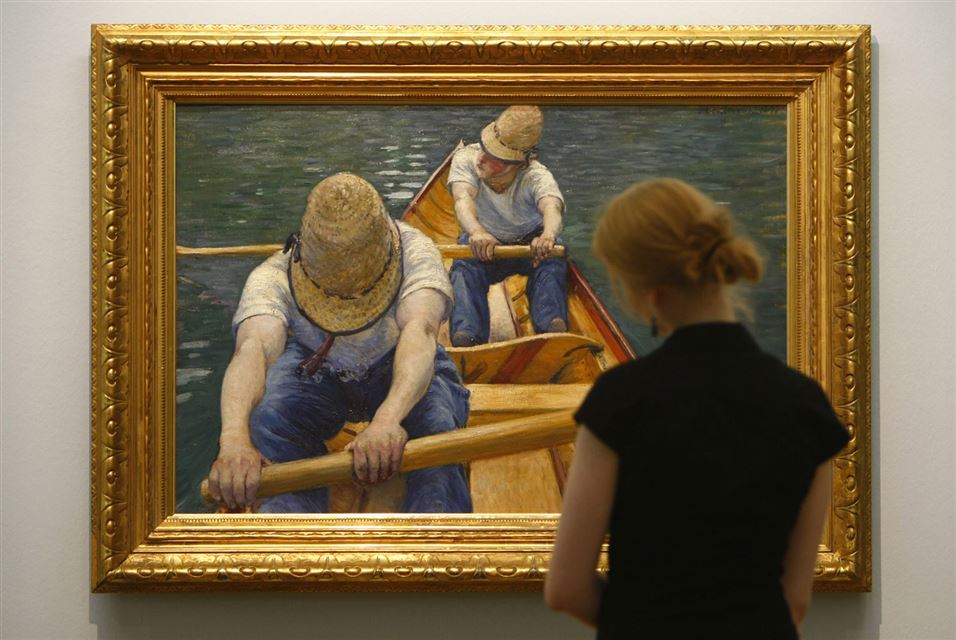 August 19, 1848. Gustave Caillebotte (19 August 1848 - 21 February 1894) was a French painter, member and patron of the group of artists known as Impressionists, though he painted in a much more realistic manner than many other artists in the group. Caillebotte was noted for his early interest in photography as an art form. In this image: An employee looks at a painting 'Oarsmen' of 1877 of French Impressionist Gustave Caillebotte (1848-1894) in the Kunsthalle Bremen, Germany, Thursday, June 26, 2008.
---

Museums, Exhibits, Artists, Milestones, Digital Art, Architecture, Photography,
Photographers, Special Photos, Special Reports, Featured Stories, Auctions, Art Fairs,
Anecdotes, Art Quiz, Education, Mythology, 3D Images, Last Week,
.
---
Royalville Communications, Inc
produces: