French government returns three paintings confiscated by the Nazis during World War II
French Minister for Culture and Communication Aurelie Filippetti delivers a speech during a ceremony marking the return of three paintings confiscated by the Nazis to their real owners, on March 11, 2014 in Paris. AFP PHOTO MARTIN BUREAU.
PARIS
(AFP)
.-
France on Tuesday returned three paintings seized by the Nazis to their rightful owners, just the tip of the iceberg in a country where nearly 2,000 such artworks remain unclaimed. All works of art identified as having been stolen by the Nazis are kept in French museums that are required to report them and put them on display in the hope that the previous owners, their heirs or assignees will spot and claim them. Culture Minister Aurelie Filippetti returned the three paintings -- "Mountain Landscape" by Flemish artist Joos de Momper (1564-1635), a "Portrait of a Woman" oil canvas dating from the 18th century and a "Madonna and Child" painting -- in an official ceremony. Filippetti said she was "happy and moved to once again accomplish an act of reparation and justice", which she described as a "moral duty" of her ministry. "Mountain Landscape" belonged to Baron Cassel van Doorn, a non-Jewish Belgian banker who had homes in France and whose possessions were confiscated by the Nazis in D ...
More
The Best Photos of the Day
Paintings commissioned by one of Britain's greatest actors acquired by The Bowes Museum
Metropolitan Museum launches MetCollects, an online series featuring recently acquired works of art
Getty completes conservation of Jackson Pollock's milestone painting Mural, on view at the Getty




David Garrick and Mrs Cibber as Jaffier and Belvidera in 'Venice Preserv'd. ©The Bowes Museum.





COUNTY DURHAM.- Two stunning paintings commissioned by one of England's finest actors have been added to the permanent collection of The Bowes Museum at Barnard Castle. Commissioned by the 18th Century thespian David Garrick - deemed by many to be one of the greatest actors of all time - they were painted by Johan Zoffany, a German born neoclassical artist mainly active in England. Sold by Garrick's widow at Christie's in 1823, they remained in family ownership until they were transferred to the nation through the Acceptance in Lieu (AIL) scheme administered by Arts Council England. They have been allocated to The Bowes Museum following a successful application by its Keeper of Fine Art, Emma House. The paintings - entitled David Garrick and Mrs Cibber as Jaffier and Belvidera in 'Venice Preserv'd', and David Garrick and Mary Bradshaw in David Garrick's 'The Farmer's Return' – portray ... More





The Mishneh Torah: Book of Judges (Sefer Shoftim). Written by Moses Maimonides (1135-1204). Painted by the Master of the Barbo Missal (active mid-1400s) North Italian, ca. 1457. Tempera and gold leaf on parchment. Photo © The Israel Museum, Jerusalem, for Michael and Judy Steinhardt, by Ardon Bar- Hama.





NEW YORK, NY.- Thomas P. Campbell, Director and CEO of The Metropolitan Museum of Art, announced today the launch of MetCollects, a new web series on the Museum's website that offers first looks at works of art acquired recently by the Museum. MetCollects will feature one work each month, selected from the hundreds that the Metropolitan Museum acquires through gifts and purchases annually. MetCollects pairs spectacular photography with curatorial commentary, often including video for further contextualization of the works. Mr. Campbell said: "I am incredibly proud of this new initiative MetCollects. Works of art are the very heart of what we do, the story that we tell, and a collection that does not grow simply does not evolve—intellectually, geo- ... More





Jackson Pollock (American, 1912–1956), Mural, 1943 (detail). Oil and casein on canvas. The University of Iowa Museum of Art, Gift of Peggy Guggenheim, 1959.6. Reproduced with permission from the University of Iowa.





LOS ANGELES, CA.- Jackson Pollock's monumental painting Mural and an exploration of its creation, early history and conservation is on view at the J. Paul Getty Museum at the Getty Center for a limited time March 11 through June 1, 2014. Following extensive joint study and treatment by the J. Paul Getty Museum and the Getty Conservation Institute (GCI) as part of an agreement with the University of Iowa Museum of Art, the artwork is being exhibited alongside new research, showcasing a significant transitional moment in Pollock's career. The exhibition is jointly curated by Scott Schaefer, Curator Emeritus of the J. Paul Getty Museum; Tom Learner, Head of GCI Science overseeing the GCI's Modern and Contemporary Art Research Initiative; and Yvonne Szafran, Head of the J. Paul ... More
Sotheby's announces a unique sale bringing together British art and design from the twentieth century
Exceptional Torah, estimated at €1,000,000-1,500,000, to be offered at Christie's Paris on 30 April
Andy's World: Christie's announces online-only sale to benefit the Andy Warhol Foundation for the Visual Arts




Lucian Freud, Bella (H. 30), 1987, etching. Est: £12,000 – 18,000. Photo: Sotheby's.





LONDON.- Sotheby's announced its inaugural Made in Britain sale which will take place in London on the 1st April 2014. Celebrating the remarkable breadth of British creativity during the twentieth century, the sale will include works by established giants of Modern British art including Henry Moore, Barbara Hepworth and Bridget Riley, as well as photography, studio ceramics and furniture by some of the leading artists and designers of the period. In selling these works alongside one another, Made in Britain demonstrates the link between these often isolated disciplines and emphasises the crucial role that British artists and designers played in the development of international Modernism. Lydia Wingfield Digby, Deputy Director, Modern and Post-War British Art commented: "We're extremely excited to be presenting a sale that moves away from the traditional separation of collecting categories. In doing so we have been able to prov ... More





A major turning point in the history of printing in general and of Hebrew books in particular, this rare incunable, whose value is estimated at €1,000,000-1,500,000, will undoubtedly be the highlight of the sale. Photo: Christie's Images Ltd 2014.





PARIS.- The Department of Books and Manuscripts announced the auction of an exceptional printed Torah (or Pentateuch: the first five books of the Bible) at their sale on 30 April 2014. A major turning point in the history of printing in general and of Hebrew books in particular, this rare incunable, whose value is estimated at €1,000,000-1,500,000, will undoubtedly be the highlight of the sale. Printed in Hebrew in Bologna in January 1482, the volume represents the very first appearance in print of all five books of the Pentateuch as well as the first to which vocalisation and cantillation marks have been added. It is equally the first time that the printed Biblical text is accompanied by Rashi's commentary and the paraphrase in Aramaic (Targum Onkelos). The significance of this edition is demonstrated by the fact ... More





Andy Warhol, Joseph Beuys in Memoriam (F. & S. II.371). Screenprint in colors on paper, an artist proof, numbered 'AP 2/20', 32 x 24 in. Executed in 1986. Estimate: $18,000-$25,000. Starting Bid: $15,000.© The Andy Warhol Foundation for the Visual Arts, Inc.





NEW YORK, NY.- Christie's announced Andy Warhol @ Christie's: Andy's World, an online-only sale that gives collectors a glimpse into "A Day in the Life" of Andy Warhol. There are over 150 lots available, including images of Warhol's friends, New York City, his travels and much more. This sale will continue Andy Warhol@Christie's, the series of online-only auctions in partnership with The Andy Warhol Foundation for the Visual Arts. This sale features approachably- priced artworks with starting bids at $1,500. "On the heels of the hugely popular Love sale, Christie's is delighted to offer Andy's World as the second online only sale of 2014 in partnership with The Andy Warhol Foundation for the Visual Arts," said Amelia Manderscheid, Head of eCommerce for Post-War & Contemporary Art at ... More
Dinosaur-killing impact acidified oceans says study by Japanese scientists
A collection of unseen Henry Moore prints to be offered at Dreweatts & Bloomsbury Auctions' sale
Scholars rediscover a lost American artist; Book celebrates 90th anniversary of her first masterpiece




The skeleton of a Cryolophosaurus Ellioti, diplayed at the exhibition "Dinosaurs of Gondwana" at the National Science Museum in Tokyo. AFP PHOTO / Kazuhiro NOGI.





PARIS (AFP).- The space rock that smashed into Earth 65 million years ago, famously wiping out the dinosaurs, unleashed acid rain that turned the ocean surface into a witches' brew, researchers said Sunday. Delving into the riddle of Earth's last mass extinction, Japanese scientists said the impact instantly vaporised sulphur-rich rock, creating a vast cloud of sulphur trioxide (SO3) gas. This mixed with water vapour to create sulphuric acid rain, which would have fallen to the planet's surface within days, acidifying the surface levels of the ocean and killing life therein. Those species that were able to survive beneath this lethal layer eventually inherited the seas, according to the study which did not delve into the effects on land animals. "Concentrated sulphuric acid rains and intense ocean acidification by SO3-rich impact vapours resulted in severe damage to the global ecosystem and were ... More





Henry Moore (1898-1986), High Wire Walkers (c.414). Watercolour, charcoal, graphite with pen and ink on paper. sheet 240 x 189 mm (9 1/2 x 7 3/8 in) & 251 x 188 mm (9 7/8 x 7 3/8 in). Estimate: £8,000 – 12,000.





LONDON.- A collection of 56 unseen working proof prints by one of Britain's most famous artists and sculptors, Henry Moore (1898-1986), will be offered for sale as part of Dreweatts & Bloomsbury Auctions sale of Modern & Contemporary Prints on Thursday 27th March. Collected by Moore's master printer, Michael Rand, lots 116-172 from the sale document Moore's journey to becoming a draughtsman. The founder printer at Editions Alecto from 1963-66, Rand set up their first Studio in Kelso Place and worked with many of the great artists of the day, printing editions for David Hockney and Colin Self, amongst others. In 1969 he took up the role of Senior Technician at the Royal College of Art and began his work with Henry Moore, which over the following decades resulted in the printing of the majority of Moore's most important intaglio works. Their working relationship was truly collaborative. ... More





Saint Louis Cathedral, detail of drinking deer.





NEW YORK, NY.- Ninety years after the completion of her first commission at the National Academy of Sciences in Washington, D.C., a lost artist's work is being recognized with a lavishly illustrated new book. Hildreth Meière (1892-1961) was a well-known American muralist surprisingly few have heard of today, though 100 of her masterpieces are hiding in plain sight in several American cities. On May 1, 2014, Andrea Monfried Editions will release the first monograph on her work, The Art Deco Murals of Hildreth Meière by Catherine Coleman Brawer and Kathleen Murphy Skolnik, with photographs by the artist's granddaughter Hildreth Meière Dunn and a foreword by noted architectural historian Richard Guy Wilson. The volume explores the life and work of the trailblazer behind some of the most spectacular murals of the 20th century. Nearly forgotten now, Meière achieved renown in an era when female artists rarely gained acceptance. In May 2014, her Pillars of Hercules (1960) will be accessible for th ... More
Art Deco masterpieces from the private collection of Félix Marcilhac exceed estimates
Spacesuits and moon notes from Apollo 11 among the stars at Bonhams Space History Sale
The Estate of Baron Pierre DeMenasce to highlight Doyle New York's March 17 Asian Works of Art Sale




A 1935 unique cabinet by Jean-Michel Frank sells for €3.7 million ($5.1 million). Photo: Sotheby's.





PARIS.- Tonight at Sotheby's Paris, bidders came out in droves to celebrate the discerning eye and refined taste of French Art Deco dealer and collector Félix Marcilhac. Following a nine-day exhibition visited by over 5,000 people, the first of two days of sales realised a combined total of €14,745,725 ($20,448,044), more than double today's pre-sale high estimate (est. €5-6.5 million), with 97.3% of the lots sold. Nearly 500 collectors registered their intention to bid on masterpieces of Decorative Art, most of which exceeded their high estimate. Among the great collectors taking part in this evening's sale was Mr. Dimitri Mavrommatis who bought five lots, including works by Dunand & Lambert-Rucki, Coard, Dominique and a superb pair of upholstered, shagreen and oak armchairs by Frank. 11 auction records were established tonight, including the top lot - a unique patinated gypsum and bronze cabinet, circa ... More





Full Fressure Strizh Rescue Spacesuit, manufactured by NPP Zvedza, ca. 1988. Est. $15,000-20,000. Photo: Courtesy of Bonhams.





NEW YORK, NY.- Bonhams Space History sale on April 8 will feature nearly 300 fascinating artifacts related to decades of international space exploration, including genuine spacesuits, critical flight items from the famed Apollo 11 mission, lunar-flown American flags, rare photographs and astronauts' personal effects. Two top lots in the sale are from Apollo 11, the first spaceflight to put men on the moon. An emblem flown with the craft into lunar orbit, and signed by the most famous space crew in history - Neil Armstrong, Michael Collins, and Buzz Aldrin - is estimated at $40,000-60,000. Also from Apollo 11, and estimated at $35,000-45,000, is a checklist sheet with notes made by Buzz Aldrin while on the moon. Both sides of the sheet contain critical data that enabled Armstrong and Aldrin to return to earth. It is one of the most extensive sets of ... More





Chinese Pale Celadon Jade Covered Vase, 18th Century, Height overall 9 1/8 inches. From the Estate of Baron Pierre DeMenasce. Estimate $500,000-700,000.





NEW YORK, NY.- Scheduled during Asia Week New York, Doyle New York's Asian Works of Art auction on Monday, March 17 at noon presents the arts of China, Japan, Korea and Southeast Asia dating from the Neolithic Period through the 20th century. Offerings include pottery and porcelain, jade, ivory, scholar's objects, bronzes, screens, furniture and paintings. Also featured are Japanese swords. Highlighting the auction is property from the Estate of Baron Pierre DeMenasce (1924-2013),the son of noted collector Baron George DeMenasce (1891-1967). During the 19th and first half of the 20th centuries, the DeMenasce family was prominent in Egyptian commerce and society. Baron Pierre's great-great-grandfather, Jacob Levi DeMenasce (1807-1883), established the merchant banking firm of J.L. DeMenasce and Sons in Cairo ... More
Keith Christiansen on François Gérard's portrait of Talleyrand
---
Flashback
On a day like today, American artist Elaine de Kooning, was born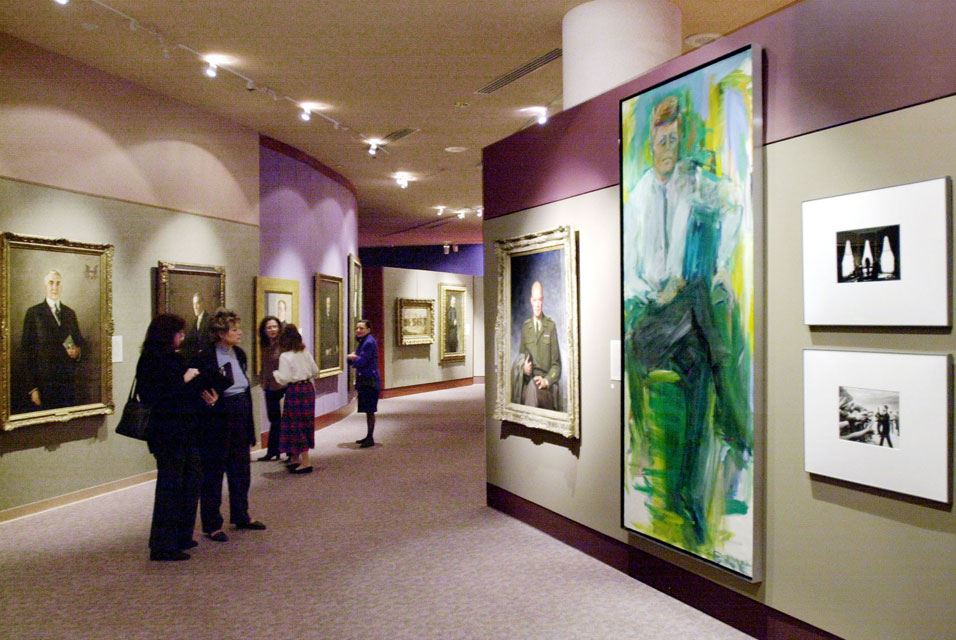 March 12, 1918. Elaine de Kooning (March 12, 1918/1920 – February 1, 1989) was an Abstract Expressionist, Figurative Expressionist painter in the post-World War II era and editorial associate for Art News magazine. On December 9, 1943, she married artist Willem de Kooning, who was a highly influential artist in the Abstract Expressionism movement. In this image: Members of the media and Jimmy Carter Presidential Library and Museum staff are surrounded by portraits of presidents including Warren Harding, left, by Margaret Lindsay Williams, Dwight D. Eisenhower, third from right, by Thomas Edgar Stephens, John F. Kennedy, second from right, by Elaine de Kooning, and photographs of Kennedy by George Thames, as they tour the exhibit at the Carter Museum Thursday, Feb. 13, 2003.
---

Museums, Exhibits, Artists, Milestones, Digital Art, Architecture, Photography,
Photographers, Special Photos, Special Reports, Featured Stories, Auctions, Art Fairs,
Anecdotes, Art Quiz, Education, Mythology, 3D Images, Last Week,
.
---
Royalville Communications, Inc
produces: