Research shows Julius Caesar may have been less heroic than previously imagined
This photograph taken on June 21, 2018, shows an assistant holding a 3D reconstruction of Roman emperor and military general Julius Caesar at The National Museum of Antiquities in Leiden, The Netherlands. The reconstruction was made on the basis of a 3D scan of a marble portrait in the museum's collection. Remko de Waal / ANP / AFP.
LEIDEN
.-
The world-renowned general Julius Caesar may have been rather less heroic than we imagine, in terms of victories as well as physique. Caesar was largely bald and had a deformed skull, resulting from difficulties during his birth. As for military campaigns, he suffered his greatest defeat in the Low Countries, possibly near the Dutch city of Maastricht, according to new research suggesting that he fought a substantial proportion of the Gallic Wars in the northern part of Gaul. These findings emerged from the research conducted by the archaeologist and author Tom Buijtendorp on Caesar's activities in the Low Countries, in response to the mounting pile of clues for his presence here. Buijtendorp's research was recently published in the book Caesar in de Lage Landen (Caesar in the Low Countries). His findings about Caesar's countenance in combination with one of the oldest portraits of Caesar from the collection of the Dutch national museum of antiquities (the Rijksmuseum van Oudheden in L ...
More
The Best Photos of the Day
Melbourne fossil find reveals deep past of world's most mysterious living whale
Sotheby's announces the first ever auction entirely dedicated to Gold
Acute Art welcomes Daniel Birnbaum as new Director


Dr Erich Fitzgerald with the pygmy right whale fossil. Photo: Museums Victoria.



MELBOURNE.- A seemingly unremarkable fossil held in the Museums Victoria's collection for over 60 years, has been identified by paleontologists as the oldest known evidence of the enigmatic living pygmy right whale, proving that it most likely originated in the southern ocean and has a history in Australia that stretches back more than 5 million years. Collected at Beaumaris in Melbourne's bayside by a former Museums Victoria paleontologist George Baxter Pritchard in the 1950s, it was immediately identified as a whale ear bone. But its immense significance was not fully recognised until late 2017 when current Museums Victoria paleontologist Dr Erich Fitzgerald and a research fellow, Dr Felix Marx, were looking at whale ear bones in the museum's Paleontology Collection storeroom and made the exciting discovery that it belonged to the pygmy right whale. ... More



Marc Quinn, Song of the Siren, 2010. Courtesy Sotheby's.



LONDON.- Gold - the single metal that has seduced, obsessed and intoxicated mankind for over six millennia. From Ancient Egypt and the Greek myth of King Midas to the conquest of the New World and the Gold Standard, the precious metal has consumed alchemists, compelled explorers, decided the fate of civilisations and dominated the world's economy. The language of gold is universal. A symbol of power and status across the ages and across continents, the "king of metals" has been forged to represent the divine and the sacred. Non-corrodible and highly versatile, enduring where other fashions faded, gold has mesmerised artists both old and new, and inspired some of the greatest masterpieces in art history. This autumn in London, Sotheby's will stage the first ever live and online auctions entirely dedicated to gold. Taking collectors on a journey through the great ... More



Daniel Birnbaum. Photo: John Scarisbrick.



LONDON.- Acute Art announced that Daniel Birnbaum will be joining its growing team as Director. Birnbaum, who currently holds the position of Director at Moderna Museet in Stockholm, will move to London where the company is based, and take up his position next year. Having launched in 2017, Acute Art has built its reputation on producing virtual reality artworks for artists including Marina Abramović, Anish Kapoor, Olafur Eliasson, Jeff Koons and most recently Christo. Alongside its role as a producer of digital artworks, Acute Art is also a research hub and curatorial laboratory, committed to giving artists access to the most cutting-edge technologies, and exploring new ways to reach audiences with digital art. In this newly created role, Birnbaum will focus on identifying opportunities to continue bringing digital artwork to the public, both within an institutional framework and online through a curated offer ... More
Remember Bimbia opens at Redwood Library & Athenaeum, three-year contemporary art initiative launched
Winnie the Pooh sets record for any book illustration
Rock icon Tom Petty's personally owned 1965 Gibson guitar debuts at Heritage Auctions


Pascale Marthine Tayou, Remember Bimbia, Redwood Library & Athenaeum Summer 2018. Courtesy the artist and Galleria Continua. Photo: Michael Osean.



NEWPORT, RI.- Remember Bimbia, a site-specific installation by BelgianCameroonian artist, Pascale Marthine Tayou opened at the Redwood Library & Athenaeum today. The outdoor sculpture, a remembrance of a major slave market in Cameroon, launches the Redwood's Material Politics initiative, a three-year slate of outdoor installations, art exhibitions, lectures, symposia and public programs devoted to plumbing the political and social implications of the materials and processes of contemporary art. Commissioned by the Redwood Contemporary Arts Initiative (RCAI), Remember Bimbia is one of Tayou's few public installations in the United States, and the artist's first slavery memorial. Remember Bimbia recalls a onetime slave market, now nearly overgrown by equatorial forest overlooking the Atlantic Ocean in Tayou's native country of Cameroon. Tayou's call to memory serves not only as a ... More



E.H Shepard, The original map of The Hundred Acre Wood (detail). Sold for £430,000. Courtesy Sotheby's.



LONDON.- Today at Sotheby's in London a new auction record was sent for any book illustration, when the original map of Winnie-the-Pooh's Hundred Acre Wood by E.H. Shepard sold for £430,000. Possibly the most famous map in children's literature, this charming sketch from 1926 was unseen for nearly half a century ahead of the sale. It was offered with an estimate of £100,000-150,000 in Sotheby's sale of English Literature, History, Science, Children's Books and Illustrations. Featuring on the opening end-papers of the original 1926 book, the sketch introduces readers to the delightful imagination of Christopher Robin and his woodland friends. Exactly 40 years later the map played a starring role in the landmark Disney film - Winnie-the-Pooh and the Honey Tree - where it was brought to life as an animation in the film's opening sequence. As well as mapping the magical world of Winnie-the-Pooh ... More



Tom Petty '65 Gibson Guitar & Top Hat. Photo: Heritage Auctions.



DALLAS, TX.- Tom Petty's personally owned 1965 Gibson SG Cherry Electric Guitar and iconic Top Hat, which he played and wore during his smash tour with Bob Dylan, make their auction debut July 21 at Heritage Auctions. The guitar is the first instrument owned by Petty to be offered at auction since the singer/songwriter's death last year and is estimated to bring more than $300,000. Offered together as one lot, the guitar and top hat lead a stellar collection of important stage-worn clothing from the private collection of Petty's close, personal friend, Norman Harris, owner of Los Angeles' famous Norman's Rare Guitars. A portion of the proceeds will be donated to support Petty's favorite charities: The Midnight Mission and The Tazzy Animal Rescue Fund. "Tom and I were very good friends for over 40 years, from the very beginning of The Heartbreakers in Gainesville, Florida, all the way to the Traveling ... More
RM Sotheby's to offer the most important Works Le Mans Aston Martin at Monterey
Betts Project opens exhibition of photographs by Denise Scott Brown
Drew Gilpin Faust joins J. Paul Getty Trust Board


The 1963 Aston Martin DP215 Grand Touring Competition Prototype takes to the track. Photo: Simon Clay © 2018 Courtesy of RM Sotheby's.



BLENHAIM.- In what is to be its most historic lineup to date, RM Sotheby's has announced the addition of the 1963 Aston Martin DP215 Grand Touring Competition Prototype to its flagship Monterey sale, set for 24-25 August at the Monterey Conference Center in California. The Aston Martin joins the previously announced 1962 Ferrari 250 GTO and 1966 Ford GT40 to represent the pinnacle of racing performance for each of these legendary marques from the golden age of motorsport. DP215 was the pinnacle achievement for Aston Martin's racing program, approved by David Brown in March 1963, ordered directly by John Wyer, designed by chief engineer Ted Cutting and fitted with an engine by Tadek Marek as the final racing car built by the factory in the Brown era. By no means a converted road car, this was the ultimate evolution of ... More



Denise Scott Brown, Pico Boulevard - Santa Monica, 1966 (detail). © Denise Scott Brown. Courtesy the artist, plane-site and Betts Project.



LONDON.- Betts Project announces Wayward Eye an exhibition of photography of the 1950s and 1960s by legendary architect-planner and theorist Denise Scott Brown. This will be Scott Brown's first solo exhibition in the UK. "I'm not a photographer. I shoot for architecture—if there's art here it's a byproduct. Yet the images stand alone. Judge what you see. In 1956, Robert Scott Brown and I photographed architectural set pieces of Venice as records to return to while practicing in Africa. But in the process, more than architecture crept into our photographs. In 1965, after ten years of urbanism, my foci were automobile cities of the American Southwest, social change, multiculturalism, action, everyday architecture, 'messy vitality,' iconography, and Pop Art. Waywardness lay in more than my eye. Do I hate it or love it? 'Don't ask,' ... More



Faust recently concluded eleven successful years as president of Harvard University. Photograph by Jon Chase/Harvard University.



LOS ANGELES, CA.- The Board of Trustees of the J. Paul Getty Trust announced today that Drew Gilpin Faust will join their ranks. "We are so pleased that Drew Faust is joining the Getty Board of Trustees," said Maria Hummer-Tuttle, board chair. "Her academic leadership is inspiring and the board welcomes her wisdom and expertise." Faust recently concluded eleven successful years as president of Harvard University, where she continues as the Lincoln Professor of History in Harvard's Faculty of Arts and Sciences. A distinguished historian of the Civil War and the American South, Faust was the founding dean of the Radcliffe Institute for Advanced Study at Harvard. Previously, she served as the Annenberg Professor of History at the University of Pennsylvania, where she was a member of the faculty for 25 ... More
Southgate's World Cup waistcoats just the right fit for London museum
Ruiz-Healy Art presents an exciting and fresh take exploring the color blue
Turner Prize nominee David Mach swaps art gallery for music festival


England's coach Gareth Southgate inspects the pitch of the Luzhniki Stadium in Moscow on July 10, 2018, on the eve of their Russia 2018 World Cup semi-final football match against Croatia. YURI CORTEZ / AFP.



LONDON.- England manager Gareth Southgate's waistcoats have become such a hit at the World Cup that the Museum of London has announced plans to acquire one for its fashion collection. Marks and Spencer, official tailors to the England team, declared last Saturday #NationalWaistcoatDay in honour of Southgate and his team. The Sun newspaper has urged fans to wear one on "Waistcoat Wednesday" for the semi-final clash against Croatia in Moscow. Museum bosses said the waistcoats were helping to bring the three-piece suit back into fashion. "The Museum of London have... announced their plans to acquire one of Gareth Southgate's suits as part of their permanent collection," it said in a statement. "Southgate's, now ... More



Cecilia Paredes, Highland Lake - 3/3. Photo Performance, 3/3 55 x 55".



SAN ANTONIO, TX.- Ruiz-Healy Art, San Antonio, Texas, presents an exciting and fresh take exploring the color blue. Blue is Not a Color highlights artworks by Ruiz-Healy Art's roster artists along with select emerging artists and will open to the public on Wednesday, July 11 from 6:00 -8:00 PM. Blue is Not a Color features the works of Jesse Amado, Richard Armendariz, Cecilia Biagini, Cecilia Paredes, Cade Bradshaw, Jennifer Ling Datchuk, DeliasofiaZacarias, and Andrea Reyes. One color can be interpreted in vastly different ways. Some of the artists in the exhibition have been working with the color for years, for a very specific reason. Other artists were approached with the theme already set in place, and have created some truly remarkable work from that construct. Blue is an almost universally ... More



Adding Fuel to the Fire (Metronom Gallery, Barcelona, 1987).



HENLEY-ON-THAMES.- Henley Festival, the UK's most glamorous boutique festival, and winner of Headline Performance of the Year in 2016 returns to its spectacular setting on the riverbank in Henley-on-Thames from 11th-15th July 2018. Set against the scenic riverside backdrop of the Henley Festival grounds, some of the UK's most engaging contemporary artists will be displaying large-scale sculptures, immersive outdoor light installations, and a series of pop-up galleries. This is the only festival of its kind to exhibit commercial artwork along with music, comedy, food, and more. This year's visual arts line up is more exciting than ever before with works from the prolific Turner prize nominated artist and sculptor David Mach, as well as one of the world's most celebrated landscape photographers, Charlie Waite. Alongside these two legendary ... More
Boo Saville - True Colours from Newport Street Gallery
Flashback
On a day like today, Italian painter Giuseppe Arcimboldo died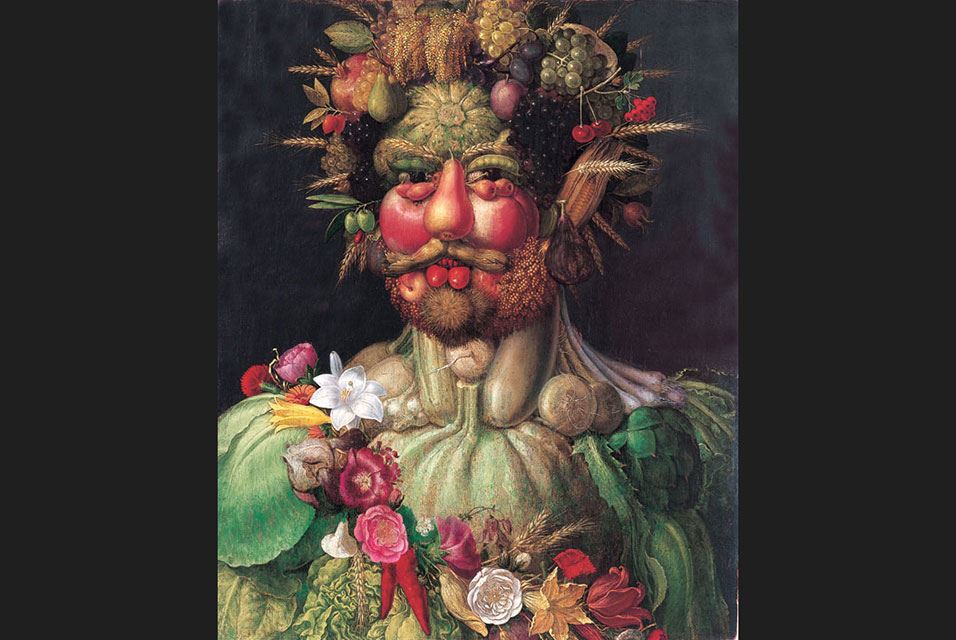 July 11, 1593. Giuseppe Arcimboldo (1526 or 1527 - July 11, 1593) was an Italian painter best known for creating imaginative portrait heads made entirely of objects such as fruits, vegetables, flowers, fish, and books. In this image: Giuseppe Arcimboldo, Vertumne (portrait de Rodolphe II), vers 1590, Huile sur bois. Skokloster, Château de Skokloster (Suède).
---

Museums, Exhibits, Artists, Milestones, Digital Art, Architecture, Photography,
Photographers, Special Photos, Special Reports, Featured Stories, Auctions, Art Fairs,
Anecdotes, Art Quiz, Education, Mythology, 3D Images, Last Week,
.
---
Royalville Communications, Inc
produces: