Exhibition of early drawings by Van Gogh opens at the Kr&oumlller-Müller Museum
Installation view of The early Van Gogh. Photo: Marjon Gemmeke.
OTTERLO
.-
From 24 September 2016 until 9 April 2017, the
Kröller-Müller Museum
presents the exhibition The early Van Gogh: 'work against indifference'. The exhibition shows how at the start of his career, Vincent van Gogh teaches himself to translate his view of the world into images. Unlike contemporaries such as Isaac Israels or George Breitner, he focuses not on the cosmopolitan city life, but instead on the fringes of society. On people who have to work hard for their living, in humble workshops and on farmlands in all weathers. Van Gogh tries to sincerely express his compassion for their way of life. Or, as he puts it himself in a letter to his brother Theo: 'I say it again – work against indifference – perseverance isn't easy – but things that are easy mean little.' The emphasis in the exhibition is on drawings, which are rarely shown due to their sensitivity to light. The ...
More
The Best Photos of the Day
Pro-Kremlin activists force closure of US photographer's show over 'child porn'
armottan Monet Museum presents the exhibition "Hodler Monet Munch: To Paint the Impossible"
First major exhibition of Abstract Expressionism to be held in the UK in almost six decades opens in London


Some 20 activists in matching uniform jackets and camouflage from a little-known non-governmental organisation called "Officers of Russia" stand outside the doors of the Lumiere Brothers Gallery. Andrei BORODULIN / AFP.



MOSCOW.- Pro-Kremlin activists on Sunday threw urine on pictures by a controversial US photographer at a Moscow gallery and forced the show's closure after a government advisor condemned the images as "child pornography". The exhibition showed pictures by Jock Sturges, a well-known photographer whose nude images of children have regularly prompted accusations of paedophilia, which he denies. The exhibition at the established Lumiere Brothers Gallery close to the Kremlin is the first to show Sturges' work in Russia and is titled "Jock Sturges: Absence of Shame." Russia's children's ombudswoman Anna Kuznetsova launched a public campaign against the exhibition on Saturday, writing on Facebook that it was "child pornography." Influential conservative senator Yelena Mizulina also released a statement calling the exhibition, which opened September 7, "a public ... More



Ferdinand Hodler, Paysage prčs de Néris, 1915. Huile sur toile, 89 x 68 cm. Winterthour, Fondation pour l'art, la culture et l'histoire © Institut suisse pour l'histoire de l'art, Zurich.



PARIS.- From September 15th, 2016, through January 22, 2017, the Marmottan Monet Museum presents the exhibition «Hodler Monet Munch – To Paint the impossible.» Why would one unite, in one exhibition, the work of Ferdinand Hodler, Claude Monet, and Edvard Munch? A Swissman born in 1853, who died in 1918; a Frenchman born in 1840, who died in 1926; and a Norweigian born in 1863, who died in 1944. At first glance, the composition of the trio may appear strange. These men never even met, and, although there is no doubt that Hodler and Munch often looked toward the work of Monet, there is no evidence of the converse. The aggravating circumstance : Art History has taken to classifying these men in different categories, Impressionism, Postimpressionism or Symbolism. But it is precisely such classification that this exhibition aims to challenge, by demonstrating that their works have much more to say to one ... More



Clyfford Still, PH-950, 1950. Oil on canvas, 233.7 x 177.8 cm. Clyfford Still Museum, Denver (c) City and County of Denver / DACS 2016. Photo courtesy the Clyfford Still Museum, Denver, CO.



LONDON.- The Royal Academy of Arts presents the first major exhibition of Abstract Expressionism to be held in the UK in almost six decades. With over 150 paintings, sculptures and photographs from public and private collections across the world, this ambitious exhibition encompasses masterpieces by the most acclaimed American artists associated with the movement – among them, Willem de Kooning, Arshile Gorky, Phillip Guston, Franz Kline, Joan Mitchell, Robert Motherwell, Barnett Newman, Jackson Pollock, Mark Rothko, Aaron Siskind, David Smith and Clyfford Still, as well as lesser-known but no less vital artists. The selection aims to re-evaluate Abstract Expressionism, recognising that though the subject is often perceived to be unified, in reality it was a highly complex, fluid and many-sided phenomenon. Likewise, it revises the notion of Abstract Expressionism as based solely in New York City by ... More
Pace London opens an exhibition of new paintings by Nigel Cooke
Unique contemporary art auction to be held in Mexico City
Sotheby's London announces highlights from its Italian Sale


Nigel Cooke, Salome, 2016 (detail), Oil on Linen Backed with Sailcloth, 230 cm x 220 cm x 5.2 cm (90-9/16" x 86-5/8" x 2 1/16") © 2016 Nigel Cooke, courtesy Pace London.



LONDON.- Pace London announces Roman Willow, an exhibition of new paintings by Nigel Cooke. The exhibition is on view at 6 Burlington Gardens from 21 September to 22 October 2016. Cooke's exhibition coincides with the release of a major new monograph, published by Phaidon, which will survey the artist's career and feature new essays by Marie Darrieussecq and Tony Godfrey, an interview between the artist and Darian Leader and a selection of Cooke's writing. Pace will also publish a new catalogue to accompany the exhibition. In his first exhibition in London since 2013, Cooke presents a drastic departure from his earlier work. Purging the sort of nihilistic imagery and motifs that had developed as recognizable trademarks of his practice, the new body of paintings pursues a more poetic sensibility founded in the impressionistic and sensorial. In his new body of paintings, Cooke ... More



Damien Hirst, Psalm 8: Domine, Dominus noster - Non diamond dust, 2014, signed, screenprint with diamond dust 39/50, 27.5 x 27.5 in printed area.



MEXICO CITY.- Mexico City has a vibrant contemporary art scene that thrives thanks to its museums, galleries and independent exhibition spaces. Morton Subastas, the leading auction house in Mexico and the most active in Latin America, has been gaining international appeal thanks to the diversity and quality of its auctions. Coming up on September 28, Morton Subastas will be holding a unique contemporary art auction, named appropriately Esto Es Ahora (This Is Now). What makes this auction special and unprecedented is that, like never before, it gathers works from different artists, groups and contemporary proposals of diverse formats and languages. Morton Subastas is interested in being a platform that makes contemporary art visible and approachable to the general public, encouraging the collecting of contemporary art forms, as well as the physical and virtual spaces that promote their production ... More



Salvatore Scarpitta, Forager for Plankton, 1959 bandages and mixed media on canvas, 128 by 104 cm Ł1-1.5m / €1.2-1.7m / US$1.3-2m. Photo: Sotheby's.



LONDON.- "The Italian Sale" at Sotheby's London will present outstanding pieces by Modern and Contemporary Italian masters on 7 October 2016. Seminal works by Giorgio Morandi and Marino Marini are joined by an exceptional example from Alberto Burri's celebrated Plastiche series and Salvatore Scarpitta's striking 1959 Forager for Plankton. Works by Enrico Castellani include the only surviving panel from his ground-breaking installation Ambiente Bianco, unveiled at Lo spazio dell'immagine, a radical exhibition that heralded a pivotal moment in the development of the post-war avant-garde in 1967. The sale also features four works from the renowned collection of Paolo and Alida Giuli. Having bridged the gap between gallerist, collector, tastemaker, and curator, Paolo Giuli is considered one of the most important figures in 20th-century Italian art. The four works offered at Sotheby's are microcosmic of his e ... More
Timken Museum of Art celebrates the San Diego Zoo's 100th anniversary with animal-themed exhibition
Christie's to offer Claude Berri's collection of Modern and Contemporary art
Exhibition looks at the design collection from the Centre national des arts plastiques


Jan Brueghel the elder, The Entry of Animals into Noah's Ark, 1613 (detail), oil on panel, 54.6 x 83.8 cm (21 ˝ x 33 in.) On loan from The J. Paul Getty Museum, Los Angeles.



SAN DIEGO, CA.- Inspired by the San Diego Zoo's 100th Anniversary, the Timken joins six prominent Balboa Park institutions in a collaboration of animal-themed exhibitions for 2016. The Timken's exhibition, Blessed Beasts and Curious Creatures: Animal Processionals from the 13th to the 21st Centuries, runs September 23 through December 11, 2016 and examines humanity's changing relationship with animals, nature, and the world through Western art. "The project grew out of a collaborative desire to join in and celebrate the Zoo's 100th anniversary. With partners, The J. Paul Getty Museum and the University of San Diego, and the cooperation of artist Kiki Smith, we have the chance to study some compelling depictions of the animal kingdom," said Timken Curatorial Director Derrick R. Cartwright, PhD. Two of the objects in the exhibition, Jan ... More



Untitled Monogold (MG 44) by Yves Klein. Photo: © Christie's Images Limited 2016.



PARIS.- Christie's presents the outstanding collection of Modern and Contemporary art, thoughtfully accumulated over decades by Claude Berri (1934-2009), the Oscar-winning director and a tremendously successful producer. An important selection of works will be offered in a dedicated auction on October 22nd during FIAC. This main auction will be followed by three other sales organized later this year in order to demonstrate the multiple facets of this eclectic collection: Photographs sale, taking place during Paris Photo in November, and two sessions of Online-only Contemporary Art sales in October and December. As Claude Berri once declared: "Art changes lives. It changed mine, to the point of taking precedence over cinema. Today, I have the feeling I'm better for paintings than for movies." Edouard Boccon-Gibod, Managing Director of Christie's France: "Christie's France is very proud to have been entrust ... More



This project is an opportunity to display pieces of furniture and other objects the context which was originally theirs: a domestic world.



BORDEAUX.- From 24 September 2016 to 29 January 2017, the Musée des Arts décoratifs et du Design in Bordeaux (madd) hosts an exhibition displaying more than 300 pieces from the Fonds national d'art contemporain, the National Contemporary Art Collection, and organized by the Centre national des arts plastiques (Cnap). This collection, one of the largest in Europe, contains some of the most significant works of contemporary designers, French and international alike. This project is an opportunity to display pieces of furniture and other objects the context which was originally theirs: a domestic world. The exhibition is thus being held in two venues, two extraordinary houses. The first one, the Hôtel de Lalande, built in the 18th century, which still has its original wooden panelling and parquet flooring, is listed as a UNESCO heritage ... More
Detroit Institute of Arts displays massive artwork "Thalassa" by New York street artist Swoon
First U.S. solo exhibition of Italian artist Francesca Pasquali on view aat Leila Heller Gallery
First comprehensive retrospective exhibition of Tetsumi Kudo's work in Germany on view at the Fridericianum


Swoon assembling Thalassa's tentacles.



DETROIT, MICH.- The Detroit Institute of Arts is displaying a 20-foot tall, 400-pound installation titled "Thalassa" by famed New York street artist Caledonia "Callie" Curry, known as Swoon. "Thalassa" takes its name from the Greek goddess of the sea, and was originally created for the New Orleans Museum of Art where it was on view in 2011. It has been adapted for a site-specific installation in the DIA's Great Hall from Sept. 24, 2016 to March 19, 2017, and is free with museum admission, which is free for residents of Wayne, Oakland and Macomb counties. The massive sculpture, constructed of plywood on a steel frame and covered with paper cut outs and prints, has been suspended from the ceiling of the museum's Great Hall. Thalassa's face is looking upward and her bodice is adorned with imagery of sea creatures, as well as colorful swathes of fabric. Long paper ribbons cascade beneath her like tentacles reachi ... More



Francesca Pasquali, Straws, 2015. Fuchsia, red, pink and transparent plastic drinking straws on wooden panels and metallic frame 78.75 x 98.4 x 9 in (200 x 250 x 23 cm) Triptych. Images courtesy of the artist.



NEW YORK, NY.- Leila Heller Gallery is presenting Plastic Resonance, the first U.S. solo exhibition of Italian artist Francesca Pasquali, on view from September 8 – October 22, 2016. Through the saturated hues of site specific installation, wall reliefs, and undulating, folded sculpture, Pasquali's work redesigns the contours of organic forms through ready-made inorganic material, rendering elegant, playful designs. In Pasquali's work, inert plastic and industrial material—straws, neoprene, polyurethane foam, bristles, balloons—take on an appearance flush with life. Often colorful and always laboriously arranged, cut drinking straws adopt the appearance of coral structures or microscopic topographies; vibrantly-hued plastic bursts for Spiderballs, once intended to serve as cobweb ... More



Tetsumi Kudo, Garden of the Metamorphosis in the Space Capsule, 1968 (detail). Painted wood, artificial flowers, fabric, black light, 350,5 x 350,5 x 350,5 cm © Photo: Jessica Eckert By courtesy of Private Collection © The Estate of Tetsumi Kudo / VG Bild-Kunst, Bonn 2016.



KASSEL.- Bottled humanism, colored neon contaminations, tattered flaps of skin, and limp penises bring humanist self-assurance crashing to the ground. What appears as poison or chemical devastation is in fact an appeal to understand metamorphosis as a state of being. Over a period of three decades (from the mid-1950s to the late 1980s), Tetsumi Kudo (1935 – 1990) created a consistent body of work that serves as a model for contemporary conceptual approaches of Posthumanism and the New Materialism. The Fridericianum presents the first comprehensive retrospective exhibition of the Japanese artist's work in Germany. Forms converge, melt or conglomerate in the microcosms ... More
Transforming Everyday Objects | Modern Art & Ideas
Flashback
On a day like today, American photographer Richard Avedon died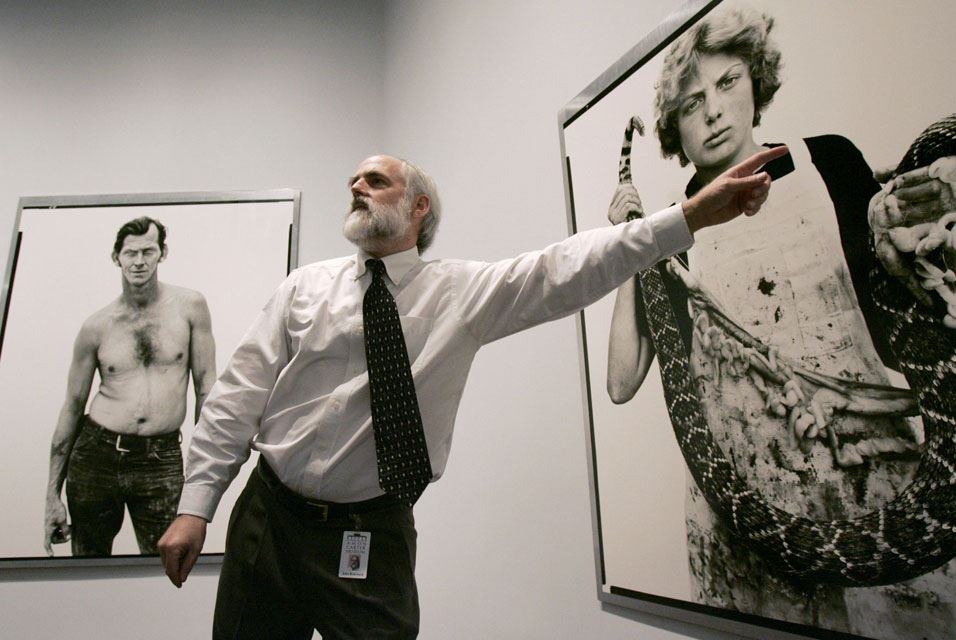 September 01, 2004. Richard Avedon (May 15, 1923 - October 1, 2004) was an American photographer. An obituary published in The New York Times said that "his fashion and portrait photographs helped define America's image of style, beauty and culture for the last half-century." IN this image: Amon Carter Museum Senior Curator of Photographs John Rohrbach points to a Richard Avedon photograph of Boyd Fortin, Friday, Sept. 9, 2005, in Fort Worth, Texas. The photo is part of the "In the American West: Photographs by Richard Avedon" exhibit.
---

Museums, Exhibits, Artists, Milestones, Digital Art, Architecture, Photography,
Photographers, Special Photos, Special Reports, Featured Stories, Auctions, Art Fairs,
Anecdotes, Art Quiz, Education, Mythology, 3D Images, Last Week,
.
---
Royalville Communications, Inc
produces: