Exhibition presents a dramatic survey of five hundred years of Spanish painting
(L-R) Katie Luber, Erika Prosper Nirenberg, Ron Nirenberg, King Felipe VI and Queen Letizia of Spain, Pedro Morenes, Tracy Wolff, and Richard Duke Buchan III, pose at the San Antonio Museum of Antonio to attend the inauguration of the "Masterpieces of Spanish Painting from Madrid on June 18, 2018 in San Antonio, Texas. SUZANNE CORDEIRO / AFP.
SAN ANTONIO, TX
.-
El Greco. Velazquez. Goya. Sorolla. Picasso. These are just some of the Spanish masters whose paintings are included in Spain: 500 Years of Spanish Painting from the Museums of Madrid. This summer, the
San Antonio Museum of Art
will present a dramatic survey of five hundred years of Spanish painting, stretching from the union of Queen Isabella and King Ferdinand in the late fifteenth century to the turn of the twentieth century. Spain will contain more than forty works of art, the majority from major museums in Madrid, and very few of which have previously been on view in the United States. Organized in celebration of the Tricentennial of the city of San Antonio, the exhibition will convey the splendor of Spanish artistic traditions. This rich heritage is an aspect of what makes San Antonio one of the most distinctive places in the United States. Spain traces the continuity of specific Spanish pictorial traditions, including portra ...
More
The Best Photos of the Day
Sotheby's to offer the collection of Damien Hirst's business manager, Frank Dunphy
Director James Ivory donates his collection of scripts, notebooks, and correspondence to the Morgan
Napoleon fever confirmed as hat sells for 350,000 euros


Damien Hirst, Smashing yellow ball at peace. Estimate: £100,000- £150,000. Courtesy Sotheby's.



LONDON.- In September 2018, Sotheby's London will celebrate one of the most extraordinary art world collaborations of our times: that of Damien Hirst and his unstoppable business manager, mentor and 'partner in crime', Frank Dunphy. Yellow Ball: The Frank and Lorna Dunphy Collection – a two-part sale and exhibition of over 200 artworks – will tell the story behind the stratospheric rise of Damien Hirst, at the same time charting the iconoclastic 1990s art scene of which Frank and Lorna Dunphy were at the very heart. Married for thirty years this year, Frank and Lorna's first meeting took place around a snooker table in London in 1981. It was the first night during which The Green Room, an actors' club, allowed women to enter, and it was then that Lorna caught the attention of Frank, who was playing snooker with friends. When Frank played the 'yellow ball', he saw Lorna for the first time. The yell ... More



Ruth Prawer Jhabvala (1927–2013), letter to James Ivory, signed and dated Delhi, 16 August 1964. The Morgan Library & Museum, New York; gift of James Ivory, 2018.



NEW YORK, NY.- The Morgan Library & Museum has received an important collection of annotated scripts, notebooks, and correspondence from prominent American film director, producer, and screenwriter James Ivory (b. 1928). This collection, comprised of material representing thirty-two films, offers an illuminating record of Ivory's work as a director and the history of Merchant Ivory Productions (ca. 1963–2010). In honor of this generous gift, the Morgan will display a selection of these remarkable items in the installation A Merchant Ivory Production from June 26 to October 28, 2018. Over the course of nearly four and a half decades, Ivory collaborated with Indianborn film producer Ismail Merchant and German-born novelist Ruth Prawer Jhabvala. Merchant and Ivory worked on dozens of films together, twenty-two of which were written by . ... More



This picture taken on June 14, 2018 in Lyon, southern France, shows the hat allegedly attributed to Emperor Napoleon I. JEAN-PHILIPPE KSIAZEK / AFP.



LYON (AFP).- A two-cornered military dress hat thought to have belonged to Napoleon went for 350,000 euros ($406,000) at auction on Monday, the latest sale to highlight the boundless appetite for all things associated with the emperor. The final price far exceeded the expected 30,000 to 40,000 euros for the distinctive "bicorne" hat, which Napoleon wore sideways -- rather than with points at the front and back -- so he could easily be spotted on the battlefield. The identify of the buyer was not disclosed. "There's a sort of craze going on with historical souvenirs, in particular those from Napoleon," Etienne De Baecque, the auctioneer leading the sale in the eastern city of Lyon, told AFP. Yet despite details that suggest the hat is one of about 120 the "Little Corsican" went through during his 15 years in power, there is no conclusive proof it belonged to him. Most of them were made by ... More
The London Mastaba: Christo launches a temporary sculpture in Hyde Park
Mozart manuscript expected to sell for 500,000 euros
Artist buried for three days under busy Australian road


A couple watch as workers build 'The Mastaba', an outdoor work made up of over 7000 stacked barrels by Bulgarian artist Christo Vladimirov Javachef on the Serpentine lake in Hyde Park in London on June 11, 2018. Niklas HALLEN / AFP.



LONDON.- Today marked the opening of The London Mastaba, a temporary sculpture in Hyde Park, by world-renowned artist Christo. The sculpture, which consists of 7,506 horizontally stacked barrels on a floating platform in the Serpentine Lake, will be on view until 23 September 2018. The London Mastaba is the first major outdoor public work by Christo in the UK, and it coincides with an exhibition at the Serpentine Galleries of Christo and his late wife Jeanne–Claude's work, which opens 19 June and continues until 9 September 2018. Today's launch was attended by Christo, Serpentine Galleries Chairman Michael R. Bloomberg, London Deputy Mayor for Culture and the Creative Industries Justine Simons, The Royal Parks Chairman Loyd Grossman, Serpentine Galleries CEO Yana Peel and Artistic Director Hans Ulrich Obrist. ... More



Called "Scena con Rondo", Mozart wrote the music initially as a recitative to be sung by Figaro's bride, Susanna, before rejecting it for the now legendary aria, "Deh vieni non tardar".



PARIS (AFP).- The first draft of music Mozart wrote for the last act of his opera "The Marriage of Figaro" is expected to sell for half a million euros ($578,000) when it goes under the hammer in Paris. The "exceptional" manuscript from 1786 which will be auctioned on Wednesday in the French capital comes from the peak of the composer's career in Vienna, the auction house Ader Nordmann said. Called "Scena con Rondo", Mozart wrote the music initially as a recitative to be sung by Figaro's bride, Susanna, before rejecting it for the now legendary aria, "Deh vieni non tardar". "These four pages are particularly important because they reveal Mozart at work, struggling to rethink a scene in the final act of the opera," expert Thierry Bodin told AFP. It will be sold along with another Mozart manuscript, a fragment of a serenade to youth written by young Wolfgang Amadeus when ... More



Mike Parr - Underneath the Bitumen the Artist. Photo Credit: Dark Mofo/Jesse Hunniford. Image Courtesy Dark Mofo, Hobart, Tasmania, Australia.



SYDNEY (AFP).- An artist has emerged from three days entombed in a steel box under a busy Australian road in a performance billed as a tribute to victims of totalitarian violence. Mike Parr, 73, fasted during his time underground, with oxygen pumped into the 1.7-metre (5.5-foot) by 2.2-metre container to keep him alive as traffic drove on overhead. He had bedding, water, a waste bucket, a sketchpad and pencils for the stunt in Hobart, part of Tasmania state's annual Dark Mofo festival, which celebrates darkness through large-scale public art, food, film and music. "The anxiety of the artist's disappearance is the point of the piece," organisers said. It was also an attempt to highlight "the shadow cast by the genocidal violence of 19th century British colonialism in Australia", they added. Parr, who had been buried with only a small light, clambered out of his prison on a ladder late Sunday after heavy machinery carefully removed the ... More
Crocker Art Museum presents 'Becoming a Woman in the Age of Enlightenment: French Art from The Horvitz Collection'
Spain's new government to remove Franco's remains from mausoleum
Cleveland Museum of Art announces new acquisitions


Jean-Baptiste Oudry, Seated Lady in a Garden, n.d. Oil on canvas, 39 3/8 x 35 7/16 in. The Horvitz Collection.



SACRAMENTO, CA.- In 18th-century France, debate raged among enlightened minds about the role of women in society. Were they to devote themselves to the domestic realm, join the marketplace and public life, or find another way to define themselves? This debate, known as the Querelle des Femmes, or "Woman Question," was one of the most contentious and absorbing topics during the Enlightenment, an age when rational thought, expressed in language, science, and philosophy, began to challenge tradition and question faith as a way of understanding the world. The Querelle proposed many overlapping, intersecting roles for women, foreshadowing the 20th-century philosopher Simone de Beauvoir's words: "One is not born, but becomes a woman." This exhibition, with more than 120 works from the greatest private collection of French art in the United States, is the first to focus on the Querelle des Femmes and that process of "becoming." Paintings, drawings, and sculpture by renowned ... More



This file photo taken on November 13, 2005 shows the tomb of Spain's General Francisco Franco in the Valle de los Caidos (The Valley of the Fallen). Philippe DESMAZES / AFP



MADRID (AFP).- Spain's new Socialist government is determined to remove the remains of Francisco Franco from a vast mausoleum near Madrid and turn it into a place of "reconciliation" for a country still coming to terms with the dictator's legacy. "There already exists an agreement in parliament, what we are going to do as a government is look for the way to apply it," Deputy Prime Minister Carmen Calvo told reporters. She was referring to a non-binding motion approved last year by 198 of the 350 lawmakers in Spain's parliament calling for Franco's remains to be removed from the massive Valley of the Fallen mausoleum some 50 kilometres (30 miles) northwest of Madrid. But the motion was ignored by the former conservative government of Mariano Rajoy. Now the goal is to convert the site into a "place of reconciliation, of memory, for all Spaniards, and not of apology for the dictatorship," said Socialist party ... More



The Violin Player, 1623. Dirck van Baburen (Dutch, c. 1592/3–1624). Oil on canvas; 80.4 x 67.1 cm. The Cleveland Museum of Art.



CLEVELAND, OH.- Significant recent acquisitions by the Cleveland Museum of Art include The Violin Player, a 17th-century genre painting by Dirck van Baburen; a drawing by Johannes Stradanus, a Netherlandish artist at the Medici court in Florence; an important painting from 1973 by the African American artist Emma Amos; a masterfully carved and unique wooden Bow Stand of the Luba people of south-central Democratic Republic of Congo; and an exceptional, silver-gilt and enamel cigar box by Russian goldsmith Peter Carl Fabergé. Superb example of Caravaggesque technique by 17th-century Utrecht painter
While in Rome in the early 1600s, the Dutch painter Dirck van Baburen became fascinated by the work of the Italian painter Caravaggio, known for a style of painting characterized by unprecedented naturalism and dramatic lighting effects. Baburen brought this Caravaggesque style back to the Netherlands to use in his paintings of historical ... More
Summer exhibition at Hirschl & Adler features works from the 19th century to the present
Van Eaton Galleries announces an auction of a very rare unfiltered look into the personal life of Walt Disney
Nationalmuseum has acquired a key work in Swedish Neoclassicism


Martin Johnson Heade (1819–1904), Still Life with Flowers in a Vase, 1871. Oil on canvas, 18 x 15 in.



NEW YORK, NY.- Hirschl & Adler presents its summer exhibition, Vis-à-Vis. This exhibition features paintings, sculptures, and decorative arts from the 19th century to the present from a selection of 33 artists. Vis-à-Vis juxtaposes the work of artists from Hirschl & Adler's contemporary program with the work of an artist of their choosing, historical or contemporary. These unexpected connections invite the viewer to reflect upon commonalities and consider the infinite boundaries of artistic influence. In addition to these pairings, each contemporary artist has provided commentary revealing the relationship to their chosen artist and the parallels between each paired work. Vis-à-Vis includes works by contemporary artists James Aponovich, Frederick Brosen, Colin Brown, Douglas Cooper, Lily Cox-Richard, Randall Exon, María Elena González, Diana Horowitz, David Ligare, Andy Mister, John Moore, Jeffrey Ripple, Stone ... More



1934 Colson Mickey Mouse Tricycle. Photo: Van Eaton Galleries.



SHERMAN OAKS, CA.- Van Eaton Galleries, one of the world's premier animation artwork and collectibles galleries located in Sherman Oaks, California, has announced an extraordinary auction event highlighted by never-before published photographs of Walt Disney's personal life, as well as a 1953 construction plot plan that Walt Disney drew on to show the boundary for Disneyland. The "A Brief History of the Walt Disney Studios" auction will take place on July 7, 2018 at Van Eaton Galleries located at 13613 Ventura Blvd in Sherman Oaks, California. The auction includes some of the most closely-related artifacts to the life of Walt Disney that have ever been offered for public sale. Rare highlights include a complete set of exceptional personal photographs of Walt Disney and the Rancheros Visitadores social club. The photo archives depict Walt Disney riding on horseback and camping during ... More



Per Krafft d.y., Belisarius. Photo: Cecilia Heisser/Nationalmuseum.



STOCKHOLM.- Nationalmuseum has acquired a painting by Per Krafft the Younger (1777-1863) depicting the blind former general Belisarius. This painting ought to be regarded as one of the most prominent Swedish works executed in the French Neoclassical style. In 1796, at the age of nineteen, Per Krafft the Younger was awarded a travel scholarship by the Royal Swedish Academy of Fine Arts, in part because Jonas Åkerström (1759–1795), who had used the scholarship to spend time in Rome, had suddenly died the year before at the early age of 36. Krafft went to Paris where as the only Swede he spent three years studying under Jacques-Louis David (1748–1825). David had a large number of pupils, and his teaching, which in those days was held at the Louvre, laid emphasis on painting and drawing technique, modelling and nature studies in order to depict only the ideal subject matter: themes from ... More
'A portrait of Dora Maar at her beautiful and noble best'
Flashback
On a day like today, American painter Lee Krasner died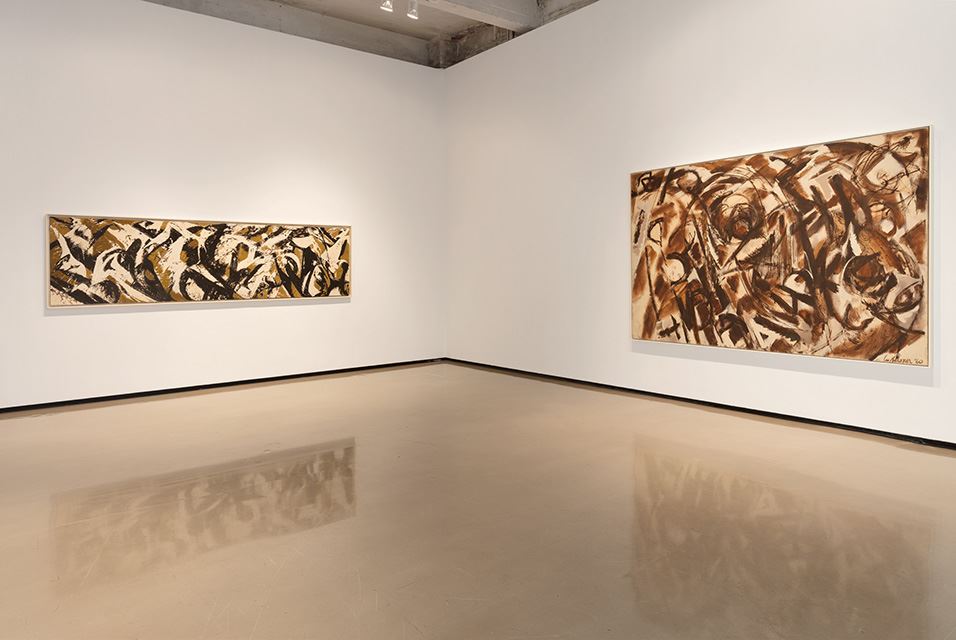 June 19, 1984. Lenore "Lee" Krasner (October 27, 1908 - June 19, 1984) was an American abstract expressionist painter in the second half of the 20th century. She is one of the few female artists to have had a retrospective show at the Museum of Modern Art. In this image: Installation view. Photo by: Diego Flores / Paul Kasmin Gallery. © 2017 The Pollock-Krasner Foundation / Artists Rights Society (ARS), New York.
---

Museums, Exhibits, Artists, Milestones, Digital Art, Architecture, Photography,
Photographers, Special Photos, Special Reports, Featured Stories, Auctions, Art Fairs,
Anecdotes, Art Quiz, Education, Mythology, 3D Images, Last Week,
.
---
Royalville Communications, Inc
produces: