Tate Liverpool exhibits a substantial group of works by Roy Lichtenstein
Wall Explosion II 1965 by Roy Lichtenstein on display in ARTIST ROOMS: Roy Lichtenstein in Focus at Tate Liverpool until 17 June 2018. © Tate Liverpool, Roger Sinek.
LIVERPOOL
.-
This autumn
Tate Liverpool
is showing works by the renowned American pop artist Roy Lichtenstein (1923–1997). The display includes major paintings such as In the Car 1963 and provides a rare opportunity to see a substantial group of Lichtenstein's work in the North of England. It includes some 20 paintings, reliefs and works on paper by the artist known for his paintings based on comic strips, advertising imagery, and adaptations of works by other artists. Lichtenstein was a pioneer of the pop art movement that exploded in the early 1960s. In his often monumentally-sized paintings, he makes use of a printing technique that mimics the Ben-Day dots seen in comic books and commercial newsprint. This became synonymous with the influence of popular mass culture on the look and subject matter of avant-garde art at the time. Fascinated by the arresting and emotionally charged imagery found in romance and war comics, Lichtenstein s ...
More
The Best Photos of the Day
Red faces as Russia's Kalashnikov monument shows Nazi gun
Musée cantonal des Beaux-Arts de Lausanne exhibits recent and monumental works by Ai Weiwei
Audrey Hepburn's family opens up her attic for auction


A general view of the newly unveiled monument to Mikhail Kalashnikov, the inventor of the AK-47 assault rifle, in downtown Moscow on September 22, 2017. Mladen ANTONOV / AFP.



MOSCOW (AFP).- Workers in Moscow on Friday erased the illustration of a gun from a freshly-inaugurated monument of Mikhail Kalashnikov, inventor of the legendary AK-47 assault rifle, after it was found that the drawing was of a Nazi weapon. "We have checked the information about a mistake. It is confirmed. The sculptor, Salavat Shtsherbakoff, has acknowledged his mistake," the state-supported Russian Military History Society, which backed the monument, told TASS news agency. The erroneous drawing was of an StG44 -- for Sturmgewehr (Storm Rifle), a name reputedly conferred by Hitler himself. It became the Nazis' frontline weapon on the bloody Eastern Front. A worker used an angle grinder to obliterate the offending depiction of the StG44, an AFP photographer saw. Kalashnikov was elevated to hero status in the Soviet Union for inventing a simple, rugged, ... More



Installation view of Ai Weiwei's exhibition at Musée cantonal des Beaux-Arts de Lausanne.



GREENWICH, CONN.- Recent and monumental works: Ai Weiwei, one of the most significant and influential artists of the last decade, returns to Switzerland. After his very first European solo exhibition at the Bern Kunsthalle in 2004, the Chinese artist has once again accepted an invitation from Bernard Fibicher, director of the Musée cantonal des Beaux-Arts de Lausanne (mcb-a). For this exhibition – the last at mcb-a on its present site, before the move to PLATFORM 10 – Ai Weiwei is throwing a party, with works spilling out of the exhibition rooms into the Palais de Rumine's public spaces and the museums of archaeology and history, zoology, geology, and money, as well as the State and University Library. Running from 22 September 2017 to 28 January 2018, the exhibition Ai Weiwei: D'ailleurs c'est toujours les autres is bringing together more than 40 items dating from 1995 up to the present: works in porcelain, wood, marble, jade, cr ... More



An employee poses in front of an installation displaying pairs of leather ballet pumps during a preview of Audrey Hepburn's personal collection at Christie's auction house in central London on September 22, 2017. DANIEL LEAL-OLIVAS / AFP.



LONDON (AFP).- Film scripts, dresses and other treasures from late film legend Audrey Hepburn's Swiss attic are going up for sale in London at an auction that offers a remarkable insight into her personal world. "My mother kept it in the attic, quite literally," Hepburn's son Luca Dotti told AFP at a viewing of the more than 500 lots at Christie's auction house ahead of the sale next week. "My mother was not a collector but she kept every little bits and pieces for sentimental reasons". An array of luggage being sold off includes a battered black-lacquered suitcase she is believed to have arrived in London with to take up a ballet scholarship in 1948, before she became one of the world's most famous actresses. The working script for the 1961 film "Breakfast at Tiffany's", including deleted scenes, is another rarity being sold along with ... More
Lumiere Brothers Center for Photography opens exhibition of photographs by Jean-Marie Périer
More than 100 objects illuminate groundbreaking art collection of J. P. Morgan, at Wadsworth Atheneum
Cape Town gallery showcasing modern African art opens


Jean-Marie Périer. The Beatles. Red Door. London, March 1964. © Jean-Marie Périer / Photo12.



MOSCOW.- The exhibition of Jean-Marie Périer, master of the French photographic scene is among first projects opening the new art season at The Lumiere Brothers Center for Photography. Author of the outstanding portraits of the celebrities from the world of music, cinema and fashion Périer worked for the best-known magazines and brands and created a striking portrait series of the XX century luminaries. The key series presented at the exhibition is called «The World of Fashion Designers» and was created by Périer in the 1990's. It includes photographs of the famous designers Yves Saint Laurent, Jean-Paul Gaultier, John Galliano, Vivienne Westwood, Kenzō Takada and has been produced for the ELLE magazine. This series of photographs best exemplifies the amazing attention the author shows to detail. Jean-Marie displays the meticulous eye of a couturier while forming every image and creating an ingenious portraiture collection. More than ... More



Edward J. Steichen, J. Pierpont Morgan, Esq., 1903, printed 1904. Gum bichromate over platinum print. Private Collection, Courtesy Laurence Miller Gallery, New York.



HARTFORD, CONN.- The Wadsworth Atheneum Museum of Art will celebrate the unprecedented art-collecting career of financier J. Pierpont Morgan (1837-1913) in "Morgan: Mind of the Collector." Morgan traveled the globe to collect more than 20,000 works of art in a 23-year period; his broad acquisitions included sculpture, manuscripts, rare books, prints and drawings, paintings, and decorative arts including silver, porcelain, glass, tapestries, enamels, ivories and bronzes. "Morgan: Mind of the Collector" unites more than 100 of these rare objects to illuminate Morgan's pursuit of global culture, commemorating his collecting achievements and probing an exploration of his motivations, buying decisions, and impact on the evolution of art collecting and museums in America. The exhibition is on view from Sept. 23-Dec. 31, 2017. The founder of a banking ... More



People look at the sculpture garden on the top floor of the the Zeitz Museum of Contemporary African Art in Cape Town on September 22, 2017. Rodger BOSCH / AFP.



CAPE TOWN.- Africa's largest museum dedicated to the continent's contemporary art opened to the public in Cape Town on Friday, becoming the region's most significant new cultural space in decades. The Zeitz Museum of Contemporary Art Africa is housed in a clutch of abandoned grain silos at the V&A Waterfront that have been transformed with honeycomb lattice windows reflecting the ocean and Table Mountain. Its main backer is Jochen Zeitz, a former chief executive of sportswear company Puma, and many of the museum's pieces are from his personal collection. "Some of the greatest talents in visual arts come from Africa and what a privilege it is for me to support these artists... Today is one of the high points of my life," he said at the opening. Anti-apartheid icon, former archbishop Desmond Tutu blessed the opening ceremony and the South African Youth choir sang ... More
Marko Daniel appointed as the new Director of the Fundació Joan Miró
Exhibition of new paintings and sculpture by Anselm Reyle on view at Almine Rech Gallery
Kunstmuseum Liechtenstein opens an extensive solo exhibition of works by Kimsooja


Marko Daniel will take up his post as artistic and executive director of the Fundació Joan Miró in January. Photo: Courtesy of Marko Daniel.



BARCELONA.- The Board approved the choice of the expert committee comprising Ferran Barenbilt, Brigitte Léal, Anne Umland and Miguel Zugaza and members of the Fundació Joan Miró Board Jaume Freixa, Joan Punyet Miró, Rosa Maria Malet and Josep M. Coronas. The expert committee highlighted Marko Daniel's experience and his professional career as Convenor of Public Programmes at London's Tate Modern and Tate Britain. The Executive Committee of the Fundació Joan Miró praised the work of the expert committee and transmitted its proposal to the Board of Trustees, which unanimously approved the appointment. According to the committee's assessment, Marko Daniel is "the best candidate for the Fundació Joan Miró" thanks to his knowledge of the work of Joan Miró and of the Catalan, Spanish and international cultural and artistic sectors. The committee highlighted his financial management ... More



Anselm Reyle, Untitled, 2017. Mixed media on canvas, 135 x 114 cm 53 1/8 x 44 7/8 inches © Anselm Reyle - Courtesy of the Artist and Almine Rech Gallery.



BRUSSELS.- Almine Rech Gallery is presenting Laguna Sunrise, Anselm Reyle's fourth solo exhibition with the gallery. This exhibition presents five large ceramics by Anselm Reyle, along with new bodies of paintings. Monumentally presented on plinths, the handmade vases in the ceramic style of Fat Lava are larger than life-size. This way, at eye level, the glazed drippings can be appreciated like paintings, and the vases are relieved of their utilitarian status. Individual drippings form layers, and at times the colors flow into one another with a marble-like quality, while in other places, the rough lava-like surface is prominent, with the anthracite-colored encrustations and crater-like pores contrasting the strong colors underneath. Regarding the form, Reyle orientates himself by the shape of original Fat Lava vases, which he simplifies and enlarges to a great degree. The term Fat Lava refers to a particular style of glazing ... More



Kimsooja, Thread Routes - Chapter I, 2010 (film still), courtesy of Kimsooja Studio.



VADUZ.- Kunstmuseum Liechtenstein is devoting an extensive solo exhibition to the Korea-born artist Kimsooja (* 1957), who lives and works in New York and Seoul. In her performances, installations, sculptures, video and photo works Kimsooja combines isolated, fragmentary observations to form a whole encounter of different places and people. Duration and time and the metaphorical intertwining of her own experiences, cultural backgrounds, and historical references all play a major role. The artist equates her task with a needle whose work brings together divergent elements, that is to say, different cultures or standpoints. One day in 1983, Kimsooja was sewing a traditional bedcover together with her mother. When passing the needle through the fabric, she had a sudden sensation like an electric shock. "The energy of my body channeled through the needle, seeming to connect to the energy of the world. From that moment, I understood the ... More
Ian Cheng's artificially-intelligent art on view at Carnegie Museum of Art
Picasso lithograph portrait reaches $125,000 at Swann Galleries
mumok explores representations of nature in reference to social processes and historical events


Ian Cheng, Emissary Sunsets The Self, 2017, live simulation and story, infinite duration, sound, Courtesy of the artist, Pilar Corrias London, and Standard (Oslo).



PITTSBURGH, PA.- Carnegie Museum of Art announces a solo exhibition by Ian Cheng (b. 1984). Cheng presents Emissary Sunsets The Self, an open-ended digital simulation displayed on a massive, 13 foot-wide LED screen in CMOA's Forum Gallery. The artist is best known for his digital simulation works that draw on his background in cognitive science and employ rudimentary forms of artificial intelligence (AI). Coding these unpredictable animated worlds from the ground up, he uses the language of video games to probe complex themes such as evolution, human behavior, and the history of consciousness. Emissary Sunsets The Self is the third work in the artist's Emissaries trilogy (2015–2017). Each simulation in the series—set on the same volcanic site separated by thousands of years—explores a pivotal moment in Cheng's interpretation of cognitive evolution ... More



Pablo Picasso, Françoise sur fond gris, lithograph, 1950. Sold for: $125,000.



NEW YORK, NY.- Swann Auction Galleries opened the fall season with a marathon sale of 19th & 20th Century Prints & Drawings, breaking multiple records and earning more than $2.6M. The Tuesday, September 19 auction offered 635 examples of fine and museum-quality works, many of them originals, to a crowded hall of bidders. The top lot of the sale was a large black-and-white lithograph by Pablo Picasso of Françoise Gilot, titled Françoise sur fond gris, 1950, which sold after breakneck bidding to a buyer on the phone for $125,000. Of the 49 works by the master offered in the sale, 75% found buyers, for a total of $389,590. Additional highlights included the color linoleum cut Les Banderilles, 1959, and the aquatint Femme au fauteuil II: Dora Maar, 1939, each of which sold for $27,500. A run of Madoura ceramics by Picasso also performed well, led by the platter Mat Owl, 1955, at $11,250. The sale featured a cavalcade of original and unique works ... More



Exhibition view of Natural Histories. Traces of the Political at mumok in Vienna. Photo: mumok / Klaus Pichler.



VIENNA.- The exhibition Natural Histories. Traces of the Political explores representations of nature in reference to social processes and historical events. The works on show undermine both ideas of nature as a realm disconnected from history and the fiction of an unchanging, natural concept of history. Looking at various themes, they illustrate the mutual interrelations between nature and history beyond all romantic idealization of either. On three exhibition levels, the presentation spans a period from the 1960s to the present. It shows that art that takes a critical view of contemporary issues and systems, that refers to colonialism and its consequences, to totalitarian ideologies and military conflicts, and also to social transformation brought about by political system change is still highly relevant today. Natural Histories begins with neo-avant-garde works that include the dimension of a critique of history and society ... More
Ed Atkins Old Food, Martin-Gropius-Bau
Flashback
On a day like today, American sculptor Louise Nevelson was born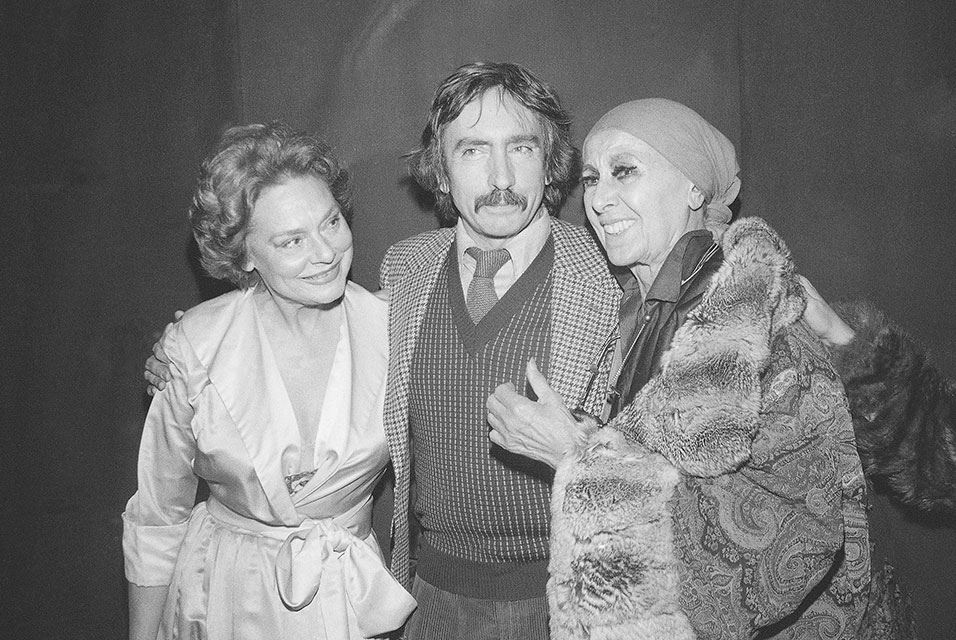 September 23, 1899. Louise Nevelson (September 23, 1899 - April 17, 1988) was an American sculptor known for her monumental, monochromatic, wooden wall pieces and outdoor sculptures. Born in Czarist Russia, she emigrated with her family to the United States in the early 20th century when she was three years old. Nevelson learned English at school, as she spoke Yiddish at home. In this image: Playwright Edward Albee, center, joins his star, Iree Worth, left, backstage at the Morosco Theater in New York City Thursday, Jan 31, 1980 . After the opening performance of his " The Lady From Dubuque." The two were greeting well -wishers, who included sculptress, Louise Nevelson, at right.
---

Museums, Exhibits, Artists, Milestones, Digital Art, Architecture, Photography,
Photographers, Special Photos, Special Reports, Featured Stories, Auctions, Art Fairs,
Anecdotes, Art Quiz, Education, Mythology, 3D Images, Last Week,
.
---
Royalville Communications, Inc
produces: