Madrid art fair pulls Catalan 'political prisoners' installation by artist Santiago Sierra
A journalist holds a photograph, part of the art-installation by Spanish artist Santiago Sierra 'Political prisoners of contemporary Spain' as she informs on its removal from ARCO art fair in Madrid on February 21, 2018. A photo exhibit by a Spanish artist known for his provocative stunts which depicts three jailed Catalan separatist leaders as "political prisoners" was removed today from a major contemporary art fair in Madrid at the request of a government-funded body that operates the event venue. The dispute over the work by Madrid-born artist Santiago Sierra comes amid simmering tensions between Spain's central government in Madrid and pro-independence groups in Catalonia over their failed independence push. GABRIEL BOUYS / AFP.

by Corentin Lacoste
MADRID
(AFP)
.-
An installation by a controversial Spanish artist which refers to Catalan separatist leaders as "political prisoners" was removed Wednesday from a major Madrid art fair at the request of the venue's operator. The dispute over the work by Madrid-born artist Santiago Sierra, known for his provocative stunts, comes as tensions simmer between Spain's central government in Madrid and pro-independence groups in Catalonia over their failed independence push. Titled "Political Prisoners in Contemporary Spain", Sierra's installation featured 24 pixelated photographs, including one of Catalonia's ousted vice president Oriol Junqueras who has been in jail for the past three months over his government's failed independence bid. The installation also included photos of the leaders of the two biggest grassroots pro-independence associations in Catalonia, Jordi Cuixart and Jordi Sanchez, who are also in jail on charges of rebellion and sedition. They are among several Catalan political leaders and a ...
More
The Best Photos of the Day
Row at German art fair over 'Erdogan with banana' painting
Christie's announces highlights from the winter contemporary sales
The Destruction of Pharaoh's Host, by John Martin, at risk of leaving the UK


The provocative painting entitled "Turkish dictator" by Thomas Baumgaertel has sparked noisy complaints and protests at the art Karlsruhe fair.



BERLIN (AFP).- A German artist complained Friday after his gallery took down a painting that depicts Turkish President Recep Tayyip Erdogan with a banana in his buttocks. The provocative painting entitled "Turkish dictator" by Thomas Baumgaertel has sparked noisy complaints and protests at the art Karlsruhe fair. The fair organisers tweeted that, amid the row, not they but the gallery owner had "decided to take down the caricature". Gallerist Michael Oess said he took the decision "to avoid trouble." "I have a certain responsibility toward other visitors," he told national news agency DPA. The artist wrote on Twitter that he had severed ties with his gallery after it had taken the decision "without consulting me". Baumgaertel is a street art pioneer also known as the Banana Sprayer whose trademark motif is an Andy Warhol-style banana. ... More



Sam Francis, Blue, Yellow and Green, painted 1958 (detail), oil on canvas. Estimate: USD 700,000-1,000,000. © Christie's Images Limited 2018.



NEW YORK, NY.- Christie's announces the winter contemporary sales encompassing a standout selection of works with a wide range of styles and price points offered in two live auctions, Contemporary Edition on February 28, and Post-War & Contemporary Art on March 1, and two online sales, On Paper and Contemporary Portfolio, both of which will run from February 23 to March 2. All lots will be on view to the public at 20 Rockefeller Plaza from February 24 to March 2. Christie's will present Contemporary Edition, a biannual sale featuring 185 striking Post-war and Contemporary prints and multiples. Contemporary fixtures such as John Baldessari, Ed Ruscha and Keith Haring stand alongside Post-War icons including Roy Lichtenstein, Andy Warhol, and Frank Stella. The sale is anchored by diverse selection of editions from The Melva Bucksbaum ... More



Detail of The Destruction of Pharaoh's Host, by John Martin.



LONDON.- Arts Minister Michael Ellis has placed a temporary export bar on The Destruction of Pharaoh's Host, by the British artist John Martin (1789-1854), to provide an opportunity to keep it in the country. The watercolour is at risk of being exported from the UK unless a buyer can be found to match the asking price of £1,509,102. The drawing illustrates the Biblical story (Exodus 14) of Moses releasing the waters of the Red Sea, after they had miraculously parted to allow the fleeing Israelites to cross, thereby drowning the pursuing Egyptian army. Employing a panoramic composition to magnificent effect, Martin plays with the scale of the figures and the scenery to maximise the epic nature of the drama. The emotional force of this scene of deliverance and retribution is heightened by a blood red sunset below a sweeping black sky. Although Martin is best known for ... More
Edward Hopper in Nyack & Originals by Modigliani & Monet at Swann March 13
Virginia Museum of Fine Arts acquires three major works of African American art
All the wild horses are extinct: study


Edward Hopper, House by a River, etching, 1919 (detail). Estimate $100,000 to $150,000.



NEW YORK, NY.- On Tuesday, March 13, Swann Galleries will offer a superlative auction of 19th & 20th Century Prints & Drawings, featuring original artworks and scarce multiples by some of the most influential artists of the last 200 years. Following the house's record-breaking autumn sale of Edward Hopper's 1923 print The Lonely House for $317,000, Swann will offer an even more scarce etching by the master: House by a River, 1919, an early example of his theme of isolation. Only one other copy of this print, which depicts a still-extant house in Nyack, NY, has appeared at auction in the last 30 years. The work carries an estimate of $100,000 to $150,000. Hopper's mentor Martin Lewis is well represented in the auction with a selection of the gritty urban views for which he is known. Bedford Street Gang, 1935, leads the pack at $15,000 to $20,000. Additional highlights include an extremely rare circa 1930 charcoal drawing titled ... More



Overstood, 2017, Sanford Biggers (American, born 1970), sequins, canvas, fabric, tar, glitter, polystyrene, and Aqua-Resin. Virginia Museum of Fine Arts; Pamela K. and William A. Royall Jr. Fund for 21st Century Art.



RICHMOND, VA.- The Virginia Museum of Fine Arts recently added three major works of African American art to its collection: David Drake's Two-Handled Jug, Archibald Motley Jr.'s Town of Hope and Sanford Biggers' Overstood. These acquisitions add to VMFA's growing collection of African American art, a major focus of the museum's acquisition strategy since 2015 as part of its five-year strategic plan. "The Virginia Museum of Fine Arts is committed to establishing a leadership role in the collecting and display of African American art," said Alex Nyerges, VMFA director. "These three works are a significant step toward that goal and represent three distinct periods in African American history as well as important works of art that will delight and inspire our visitors for generations to come." These recent acquisitions join Romare Bearden's landmark ... More



This file photo taken on January 22, 2016 shows wild Przewalski's horses on a snow covered field in the Chernobyl exclusions zone. GENYA SAVILOV / AFP.



MIAMI (AFP).- All the world's wild horses have gone extinct, according to a study Thursday that unexpectedly rewrites the horse family tree based on a new DNA analysis of their ancestry. What most people thought were the last remaining wild horses on Earth -- known as Przewalski's horses -- were actually domesticated horses that escaped their owners, said the report in the journal Science. "This was a big surprise," said co-author Sandra Olsen, curator-in-charge of the archeology division of the Biodiversity Institute and Natural History Museum at the University of Kansas. "This means there are no living wild horses on Earth -- that's the sad part," said Olsen. The study is based on archaeological work at two sites in northern Kazakhstan, called Botai and Krasnyi Yar, where scientists have found the earliest proof of horse domestication, going back more than 5,000 years. To further dig ... More
The Museum of Contemporary Art Chicago opens the first major survey of the work of Howardena Pindell
Galerie Lelong & Co. opens Mildred Thompson's first solo exhibition in New York
Marianne Boesky Gallery opens an exhibition dedicated to the work of artist Maria Lai


Howardena Pindell, Untitled (Baseball), 1966. Garth Greenan Gallery. Photo: courtesy the artist and Garth Greenan Gallery, New York.



CHICAGO, IL.- The Museum of Contemporary Art Chicago presents the first major survey of the work of groundbreaking, multidisciplinary artist Howardena Pindell. The exhibition spans the New York-based artist's five-decades-long career, featuring early figurative paintings, pure abstraction and conceptual works, and personal and political art that emerged in the aftermath of a life-threatening car accident in 1979. Tracing the themes and visual experiments that run throughout Pindell's work, the exhibition shows how she challenged the traditional art world and asserted her place in its history as an African-American woman artist. Pindell revolutionized painting from her early, radical explorations of color and shape to her later work that expanded to address human rights injustices such as war, famine, homelessness, racism, and the AIDs crisis. Howardena Pindell: What Remains To Be Seen is co-curated by MCA Curator Naomi Beckwith and Valerie Cass ... More



Mildred Thompson Magnetic Fields, 1990. Oil on canvas, 62 x 48 inches (157.5 x 121.9 cm). © The Mildred Thompson Estate Courtesy Galerie Lelong & Co., New York.



NEW YORK, NY.- Galerie Lelong & Co. is presenting Mildred Thompson: Radiation Explorations and Magnetic Fields. This is the American artist's first solo exhibition in New York. The exhibition highlights Thompson's Radiation Explorations and Magnetic Fields series – two significant and thematically linked bodies of work that exemplify the artist's signature approach to abstraction. A catalogue has been published in conjunction with the show with essays by Melissa Messina, Curator of the Mildred Thompson Estate and the exhibition's curatorial collaborator, and Lowery Stokes Sims, Curator Emerita at the Museum of Arts and Design. Concurrently, the gallery will present a solo booth of paintings from the Magnetic Fields series alongside works on paper from 2003 for the 2018 ADAA Art Show. With a career spanning over four decades, Thompson created work inspired ... More



Object Studies. Maria Lai Invito a Tavola (The Invitation Table), 2004 Terracotta 31 1/2 x 118 1/8 x 39 3/8 inches 80 x 300 x 100 cm. Courtesy of Archivio Maria Lai and Marianne Boesky Gallery, New York and Aspen.



NEW YORK, NY.- Marianne Boesky Gallery is presenting Invito a Tavola, an exhibition dedicated to the work of artist Maria Lai (1919–2013). The exhibition highlights Lai's career-long commitment to community, from her early drawings depicting the women of her hometown in Sardinia to a major late-career installation that invokes ideas of communion and for which the exhibition is titled. Invito a Tavola marks Lai's first solo exhibition in the U.S. since 1956, and provides an intimate portrait of the late artist through one of the most enduring themes from her illustrious sixty-year practice. The exhibition is the first organized by the gallery since it commenced representation of the artist's archive in November 2017. The exhibition is anchored by the installation Invito a Tavola (The Invitation Table), which is comprised of a large-scale table, measuring approximately nine feet in length and three feet in width, set ... More
Kunstmuseum Luzern opens exhibition of works by Taryn Simon
Paddle8 presents 'The Oscar Goes to: Posters' a sale of iconic film posters
Rachel Howard solo exhibition opens at Newport Street Gallery


Taryn Simon, An Avatar, 2008. Archival inkjet print, 217.2 x 156.2 cm, © Taryn Simon, Courtesy Gagosian Gallery.



LUCERNE.- The work of Taryn Simon (b. 1975) results from rigorous research guided by an interest in systems of categorization and the precarious nature of survival. A multidisciplinary artist who has worked in photography, text, film, sculpture, and performance, Simon turns our attention to the margins of power, where control, disruption, and the contours of its constructedness become visible. She reveals the imperceptible space between language and the visual world—a space in which multiple truths and fantasies are constructed, and where translation and disorientation occur. The technical, physical, and aesthetic realization of her projects reflects the control and authority that are the very subject of her work. Often invoking the form of the archive, Simon imposes the illusion of order on the chaotic and indeterminate nature of her subjects. ... More



Unknown, Midnight Cowboy, 1973. Polish A1, 33 x 23 in (83.82 x 58.42 cm). Estimate $1,800 - $2,200.



NEW YORK, NY.- Paddle8 today announced The Oscar Goes to: Posters, a sale of iconic film posters celebrating nearly sixty years of cinematic artwork. Timed to the 90th Academy Awards, the commemorative sale features posters of blockbusters including Rebecca by Alfred Hitchcock winner of Best Picture in 1940 and Midnight Cowboy by John Schlesinger winner of Best Picture in 1969. Other celebrated film posters showcased in the sale include Star Wars (1977), Bullitt (1968), 2001: Space Odyssey (1968), The Hustler (1961), All About Eve (1950) and Cabaret (1972). Midnight Cowboy is a groundbreaking film that changed the Hollywood landscape forever. The first and only X-rated film ever to win Best Picture and Best Director, it features controversial and transgressive themes of prostitution, homosexuality, drug abuse and revolutionized mainstream cinema in the 1970s. ... More



Rachel Howard, installation view. Photo: Prudence Cuming Associates ® Rachel Howard. Courtesy Newport Street Gallery.



LONDON.- Newport Street Gallery is presenting an exhibition of work by British artist Rachel Howard (b.1969). The show is the first UK exhibition of Howard's series of paintings, 'Repetition is Truth – Via Dolorosa'. This body of work was the subject of a 2011 exhibition at Museo d'Arte Contemporanea Donnaregina, Naples, Italy, curated by Mario Codognato. Commissioned by the Murderme collection and produced between 2005 and 2008, the series takes inspiration from the Stations of the Cross, 'Via Dolorosa' being the path taken by Jesus to Mount Calvary. Whilst referencing the long art-historical tradition of depicting the Stations, 'Repetition is Truth' also offers a broader commentary on the universality of human rights abuses. Religion, repetition, mortality and violence – particularly controlled violence – are enduring themes in Howard's work. ... More
The Chinese Art that Inspired Judith Leiber's Iconic Handbags
Flashback
On a day like today, French painter and theorist Charles Le Brun was born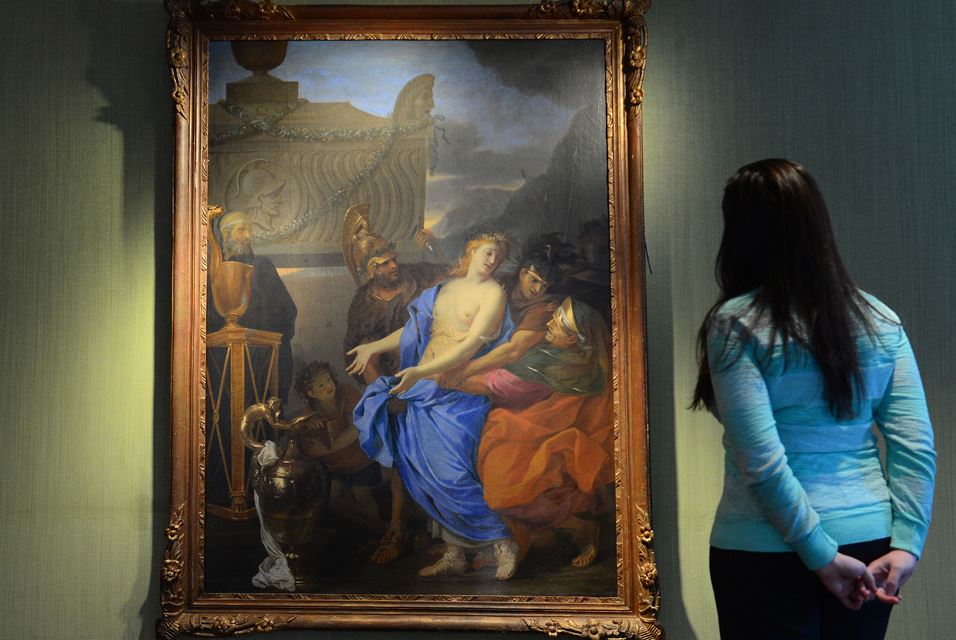 February 24, 2018. Charles Le Brun (24 February 1619 - 22 February 1690) was a French painter, art theorist, interior decorator and a director of several art schools of his time. As court painter to Louis XIV, who declared him "the greatest French artist of all time", he was a dominant figure in 17th-century French art and much influenced by Nicolas Poussin. In this image: A Christie's employee looks at an oil painting by 17th century artist Charles Le Brun.
---

Museums, Exhibits, Artists, Milestones, Digital Art, Architecture, Photography,
Photographers, Special Photos, Special Reports, Featured Stories, Auctions, Art Fairs,
Anecdotes, Art Quiz, Education, Mythology, 3D Images, Last Week,
.
---
Royalville Communications, Inc
produces: