Urban Culture Auctions to host Sept. 26 sale of works by "Bruce of Los Angeles"
2 Bruce Bellas (1909-1974) photos taken at Muscle Beach in Los Angeles and featuring 'Mr. Muscle Beach 1957.' Provenance: Bruce Bellas archive. Estimate: $400-$600.
WEST PALM BEACH, FLA
.-
On September 26,
Urban Culture Auctions
(UCA), a division of Palm Beach Modern Auctions, will sell a significant archive of 1950s/'60s "beefcake" photos taken by Bruce Bellas, known professionally as Bruce of Los Angeles. More than 200 lots of vintage prints, negatives, slides, real-photo greeting cards, and posing props will be auctioned. Most of the photos, which played an important supporting role in the foundation of America's gay movement, were taken in Bellas' studio, while a smaller number reflect Southern California's influential fitness movement, which celebrated the male physique. "Around the same time Playboy magazine was launching its controversial first issue with a nude Marilyn Monroe centerfold, Bruce Bellas was creating his own provocative art – photographs of the male anatomy," said UCA auctioneer and co-owner Rico Baca. "In addition to being an accomplis ...
More
The Best Photos of the Day
Huma Bhabha's first exhibition in Rome opens at Gagosian
Performance artist Marina Abramovic returns to native Belgrade for retrospective
Stiftung Saarländischer Kulturbesitz opens an exhibition of works by Bruce Nauman and Auguste Rodin


Huma Bhabha, Untitled, 2019. Ink, pastel and acrylic on paper, 34 1/2 x 23 1/2 inches, 87.6 x 59.7 cm © Huma Bhabha. Photo: Rob McKeever. Courtesy the Artist and Gagosian.



ROME.- Gagosian is presenting The Company, new sculptures and drawings by Huma Bhabha. This is her first exhibition in Rome. In expressive drawings on photographs as well as figurative sculptures carved from cork and Styrofoam, assembled from refuse and clay, or cast in bronze, Bhabha probes the tensions between time, memory, and displacement. References to science-fiction, archeological ruins, Roman antiquities, and postwar abstraction combine as she transforms the human figure into grimacing totems that are both unsettling and darkly humorous. The Company is inspired in part by "The Lottery in Babylon" (1941), a short story by Jorge Luis Borges in which a fictional society is taken over by a pervasive lottery system that doles out both rewards and punishments. The lottery is purportedly run by the Company, a secret, perhaps nonexistent body determining peoples' fates. Bhabha's procession of sculptures makes visible th ... More



Performance artist Marina Abramovic addresses a press conference at the Museum of Modern Art in Belgrade on September 21, 2019, where she opened a retrospective exhibition, called 'The Cleaner'. Andrej ISAKOVIC / AFP.



BELGRADE (AFP).- The boundary-pushing performance artist Marina Abramovic returned to Belgrade Saturday to inaugurate the final exhibition of a major touring retrospective, marking her first professional homecoming in nearly 50 years. Dressed in black, the 72-year-old invited reporters to Belgrade's Contemporary Art Museum at dawn (0423GMT) for the "symbolic cleansing of her career". The retrospective, titled "The Cleaner", exhibits more than 100 works from Abramovic's past 50 years of provocative performances, many of which saw the artist put her own body on the line. "You know for me it's very emotional to be here, and it's not easy, there's lots of nostalgia, lots of memories that are forgotten," she said of her return to the Serbian capital, a place she said shaped her outlook as an artist. "I learned three things here: from my grandmother I learned spirituality..from my father I learned bravery, and from my mother ... More



Bruce Nauman, The True Artist Helps the World by Revealing Mystic Truths (Window or Wall Sign), 1967, Neon / neon, 150 x 140 x 5 cm (Ausstellungskopie), Kunstmuseum Basel. Photo: Kunstmuseum Basel © VG Bild-Kunst, Bonn 2019.



SAARBRÜCKEN.- For the first time on a broad basis, the exhibition of the Modern Gallery, Saarbrucken, is showing the work of Bruce Nauman and Auguste Rodin in parallel. In visual dialogues it confronts 140 selected works by these two exceptional artists: sculptures, works on paper, installations, neons and video works as well as photographs. The exhibition includes numerous major works as well as pieces that have been seen rarely or never before. The loans come from important public and private collections in Germany, France, Switzerland, Belgium, the Netherlands and the USA. The main lender of Auguste Rodin's works is the Musée Rodin, Paris. Auguste Rodin (born 1840 in Paris, died 1917 in Meudon) and Bruce Nauman (born 1941 in Fort Wayne/Indiana, lives and works in Galisteo/New Mexico) are separated by a century. However, they are closely connected by the fact that they both pursued ... More
Reopening of the Semper Building at the Zwinger postponed until February 2020
Hauser & Wirth presents a selection of small-scale sculptures from John Chamberlain's Baby Tycoons series
The iconic inverted Jenny centreline block of four to be offered at Spink New York


The Semper Gallery as seen from the courtyard of the Zwinger. Photo: wikipedia.org



DRESDEN.- The reopening of the Semper Building at the Zwinger, scheduled for 7 December 2019, will be postponed by a few weeks. The Semper Building at the Zwinger is home to the world-famous Gemäldegalerie Alte Meister (Old Masters Picture Gallery). Once the restored and newly refurbished building opens, the Skulpturensammlung bis 1800 (Sculpturecollection up to 1800) will also be presented here in dialogue with the paintings. The reopening will now take place in February 2020. The reason for this postponement is that new opportunities have opened up, primarily because the Gemäldegalerie Alte Meister of the Staatliche Kunstsammlungen Dresden has recently succeeded in securing around 600,000 Euros of additional private funding. This makes it possible, in particular, to install state-of-the-art accent lighting throughout the building – from the Antiquities Hall on the ground floor and the skylight-ceilinged halls and side galleries on the ... More



John Chamberlain, HER SUITE HAPPINESS, 2004. Painted and chromium-plated steel, 37.5 x 25.4 x 24.8 cm / 14 3/4 x 10 x 9 3/4 in.



NEW YORK, NY.- Hauser & Wirth is hosting an exhibition of work by John Chamberlain, featuring a selection of small-scale sculptures from the artist's Baby Tycoons series. Baby Tycoons is one of several series of miniature works that punctuates the grandeur and formalism of Chamberlain's larger sculptural pursuits. Alongside earlier small-scale series, the Baby Tycoons articulate the instinctually playful spirit with which Chamberlain approached material and process at every scale. Masterfully manipulated from automobile scrapmetals, the Baby Tycoons possess all the complexity and power of their larger counterparts. As Chamberlain himself remarked, 'If the scale is dealt with then the size has nothing to do with it.' The Baby Tycoons have not been the subject of a dedicated exhibition in over fifteen years. In 1988, Chamberlain fashioned what would become the first of these works ... More



The iconic Inverted Jenny unique centerline block of four is positions 45-46, 55-56, well centred with disturbed original gum, a spectacular showpiece that is ranked among the top philatelic items in the world. Starting Price: $1,000,000.00 Estimate $2M - $3M.



NEW YORK, NY.- The 1918 Twenty Four Cent Inverted Jenny is one of the most recognised and desired rarities in all of philately. Its legendary status began the moment the stamp was issued in May 1918, when William T Robey purchased the entire error sheet of 100 at the New York Avenue Post Office window in Washington DC on 14th May – just one day after the stamp was issued. Within one week Robey had sold the sheet for $15,000.00 to the well-known Philadelphia stamp dealer Eugene Klein (an impressive return on his initial $24.00 investment). Shortly thereafter Mr Klein sold the sheet to the renowned yet eccentric collector, Col Edward HR Green for $20,000.00. Col Green asked Klein to break up the sheet for him into singles and blocks, then instructed him to sell all but the few key position blocks. What ... More
Galerie Thaddaeus Ropac opens the most comprehensive exhibition to date of early works by Arnulf Rainer
Christie's announces details of its fall sales of decorative arts
Orange County Museum of Art celebrates groundbreaking for new building designed by Thom Mayne


Installation view.



PARIS.- Galerie Thaddaeus Ropac is presenting the most comprehensive exhibition to date of early works by Arnulf Rainer (b. 1929) in France. The Austrian artist is regarded as a pioneer of Art Informel, a movement which brought an intuitive form of lyrical expression in the field of abstraction. The exhibition brings together Arnulf Rainer's Red and Black Overpaintings [Übermalungen], dating from 1953 to 1969, and a selection of the artist's seminal Proportion Studies [Proportionsstudien], a series of works on paper from the early and mid-1950s. Spanning the three floors of the Marais gallery, the exhibition provides precious insight into the artist's distinctive approach to abstraction, from the mathematical rigour of the Proportion Studies to the emotional subjectivity of his Overpaintings. Arnulf Rainer's early body of work places him in a singular position, at the crossroads of many influences, from Surrealism to Minimalism and Abstra ... More



A monumental and early Danish silver champagne cooler, No 19D, mark of Georg Jensen, Copenhagen, 1915-1919. Estimate: $50,000-80,000. © Christie's Images Ltd 2019.



NEW YORK, NY.- Christie's Collector week, a three-day series of sales taking place from October 15-17, will feature a diverse array of decorative and fine art. This season's sales are distinguished by a strong offering of fresh to the market works from several private collections; each notable for their distinctive style and fine connoisseurship. The sales include property from the estates of Lee Bouvier Radziwill, Terry Allen Kramer, Rosa Strygler, and Kaye Miller and property from the collection of Helen Fioratti and encompass more than 840 lots of English and European furniture, ceramics, silver, carpets, paintings and decorative works of art. Christie's will partner with the venerable design house Le Manach to incorporate fabrics in the auction exhibitions and catalogues. On the evening of October 11th, during the auction ... More



Morphosis Design Director Thom Mayne (left) and OCMA Director & CEO Todd D. Smith (right). Photo courtesy of OCMA.



COSTA MESA, CA.- The Orange County Museum of Art this past week broke ground on the museum's new building at Segerstrom Center for the Arts in Costa Mesa, CA. Designed by Morphosis, the global architecture and design firm led by Pritzker Prize-winner Thom Mayne, the new 53,000-square-foot facility—defined by an open and engaging urban presence within Orange County's largest center for arts and culture—will allow the Museum to expand on their legacy of community enrichment and presentation of modern and contemporary art from artists rooted in Southern California and the Pacific Rim. The new permanent home for the Museum, which was previously located in Newport Beach, is projected to open in 2021. The Museum has announced, on the occasion of the groundbreaking ceremony, that it has now raised $47 million toward ... More
Post-war graphic designer Wim Crouwel died at the age of 90
Sotheby's to present 'Mario Buatta: Prince of Interiors', dedicated auction in January 2020
Massive Saber-Tooth Cat Skull offered at Heritage Auctions' Nature & Science Auction


Wim Crouwel, Leger, 1957. Collection Stedelijk Museum Amsterdam.



AMSTERDAM.- Wim Crouwel and the Stedelijk Museum enjoy a long-standing relationship. In 1963, when Edy de Wilde exchanges the directorship of the Van Abbemuseum Museum in Eindhoven for that of the Stedelijk Museum in Amsterdam, he asks Wim Crouwel to join him as sole designer of the museum's graphic identity. The two work together until De Wilde's departure in 1985, throughout which time Crouwel not only creates the Stedelijk's visual communications, but some 400 posters and over 300 catalogues. Wim Crouwel is trained by the graphic designer Dick Elffers, runs his own design agency between 1954 and 1957, and works with interior designer Kho Liang Ie from 1956 to 1960. The oeuvre that cements his fame, standing and reputation is his work for the Stedelijk Museum, that he considers the most notable client of his career. Although he believes that a graphic designer must defer to the message and not interpret its content, in his work ... More



Mario Buatta's Living Room, New York ; Credit: Image © Scott Frances OTTO.



NEW YORK, NY.- Sotheby's announced that they will present furniture, fine art and decorative objects from the personal collection of legendary interior designer Mario Buatta in a dedicated two-day auction that will take place during one of the busiest weeks on the New York art market calendar, alongside with both The Winter Show and the Americana Week sales series in New York in January 2020. Mario Buatta: Prince of Interiors will offer a diverse array of nearly 1,000 works that Mr. Buatta lived with in his Upper East Side apartment in New York City as well as the William Mason House – an historic gothic-style home in Thompson, Connecticut – and feature many pieces that have long been admired in showhouse rooms and shelter magazines over the years. Most influenced by the understated elegance of Colefax and Fowler and the doyenne of exuberant American decor, Sister Parish, Buatta reinvented the English Country House style stateside f ... More



An Extremely Rare Saber-Tooth Cat Skull - The Iconic American Fossil.



DALLAS, TX.- The largest example ever recorded of one of the most instantly recognizable of all fossils could bring as much as $1 million in Heritage Auctions' Nature & Science Auction Sept. 28 in Dallas, Texas. An Extremely Rare Saber-Tooth Cat Skull – The Iconic American Fossil (estimate: $700,000-1,000,000) is one of fewer than 10 full skulls ever brought to auction. Excavated from the Rancho La Brea Formation, which has produced the most desirable among Saber-Tooth Cat fossils, the offered skull is a magnificent example of the fossil coveted by serious collectors. Fossils from the Rancho La Brea Formation, which has been closed to private collectors for nearly 50 years, are so rare in private collections that they rarely get brought to auction. This specimen is unmatched in its completeness and size, and rates high in both scientific integrity and desirability. Merriam & Stock records the largest Smilodon Fatalis skull ... More
Quote
Everything is miraculous. It is a miracle that one does not melt in one's bath. Pablo Picasso
---
Gave Away the Secret (S2, E2) | AT THE MUSEUM
---
Flashback
On a day like today, Italian painter Alessandro Allori died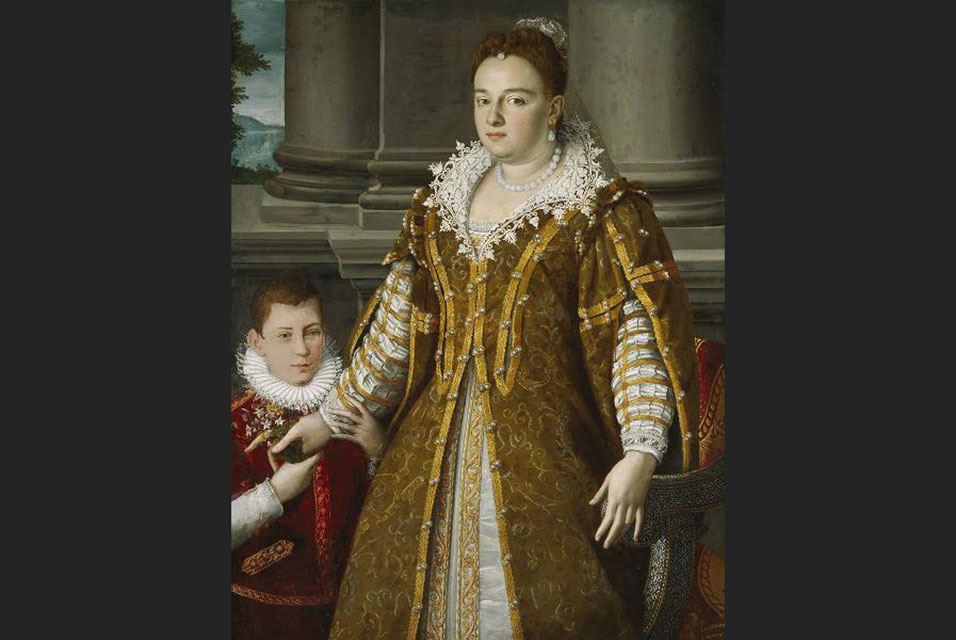 September 22, 1607. Alessandro di Cristofano di Lorenzo del Bronzino Allori (31 May 1535 - 22 September 1607) was an Italian portrait painter of the late Mannerist Florentine school. In this image: Portrait of Grand Duchess Bianca Capello de Medici, by Allori, Dallas Museum of Art.
---

Museums, Exhibits, Artists, Milestones, Digital Art, Architecture, Photography,
Photographers, Special Photos, Special Reports, Featured Stories, Auctions, Art Fairs,
Anecdotes, Art Quiz, Education, Mythology, 3D Images, Last Week,
.
Royalville Communications, Inc
produces: