New Exhibition Celebrates Works of Saint Louis Artists Inspired by the Game of Chess
Deborah Douglas, Pawn King, 2017 (detail). Encaustic, collage, and oil on cradled panel, 16 x 20 in. (17 x 21 in with frame). Collection of the World Chess Hall of Fame. Photo: Michael De Filippo.
ST. LOUIS, MO
.-
The
World Chess Hall of Fame
(WCHOF) in Saint Louis debuted an innovative new exhibition, The Imagery of Chess: Saint Louis Artists, on Thursday, March 23. The exhibit will be on view through September 24, 2017.
The Imagery of Chess: Saint Louis Artists
features 20 leading local artists, writers, designers, musicians and composers whose commissioned artwork, compositions and performances celebrate the game of chess. The multi-media exhibit draws its inspiration from the groundbreaking 1944 exhibition The Imagery of Chess. This exhibit embodies the WCHOF's mission to interpret the game of chess and its cultural and artistic significance and marks another significant event in the history of Saint Louis as the U.S. Capital of Chess. "It is a privilege to work with these 20 talented artists to help bring ...
More
The Best Photos of the Day
Young Chinese jet set shop at Hong Kong's Art Basel
Grand Palais opens "Rodin: The Centennial Exhibition"
Barbican Art Gallery opens first major UK exhibition to focus on Japanese domestic architecture


In this picture taken on March 22, 2017, Chinese investment banker Huang Xiaoshuai, 26, and his wife Wei Mengyuan share a light moment as they stand in front of their newly acquired painting 'Fire' by Chinese artist Zeng Fangzhi. ANTHONY WALLACE / AFP.



Huang Xiaoshuai and his wife last year splashed out $70,000 for a large painting of fish by Oscar-winning actor Adrien Brody -- part of a growing clique of young, affluent Chinese art enthusiasts building their own high-end collections. The picture now hangs in their Shanghai home and the couple, along with other mainland collectors, have flown in to attend VIP events at this week's Art Basel in Hong Kong where they are hoping to indulge their taste for contemporary Asian and European art. Each year Huang and Wei Mengyuan set aside $1.5 million to spend on art -- half from Huang's salary and the rest from family funds. Huang, an investment banker, says he and his wife first got into collecting when they were deciding how to decorate their new home. "We have friends who deal art. They gave me some advice (on how) to buy some paintings or sculptures to put in our house," says Huang. ... More



French President Francois Hollande (L) and US philanthropist Iris Cantor, head of the Cantor Foundation, pose during the opening of an exhibition at the Grand Palais. CHRISTIAN HARTMANN / POOL / AFP.



PARIS.- To mark the centenary of his death, the Musée Rodin and Réunion des musées nationaux Grand Palais have joined forces to celebrate Auguste Rodin (1840-1917). The exhibition reveals Rodin's creative universe, his relationship with his audience and the way in which sculptors have appropriated his style. Featuring over 200 of Rodin's works, it also includes sculptures and drawings by Bourdelle, Brancusi, Picasso, Matisse, Giacometti, Beuys, Baselitz and Gormley, shedding new light on this giant of sculpture. Auguste Rodin, just like Monet and Picasso, was and remains a global phenomenon. He has fascinated the general public from generation to generation. Many artists have tried to equal his style, both through inspiration or in opposition. Rodin explored all facets of sculpture: from assemblage to partial figures and collage, practices inherited by Matisse and Picasso. His drawing technique pre-empted ... More



The Japanese House: Architecture and Life after 1945. Portrait of architect Terunobu Fujimori Barbican Art Gallery, London 23 March – 25 June 2017. Photo by Miles Willis / Getty Images.



LONDON.- The Japanese House: Architecture and Life after 1945 is the first major UK exhibition to focus on Japanese domestic architecture from the end of the Second World War to now, a field which has consistently produced some of the most influential and extraordinary examples of modern and contemporary design. The exhibition features over 40 architects, ranging from renowned 20th century masters and internationally celebrated contemporary architects such as Tadao Ando, Toyo Ito, Kazuyo Sejima (SANAA) and Kenzo Tange ; to exciting figures little known outside of Japan including Osamu Ishiyama, Kazunari Sakamoto and Kazuo Shinohara and young rising stars such as Hideyuki Nakayama and Chie Konno. The Japanese House presents some of the most ground-breaking architectural projects of the last 70 years, many of which have never before been exhibited in the UK. The exhibition also incorporates film and photography in order to cast a new ... More
Cleveland Museum of Art announces new acquisitions
Museum Ludwig showcases part of its photographs collection in special room
Contact lenses and condom wrappers shortlisted for €10,000 Rijksmuseum award


Detail of Alabama, 1960. Norman Lewis (American, 1909–1979). Oil on canvas; 122.2 x 184.5 cm. The Cleveland Museum of Art.



CLEVELAND, OH.- Significant recent acquisitions by the Cleveland Museum of Art include Alabama, an Abstract Expressionist masterpiece by African American artist Norman Lewis; a rare tempera painting of St. Matthew by William Blake; and a 16th-century drawing that served as a study for the altarpiece The Entombment, by Giovanni de' Vecchi. Alabama represents a key contribution to Abstract Expressionism, the mid–20th-century movement devoted to communicating psychological and emotional impulses mostly through line, shape, color and texture. Produced during the 1960s, American painter Norman Lewis's most original and admired works are the dozen or so canvases constituting his civil rights series, which provide a unique fusion of Abstract Expressionist aesthetics and social commentary. ... More



Henri Cartier-Bresson, Paris, 1932. Fotografie. Abzug: Pierre Gassmann, 1967. Photo: Rheinisches Bildarchiv Köln © Henri Cartier-Bresson / Magnum Photos / Agentur Focus.



COLOGNE.- The Museum Ludwig holds an outstanding collection of photographs encompassing some 70,000 works from the beginning of photography in the nineteenth century to the present. Now parts of the Photographic Collection are being showcased in a special Photography Room within the permanent collection of the Museum Ludwig in an effort to gradually present the collection. The room provides the Museum Ludwig with a permanent space dedicated to photography. Henri Cartier-Bresson and Heinz Held: People with Pictures is the title of the first presentation, which will be on view until August 20. The French photographer Henri Cartier-Bresson (1908–2004) and the Cologne-based photographer Heinz Held (1918–1990) met several times: In 1956, when ... More



Delft Blue Eyes + Nails, Francine LeClerq & Ali Soltani, USA.



AMSTERDAM.- The Rijksmuseum has today announced the Top 10 best entries for the 2017 Rijksstudio Award. In total, 2,600 people took part in the contest for the best design inspired by the Rijksmuseum collection and based on Rijksstudio. What is really striking are the number of nominees from abroad this year; the shortlisted entries derive from nine different countries. On 21 April, the international jury of experts will announce the winner during a celebratory gathering in the Rijksmuseum. Top 10 (in alphabetical order) • Pop Up Birds Book, Chiara Bianchini, Italy • Temple Guardian Dance Performance, Melodie Briere, England • Butter Dish, Rina Elman, Israel • Plantstudie Hats, Jessie Hall, England • Delft Blue Eyes + Nails, Francine LeClerq & Ali Soltani, USA • Masterpieces Never Sleep, Lesha Limonov, Belarus • Heron Lamp, Sergii Lysyi, Ukraine • Eden Condoms, Esther Pi & Timo ... More
Baltimore Museum of Art acquires significant contemporary works
First retrospective of the work of fashion designer Halston opens at Nassau County Museum of Art
DC Moore Gallery exhibits twenty-one vibrant collages from 1979 by Romare Bearden


Mark Bradford, Niagara, 2005 (detail). Courtesy the artist and Hauser & Wirth.



BALTIMORE, MD.- The Baltimore Museum of Art today announced the acquisition of major works by Mark Bradford, Paul Chan, Norman Lewis, and Ellsworth Kelly. Spanning a range of media, the acquisitions complement the BMA's holdings of contemporary art, from mid-20th-century American abstraction to the art of today, and demonstrate the museum's commitment to expanding the narrative of art history through the representation of diverse artists. Marking the first works by the artist to enter the museum's collection, the Mark Bradford acquisitions represent the historic collaboration between the BMA, co-organizer of the U.S. Pavilion at the 2017 Venice Biennale, and Bradford, the representative for the U.S. in 2017. Bradford's monumental painting My Grandmother Felt the Color, 2016, is currently on view at the BMA in a gallery dedicated to social abstraction, alongside other artists who have turned to abstract imagery ... More



Halston Original red dress with jacket, Spring 1975, Illustration by Joe Eula.



ROSLYN HARBOR, NY.- The first comprehensive retrospective of the work of the American fashion designer Halston will be presented at Nassau County Museum of Art in Roslyn Harbor, New York from Saturday, March 25 through Sunday, July 9, 2017. Sponsored by "H Halston exclusively at Lord & Taylor" and occupying the entire Museum, the exhibition Halston Style is organized by Guest Curator Lesley Frowick, Halston's niece and confidant. Lesley Frowick is author of the deluxe Rizzoli publication Halston: Inventing American Fashion that serves as the exhibition catalogue. Focusing on the life and art of Roy Halston Frowick, better known as the self-crafted name of distinction, Halston, this exhibition includes many never-before-seen objects from the designer's personal archives. Halston left these original materials to Lesley Frowick's care, with the directive to use them to tell the story of the designer's ... More



Bayou Fever, Untitled (The Hatchet Man), 1979 . Collage, acrylic, and pencil on fiberboard, 9 x 6 in. 10 of 21 works, offered only as a group.



NEW YORK, NY.- DC Moore Gallery's new exhibition, Romare Bearden: Bayou Fever and Related Works, features a series of twenty-one vibrant collages from 1979 that Bearden conceived for a ballet that invokes African American traditions and the African presence that is deeply rooted in the Louisiana bayou near New Orleans, and elsewhere in North America and the Caribbean. Never before shown in New York, the collages represent the main characters and settings of a performance that he hoped would be choreographed by Alvin Ailey. Bearden (1911-1988) had worked with Ailey before, most notably two years earlier when he created a scrim for the ballet, Ancestral Voices. He had been interested in dance for some time, as his wife had her own company, the Nanette Bearden Contemporary Dance Theater. While the Bayou Fever dance was never performed, the bold ... More
Cortesi Gallery presents a series of works from the last two years by Maurizio Donzelli
Chris Succo's second solo exhibition with Almine Rech Gallery on view in London
Secret Swiss 'castle find' collection to be offered at Bonhams Spa Classic sale


Maurizio Donzelli, MIRROR 2716, 2016. Mixed media, wooden box, 135,5×97×7,5cm.



LONDON.- The work of Maurizio Donzelli (b. Brescia, 1958) focuses on mark, drawing and ornament as hub around which all other tools of expression seem to gravitate. These characteristics are visible both in the realization of the work and in the ways in which the latter is exhibited. The first-ever solo exhibition in the UK dedicated to Donzelli's oeuvre, which will be held at Cortesi Gallery, presents a series of works from the last two years of his artistic production, in particular, a selection of acrylic drawings and "Mirrors". Whether Donzelli's drawings take the form of watercolour on paper, acrylic on paper or acrylic on silk, they are above all a track, a tracing, a rhizome. If they can be compared to a path realised with the mark, this path is not prepared according to any pre-ordained scheme. If anything, is the point of departure that indicates the direction, because what interests ... More



Chris Succo, Sunset Magazine, 2017. Acrylic, lacquer and oil on linen, 170 x 127,5 cm. 66 7/8 x 50 1/4 inches. Photo: Achim Kukulies, Dusseldorf. Courtesy of the Artist and Almine Rech Gallery.



LONDON.- Almine Rech Gallery is presenting Skin N' Bones, the second solo exhibition by Chris Succo with the gallery. The show will comprise of new paintings and drawings by the artist that are based on scenes captured in the ever-growing archive of photographs and sketches Succo takes wherever he goes. Art follows historical imperatives, or at least it should. These are larger pressures that are exerted on the artist by any number of factors—cultural, political, social, etc.—and which find their expression, however obliquely, in the work through formal means: line, color, content, technique, etc. By necessity these shift with time, given that they are rooted in the ever-changing ferment of the conditions in which the artist finds him or herself in a given place and period. However, this ... More



1958 Mercedes-Benz 300SL Roadster (€600,000-800,000). Photo: Bonhams.



STAVELOT.- Barn finds have long been considered the holy grail of motoring discoveries, but a 'castle find' is in an altogether different league. A collection of 12 classic motor cars has been unearthed in a Swiss schloss and will be offered, all without reserve, at Bonhams Spa Classic sale on 21 May at the legendary Francorchamps circuit in Belgium. Amongst the 12-strong collection are examples of some of the world's most iconic classic models, including a 1958 Mercedes-Benz 300SL Roadster (€600,000-800,000). The model celebrates its 60th anniversary in 2017, and remains arguably one of the most influential post-war sports cars ever created. It was originally developed as a road-going version of Mercedes' hugely successful W194 racing car. Losing the 'gullwing' doors allowed the roadster to develop in to a truly driveable ... More
Quote
What I am after, above all, is expression.... Henri Matisse
More News
---
David Hockney at Tate Britain
---
Flashback
On a day like today, American photographer Edward Weston was born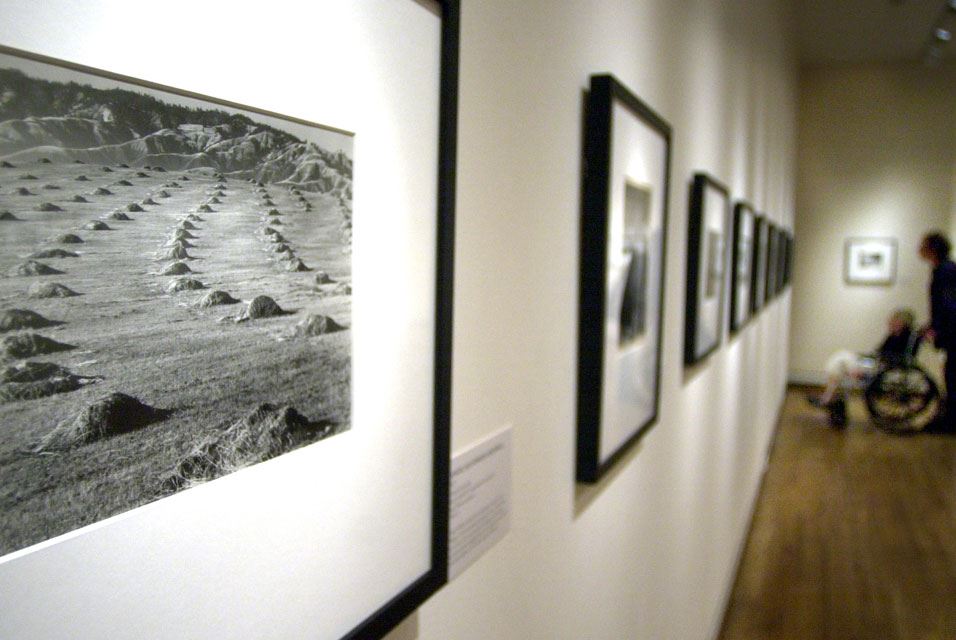 March 24, 1886. Edward Henry Weston (March 24, 1886 - January 1, 1958) was a 20th century American photographer. He has been called one of the most innovative and influential American photographers In this image: The 1937 gelatin silver print of a ranch along the San Simeon Highway in California, left, taken by Edward Weston is one of many viewed by Bruce Polonsky, standing, and Betsy McCutchen at the Portland Art Musuem in Portland, Ore., Wednesday, Sept. 29, 2004. Weston's use of crisp resolution, negative space and light patterns can be seen in each of the artist's photos currently on exhibit at the Museum in the show, "Edward Weston: A Photographer's Love of Life", through Nov. 28.
---

Museums, Exhibits, Artists, Milestones, Digital Art, Architecture, Photography,
Photographers, Special Photos, Special Reports, Featured Stories, Auctions, Art Fairs,
Anecdotes, Art Quiz, Education, Mythology, 3D Images, Last Week,
.
Royalville Communications, Inc
produces:







Tell a Friend
Dear User, please complete the form below in order to recommend the Artdaily newsletter to someone you know.
Please complete all fields marked *.
Sending Mail

Sending Successful