Spain court orders exhumation of Salvador Dali's remains in paternity claim
This file photo taken on November 21, 1958 shows Spanish artist Salvador Dali in Paris. Spain court orders on June 26, 2017 exhumation of Dali's remains in paternity claim. AFP.

by Laurence Boutreux
MADRID
(AFP)
.-
A Spanish court has ordered that the remains of Salvador Dali be exhumed after a woman who claims to be the daughter of the world-famous artist filed a paternity claim. If the woman, identified as Pilar Abel and reportedly a psychic, is confirmed as the only child of Dali, she could be entitled to part of the huge fortune and heritage of one of the most celebrated and prolific painters of the 20th century. The Madrid court said Monday the exhumation aimed "to get samples of his remains to determine whether he is the biological father of a woman from Girona (in northeastern Spain) who filed a claim to be recognised as the daughter of the artist." "The DNA study of the painter's corpse is necessary due to the lack of other biological or personal remains with which to perform the comparative study," it added. The Dali Foundation which manages the artist's estate said in a statement it would lodge an appeal against the exhumation "in the coming days," without giving further details. ...
More
The Best Photos of the Day
A major retrospective of works by Magdalena Abakanowicz opens across the city of Wroclaw
Secret drawers on view for the first time in the Rijksmuseum
New museum boosts Paris claim to be modern art capital


Installation view of Effigies of Life: A Tribute to Magdalena Abakanowicz in Wroclaw, Poland. Image courtesy of the artist estate.



WROCLAW.- A major retrospective, Effigies of Life, A Tribute to Magdalena Abakanowicz (1930 – 2017), features the work of this leading Eastern-European avant-garde artist, notable for her use of textiles as a sculptural medium. The exhibition runs from 23rd June through 25th August across multiple venues and public spaces in the city of Wroclaw and is the first retrospective of the artist to be held in the city. The retrospective is organised by Bureau Wroclaw ECC 2016 and Dworcowa Gallery (the City's Public Gallery at Dworzec Glowny PKP), All That Art Foundation, and The European ArtEast Foundation in cooperation with the Magdalena Abakanowicz Studio. Starting in the 1960s and 1970s, Magdalena Abakanowicz revolutionised the traditional language of tapestry by transforming it into forms meant to elicit complex visual and tactile experiences. With an emphasis on texture and surface, Abakanowicz's works investigate ... More



Collector's Cabinet with Miniature Apothecary's Shop, anonymous, 1730.



AMSTERDAM.- In the last few years no fewer than 50 experts have been involved in conducting research on the only eighteenth-century miniature apothecary's shop in the Netherlands. The Rijksmuseum is now presenting the results of this research and conservation project in an extensive publication, designed by Irma Boom and showing the miniature pharmacy and 56 secret drawers for the first time, at almost actual size. This rare collector's cabinet houses an abundance of curiosities including a fully fitted miniature apothecary's shop containing more than three hundred Delftware pots, glass bottles, tiny wooden drawers, paintings and gilded ornaments. Concealed beside and behind the miniature pharmacy are no fewer than 56 secret drawers, all but five of which contain the collection of nearly 2000 varieties of naturalia, including seeds, flowers, roots, animal parts, rocks, minerals and fossils. The research has now been completed, ... More



French businessman Francois Pinault tours the former stock exchange building. PATRICK KOVARIK / AFP.



PARIS (AFP).- One of the world's biggest art collectors unveiled Monday his plans for a spectacular new museum in Paris, cementing the city's claim to be a modern art capital. French billionaire Francois Pinault will show his $1.4 billion (1.25 billion euro) collection of modern masters in the domed Bourse de Commerce, within a stone's throw of the Louvre, long the world's most visited museum. The new gallery, which he said would open in early 2019, is also within sight of the Pompidou Centre, which houses Europe's largest modern art collection. Paris Mayor Anne Hidalgo called the museum "an immense gift" to the French capital and told reporters that it would help put the city back at the top of the modern art tree. Pinault, 80, holds an enormous trove of abstract and contemporary masterpieces in a 3,500-piece collection that goes from Mark Rothko to Damien Hirst. He owns the auction house Christie's and built a fashion ... More
Rubens House presents David Bowie's Tintoretto
High Museum announces major Kara Walker acquisition
Mossgreen sets a new world record for a Russell Drysdale painting


Jacopo Tintoretto (1518-1594), Angel Foretelling the Martyrdom of Saint Catherine of Alexandria (1560-1570), photo KIK-IRPA.



ANTWERP.- The Rubens House has unveiled David Bowie's Tintoretto. The British rock star owned St Catherine by the Venetian painter Jacopo Tintoretto (1518–1594) for over 30 years. Following Bowie's death in 2016, his exceptional art collection was auctioned on 10 November that same year at Sotheby's in London. There was one noteworthy old master amongst the modern and contemporary works by the likes of Frank Auerbach, Jean-Michel Basquiat and Damien Hirst: Jacopo Tintoretto. Bowie, like Rubens, was an immense admirer of the Venetian artist. Rubens not only drew inspiration from Tintoretto for his own work, he also had seven of his fellow artist's paintings in his own collection. The monumental St Catherine altarpiece, painted in the 1560s, was purchased by a private collector who announced to the world's press within minutes of the sale that he would be loaning the painting long term to the Rubens ... More



Kara Walker (American, born 1969), "The Jubilant Martyrs of Obsolescence and Ruin," 2015 (detail), cut paper on wall, 165 3/8 x 698 13/16 inches.



ATLANTA, GA.- The High Museum of Art in Atlanta today announced that it has acquired "The Jubilant Martyrs of Obsolescence and Ruin" (2015), a massive cut-paper work by contemporary artist Kara Walker (American, born 1969). This acquisition marks the first major work by Walker to enter the Museum's collection. A former Georgia resident who studied at the Atlanta College of Art, Walker is renowned for her cut-paper silhouette installations that explore themes of race, gender, sexuality and violence. "The Jubilant Martyrs of Obsolescence and Ruin," which is nearly 60 feet wide, is based on the Confederate Memorial Carving on the face of Georgia's Stone Mountain. In the work, Walker uses caustic, satirical imagery to reconcile the history of oppression and injustice experienced by African-Americans in the South with the persistence of racial and gender stereotypes and ongoing efforts to advance ... More



Detail of 'Grandma's Sunday Walk' sells for AUD$2.976 million (£1.8M) painted by artist born in Bognor Regis in 1912



ADELAIDE.- Mossgreen, the leading Australian auction house, sold Russell Drysdale's painting Grandma's Sunday Walk 1972 for AUD$2.976 million (£1.8m) in Adelaide Sunday 25th June. This makes a new auction world record price for the artist and the fifth highest auction price ever for any Australian artwork. Paul Sumner, CEO of Mossgreen, says: "Russell Drysdale's Grandma's Sunday Walk represents a truly iconic image of the Australian outback by one of Australia's most important artist's. While it was a relatively late work in the artist's career, it had everything going for it with scale, quality and its composition that sums up the harshness of the Australian outback and celebrates the every-day heroes that Drysdale made his name with. It was also fresh to the market having not been on the market for over 30 years. Multiple bidders chased the work to its final selling price which was the fifth highest price ev ... More
Paddle8 announces sale of photography from the film set of Stanley Kubrick's Full Metal Jacket
Sculpture in the City returns to the Square Mile with contemporary works
MAXXI highlights Zaha Hadid's intensive and enduring relationship with Italy


Matthew Modine, Untitled, 1985, Chromogenic print on gelatin silver paper. Estimate $2,500.



NEW YORK, NY.- Today Paddle8 and the Purple Heart Foundation announce the auction of twelve original photographs taken by actor Matthew Modine from the set of Stanley Kubrick's 1987 Vietnam War drama, Full Metal Jacket. Hosted by leading online auction house Paddle8, the sale will be live for bidding to collectors worldwide June 26 – July 11, coinciding with the 30th anniversary of the film's release. A portion of the proceeds will benefit The Purple Heart Foundation. "Working with Stanley Kubrick on Full Metal Jacket was one of the most rewarding and foundational experiences of my early film career," states Modine, who portrays the starring role of Pvt. Joker in the film. "The film resonates eternally on the complexities of war and the experience of soldiers on the front line. I'm thrilled to be offering photographs from the making of Full Metal Jacket to benefit our country's ... More



Mhairi Vari, Support for a Cloud, 2016. Outdoor television aerial, wire coathangers, greenhouse/ poly-tunnel repair tape. 3 pieces, approx. 150 x 75 x 65cm each © Nick Turpin.



LONDON.- Sculpture in the City, the City of London's annual public art programme set amongst iconic architectural landmarks has announced the 16 art works that make up this year's outdoor sculpture park in the Square Mile. The initiative, which is a collaboration between the City of London Corporation and City businesses, launches on 27th June. The outdoor exhibition includes works from internationally renowned artists including Paul McCarthy, Ryan Gander and Martin Creed. Their work is being displayed amongst some of Britain's most famous buildings, including The Leadenhall Building, also known as the 'Cheesegrater', and for the first time, the Lloyd's building by Richard Rogers. For Sculpture in the City's seventh edition, the art works are spread further than ever ... More



Generali Tower (Milano, Italy), 2004/2017 in costruzione. Photo Hufton + Crow, courtesy Zaha Hadid Architects.



ROME.- Considered to be one of the most influential and visionary architects of our time, Zaha Hadid redefined the architecture of the 21st century and captured the imagination of the entire world. A year after her sudden death, from 23 June 2017 to 14 January 2018 MAXXI is hosting Zaha Hadid in Italy, an exhibition curated by the director of MAXXI Architettura Margherita Guccione and Woody Yao, associate director at Zaha Hadid Design. Zaha Hadid in Italy, organized in collaboration with Zaha Hadid Design, Zaha Hadid Architects and the Zaha Hadid Foundation, main partner Eni, intends to highlight the architect's intensive and enduring relationship with the country. Giovanna Melandri, President of Fondazione MAXXI says: "This exhibition devoted to Zaha Hadid, a creative and innovative woman of great strength and courage, is a ... More
Exhibition of monumental sculptures by Helidon Xhixha opens at the Boboli Garden
Sotheby's to offer the collection of playwright Edward Albee
Heather Gaudio Fine Art opens a mixed media exhibition featuring works by Charlie Hewitt


In Ordine Sparso, Helidon Xhixha, Boboli Garden, Florence.



FLORENCE.- A new exhibition of monumental sculptures by award winning contemporary artist Helidon Xhixha opens at the Boboli Garden, Florence on the 27th of June 2017. In Ordine Sparso is curated by the Director of the Uffizi Galleries, Eike Schmidt and Diego Giolitti. The powerful new summer exhibition sees Helidon Xhixha explore the ideas of chaos and order through his extraordinary series of thirteen monumental sculptures and installations. The works pay homage to how this concept has been portrayed in philosophy and the arts (sacred geometry) and how it is interpreted in the natural world. Through their shapes and reflective surfaces, the thirteen breathtaking sculptural installations by Helidon Xhixha offer new perspectives on the intertwining of art and nature, promoted by the Medici family in 16th and 17th centuries. The exhibition features also several new works specially made by the artist on the occasion of this exhibition, along with other ... More



The sale will give a unique insight into one of the greatest creative minds of the 20th Century. Courtesy Sotheby's.



NEW YORK, NY.- Sotheby's announced that they will offer The Collection of Edward Albee in a dedicated auction this September in New York. The full proceeds of the sale will benefit The Edward F. Albee Foundation, which provides residencies for writers and visual artists in Montauk, Long Island. One of America's most-treasured cultural figures, Edward Albee (1928–2016) was a keen observer of modern life in the United States whose piercing dialogue and constant experimentation helped reinvent and define post-war theater internationally. Beginning with The Zoo Story in 1958, the dozens of plays he wrote over the following five decades include such icons as Who's Afraid of Virginia Woolf? (1962), A Delicate Balance (1966), Three Tall Women (1991), and The Goat, or Who Is Sylvia? (2000). For many, Sotheby's September auction will offer a new window into Edward Albee's life and creative ... More



Charlie Hewitt, Heart of Gold II. Acrylic and paper collage on canvas, 60 x 48 inches.



NEW CANAAN, CONN.- Heather Gaudio Fine Art is presenting Charlie Hewitt. Heart of Gold, a mixed media exhibition featuring paintings, works-on-paper, ceramics and sculpture. The show opened June 21th and will be on display through August 19th. Hewitt's work channels the social upheaval of the 1960s, the laborers and mill-towns of his native Maine, and the gritty urban landscape of the Bowery in New York City. He expresses his life experiences through an abstraction rich with emotive content. These personal associations come through in colorful, energetic, at times scrappy and idiosyncratic mixed-media compositions on canvas, works-on-paper, prints, welded sculpture, and ceramics. Hewitt's work is informed by the spontaneous automatism techniques and processes of the New York School artists. He is always inventing and creating, switching and revisiting mediums, even delving into film to express his ideas. In the case of his pro ... More
Quote
Everyone must have heard of Giotto, and how as a painter he surpassed all others. Sachetti
More News
---
Bonhams Post-war and Contemporary Art Sale
---
Flashback
On a day like today, American painter and academic Philip Guston was born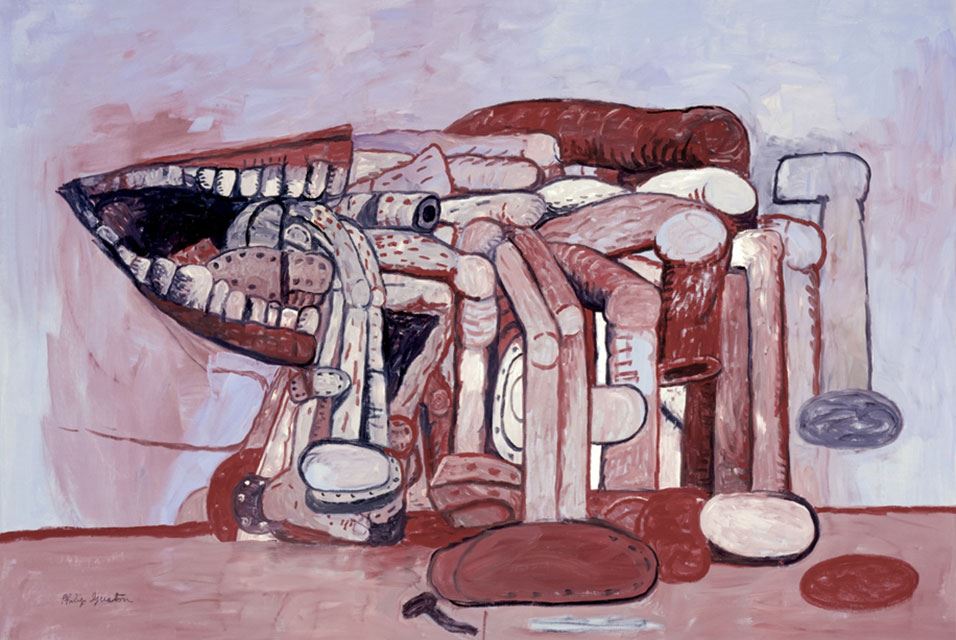 June 27, 1913. Philip Guston, born Phillip Goldstein (June 27, 1913 - June 7, 1980), was a painter and printmaker in the New York School, an art movement that included many abstract expressionists like Jackson Pollock and Willem de Kooning. In the late 1960s Guston helped to lead a transition from abstract expressionism to neo-expressionism in painting, abandoning so-called "pure abstraction" in favor of more representational, cartoonish renderings of various personal situations, symbols and objects. In this image: Philip Guston,Painter's Forms, 1972. Oil on panel, 190.5 x 274.3 cm / 75 x 108 in © The Estate of Philip Guston. Private Collection. Photo: Christopher Burke.
---

Museums, Exhibits, Artists, Milestones, Digital Art, Architecture, Photography,
Photographers, Special Photos, Special Reports, Featured Stories, Auctions, Art Fairs,
Anecdotes, Art Quiz, Education, Mythology, 3D Images, Last Week,
.
Royalville Communications, Inc
produces:







Tell a Friend
Dear User, please complete the form below in order to recommend the Artdaily newsletter to someone you know.
Please complete all fields marked *.
Sending Mail

Sending Successful