Major exhibition explores the romantic fascination with the Scottish Highlands
Wild and Majestic: Romantic Visions of Scotland spans the period from the final defeat of the Jacobites at the Battle of Culloden in 1746 to the death of Queen Victoria in 1901.
EDINBURGH
.-
A major exhibition at the
National Museum of Scotland
this summer tells the fascinating story of how tartan, bagpipes and rugged, wild landscapes became established as enduring, internationally recognised symbols of Scottish identity and how Scotland became established in the popular imagination as a land of wilderness, heroism and history. Wild and Majestic: Romantic Visions of Scotland spans the period from the final defeat of the Jacobites at the Battle of Culloden in 1746 to the death of Queen Victoria in 1901. The exhibition explores the efforts made to preserve and revive Highland traditions in the wake of post-Jacobite persecution, depopulation and rapid socio-economic change. It shows how Scotland's relationship with the European Romantic movement transformed external perceptions of the Highlands and was central to the birth of tourism in Scotland. These developments would in turn influence the relationship between the H ...
More
The Best Photos of the Day
Christie's announces the Clarke Collection featuring 35 works by Ed Ruscha
James Bond Aston Martin DB5 sells for record $6.4 million at RM Sotheby's Monterey
Snite Museum of Art presents exhibit on Irish art


Ruscha, Standard Station (Engberg 5) detail, screenprint in colors. Executed in 1966. Estimate: $200,000 – 300,000.



NEW YORK, NY.- Christie's has been entrusted with The Clarke Collection, an exceptional selection of Post-War & Contemporary Art featuring 35 pristine works by Edward Ruscha. The collection of works on paper, prints, sculpture, and design will be offered across several New York sales throughout the fall beginning with a single artist sale, Thirtyfive Works by Ed Ruscha from The Clarke Collection, preceding the Post-War to Present sale on 27 September. This will be followed by the Prints & Multiples sale in October, Post-War & Contemporary Art Day sale in November, and the Design sale in December. Highlights by Ed Ruscha to be offered in September include A Person Who is Very Nice, executed in 1988 (estimate: $500,000 – 700,000), 3 Forks, executed in 1967 (estimate: $400,000 – 600,000), and Wavy Robot, executed in 1975 (estimate: $400,000 – 600,000). Additional ... More



Affectionately known as "the most famous car in the world," the DB5, chassis no. DB5/2008/R, is one of just three surviving James Bond 007 DB5's as seen in Goldfinger and as used in the promotion of Thunderball.



MONTEREY, CA.- Yesterday in Monterey, California, RM Sotheby's hosted An Evening with Aston Martin in partnership with Aston Martin Works and Aston Martin Lagonda, selling the highly anticipated 1965 James Bond Aston Martin DB5 for a final $6,385,000 to become the most valuable DB5 ever sold at auction (est. $4m/6m). Affectionately known as "the most famous car in the world," the DB5, chassis no. DB5/2008/R, is one of just three surviving James Bond 007 DB5's as seen in Goldfinger and as used in the promotion of Thunderball. The car was built specifically for Eon Productions and outfitted with legendary MI6 Q Branch specified gadgetry from new. Fully restored by Roos Engineering in Switzerland, the car was presented in Monterey with all gadgetry fully functioning as Q intended. After drawing significant ... More



Roderic O'Conor (1860–1940), Torremolinos, 1935, oil on board, 15 x 18 inches. Gift of the Donald and Marilyn Keough Foundation, 2018.005.002.



NOTRE DAME, IND.- The Snite Museum of Art at the University of Notre Dame presents an exhibit featuring Irish artists titled "'Looking at the Stars': Irish Art at the University of Notre Dame," on view beginning Aug. 17 (Saturday). A public, free reception will take place from 5 to 7 p.m. Sept. 6 (Friday) at the museum. With the recent gift of modern paintings by artists such as Jack B. Yeats, Roderic O'Conor and Mary Swanzy, among others, from the Donald and Marilyn Keough family, the University has laid a solid foundation on which to build a rich collection of Irish art. This is the premier examination of many works from the Keough gift as well as several other significant collections of Irish art. Taken together, the collections combine to create a landmark exhibition at the Snite Museum of Art. The exhibition will also include selected gifts to the museum of photographs by Alen MacWeeney. Born in Dublin in 1939, th ... More
Eduardo Paolozzi Estate newly represented by Hazlitt Holland-Hibbert & solo show of his work in October
Exhibition explores over a century of creative achievement by a diverse body of artists
Comprehensive exhibition of Elfie Semotan's work on view at C/O Berlin


Eduardo Paolozzi, Shattered Head (1956). Bronze, height 28cm. Image copyright Paolozzi Foundation and courtesy Hazlitt Holland-Hibbert.



LONDON.- Announcing its representation of Eduardo Paolozzi's (1924 - 2005) estate, Hazlitt Holland-Hibbert, London is proud to host Eduardo Paolozzi: Hollow Gods (17 October – 13 December 2019), an exhibition focusing on the sculptures, collages and drawings that Paolozzi made in the first 15 years of his career. In collaboration with the Paolozzi Foundation, the exhibition is curated by Dr Judith Collins - a former senior curator at Tate, and author of the most recent monograph on the artist and of the forthcoming catalogue raisonné of his sculptures. The exhibition marks the first in a chronological series of Paolozzi shows that Dr Judith Collins will curate at the gallery in the coming years. The exhibition includes 18 sculptures, three plaster reliefs and 15 works on paper, among them major works that have not been exhibited for decades, including the magisterial St ... More



C.R.W. Nevinson, A.R.A., A Dawn, 1916. Drypoint. Image courtesy of The Ingram Collection of Modern British Art © JP Bland 2012.



HULL.- Can art help with the national identity crisis in the time of Brexit? Ferens Art Gallery, Reflection: British Art in an Age of Change explores over a century of creative achievement by a diverse body of artists whose loves and fears, doubts and dreams mirror our own. Featuring more than 130 works drawn from the Ingram Collection of Modern British Art and the permanent collection of the Ferens Art Gallery, Reflection presents a dynamic and diverse vision of Britain and British art which asks questions about identity and belonging. What does it mean to be British? How do we define British art? How do we present ourselves to the world? As well as paintings, drawings, sculpture and prints, curator James Russell has selected works created over the last century that employ collage, photography and video – from Henri Gaudier-Brzeska's charcoal on paper Standing male nude ... More



Untitled, New York, 2003, From the series Inspired by Roy Lichtenstein © Elfie Semotan. Courtesy Galerie Gisela Capitain, Cologne.



BERLIN.- C/O Berlin is presenting the exhibition Elfie Semotan . Contradiction until 07 September 2019. The provocative slogan "Trau dich doch" (Just dare), which was part of a late-1970s advertising campaign for the Austrian brand Palmers, appeared on posters featuring photos of models in seductive lingerie—nothing short of scandalous at the time. The photographs by Austrian photographer Elfie Semotan bear witness to a new, hedonistic zeitgeist that was gradually challenging conventions through playful experimentation. To this day, her photographs have lost none of their cool elegance, imperfect beauty, and discreetly erotic subtexts. They often reveal much more than the subject matter suggests, and their astute references to iconic works of art history blur the boundaries between art and commercial photography. Semotan started her career as a photo model in Paris. ... More
Grete Marks exhibition at Pallant House Gallery marks Bauhaus centenary this summer
Fine Art Asia 2019 and Ink Asia 2019 to lead the peak season for art in Hong Kong
Exhibition features five site-specific installations exploring reciprocity in design, behaviors and methodologies


Grete Marks, Untitled, n.d, watercolour on paper.



CHICHESTER.- Grete Marks (1899-1990) was an artist who fought for her artistic integrity during some of the most turbulent moments of the 20th century. One of the first female students to be admitted to the famed Bauhaus school of art and design, Marks is best known for her ceramics, which were declared "degenerate" by the Nazis. This summer, Pallant House Gallery continues its mission to celebrate overlooked artists by telling Marks' story through a free display of her previously neglected watercolour portraits. 'Grete Marks: An Intimate Portrait' explores how Marks forged an uncompromising path dedicated to making art on her terms during a period when her gender, religion, artistic medium and nationality each placed barriers in her way. The exhibition focuses on a series of intimate portrait paintings and drawings from the 1920s and 30s. It also marks the centenary of the foundation of the Bauhaus ... More



Wang Dongling (b. 1945), Su Shi – Remembering the Maiden – Ode to Red Cliff, 2018. Ink on paper. iPreciation, Singapore.



HONG KONG.- Fine Art Asia 2019, Asia's leading international fine art fair, and Ink Asia 2019, the world's first art fair dedicated to ink art, will lead this autumn's peak art season in Hong Kong. The fairs will be held alongside each other in the Hong Kong Convention and Exhibition Centre from Friday 4 October to Monday 7 October 2019, with a VIP Preview and Vernissage on Thursday, 3 October. Fine Art Asia 2019 is recognised by the international art world as the most distinguished annual fine art fair in the region. Founded in 2006, the fair attracts leading Hong Kong and international galleries, and provides an unrivalled platform for art and antiques in Asia. As usual, Fine Art Asia 2019 spans 5,000 years of cultural history, showcasing museum-quality Asian and Western antiques, jewellery, antique silver and timepieces; Impressionist, ... More



Reddish, Balancing Act. Photo: Elad Sarig.



HOLON.- Design Museum Holon is presenting The Conversation Show, an original exhibition featuring five commissioned installations that explore the mutual interchange and creative process between leading designers working together as a duo or group. Each internationally renowned design studio created site-specific objects, spaces or interactive works that physically and conceptually express their creative dialogue and collaborative practice. "Design and communication are indefinitely tied together," says Maya Dvash, Chief Curator of Design Museum Holon. "'The Conversation Show' showcases the layers of this notion – the conversation between creators themselves, as well as the dialogue between the designers and visitors." "'The Conversation Show' represents a peculiar approach to design, focusing on the centrality of people and the way they interact with each other. It aims to analyze and portr ... More
ARKEN exhibits works by a young generation of artists with a political outlook
Exhibition at Foam 3h presents the work of Kévin Bray
Exhibition at Bildmuseet invites the museum visitor to rethink the human position in the world


Marie Thams, re, 2017. Courtesy kunstneren.



COPENHAGEN.- With jellyfish sculpted in sugar and preserved in cooking oil, drag performers in red post office uniforms and bikini-clad deck chairs, art creates images of our present and future. On 17 August the exhibition Young Danish Art - Forecasting the Future opens at ARKEN. The exhibition is showing works by a young generation of artists with a political outlook and issues at heart. Young Danish Art - Forecasting the Future presents innovative and playful works that take the temperature of our society and explore national and global themes such as work culture, the sense of belonging and climate crisis. The exhibition offers unique insight into a young generation of artists and shows the forecasts art is making for our future. Work culture is a theme that several of the exhibition artists take up with works that revolve around value, tempo, productivity and identity. This goes for example for the visual artist Kirsten Astrup. She presents her ... More



Room 1, 2019 © Kévin Bray.



AMSTERDAM.- Foam 3h presents the work of Kévin Bray (France, 1989). There is likely no other artist who mixes and matches more than Kévin Bray. He graduated as a graphic designer and moves across the boundaries of various disciplines with ease. His work is a hybrid of techniques, motifs and formal languages in which he brings together painting, graphic design, sculpture, video, 3D photography and sound design. By investigating the particularities of a medium, and then stretching the visual codes, creative possibilities open up and give space to the unpredictable and otherworldly forms that are so characteristic of Bray. His work contains many art historical references but is equally apocalyptic, as if it were a backdrop for a science fiction story. For those that pay close attention to details, Kévin Bray's creative process is evident within his work. He intentionally exposes the different layers of his images and clearly displays the di ... More



Pia Arke, Tupilakosaurus, 1999.



UMEĹ.- The exhibition brings together an outstanding selection of artworks—film and video, drawing and sculpture, installation and sound art—which invite the museum visitor to rethink the human position in the world, its relationship to all other forms of life and to the various complex ecologies that bond beings together. A growing awareness of living on an environmentally fragile planet has led artists to reconsider the role of art in responding to what is happening to our world. Many artists have been rethinking the relationship between humans and nature, the effects of changes to the earth's climate and the ways in which different species are interrelated within a complex causes-effects relationship. Participating artists are Allora & Calzadilla (USA/Cuba), Pia Arke (Greenland), David Claerbout (Belgium), Marcus Coates (UK), Mary Beth Edelson (USA), Simone Forti (USA), Luca Frei (Switzerland/Sweden), Pierre Huyghe (France), Carsten Höller ... More
Quote
Jacob Jordaens remains the prime painter here. Sir Balthazar Gerbier
---
Mario Vargas Llosa Interview: Literature Makes Citizens Critical
---
Flashback
On a day like today, Italian painter Francesco Albani was born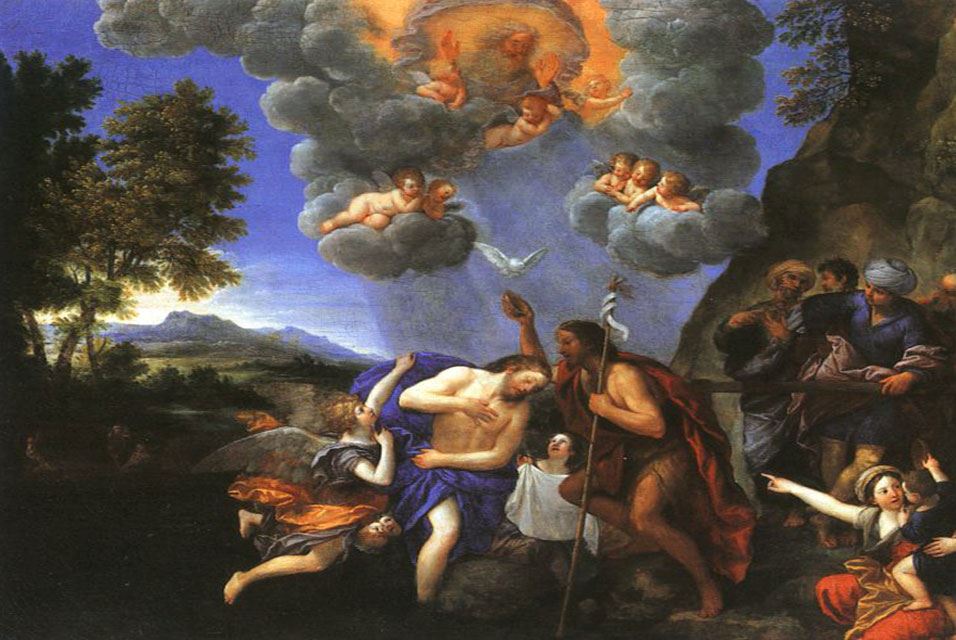 August 17, 1578. Francesco Albani or Albano (17 March or 17 August 1578 - 4 October 1660) was an Italian Baroque painter. Albani never acquired the monumentality or tenebrism that was quaking the contemporary world of painters, and in fact, is derided often for his lyric, cherubim-filled sweetness, which often has not yet shaken the mannerist elegance. While Albani's thematic would have appealed to Poussin, he lacked the Frenchman's muscular drama. His style sometimes appears to befit the decorative Rococo more than of his time. In this image: Baptism of Christ ca 1640 (State Hermitage Museum, St. Petersburg.
---

Museums, Exhibits, Artists, Milestones, Digital Art, Architecture, Photography,
Photographers, Special Photos, Special Reports, Featured Stories, Auctions, Art Fairs,
Anecdotes, Art Quiz, Education, Mythology, 3D Images, Last Week,
.
Royalville Communications, Inc
produces: