Sheldon Museum of Art presents a conversation with Tiffany Chung and Tyler Green
Tiffany Chung's "in between foraging sites, first raindrops and the Big .50," which comprises 1,000 glass bison, is on view at Sheldon Museum of Art through December 31.
LINCOLN, NEB
.-
Multimedia artist Tiffany Chung will be interviewed by Tyler Green, host of "The Modern Art Notes Podcast," at
Sheldon Museum of Art
on September 25 at 5:30 p.m. This live taping of the podcast is free and open to the public. Chung is one of three artists featured in the Sheldon exhibition "Unquiet Harmony: The Subject of Displacement." She is noted for her cartographic drawings, sculptures, videos, photographs, and theater performances that examine migration, urban progress, and environmental impact in relation to history and cultural memory. As an artist who is active internationally, she presented "Tiffany Chung: Vietnam, Past Is Prologue," a major solo exhibition this year at the Smithsonian American Art Museum, and "Tiffany Chung: passage of time" is currently on view at Tyler Rollins Fine Art, New York. ...
More
The Best Photos of the Day
Sanyu's final masterpiece leads Sotheby's HK Modern Art Evening sale
Anthony Bourdain property heads to Lark Mason Associates for online auction
Works by the Chicago Imagists to be offered in Hindman's Post War and Contemporary Art Auction


Sanyu, Nu, oil on masonite, 1965, 122.5 by 135 cm. Courtesy Sotheby's.



HONG KONG.- Sotheby's Hong Kong will present Sanyu's Nu, the ultimate masterpiece created by the Chinese émigré artist in France in the 1960s, at the Modern Art Evening Sale on 5 October. Painted at the height of his artistic maturity, this last nude by Sanyu is also the artist's final masterpiece and the definitive expression of his singular vision. Extensively illustrated in every catalogue of Sanyu's oil paintings, Nu was the cover image of the invitation to the artist's final solo exhibition. Appearing on the market for the first time in more than half a century, this exceedingly rare work is set to cause tremendous excitement among collectors in Asia and beyond. Vinci Chang, Sotheby's Head of Modern Asian Art, comments: "Sanyu's paintings began with floral motifs and culminated with female nudes. Throughout his life, the artist strove to distil his creative vision, a process that ... More



The auction showcases 215 lots that Anthony Bourdain personally acquired during his life.



NEW BRAUNFELS, TX.- Lark Mason Associates is pleased to present "Property From the Collection of Anthony Bourdain," a one-of-a-kind auction that will open for bidding online at www.igavelauctions.com starting October 9 and running through October 30. The auction showcases 215 lots that Anthony Bourdain personally acquired during his life and it includes some of his most valued possessions: artwork, books, home and decorative furnishings, knives, wristwatches, apparel and more. A significant portion of the proceeds will benefit the Anthony Bourdain Legacy Scholarship at his alma mater, The Culinary Institute of America. The scholarship was established -in the spirit of Bourdain himself- to support CIA students pursuing a semester abroad or taking part in one of the college's global cuisines and cultures international programs. The ... More



Jim Nutt's Plume from 1989 is estimated at $200,000-400,000.



CHICAGO, IL.- Hindman's Post War and Contemporary Art Auction on September 26 at 10 a.m. will feature an extraordinary selection of rare and outstanding paintings by the Hairy Who? and the Chicago Imagists. Included in this premier presentation are superb examples by Art Green, Gladys Nilsson, Jim Nutt, Ed Paschke and Karl Wirsum. Their work was known for grotesquerie, surrealism and complete separation from the art scene in New York art or world trends. Jim Nutt's Plume from 1989 is estimated at $200,000-400,000 and offers a unique opportunity for collectors to acquire an early work from his period of portraits that emerged as his preferred painting product in the 90s and has held a continued place in his practice. These stylized and detailed, fantastically imagined women were influenced by the formal constructs of Renaissance portraiture, balancing ... More
Eli Wilner announces solo painting exhibition at LaMantia Gallery
Ric Ocasek, visionary frontman of The Cars, dead at 75
Exhibition explores the vessel form and its possibilities


Eli Wilner, "Hibiscus", 2019, acrylic on board, 20 x 16 inches. Image courtesy of the artist.



NORTHPORT, NY.- Eli Wilner's exquisite paintings will be on exhibition and available for acquisition in a limited engagement presentation at LaMantia Gallery, Long Island's premier fine art gallery. In his current exhibit "Montauk Moments", artist Eli Wilner captures the essence of Montauk in a series of landscape, nautical and floral paintings. Wilner, a long-time resident of Montauk said, "I feel wonderful when I see the beauty of Montauk.  I feel even better when I paint it. Art is my refuge…and the why is complicated: my art and its color allow me to gesture, to connect, and it's quite obvious I have no choice but to create". Two limited engagement, not-to-be-missed Gallery receptions with the Artist for the public have been announced: Friday, October 25​th​ from 6:00-8:00pm and Saturday, October 26​th​ from 4:00-7:00pm. A portion of all proceeds from this presentation will be donated to Gift of Life, a ... More



Ric Ocasek, frontman and lead singer of New Wave innovators The Cars, was found dead on September 15, 2019, police said. Under Ocasek's leadership, The Cars brought quirky electronic effects of New Wave to classically structured pop songs, generating a string of hits such as "You Might Think," "Shake It Up," and "Drive" in the 1980s. Frazer Harrison / GETTY IMAGES NORTH AMERICA / AFP.



NEW YORK (AFP).- The late Cars frontman Ric Ocasek died of heart disease, New York medical examiners said Monday. Pulmonary emphysema was a contributing condition to the death resulting from hypertensive and atherosclerotic cardiovascular disease, health officials said. Police pronounced the visionary singer and rhythm guitarist dead at 75 years old on Sunday in his Manhattan townhouse. Under the leadership of the lanky Ocasek, known for his dark mop of hair and rock-star sunglasses, The Cars brought the quirky electronic effects of new wave to classically structured, synthesizer-heavy pop songs, generating a string of hits such ... More



Lily Fein, Untitled #1, porcelain with Oxide Glaze, 16.75 x 8.5 x 8.5 in.



CONCORD, MASS.- Lacoste Keane Gallery is presenting: The Vessel Re-Imagined from September 7 –28, 2019, an exhibition exploring the vessel form and its possibilities. Guest curator Brooks Oliver brings together a group of young artists working in the medium of ceramics, whose practice centers around interesting and exciting interpretations of the vessel, a fundamental and important form connected to human civilization. Brooks Oliver obtained his MFA from Penn State and is a ceramics educator at the University of North Texas. He endeavors to "reimagine and reinterpret the familiar functional vessel". In doing so, he challenges the viewers to examine the grey areas in art and craft, form and function and mass production versus handmade. On the surface his works are sleek and industrial, but closer examination reveals the maker's marks such as seams that have not been sanded smoothly or glaze ... More
Exhibition of works by Prune Nourry takes over Galerie Templon's space on Rue Grenier Saint Lazare
Daniel Steegmann Mangrané's first solo exhibition in Italy opens at Pirelli HangarBicocca
Christie's to offer the Collection of Richard L. Weisman


Catharsis, 2019. Bronze, incense (inox) 16 7/8 x 13 3/8 x 9 7/8 in.) Edition of 5 + 2 A.Ps. Photo: B. Huet/Tutti. Courtesy Templon, Paris & Brussels, © Prune Nourry



PARIS.- Following on from her success at Musée Guimet in 2017, Prune Nourry is taking possession of the Galerie Templon space on Rue Grenier Saint Lazare for the first time with Catharsis . The solo show is made up of a series of new sculptures interacting with extracts from her first feature-length documentary, Serendipity. The Catharsis exhibition marks a turning point in the artist's creative process. For over twelve years, Prune Nourry has been developing powerful and thoughtful multidisciplinary work, exploring the body by questioning gender and hybridisation. She has tended to keep her subject at a distance, remaining as objective as a researcher or anthropologist. Having recently overcome breast cancer, over the course of her treatment the artist felt she was becoming the subject of her own work, a sculpture in the hands of the doctors. With Catharsis , armed with her sculptor's tools, Prune ... More



Daniel Steegmann Mangrané, Naranja deprimida, 2003. Dehidrated orange Ø 9 cm. Courtesy the artist Photo: Teresa Estrada.



MILAN.- Pirelli HangarBicocca presents Daniel Steegmann Mangrané's first solo exhibition in Italy from September 12, 2019 to January 19, 2020. Over twenty works, produced from 1998 to today, engage visitors in an artistic investigation on the theme of ecological complexity and on the dialectic between man and nature. Daniel Steegmann Mangrané (b. 1977, Barcelona; based in Rio de Janeiro since 2004) works with organic elements and technology and creates artworks through a variety of media—drawing, installation, photography, sculpture, film, video, holograms and virtual reality—often tracing the boundary between nature and artifice, where the separation between subject and object disappears and the collective experience is radically transformed. At the same time, intrigued by the richly biodiverse Brazilian rainforest, Steegmann Mangrané offers a reflection on the fragility and ... More



Andy Warhol, Chris Evert (tennis, estimate: $250,000 – 350,000). © Christie's Images Ltd 2019.



NEW YORK, NY.- Christie's will offer The Collection of Richard L. Weisman, an outstanding selection of paintings, drawings, works on paper and sculpture assembled by the passionate and prolific collector throughout his lifetime. The collection, an eclectic blend of works that will be offered through Christie's major sales in New York this fall in the categories of Post-War & Contemporary Art, American Art, and Latin American Art, as well as an online-only sale of Picasso Ceramics. Additional sales in 2020 will offer works in the categories of Modern British Art and Photographs. Featuring important images of American icons and iconography by some of the 20th century's greatest Pop artists, the Collection includes seminal works by Andy Warhol, James Rosenquist, and Peter Beard who all became friends of the colorful collector. Additional works by Norman Rockwell, Tom Wesselmann, Alberto Giacometti, and Roy Lichtenstein highlight Weism ... More
Solo exhibition of new paintings by Loie Hollowell opens at Pace Gallery
Forty objects head off on loan to five regions for year three of V&A's DesignLab Nation
Contemporary drawings to tour UK in first-time co-curated exhibition


Loie Hollowell, Birthing Dance, 2018. Oil paint, acrylic medium, sawdust and high density foam on linen mounted on panel, 72" × 54" × 3-1/2" (182.9 cm × 137.2 cm × 8.9 cm) No. 70761 © Loie Hollowell, courtesy Pace Gallery.



NEW YORK, NY.- Pace Gallery inaugurated its global headquarters with a solo exhibition of new paintings by Loie Hollowell. Marking Hollowell's debut exhibition with Pace in New York, Plumb Line features nine large‑scale paintings that expand upon the artist's dynamic use of dimensionality, color and geometric shapes. Abstracting the human figure, Hollowell's work explores the dualities of light, volume and scale, blurring the lines between the illusory and the real. In particular, this new body of work explores Hollowell's relationship to different stages of her pregnancy from conception, to birth, to motherhood. Nonetheless, subject matter in Hollowell's work often emerges through phenomenological encounter rather than narrative content, tapping the depth of the artist's embodied experience. In Hollowell's words: ... More



Set of Plates, Porcelain, designed by Piero Fornassetti and transfer-printed in black enamel onto blanks made by Eschenbach, Selb, Germany.



LONDON.- Forty objects including Bradley Wiggins' bicycle handlebars, William Morris designed wallpaper, Japanese ceramics by Yukie Osumi and a 'Super Lamp' by Martine Bedin will go on display at museums and galleries across the country this month, in the latest phase of the V&A's flagship education programme DesignLab Nation. Bringing together secondary schools, local industry and regional museums to bolster the teaching of Art, Design and Technology (D&T), the programme will expand into new towns and cities across the country in 2020, including Doncaster, Ipswich and Blackpool. Six prints by British textile designer William Morris are now on display at Blackburn Museum and Art Gallery. The stories behind how and why these six prints were made will offer students insight into the Arts & Crafts movement against the backdrop of Blackburn's world-famous manufacturing heritage. A ... More



Hew Locke (b. 1959), Sovereign 3, 2005, watercolour. © The Trustees of the British Museum Reproduced by permission of the artist.



LONDON.- For the first time, the British Museum has co-curated an exhibition with partner museums from around the UK to display and then tour contemporary artworks from its Prints and Drawings collection. Pushing paper: contemporary drawing from 1970 to now illustrates how artists experiment with the power of paper to express their ideas, pushing the medium in new directions. It highlights the breadth and quality of the Museum's collection of modern art, as well as its global scope. The exhibition of 56 works showcases the astonishing diversity of contemporary drawing over the last fifty years, with graphic work by artists such as David Hockney, Rachel Whiteread, Sol LeWitt, Anish Kapoor, Tracey Emin and Grayson Perry, as well as exciting works by emerging artists like Hamid Sulaiman and Rachel Duckhouse. Many of these pieces are on public display for the first time, including work by Gwen Hardie, Jonathan ... More
Quote
Bernini's design for the Louvre I would have given my skin for. Sir Cristopher Wren
---
Eli Wilner Painting - Montauk Moments
---
Flashback
On a day like today, Indian painter M. F. Husain was born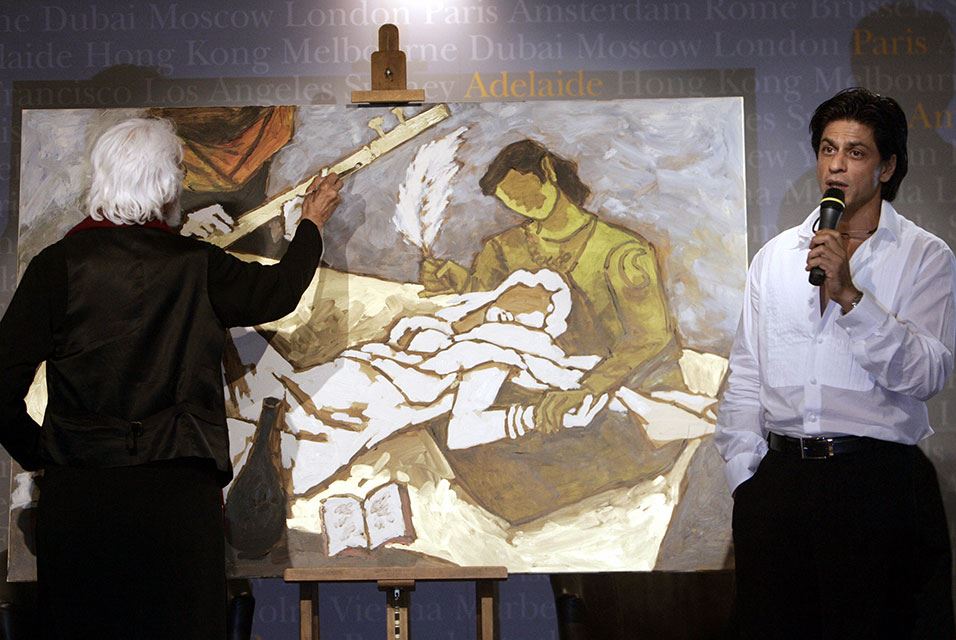 September 17, 1915. Maqbool Fida Husain (17 September 1915 - 9 June 2011) commonly known as MF Husain, was an Indian painter. Husain was associated with Indian modernism in the 1940s. A dashing, highly eccentric figure who dressed in impeccably tailored suits, he went barefoot and brandished an extra-long paintbrush as a slim cane. He never maintained a studio but he spread his canvases out on the floor of whatever hotel room he happened to be staying in and paying for damages when he checked out. In this image: M.F. Husain, India's most famous artist finishes off a canvas he painted together with Shah Rukh Khan, right, one of India's biggest movie stars, during a fund-raising auction in a central London's auction house, Thursday June 7, 2007. The pair, two of India's biggest cultural brands, painted the piece, that was to be sold in the auction along with other works by both established Indian masters and a newer generation of artists.
---

Museums, Exhibits, Artists, Milestones, Digital Art, Architecture, Photography,
Photographers, Special Photos, Special Reports, Featured Stories, Auctions, Art Fairs,
Anecdotes, Art Quiz, Education, Mythology, 3D Images, Last Week,
.
Royalville Communications, Inc
produces: