Egypt opens two ancient pyramids, unveils new finds
A man brushes off dust from a sarcophagus, part of a new discovery carried out almost 300 meters south of King Amenemhat II's pyramid at Dahshur necropolis, exposed near the Bent Pyramid, about 40km (25 miles) south of the Egyptian capital Cairo, during an inaugural ceremony of the pyramid and its satellites, on July 13, 2019. An Egyptian archaeological mission discovered a collection of stone, clay and wooden sarcophagi, of which some are still containing well preserved mummies, as well as a collection of wooden funerary masks and instruments used in cutting stones. Mohamed el-Shahed / AFP.
DAHSHUR
(AFP)
.-
Egypt on Saturday opened two ancient pyramids south of the capital Cairo and unveiled a collection of newly found sarcophagi, some containing well-preserved mummies. Antiquities Minister Khaled al-Anani told reporters the Bent Pyramid of King Sneferu, the first pharaoh of Egypt's 4th dynasty, and a nearby pyramid would be reopened to visitors for the first time since 1965. He also said a team of archaeologists had uncovered sarcophagi and the remains of an ancient wall dating back to the Middle Kingdom some 4,000 years ago. The finds were made during excavation work in the royal necropolis of Dahshur on the west bank of the Nile River, in an area home to some of Egypt's oldest pyramids.
"Several stone, clay and wooden sarcophagi were found and some contain mummies in good condition," the antiquities ministry said in a statement. The ancient wall stretches some 60 metres and is situated south of the pyramid of 12th dynasty pharaoh King Amenemhat II, ...
More
The Best Photos of the Day
Lost in Time Like Tears in Rain: A new collection display on view now at the Fondation Beyeler
Exhibition marks the 300th anniversary of the death of one of the world's most famous organ builders
Art patron Heidi Horten to become museum founder


Roy Lichtenstein, Girl with Tear III, 1977; oil and Magna on canvas, 117.0 x 101.5 cm; Fondation Beyeler, Riehen/Basel, Beyeler Collection; © Estate of Roy Lichtenstein / 2019, ProLitteris, Zurich / Photo: Robert Bayer.



BASEL.- The new presentation of works from the collection at the Fondation Beyeler goes in search of lost time. Conceived as an invitation to wander through the gardens of modern art history, it ends with contemporary art, where it ties in with the museum's summer show devoted to Rudolf Stingel, in whose work memories and the traces of time also play a key role. Visitors will find celebrated masterpieces, seldom exhibited rare pieces, newly conceived artist's rooms, unexpected encounters between art works, valuable loans from the Daros Collection and other private collections as well as new acquisitions presented here for the first time. Unexpected displays question and challenge our viewing habits. Curated by Director Sam Keller, the collection display extends over half the museum space and comprises around a hundred paintings, sculptures, ... More



Johannes Rusch / Hermann Seyffarth (1846–1933), organ positive, 1777/1898, on loan from the Musikinstrumentenmuseum der Universität Leipzig, © Musikinstrumentenmuseum der Universität Leipzig, photo: Christina Körte.



HAMBURG.- With over 300 organs, Hamburg is home to a unique and widely varied organ landscape. In addition to those in the city's churches, there are numerous other instruments located in schools, in the Elbphilharmonie, in the studio of the NDR public broadcasting station, in the State Opera House, at the University and even in the prisons. To mark the 300th anniversary of the death of Arp Schnitger (1648–1719), one of the world's most famous organ builders, the city of Hamburg has declared 2019 the Year of the Organ, with the motto 'Hamburg Pulls Out All the Stops'. Concerts and events through-out the city, along with a major exhibition at the Museum für Kunst und Gewerbe Hamburg, are arousing public curiosity about this impressive instrument and its history. The exhibition Manufacturing Sound. 2000 Years of Organ Building and Organ Playing invites ... More



Collector Heidi Goëss-Horten, 2018, Courtesy Heidi Horten Collection, © Andreas Tischler.



VIENNA.- "WOW!" – the well-received exhibition held in 2018 at Vienna's Leopold Museum – revealed for the first time to the wider public a comprehensive but relatively little-known private collection. Its instigator, Austrian art collector Heidi Goëss-Horten, now has another surprise up her sleeve: the collector has acquired the Stöcklgebäude (annex building) of the Hanuschhof in the heart of Vienna's city center for the purpose of making her spectacular art collection permanently accessible. In choosing Vienna to house the collection, Heidi Goëss-Horton has returned to her roots. The timeline for the opening of the new private museum will be challenging. Boasting 2,000 square meters, two floors, and the inner courtyard, the museum will feature changing exhibitions from the collection's highlights. Later this fall, three select architectural firms will submit proposals for the renovation, which will commence immediately once the chosen project has been confirmed. The op ... More
Anton Kern Gallery announced the passing of Eberhard Havekost
Greene Naftali now represents Cory Arcangel and Andy Robert
How Attenborough nature docs inspired new 'Lion King'


Eberhard Havekost, Twi Light, B12, 2012, Öl auf Leinwand, 180 x 120 cm. Courtesy E, Eberhard Havekost, White Cube. London und Galerie Gebr. Lehmann Dresden/Berlin. Foto: Werner Lieberknecht, Dresden.



NEW YORK, NY.- Anton Kern Gallery announced the passing of their dear friend and artist, Eberhard Havekost. Anton first saw Havekost's work in 1997 in Dresden, and subsequently gave him his first solo exhibition in New York in 1998. He had eight solo exhibitions at the gallery, and was an integral and beloved part of their community. He will be sorely missed by all of us. Havekost described painting as a hybrid form, defining it as an additive process in contrast to photography's cut-out frame. He understood painting as an "offer of rhythm" in which the dissolution of the rhythmic structure itself is revealed: "Painting engenders rhythm through its self-referentiality. It introduces an abstraction, namely a reduction in favor of the total picture. In painting, ... More



Cory Arcangel, Blackberry / Lakes, 2013.



NEW YORK, NY.- Greene Naftali announced the addition of two new artists to its program this summer: mid-career multimedia artist Cory Arcangel (b. 1978) and emerging painter Andy Robert (b. 1984). Cory Arcangel's practice traffics in the vernacular of the internet and digital technology, mingling various eras of the relatively new fields in a demonstration of how quickly they become obsolete. Repurposing hacking as an artistic practice, Arcangel's interventions in existing and outmoded technologies highlight aesthetic anachronisms, alternately triggering nostalgia and repelling retrained sensibilities. Often using the structure and vocabulary of technological systems as material—a conceptual approach which connects him to the legacy of experimental media in his native Buffalo, established by artists like Tony Conrad and Paul Sharits—Arcangel's body of work reflects the increasing entanglement of digital ... More



British actor Nathalie Emmanuel poses on the red carpet upon arriving for the European premiere of the film The Lion King in London on July 14, 2019. Tolga AKMEN / AFP.



LOS ANGELES (AFP).- Disney's new 3D "Lion King" was inspired by the majestic scope of David Attenborough's natural world documentaries -- although the talking animals did cause some problem, its creators have revealed. The film tells the classic tale of young lion cub Simba seeking to avenge his father Mufasa's death and save his kingdom, rendered in photo-realistic visuals using cutting-edge effects. From the very opening scene, the remake -- which emulates the 1994 original's "Circle of Life" theme -- treats viewers to breathtaking "shots" of antelopes, zebras and wildebeest galloping across the African savannah. Its producers took safari tours of real-life locations from Kenya's huge Masai Mara reserve to the desert sand dunes of Namibia for inspiration, before ... More
MAMbo - Museo d'Arte Moderna di Bologna opens Julian Charrière's first personal exhibition in Italy
New website gives access to more than 2,600 of Frances Hodgkins' artworks, letters and related photographs
Seattle Art Museum opens solo show of visual activist Zanele Muholi


Julian Charrière. All We Ever Wanted Was Everything and Everywhere, installation view. MAMbo – Museo d'Arte Moderna di Bologna.



BOLOGNA.- From 9 June to 8 September 2019, MAMbo – Museo d'Arte Moderna di Bologna is presenting All We Ever Wanted Was Everything and Everywhere, the first personal exhibition in Italy of Julian Charrière (b. Morges, Switzerland, 1987) whose work bridges the realms of environmental science and cultural history. All We Ever Wanted Was Everything and Everywhere, curated by Lorenzo Balbi, in the Hall Sala delle Ciminiere includes a wide selection of works such as photographs, installations, sculptures and videos, touching upon the history of science, the development of media culture, the romantic vision of exploration and the modern ecological crisis. Backing his long-term interest in the unseen processes behind the production of knowledge and the different methods that lead to a discovery, Charrière tries to ... More



Frances Hodgkins; 1925.



AUCKLAND.- The Complete Frances Hodgkins, an innovative and highly searchable online catalogue of the work of New Zealand's leading expatriate modernist artist, is now online at www.completefranceshodgkins.com. Produced by Auckland Art Gallery Toi o Tāmaki, the new website documents all known artworks by Hodgkins, with more than 1,200 paintings, watercolours and drawings, as well as photographs, letters and other ephemera. The Complete Frances Hodgkins also includes details of exhibition and publication references of many individual artworks. Auckland Art Gallery Director Kirsten Paisley says: 'Frances Hodgkins is one of New Zealand's most important and influential artists. This year is the 150th anniversary of Hodgkins' birth, and we are excited to be marking this anniversary – and celebrating her life and work – with the launch of this significant resource.' 'It is important that th ... More



Ntozakhe II, Parktown, 2016 © Zanele Muholi. Courtesy of Stevenson, Cape Town/Johannesburg and Yancey Richardson, New York.



SEATTLE, WA.- The Seattle Art Museum presents Zanele Muholi: Somnyama Ngonyama, Hail the Dark Lioness (July 10–November 8, 2019), featuring photographs and large-scale photographic wallpapers from the South African visual activist's ongoing self-portrait series. Organized by Autograph, London and curated by Renée Mussai, this international touring exhibition confronts the complex global politics of race, gender, and representation. "I'm reclaiming my blackness, which I feel is continuously performed by the privileged 'other,'" says Muholi. "My reality is that I do not mimic being black; it is my skin, and the experience of being black is deeply entrenched in me. Just like our ancestors, we live as black people 365 days a year, and we should speak without fear." From 2014–17, Muholi traveled around the world ... More
'Eileen Hogan: Personal Geographies' reveals the beauty behind garden fates
Timothy Taylor to represent Annie Morris in London and New York
Petzel Gallery presents a a para fictional exhibition prduced by Dana Hoey


Eileen Hogan, Ian Hamilton Finlay, 2012, oil, wax, and charcoal on paper, mounted on board, Yale Center for British Art, acquired with funds from the Bequest of Daniel S. Kalk.



NEW HAVEN, CONN.- The Yale Center for British Art is presenting the work of English artist Eileen Hogan (b. 1946). A figurative painter focusing on portraiture and depictions of gardens, Hogan is known for her deft rendering of light in natural settings and for poetic depictions of her sitters. Her work often invokes the passing of time and memory. Eileen Hogan: Personal Geographies juxtaposes the artist's preparatory works with complete paintings in oil, wax, and charcoal to convey a sense of her creative process. The exhibition includes 70 paintings, 20 sketchbooks, and a dozen artist books, many of which are on view for the first time in North America, on loan from private and public collections in the United Kingdom. Hogan resides in London, and in recent years, her practice has been inspired by both public gardens and more ... More



Morris's first show with Timothy Taylor, New York in the fall will feature her monumental Stack sculptures, new tapestries, and works on paper.



NEW YORK, NY.- Timothy Taylor announced the representation of British artist Annie Morris. The gallery will present Morris's first solo exhibition at Timothy Taylor, New York this September. "We are delighted to be working with Annie Morris. I have been following her rise to international recognition for many years. Her critical engagement with art history is evident in her practice, which is at once both deeply personal and formally unique in her application and use of materials. Annie is a natural fit with the gallery's programme—in her work, I see both Antoni Tàpies's engagement with surface and Kiki Smith's reckoning with nature and spirituality. We are thrilled to be able to share her newest body of work in her upcoming solo exhibition with us in New York this fall, and look forward to showing her at our new space in London in the future." - Tim Taylor, June 2019. The London-based artist was ... More



Dana Hoey, Rob Mauceri, 2019. Archival inkjet on Epson Hot Press Bright Archival Inkjet Paper, 32.25 x 24.75 inches.



NEW YORK, NY.- Petzel Gallery is showing Dana Hoey Presents, a para fictional exhibition conceptualized, produced and directed by Hoey, in which the artist shows her own photographic work, the performance and sculpture work of Marcela Torres, and a live ladies Muay Thai fight night that will take place in a 20' x 20' boxing ring installed inside the gallery. The show, which challenges and confronts preconceived ideas and realities of feminism, combat, violence, self defense and the martial arts, is on view from June 27 until August 2 at the gallery's Chelsea location. "During the run of Dana Hoey Presents, my role will be that of Svengali," Hoey says. "Although I make work as a single subjective, expressive artist, I prefer to emphasize my position as a participant in a larger social construct." For her own work, Hoey presents Ghost Stories, highly subjective, ... More
Quote
With an apple I can astonish Paris. Paul Cézanne
---
A new MoMA: Our Collection
---
Flashback
On a day like today, Dutch painter and etcher Rembrandt was born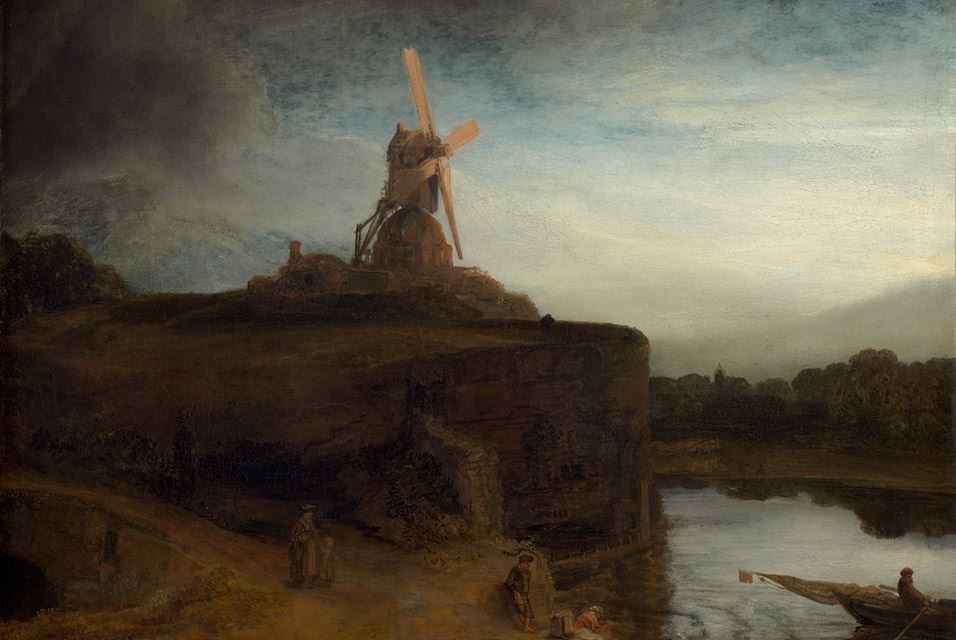 July 15, 1606. Rembrandt Harmenszoon van Rijn (15 July 1606 - 4 October 1669) was a Dutch draughtsman, painter, and printmaker. An innovative and prolific master in three media, he is generally considered one of the greatest visual artists in the history of art and the most important in Dutch art history. In this image: Rembrandt van Rijn (1606-69), The Mill, 1645/1648 (detail). Oil on canvas, 87.6 x 105.6 cm. Collection: National Gallery of Art, Washington, USA. Widener Collection.
---

Museums, Exhibits, Artists, Milestones, Digital Art, Architecture, Photography,
Photographers, Special Photos, Special Reports, Featured Stories, Auctions, Art Fairs,
Anecdotes, Art Quiz, Education, Mythology, 3D Images, Last Week,
.
Royalville Communications, Inc
produces: