Greece seeking Parthenon sculpture loan from Louvre: official
The sun sets behind the Pyramid of The Louvre Museum (Pyramide du Louvre) in Paris on July 3, 2019. Ludovic MARIN / AFP.
ATHENS
(AFP)
.-
Greece has asked France to loan a Parthenon marble frieze fragment displayed at Paris's Louvre Museum to mark its 200th independence anniversary in 2021, an official said Saturday. "There has been a proposal by the Greek side and it is been evaluated in a positive manner," a government source told AFP. "The details will be worked out by the respective culture ministries. This is a temporary exchange," the official added. State agency ANA on Friday said the issue had been discussed during talks between Greek Prime Minister Kyriakos Mitsotakis and French President Emmanuel Macron in Paris this week. The 5th-century BC frieze depicts a scene from a mythical battle between Centaurs -- mythological creatures with the upper body of a human and the lower body and legs of a horse -- and men. In return, Greece will loan the Louvre a collection of ancient bronze artifacts, ANA said. According to the Louvre, the frieze was found at the foot of the Parthenon in ...
More
The Best Photos of the Day
Taschen celebrates 20 years of Helmut Newton's SUMO
Sotheby's Paris announces 'Le Soleil de Nuit: Pre-Columbian Treasures from an Important French Collection'
Algeria's culture minister resigns after deadly concert stampede


Helmut Newton. SUMO. 20th Anniversary © The Helmut Newton Estate / Maconochie Photography.



NEW YORK, NY.- Helmut Newton (1920–2004) always showed a healthy disdain for the easy or predictable, so it's no surprise that the SUMO was an irresistible project. The idea of a book the size of a private exhibition, with spectacular images reproduced to state-of-the-art origination and printing standards, emerged from an open, experimental dialogue between photographer and publisher. With the SUMO weighing in—boxed and shrink-wrapped—at 35.4 kg (just under 80 pounds), Newton created a landmark book that stood head and shoulders above anything previously attempted, both in terms of conceptual extravagance and technical specifications. Published in an edition of 10,000 signed and numbered copies, the SUMO sold out soon after publication and quickly multiplied its value. It now features in numerous collections around the world, including New York's Museum of Modern Art. The legendary copy number one, signed by more than 100 ... More



Teotihuacan stone mask, Classic, A.D. 450-650. J.-C., estimate: €125,000 – 175,000. Courtesy Sotheby's.



PARIS.- Sotheby's Paris will present the auction Le Soleil de Nuit, Trésors Précolombiens d'une Grande collection Francaise, on October 30. The collection is from the estate of a lifelong collector whose well tuned eye assembled art of many eras and styles, from masterpieces of 17th and 18th decorative arts, natural history, to 20th design and modern art. The 75 works of Pre-Columbian fit comfortably in his domain, reflecting his passion for quality, beauty and the soulful element of fine objects. The collection is distinguished by a group of four Teotihuacan stone masks, in both luminous tecali, (the Mexican alabaster), and dark greenstone and serpentine, each visage conveying an individual element within the corpus of these idealized faces. Two of the masks were formerly in private American collections of the 1950's and 1960's, and exhibited at the Art Institute of Chicago (estimates: €125,000 – 175,000 and ... More



A picture shows on August 23, 2019, Algiers' August-20 Stadium where five young people were killed and dozens more injured in a stampede at a packed rap concert the previous night. RYAD KRAMDI / AFP.



ALGIERS.- Algeria's Culture Minister Meriem Merdaci resigned Saturday, following the deaths of five young music fans in a stampede at a packed concert by rapper Soolking in the capital, the president's office announced. It said Merdaci handed her resignation to interim president Abdelkader Bensalah "who accepted it". On Friday, prime minister Noureddine Bedoui fired the head of ONDA (the National Office of Copyright and Neighbouring Rights), the public authority in charge of organising concerts. An investigation has been opened amid charges on social media of security failings. Thursday night's stampede that killed five people aged between 13 and 22 came as fans thronged an entrance of the August-20 Stadium in Algiers where France-based Soolking was performing. The president's office later Saturday also announced ... More
Otto Penzler's Mystery Fiction among top offerings in Heritage Auctions' Rare Books Auction
Christie's Interiors Sale totals $2,331,375
Sotheby's Hong Kong to offer the distinguished cellar of a pioneering collector


One of the top lots from Penzler's collection is Graham Greene. Brighton Rock London: William Heinemann Ltd, 1938 (estimate: $40,000).



DALLAS, TX.- A group of 481 rare book lots from the personal collection of a giant in the New York literary community are expected to be among the top draws in Heritage Auctions' Rare Books Auction Featuring the Otto Penzler Collection of Mystery Fiction Part II Sept. 5 in New York City. The collection belongs to Otto Penzler, who has spent most of his life collecting prized first editions and opened the Mysterious Bookshop in Midtown Manhattan in 1979; the store became a can't-miss destination for like-minded fiction fans and helped fuel Penzler's passion for acquiring literature. "Otto Penzler is an icon among American collectors of literature," Heritage Auctions Rare Books Director James Gannon said. "His collection is a combination of quantity and quality that few can match. A main focus of this group is English mystery ... More



A Victorian silver tête-a-tête service mark of Elkington & Co., Birmingham, 1879, which sold for $68,750 above a high estimate of $5,000. © Christie's Images Ltd 2019.



NEW YORK, NY.- Christie's August sale of Interiors totaled $2,331,375 with 89% sold by lot and 92% sold by value. The sale attracted a high volume of online bidding through Christie's LIVE, with 59% of all lots won or directly underbid by clients participating online. The sale saw global participation with registered bidders from 43 countries. The top lots of the sale were André Masson's Histoire de Thésée, which realized $125,000 against a high estimate of $7,000 and a Victorian silver tête-a-tête service mark of Elkington & Co., Birmingham, 1879, which sold for $68,750 above a high estimate of $5,000. Ahead of the sale Christie's collaborated with Alexandra O'Neill, designer of the ready-to-wear line Markarian, and CeCe Barfield Thompson principal of the interior design ... More



Domaine Leflaive Montrachet. Courtesy Sotheby's.



HONG KONG.- Sotheby's Hong Kong Autumn 2019 wine sale series is led by The Distinguished Cellar of A Pioneering Collector, a stunning single-owner sale that consists of over 1,100 lots estimated at HK$37-50 million / US$4.7-6.4 million. The collection is dominated by magnificent wines from Burgundy (460+ lots) and Bordeaux (410+ lots), including an exceptional selection of Domaine de la Romanée-Conti, Domaine Leflaive and the First Growths. The broad palate of the collection is enhanced by a superb array of wines from Rhône, Italy and the United States, including a vertical of Harlan Estate in magnums. This is a collection amassed by a true wine lover with diverse and immaculate tastes, built over four decades at the forefront of a pioneering era for wine collecting in Asia, when a vast amount of effort and research was made in order to acquire the world's finest wines. The majority of the wines were acquired on release ... More
Gammel Holtegaard's autumn exhibition invites you into the circus ring
Andréhn-Schiptjenko exhibits a series of three-dimensional objects as paintings by Jacob Dahlgren
A new permanent installation, Silent Studio, by Mark Manders opens at Kistefos


Tal R, 'Spotlight', (2009), ©Tal R, Courtesy Galleri Bo Bjerggaard. Photo: Jochen Littkemann.



HOLTE.- This autumn's exhibition at Gammel Holtegaard explores the central role of the circus in art history, from the period known as the modern breakthrough in Scandinavia to contemporary art today – from Toulouse-Lautrec to Tal R. Welcome to the circus! Gammel Holtegaard's autumn exhibition invites you into the circus ring with works by historical and contemporary artists from Denmark and abroad. With walls covered in red and white stripes the big top has taken over the galleries at Gammel Holtegaard. The stage is set with dramatic spotlights focusing on the spellbinding ups and downs of circus life. With CIRCUS Gammel Holtegaard sheds light on circus themes in art from the late 1800s to today. As a symbol of modernity and city life, the circus was a major source of inspiration for avant-garde artists in the early 20th century. Depictions of circus horses, clowns, acrobats ... More



Jacob Dahlgren, Not and Or 29, 2019. OSB board, Valchromat, laminated-board, plywood, chipboard, pinewood, oak and aluminium, 182 x 160 cm. 71 5/8 x 63 in. Courtesy Andréhn-Schiptjenko, Stockholm.



STOCKHOLM.- Andréhn-Schiptjenko has opened the Stockholm fall season with Not and Or, a solo-exhibition by Jacob Dahlgren. The exhibition runs through September 28. Not and Or is a series of three-dimensional objects as paintings, connecting Dahlgren's interest for the everyday with an eye for the possibilities of the discarded. Using left-overs from his studio practice, shipping material or simply found objects, he creates work that mimic classic form and even may appear familiar. This relationship with everyday life is one of the pillars of Dahlgren's practice. Dahlgren constantly seeks geometric and abstract patterns in the surrounding world and processes the mundane and quotidian into art. His own life is inseparable from his work in a tangible way, for his project Peinture Abstraite ... More



Silent Studio`by Mark Manders. Photo: Einar Aslaksen.



JEVNAKER.- 2019 is the most ambitious year in the history of Kistefos, with multiple new sculptures to be unveiled as well as the opening of the new museum building "The Twist" on the 18th of September. Mark Manders' Silent Studio is a great addition to the continuously expanding sculpture park at Kistefos. His works and installations are a permanent part of several international exhibitions and are displayed at several prestigious museums such as Guggenheim in New York and the Louvre in Paris. We see it as a vote of confidence as well as confirmation that Kistefos is in the same "league" as the major international institutions, says museum director Egil Eide. Situated inside an existing reconfigured historic structure, "Steinhuset", this site specific installation includes a range of new sculptures highlightening the artist´s ongoing uncanny investigation of scale, time and materials. The installatio ... More
Taxispalais transformed into a cinema consisting of four theaters soundproofed with natural substances
Exhibition of new ceramics and paintings by Jun Kaneko opens at Gerald Peters Projects
Lino Tagliapietra brings ambitious solo exhibition to San Francisco


Adam Curtis, The Use and Abuse of Vegetational Concepts (All Watched Over by Machines of Loving Grace, ep. 2), 2011. Exhibition view, Taxispalais Kunsthalle Tirol, 2019. 57:44 min. Photo: Günter Kresser.



INNSBRUCK.- In this moment of planetary crisis, how can we mobilize a joyful, responsive way of interacting with the planet? How can we engender non-anthropocentric ecologics where we no longer think in terms of personal rights or fair exchange but rather of mutual care and empathy, in order to contribute to the benefit of all beings? Would it be possible to move on (while at the same time going back) to concepts that might guide us to act kindly towards and in resonance with planetary needs? What if we were to think of ourselves as in a continuum with the non-human and non-animal, in an affirmative, perhaps even libidinal, relation? Could we free ourselves from the idea that we must renounce something and instead experience the pleasure of living in affinity with others – plants, animals and ... More



Jun Kaneko, Untitled, Dango, 2018. Hand built and glazed ceramics, 57.5 x 30 x 18 inches. Photo: Colin Conces.



SANTA FE, NM.- Gerald Peters Projects opened Jun Kaneko: An Abundance of Presence. Featuring new ceramics and paintings, the exhibition brings together over twenty pieces in the Omaha-based artist's largest show to date at the gallery. Kaneko revolutionized the medium of ceramics with his monumental dangos. Now, he continues to push the boundaries of the material – while honoring its history – with a new body of work featuring his distinctive raining blue indigo glaze. Developed over the last two decades, raining blue indigo glaze grew out Kaneko's 1996 residency at the European Ceramic Work Center in the Netherlands. There Kaneko had the opportunity to experiment with traditional blue porcelain glazes. First developed by the Chinese in the sixth and seventh centuries, the glazes reached the Netherlands via the maritime trade in the seventeenth ... More



Lino Tagliapietra, Dinosaur, 2019, Glass. Photo courtesy of Montague Gallery and the artist.



SAN FRANCISCO, CA.- Montague Gallery is presenting a selection of recent works by Lino Tagliapietra. The show is titled Radiance, based on the artist's engagement with color and his appreciation of the unique light of San Francisco. Widely considered the best glass artist in the world, this is Tagliapietra's second exhibition with the gallery and showcases 22 works made between 2017-2019. The exhibition opened on August 23 and runs through September 28, 2019. Tagliapietra states that he expresses himself through the use of color. "The color gives the impression of the spirit, how we work, how we are feeling," said Tagliapietra. He compares San Francisco to glass and believes its light and color are characteristic of the city. "San Francisco is like glass - it looks very strong, but there is a fragility too. To me, what is special about San Francisco is the light. There are very few places in the world that have this light ... More
Quote
Architecture completes nature. Giorgio de Chirico
---
Apollo 13's Intense Comms Blackout
---
Flashback
On a day like today, American artist Dorothea Tanning was born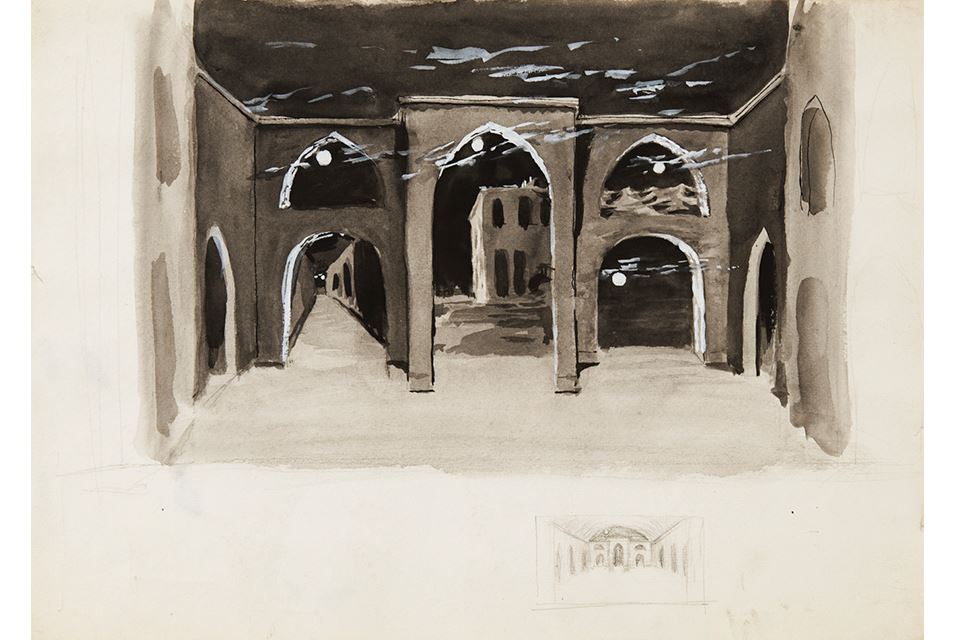 August 25, 1910. Dorothea Margaret Tanning (August 25, 1910 - January 31, 2012) was an American painter, printmaker, sculptor, writer, and poet. Her early work was influenced by Surrealism. In this image: Dorothea Tanning, Untitled (Set Design for The Night Shadow or an Unrealized Ballet), c. 1950. Graphite, ink, and gouache on paper, 25.4 x 35.6 cm, 10 x 14 ins © ADAGP. Courtesy of The Destina Foundation, New York, and Alison Jacques Gallery, London.
---

Museums, Exhibits, Artists, Milestones, Digital Art, Architecture, Photography,
Photographers, Special Photos, Special Reports, Featured Stories, Auctions, Art Fairs,
Anecdotes, Art Quiz, Education, Mythology, 3D Images, Last Week,
.
Royalville Communications, Inc
produces: