Paleontologists find a 231 million years old saber-toothed Triassic squirrel
"The new species has a very long, flat, and shallow snout, and its very long fangs located almost at the tip of the snout, so the resemblance [to Scrat] is tremendous".
BUENOS AIRES
(CTYS-UNLAM)
.-
Because of its tremendous resemblance, paleontologists thought of naming this new species in allusion to Scrat, the renowned squirrel-like character with saber teeth in the movie, Ice Age. Although they finally named it Pseudotherium argentinus, meaning, false Theria from Argentina. The entire skull is less than six centimeters in length and was found in Ischigualasto with two of the oldest dinosaurs known to date. Dr. Ricardo Martínez, a researcher at the Institute and Museum of Natural Sciences of the University of San Juan (IMCN), told the Agency CTyS-UNLaM: "The new species has a very long, flat, and shallow snout, and its very long fangs located almost at the tip of the snout, so the resemblance [to Scrat] is tremendous". The skull was surprisingly well preserved, so that, at first glance, the similarity was obvious. "At some point, I thought of calling it Scrat," said Martinez, who conducted a very thorough study of the skull of this mammaliamorph (mammal-relative) alon ...
More
The Best Photos of the Day
The work of fashion designer Cristobal Balenciaga on view at Bendigo Art Gallery
First U.S. exhibition of photographs from The Howard Greenberg Collection debut at the Museum of Fine Arts, Boston
Gianguan Auctions adds Chinese avant garde artists to paintings category


Wild silk evening dress, Cristobal Balenciaga, Paris, 1962. © Victoria and Albert Museum, London.



BENDIGO.- The work of fashion revolutionary Cristobal Balenciaga is on show at Bendigo Art Gallery. Cristobal Balenciaga's exquisite craftsmanship and pioneering use of fabrics revolutionised the female silhouette, setting the scene for modern design. His garments are characterised by their sculptural quality, deft manipulation of textiles and dramatic use of colour and texture. Revered by his contemporaries, including Christian Dior and Coco Chanel, he is referred to as 'The Master'. Balenciaga: shaping fashion, an exhibition organised by the Victoria and Albert Museum, London, explores the work and legacy of this renowned couturier, one of the most innovative and influential fashion designers of the 20th century. Highlights of this major international exhibition include garments crafted by Balenciaga from the 1950s and 1960s – arguably the most creative period ... More



André Kertész, Chez Mondrian, Paris, 1926. Photograph, gelatin silver print on carte postale. Museum of Fine Arts, Boston. The Howard Greenberg Collection—Museum purchase with funds donated by the Phillip Leonian and Edith Rosenbaum Leonian Charitable Trust © 2019 Estate of André Kertész/Higher Pictures. Courtesy, Museum of Fine Arts, Boston.



BOSTON, MASS.- Some of the most enduring and powerful photographs of the 20th century, from Edward Steichen's Gloria Swanson (1924) and André Kertész's Chez Mondrian, Paris (1926) to Dorothea Lange's Migrant Mother (1936) are on view together for the first time in the United States at the Museum of Fine Arts, Boston, in Viewpoints: Photographs from the Howard Greenberg Collection. Featuring 150 prints from the Howard Greenberg Collection of Photographs—446 works recently acquired by the MFA—this exhibition showcases the breadth of the collection. Included are defining images from the 20th century ... More



Wisteria and Birds" (2019) by He Shuanping (b. 1964).



NEW YORK, NY.- Gianguan Auctions announced a new specialty within its paintings category. In addition to works by ancient masters and 20th century modernists, the gallery will now regularly offer the works of early 21st century avant garde Chinese artists working in the traditional format. This move reflects the strength of the market in China for paintings by established contemporary artists. Gianguan's September 9th auction in New York City features seven works, leading with "Lotus" by Zhang Xiujen, and including pen-and-inks on paper by Chen Hong, He Shuanping, Hong Mingze, Li Zhitian, and Lu Hanging. Gianguan Auctions is the first independent auction house to make a commitment to presenting the category as an integral part of their platform. Zhang Xiujin, b. 1951, is the recipient of many accolades and awards for her ability to create a visual poem that speaks of subject matter and its harmony with the human spirit. ... More
Kunsthalle Helsinki opens the Finnish solo debut of Swiss artist Ugo Rondinone
Titanic explorer to search for Amelia Earhart's plane
Placido Domingo gets standing ovation in Salzburg despite sexual harassment claims


Ugo Rondinone, view of the installation vocabulary of solitude. Photo: Studio Rondinone.



HELSINKI.- Kunsthalle Helsinki opened its autumn season with everyone gets lighter, the Finnish solo debut of internationally acclaimed Swiss artist Ugo Rondinone (b. 1964). The exhibition is organized in conjunction with the Helsinki Festival. Ugo Rondinone works across a wide range of contemporary mediums including sculpture, painting, audio, video and photography. He combines conceptualism with elements of Pop Art, reflecting on everyday events that often convey a contemplative, existential dimension. Through seemingly mundane elements, he delves into profound conceptual depths of the psyche and emotion. He uses rainbows and other universal symbols in the belief that art should accessible to everyone regardless of their age or background. The centrepiece of the exuberantly coloured exhibition is vocabulary of solitude from 2014, a meditative installation of sculpted clowns in passive ... More



Earhart beneath the nose of her Lockheed Model 10-E Electra, March 1937, Oakland, California.



WASHINGTON (AFP).- Robert Ballard, the underwater explorer who found the Titanic, has a new quest -- searching for the plane of famed aviatrix Amelia Earhart, who disappeared over the Pacific in 1937. National Geographic said Ballard plans to leave from Samoa on August 7 to carry out the hunt with his state-of-the-art research vessel E/V Nautilus. National Geographic said it plans to film the expedition and air a documentary about it on its television channel on October 20. Earhart went missing while on a pioneering round-the-world flight with navigator Fred Noonan. Her disappearance is one of the most tantalizing mysteries in aviation lore, fascinating historians for decades and spawning books, movies and theories galore. The prevailing belief is that Earhart, 39, and Noonan, 44, ran out of fuel and ditched their twin-engine Lockheed Electra in the Pacific near remote Howland Island while on one of the final legs of their ... More



Spanish opera singer Placido Domingo (Center L), accused of sexual harassment, is seen on stage during the performance of "Luisa Miller" at the Salzburg Festival, on August 25 2019 in Salzburg. FRANZ NEUMAYR / APA / AFP.



SALZBURG (AFP).- Opera legend Placido Domingo on Sunday received a standing ovation at the Salzburg Festival, his first performance since he was accused of sexually harassing women. "Triumph in Salzburg, standing ovation for Domingo despite the Me Too affair," a headline in the regional daily Kleine Zeitung said, following his performance in the Giuseppe Verdi opera "Luisa Miller" at the annual music and drama festival in Austria. Eight singers and a dancer told the Associated Press earlier this month they were sexually harassed by the former member of the much lauded "Three Tenors", in incidents going back to the 1980s. In a report by the AP, several women, one of whom was identified, accused Domingo of using his position as one of opera's most celebrated singers to pressure ... More
Paul Holberton publishes 'Rembrandt's Mark' by Stephanie Buck & Jürgen Müller
Exhibition at Kunst Halle Sankt Gallen celebrates the 15th anniversary of the Helvetia Art Prize
When Bob was Bobby: memoir offers insider's look at enigmatic Dylan


The exhibition and catalogue cast a fresh light on this innovative 'artists' artist', who continues to inspire and engage artists and audiences three and a half centuries after his death.



LONDON.- 2019 marks the 350th anniversary of Rembrandt's death (1606–1669). The Dresden Kupferstich-Kabinett, which possesses one of the most important collections of Rembrandt's drawings and prints in the world, takes the occasion to celebrate Rembrandt as artist, printmaker and draughtsman. The exhibition and catalogue cast a fresh light on this innovative 'artists' artist', who continues to inspire and engage artists and audiences three and a half centuries after his death. The Dresden collection's singular group of Rembrandt works – about 20 drawings attributed to the master today and the nearly complete oeuvre of etchings– provides the basis for this remarkable publication. It has a particular focus on Rembrandt's narrative compositions, printed self-portraits, studies of his wife Saskia, and includes works from all periods ... More



Elisa Larvego, Untitled from the series Sculptures mobiles, Mexico-City, 2007. Courtesy: Helvetia Art Collection.



ST. GALLEN.- On the occasion of the 15th anniversary of the Helvetia Art Prize (formerly the Nationale Suisse Art Prize), the Kunst Halle Sankt Gallen is staging a group exhibition of Swiss artists in which prize winners from previous years play a leading role. Based on this important prize, the exhibition aims to highlight the role of art schools, juries, awards and exhibition venues in the development of a young artist's career. Despite the social acceptance of the choice of profession and, above all, the choice of life for art, this decision always remains a risk, both financially and artistically. Success is not guaranteed and a linear or plannable development is not possible. The group exhibition is intended to contribute to creating a picture of today's Swiss art scene. Of course, this picture can only be fragmentary. The heterogeneity of the artistic contributions, the networking exhibited and the interweaving between the ... More



Dylan & Me: 50 Years of Adventures.



NEW YORK (AFP).- From Bob Dylan's first hard-driving blues number at summer camp to the rollicking Rolling Thunder Revue concert tour, the legendary musician's childhood best friend had a front row seat to the action. Now Louie Kemp has released a backstage pass of sorts into the mythology of Dylan, in the form of a memoir released this week, dishing on everything from the folk hero's Passover Seder meal with Marlon Brando to his own food fight at a Chinese restaurant with Joan Baez. The duo first met in northern Wisconsin in 1953, when Dylan was still Bobby Zimmerman, 12 years old, his guitar already attached as if a limb. As rambunctious pre-teens at a Jewish camp in the northwoods of the Midwestern state -- Dylan grew up just over the border in the blue-collar mining town of Hibbing, Minnesota -- the friends got in their fair share of trouble, notably for a shaving cream prank on their peers that saw them steal a car. But despite his antics Dylan was confident in his fate: "He always told me and the ... More
Keyes Gallery opens solo exhibitions of works by Nathan Slate Joseph and Bert Stern
Little Anal Annie: Marc Jancou opens an exhibition of works by Steven Parrino
Exhibition at Rokeby Museum introduces contemporary art to the historic site


Twiggy (detail). Silkscreen, 1967 © The Bert Stern Trust.



SAG HARBOR, NY.- Nathan Slate Joseph, a New York based artist has been an integral member of the New York art scene for more than 50 years. Joseph blurs the boundaries between painting, color and sculpture. "I can't just paint color so it looks nice on the wall. Colors are nice. But how do you get colors to speak to you visually...The application of pure pigments..getting the quality of the paint to be softer...(the process) is more than just something painted on a surface. It gives the quality of something that's in the surface...it's color, age and time. " Joseph was awarded an Art in Architecture Award from the American Institute of Architects in 2003, he was featured by Sundaram Tagore Gallery at La Bienniale di Venezia in 2015, while also receiving an international award from La Florence Bienniale 2007. He has collaborated with architect Adam Tihany on numerous public projects. His work is installed at The Breakers, Palm ... More



Installation view.



ROSSINIÈRE.- When Steven Parrino died unexpectedly in a motorcycle accident in 2005 at the age of 46, perhaps no country felt his loss more acutely than Switzerland. At the time of his death, Parrino had been working on an exhibition at MAMCO, Genève; in the preceding decades, Parrino's work had been shown in Switzerland on more than a dozen occasions. Organised by Greg Bergner and Marc Jancou at OFFSITE: CHALET in Rossinière, Switzerland, Marc Jancou Contemporary announces Little Anal Annie, an exhibition of works by this seminal American artist. Given Parrino's close ties to Switzerland throughout his career, Bergner and Jancou felt it imperative to stage an exhibition in the country where the artist's work was most warmly received during his lifetime. On view from August 11th through September 15th, Little Anal Annie is a truly Swiss-made show in honor of Parrino's cross-Atlantic collaborations with so many Swiss artists, mu ... More



Four Old Houses by Denis Versweyveld, 60"x26.4"x9.25"; concrete, pine, oak, lead. Courtesy of the artist.



FERRISBURGH.- Structures define our world. Some of us live among skyscrapers, row houses, condominiums. In Ver mont, many of us live among houses and barns. Rokeby Museum, a National Historic Landmark, is a collection of houses, barns, and outbuildings that served a variety of ends. The exhibition temporarily repurposes these historic spaces as platforms for contemporary art and asks the viewer to contemplate the role that structures play in shaping our experience of the world and how structures can inform and shape the experience of others. The exhibition is curated by Ric Kasini Kadour and is the second of two exhibitions this year that are introducing contemporary art to the historic site. The art on view at eleven locations throughout Rokeby reflects on, responds to, or contrasts with structures on the site. In the Toolshed, sculptures by Meg Walker ... More
Quote
Take me, I am the drug; take me, I am hallucinogenic! Salvador Dalí
---
Learn How to Start a Real Film Poster Collection
---
Flashback
On a day like today, Dutch painter Frans Hals died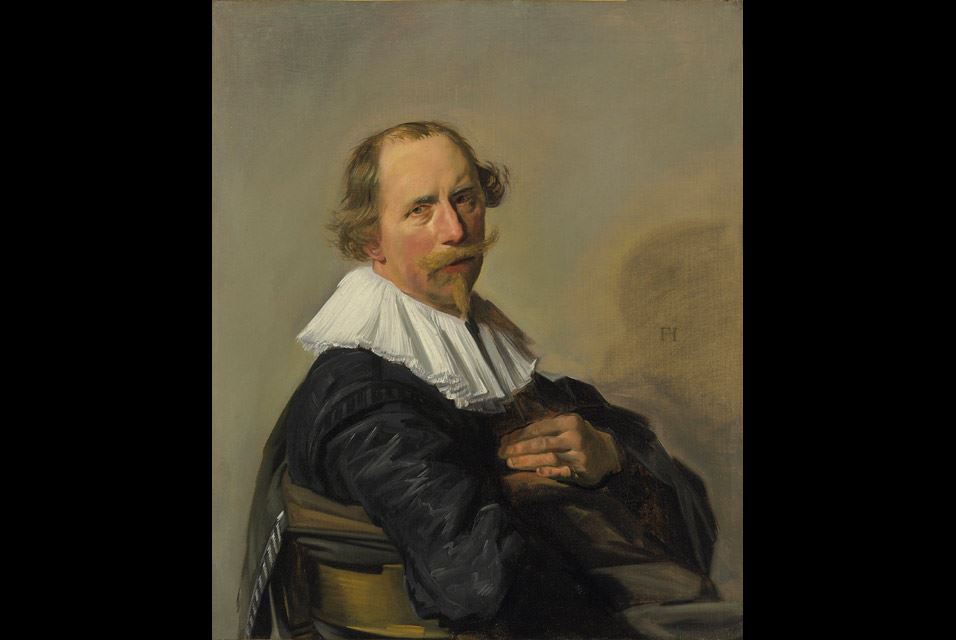 August 26, 1666. Frans Hals the Elder (c. 1582 - 26 August 1666) was a Dutch Golden Age painter, normally of portraits, who lived and worked in Haarlem. He is notable for his loose painterly brushwork, and he helped introduce this lively style of painting into Dutch art. Hals played an important role in the evolution of 17th-century group portraiture. In this image: Early 1630s painting by Dutch master Frans Hals titled, "Portrait of a Man."
---

Museums, Exhibits, Artists, Milestones, Digital Art, Architecture, Photography,
Photographers, Special Photos, Special Reports, Featured Stories, Auctions, Art Fairs,
Anecdotes, Art Quiz, Education, Mythology, 3D Images, Last Week,
.
Royalville Communications, Inc
produces: