Italian museum 'optimistic' that painting found is stolen Klimt
The 55 by 65 cm (21 by 26 inches) expressionist work could be worth between 60 and 100 million euros ($67-111 million) Ferrari estimated, stressing that it was difficult to estimate as the work had never been sold on the market.
ROME
(AFP)
.-
Directors of an Italian museum are optimistic that a painting found hidden in a wall this week is a Gustav Klimt work stolen two decades ago, a director said on Thursday. Preliminary indications appear that the painting of a woman found by gardeners on Tuesday inside an external wall on the museum's grounds could indeed by the "Portrait of a Woman" painted by the Austrian artist in 1916-1917. "What interests us the most is whether it's the original or not, rather than the theft investigation," said Massimo Ferrari, president of the Ricci Oddi Gallery of Modern Art, a museum in Piacenza, in northwest Italy. "We've got some positive signs, we're optimistic." The painting went missing in February 1997 while the museum was closed for work. On Tuesday, gardeners emoving ivy from a wall found a small ...
More
The Best Photos of the Day
Hindman's Post War and Contemporary Art auction sets four records for Chicago Imagists
New exhibition at the Clark Art Institute examines the influence of Arabesque motifs in art
Germany celebrates 250-year-old 'pop star' Beethoven


Miyoko Ito (American, 1918-1983), Sea Changes, 1977. Oil on canvas, 45 x 36 inches. Property from a Corporate Art Collection. Estimate: $15,000 - $25,000. Sold for: $212,500.



CHICAGO, IL.- Hindman's December 11 Post War and Contemporary Art auction surpassed presale expectations, realizing over $1.9 million and setting four global auction records for an astounding session of works by Chicago Imagists. The department has continued to set a strong precedent for the collective, achieving a total of eight records this year for Imagist artists. Included in this session was the top selling lot of the auction, A Sunday Afternoon at the "Grand Slam" by Roger Brown. The painting realized $300,000 against a presale estimate of $40,000 - $60,000, setting a record as the most expensive work by the artist ever sold at auction. Roger's riff on A Sunday Afternoon on the Island of La Grande Jatte comparing a Parisian Sunday in the late 19th century to an American Sunday in the late 20th century. Georges Seurat's masterpiece ... More



Alphonse Marie Mucha (Czech, 1860–1939), Zodiaque (La Plume), 1896–97. Color lithograph from multiple stones on tan wove paper, 24 13/16 × 18 1/2 in. The Art Institute of Chicago, Mrs. Victor F. Lawson Collection.



WILLIAMSTOWN, MASS.- The sinuous, curving ornamental motif known as arabesque has ancient sources and first appeared in Islamic cultures as a form of sacred writing. It figures in key movements in European art, from Renaissance grotesques to Rococo interiors, on through Art Nouveau and beyond. Bridging cultures and materials, arabesque did not settle into a single form or style but rather burst open the aesthetic possibilities available to artists, tracing a winding path from decorative border to overall principle of design. The nineteenth-century flowering of this motif is explored in the Clark Art Institute's exhibition Arabesque, on view December 14, 2019–March 22, 2020. Forty-five works across a variety of media trace the development of the arabesque line from the highly detailed compositions of the German Romantics through the pictorial ... More



A woman protects against the rain with an umbrella as she walks past a graffiti depicting German composer Ludwig van Beethoven in his native city of Bonn, western Germany. INA FASSBENDER / AFP.



BERLIN (AFP).- Germany is going all out for the 250th anniversary of Ludwig van Beethoven's birth with more than 700 events, including homages by Hollywood actor Christoph Waltz and electronic outfit Kraftwerk. A preview on Friday of the renovated Beethoven House Museum in his native city Bonn offered a glimpse of the festivities planned ahead of the big day next year. Here are the main celebrations for a man described by news weekly Der Spiegel as a "a 250-year-old pop star": -- December 16: Beethoven's home reopens to the public as a museum after extensive renovation, on the day most widely believed to be his birthday. The museum will include an exhibition with scores and instruments as well as notebooks he used to communicate after going deaf in 1801 -- 26 years before his death. The ... More
Anne Hardy transforms Tate Britain for 2019 Winter Commission
John Lennon's round glasses sell for nearly $200,000
Leonardo hoodie yours for $640 as Louvre cashes in street cred


The Depth of Darkness, the Return of the Light, Anne Hardy Tate Britain Winter Commission © Anne Hardy: Courtesy Maureen Paley, London. Photo © Tate (Oliver Cowling) 2019.



LONDON.- Tate Britain unveiled its annual Winter Commission to transform and illuminate the gallery's façade. In anticipation of the winter solstice, artist Anne Hardy has taken inspiration from the rhythms of the earth and the tides of the River Thames. From 30 November 2019 to 26 January 2020, the building's grand entrance is turned into a marooned temple, appearing with tattered banners and tangled lights, while sculptural objects cascade down the steps from the shuttered central door, surrounded by an atmospheric soundscape of rain, thunder, birds and insects. Anne Hardy is renowned for her large-scale sculptural installations or 'field works', which combine physical materials with light and sound to create immersive and sensual environments. Her commission for Tate Britain, entitled The Depth of Darkness, the Return of the Light, is her most ambitious project to date. The title is inspired by pagan descriptions of the ... More



Alan Herring, who worked as a chauffeur for Starr and bandmate George Harrison in the late 60s, said Lennon had given him the glasses after leaving them on the back seat of his Mercedes. Courtesy Sotheby's.



LONDON (AFP).- A pair of John Lennon's sunglasses The Beatles legend once left behind in the back seat of a car sold Friday for nearly $200,000 at an auction in London. Billed as one of the most famous specs in rock-and-roll, the round, green-tinted lenses and their golden frame belonged to Alan Herring, the chauffeur for the Liverpool quartet's drummer Ringo Starr and band mate George Harrison. "In the summer of 1968 I had picked John up with Ringo and George in Ringo's Mercedes and driven the boys into the office," Herring recalled in a statement released by the Sotheby's auction house. "When John got out of the car I noticed that he'd left these sunglasses on the back seat and one lens and one arm had become disconnected. I asked John if he'd like me to get them fixed for him. He told me not to worry they were just for the look!" Herring said he never did get them fixed, and the pair sold for £137,500 ... More



Small metal boxes with a picture of the painting 'La belle ferronniere' by Leonardo da Vinci, a merchandising product for the exhibition 'Leonardo da Vinci', is seen at the museum shop at The Louvre Museum in Paris. ALAIN JOCARD / AFP.



PARIS (AFP).- As an artist, architect and engineer, Virgil Abloh is fashion's renaissance man. Now the hyperactive US designer is measuring himself up against the greatest polymath of all with a collection of clothes inspired by Leonardo da Vinci. The T-shirts, sweatshirts and hoodies adorned with some of Leonardo's greatest works are a part of an official hook up with the Louvre museum in Paris, which is staging a blockbuster show to mark the 500th anniversary of the Italian master's death. The hoodies selling for up to 572 euros a piece ($640) mix Leonardo male nudes and paintings like "Saint Anne" with the four-arrowed logo of Abloh's ultra-hip Off-White label. The world's most visited museum has been a magnet for black American megastars of late, with music's most famous couple, singers Beyonce and Jay-Z, shooting a video there last year for their album, ... More
Strong results for the Asian Art Sale at Christie's Paris achieving €7,861,125 million
Lynda Benglis: Spettri, solo exhibition opens at Thomas Dane Gallery in Naples
World record for Jean Cocteau ceramic at Bonhams Prints & Multiples sale


Huang Binhong, Paysage, 1952. Encre et couleur sur papier. Inscrit et signé par l'auteur avec trois cachets, datée de l'année renchen 1952. Dimensions: 84 x 38,5 cm. (33 x 15 1/8 in.) Price realized: €874,000. © Christie's Images Ltd 2019.



PARIS.- The Asian art sale achieved a total of €7,861,125/£6,639,464/$8,764,092. The top lot of the sale was an exceptional Coromandel lacquer screen from the Kangxi period which was sold for €2,110,000 against a presale estimate of €200,000-400,000, establishing a new world auction record for a Coromandel lacquer screen. Tiphaine Nicoul, Director of the department: "We are thrilled to have realised such great results for this sale which was gathering rare pieces from different categories including paintings, furniture, jades, lacquers, statuary and ceramics. This sale, which attracted bidders from 21 countries showed that International collectors were attracted by high quality pieces with impeccable provenance such as the lacquer screen which ... More



Lynda Benglis, Egypt Lane (Bull Path Series), 2013/14, handmade paper, wire, pigmented acrylic medium, coal tempera, watercolour, gold leaf 90.2 x 30.5 x 12.7 cm. © Lynda Benglis. Courtesy the artist and Thomas Dane Gallery.



NAPLES.- Since the 1960s, Lynda Benglis has pioneered free, ecstatic forms that are simultaneously playful and visceral, organic and abstract. She began her career in the midst of the male-dominated art scene of downtown New York in the late 1960s, which she took by storm with her latex poured fallen paintings, disrupting the hegemony of Pop and Minimalism as well as the genres of painting and sculpture, with inimitable provocation and freedom. Benglis' performative approach to sculpture-making is deeply original in the way it consistently pushes conventions and revolves around the body, her body—as Benglis has pointed out: 'she is the form'. Her work—embracing a seemingly boundless variety of materials from beeswax, latex, and ... More



Grand chêvre – cou sold for £37,563. Photo: Bonhams.



LONDON.- The important collection of 46 ceramics by Jean Cocteau, the leading figure of the French avant-garde, was 100% sold at Bonhams Prints & Multiples sale (11-12 December 2019). Grand chêvre-cou set a world record for the most valuable Cocteau ceramic ever sold at auction. It achieved £37,563 against an estimate of £15,000-20,000. Other ceramics that sold above estimate included; Le Théâtre Antique, 1958, which sold for £16,312 (estimate: £4,000-6,000) and Printemps, 1958, achieved £13,812 (estimate: £5,000-7,000). The sale made a total of £1,757,223 with 86% sold by lot and 88% sold by value. Other highlights in the sale included: • Le Repas Frugal, from La Suite des Saltimbanques, 1904, by Pablo Picasso. Sold: £150,063. • La Femme du Peintre by Marc Chagall (1887-1985) sold for £50,063. Estimate: £25,000-35,000. • Bayer Suite, a complete set of six offset lithographs in ... More
Lévy Gorvy opens a retrospective of Francesco Clemente's pastels
Phillips announces 'Cool Britannia: The Robert Tibbles Collection' to be offered in London in 2020
Royal Institute of Art in Stockholm opens an exhibition by U.S.-based Nigerian artist Marcia Kure


Installation view, Francesco Clemente: Pastels, Lévy Gorvy, London, 2019. Photo: Stephen White.



LONDON.- Lévy Gorvy opened Francesco Clemente: Pastels, an exhibition illuminating Clemente's extraordinary creative synthesis of diverse aesthetic, cultural, and spiritual traditions. Curated by architect Bill Katz, a long-time friend of the artist, the exhibition is organised thematically, presenting Clemente's expressions of the body and mind through his extended commitment to the medium. Held from 12 December 2019 through 15 February 2020 at Lévy Gorvy's space in Mayfair, this retrospective presents four decades of Clemente's pastels, many of which have never before been exhibited. Clemente has often turned to pastels to develop his eclectic visions of physical and metaphysical subjects. The medium is well-suited to the intensity of Clemente's compositions—unique for its brilliantly saturated colour, directness of line, and autographic immediacy. Over ... More



Michael Craig-Martin, Full (detail). Painted in 2000. Estimate: £80,000-120,000. Image courtesy of Phillips.



LONDON.- Phillips announced Cool Britannia: The Robert Tibbles Collection, a multitude of YBA treasures to be sold across the London auctions of 20th Century & Contemporary Art in February 2020, as well as New Now, Photographs, and Editions. The collection includes seminal works by Damien Hirst, Gilbert & George, Gary Hume, Michael Craig-Martin, Sarah Morris, and Julian Opie, among others – often acquired directly from the artists or galleries the same year of their creation. The 30 works in this collection are expected to realise a total in the region of £4 million, with a festive preview of highlights set to transform the windows of 30 Berkeley Square from 20 December to 6 January. A bond salesman for many years, Robert Tibbles' collecting journey began at the genesis of a movement that transformed contemporary British art, and ushered a novel artistic language ... More



Installation view.



STOCKHOLM.- The mixed-media installation Under Skin by United States-based Nigerian artist Marcia Kure opened on 12 December at the Royal Institute of Art in Stockholm, presenting a new chapter in the artist's ongoing investigation into identities and power structures across geography and community. Currently guest professor at the Royal Institute of Art in Stockholm, the artist opens a dialogue around 'bio-power', a term coined by French philosopher Michel Foucault in the 1970s, describing authoritarian rule over individuals and entire populations through optimised productivity. Systems of power achieve social subjugation through raised standards of living, welfare and health conditions as well as technological advances in a problematic trade-off for increased collective control. As such the concept of bio-power frames the social sphere and human life as governed by mechanisms that adjust the self as well as the ... More
Quote
Art is the most frenzied orgy man is capable of. Jean Dubuffet
---
A poet's response to Carpeaux's "Why Born Enslaved!" | MetCollects
---
Flashback
On a day like today, American painter George Rodrigue died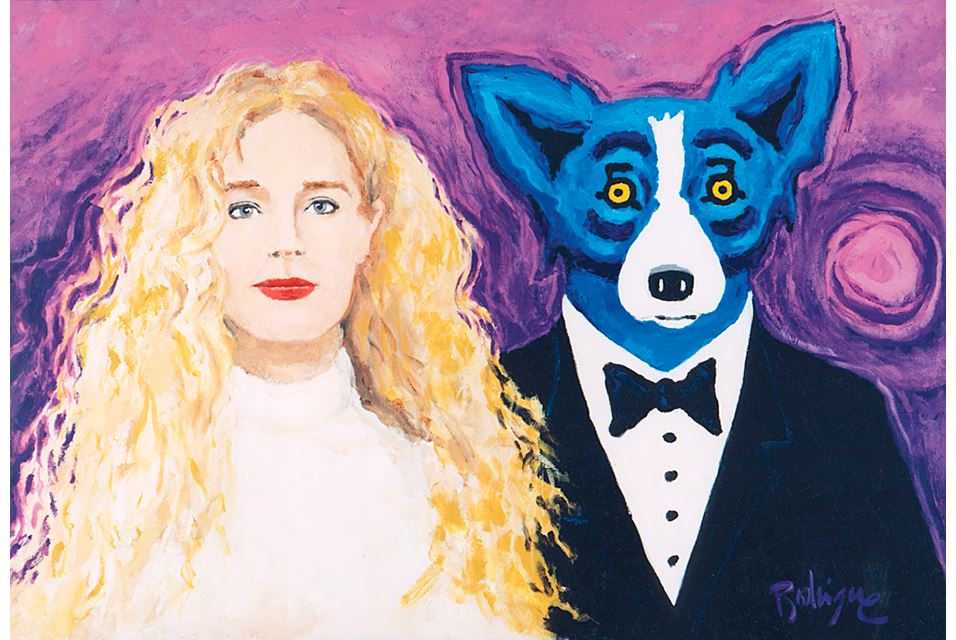 December 14, 2013. George Rodrigue (March 13, 1944 - December 14, 2013) was an American artist originally from New Iberia, Louisiana, who in the late 1960s began painting Louisiana landscapes, followed soon after by outdoor family gatherings and southwest Louisiana 19th-century and early 20th-century genre scenes. His paintings often include moss-clad oak trees, which are common to an area of French Louisiana known as Acadiana. In the mid-1990s Rodrigue's Blue Dog paintings, based on a Cajun legend called loup-garou, catapulted him to worldwide fame.In this image: Wendy and Me.
---

Museums, Exhibits, Artists, Milestones, Digital Art, Architecture, Photography,
Photographers, Special Photos, Special Reports, Featured Stories, Auctions, Art Fairs,
Anecdotes, Art Quiz, Education, Mythology, 3D Images, Last Week,
.
Royalville Communications, Inc
produces: