Teen admits attempted murder of French boy at London gallery
In this file photo taken on August 04, 2019 A general view shows the Tate Modern gallery on the southern bank of the River Thames in London on August 4, 2019 after it was put on lock down and evacuated after an incident involving a child falling from height and being airlifted to hospital. British teenager Jonty Bravery on December 6, 2019 pleaded guilty to the attempted murder of a six-year-old French boy, who was thrown from the 10th floor viewing platform of London's Tate Modern art gallery. Daniel SORABJI / AFP.

by Sylvain Peuchmaurd
LONDON
(AFP)
.-
A British teenager on Friday pleaded guilty to the attempted murder of a six-year-old French boy, who was thrown from the 10th floor viewing platform of London's Tate Modern art gallery. Jonty Bravery, 18, admitted the charge during a hearing at the Central Criminal Court. He was remanded in custody pending psychiatric reports and sentencing on February 17. The young boy suffered a broken spine, legs and arm in the attack, which happened in front of horrified visitors to the riverside contemporary art gallery on August 4. Bravery, who was 17 at the time of the attack, appeared in court via videolink and spoke only to confirm his name, adding that his nationality as "white British". Asked how he pleaded, he said: "I plead guilty. Guilty, yeah, correct." His lawyer, Philippa McAtasney, told the court her client had autistic spectrum disorder, obsessive compulsive disorder and was likely to have a personality disorder. Prosecutor Emma Jones described the c ...
More
The Best Photos of the Day
For a colorful Brooklyn real-estate pioneer, a 376-year-old receipt
A wealth of surprises: Times critics' top art books of 2019
Tufts removes Sackler family name from facilities over opioid crisis


Staff members at the Brooklyn Historical Society examining a 1643 deed in Brooklyn. Rachel Papo/The New York Times.



NEW YORK (NYT NEWS SERVICE ).- Anthony Jansen van Salee, better known as Anthony the Turk, was one of the most colorful characters in New Amsterdam, the Dutch colony that later became New York City. The son of a Dutch pirate and a Moorish woman, he fought constant legal battles with his neighbors, one of whom denounced him as "a rascal and a horned beast." In 1639, after an ill-advised feud with the religious leader of the fledgling settlement at the tip of Manhattan, he and his wife — a reputed prostitute known for her salty tongue (and her habit of measuring clients' endowments with a broomstick) — were banished. Like others pushed out of Manhattan in later centuries, Anthony — considered the first known person of Muslim descent to settle in America — just moved across the East River and before long had secured a grant of nearly 200 acres of farmland near the wilds of Coney Island. And one afternoon last ... More



'Leonardo da Vinci Rediscovered' By Carmen C. Bambach (Yale University Press).



NEW YORK (NYT NEWS SERVICE ).- A four-volume Leonardo da Vinci compilation, the writings of Jill Johnston, a seductive collection of Carlo Mollino's photography and a deeply researched book about imbalances in MoMA's permanent collection. The New York Times' art critics have chosen a truly eclectic array of art books this year — books that kept surprising them with each turn of the page. Below, they share their thoughts about their selections, listed in no particular order. 'Unspeakable Acts: Women, Art, And Sexual Violence In The 1970s' By Nancy Princenthal (Thames & Hudson). This cogent, nuanced book — long in the works — focuses on the ways the rape of women has been depicted in the visual arts. For centuries, images of it were in the hands of male artists and often filtered through a scrim of mythology and religion. In the 1960s and '70s, female artists — Yoko Ono, Ana Mendieta, Valie Export and Suzanne Lacy among them — laid claim to the ... More



A worker removes Arthur Sackler's name from a building at the Tufts University School of Medicine in Boston. Cody O'Loughlin/The New York Times.



BOSTON (NYT NEWS SERVICE ).- Tufts University removed the Sackler name from five facilities and programs Thursday over the family's role in the opioid epidemic, a gesture aimed at distancing the institution from a pharmaceutical dynasty closely tied to the school for 40 years. The Sacklers' company, Purdue Pharma, producer of prescription painkiller OxyContin, has been cast by prosecutors and plaintiffs as responsible for an addiction epidemic that has led to the deaths of hundreds of thousands of Americans over the past two decades. A series of major cultural institutions, including the Tate, Britain's National Portrait Gallery and the Solomon R. Guggenheim Museum in New York, announced this year that they would no longer take donations from the Sacklers. But Tufts is believed to be the first university to publicly remove the family's name from its walls. Dr. Harris A. Berman, dean of the Tufts ... More
Artcurial's Furniture and Works of Art sale will showcase more than 350 lots of French and European decorative arts
Spanierman Modern opens an exhibition of works by Andy Moses
Contemporary Arts Museum Houston welcomes new Director


A Louis XVI Ormolu Automaton Clock Painting, The Dial and the Movement signed by Louis Montjoye. Engraved gilt bronze, painted canvas, imitation-gem rhinestones. Estimate: €30,000 - €50,000. © Artcurial.



PARIS.- Artcurial's Furniture and Works of Art sale on Monday 16th December at 7 pm and on Tuesday 17 December at 2 pm, will showcase more than 350 lots of French and European decorative arts. On Monday, December 16th at 7pm, a number of exceptional lots with distinguished provenances, alongside several private collections will be offered. The Orloff service, a milestone in Parisian silver history, commissioned by Empress Catherine II of Russia in 1770 will undoubtedly appeal to collectors. A selection of dishes and plates, covers (estimate: €80,000 - 120,000) and a pair of silver candlesticks estimated between €100, 000 and €150,000 will be offered for sale. A magnificent Louis XVI gilt bronze automaton mantel clock from the Rothschild's collections at Mentmore in England, representative of the "goût Rothschild" a characteristically lavish, elegant and extravagant style associated with ... More



Moses is interested in pushing the physical properties of paint through chemical reactions, viscosity interference, and gravity dispersion to create elaborate compositions that mimic nature and its forces.



MIAMI, FLA.- Andy Moses grew up in Los Angeles, California and attended California Institute of Arts from 1979 to 1982, where he was immersed in a rigorous program in conceptual art. He initially focused on film and performance, studying under artists such as Michael Asher, John Baldessari, and Barbara Kruger, but quickly selected painting as his chosen area of study. Moving to NYC after obtaining his degree in 1982, Moses worked for Pat Steir, while simultaneously developing his own distinctive style of organic abstraction. Moses' work oscillates between nonrepresentational abstraction and imagery inspired by the natural world. The notion of suggestiveness is important to Moses' work since each composition invites the viewer to interpret it. There is no correct or incorrect reading, this open-endedness or what Moses likes to call "interconnectedness" is one of the main points of his body of work. Moses' new form of abstraction, with its unleashing ... More



McGraw comes to CAMH from Kansas City, Missouri, where he has served as Partner of el dorado, inc., an innovative cross-disciplinary design firm, where he provided executive leadership and strategy for ambitious curatorial initiatives in the public realm.



HOUSTON, TX.- The Board of Trustees at Contemporary Arts Museum Houston announced today the appointment of Hesse McGraw as Director, becoming the tenth director in CAMH's illustrious 71-year history. McGraw comes to CAMH with a nearly twenty-year career in contemporary art, holding numerous leadership and curatorial roles both domestic and international. At CAMH, McGraw will oversee all aspects of the non-collecting institution's wide-ranging artistic and educational programs, fundraising, and day-to-day operations—while providing leadership to a staff of more than 50. McGraw will bring a new vision that will explore and expand the Museum's role as a forum and source for audiences to engage with contemporary art. "I could not be more pleased that Hesse McGraw will be coming to Houston to serve as the new Director of Contemporary Arts Museum Houston," said Dillon Kyle, Chair ... More
Stephen Cleobury, longtime leader of fabled choir, dies at 70
Playwright Arthur Miller's archive opens to researchers
Fashionable feathers: Italian designer's life in plumes


Stephen Cleobury leads a rehearsal of the renowned King's College Choir in Cambridge, England, on Nov. 29, 2018. Tom Jamieson/The New York Times.

by Neil Genzlinger



NEW YORK (NYT NEWS SERVICE ).- Stephen Cleobury, who for 37 years was music director at King's College, Cambridge — which among other things meant he led one of the most beloved holiday musical events on the planet, the Christmas Eve performance by the college's celebrated choir — died on Nov. 22 in York, England. He was 70. Robin Tyson, his manager and a former choir member, said the cause was cancer. Cleobury, who had stepped down from his post just this past September, was a well-regarded organist when he was named to the King's College position in 1982. In addition to leading the Choir of King's College, he oversaw assorted other choral groups and from 1995 to 2007 was chief conductor of the BBC Singers, the noted chamber choir. But he was most often in the news in connection with the ... More



Handwritten letter to Arthur Miller from his brother Kermit, announcing his latest job as a traveling salesman, January 13, 1935. Arthur Miller Papers, Harry Ransom Center.



AUSTIN, TX.- The complete archive of Arthur Miller, one of America's most acclaimed playwrights, is now available for teaching and research use at the Harry Ransom Center at The University of Texas at Austin. "With the opening of the Arthur Miller papers, the Harry Ransom Center becomes the essential destination for the study of the life and work of this giant of the American theatre," said Stephen Enniss, director of the Ransom Center. "My colleagues and I look forward to supporting the work of students and scholars who will study this archive for new insight for generations to come." Arthur Miller (1915–2005) established the collection with two donations of his early manuscripts in 1961 and 1962, including drafts of "All My Sons," "Death of a Salesman," "The Crucible" and other early plays. The archive expanded significantly with the acquisition of his remaining ... More



Italian feather artisan Gianni Bracciani poses with some of his creations. MIGUEL MEDINA / AFP.

by Céline Cornu



SANTO STEFANO TICINO (AFP).- Feathers have adorned the most glamorous of fashionistas throughout history, from Marie Antoinette to Lady Gaga, and one Italian octogenarian continues to fuel the fantasy. "Feathers, for me, are my passion," said 89-year-old Gianni Bracciani, who comes every day to his workshop in Santo Stefano Ticino, about 30 km (19 miles) west of Milan, to dream up new uses for the colourful, wispy plumes. Bracciani has no intention of retiring after a lifetime in the fashion industry where feathers have played a starring role. A-listers and renegades have embraced his creations, designed in collaboration with the world's top fashion houses and donned by the likes of Angelina Jolie, Celine Dion, Naomi Campbell and Jennifer Lopez. Feathers are a family affair for the artisan, who works today with his daughter Emanuela, 51, and nine ... More
The Denver Art Museum installs first new works in new Native Arts Gallery
Kunstmuseum Luzern opens an exhibition of works by Fabian Peake
Astrup Fearnley Museet in Oslo, Norway hires Solveig Øvstebø as Executive Director


Kwakwaka'wakw artist, Transformation mask, 1870. Wood, paint, and string; 15 x 12 x 24-1/2 in. Denver Art Museum: Native Arts acquisition fund.



DENVER, CO.- The Denver Art Museum team has completed the installation of its monumental Haida poles, marking the beginning of art installations for a redesigned and reinstalled Northwest Coast and Alaska Native gallery. The reimagined space will be among the first art galleries to reopen to the public in the initial phase of the renovated Lanny and Sharon Martin Building on June 6, 2020. The DAM's beloved Haida poles, frequently misattributed as "totem" poles, were the first items installed in the new space. Featured in the 1939 Golden Gate International Exposition, the largest is called the Land Otter Pole, and tells the story of a man who narrowly escaped capture by land otters after his canoe capsized. This pole was carved by Dwight Wallace in 1870. The museum collaborated with descendants of the Wallace family in November 2019 to celebrate the placement of the poles in ... More



Fabian Peake, Black Cam, 2017–2018, Sperrholz, Acrylfarbe, 227 x 103 x 35 cm, Courtesy of the artist.



LUCERNE.- The eponymous swift flits around the corner of a terraced house in London. The objects the bird might see out of the corner of his eye provide inspiration for Fabian Peake. His art draws on public space: unpretentious street furniture consisting of utility poles, signage and advertising hoardings, dust bins or manhole lids all flow into Fabian Peake's formal cosmos. This artist is interested, both formally and haptically, in what is around him, but also in craftsmanship. He therefore repeatedly appropriates new insights and techniques. For his textile objects recalling the making of trousers or jackets, he learnt tailoring, with all the refinements necessary to sew a suit. And for his latest wooden object, made this year for the exhibition, he came to grips with boat building. Again and again, Fabian Peake combines abstract forms and objects in his painting and drawing. Their colours, the clarity of their forms, his engagement with the everyday and his aesthetic ... More



After seven years as Executive Director and Chief Curator of the Renaissance Society at the University of Chicago, Solveig Øvstebø will step down in February 2020.



OSLO.- Founded in 1993, the Astrup Fearnley Museet is one of Scandinavia´s most notable museums for contemporary art. The museum holds the extensive Astrup Fearnley Collection, which includes significant works by artists such as Matthew Barney, Paul Chan, Trisha Donnelly, Ida Ekblad, Matias Faldbakken, Félix González-Torres, Rachel Harrison, Damien Hirst, Jeff Koons, Glenn Ligon, Bjarne Melgaard, Julie Mehretu, Richard Prince and Cindy Sherman. The museum presents changing exhibitions that both draw on the collection and new commissions by artists from all over the world. Øvstebø will start in her new role as the museum´s Executive Director and Chief Curator in May of 2020. She follows Gunnar B. Kvaran who has led the museum since 2001. "We are proud and thrilled to welcome Solveig Øvstebø as our new Director," the President of the board at the ... More
Quote
The things that I have apparently parodied I actually admire. Roy Lichtenstein
---
Paul Rudolph and the Dynamic Genius of The Walker Guest House
---
Flashback
On a day like today, Italian artist Gian Lorenzo Bernini was born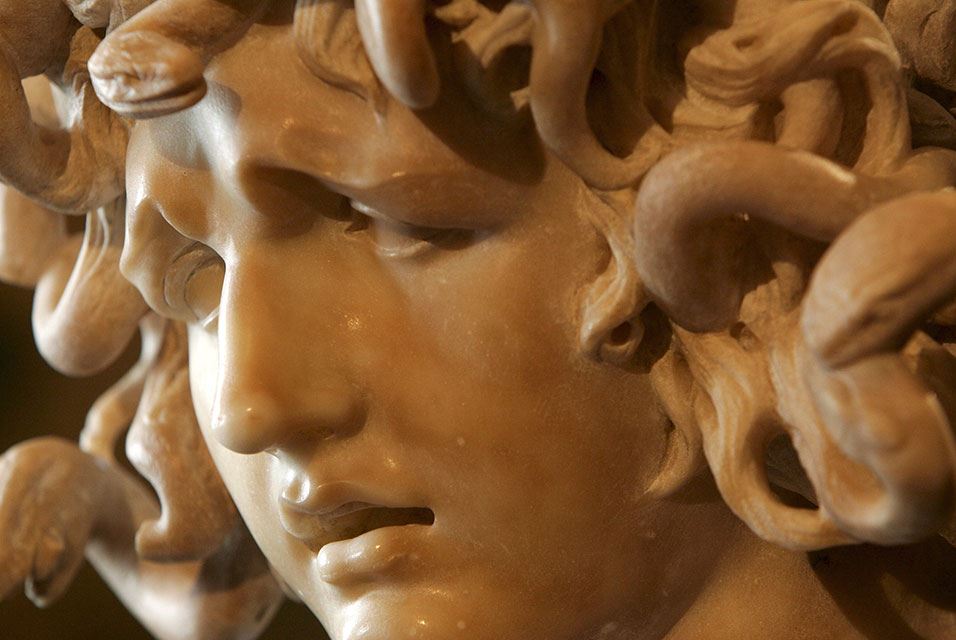 December 07, 1598. Gian Lorenzo Bernini (also spelled Gianlorenzo or Giovanni Lorenzo) (Naples, 7 December 1598 - Rome, 28 November 1680) was an Italian artist who worked principally in Rome. He was the leading sculptor of his age and also a prominent architect. In addition he painted, wrote plays, and designed metalwork and stage sets. In this image: After a long restauration, the head of the Medusa by Italian sculptor Gian Lorenzo Bernini was displayed in Rome, on Wednesday 22 November 2006. The sculpture was exhibited in the Capitol museum in Rome until January. The work of restoration emphasized the lights and the shadows on the sculpture
---

Museums, Exhibits, Artists, Milestones, Digital Art, Architecture, Photography,
Photographers, Special Photos, Special Reports, Featured Stories, Auctions, Art Fairs,
Anecdotes, Art Quiz, Education, Mythology, 3D Images, Last Week,
.
Royalville Communications, Inc
produces: