Asheville Art Museum re-opens after major three-year expansion project
A member looking at [The American Context #16] Christina's World by Luke Haynes in the SECU Collection Hall.
ASHEVILLE, NC
.-
The Asheville Art Museum
, the hub for 20th- and 21st-century American art in Western North Carolina, opens on November 14. The $24+ million, state-of-the-art facility encompasses 54,000 square feet and adds 70 percent more Collection gallery space. For the first time in the Museum's history, it has the capacity to host major traveling exhibitions from nationally recognized museums. The expansion increases its physical space and dramatically increases its role as a community center, educational resource, and cultural concierge for the region's residents and visitors. "The new Asheville Art Museum is a warm and welcoming space on a personal level," says Executive Director Pamela L. Myers. "It's a space designed for people to come together and be inspired in an art-filled, open environment with all the amenities to make them feel comfortable." ...
More
The Best Photos of the Day
The National Gallery launches public appeal to save Orazio Gentileschi's The Finding of Moses for future generations
Jitters before New York's art 'gigaweek'
Centuries old warships linked to 'Vasa' found in Sweden


National Gallery Director, Dr Gabriele Finaldi, launching the #SaveOrazio Appeal by hosting a The Finding of Moses storytelling session with a group of children from the Soho Family Centre.



LONDON.- The National Gallery is asking for the public's help to raise the last £2 million it needs to buy a painting of outstanding importance for the national heritage - The Finding of Moses by Orazio Gentileschi (early 1630's) – and enable the work to stay on free public display in Trafalgar Square and continue to inspire future generations. The Finding of Moses has a remarkable place in British history. It is one of just a handful of works painted during Orazio Gentileschi's 12-year residence in London at the court of King Charles I, commissioned to celebrate the birth of the future Charles II and intended to hang in the Queen's House at Greenwich. There is currently only one* Orazio Gentileschi work in a UK public collection, and The Finding of Moses plays an important role in the National Gallery, being intrinsically linked to our recently acquired painting by Orazio's ... More



An exceedingly rare witness to a critical period in Bacon's life and career, Pope is estimated to sell for $6/8 Million. Courtesy Sotheby's.



NEW YORK (NYT NEWS SERVICE).- New York's biannual billion-dollar "gigaweek" of sales, whose latest series started Monday, is the glittering pinnacle of the auction market for Impressionist, modern and contemporary art. But is instability in the wider world taking off some of that shine? The week's various auctions at Christie's, Phillips and Sotheby's (which in June returned to private ownership) are estimated to raise at least $1.2 billion. But the world's wealthy will have to be in a free-spending mood to match the $2 billion raised in May at the equivalent spring sales, when Jeff Koons' stainless steel "Rabbit" sculpture fetched $91.1 million, an auction high for any work by a living artist. This time around, there are few museum-quality works by the most famous artists to tempt billionaires — no painting or sculpture is estimated to sell for more than $45 million. "First, there isn't a major estate — this cycle doesn't have ... More



The ship Vasa in the Vasa Museum, from above. Photo: Anneli Karlsson, the Vasa Museum/SMTM.



STOCKHOLM (AFP).- Swedish maritime archeologists have discovered two wrecks believed to be 17th century warships, and at least one is likely the sister ship of the iconic Swedish vessel "Vasa", which sank on its maiden voyage, the Swedish Museum of Wrecks said Friday. "When I came down as the first diver... I saw this wall 5-6 metres high and I came up and there was a massive warship," diver and maritime archeologist Jim Hansson told AFP, adding that "it was a thrilling feeling." The two wrecks were found in the Swedish archipelago outside the town of Vaxholm in a strait leading into Stockholm. At least one of the ships is believed to be the sister ship Sweden's most famous warship the "Vasa," a 69-metre ship carrying 64 cannons, which sank on its maiden voyage in 1628. Named after one of Sweden's kings, it was originally meant to serve as a symbol of Sweden's military might but instead capsized after sailing just over 1,000 metres. Vasa was salvaged ... More
Louvre Abu Dhabi marks two years, without da Vinci
Marsden Hartley's Birch Grove, autumn leads Bonhams American Art sale in New York
Sotheby's to offer property from Spetchley Park, one of Britain's great Regency houses


Sheikh Khaled bin Mohammed bin Zayed al-Nahyan (R) sits next to Claude Chirac, the daughter of late French president Jacques Chirac, during a ceremony in Abu Dhabi marking the second anniversary of the Emirati capital's Louvre Museum on November 11, 2019. KARIM SAHIB / AFP.



ABU DHABI (AFP).- The Louvre Abu Dhabi on Monday celebrated two years since it opened its doors, but the fate of what was to be a prize exhibit remains unknown. The world's most expensive painting, Leonardo da Vinci's Salvator Mundi was meant to go on display at the museum in September 2018. But in a surprise move, the United Arab Emirates postponed the hanging. The famous work has not been seen in public since it was sold for $450 million at a Christie's auction in 2017, sparking speculation over its authenticity and its buyer. Asked whether or not the piece would go on display in the coming year, museum head Manuel Rabate told AFP it was "a question for the city", referring to Emirati authorities. The emirate's ... More



Birch Grove, Autumn by Marsden Hartley. Estimate: $300,000-500,000. Photo: Bonhams.



NEW YORK, NY.- A selection of significant modernist works deaccessioned by The Museum of Modern Art, New York and sold to benefit the acquisitions fund, will lead Bonhams American Art sale in New York on Tuesday, November 19. Highlights from The Museum of Modern Art include Birch Grove, Autumn by Marsden Hartley, estimated at $300,000-500,000, and Ordnance Island, Bermuda by Niles Spencer, estimated at $150,000-250,000. Additional highlights in the sale span the 19th and 20th century genres of American Art, including works by John Frederick Kensett, William Glackens, Albert Bierstadt, James Buttersworth, and James Bard. Marsden Hartley's (1877-1943) revolutionary vision and painting techniques led him to become one of the most pioneering figures of the American Modernist movement. Painted in 1910—a breakthrough year for Hartley– Birch Grove, Autumn is ... More



A Two-Manual Harpsichord by Jacob Kirkman, London, 1766. Estimate £30,000-50,000. Courtesy Sotheby's.



LONDON.- Spetchley Park, the glory that is one of Britain's great Regency houses, is set to reveal for the very first time a whole sequence of fascinating stories from its long and eventful past. On 11 December 2019, Sotheby's will offer some 750 objects that together unlock these previously untold stories, at the same time allowing for a first-ever glimpse inside a house that for the last 400 years has been closed to the public eye. The sale, to be held in London, springs from a need to make this historic house into a home. After inheriting Spetchley two years ago, Henry Berkeley, the youngest son of the late John Berkeley, rekindled his love of the house further to moving back to the estate with his wife and children, but he has since become conscious of the need to reimagine it for a young family in the 21st century. Henry Berkeley commented: "Spetchley, despite its imposing presence in the Worcestershire countryside, is fi ... More
Lyon & Turnbull's MODERN MADE auction will turn the spotlight on the West Cornwall fishing town
Works by Margaret MacDonald, Josef Hoffmann and Alphonse Mucha come under the hammer at Dorotheum
Meadows Museum announces a new collaboration with Fundación ARCO


Monica Young, British 1929-2004, Tall coiled vessel stoneware, 148 cm high. Estimate
£600 - £1,000.



LONDON.- Lyon & Turnbull's MODERN MADE auction in London on November 14 will turn the spotlight on the West Cornwall fishing town that became a centre for 20th century British art. It was in St Ives where a forward-thinking collective of artists established a base for the abstract, avant-garde movement in Britain. Among the most eagerly anticipated aspects of the 279-lot sale are the many works 'from an important St Ives artist's estate'. This includes an archive of material relating to Porthia Prints, a short-lived company established by sculptor and painter Denis Mitchell (1912-93) and his brother in the 1950s. With the promise of a little extra money, the pair encouraged local artists to submit original designs for screen printing on linen and sale as table mats. At least 17 painters and sculptors, a veritable A-Z of the post-war St Ives scene, took part in the project that between 1955-60 supplied ... More



A pair of reliefs by Margaret MacDonald, "Day" and "Night", from the smoking cabinett designed by Charles Rennie Mackintosh. The cupboard was exhibited um 1900 at the Eighth Secession Exhibition in the "Scottish Room" in Vienna, metall, silver-plated, 58.6 x 10.6 cm and 58.4 x 10.7 cm, estimate € 40,000 – 80,000. Image courtesy of Dorotheum.



VIENNA.- The range of applied art in the Fin de Siècle is illustrated by the auction on 11 December 2019 at Dorotheum, whether in the form of Viennese stars, including Josef Hoffmann, Margaret MacDonald, the Scottish designer and craftswoman, or the famous Czech Art Nouveau artist Alphonse Mucha. Dorotheum specialist Magda Pfabigan came across a minor sensation during her research on two reliefs. She was able to attribute the two silver-plated metal works 'Day' and 'Night' to the Scottish art nouveau artist Margaret MacDonald. They came from the smoking cabinet designed by Charles Rennie Mackintosh (the designer and architect was Margaret MacDonald's husband) ... More



Maribel López, director of ARCOmadrid, and Mark A. Roglán, director of the Meadows Museum, during the presentation of the project in Madrid. Courtesy Meadows Museum.



DALLAS, TX.- The Meadows Museum, SMU, announced an expansion of its contemporary art program with the establishment of a six-year partnership with Fundación ARCO, the guiding organization behind Spain's premier contemporary art fair, ARCOmadrid. Through the collaboration, titled MAS: Meadows/ARCO Artist Spotlight, the Meadows will, on a biennial basis, select one emerging or mid-career Spanish artist to present their work at the Meadows Museum for approximately four months. As part of the series, each selected artist will also travel to Dallas to participate in public programming, envisioned to further engage audiences with the artist's practice. The partnership leverages ARCO's deep knowledge of Spain's contemporary art scene and the Meadows Museum's ... More
A sculpture for Brooklyn's new golden age?
Morphy's gallery resonates with sounds of antique coin-op and gambling machines in run-up to November auction
Stephen Dixon, author of experimental novels and stories, dies at 83


Hank Willis Thomas' "Unity" at Tillary and Adams Street, near the Brooklyn Bridge, in Brooklyn, Nov. 9, 2019. Kyle Johnson/The New York Times.



NEW YORK (NYT NEWS SERVICE).- Standing at the newly constructed intersection of Tillary and Adams streets, near the exit from the Brooklyn Bridge, is a new, 22-foot bronze arm with the index finger pointing skyward. Commissioned by New York City's Percent for Art program, the permanent sculpture was created by Hank Willis Thomas and is titled "Unity" (2019). Is this outstretched arm a new greeting at the threshold of Brooklyn, like the Statue of Liberty in New York Harbor? Giant arms and hands aren't a new thing in public sculpture. Head to Rome and you can see a giant right hand, originally from a 4th-century AD colossal sculpture of the Emperor Constantine. Paris has (finally) Jeff Koons' 41-foot hand holding a bouquet of tulips, his tribute to the victims of terrorist attacks. Visit Trafalgar Square in London, and you can gaze upon David Shrigley's "Really Good" (2016), a sculpture of a hand with the thumbs-up gesture — with the thumb grotesquely ... More



Oversized Coca-Cola. Oversized leaded-glass display bottle manufactured in the 1920s by Metropolitan Art Glass Co., New York. Measures 19 x 19 x 47in on wooden base. Highly sought-after display piece that rarely appears for sale in the marketplace. Estimate $50,000-$80,000.



DENVER, PA.- They clang, they whirr, some play music, and some were designed to pay jackpots, challenge early "gamers," or dispense snacks. These are just some of the actions and sounds associated with antique coin-op machines, which have entertained America since the 19th century. This month Morphy Auctions' Pennsylvania gallery has transformed into a virtual amusement arcade, showcasing a first-class lineup of gaming, vending and music machines, as well as a fine array of antique advertising. Comprising 1,475 lots in all, this exciting selection will cross the auction block at Morphy's Coin-Op & Advertising sale, November 20 and 21. Day 1 is devoted primarily to coin-op and gambling machines, while Day 2 will feature antique advertising and general antiques. An extra highlight of the opening session is a grouping ... More



"One doesn't exactly read a story by Stephen Dixon, one submits to it," critic Alan H. Friedman wrote in his review of Dixon's novel "Frog" in The New York Times in 1991. "An unstoppable prose expands the arteries while an edgy, casual nervousness overpowers the will."



NEW YORK (NYT NEWS SERVICE).- Stephen Dixon, whose hyper-realistic novels and short stories reflected his fascination with personal loss, sex, heartbreak, disaster, marriage and old age, died Wednesday at a hospice in Towson, Maryland. He was 83. His daughter Sophia Dixon Frydman said the cause was complications of Parkinson's disease and pneumonia. Dixon produced fiction at a daunting clip. Working on a portable typewriter, he published 18 novels and about 600 stories. His final story (about a man who was 80, like him, and who had a cat like his cat) was published in Heavy Feather Review last month, while he was in hospice. He never found fame or big sales, but his idiosyncratic storytelling drew praise. "One doesn't exactly read a story by Stephen Dixon, one submits to it," critic Alan H. Friedman wrote ... More
Quote
Making art is the closest I get to God. Rhonda Zwillinger
---
A Brand New Humanoid Species is Discovered in a Cave
---
Flashback
On a day like today, Jeff Koons' "Balloon Dog (Orange)" set a world auction record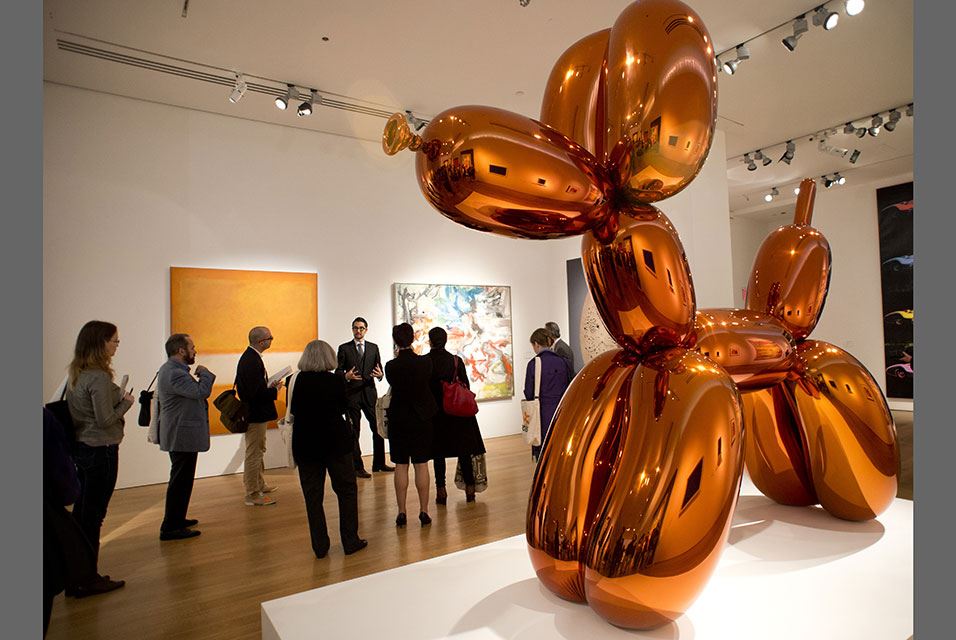 November 12, 2013. Jeff Koons' "Balloon Dog (Orange)" at Christie's in New York. The mirror-polished stainless steel with transparent color coating was part of Post-War and Contemporary Evening Sale held on November 12, 2013. The sculpture sold for $58,405,000. The sum was the highest ever paid for a work by a living artist. AFP PHOTO/Don Emmert
---

Museums, Exhibits, Artists, Milestones, Digital Art, Architecture, Photography,
Photographers, Special Photos, Special Reports, Featured Stories, Auctions, Art Fairs,
Anecdotes, Art Quiz, Education, Mythology, 3D Images, Last Week,
.
Royalville Communications, Inc
produces: