A trustee leaves trove of Old Masters works to the Met
A photo provided by the Metropolitan Museum of Art of Van Dyck's portrait of Queen Henrietta Maria, among more than 375 works left to the museum by donor and trustee Jayne Wrightsman, who died April 20, 2019. Metropolitan Museum of Art via The New York Times.
NEW YORK
(AFP)
.-
Johannes Vermeer's "Study of a Young Woman." Peter Paul Rubens' self-portrait with his family. Jacques Louis David's portrait of Antoine Laurent Lavoisier and his wife. These paintings in the Metropolitan Museum of Art's collection were made possible in part by the generosity of the longtime donor and trustee Jayne Wrightsman, who died in April at age 99. Now, it turns out, Wrightsman decided to continue that largesse after her death. On Wednesday, the museum announced that the arts benefactor and grande dame of New York society has left more than 375 works to the Met in a bequest that includes gifts to the departments of Drawings and Prints, European Paintings, and European Sculpture and Decorative Arts, as well as to the Department of Asian Art, the Department of Islamic Art and the Watson Library. "The Wrightsman bequest is the culmination of a half century of giving that has transformed the collection of Old Mas ...
More
The Best Photos of the Day
Newly discovered Artemisia canvas sells for record 4.8 mn euros
Exhibition of new paintings and drawings by Brice Marden on view at Gagosian
Monet's $28 million 'Charing Cross Bridge' leads Sotheby's $209 million Impressionist & Modern Art Evening Sale


The painting 'Lucrece' by female Italian Baroque painter Artemisia Gentileschi (1593 to ab 1652). BERTRAND GUAY / AFP.



PARIS (AFP).- A newly discovered canvas by the female 17th-century Italian painter Artemisia Gentileschi sold for almost 4.8 million euros ($5.3 million) on Wednesday, a record for the artist, auction house Artcurial said. The sale came amid a surge of interest in the rare female baroque painter's extraordinarily dramatic work, and smashed the base estimate of between 600,000 and 800,000 euros. The painting "Lucretia" depicts the ancient Roman noblewoman who killed herself after being raped, showing her bare-breasted and about to plunge a dagger into her chest. It was discovered only recently, in a private collection in the southeastern French city of Lyon, where it had been stored unrecognised for some 40 years. After a "long bidding battle" over the telephone, the painting was sold in Paris for 4,777,000 euros to a European collector, the French auction house said. It nearly doubled the previous record for her wo ... More



Brice Marden, Elevation, 2018 – 19 (detail). Oil on linen, 72 x 120 in. 182.9 x 304.8 cm © 2019 Brice Marden/Artists Rights Society (ARS), New York. Photo: Rob McKeever. Courtesy Gagosian.



NEW YORK, NY.- Gagosian is presenting new paintings and drawings by Brice Marden. These works continue Marden's Letter series, in which networks of calligraphic lines and strokes weave through fields of color and tone. Marden begins these paintings by filling the canvas with script-like glyphs, working in columns from top to bottom, right to left. He then links these initial markings through a network of lines, creating webs and threads across the surface of the canvas. As he paints in layers, Marden scrapes away at excess paint on the surface of the canvas, diffusing his lines and allowing a complex play of color, weight, and distance to develop in the pictorial space as he works the canvas deeper into abstraction. Six paintings, each measuring six feet tall by ten feet wide, were made in Tivoli—the location of Marden's upstate New York home and studio—where the ... More



Alberto Giacometti, Buste d'homme, Diego au blouson, Inscribed Alberto Giacometti, dated 1953 and numbered 2/6, bronze, height: 14 in. Conceived circa 1953; this example cast in 1953 by Susse Fondeur, Paris. Sold for $14,273,700. Courtesy Sotheby's.



NEW YORK, NY.- Yesterday's sale was led by Claude Monet's Charing Cross Bridge from 1903, which sold for $27.6 million, one of the finest examples from Monet's seminal London series ever to appear at auction. Previously in the collection of Andrea Klepetar-Fallek for the past 40 years, the luminous canvas achieved the highest auction price for the subject by Monet. The previous auction record of $4.1 million was established in 1992, with only one other painting of Charing Cross Bridge appearing at auction since 2000. The painting joins a group of nine works by Monet that Sotheby's sold in 2019 for a total of $222.6 million. Each of Sotheby's four Impressionist & Modern Art Evening Sales in 2019 have been led by a Monet painting, one of which, Meules from 1890, established a new world auction record for the artist when it sold ... More
Stedelijk Museum Amsterdam announces new Managing Director
Carrie Mae Weems' first solo exhibition with Galerie Barbara Thumm opens in Berlin
New York exhibition details 10-year hunt for Bin Laden


Jacqueline Bongartz brings more than 25 years of business experience in financial and managerial roles.



AMSTERDAM.- The Stedelijk Museum has named Jacqueline Bongartz (Leiden, 1966) as its new managing director. She takes up the position on 1 December 2019. Together with director Rein Wolfs, Bongartz will be responsible for the museum's management pursuant to the Articles of Association, with Wolfs as chairman. Jacqueline Bongartz will oversee the day-to-day and business operations of the Stedelijk and will be responsible for the organizational side of the museum. Jacqueline Bongartz brings more than 25 years of business experience in financial and managerial roles. Recent positions include financial director at Blokker, Ballast Nedam and Vialis, part of VolkerWessels. Previously she was a partner at KPMG where she held various consultancy positions. Her love of modern art led her to become the treasurer of the Dutch Gallery Association for several ... More



Blues and Pinks, 1992 / 1993. 6 hand tinted gelatin prints, each 31 x 46 cm framed unique.



BERLIN.- Galerie Barbara Thumm is presenting Push, Carrie Mae Weems' first solo exhibition with the gallery. Throughout her career Weems' works have compelled viewers to actively consider how the world is structured, revealing systems of oppression and inequality while exploring the relationships between power, class, race and gender. Push presents several bodies of work, which look at these themes in relation to how the past comes to bear on the present. In this regard Weems reflects on history in order to engage with the present and question where we might be going. The exhibition features Ritual and Revolution, Weems, largest immersive installation, which marks one of the artist's earliest forays into three dimensions. Composed of diaphanous printed cloth banners organized in a semi-architectural formation and a poetic audio track, Ritual and Revolution explores the historic human struggle for equality ... More



An exact replica of the wall of the compound that Osama Bin Laden was hiding in is displayed at the new exhibition Revealed: The Hunt for Bin Laden at the 9/11 Memorial Museum on November 07, 2019 in New York City. Spencer Platt/Getty Images/AFP.



NEW YORK (AFP).- With a model of the Pakistani villa where he lived and a video of Barack Obama explaining his hesitancy about approving the raid, a new exhibition details the operation that killed 9/11 mastermind Osama bin Laden. "Revealed: The Hunt for Bin Laden", which opens Friday at the September 11, 2001 attacks museum in New York, plots the ten-year search for the brains behind the single deadliest attack ever on the United States. "It's like being in the front row of history," Alice Greenwald, president and chief executive of 9/11 Memorial Museum, told AFP. "We get an insider's view into ... how the raid was actually conducted from the people that were there," she added. The US intelligence services-led manhunt culminated overnight on May 1 and 2, 2011 with operation ... More
Remington bronze soars to $615K in Heritage Auctions' record-setting American Art Auction
Petzel Gallery opens a solo exhibition of paintings and sculptures by German artist Georg Herold
Marianne Boesky Gallery now represents Allison Janae Hamilton


Frederic Remington, American, 1861-1909, The Bronco Buster, conceived 1908, cast 1910. Bronze with greenish-brown patina, 83.5 cm high. Sold for $615,000. Imaged by Heritage Auctions.



DALLAS, TX.- Five records were set to help drive the final total for Heritage Auctions' American Auction to $5,323,688 Nov. 1 in Dallas, Texas. The sale achieved particularly strong results in Golden Age Illustration Art. "This auction is further evidence of Heritage's position as a leader in the field of Golden Age Illustration Art," Heritage Auctions Vice President and American Art Director Aviva Lehmann said. "Artists like Norman Rockwell, Andrew Wyeth, Christian Leyendecker and Howard Pyle are enormously popular among collectors, and all were well-represented in this sale. Aside from works by blue chip artists, we also established new records for other Golden Age Illustrators, with masterworks by Thorton Utz and George Hughes. We offered quality material, and our audience appropriately responded." Multiple bidders drove Frederic Remington's The Bronco Buster ... More



Georg Herold, Russische Schweiz, 1988. Inscribed wooden boards, cord, 110.24 x 90.55 inches, 280 x 230 cm. Courtesy of the artist and Petzel, New York.



NEW YORK, NY.- Petzel Gallery is presenting a solo exhibition of paintings and sculptures by German artist Georg Herold from the late 1980's, in many cases on view for the first time in New York. The exhibition runs from November 6 to December 21 and marks the artist's third solo show at Petzel and his first at the gallery's Upper East Side location. Rejecting traditional materials, Herold creates sculptures, assemblages and wall-based 'drawings' using commonplace items such as bricks, baking powder, wood lath, vodka bottles, buttons, electrical cords, underwear and mattresses usually altering them very little, if at all. As Herold said in 1988, "my choice of materials is not subject to any conscious esthetic criteria. The materials must merely be able to absorb and transport my ideas. I do not use materials that speak their own language as a matter of principle. This is why I seek out 'stupid, unplaned' mater ... More



Allison Janae Hamilton, Fencing Mask 10, 2018. Copyright Allison Janae Hamilton, Photo Credit: Jason Wyche Courtesy of the artist and Marianne Boesky Gallery, New York and Aspen.



NEW YORK, NY.- Marianne Boesky Gallery announces representation of artist Allison Janae Hamilton, whose multidisciplinary work engages with the histories, mythologies, and physical transformations of land, especially in the American South, to examine some of the most pressing socio-economic and political issues of the day. A selection of her work was included in the gallery's summer exhibition in Aspen, Tricknology, which was curated by Sanford Biggers. To mark the new relationship, the gallery will include Hamilton as part of its presentation at Art Basel Miami Beach, where she is also slated to participate in an Art Basel Conversation on Saturday, December 7, titled Confronting Climate Change Denial. This will be followed by a solo exhibition of Hamilton's work at one of the gallery's Chelsea locations in fall 2020. Hamilton's practice embraces photography, video, sculpture, ... More
International Arts & Artists and the American Folk Art Museum announce new partnership and three traveling exhibitions
Sotheby's Watch Sales in Geneva this week realise CHF/US$ 13 million
Dream home on a budget: UK's best new house revealed


Artist unidentified, Map Quilt, 1886 (detail), Silk and cotton with silk embroidery, American Folk Art Museum, Gift of Dr. and Mrs. C. David McLaughlin, Photo: Schecter Lee.



WASHINGTON, DC.- International Arts & Artists announced a new partnership with the American Folk Art Museum, New York, in celebration of the museum's upcoming 60th Anniversary year in 2021. Drawing from the museum's extensive collection, three exhibitions will be on tour throughout North America from 2021 to 2024. "We are pleased to partner with International Arts & Artists," says Director of American Folk Art Museum, Jason T. Busch. "As we celebrate our 30th anniversary at Lincoln Square in Manhattan and approach our 60th Anniversary as a museum, we want to create opportunities for new audiences to experience the impact of self-taught art across time and place. Through this new partnership with IA&A, the American Folk Art Museum will expand awareness of the museum and our outstanding collection." To inaugurate ... More



Rolex 'Paul Newman' Daytona, REF 6239 yellow gold chronograph wristwatch with bracelet, Circa 1968, Estimate: 200 000 – 300 000 CHF, 201 364 – 302 046 USD, Lot sold: 512 000 CHF, 515 492 USD. Courtesy Sotheby's.



GENEVA.- Sotheby's watch auctions in Geneva this week have just concluded, realising CHF 13,018,125 / $13,093,186. Including this week's results, Sotheby's year-to-date total for Watches is now $106.7 million - 36% up on last year. "Across these last two days of sales, we have seen the full spectrum of today's watch-collecting market, with 400 timepieces covering 400 years of watchmaking history avidly contested by collectors from around the world. All participants, be they museums, veteran connoisseurs or collectors new to the field, were drawn to rarity and quality in all its forms, from early automata to seminal German watches and fresh-to-the-market vintage pieces. As we approach the end of the year – with live sales in Dubai and New York and online auctions still ... More



House Lessans. © Aidan McGrath.



LONDON.- House Lessans, an exquisitely simple home in County Down designed by McGonigle McGrath, has been named RIBA House of the Year 2019. The prestigious annual award is given by the Royal Institute of British Architects to the UK's best new architect-designed house. Built on the site of a former farmstead, House Lessans completes a small compound of agricultural buildings. Its crisp, white rendered concrete walls capped with zinc pitched roofs echo the adjacent corrugated barn and root the family home within the landscape. House Lessans is formed of two perpendicular blocks – a dramatic double-height living space, and a suite of three bedrooms overlooking a tranquil sheltered courtyard garden. While all rooms are minimal and paired back, they vary dramatically in volume and feel. The breath-taking open plan kitchen and snug take advantage of the views with huge expanses of glass, while the three, equally-sized bedrooms are ... More
Quote
Critics are the men that failed in literature and art. Benjamin Disraeli
---
Katie Paterson Interview: A Trampoline for the Imagination
---
Flashback
On a day like today, French painter Claude Monet was born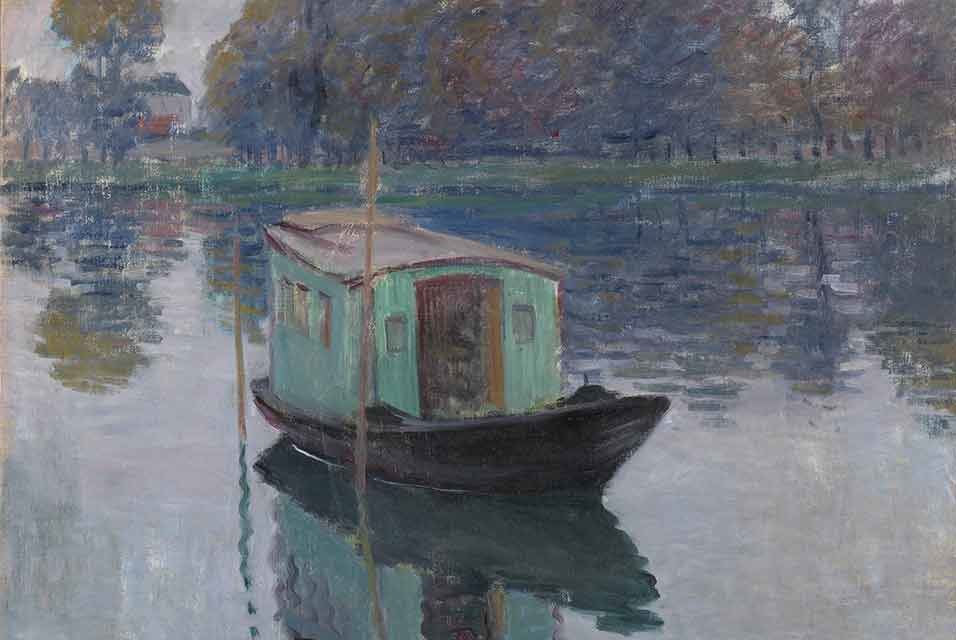 November 14, 1840. Oscar-Claude Monet (14 November 1840 - 5 December 1926) was a French painter, a founder of French Impressionist painting and the most consistent and prolific practitioner of the movement's philosophy of expressing one's perceptions before nature, especially as applied to plein air landscape painting. The term "Impressionism" is derived from the title of his painting Impression, soleil levant (Impression, Sunrise), which was exhibited in 1874 in the first of the independent exhibitions mounted by Monet and his associates as an alternative to the Salon de Paris. In this image: Claude Monet, The Studio Boat, 1874. Oil on canvas. Collection Kröller-Müller Museum, Otterlo © Kröller-Müller Museum, Otterlo.
---

Museums, Exhibits, Artists, Milestones, Digital Art, Architecture, Photography,
Photographers, Special Photos, Special Reports, Featured Stories, Auctions, Art Fairs,
Anecdotes, Art Quiz, Education, Mythology, 3D Images, Last Week,
.
Royalville Communications, Inc
produces: